This post was sponsored by SanDisk as part of an Influencer Activation for Influence Central and all opinions expressed in my post are my own.
It can be a real struggle to stay clutter-free when traveling in an RV. Thankfully, more and more innovations have been giving us the solutions we all need to decrease clutter problems like having to find space for numerous chargers and hard drives for our digital devices – this is where the Ixpand Wireless Charger Sync from SanDisk comes in.
Automatic Backup Wireless Charger For Travelers
I know that there are lots of wireless chargers on the market right now, but do any of these chargers come with an automatic backup feature? No, Ixpand is the first to have it.
And for digital nomads, a wireless charger that automatically backs up your full resolution photos, videos and contacts can be a lifesaver.
Tony and I both work online, and we love to travel as often as possible in our RV. As I'm always the one with my phone in my pocket, I'm often using it to capture photos of our travels to share on our blog.
Backing up our photos from my phone has been a regular task. Now it can be done automatically as soon as I set it down on my Ixpand Wireless Charger Sync from SanDisk each night.
Big cloud photo providers have announced the end of their unlimited photo backup options. With our Ixpand Wireless Charger Sync from SanDisk there are no monthly recurring fees and no internet needed to backup my full resolution photos.
But what other perks does having an Ixpand have? Keep reading to learn my favorite features and why after reading this, you just may feel like grabbing an Ixpand for yourself.
Features I Love
1. The fact that it's wireless
I don't remember how many charger cords we've had and broken over the years of full-time RV living. Now, with the rise of wireless chargers like the Ixpand Wireless Charger Sync from SanDisk, it's less of a problem for someone like me who often breaks my cords.
2. Automatic Sync feature
I feel so much better knowing that all of my photos are backed up—especially travel photos. Ixpand is the world's first wireless charger with the automatic sync/local back-up feature.
You can automatically back up full-resolution photos and videos, and your contacts, just by placing your Qi-compatible device (iPhone, AirPods or Android smartphone) on the base of the Ixpand Wireless Charge Sync and you can also easily free up space on your phone, knowing your photos are backed up.
Ixpand doesn't just sync files, it does so automatically. I didn't have to open my laptop to connect my phone and hard drive just to back files up, I can just leave my phone on top of the SanDisk Ixpand Wireless Charger and it'll do all that for me already.
Also, Ixpand can back up Tony's files by creating a separate profile for his phone. I don't have to worry about having our backed up files mixed up.
It certainly saves time and effort which is definitely welcome for digital nomads.
3. Easy to Use
I can often feel intimidated with high-tech products because I'm not sure on how to operate them, and I resort to Tony figuring it out and showing me how. But with Ixpand's app that I downloaded to my phone, directions are very easy to understand.
To charge and sync full-resolution media files, I just have to place my phone on top of my Ixpand on a flat surface, and make sure it's plugged in. I can even leave my iPhone in its case and it still does it's magic.
You can download the SanDisk Ixpand App here: Apple & Google.
If you're having a problem with understanding how a certain feature works, you can just pay a visit to the Ixpand Wireless Charger Sync Support Page.
4. It's not limited to my phone
Tony and I can use Ixpand to charge our phones while backing up photos each day, but we can also offer it to friends for a quick charge as well when they visit, even if they don't have the app downloaded on their phone.
The Ixpand works with any Qi-compatible device such as iPhone 8/8 plus or newer and Samsung Galaxy S6 or newer. With its flexibility, I can say that this is a useful device for our family.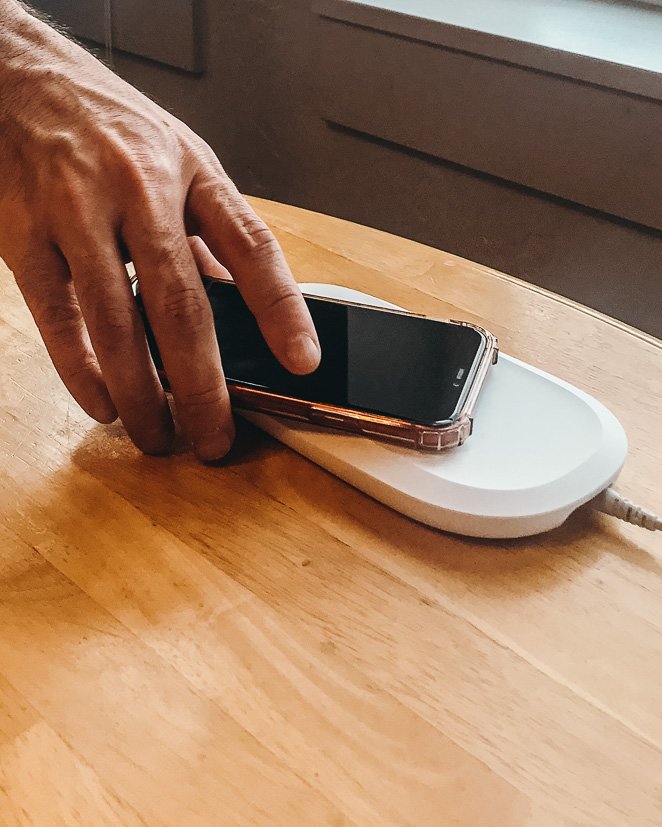 5. No more worrying about memory space
With the Ixpand Wireless Charger Sync from SanDisk, you can easily free up memory space on your phone with the confidence that your photos are backed up—in full resolution. You don't need the interest or WIFI to charge and complete a back-up either. It also allows you to restore files to your phone at any time.
Products Like Ixpand Wireless Charger Sync
If you don't need the back-up option, the trusted SanDisk brand also just released the SanDisk Ixpand Wireless Charger 15W. This new charger is a great option for reliable and speedy charging.
It's all of the strong Ixpand Wireless Charger Sync features minus the back-up. With it, you can enjoy speedy and reliable charging for your devices.
Pin this for later