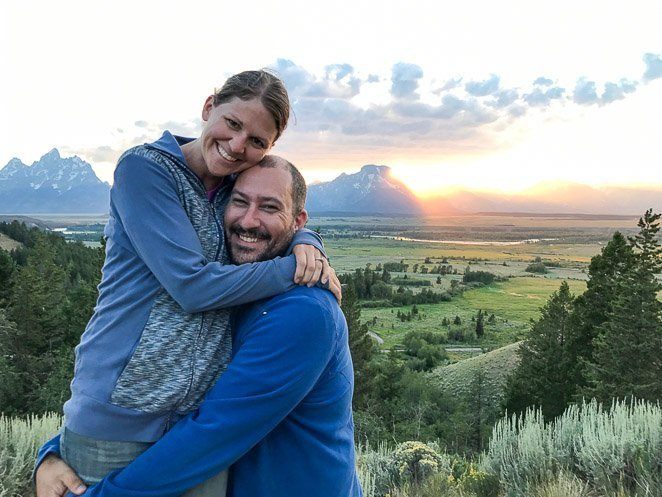 Work with us at Let's Travel Family! Click here to contact us today.
About Us
We spent 3 years traveling full time as a family of 6, and now travel often from our new home state of Idaho.
Jill launched the blog Let's Travel Family with the help of her husband Tony in November 2017.
With 4 children under the age of 10, we traveled by RV around North America from 2017 – 2019. We provide inspiration on fun destinations to our readers, tips and tricks for traveling with kids, advice on RV living and digital nomad tips, camping and hiking tips, ideas on homeschooling children while traveling, and living a healthy and active lifestyle.
In September of 2019, we put our RV into storage to travel overseas to Bali, Indonesia, and then on to other parts of South East Asia.
We pride ourselves on living a flexible life and looked forward to what international travel would bring us.
In February 2020, we came back to the USA and settled down in the Boise, Idaho area.
Tony is living with Type 1 Diabetes and is always trying to learn new ways to manage it with a healthier and more active lifestyle.
Living our traveling dreams of following the sunshine so we could be outdoors more was a great goal of ours. Getting and staying fit and active while decreasing Tony's insulin intake is a never-ending goal.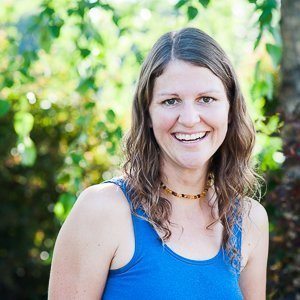 Why Work With
Let's Travel Family
?
We want to give your brand access to a highly engaged audience! With Jill's experience as a behavior analyst and Tony's experience working in the IT field, we offer a diverse knowledge base for growing a successful blog and social media influence.
Click here to read more about us.
Featured On:
CBS Tampa, Florida – WTSP 10 News
Let's Travel Family was featured on WTSP 10 News, Tampa's CBS affiliate news station!
Click here to watch the video interview of Tony and Jill talking about RV living full-time with kids and how they were about to co-host the first-ever RV Family Conference. The interview and video also included several of their own YouTube channel clips.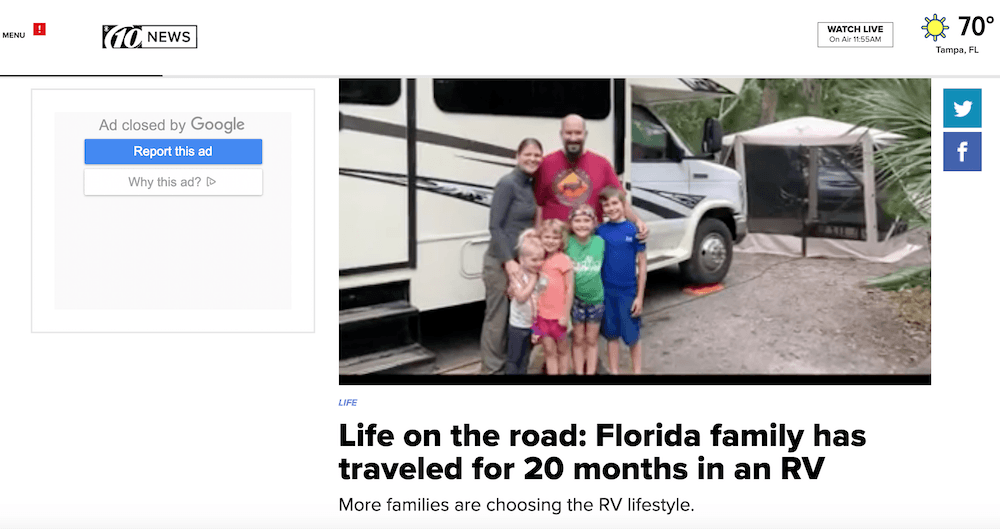 Brands We've Worked With:
SanDisk (December 2020)
Arctix Clothing (November 2020)
Condor Outdoor (November 2020)
Wolf Lodge Campground, Coeur d'Alene (August 2020)
Silverwood Theme Park, ID (August 2020)
Slime Bike Tires, Meridian, ID (August 2020)
HOTEL MIMARU, Tokyo, Japan (February 2020)
Entopia Butterfly Farm, Penang, Malaysia (November 2019)
Escape Theme Park, Penang, Malaysia (November 2019)
KOA – Billings, Montana (September 2019)
Kuhl Clothing (May 2019)
Fury Key West (December 2018)
Country Music Hall of Fame (April 2017)
Nashville's Children's Theatre (April 2017)
Events We've Collaborated With
Full Time Freedom Week (November 2019)
Jill was a speaker for Fulltime Freedom week's virtual summit on helping people get starting with full-time RV living.
Make Money RV Summit (August 2019)
Jill spoke at the virtual summit teaching bloggers how to create a successful blog with SEO and affiliate marketing.
RV Family Conference (March 2019)
Jill and Tony co-hosted the RV Family Conference March, 2019 with Fulltime Families and Mama Says Namaste. During the 3-day live event, parents were taken through seminars, tours, how-to's and trainings on how to get started on their full-time RV living dreams.
Social Media Followers
We are very active with our audience on Instagram, YouTube, and Facebook. We are also on Pinterest and Twitter and continue to connect with our audience on multiple platforms.
Our social media followers are highly engaged and excited to follow along in our traveling experiences and learn tips from us along the way. We receive DMs on Instagram every day with personal questions and comments.
Our Facebook followers are engaged in so many of our posts that we often reach well over the amount of followers we have.
Let's Travel Family provides professionally written and researched content written with excellent SEO in mind. This ensures consistent organic traffic.
Email Subscribers
We have an ever-growing email list of over 2,000 subscribers that we connect with each week. Our readers reply back with questions weekly and we interact via email often.
Who Do We Reach?
Let's Travel Family reaches over 70,000 page-views a month and has over 23,500 social media followers that are highly engaged. We pride ourselves on connecting with REAL people on social media and providing solutions, tips, and inspiration for their families.
Our readers are 79% female and 21%, male. The age range of 25-44 year-olds makes up 45% of our audience. Our audience is from the USA, Canada, Australia, and the UK.
How We Can Work Together
There are many ways that you can work with Let's Travel Family from influencer media to content creation.
We are also available for sponsored posts, press trips, destination marketing, social media campaigns, newsletter advertising, video creation projects, working as brand ambassadors or competitions and giveaways.
Click here to download a COMPLETE PDF copy of our Media Kit to see our statistics and reach.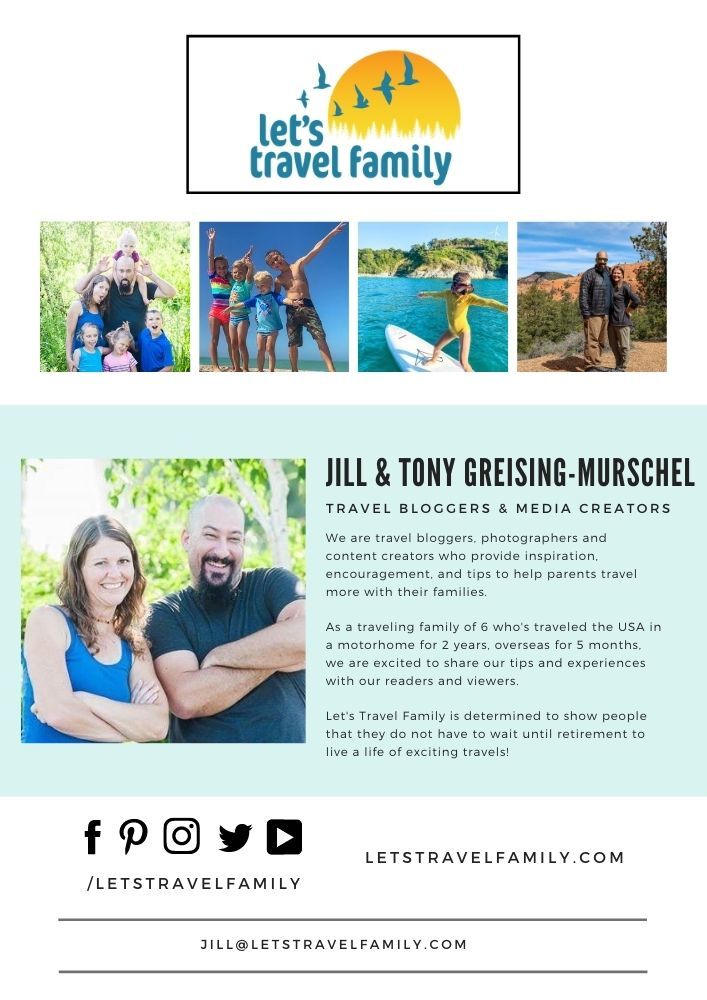 All photography on this site has been used with permission. Special thanks to Captureology.