If you are looking for a fun place to take the family in Wisconsin, then check out Jellystone Park in Warrens, WI. With RV and tent campsites, a large variety of cabins and cottages to rent, a fun waterpark, and fun daily activities planned, the Wisconsin campground is a perfect place for your next family vacation.
Watch our campground review video below!
Campsites And Cabins
Yogi bear camping at Jellystone campgrounds is always a blast. However, finding the right campsite or cabin for you and your family is the key to enjoying yourselves.
If you are arriving with an RV, decide if you need a pull through site for a big rig, or if you'd be comfortable staying in a back-in site near the playground and other cabins. Jellystone Park in Warrens has a dump station, yet many of the campsites have full hook ups with sewer connections.
Jellystone Park offers cabin rentals that will sleep 4-10 people within a variety of price range options. During the busy summer season, many cabins book up months in advance as they do in most of the camping resorts in Wisconsin, so be sure to call ahead.
Activities At Jellystone Park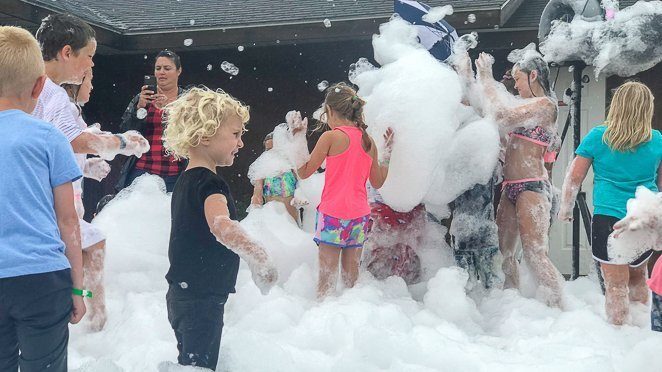 If you are looking around at campgrounds in Wisconsin that have many family activities, this Yogi Bear campground is the place to visit. As a full time RV living family, we have visited many campgrounds across the nation and this one by far had the most activities. From bubble fun and Gaga Ball to crafting and Candy Bar Bingo, you will have a large variety of options.
I recommend that you check the activity schedule when you arrive and choose your top few you'd like to attend. Do not try to go to all of them, or you will could easily overbook yourselves. Don't forget to plan a time to see Yogi Bear and Boo Boo!
Amenities At Jellystone Park
When you arrive at Warrens Yogi Bear Jellystone Park, you will find everything you need without needing to leave the campground. From a convenient store and restaurant to a propane fill station and laundry rooms, you should be covered.
However, if you feel like taking your rented golf cart to the local gas station just outside the park, you will find ice and beer along with more options to refill your refrigerator while on vacation at Jellystone Park.
Water Park At Jellystone Park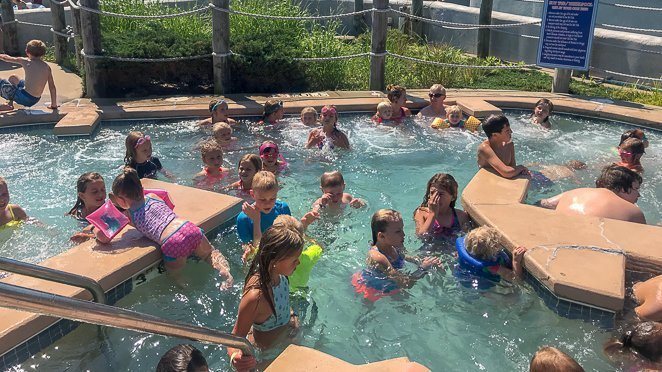 Our family's favorite thing about Jellystone Wisconsin is the water park! They not only have a family hot tub and lazy river, they also have a basket ball pool and beach too!
If you want good seating on a nice weather day, then I suggest you arrive to the water park at 10am when it opens to find a spot, as it can become very busy. If you plan to arrive later in the day then spend it on the beach!
Learn more here about this great campground in Wisconsin.