Living in an RV full time is a BIG decision to make for anyone! Yet, more and more people are choosing to live the RV life lately.
A friend of mine told me the other day that when she first launched into the full time RV living lifestyle 5 years ago, they never had a problem pulling into a campground without a reservation and finding an open campsite.
Now, in 2023, if you don't have a reservation, you may just want to keep on driving.
Wait now…don't be discouraged. I'm not writing this to make you feel like you can't be living in an RV year round, traveling the states, and making your dreams come true (if those are your dreams).
Not at all!
Instead, I want to take the time to answer the BIG questions we get asked about living in an RV full-time and how to prepare for full time RV living.
Here are 23 questions we've been asked during our first 2 years as a full time RV family, in case full time camping is a dream of yours.
Side note – Full time RV travel is something we love to help others learn if it's a good fit for them!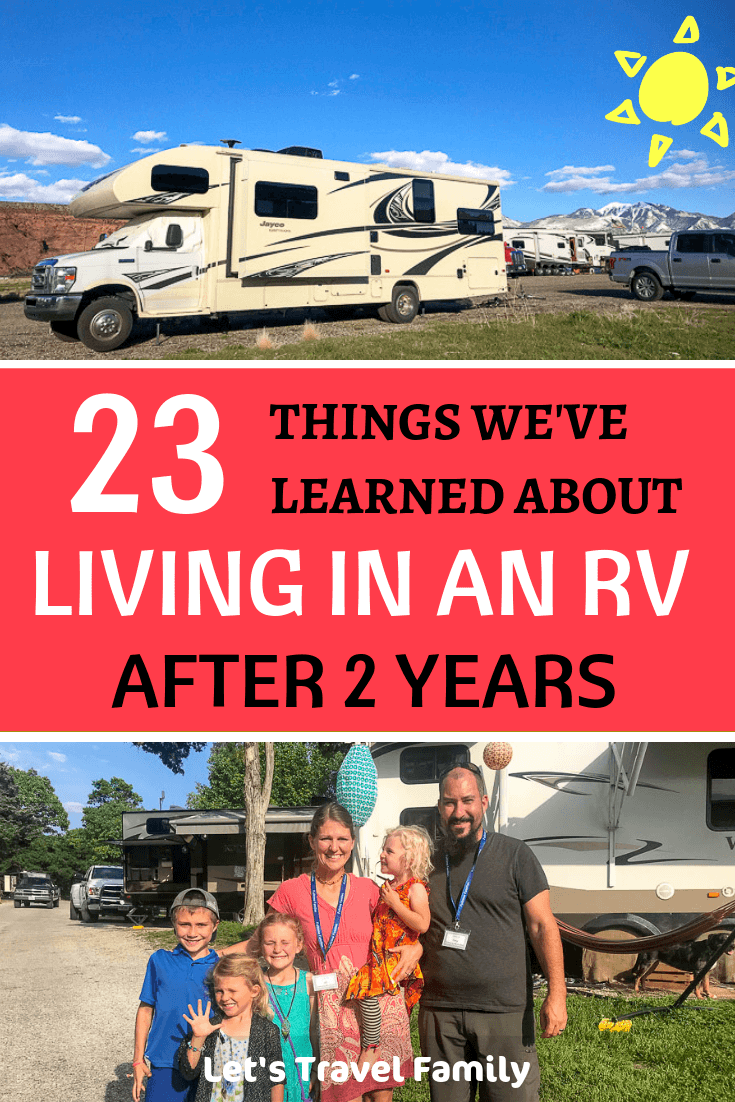 THIS ARTICLE MAY CONTAIN COMPENSATED LINKS. PLEASE READ OUR DISCLAIMER FOR MORE INFO.
Questions We Are Asked About Living In An RV Full Time
1. How do you handle living in such a small space?
In all honesty, our goal is to spend as little time INSIDE our RV each day. We try our hardest to get everyone outside and in the sunshine if there is any sun that day.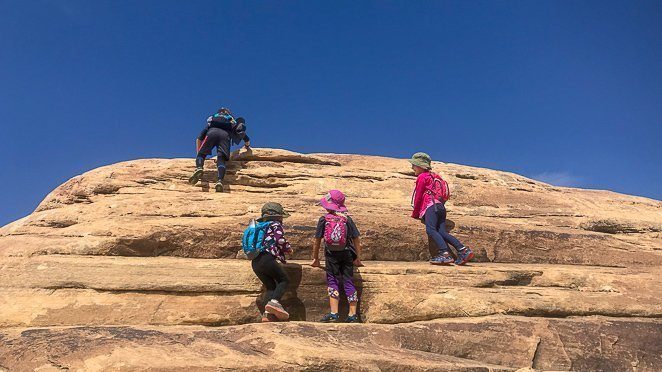 We use our RV for sleeping, cooking and eating, and having shelter when the weather isn't the greatest. Living in a motorhome has helped us get out of the elements when needed, while also allowing us to move easily.
We work on staying organized in our RV and using our space wisely.
Okay, sometimes we use the space for working if the kids are outside and we need a quiet space to get work done.
2. How do you get your mail while RVing?
Looking for the best mail forwarding service for RVers? We signed up for a great mail forwarding service through Escapees and have had nothing but good things to say about them.
It's super simple and inexpensive to sign up and receive a REAL mailing address in either Texas or Florida. They receive our mail, scan a picture of each envelope and email it to us.
We then can choose to pay an extra $0.50 to have them open the envelope and email us scanned copies of the contents.
When we arrive at a campground that accepts packages, or a friend's house, we'll have Escapees forward our mail to us. I'd say we do this about once every six weeks or so.
Overall, we've tried to go as paperless as we can while living in a RV. Yet, the government still sends us snail mail that we can't get away from….jury summons anyone!
Click here to find some excellent RV gift ideas.
3. Can I just use WiFi at campgrounds to work online?
NO! Not unless you want to knock your head on the table a few times as you wait for your email to load.
I'm actually very serious.
WiFi found at campgrounds is notoriously slow and not something to rely on if you need functional internet to work.
So, if you're living the RV lifestyle and need the internet to work, then you'll need more reliable internet. We keep 3 cell phone providers with hotspots that we use to stay connected in MOST places around the country.
Click here to read our deep dive into internet on the road.
This is one of the best full-time RV living tips I can share with you….learn how to get functional internet in your RV!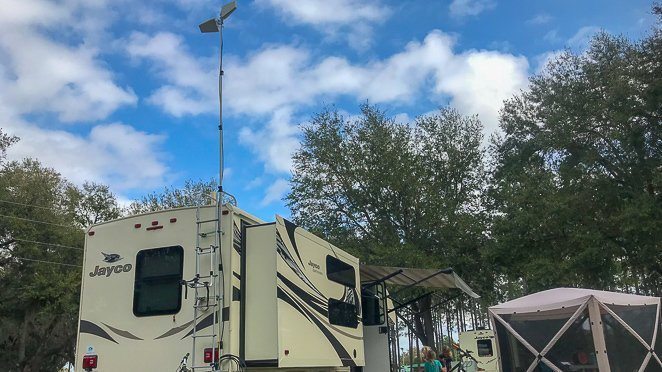 Sorry, the top of the Rocky Mountains or the bottom of the Grand Canyon will not have any cell signal.
So don't think you can set up shop for a week of full time camper living in the high mountains and get any access to the internet.
4. How much does it cost to live in an RV full time?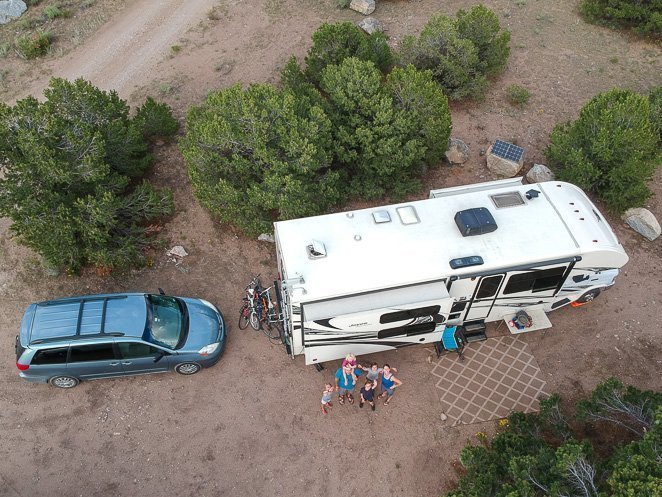 In short, it can cost $600 – $6,000 per month depending on your family size, if you own your RV and an extra vehicle or if you're making payments on them, and where you decide to camp.
So, how much does full time RV living cost for most people?
Camping fees can vary across the country and across the types of camping. So when we're asked how much does living in an RV full time cost, it can be a bit tricky.
If you want to have full hookups (water, electric, sewer) then you'll most likely want to find a private campground and should expect to pay $35-$75 per night depending on if you're in Tennessee or California.
Now, if you hope to camp in some amazing National Parks, or some of the beautiful State Parks, then you'll often pay $20-$30 per night and have a variety of lesser hook-up options.
For example, in most National Park campgrounds, you are 'dry-camping'….which means no electric, water, or sewer. Many state parks have water and electric and most campgrounds have a dump station on site….but not all, so be sure to plan ahead.
Oh, and National Parks RV length limits can also hold you back if you're much longer than 35 feet.
The best way to experience cheap RV living is to learn how to boondock. Especially if you're out West. When we camp without hookups on BLM land (Bureau of Land Management), we save a ton of money by camping for free.
The cost of full-time RVing can vary. It really depends on your lifestyle and goals.
Download your Free RV Budget Workbook
11-pages of useful worksheets!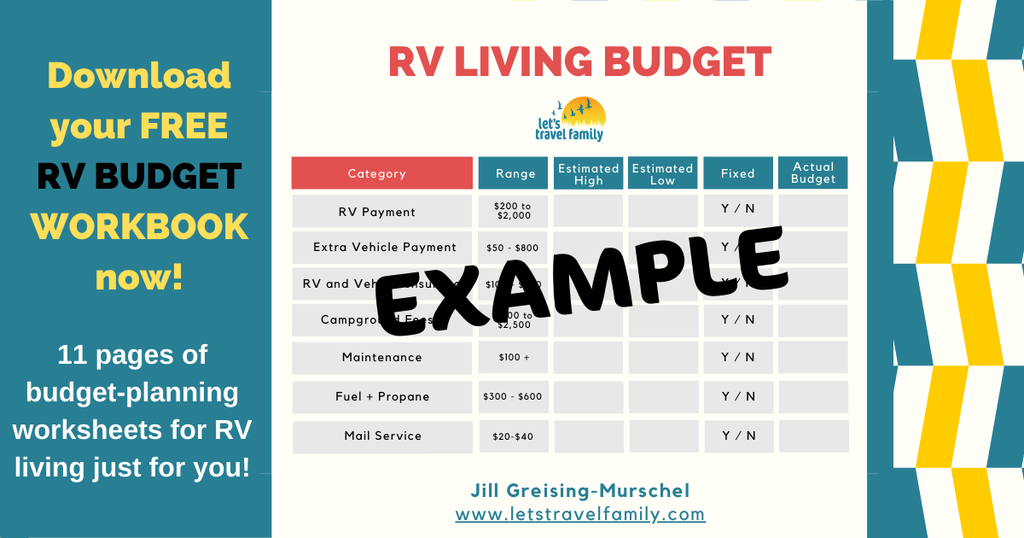 5. What do you do to make money on the road?
This was the BIG question that we had ourselves before we decided to go RVing full time.
It's also one of the most frequently asked questions we've had on the blog.
People are often wondering how to make money while living in an RV full time. We realized that we were not alone.
There are a variety of ways we've been making money on the road, and we had to work hard to 'think outside the box' to come up with them.
First off, Tony applied to several fully remote jobs before we launched and was offered a full-time job with a website hosting company based out of Paris, France. Everyone in the company works remotely and he's even provided with medical benefits!
I (Jill) make money almost exclusively now with this travel blog! You see, we started it as a business in hopes to earn money WHILE helping people such as you. It's been working for us.
Click here if you want to learn how to start a travel blog.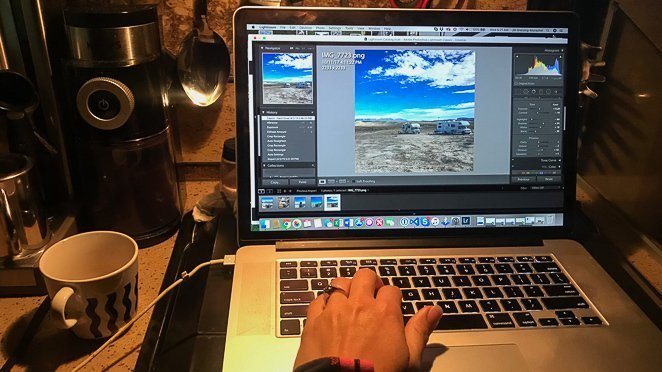 Over the last few years, I have also worked as a Pinterest Manager, and Project Manager, and I've taught English online to children in China with VIPKID. They have all given me ways to help bring some income into our family, and save money so we can do the fun travel things.
If you're thinking….that's great Jill…but I can't do any of those things. What else? Then check on this post as we listed 25 different jobs for full time RVers and other types of travelers.
Or learn about 19 other digital nomad jobs here.
6. What's your favorite place that you've visited?
This is a tough question to answer with only listing ONE place. I'd say some of our favorites have been Glacier National Park in Montana during the summer, Acadia National Park in Maine in the fall, and the Florida Keys in the winter.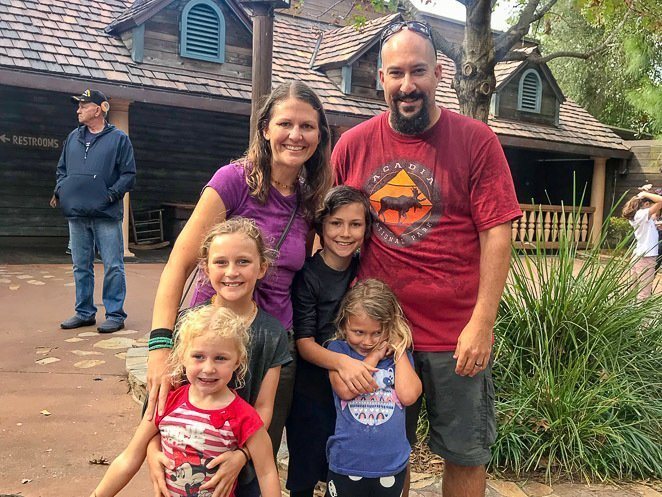 So far, our kids will often say the same places, even though they did enjoy visiting Disney's Magic Kingdom, New York City, and Zion National Park.
7. Why did you choose a Class C RV?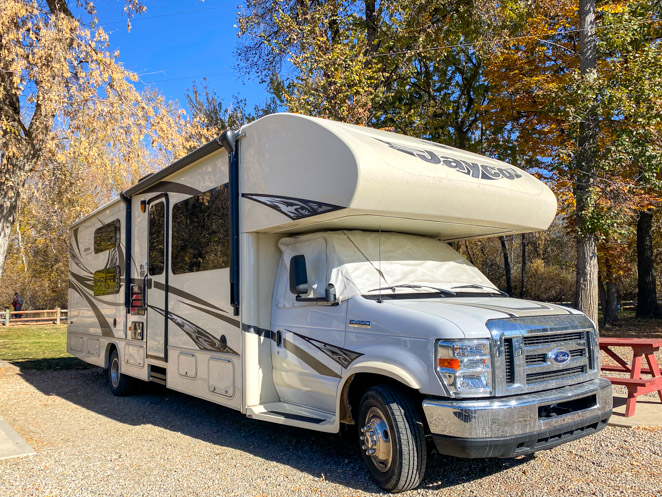 Ah yes, choosing the best RV to live in full time with 4 kids was a bit of a struggle. Something we did, that I think helped us a lot, was to create a list of A features and B features when looking through all the layouts in order to help us choose our family RV.
Our top 3 A items were:
1. Designated sleeping area for all 6 of us that did not have to be modified each day.
2. No carpet under the dinette – kids with carpet equals a mess!
3. The ability to get on the road full-time quickly without having to shop around too much for an RV.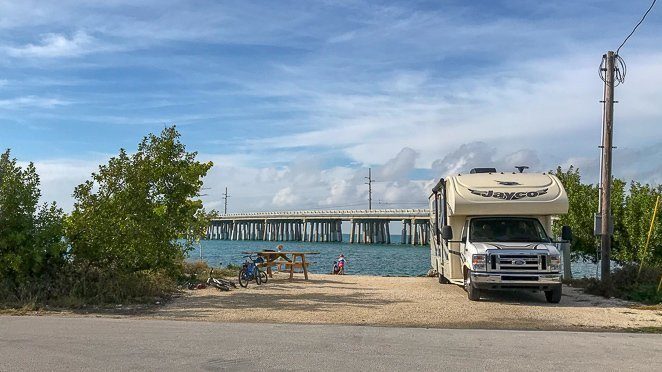 You see, when we jumped into RV living full time, we wanted to hit the road right away. Shopping around for a 6-seater truck that could tow a fifth wheel and selling our minivan seemed a bit too much.
That's why we kept our minivan, which was paid for, and bought one new vehicle…our Class C motorhome with bunk slides. We made it all happen in about 3 months!
After two years in, I can honestly say we loved our set-up and living in a motorhome and named it 'Morph'. Discover some fun RV names if you've recently bought an RV and want to name your rig.
8. What is the WHY behind living in an RV full time?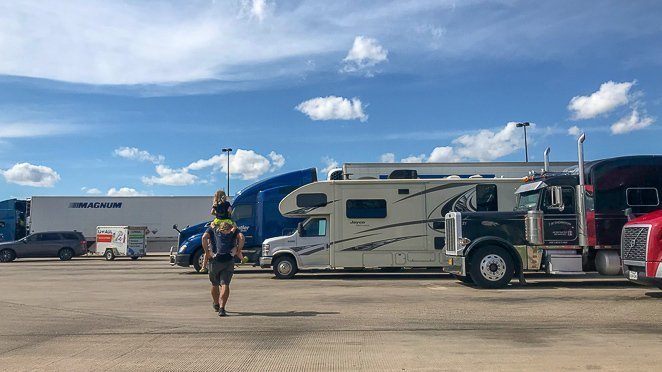 We've always had such a sense of wanderlust, but more than that, we wanted to travel more with our kids right now. Not waiting for someday down the road or to just take one week a year for a vacation.
I also need to mention here that the Minnesota winters were getting to us and we wanted to follow the warmth and sunshine.
Our WHY is really about wanting to live each day to the fullest, minimally, intentionally, with our children beside us. They grow up way too fast and we don't know what tomorrow's going to bring.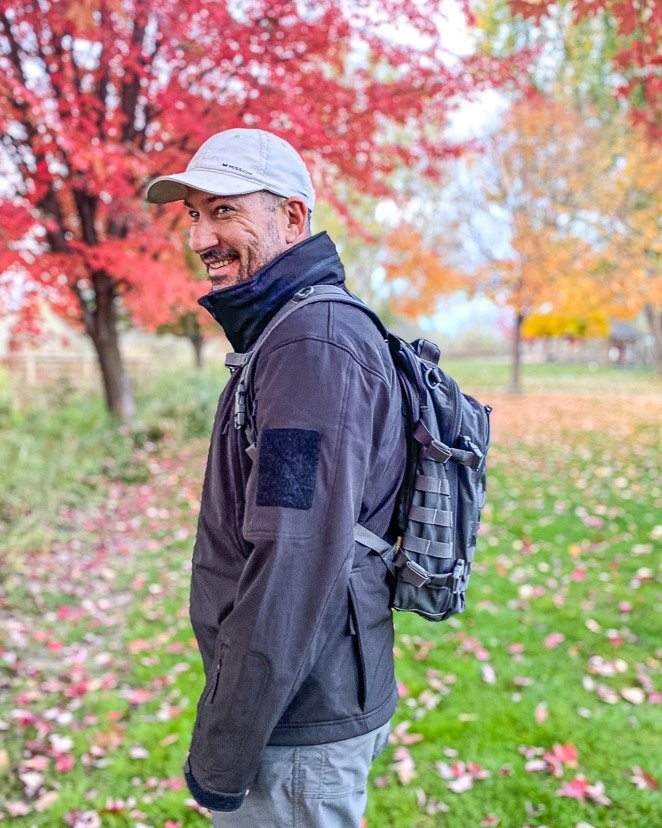 With Tony's type 1 diabetes, we know that come retirement age, he may not be able to go mountain biking in Utah or hike the Tetons. Yet, if we do those things NOW, then he can actually improve his health, and chances of being able to do just those things will increase.
9. What do you do for RV insurance?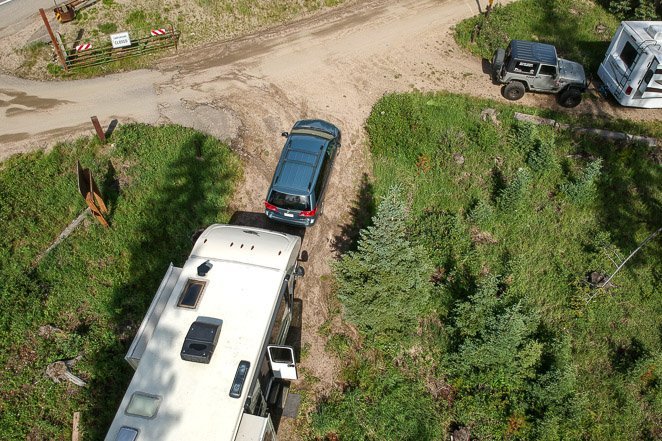 We are fortunate enough to have nationwide healthcare provided by Tony's remote job. United Healthcare is the plan that allows us to visit doctors anywhere in the nation. Yet, we really don't go to the doctor that often.
Other options for healthy RVers who don't see the doctor regularly or have a predetermined condition such as Type 1 Diabetes like Tony are Liberty Healthshare or Christian Healthshare Ministries.
You'll also want to have excellent full time RV insurance. The best company that offers comprehensive coverage is Roamly.
10. Are camping memberships worthwhile for a full-time RVer?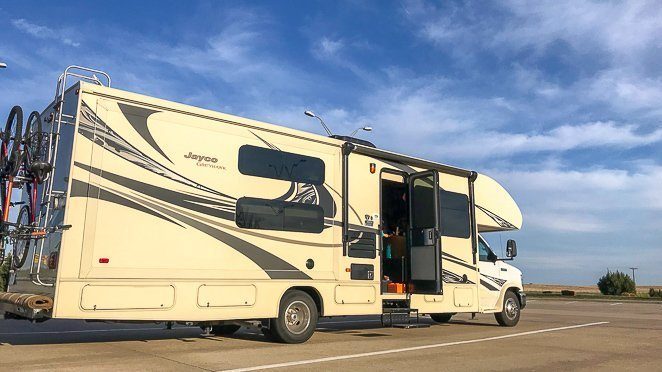 It really depends on your travel style. If you find yourselves boondocking, dry camping and staying out West a lot…then RV campground memberships may not be all that beneficial for you.
However, if you think that at least 50% of the time you want to camp with hook-ups at a campground then yes, some camping memberships will really help you cut down on your expenses.
Click here to check out Harvest Host membership, a very popular choice of many RVers.
11. How do you manage to keep enough food in your RV for 6 people?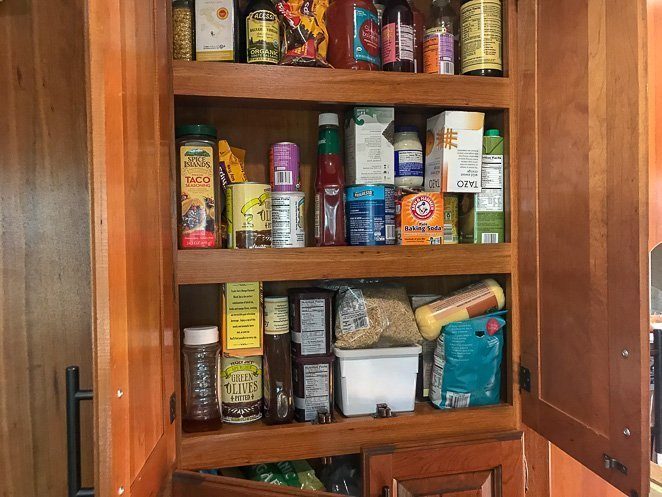 Well, we don't always have enough food!
No really, living in a RV full time provides us with a constant struggle to keep enough food. It's because we're living in a tiny space with a small fridge.
Yet, with time and experience, I've learned how to play a great game of Tetris in our fridge and freezer and we've opened up a few more cupboards to house more of our dried goods.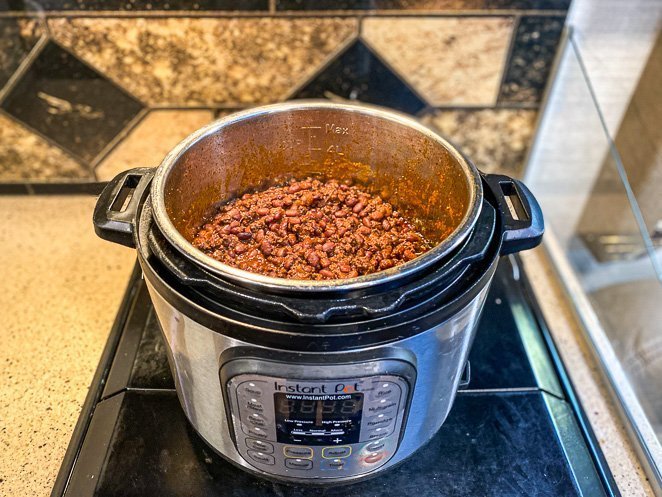 Meal planning has also been really helpful when trying to determine which ingredients we need. Oh, and we are always working on not wasting any food.
That means that yes, we eat all of our leftovers and prioritize our ripe fruit as a snack over a frozen item. That way, we eat the bananas before they are too brown and save our frozen fruit for later in the week.
I think we have our grocery run down to about every 6 days…which I think is pretty good!
Oh, and we even managed to have a great Thanksgiving dinner in our RV!
Looking for some great RV recipe ideas? Check out our ultimate list of easy RV meals to make your meal planning fun and simple!
Don't have time to read a bunch of RV travel posts and reviews? Here are some of our top picks for RV living:
Our Favorite RV Resources:
12. How do you go on dates while living in a camper full-time with kids?
Friends!
Really, it's all about connecting with another family or two that you get along with and trading off with childcare so that you can get a date night, or morning, in.
You can't be too picky!
We've done this several times and it's worked out great. One time, we actually just came back to our RV and had a date night in the RV while our kids were watching a movie in our friend's fifth wheel.
Or, if you have Grandma fly out to you, you can go on a fun and unique date like we did when we went hiking Angel's Landing in Zion National Park while our kids stayed back with Grandam Sandy!
13. How do you have 'private time' as a couple living the full time RV life?
I swear this is the question SO many people have and are afraid to voice. Now, we've had a few people ask it (good for you!) and I want to help you think outside of the box here.
Private time does not have to be at night….it can be while the kids are outside playing or watching a movie.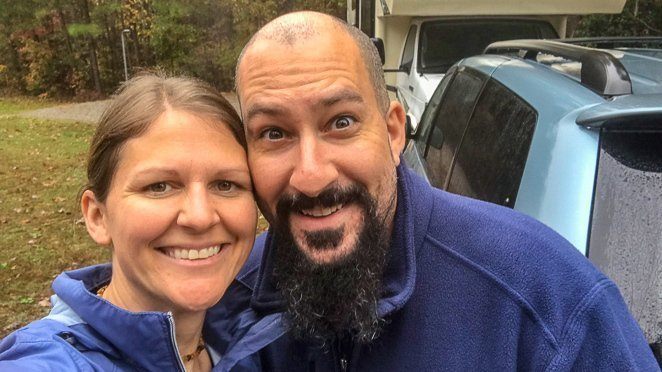 Also, RV's rock and shake pretty easily depending on if you have leveling jacks or stabilizers. You don't feel the rock as much if you think front to back movements with the wheels of the RV. 😉
We have many friends who have an RV washer and dryer combo in their RV that works great for hiding noise and movement. Laundry is often done each night at bedtime. Also, don't forget to take advantage of a great thunderstorm!
All in all, we've learned to be honest with our kids and have 'the talk' with them so they can learn what a healthy marriage involves. I know that might make you feel squeamish….but it's all part of parenting and something you need to talk with them about it at some point.
14. So, how does homeschooling work on the road?
Deciding to homeschool your children is a big decision and one that many parents can get caught up in.
We chose to homeschool our kids when our oldest was two years old. So for us, this wasn't new when we started living full time in an RV. Yet, there were a few things we had to consider.
What is the state homeschool law for our Texas address instead of Minnesota? As Texas residents, it's super simple and you have the right to educate your child as you see fit. I think it's the most 'hands-off' homeschooling state in the US.
Oh, and we now call it worldschooling.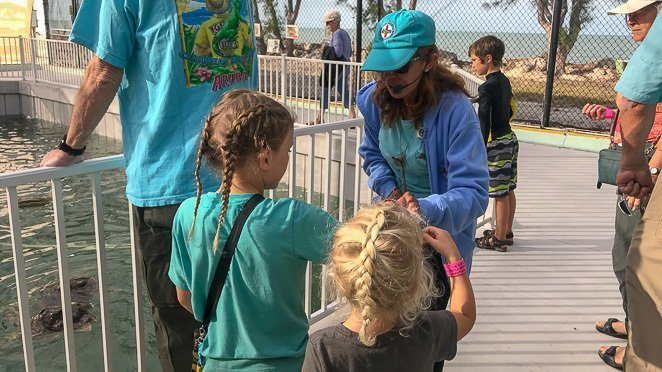 We also had to consider how many books we could carry around. Early on in our homeschooling, our eldest son fell in love with his Kindle Paperwhite and we keep his love for reading filled with adding more books to it weekly.
I think the biggest snag for some parents can be HOW they want to homeschool their children.
What type of mindset do they have and what are their expectations?
So if you're a parent, take some time to think this one through. Here's a designated list of homeschool resources that might help you on your journey.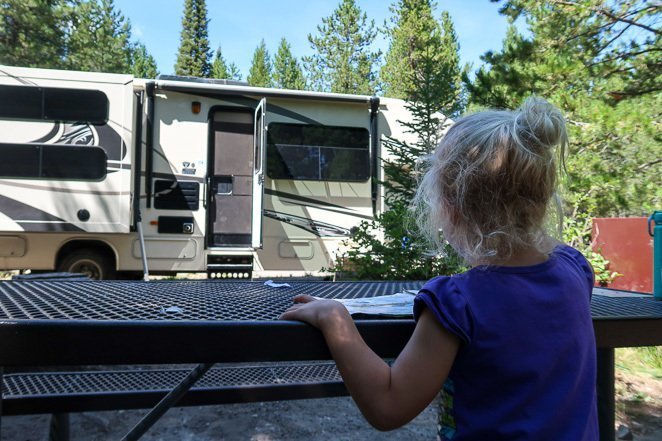 Do you want to 'school-at-home' and provide 6 hours of curriculum and grades? Or, do you want to spend some time deschooling and learning about how each of your children learn best?
Then you can provide them with educational-rich activities such as touring the White House in DC, completing a Junior Ranger program while visiting the National Parks, or budgeting for groceries for the week and helping with the shopping trips.
Our family has gradually shifted our homeschooling-at-home style to a more Unschooling approach.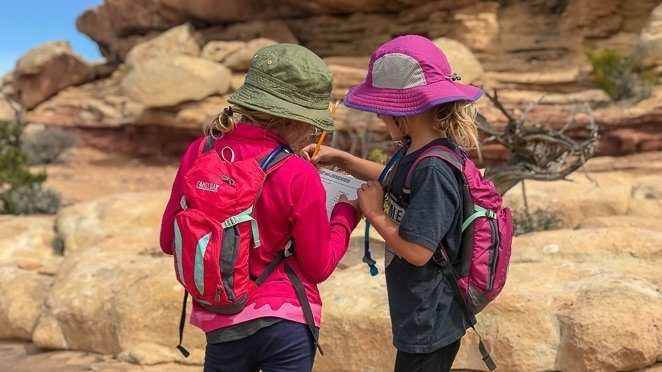 We've found that our family as a whole does better this way, while our children learn SO much from everything around them.
They read as much and often as they want, they learn math by baking daily and talking about measuring cups, and they each have fun educational apps on their iPads that they play frequently.
Our kiddos gain the most with all of the REAL WORLD skills they're learning such as how to socialize with kids of different ages and how to be flexible when it comes to what our week might look like.
15. Okay, I get the homeschooling thing, but what about socialization?
It's really all about being intentional. As a traveling family we work hard to meet up with other families on the road so that our kids can have time to play with other kids who live in RVs or travel full-time.
They've also learned to be outgoing and join in on a game of playground-tag when we frequent local playgrounds.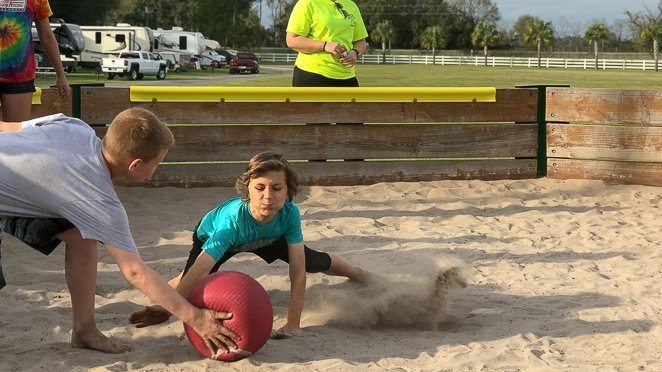 Socialization can look so different than what many of us think it should look like.
I love that our kids don't expect to only associate with kids their own age. Instead, they make friends of all ages. For example, Riley loves joining in a game of Gaga ball with kids 3 years older than him and Gwen loves playing with toddlers at playgrounds. Our kiddos have had NO problem being social and finding friends to hang with.
16. How do you stay in touch with family and friends?
Not only do our kids keep in touch with friends and family via technology such as FaceTime, but Tony and I do too! I often stay in touch with people we meet on the road through Instagram DM, Facebook Messenger or text messages.
Our kids each have their own iPad and keep in touch with their cousins back in Minnesota and friends we meet on the road through email, iMessage and Facetime.
Technology has come a long way and we're able to feel close to family and friends when being miles and miles apart.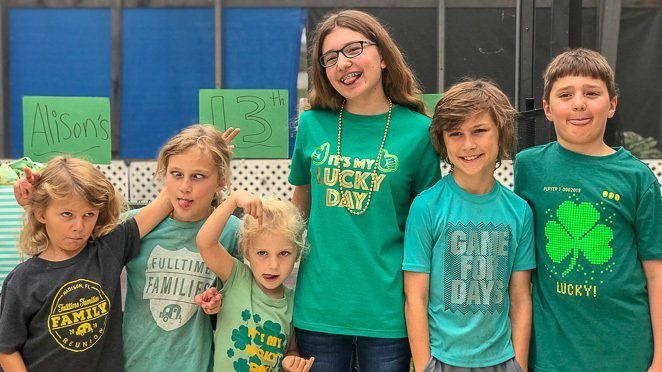 Also, full time camping, or traveling full-time encourages our extended family to travel to where WE are for visits, such as spending their Spring Break in Florida with us this last March!
17. What do you do about laundry on the road?
In our travels, we've found that doing laundry every 7-10 days works best. Tony or I take turns bringing all the clothes to a laundromat and we usually have everything washed, dried, folded and put away in about 3 hours.
Then we don't talk about laundry again for another week. It's fabulous!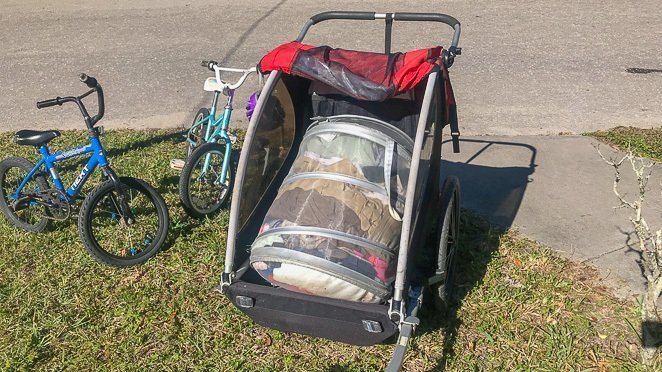 Some RV families swear that they love having an RV washer/dryer combo in their camper, especially if they are living in a 5th wheel.
Our friends who LOVE their RV washer/dryer combo usually do one load per day, but it doesn't seem to bother them. Oh, and they usually need full hook ups for that, so that's something to keep in mind.
Our family loves the freedom of not being dependent on staying in private campgrounds with full hook-ups. Lately, boondocking is our favorite way to keep the cost of full time RVing down.
18. What type of gas mileage do you get with your Class C Motorhome?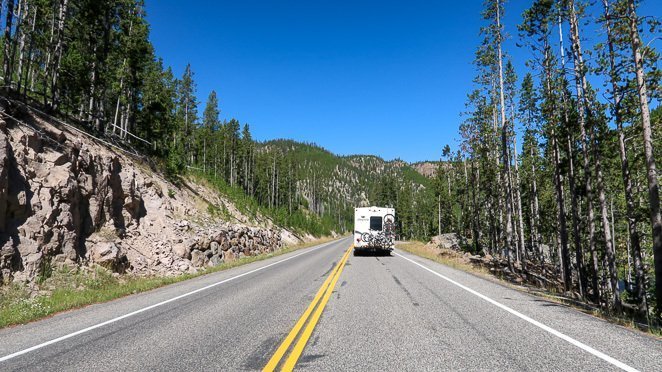 In short….8 MPG every time. Going 55 miles per hour or 70 miles per hour, up a mountain or down, we don't fluctuate much between 7.5 and 8.5 MPG in our motorhome.
Now, we choose to drive our minivan separately (we don't tow) so that means we also have to consider our van's gas mileage, which does fluctuate between 19 MPG and 26 MPG depending on highway vs city driving.
What we spend on gas can really fluctuate depending on how often and far we travel.
19. Have you found anywhere you might want to settle down someday?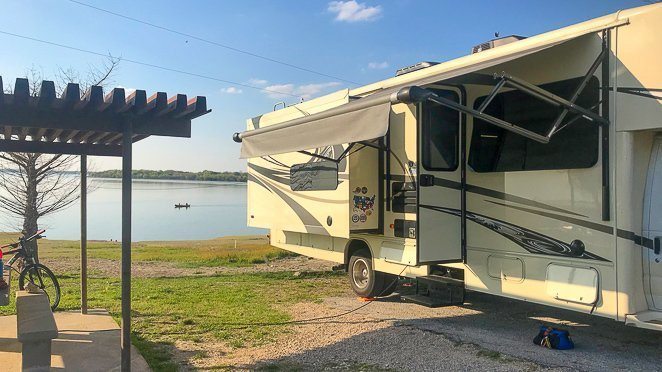 This question is one we get asked quite often, and in all honesty…I struggle to answer it.
You see, living fulltime in an RV has brought our family so much joy and flexibility. We might find that we LOVE a certain area of the country in the summer, but not at all in the winter. And vice versa.
We might LOVE Florida in the winter, but I don't think we'd love living there in the summer.
I also think we just have such a HUGE case of wanderlust that settling down just doesn't seem right for our family. The kids love traveling and whenever we have the chance to sleep in a friend's house or even house sit, as we did in Minnesota for my cousin for a week, we all agree that houses make us feel distant and off-key with each other.
I know, we're weird. But that's okay, I'm good with that. 🙂
Update March 2023: We've now been stationary for a few years in Idaho while camping and traveling when we can. During this global impact, we have fallen in love with Idaho, especially Idaho's Hot Springs.
20. What do the kids think about RV living?
They love it!
We check in with our kids regularly to see if our lifestyle is still something that works for them. They love being able to park our house-on-wheels next to their besties and play all day/night for a week.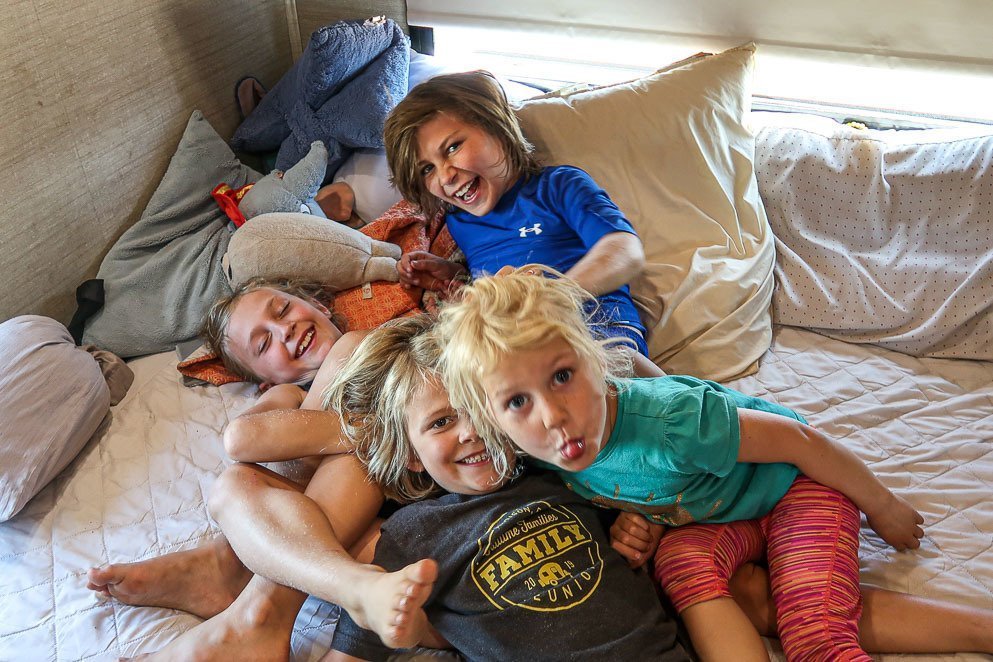 I also think they really love having both mom and dad with them all the time. Even if one of us is often working (we take turns), we are here for them and don't miss any of the big milestones in their lives.
RV living with kids has its challenges, but the kids are often much more flexible than the parents!
21. What is something we have in our RV that we couldn't live without?
There are a few things, but our #1 RV must have would be an RV surge protector. Our runner-up for an RV must-have has to be our espresso maker! I'm serious, Tony and I are obsessed with good espresso. Oh, and if we're boondocking then we use this when we don't want to start the generator.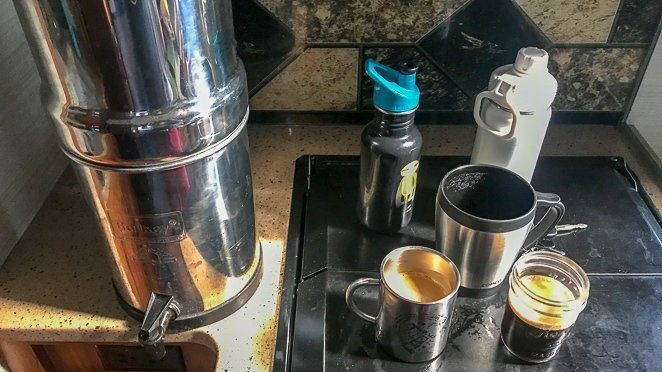 Okay, after that it would be our Berkey water purifier. It actually purifies all the water we put through it and makes it safe and clean for drinking, no matter the water source.
Now, we created a giant list of RV accessories if you want to dig in, go for it. Or, if you're looking for our top RV kitchen accessories then check out this post.
22. Is it legal to live in an RV full time?
Yes, you really can live in an RV full time in the USA as long as you have a mailing address, you choose a state to domicile in, and you pay your taxes.
Can you live in an RV legally? – This has been a question we've actually been asked by somebody who was pretty skeptical about our full time RV life.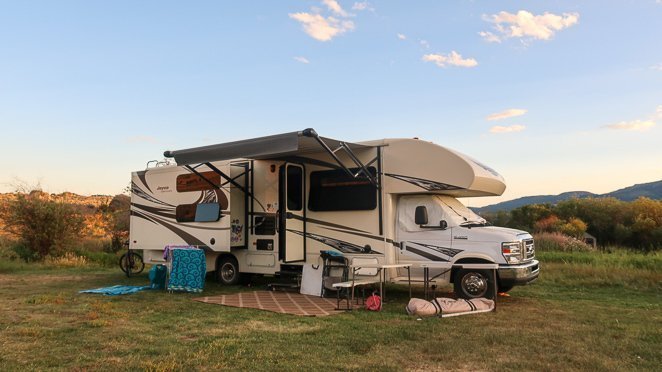 You DO have to have an address of some sort (see question 2 above), and you DO have to pay your taxes.
So, pick a state to domicile in, get a mailing address and driver's license in one state, and you are completely legal!
Related post: How to Drive an RV
23. How long do you think you'll be on the road full time?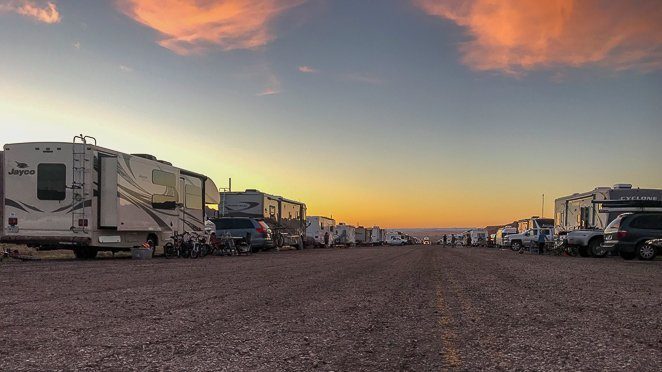 We have no end in sight.
Seriously, we're hooked on the RV lifestyle and although we are seriously considering taking our full time traveling family international someday, I think we'd keep our RV in storage with all our fun RV accessories and come back to the states intermittently to be 'home' in our RV.
Or, maybe we'd get an RV in Australia or Europe.
Update March 2023: We DID end up putting our RV in storage to travel around the world for 5 months before the big hit of 2020. Here is why we traveled as a family overseas if you want to read more.
Then we flew back to the USA and found a place in Idaho to settle down in for a while as we waited things out and reassessed travel. You can read what life was like after living overseas here.
We are still working as digital nomads and love helping others who are dreaming about full-time travel.
Click here to learn what we would do differently if we were to RV full time again.
Our family has grown a great deal closer during our years of traveling full-time. That, along with all 6 of us craving new adventures regularly, makes us look at the nomad life as being a very long term adventure.
If you are looking for more information about RV life or how to live in an RV, then check out our post on RV living for beginners or our post on buying an RV for the first time.