Are you looking for Legoland Florida tips to help guide you and your family on your next trip to Legoland? Our family spent an entire day visiting Legoland Florida and I want to share with our Legoland Florida reveiw.
Here is a list of 7 great tips for Legoland to help you prepare for your next visit. From Legoland height restrictions to where you can change your little one's diapers, you'll find that this list of Legoland Florida tips and tricks will get your family ready for an awesome experience!
THIS ARTICLE MAY CONTAIN COMPENSATED LINKS. PLEASE READ OUR DISCLAIMER FOR MORE INFO.
7 Best Legoland Florida Tips and Tricks
1. Bring Snacks and Water
Legoland Florida allows you to bring in a small soft-sided cooler with snacks and drinks. This is helpful when you are planning a full day at the theme park and want to keep everyone hydrated and happy. They do not allow any glass, so be sure not to bring in your kombucha like we mistakenly did at Disneyland!
2. Legoland Age Range: What is the Best Age for your Kids to Visit?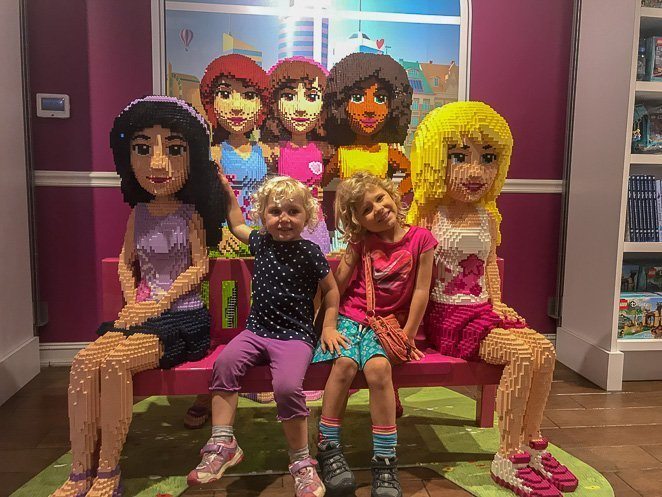 If you are wondering if Legoland is for toddlers, I'm here to tell you that it most certainly is! It is also great for kids of many ages, all the way up to 14 years old.
We visited Legoland with another homeschool and full time RV family who had children from ages 8 up to 14 years old, and they had a blast! There are several roller coasters and thrill rides for the older kids, while there are many great toddler and preschool rides in the Duplos section of Legoland Florida.
So, what are the best Legoland ages? I'd have to say ages 2 years to 14 years would be ideal. Yet, the babies can be carried and the older kids could still find a lot to enjoy, especially if they are Lego fans!
3. Visit the Duplo Baby Care Center if you Need Nursing and Changing Areas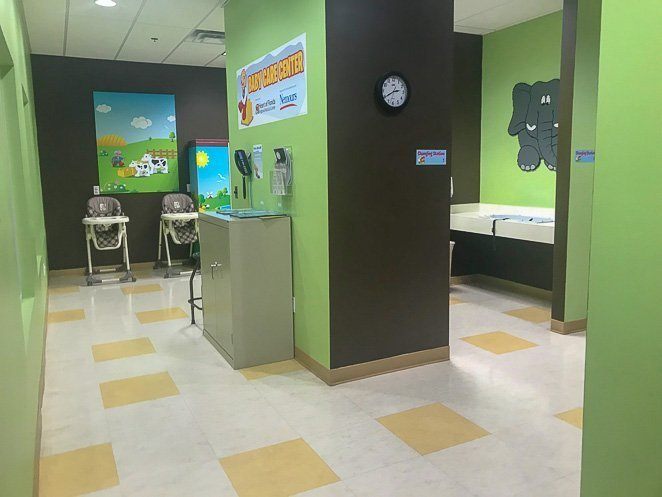 I was especially impressed with the indoor playground connected to the best nursing and changing room I have ever seen in a theme park!
As a mom who breastfed her 4 kiddos and was a birth doula for several years, I appreciate a nursing room like this! Check this out if you are looking for a great way to travel with milk for your little one.
4. Legoland Height Requirements: Measure your Kids Before You Go
Many of the regular Legoland rides require children to be either 48 inches tall or accompanied by an adult.
Some of the toddler and preschool rides in the Duplo section of the park allow children at 36 inches tall to ride without an adult, otherwise, an adult is needed to ride with the young kids too.
We made sure to measure each child with a measuring tape at home before we left. That way we knew what to expect.
There is nothing worse than having your kiddo become really upset because they are too short for a ride after they get their hopes up. Check here for height requirements for each ride at Legoland Florida.
5. Plan to Hit Your Favorite Rides First
A great tip we received from an employee at Legoland was to start at the back of the park in the morning and work our way forward. I think that is an excellent tip.
Another tip is to get to the rides your family is most excited about first thing in the morning when the lines are less likely to be long. Here is a list of our family's favorite rides at Legoland Florida.
Beetle Bounce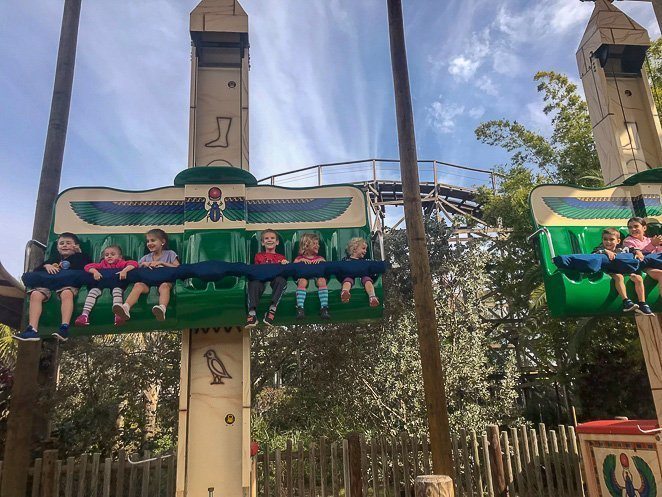 Our girls met the minimum requirement of 36 inches tall and road Beetle Bounce at least 4 times while we were at Legoland. They loved it!
Aquazone Wave Racer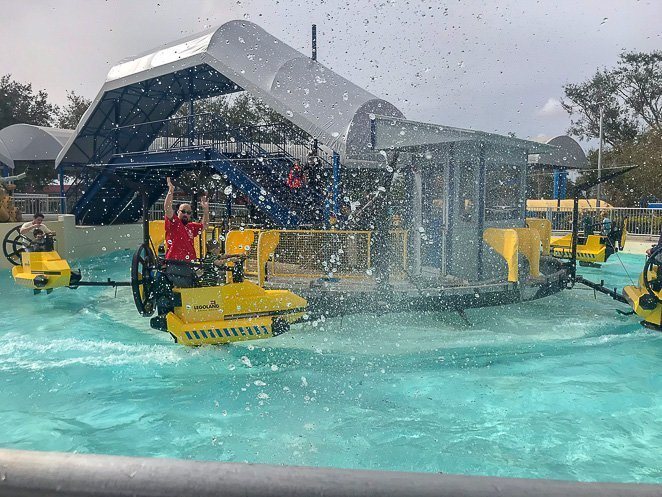 The older two kiddos loved riding this fast ride through the water. While my younger and shorter two kiddos, under 40 inches, really enjoyed spraying their Dad while he raced by!
Be prepared to get a little wet on this ride.
Ford Driving School and Ford Jr. Driving School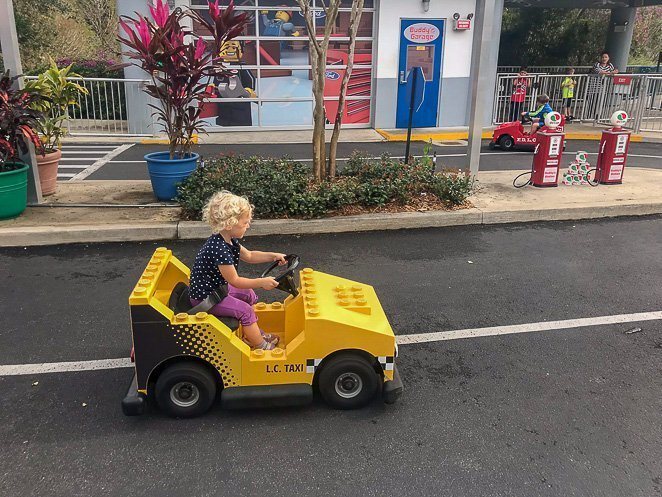 Our younger two kids got a kick out of driving their cars around at the Ford Jr. Driving School. They require the children to be between the ages of 3-5. Well, our 2-year-old is a very tall and talkative 2 ½ year old, so we were able to fudge a little and get her on. She had a blast and did great!
Our older two kids liked the Ford Driving School, but it was not something they were talking about later. The roller coasters were their favorite.
The Dragon – Roller Coaster
Our older two kids LOVED the Dragon. Riley was over the 48-inch requirement to ride by himself, and Lilya was between 40-48 inches so she needed to ride with someone 14 years or older.
We also happened to be hanging with our amazing friends and their oldest son was 14 years old! So, he and Lilya rode together and it worked out great when the parents did not want to hop on each time.
6. Take Time to Enjoy Other Things to Do at Legoland Florida
Pirates Cove – Waterski Show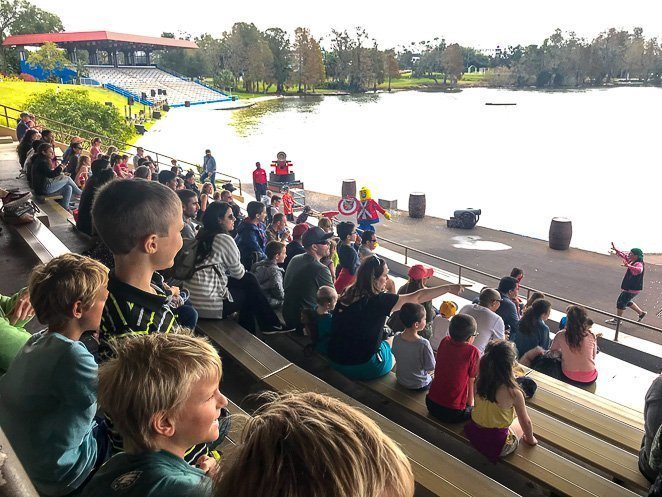 This was a highlight of our day at Legoland Florida. The waterski talent was out of this world, the actors were highly entertaining, and it gave us all a break to sit in the shade and eat our snacks while watching the show!
The show is included in your price of admission and they even had a ramp to allow wheelchair access to the top of the bleacher seating. This was helpful for our group, as there was a broken leg in the group.
4D – Movie
The movie lasts about 20 minutes, and is also included in the price of admission to Legoland. The kids enjoyed it and the parents again enjoyed a 20-minute break to sit and know that the kids were right next to us. I'd suggest watching the movie mid-day, as a way to break up all the walking from ride to ride.
Character Meet and Greet
We did not make it to an official meet and greet, but if your children are excited to see a character be sure to find out the time and place for the Meet and Greets.
Other than the Pirates Cove Waterski Show, we did not see any Lego characters walking around the theme park. However, we did visit during a day that was not busy at all, so that could have had something to do with it.
Pharos Revenge Play Structure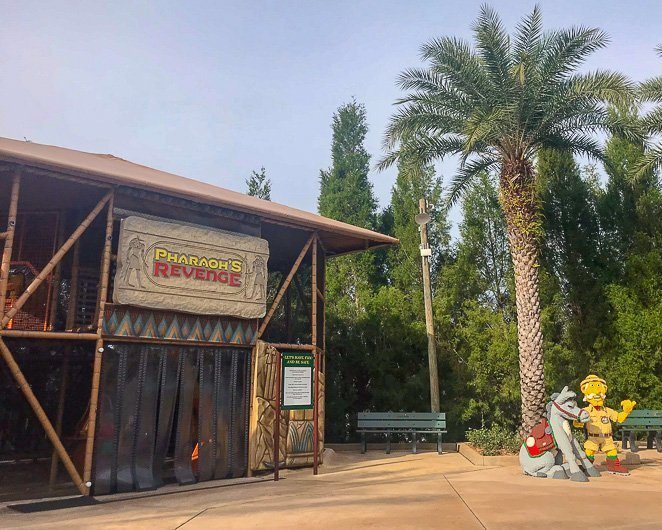 If you have younger children who cannot ride all the rides, or kids who are not a fan of many rides, then check out Pharos Revenge. It is a play structure that has shooting balls, slides, and fun climbing areas that is well shaded.
It's near the Beetle Bounce ride and made for a very convenient place for me to take our younger two kids while waiting for the older ones to finish their ride.
7. Bring Your Minifigs to Trade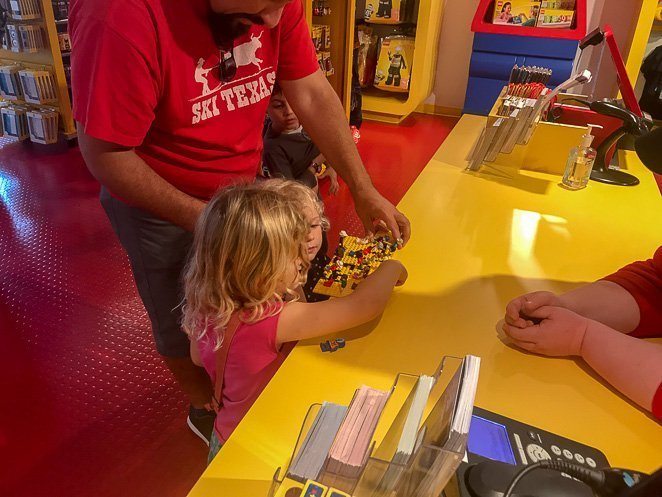 Bring a minifig for each child so they can trade it for another! Depending on how busy Legoland is, you may not see an employee walking around ready to trade. Instead, we stopped into one of the stores and we were able to trade our minifigs right at the counter.
Planning Your Legoland Florida Vacation – Legoland Florida Review
Where is Legoland Florida?
Legoland is located in Winter Haven, Florida. It is just 45 minutes southwest of Orlando and 45 minutes East of Tampa in Central Florida.
What Should I Pack for Legoland Florida?
Legoland is a large enough theme park that I suggest bringing a stroller or bike trailer for the young kiddos along with some snacks and water. Check out our complete list of things to bring to Disneyland that might help you decide if you need them for Legoland.
Where Should I Stay While Visiting Legoland Florida?
Legoland Florida Resort Hotel offers onsite accommodations with some fun extra activities for the children. The kiddos can participate in the master builder competition, swim in the resort pool, or participate in the nightly pajama party. They may even meet a favorite Lego character.
Families staying near Orlando could decide to take a Legoland day trip, as it is only 45 minutes away from Orlando.
We decided to use our hotel points and stayed at the Holiday Inn Express just 10 minutes away. This was a big money saver for us, as we were able to upgrade to a suite that had 2 queen size beds and a couch that pulled out to a bed.
Pro tip, if you have a young child and plan to stay in a hotel during your vacation, then I highly recommend investing in a toddler travel bed. Check out some of the best toddler travel beds here.
Our family of 6 enjoyed a great night in the hotel watching movies and taking their first baths in 6 months!!! Living in an RV with only a shower means that the kids have had to go without actual baths while traveling full time.
I cannot express how excited our kids were to have access to a bathtub.
When Should Our Family Take a Trip to Legoland?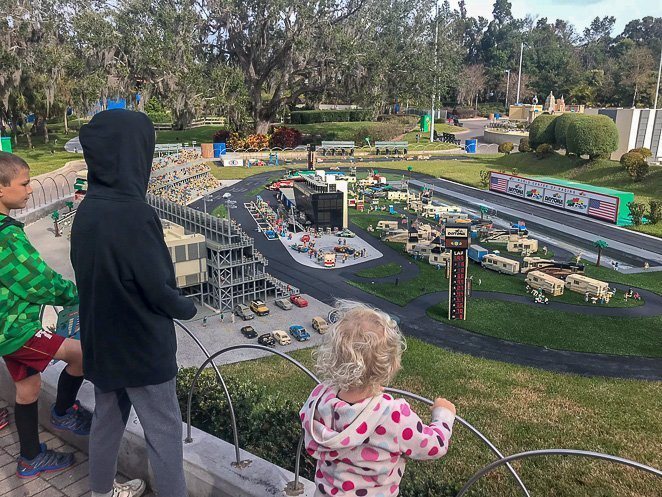 If you are looking for smaller crowds and cooler temperatures, then I suggest taking your family to Legoland Florida during a weekday in January or February.
If your kids are in school this might be difficult, so make the best decision for your family. Also, if you happen to homeschool, roadschool, worldschool, or unschool then keep reading for money saving tips!
How Long Should I Plan to Stay at Legoland?
Plan to arrive when it opens at 10:00 and stay until dinner time. Depending on the time of year it is, Legoland Florida closes between 5:00 and 7:00pm.
Does Legoland Florida Have Discounts?
For homeschool families they do! If you happen to homeschool your children, you can purchase HIGHLY discounted tickets to Legoland Florida. That's what we did and it saved us a great deal of money!
Check their website for listings of the special 'homeschool days' that you can visit the park. Then, be sure you have proof of homeschooling such as a letter of intent to your superintendent of the school district you are in, proof of an 'umbrella' school that you are a part of, or proof of membership to a homeschool group.
If you have any questions, be sure to call Legoland Florida.
You will need to purchase the tickets at least 48 hours in advance over the phone to receive the homeschool discount. So, mark it on your calendar, set a reminder, or just do it now so that you can save money! We called Legoland a few days ahead and purchased our tickets for only $14.50 per student and $29 per adult.
What if we don't homeschool, can we still get a discount?
Yes! Check into Mouse Savers as a great way to receive discounts at Legoland and other great attractions in Florida.
Other Great Florida Vacation Ideas
Once you finish enjoying all the Legoland Florida tips and tricks, pop on over to learn all about the best things to do in St. Augustine Florida. Then make your way over to learn why Naples Florida should be your next Florida destination for the family. Or, if you need more inspiration to travel more with your kids, click here.
Let's Travel Family is a participant in the Amazon Services LLC Associates Program, an affiliate advertising program designed to provide a means for sites to earn advertising fees by advertising and linking to amazon.com, amazon.co.uk, amazon.ca. Amazon and the Amazon logo are trademarks of Amazon.com, Inc. or its affiliates.
Pin this to Pinterest