Are you making a Disney packing list and wondering what to bring to Disneyland? You might have the Disneyland outfit picked out but what else is essential to make your Disneyland vacation go smoothly?
Our full time traveling family of 6 spent a fabulous day at Disneyland, and another at Disney's Magic Kingdom, and want to share with you the ultimate list of 19 things to bring to Disneyland.
THIS ARTICLE MAY CONTAIN COMPENSATED LINKS. PLEASE READ OUR DISCLAIMER FOR MORE INFO.
Where To Stay In Puerto Rico
One of the best places to stay in Puerto Rico is the Caribe Hilton in San Juan. It's not only oceanfront, but it has its very own private beach with calm waters for snorkeling, an incredible outdoor pool area, and several restaurants on sight. I stayed here during my visit to San Juan, Puerto Rico and used it as a great central location. It's only a 10-minute Uber ride to Old San Juan or a 15-minute Uber ride to the international airport.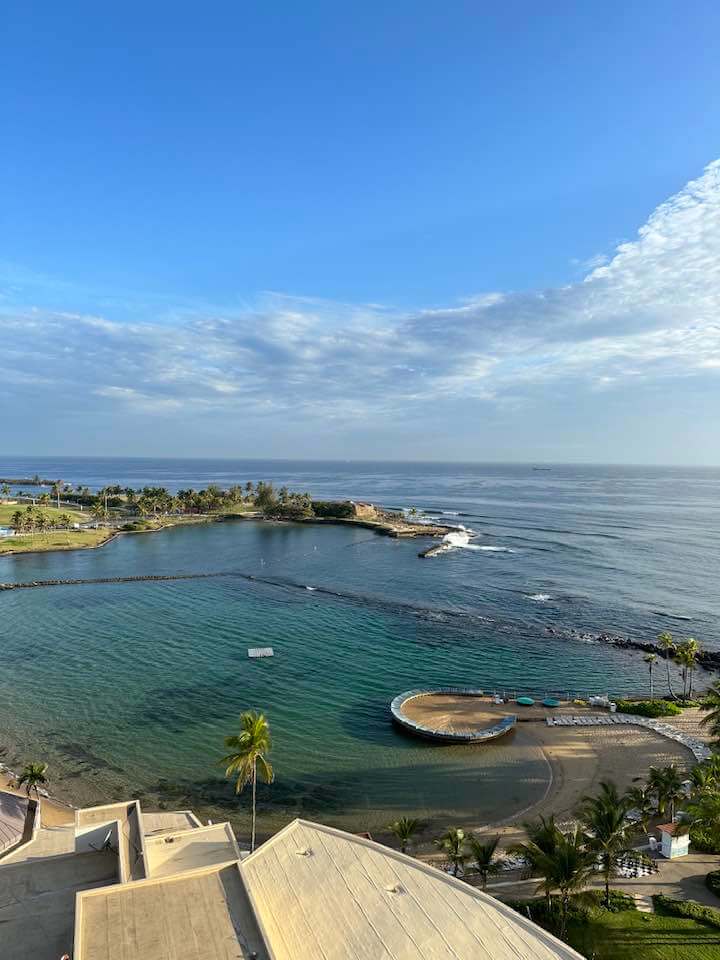 Click here to check rates for Caribe Hilton.
If you're looking for more fun in Puerto Rico beyond the adventurous experiences, then you may want to consider combing your trip to be part-adventure and part-relaxation and book a few nights in one of the top Puerto Rico resorts for families.
Looking for a place to stay near Disneyland? Here are some of the highest-rated options for lodging near Disneyland.
Things to Bring to Disneyland
1. Tickets
First things first. You need a ticket to enter Disneyland Park or Disney California Adventure Park. Be sure to purchase your tickets ahead of time through Disney here.
2. Disneyland Outfits for the Family
Are you trying to decide what to wear to Disneyland and hoping to look the part during your Disney Vacation? Or are you going to surprise your kids with exciting Disneyland outfits for your trip?
One of the top things to pack for Disneyland is a fun outfit for each kid. Hop online to search for some great Disney outfit ideas and choose something that you know your kiddos will wear!
3. Stroller or Bike Trailer
If you have any children that are 5 years old or younger, then one of the things you need for Disneyland is a stroller or a pushable bike trailer. We could NOT have lived without our Burley bike trailer during our visit to Disneyland with 4 kids, especially when our youngest was only 2 years old.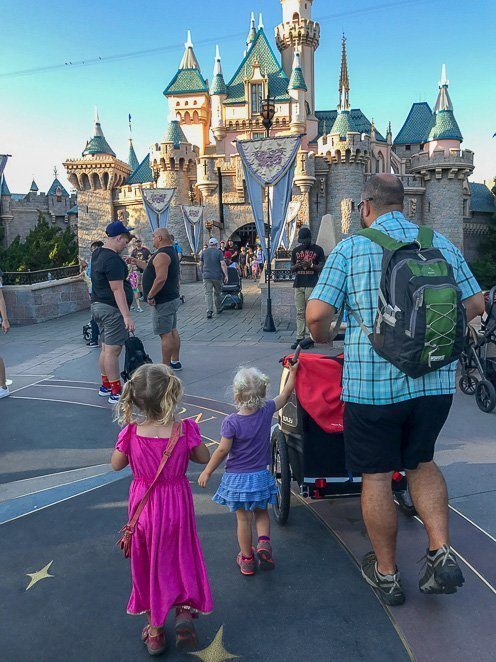 4. Backpack or Bag to Carry Everything- Ospray Farpoint 55 Travel Backpack
Whether you're bringing a stroller or not, you will need a backpack to carry all of your things around Disneyland. We LOVE our Osprey Farpoint 55 Travel backpack for all things travel. It's great to use as luggage on the plane and a way to hold all your Disneyland essentials once you arrive!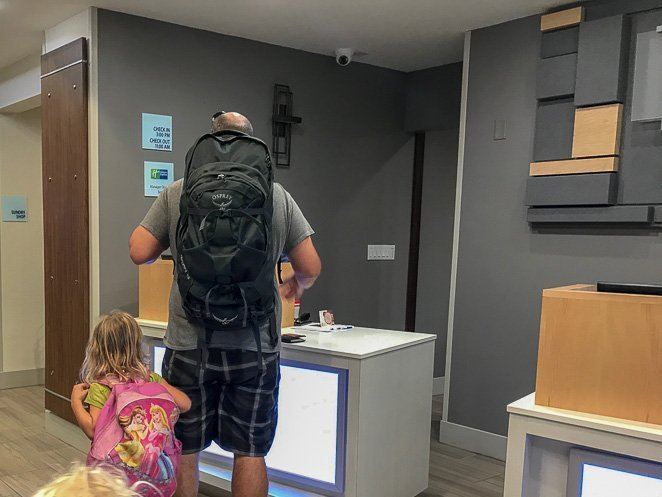 You can trust the Osprey Farpoint 55 travel backpack for short trips together. It fits clothes for our family of 6 for a 2-night stay and we can use the small pack as a day pack.
5. Cell Phone or Other Cameras
I would not recommend leaving for Disney without a great camera. My iPhone takes fantastic pictures and I have it with me all the time. I love that it fits in my back pocket, too. If you have another camera, don't forget to add it to your Disneyland packing list.
6. Battery Charging Pack – Must Have!
Our battery charging pack is one of the BEST purchases we made before we went to Disneyland. When deciding what to take to Disneyland, please add this battery charging pack near the top of your list!
If you plan to spend more than just a few hours at Disneyland, then you'll need a battery charging pack to recharge your cell phones as you'll use your phone for the Maxpass, Disney map, taking pictures, posting fun pictures to social media from Disneyland, or just checking the time. You will need a way to recharge your cell phone!
Special Disney Tip: If you haven't already looked into getting the Disney App, download it now. You'll be happy that you did. I love that you can see the wait times for rides for both Disneyland and Disney World. Click here for the Disneyland App or click here for the Disney World App.
7. Comfortable Shoes for Everyone
Make sure everyone in the family is wearing good walking shoes for your trip. I love my Xero Shoes Pro, as they work great for wide feet and give just enough cushion to allow me to walk more hours without sore feet. Yet, they are minimalist footwear with no arch support, which is exactly what I was looking for.
Keens would be another great option for you or the kids.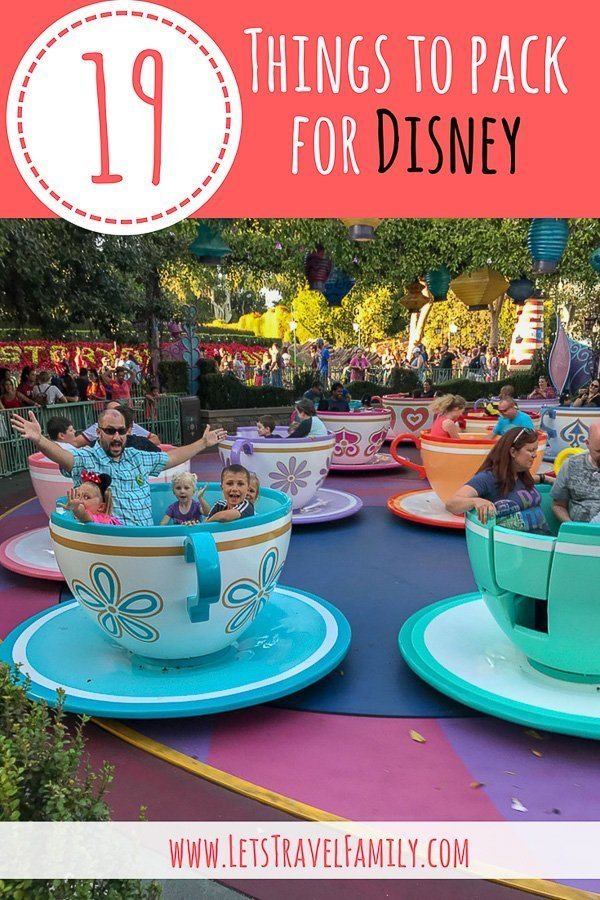 8. Autograph Book and Pen
It's always a fun experience for the kiddos to get autographs from their favorite Disney characters! One of those Disneyland must-haves is an autograph book and pen!
When you're making a list of things to take to Disneyland, add this to your list and I'd recommend buying it online and bringing it with you in your bag, or you'll be spending quite a bit on one at the stores in Disneyland.
9. Sunglasses for Parents and Kids
I WISH we would have brought sunglasses for the kids on our Disneyland trip. Tony and I had ours, but forgot to think of the kids. These polarized sunglasses for kids sound perfect for the kiddos!
10. Disney Mouse Ears
A trip to Disneyland would not be the same without having a set of Minnie or Mickey Mouse ears for the kids! If you buy them online ahead of time, you'll save a ton of money than if you wait until you arrive to Disneyland. I HAD to have a cute picture of the kids in their ears.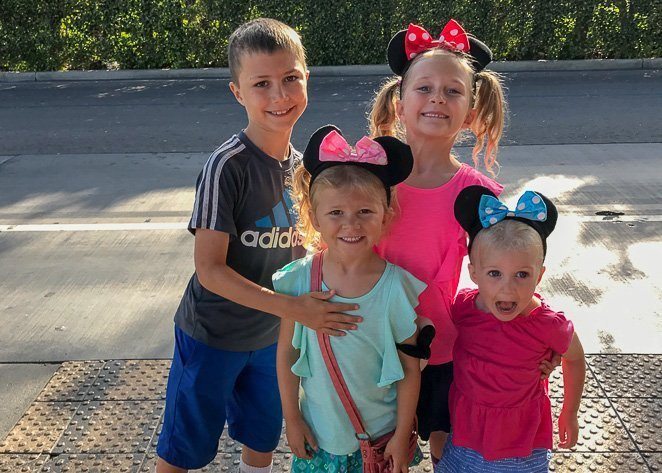 11. Disney Hats if Not Ears
If you don't think your kids will wear their cute Micky and Mini Ears after you take the 'must-take photo' the morning you leave for Disneyland, then be sure to pack hats. Or better yet, buy YOURSELF a great Mom or Dad Disney hat! I wish we had these for our trip to Disneyland California!
12. Soft-Sided Cooler with Water and Snacks
Can you take food into Disneyland? YES! Can you bring water into Disneyland? YES! We brought an entire case of water in our cooler into Disneyland, which we had in the back of our bike trailer that worked as a stroller. I was so thankful that we did.
Having our soft-sided cooler allowed us to carry our water and food all around to help keep the kiddos hydrated and fed. Just remember, you cannot bring any glass into Disneyland. We mistakenly brought a bottle of kombucha and had to drink it quickly and throw the bottle before we entered the park!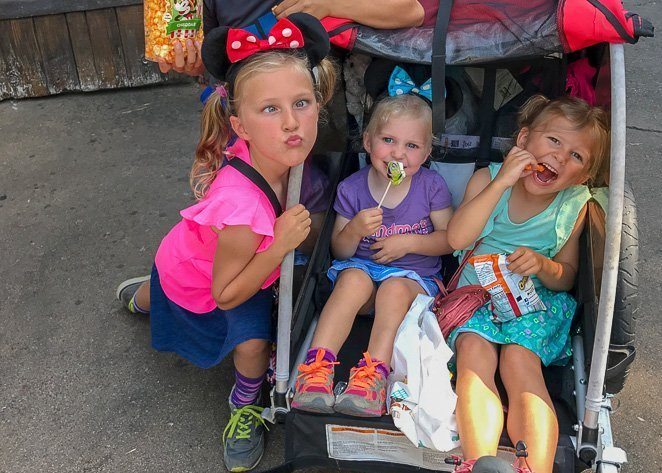 13. Lip Balm or Chapstick
Sunshine on the face, screaming on roller coasters, eating new and fun foods….it all makes for a great reason to grab some lip balm to pack in your backpack. Burt's Bees is our family's go-to lip balm.
14. Sunscreen for Disneyland!
The California sun can be brutal on your family's skin if you're not used to it. Do not leave for Disneyland with toddlers, or fair skinned kiddos, without bringing sunscreen.
We especially like Babyganics as it's a trusted brand that's mineral-based and safe on most skin types.
We also love using Badger Sunscreen for older kids and adults.
15. First Aid Kit
I love that this I GO first aid kit is soft-sided, making it easy to pack. It also comes with an ice pack! Not many first aid kits have ice packs in addition to bandages and gloves. We always have a first aid kit with us during any family travel experience, even Disney!
16. Change of Clothes
If you have any young kiddos that have a tendency to spill on their clothes, or may still be in the potty training stage, then be sure to grab an extra change of clothes to bring along. Roll them up and stick them in your backpack.
17. Glow Sticks
Just because the sun sets doesn't mean your Disneyland fun is over! Stay for the fireworks and bring some glow sticks to surprise the kids! You'll get extra special mom and dad points for this one.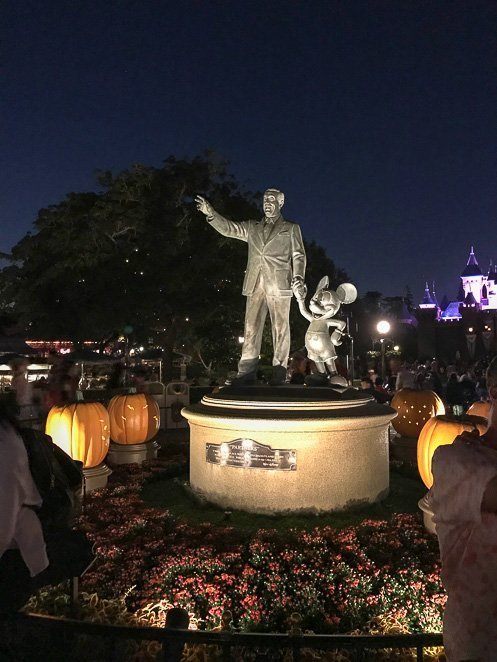 18. Light Sweaters or Sweatshirts
Bring a light sweater or better yet, a fun Disney sweatshirt to keep warm in the evening. Once that sun goes down, you'll be glad you have something to put on.
19. Cash
It's always a great idea to bring some extra cash along for quick purchases throughout the day at Disneyland. From lollipops to stuffed animals, you can buy all sorts of things from the kiosks and vendors throughout Disney. Yet taking out a credit card each time can be a bit of a hassle. In addition, the kids enjoy being able to take the cash up to the cashier to buy their OWN treat or souvenir.
Additional Tips for Disneyland Planning
If you're still in the planning stages and looking for the best deals on ticket, then check out our detailed post about planning a trip to Disney on a budget here. We go into detail about finding discounted Disney tickets to make your trip more affordable.
Be ready for a long, but fun-filled day together at Disneyland. Plan to arrive early and stay late.
Our family arrived 15 minutes before Disneyland California opened and stayed well past dark. We honestly had the time of our lives!
I feel that a big part of making our day so magical was being well prepared. Packing things we would need, and other things we would want, made our day go so smoothly.
So see, we travel full-time with our kids to build lasting memories together, and Disneyland did not disappoint.
If you'd like to make your Disney trip a surprise, check out our tips for making a Disney Scavenger Hunt.
Are we missing something on our list? Let us know in the comments what other things families should add to their lists of things to bring to Disneyland!
Pin this to Pinterest