Are you planning to fly to some fun destinations soon? Finding the best travel accessories for long flights doesn't have to be difficult.
As a mom who's lived the full-time travel life for over 3 years, I've learned a thing or two about what to bring on a long flight. Since our family took an around-the-world trip to Bali Indonesia in 2019 with carry-on luggage for six people, I'm excited to share with you some suggestions for finding the best travel accessories for long flights.
Before our traveling family flew overseas, we were full time RVing and needed an entirely different list of airplane travel accessories for that type of lifestyle. I can say for sure that air travel is SO different from land travel. That's why long flight essentials are different from road trip necessities.
If you're clueless as to what to bring on a long flight, or it's your first time flying, then here's a list of travel accessories for long flights that you should get your hands on.
THIS ARTICLE MAY CONTAIN COMPENSATED LINKS. PLEASE READ OUR DISCLAIMER FOR MORE INFO. THIS POST WAS WRITTEN BY JILL GREISING-MURSCHEL, A FAMILY TRAVEL AND RV LIVING EXPERT.
Travel Essentials for Long Haul Flights
Flights may feel even longer if you don't have the essentials to make them comfortable and even enjoyable. How can you survive hours of sitting without headphones or earpods? You really shouldn't have to.
What will you need for a great nap while on a plane? Or how can you beat jet lag so you can enjoy your honeymoon?
Here are some long haul flight essentials I think you may need to avoid the boredom, and jet lag, that comes with the long flight. Some of these items will help if you are flying with toddlers or kids, but they can all be beneficial for all types of travelers.
1. Headphones
Topping the list of travel essentials for long flights are headphones. It can be hard to survive any long trip without a set.
Listen to your favorite songs or podcasts while looking at the clouds, or use yours to listen to any inflight entertainment or movies. Noise canceling headphones are fantastic for flying as they help drown out the noise of the plane and allow you to relax in your seat.
2. Earplugs
Sometimes a flight can be a bit hectic. Babies crying, sounds of seats moving, the flight attendant delivering drinks and snacks, and the collective murmur of fellow passengers can really lower the quality of your sleep. Or, not even allow you to.
That's why if you don't have noise-canceling headphones along, you'll want to consider bringing earplugs to block out the noise and have your much-deserved peace and quiet for the rest of the flight.
3. Sleep Mask
If you're traveling across time zones then you may need to anticipate daylight in the plane when your body may feel like it's nighttime. That won't be a problem if you bring your own sleep mask.
Some airlines give away eye masks for their passengers but some don't. Just to be sure that you have something to use, you should bring your own so that you can beat jet lag early.
4. Neck pillow
Bringing a neck travel pillow can really help you stay comfortable in your seat on the plane. Either for a nap or just for sitting and reading a book. Consider grabbing a neck pillow that fits in a small bag to make it easier to carry onto the plane.
5. Medication and Vitamins
One of the carry-on essentials for long flights that no one should forget is a small container of your medication or vitamins.
Note that plane conditions are not exactly the best, long flights especially can cause dehydration which leads to headaches and other minor conditions. You may also need to be ready with allergy medications just in case.
I always bring a few packages of Emergen-C to boost my immune system, because we all know that travel can cause a bit of stress to the body. Eating different types of food, sleep disruptions, and the dryness inside the airplane can really make you feel a bit off.
6. Hand Sanitizer
Hygiene is so important in crowded places like the airport and inside the plane. But you can't get up to wash your hands whenever you touch something (that's so draining and people will probably think you're weird) so take a small bottle of hand sanitizer with you.
7. Power bank
One of the must have travel accessory that you absolutely can't forget is a power bank to help charge your phone's battery life.
Always be ready. Hours of using your gadgets will probably drain them and once they're drained, you'll lose your primary source of entertainment. Bringing a power bank can help you use it for longer.
Don't plan to find an outlet at an airport on your layover either. They are often hard to come by and when you do find one, other people may already be using them. That's why we bring this power bank fully charged on all of our family flights because we can even charge our laptops with it.
8. A Hoodie
Nothing is more important than comfort when it comes to long flights. Tie a sweatshirt around your waist before you head to the airport. Then, put the hoodie on right when you feel like sleeping and it'll help you feel comfortable and relaxed during cold flights.
Really, you won't feel it right away but an hour after the take-off, you'll notice how chilly it is. If you're not exactly a fan of the cold, you really need to bring a hoodie with you even if you're traveling in hot climates. Plane travel is always cool.
9. Lip Balm
Water is not enough to keep your lips from drying out throughout a long flight. So I suggest bringing your trusted lip balm. You don't want to have chapped lips once you get to your destination, right?
Try this top-rated Burt's Bees Moisturizing Lip Balm. It's my favorite brand and one the kids love too.
10. Water Bottle
Most of the time, flight attendants serve tiny water bottles or small cups of soda or coffee. It's not nearly enough. Bring your own water bottle to avoid this problem. Just remember to bring it empty so that you can get through airport security, as you cannot bring more than 3 ounces of liquid through. Then you can fill your water bottle at an airport drinking fountain.
You can choose my favorite well-insulated Hydro Flask Water Bottle or this collapsible Nefeeko Water Bottle for easier storage.
11. Toothbrush
You can't miss this one on the list of all your essentials for a long haul flight. A long flight means that you'll most likely be sleeping for part of it. Being able to use the bathroom on the plane or at the airport when you land to brush your teeth, will help you wake up and have a better 'morning breath' at your destination.
It's very common to see people in airport bathrooms brushing their teeth, so you won't be the only one.
12. iPad or Audiobook
Bring an iPad, audiobook, Kindle Paperwhite, or anything to keep you and your family entertained. I just think that audiobooks and iPads are the best travel gadgets for long flights for families out there who travel with kids. They can get bored easily so give them something to keep them entertained, especially on long flights.
Our son downloads eBooks on his Kindle from Kindle Unlimited before we take any trips, and our girls usually download new games on their iPads. They may get a lot of screen time on flights, but it makes it go by much smoother and that doesn't mean they have screen time during the rest of our trip. Just on travel days.
13. Carry-on Luggage For International Flights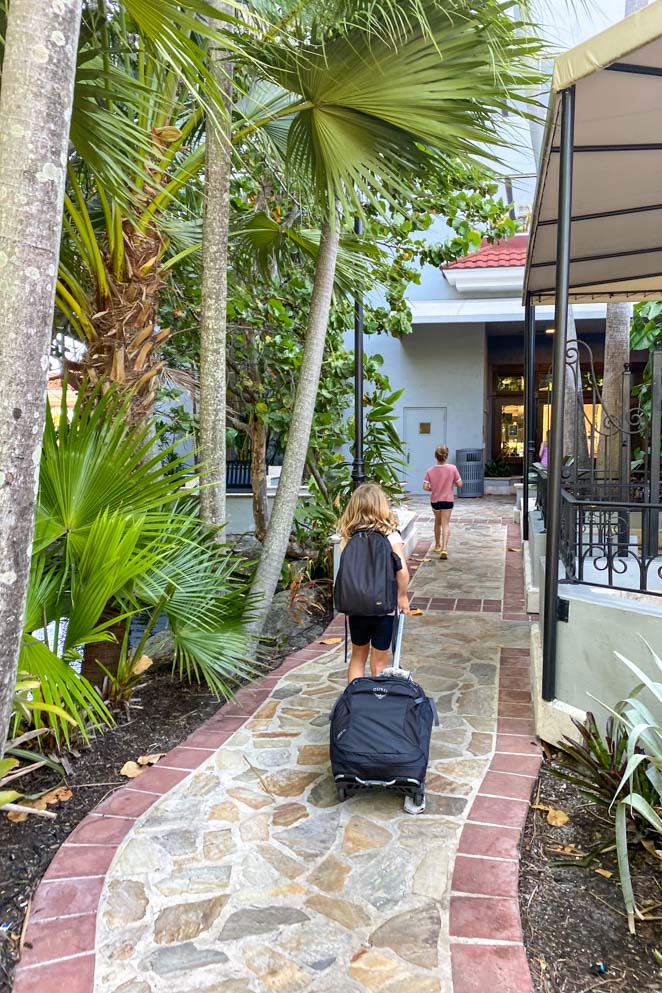 Be sure to have your piece of carry-on luggage to bring your basic belongings small enough to meet international travel requirements of about 21 inches. The US carry on bag size is usually 22 inches, but most international flights are a bit smaller. That's why we love our Osprey Ozone wheeled carry-on bags.
Our daughter was 4 years old when she rolled her Ozone around international airports in Bali and Thailand in 2019. They are easy to handle and fit in all overhead compartments.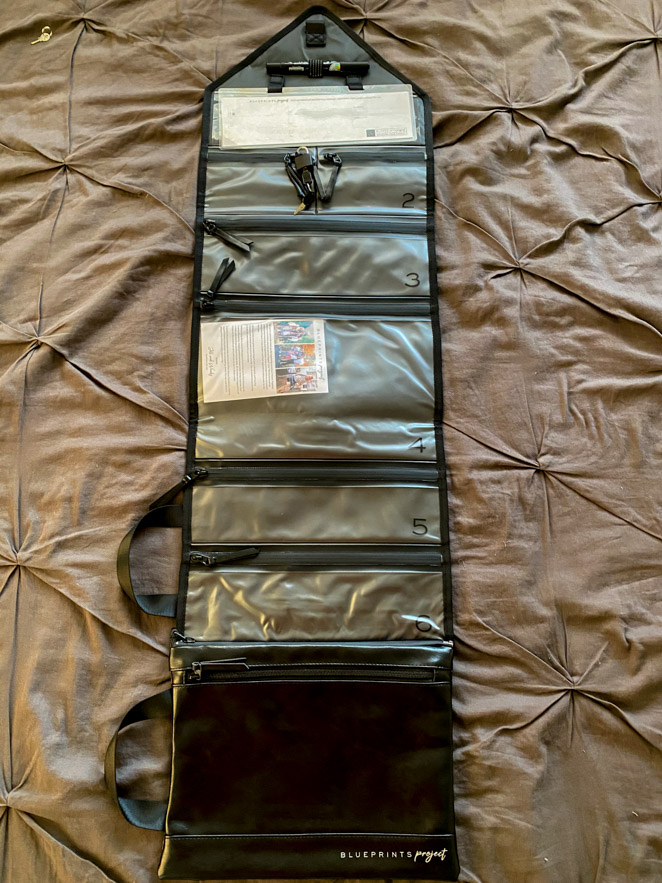 Another bonus carry-on item that is great for families is the Blueprints Project carrier to keep everything organized. We used ours during our Spring Break trip to Florida and it helped me keep snacks, masks, vitamins, sunscreen, and other items within reach at all times.
14. Mask – Travel Requirement
Lastly, be sure to bring your own mask for international flights. They are required on some air travel. In the future, things may change but as of right now, be prepared with having your own.
---
Whether this is your first time flying or you are a seasoned traveler, it's always good to refresh your list of essentials for long-haul flights before you leave on your trip. I hope this guide helped you to find the best long-flight accessories for you and your family.
Did I miss something? What do you usually include in your own list? Share it in the comments below.