Planning to go on your first flight? Then read this helpful list of tips for first time flyers just for you.
I know that flying for the first time can make some people really nervous. That doesn't have to be you. Nerves can often be calmed when your big questions are answered such as: when should you be in the airport if your flight is at XX o'clock? What can you bring and what can you NOT bring to the airport?
It's normal to have many questions. And there's no need to be embarrassed to ask them!
But if you want a clear list of flying for the first time tips, then you've come to the right place.
Read on to see our list of advice for first time flyers based on our own experience as a traveling family of six, below.
THIS ARTICLE MAY CONTAIN COMPENSATED LINKS. PLEASE READ OUR DISCLAIMER FOR MORE INFO.
Tips for First Time Flying
Are you getting ready for a flight? Is it your first time flying? Don't worry, we'll guide you through it with this list of first time flyers tips, followed by tips for flying with your kids for the first time.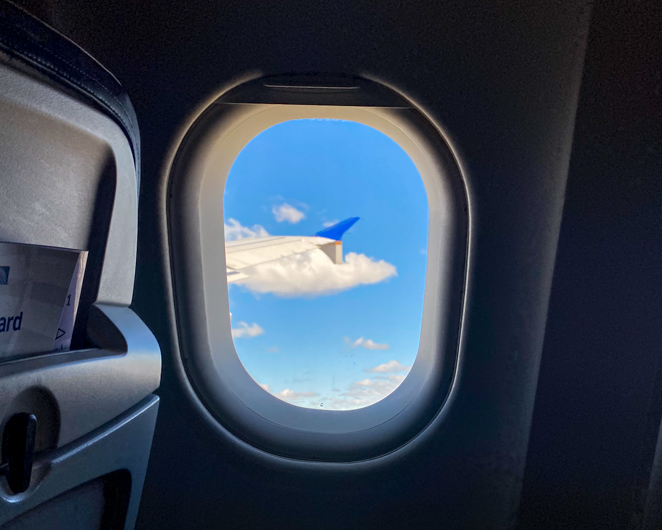 1. Book Your Flight Ahead of Time
Try not to wait until the last minute to book a flight. You'll be stuck paying WAY more than if you booked your flight at least one month in advance. Two or three months early will often give you an even better price.
2. Pack Well
Decide if you are going to 'check a bag' or two, or take a small suitcase or carry on bag that will fit in the overhead carry-on compartments or you'll be leaving in the check in counter. If you choose to travel light and use a small carry-on suitcase, you can also carry a purse or small laptop bag as well. It's a way to make your time at the airports faster, but it also limits you on what you can bring.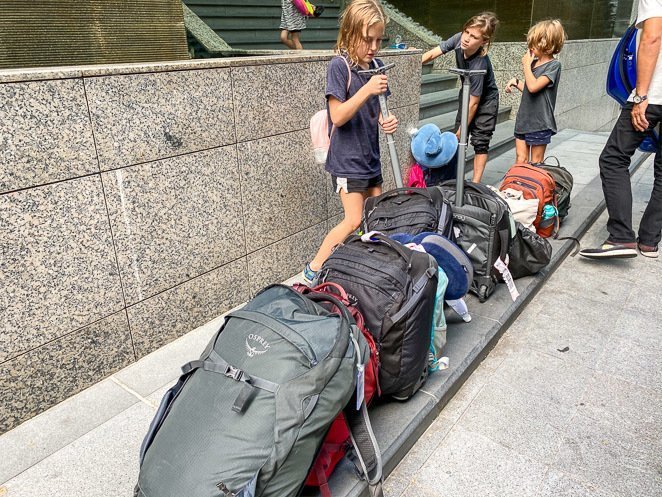 Per TSA regulations if you're flying within the USA, your carry-on luggage or checked bag cannot have any containers larger than 3 ounces carrying liquids such as hair spray, toothpaste, etc.
If you're going on a long flight, then be sure to leave room in a carry-on suitcase or backpack for great travel accessories for long flights.
3. Learn the Dos and Don'ts
What can you bring and what is not allowed? If you're bringing your dog, will you be visiting pet-friendly airports along the way? What's the maximum baggage weight? Can you bring your child's stroller on the plane? These are the technicalities that are important for every traveler.
You wouldn't want to have problems with the weight limit when it's minutes before the boarding, right?
It only takes a few clicks on your airline app, which you hopefully downloaded when you booked your flight, to find out the technical rules for the flight you're taking.
4. Prepare Important Documents
Some important documents are absolutely needed for you to get on your scheduled flight.
These can include passports, identification cards, travel visas, a negative test, boarding pass, and others depending on the type of flight, whether it's an international or domestic flights you're taking and where you are traveling to and from.
Especially if you're going on an international flight with connecting flight where airport security is stricter, so you must prepare these documents carefully. Keep them all in a separate document pouch or wallet, and make sure to bring multiple copies of each in case any get lost or damaged.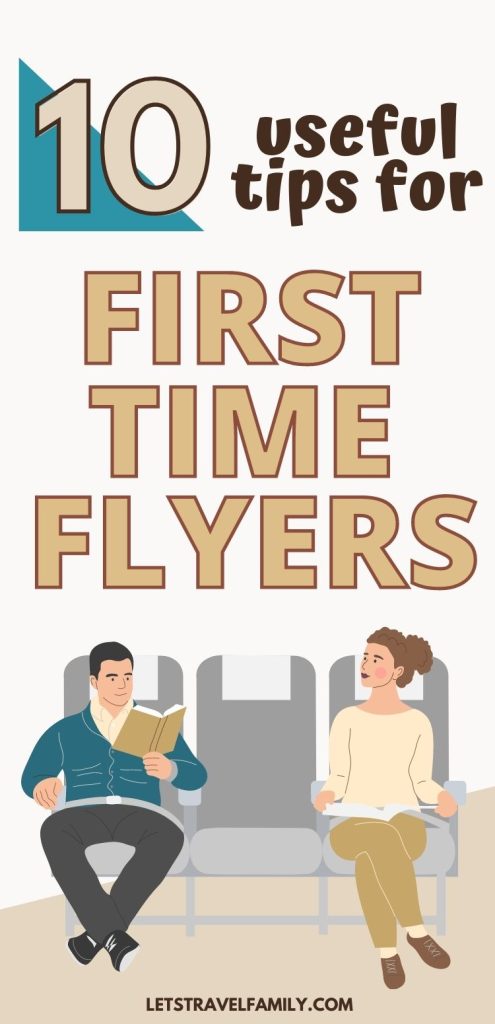 5. Check-in Online
Airlines these days offer online-check in as an option. You can check-in 24 hours before your flight and choose a seat if your ticket allows you to. This will save you time since you won't have to line up at the airport to do the traditional check-in process.
I'll say that this is one of the best advances in the flight process so far since it's convenient for every passenger. Just remember that if you're going to check a bag, and not fly carry-on only like our family often does, you will need to arrive with enough time to check your bag.
6. Wear Comfortable Clothes
Flying is just like any other form of travel—it can take super long. So even if there are good seats, it wouldn't take away the fact that you'll be sitting there for hours.
Dress in comfortable clothes anytime you are flying. I always suggest dressing in layers, because many planes can be cold to fly on, while the airports can be very warm.
7. Bring In-Flight Essentials
These are typically what you'd also bring as classic road trip essentials. A book, snacks, download a great podcast or watch an in flight movie.
Of course, don't forget your neck pillow and noise-canceling headphones with a cord, so that you can plugin to in flight entertainment which most airlines now have.
8. Get to the Airport Earlier
Never plan to arrive there just on time, give some extra time for unexpected factors like traffic, long lines through security, or anything else that might come up.
Giving yourself extra time is also one of the really important first-time flying tips that we can think of. By arriving earlier, you can have the time to familiarize yourself with the actual airport, grab a bite to eat, and feel rest assured that you made it on time. You can then use this as a reference for your next flight.
9. Use Any Help You Can
Airport staff and employee such as flight attendant is there to guide you. If you feel like you're lost, don't worry and ask the nearest worker for directions.
They won't hesitate to help and can get you where you need to be asap.
10. Drink Water
While in the airport and on your flight, remember to stay hydrated. Especially if it's a particularly long flight.
Tip: Bring an empty water bottle then fill it up ONLY when you're beyond security. This is protocol actually. Doing this can also save you some money since not all flights offer free drinks on board.
11. Relax
Really, everyone else that you see in the airport has experienced going on their first flight. Some may even be going on their first flight at the same time as you.
So don't be too anxious about it. If you're a little nervous about the flight itself, then relax into your seat and turn on some music or listen to a podcast when it's time for take off and landing. That way you can stay calm and remind yourself that flying is so much safer than driving.
Tips For Flying Long Hauls With Kids
We've talked about tips for flying with toddlers in a previous post, but now we'll share some additional tips that are more general on taking long flights with kids for the first time.
1. Be Flexible!
2. Get sleep ahead of time, and be prepared to nap when the kids sleep on the plane.
3. Drink coffee or caffeine if you can when you aren't sleeping to be attentive.
4. Don't plan to get 'anything done' while on the flight such as reading your favorite book or getting work done. The kids will need you.
5. Flight attendants can become your best friend. Ask if you need something like a snack, extra water, or a pillow for the kiddos.
6. Long layover with kids? Find an airport playground or an area for them to run around and burn off their energy.
7. Try to board the plane early with other families, even if your youngest is a bit older than 2 years old. They'll often say yes and then you can get everything organized and situated on the plane with your family before it's too busy.
8. Plan for enough time to get through security with your kids.
9. Bring enough snacks on the plane to keep the kids full, and fill your water bottle at the airport before boarding.
Tips for Flying Now: What to Expect
The current situation is kind of different from before, with more protocols and requirements. Here are some tips for first time flyer in this current situation.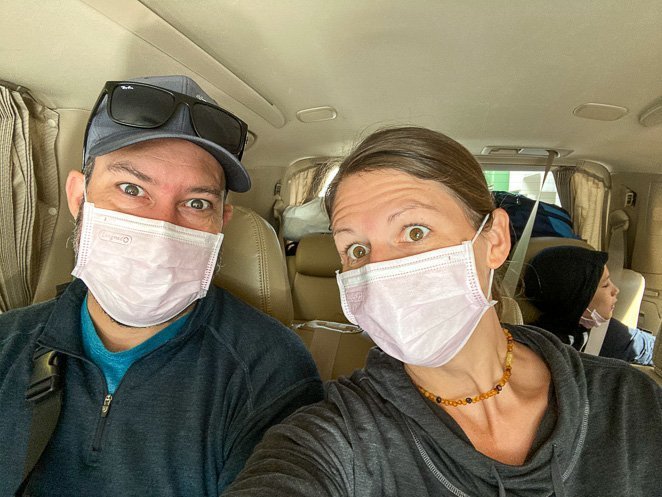 1. Wear Face Masks
This is a requirement for air travel nowadays. So be sure to have one for everyone in your family when you arrive at the airport.
2. Additional Requirements
More documents may now be required for flights. Like a negative test, which is usually needed if you're flying internationally between countries.
Pay close attention to this since it may be different for every flight.
Also, remember to take note of the additional guidelines for international travel by reading this post by the U.S. Department of State.
3. Monitor your flight status
With these challenging times, canceled flights are not really unexpected. So make sure to constantly monitor your flight status to avoid spending money and time to get to the airport, only to be informed that you won't be having the flight that day.
We hope that you'll enjoy your first flight experience with little to no confusion about the whole process. Don't be anxious, maybe you'll even learn to love flying after your first experience!
4. Understanding Baggage Claim
Going through baggage claims can be a bit overwhelming for new travelers, especially if you're going through connecting flights. But with some basic understanding, the whole process is actually pretty straightforward.
First, make sure to double-check your bag tags upon arrival at the baggage area. It's best to look for your luggage as soon as it comes out onto the carousel and take note of any damage that may have occurred during the flight.