Tips For Enjoying The Country Music Hall of Fame Museum With Kids
Nashville is such an exciting city to visit! With music and activities going on all around, you are bound to find some great downtown Nashville attractions for your family. You do not want to miss the opportunity to visit The Country Music Hall of Fame Museum!
We visited the Country Music Hall of Fame and Museum on a Saturday morning, only a few hours before the Nashville Predators played a home playoff game across the street.
To put it mildly, it was a very popular and busy museum. However, we didn't feel too overwhelmed by the amount of people. The staff had it well organized from ticket purchases to getting in line for the elevator. The Museum was HUGE and had so many things to offer, so even with the busyness of the venue, it wasn't a big deal. Organization and easy navigation made it all flow smoothly.
Now, let's not get ahead of ourselves here. Let me share about getting TO the Country Music Hall of Fame and Museum and finding parking.
LET'S TRAVEL FAMILY WOULD LIKE TO THANK THE COUNTRY MUSIC HALL OF FAME AND MUSEUM FOR HOSTING US! AS ALWAYS, OPINIONS ARE ALL MY OWN.
Parking At The Country Music Hall Of Fame Museum
When we drove into downtown Nashville that morning, we drove around a bit to find the least expensive parking. We avoided parking too far away, though, as it was raining.
The Predator's hockey stadium, Bridgestone Arena, is just across the street and down one block from The Country Music Hall of Fame and Museum. With the big game happening, parking was definitely limited unless we wanted to pay $25 or more.
Surprisingly, we found the most convenient and affordable parking was at the Music City Center. This is Nashville's HUGE convention center only 1 block away!
With the being game day, we were happy to pay a flat rate of only $15 for parking! If you don't even want to hassle with parking, Lyft and Uber are popular ways to navigate downtown.
=> Click here to learn more about how our family of 6 travels full time in an RV.
When To Visit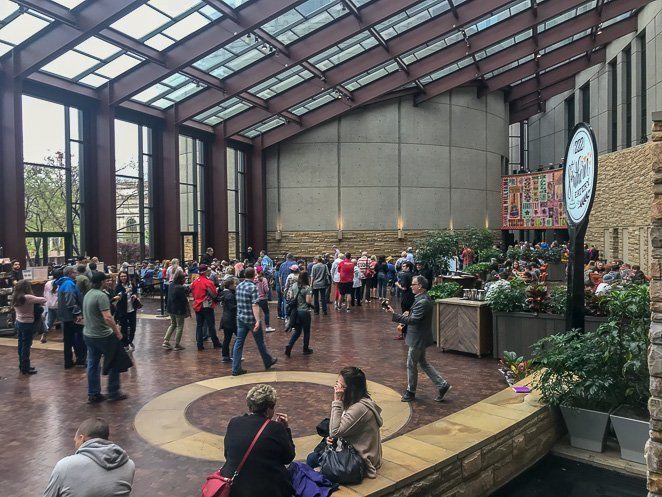 We made it early enough on a Saturday morning to beat the super long lines, but we still had a line to stand in. I would suggest going early – earlier than we did at 10:30am – if you plan to visit with kids on a weekend. I learned from a nice employee at the museum that weekdays are a little less busy, so that might be a better option as well. Remember, also, that Fridays tend to be school field trip days, so it may be packed then, too!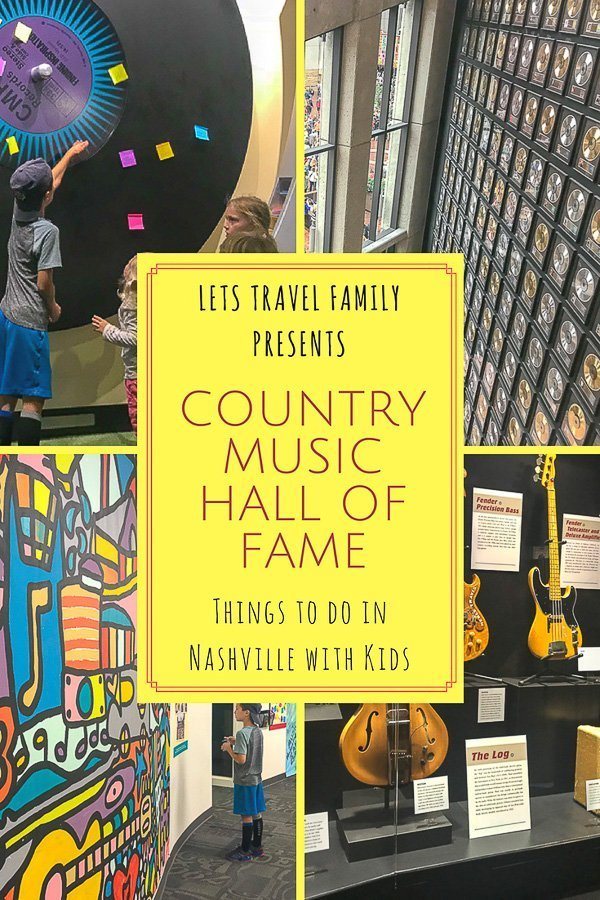 Are There Programs For Kids?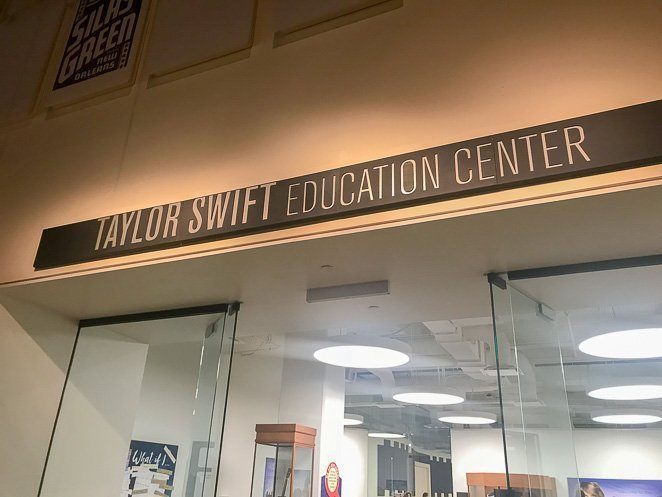 Yes! We were really excited to find out that we made it in time for Songwriting 101 in the Taylor Swift Education Center. It is a family program that is one of many that is offered on weekend mornings during the school year. The kids immediately walked in and sat down to listen to the musicians write a song, sing a melody on the spot, and show how songwriting can be done.
Enjoy The Kid's Scavenger Hunt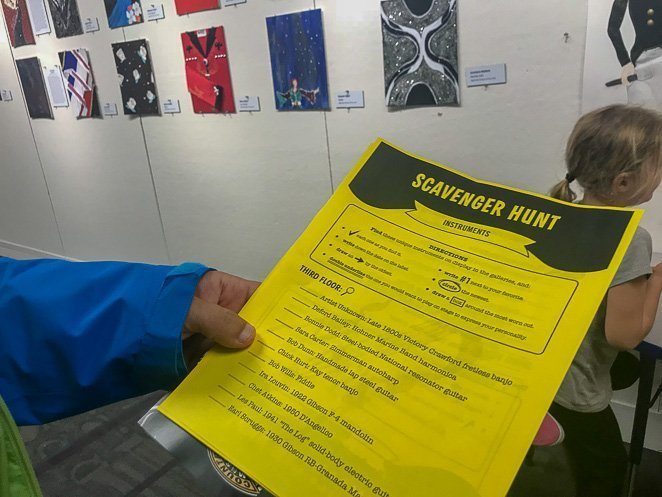 Just inside the Taylor Swift Education Center is a shelf holding coloring pages and a scavenger hunt for the kids to complete throughout your day visiting the museum. Our girls were surprisingly very excited about this and stuck with it to completion.
It may have helped that the nice woman at the information desk when we first walked in told the kids that they will win a prize if they bring their completed Scavenger Hunt up to the information desk at the entrance of the Country Music Hall of Fame.
Walk At Your Own Pace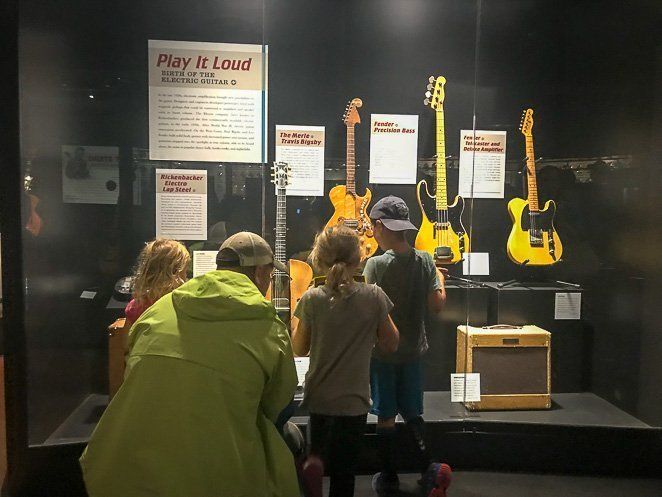 Once we set out to visit the rest of the museum, I wondered if the kids would find it interesting enough. Most of the artifacts are behind glass cases so it was not a hands on experience. Despite the hands-off displays, there were many videos playing in different areas to keep your attention.
Jasmine especially loved watching Elvis Presley's video while I talked to the kids about who he was and read some of the history about him out loud.
Interactive Screens And Coloring Stations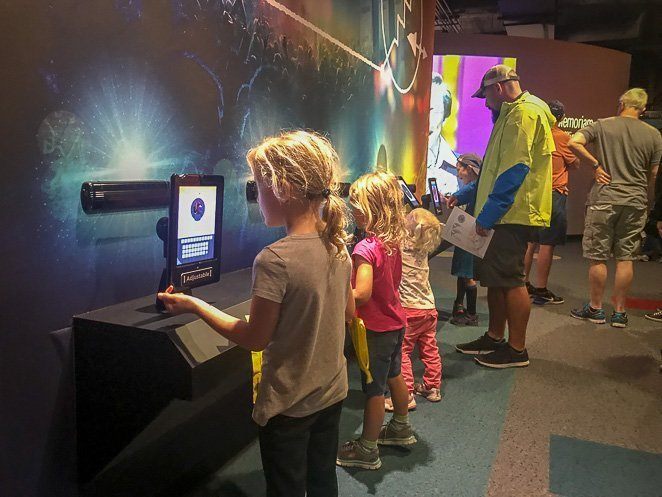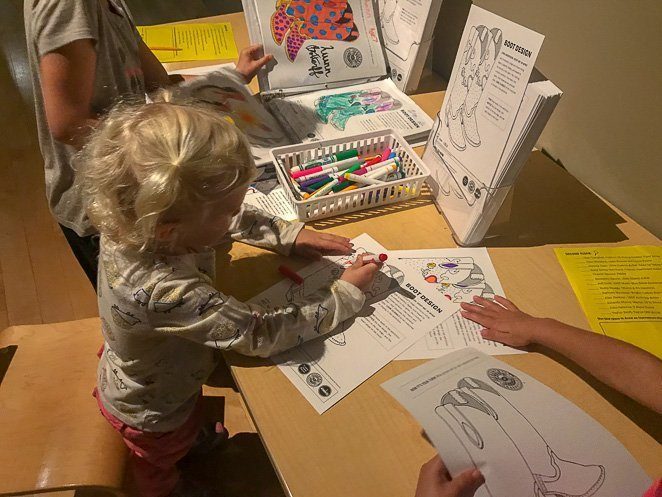 As we continued through the museum, Riley was excited to find touch screen exhibits. He sat and watched video and music clips while the girls found a coloring station on the 3rd floor.
The girls loved finding a coloring station near the end of our 3rd floor exploration. They were able to take a break and color for a bit before we descended to the second half of the museum.
Walk Down The Stairs For a Great View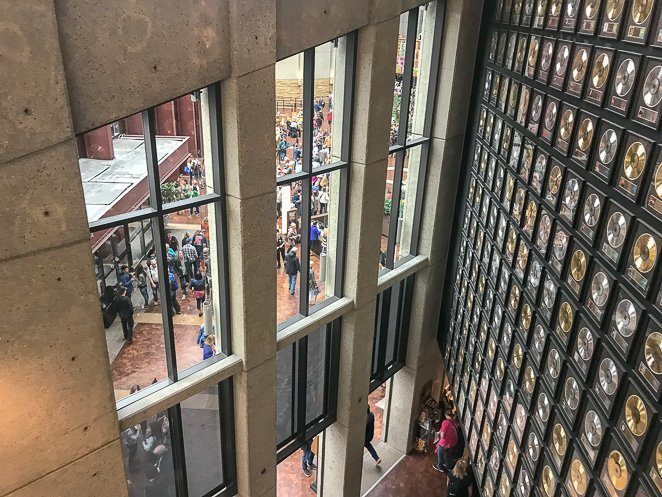 Once we finished our scavenger hunt finds for the second floor, we walked down the open-air stairs to the second floor. It was a great chance to take in some natural light and check out the view of the gift store and entrance to the museum. When you are on the 2nd and 3rd floors of the museum, the lighting is dim so the artifacts remain well lit but not damaged by too much light. So the natural light on the stairs seemed to wake us up and get us excited to check out what the rest of the museum had to offer.
Save Time For Taylor Swift's Tour Bus (a.k.a. Recording Studio) On The 2nd Floor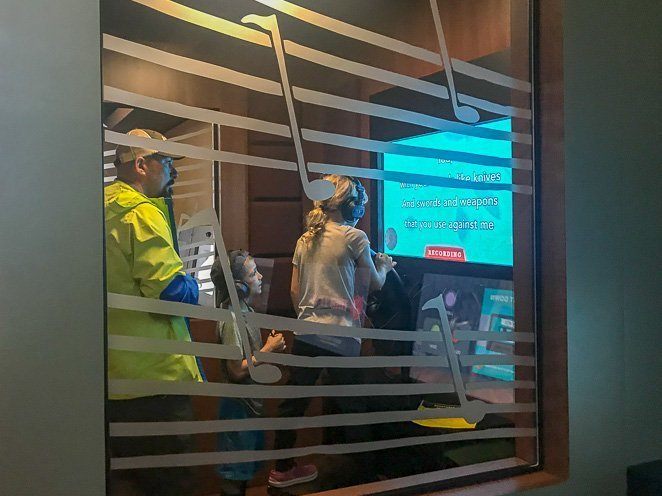 We almost passed this area up as it was near the end and the kids were asking for lunch. I'm so glad that we checked it out.
The Taylor Swift Tour Bus Recording Studio is a must-see with kids! There were two sound booth rooms with 4 sets of headphones in each and one large microphone that the kids used to sing us a song. We had so much fun in here!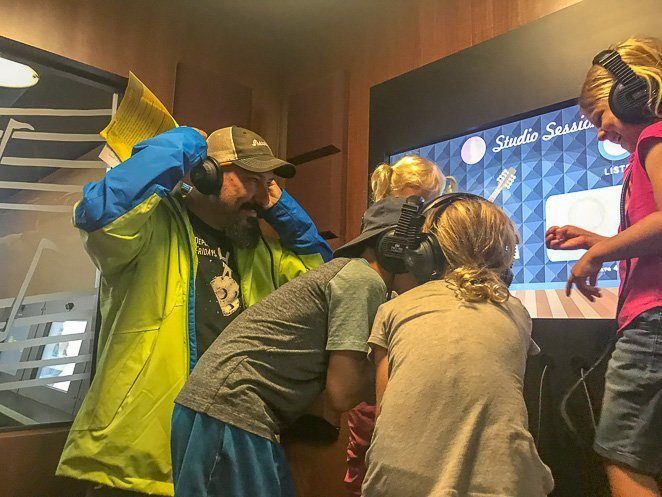 It was in a karaoke style format with words on the screen to help you sing along. Then, you can save the recording and go out to a 'mixing station' and use the digital controls to 'remix' your song! So cool!
Do Not Forget Your Scavenger Hunt Prize!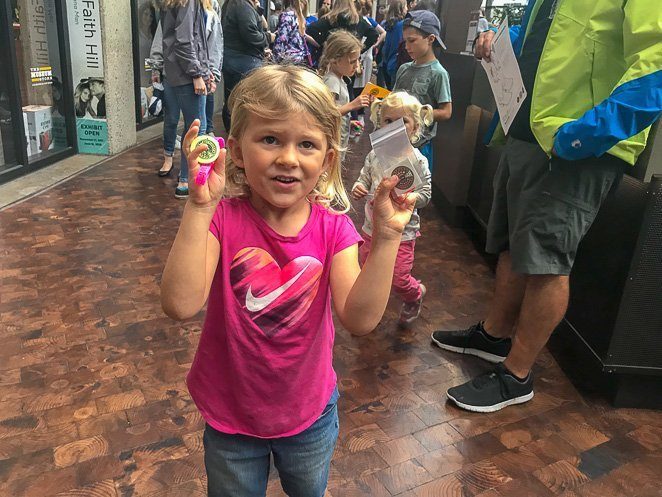 Once we came off the elevators on the first floor, our kids ran to the information desk to submit their completed scavenger hunt forms. They were thrilled to each receive a few fun goodies, including a guitar pick!
How Long Should I Expect To Visit With Kids?
I would plan for a good 2-3 hours to get through the entire Country Music Hall of Fame Museum with a family. Once we made it through the line for tickets and then the line for the elevators, we were excited to be up on the 3rd floor checking things out. Now, at one point the kids asked for a snack, and we had to redirect them as we left our snacks in the van. Food and drinks are not allowed in the museum, so I suggest making sure everyone has a solid snack just before arriving. That way you can make it through before it's time for lunch!
Where Should I Eat ?
During our visit to the Country Music Hall of Fame and Museum, we opted to leave and grab snacks in our van. However, the week prior, Tony was at a conference at the Music City Convention Center and walked over to Bajo Sexto Taco for a quick lunch. He said they had some of the BEST tacos he's had in a long time.
There are plenty of restaurants within walking distance in downtown Nashville.
Final Thoughts on the Country Music Hall of Fame Museum?
It's a fantastic place to visit with your kids if you are visiting Nashville. The location was right in the heart of downtown Nashville, the experience was great, and there are kid-focused activities.
If we came back, we'd be sure to arrive early on a weekday morning and with a full stomach. I'm glad we visited on a Saturday morning this time, however, so we could participate in the Songwriting 101, which is only offered on weekend mornings during the school year. Traveling with kids allows our family to visit many museums, zoos, parks and other fun and educational experiences for children. The Country Music Hall of Fame and Museum in Nashville is near the top of our list of recommended places to visit when trying to decide on a great educational experience during your visit to Nashville.
If you are planning a trip to Nashville, then be sure to get tickets to the Nashville Children's Theatre too!
PIN THIS TO PINTEREST