Have you ever thought about living in a motorhome full time with kids? How in the world does everything fit? Where does everyone sleep?
Our family of 6 lives in a 33-foot class-C motorhome while we travel the country full time. That's right; we live in less than 300 square feet of indoor living space with 4 kids!
Get a peek inside to see what motorhome living is really like! Keep reading to learn how we all make it work and fit.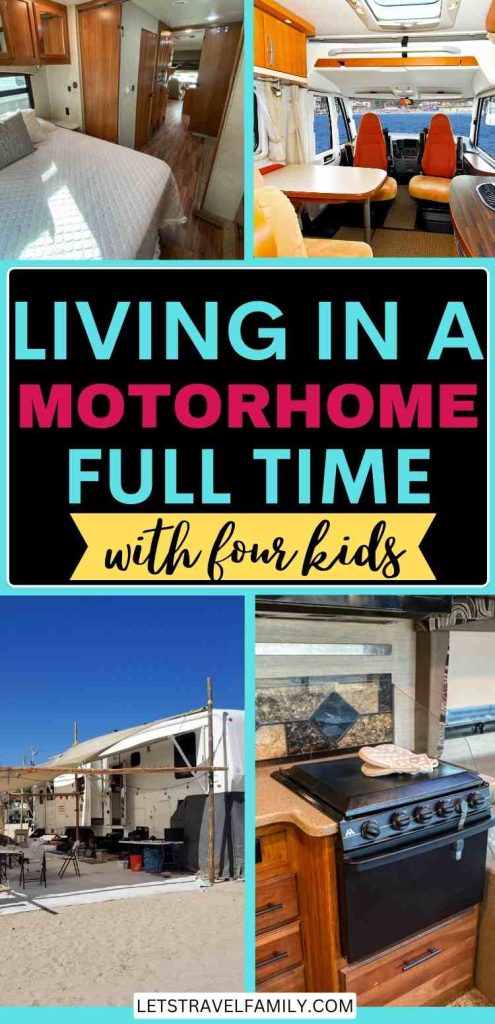 THIS ARTICLE MAY CONTAIN COMPENSATED LINKS. PLEASE READ OUR DISCLAIMER FOR MORE INFO. THIS POST WAS WRITTEN BY JILL GREISING-MURSCHEL, A FAMILY TRAVEL AND RV LIVING EXPERT.
Don't have time to read a bunch of RV travel posts and reviews? Here are some of our top picks for RV living:
Our Favorite RV Resources:
I'm going to provide several photos, tips, and ideas of how we organize our living space to make it the best RV for full-time family living and allow the 6 of us to live together in harmony.
Related Post – What accessories do you need in an RV?
First, I want to quickly touch on why our family loves our full time RV lifestyle. What the true pros and cons of RV Living really are.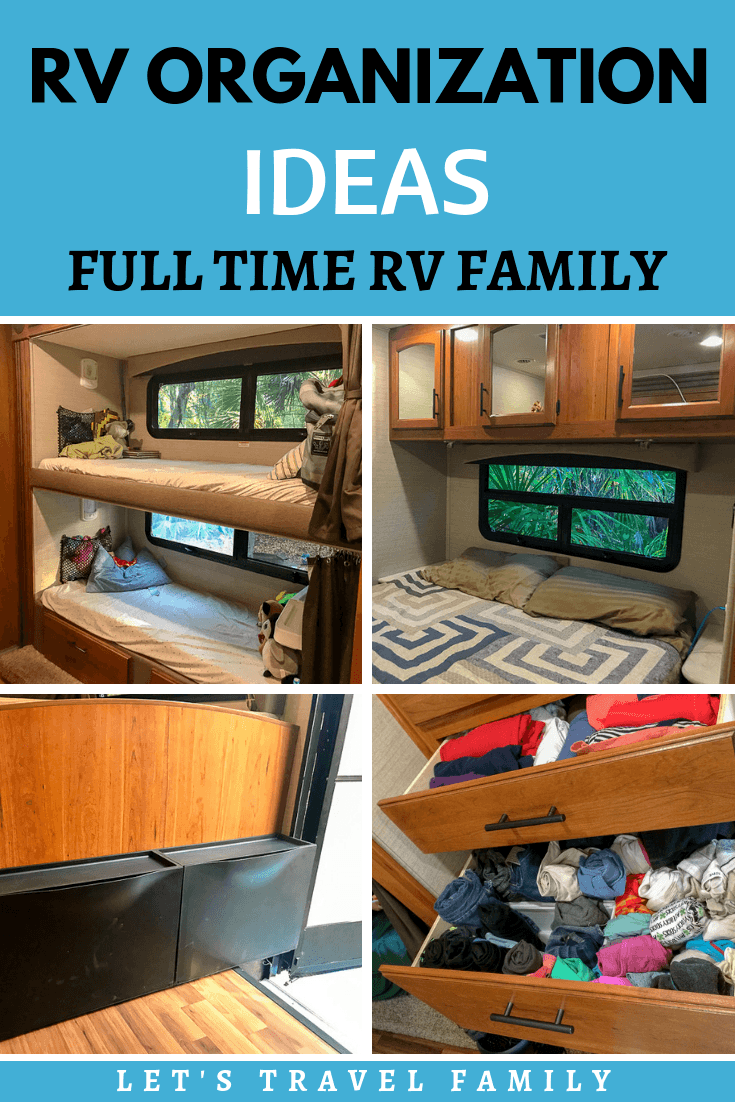 THIS ARTICLE MAY CONTAIN COMPENSATED LINKS. PLEASE READ OUR DISCLAIMER FOR MORE INFO. THIS POST WAS WRITTEN BY JILL GREISING-MURSCHEL, A FAMILY TRAVEL AND RV LIVING EXPERT.
Why We Love The RV Lifestyle
I'm telling you, we really do love this RV lifestyle.
I love: the ability to visit new destinations each week, get the family outside more, meet new friends, spend more time together as a family, and live like minimalists.
Our kids love: meeting new friends each week, finding awesome swimming pools, and having fewer toys to clean up.
Tony loves: being able to work outside many days, spending time with the kids and me MUCH more than he used to be able to, and having less 'stuff' or 'clutter' in our home.
So what does all that have to do with living in a motorhome full time?
Well, we appreciate having our own beds, our own 'me' space, our own food, and a place with heat and air conditioning that we can call home.
We also LOVE that our home is on-wheels and that we can enjoy our traveling lifestyle while bringing the comforts of 'home' along with us.
Click here if you are just getting started and want more RV living tips.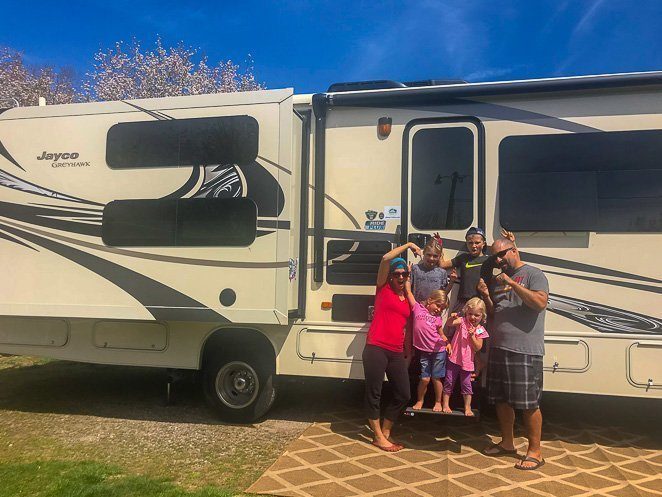 Type Of RV – Why a Class C?
Particularly, we are happy to have a class C motorhome instead of a travel trailer or fifth wheel. Why exactly is that?
Travel Trailers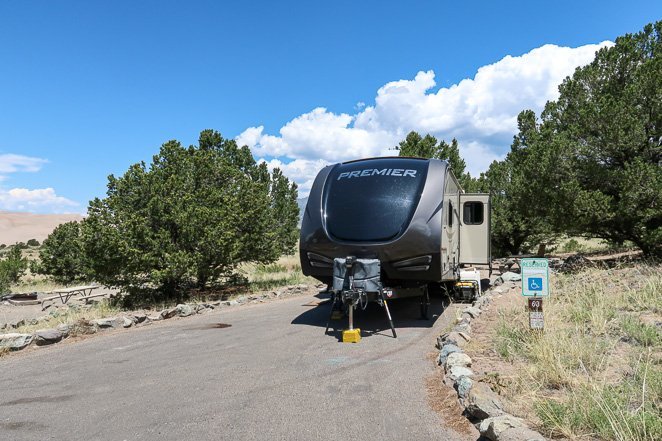 We have friends that love living in a full time RV life. They have a used truck and used travel trailer that they paid cash for, which allows their overhead expenses to stay low. As a family of 5, they fit well in their travel trailer and have made an amazing home on wheels.
We were not in a position to pay cash for a truck or RV when we launched, so that would have been two loans. Our family also needed to find a truck with seatbelts for 6 and that is also very difficult to find.
Fifth Wheels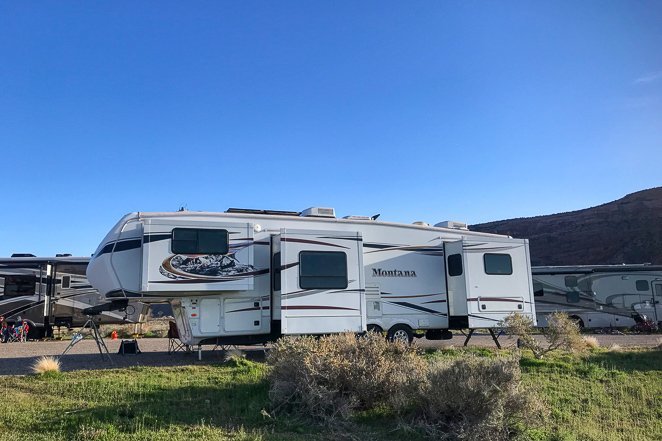 There are also many full time traveling families that love living in a fifth wheel full time. Fifth wheels often provide more head space with higher ceilings, more outdoor storage, full hook ups and in particular, some amazing bunk house RV floor plans with real doors!
Yet, the size of a fifth wheel can often limit which campgrounds you can fit in, along with the necessity of a heavy-duty truck to pull it with. As a family of 6, we knew that we would be limited on our options for 4 children in car seats or booster seats all fitting in a truck. Make sure to find a great RV park or campground that fits your needs and budget.
Class A Motorhomes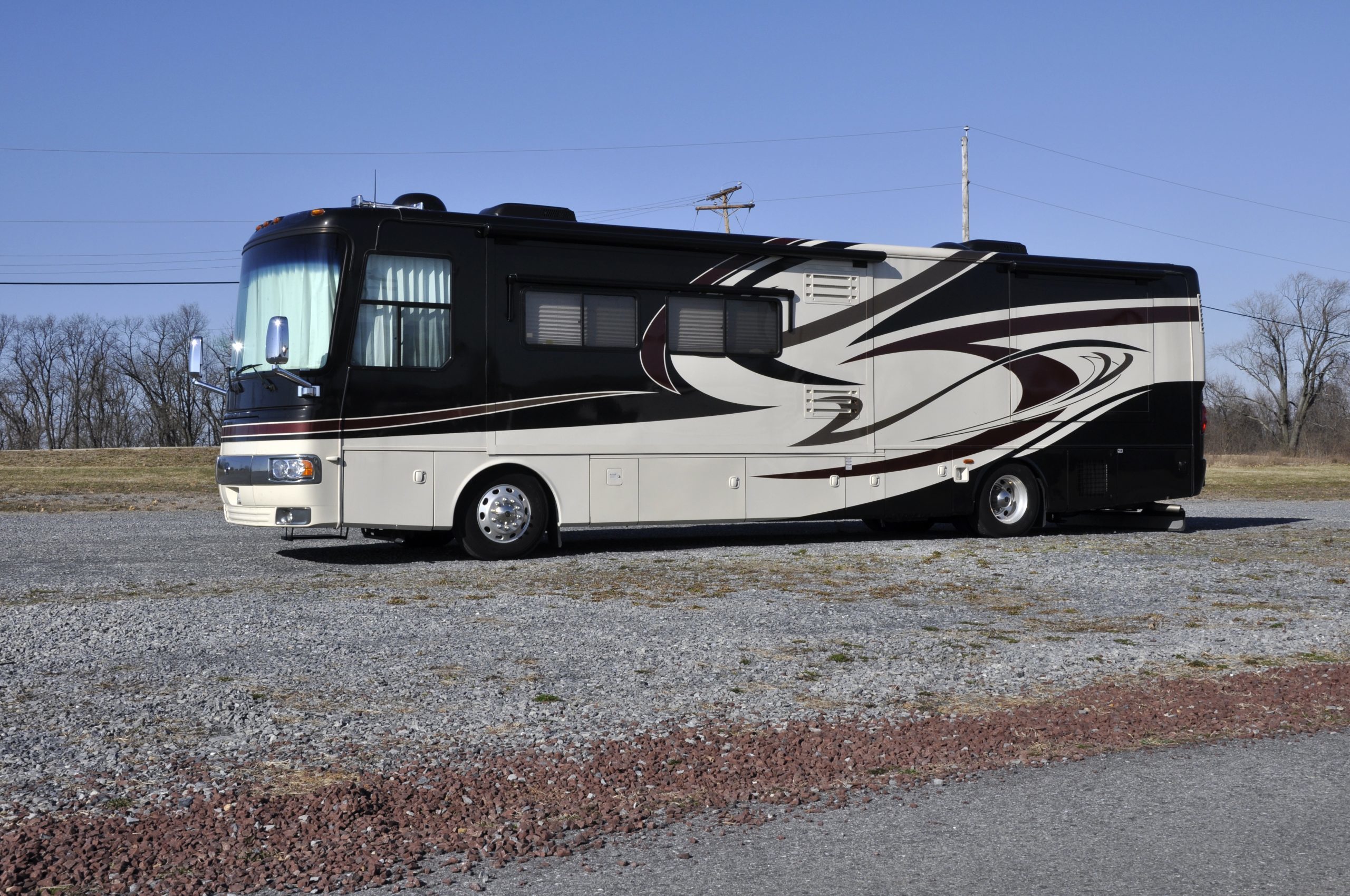 Why not a class A motorhome?
Most layouts of class A motorhomes don't have enough beds for a family of 6 without having to set up the couch or table into a bed each night. Furthermore, class A motorhomes were often higher in expense, even if they did come with a preferred diesel engine.
Tony and I did briefly talk about diesel motorhomes, yet decided against them.
Related Post: 10 Best Motorhome Accessories for Beginners
Super C Motorhomes
Now, another option that we briefly looked into was super C motorhomes. They come with a diesel engine, which would have been amazing. Yet, they were much higher in price and we did not want to break the bank.
Class C Motorhome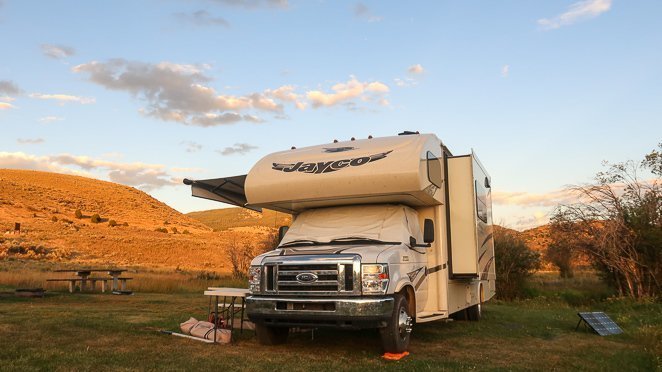 Our class C motorhome with a bunk slide allows each of us to have our own bed and space that does not have to be set up or taken down each night. It also allows us to fit in most campgrounds, being only 33 feet long.
More specifically, we feel that our Jayco Greyhawk is the best Class C RV for full time living. Maybe it's because we are biased, or maybe it's because it has worked so well for us during our 2 years of full time RV living and traveling. Yet, we do feel it's the best family motorhome you can find.
How We Organize Our Motorhome
Where Do We Each Sleep?
If you did not get a chance to watch our quick RV walk-through video above, then I hope these photos and explanations help you get a good idea of how we all fit. I mean sleep ;).
We have a motorhome with bunkbeds!
Our oldest, Riley, and youngest, Jasmine, sleep on the bunk beds while keeping their toys and special belongings at the foot of their beds. Since our kids are still young and short, this works well for our family.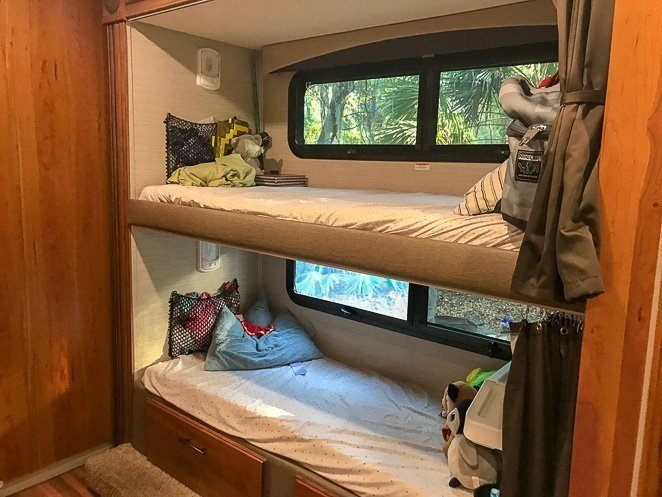 Tony and I, the parents, have our 'short' queen sized bed in our bedroom in the back of the RV. Our room is just that, a BED room.
Click here to see a variety of RV mattresses and beds from Camping World.
We have to climb into bed from the foot of the bed, but we don't mind. We also appreciate having a sliding wood door to our room that gives us parents some privacy. 🙂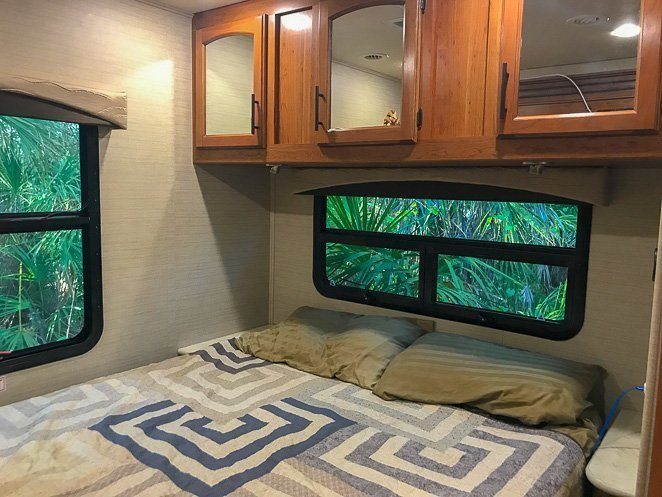 Our two middle children, Lilya and Gwendolyn, sleep on the bunk over the cab of our class C motorhome.
They sleep with their heads at the front of the RV and their feet near the ladder. It's pretty convenient that they are both short enough so their feet don't hang off the bed.
This puts my anxiety at ease. You see, now they don't have much of a chance of rolling off the bed without a railing!
We have many more detailed tips on ways to organize your RV bedroom to take a look at here.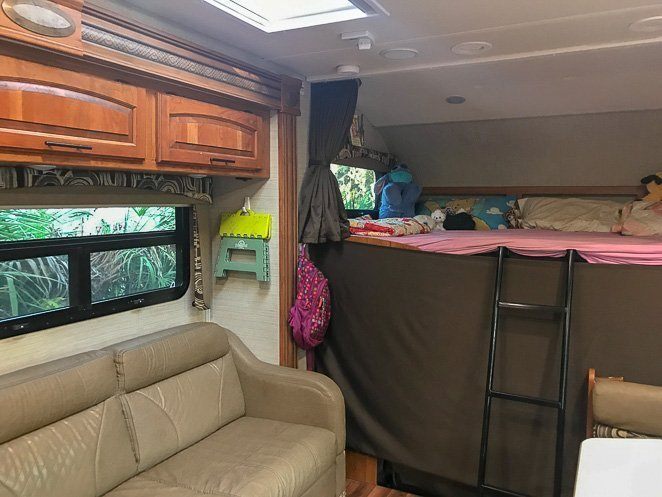 Where Do We Eat?
If the weather isn't great for outdoor eating, then we eat on our kitchen table. The 4 kids usually sit to eat while Tony and I either stand at the counter or sit on the couch to eat. To be honest, we have been known to eat in shifts.
For instance, if the kids are busy playing and the food is ready, Tony and I eat as quickly as we can. As I'm sure you know, being a parent at mealtime often means that you are managing toddler meltdowns, requests for seconds, a spilled milk episode, and more!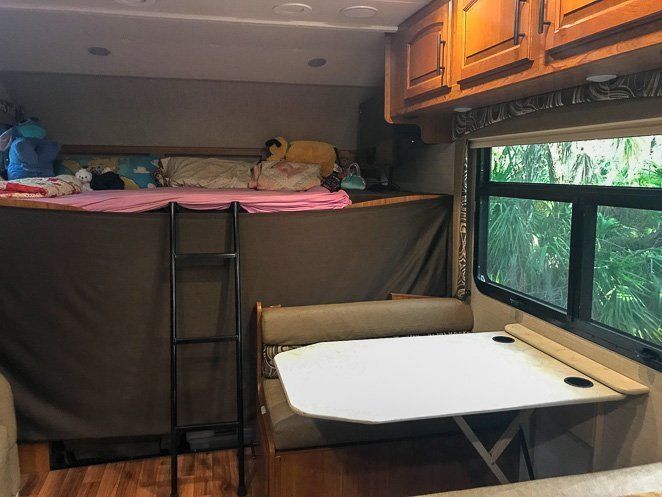 Where Do We Work?
Tony and I came up with a great solution for a working desk! If it's raining or cold outside, then we can set it up inside on our bed in the back bedroom. Yet, if the weather allows, Tony will tell you that he much prefers setting up his desk outside.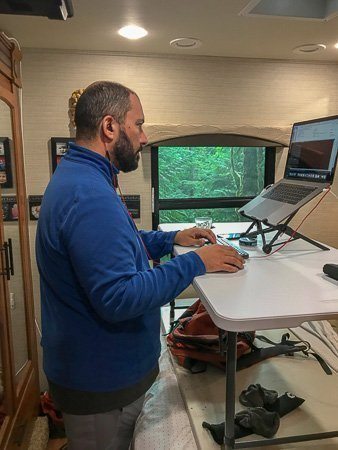 Where Do We Put Our Clothes?
Each person in our family has 1 drawer to keep his or her clothes in. I know what you are thinking….how in the world do you fit it all?
Well, we first decided to live like minimalists. So we were up for the challenge to downsize our wardrobes.
I also learned a trick to fit more clothes in a drawer is to roll your clothes. In our deep drawers, we use inserts from IKEA to help divide our clothes to help stay organized and save money.
I do have a few extras for the kids that I want to hold on to for when they grow 2 inches in a week or when they get a huge hole in their favorite pants. We store these extra clothes in duffel bags under our queen bed, which is our indoor 'storage' area.
Related post: 45 RV Organization and Space Saving Ideas
Where Do We Put Our Shoes?
In the video tour, I mentioned that we use the 'black bins' for our shoes. I wanted to share with you what they're actually called and where we bought them.
These black bins are called Trones, which they sadly don't sell anymore at IKEA. Yet, I did find some cool wall-mounted shoe racks like this one.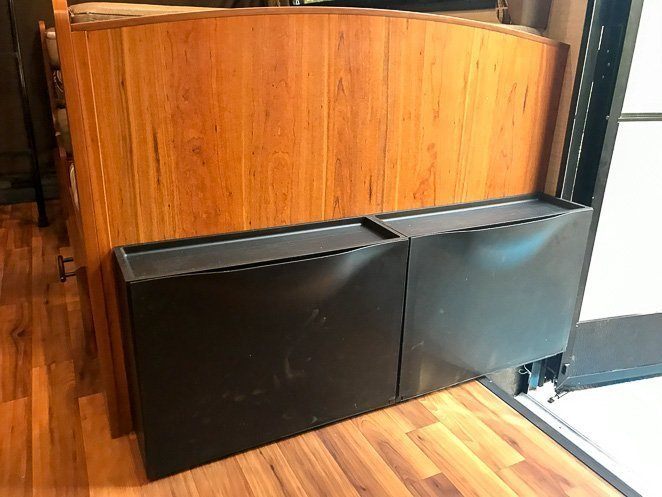 Where Do We Put Our Homeschooling Materials?
As a family that travels full time, our children don't go to a typical school. They learn by experience and exposure while visiting new destinations.
We use iPads with great educational apps such as Tynker and SplashMath. Oh, and the kids also have access to 2 laptops when they want to practice things like typing on Typsee or watching Youtube videos with me about cooking.
Our family also travels with two kindle paperwhites that our oldest two read from every day before bed or in the car on travel days. Yet, at times, it's nice to take out an actual book or workbook.
We store our books, materials and board games above our kitchen table.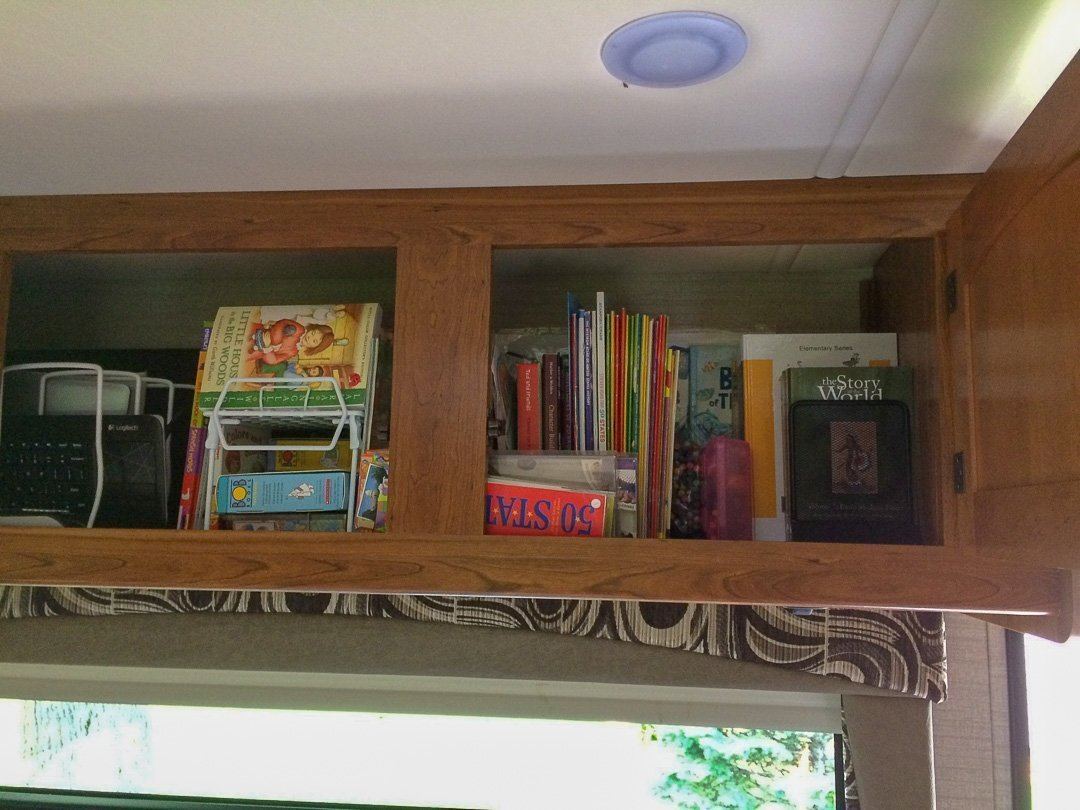 Where Do We Cook?
To be honest, before we began to travel full time in our RV, I thought I would cook outside more on the grill. In reality, I find that we only grill 1 or 2 times per week. Otherwise, we use our stovetop, microwave, and instant pot the most.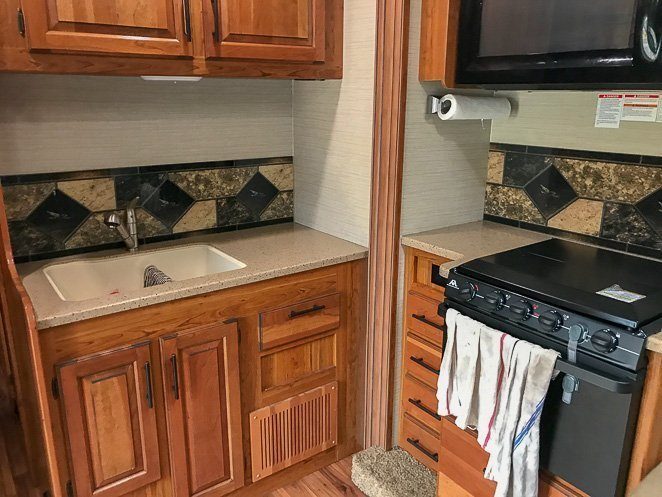 Click here to read all about how to cook in a motorhome and check out some of our favorite RV camping meals!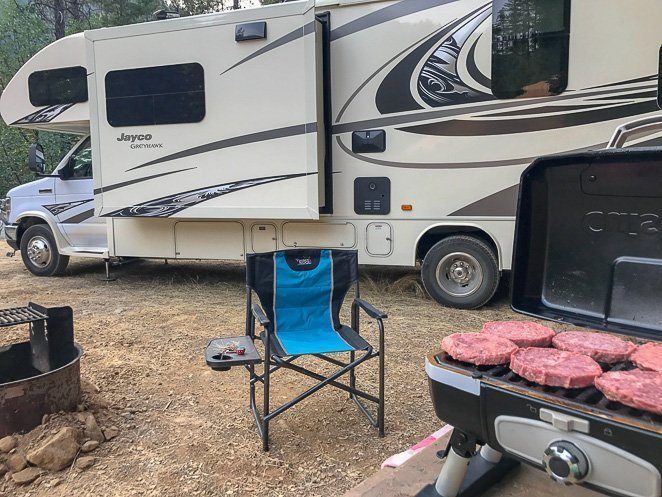 Where Do We Store Our Food?
Our RV came with a linen closet in the hallway, that we use as our pantry. I knew we needed more space for food, so it took priority.
You'd be surprised at how many bags of groceries I can purchase and still manage to find room to store in our RV!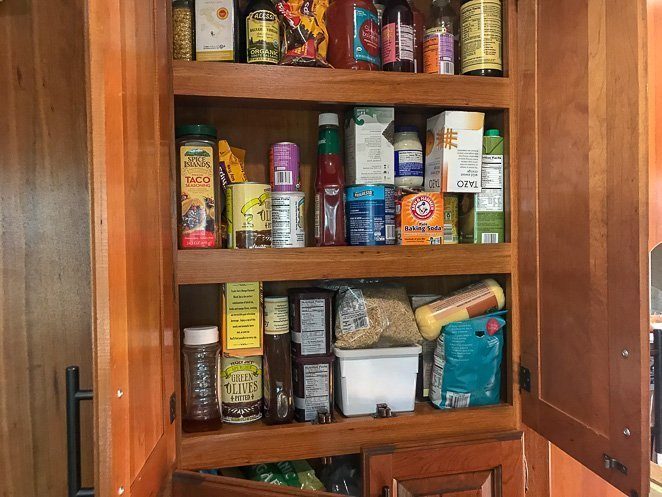 Living in a motorhome full time with 4 kids requires us to plan out our meals each week.
With such a small refrigerator and freezer, we do find ourselves playing a game of 'Tetris' in order to fit leftovers into the refrigerator.
How Do We Have Enough Drinking Water?
With such a small refrigerator, we don't have room to keep bottled water inside. Also, while traveling to different campsites, we've found that the quality and taste of the water out of the faucet isn't the best.
That's why we are very dependent on our Travel Berkey water filter. It actually PURIFIES our water, while leaving the healthy minerals we need in the drinking water.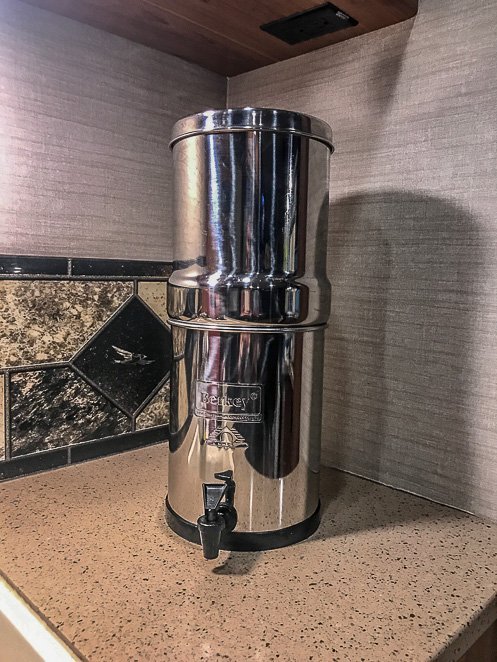 We use our Berkey for all of our drinking water.
Where Do We Store Our Bathroom items?
Bathroom storage can be tricky. We use the cupboards above our bed to store towels and this door organizer to store our bathroom supplies on the back of our bathroom door.
Oh, and we were fortunate enough to have a large medicine cabinet and 2 shelves in our bathroom to help with storage space.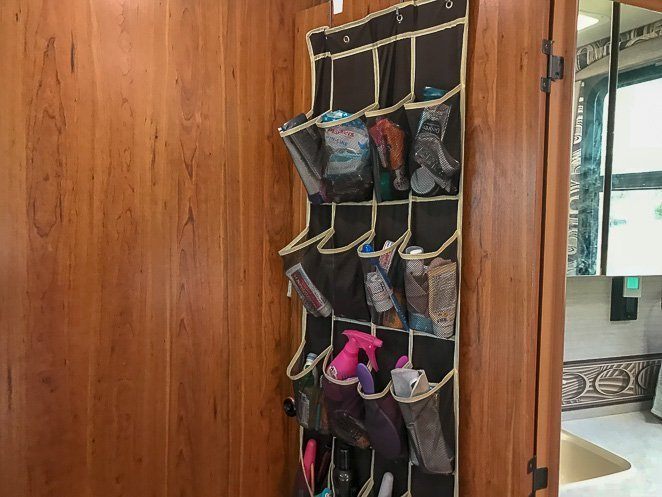 I want more RV Organization tips!!
Click here to read our ultimate post about RV Organization Tips and Hacks.
How Do We Earn Money?
Tony works for a great company doing the 9-5 gig while I (Jill) started this travel blog and have taught English online to children in China.
We also have a great list of 25 ways to earn money while traveling that you can check out here.
If you want to learn how to start a travel blog to make money, feel free to reach out to us and ask away. Or, read this post that will help you get started.
Conclusion: Living In a Motorhome Full Time With Kids
Now that you've taken a tour of our home on wheels, what else are you curious about?
Do you have dreams of selling it all and traveling full time? Or, are you hoping to take an extended trip across the country in an RV? Maybe you're looking to take the unique Scotland road trip across the North Coast 500 in a motorhome.
Maybe you just want to plan a family vacation and are looking for encouragement to take a leap and travel more with your kids. Either way, do not let your doubts hold you back. Find a way to make traveling together and connecting as a family a priority!
Read all about our first year of full-time traveling with kids here.
Leave a comment below and let me know what your family travel dreams are.
PIN THIS TO PINTEREST