Are you considering RV camping in Baja Mexico? If so, you probably have a lot of questions. I know I sure did, and I had a really tough time finding all the information I wanted to have before diving into RV camping in Mexico.
We ended up spending a full two months exploring the incredible Baja peninsula and had an absolute blast doing it. RVing in Mexico truly was the trip of a lifetime. That said, we also learned a lot of lessons the hard way. A lot of this was due to the fact that I just couldn't find all the information I needed to properly prepare for camping in Baja Mexico before we left the US.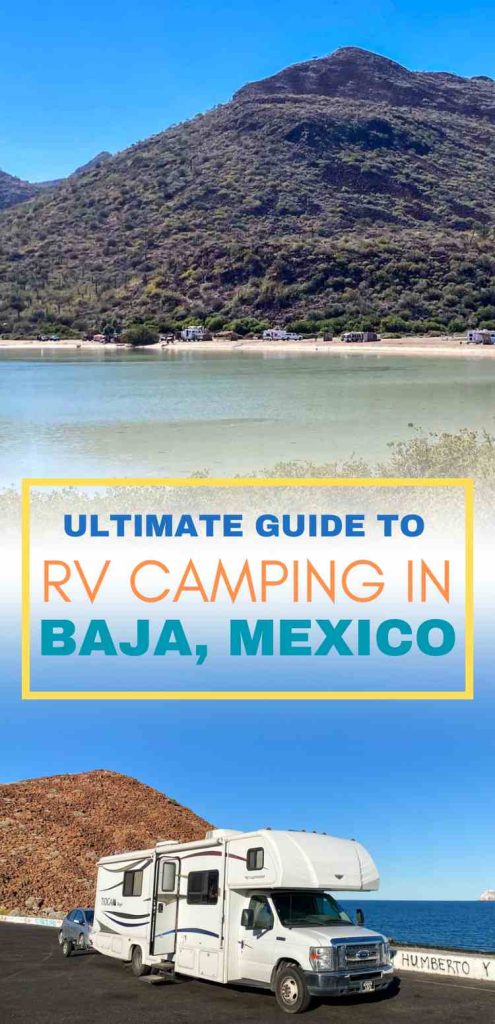 Today, I plan to use my experiences to help you avoid making the same mistakes I did. Hopefully, this will allow you to have an RV camping Baja California Sur adventure that is just as incredible as ours was—without all the hiccups. Let's get started!
This article was written by Chelsea Gonzales
Chelsea and her husband have been traveling North America with their two kids since 2015. In that time, they have seen 48 states, visited over 35 national parks, traveled the Baja Peninsula, met hundreds of amazing people, and learned plenty of life lessons.
THIS ARTICLE MAY CONTAIN COMPENSATED LINKS. PLEASE READ OUR DISCLAIMER FOR MORE INFO.
Is It Safe to RV in Baja Mexico?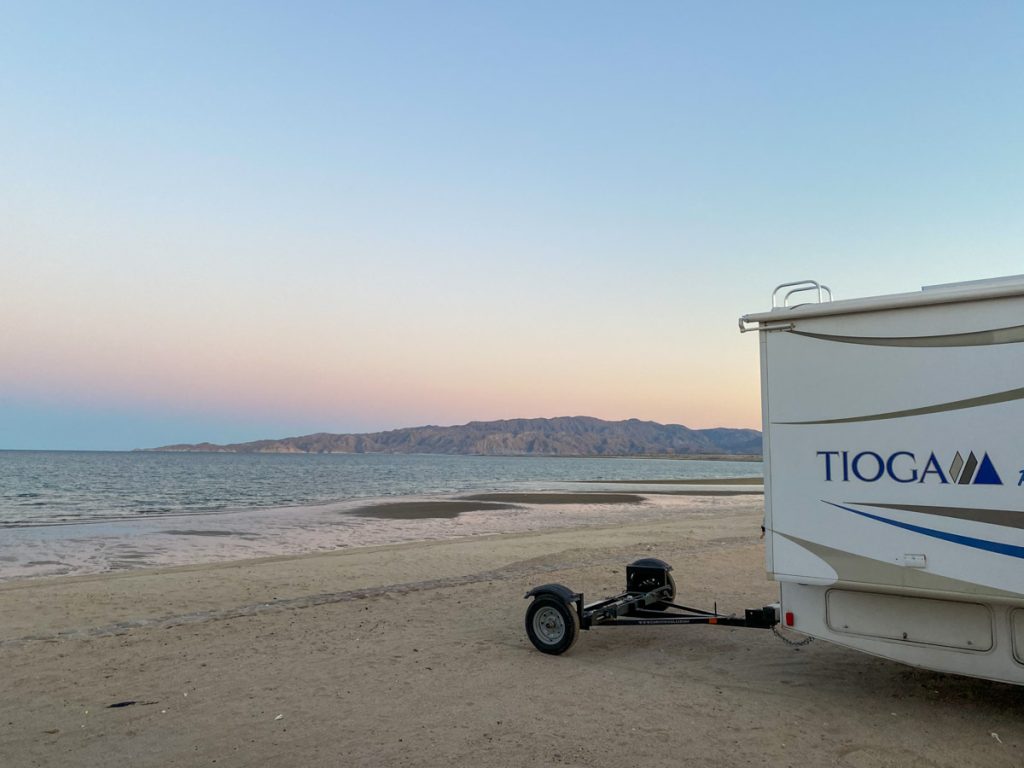 First, let's answer the most important question: Is it safe to RV in Baja Mexico?
Generally speaking, yes, it is absolutely safe to RV in Baja Mexico. Depending on what's going on when you visit, there may be some cities you want to avoid (we avoided Tijuana when we went), but this is true of any place you might visit, including the United States.
Aside from the nervousness we felt while driving the narrow and often crumbling roads, we never once felt we were in any danger in our two months in Baja. In fact, we often felt safer on the Baja California Peninsula than we do in many big cities in the US while we've been living in an RV full time.
Preparing for RV Camping in Baja Mexico
Before you actually head down to cross the border, you will need to do a bit of prep work. Some of these things can be done right before you go, but a couple of them require that you do some advance planning. For this reason, it's important that you get the ball rolling on all of your preparations for RV camping in Mexico as soon as possible.
Gathering Documents
Before you RV in Mexico, you will need to make sure you have the proper documents. Papers to gather include:
Passports or passport cards for every member of your family.
FMM forms (can be bought online on the official Mexican government site only or in person at the border crossing).
Mexican insurance (we went through Baja Bound).
Letter of permission from your car/truck/RV lender (if applicable).
Things to Download
It's also a good idea to download a few things to your phone before you cross the border. We recommend the following:
iOverlander — This app will help you find places to camp.
Google Maps of Baja — You won't always have cell service, so downloading maps of the peninsula will help you get directions even when service is unavailable. (Download as many as it takes to cover the entire span of Baja.)
Google Translate and the Spanish language translations — If you don't speak Spanish, Google Translate might just end up being your best friend. Downloading Spanish to the app ensures you can use it even when the internet is unavailable.
What to Pack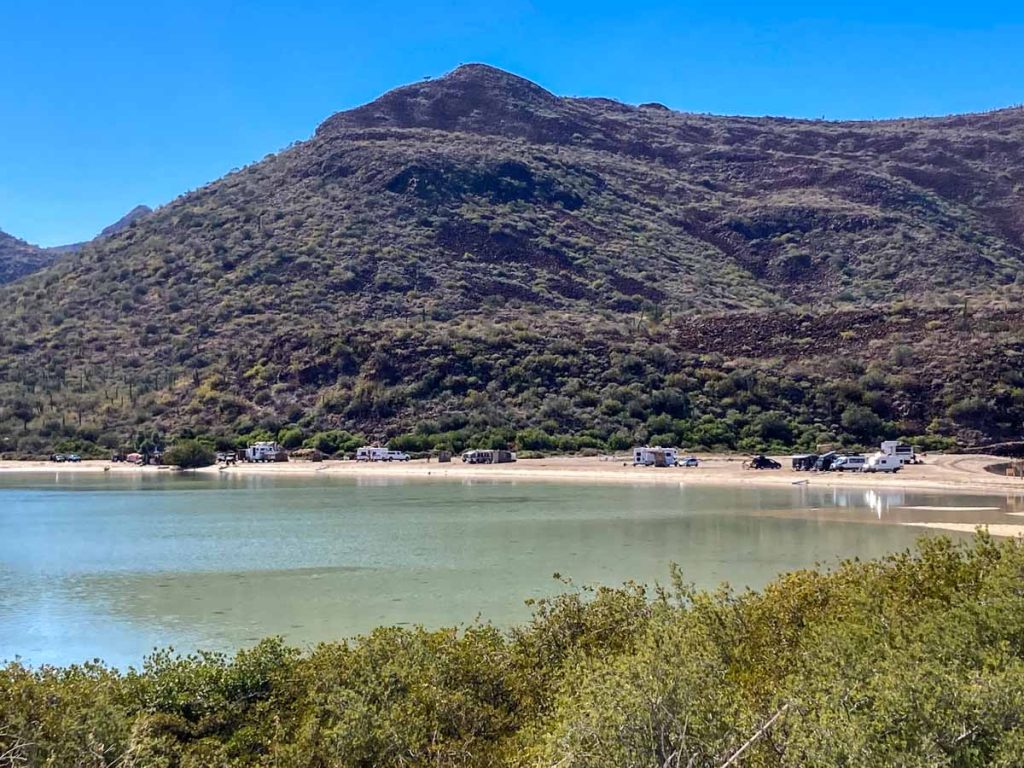 Packing your RV for a trip to Baja can be a bit overwhelming. You obviously want to be prepared, but you don't want your rig to be overweight. There are many RV accessories you'll need.
These are the things we recommend packing:
Extra tires for every vehicle
Tools needed to change a tire
Tools for getting out of deep sand (traction boards and a shovel)
Anything else you can't live without (because some things, especially foods, can be hard to find in Baja)
Nothing valuable that you don't absolutely need
Nothing brand-new or in the packaging (because you may be charged import fees rather than those things counting as personal effects)
How to Stay Connected
Staying connected is important, especially if you have to work while you travel as we did. Fortunately, it's also easy enough to do.
For phone service, we recommend using the Telcel carrier. You can get a Telcel SIM card (AKA "chip") from any OXXO convenience store (they're everywhere once you cross the border) and insert it into any unlocked phone. Telcel offers good service in all cities in Baja, and the cost is very affordable. We found that the most expensive package was the best value for us.
We also decided to go ahead and jump on the Starlink bandwagon for this trip. It was a lifesaver, as it allowed us to camp in many remote places that did not have any cell service whatsoever.
I highly recommend getting Starlink during your Baja California camping in an RV. That said, it is important to go in knowing that you are technically only allowed to use US Starlink hardware outside of the US for two months at a time (though nobody we know has been cut off—yet).
Related post: Full Time RV RV Internet Tips
Driving in Baja Mexico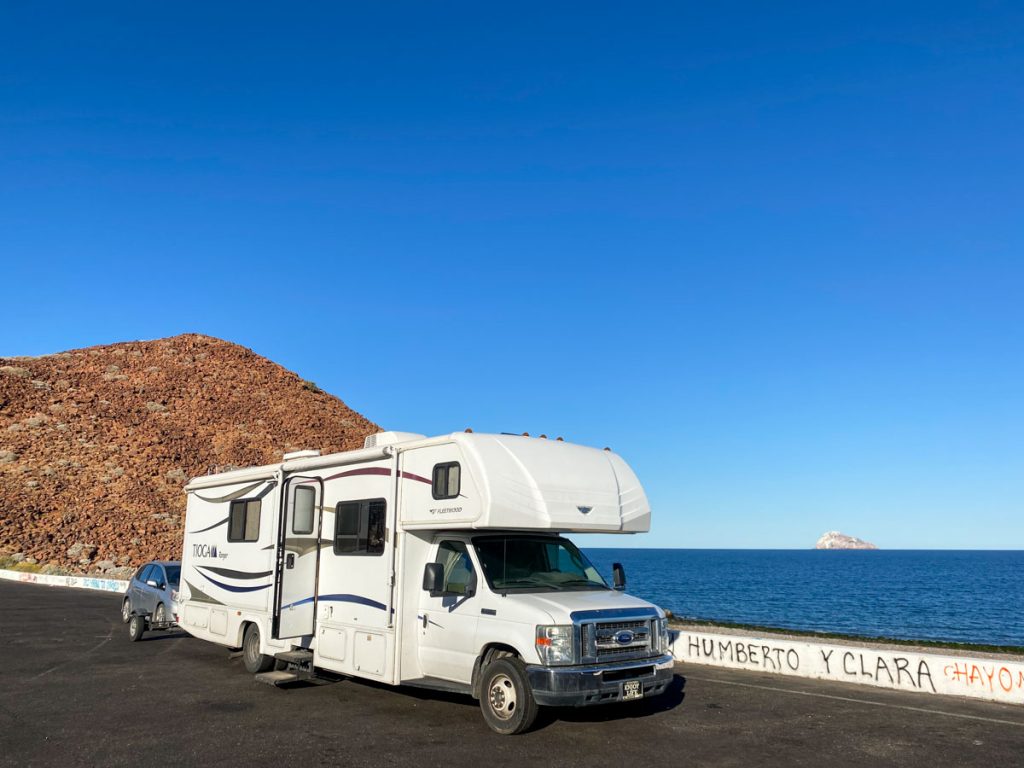 Clearly, going on a Baja camping adventure will require you to drive the peninsula. This is doable, but as we mentioned before, the roads are quite narrow and often not very well kept. For this reason, driving a big rig through Baja can be a bit nerve-wracking. That said, it is definitely possible and we saw plenty of large motorhomes and fifth wheels camping in Mexico, especially in the bigger Baja California RV parks and on the open beaches.
Our advice? Take a campervan, truck camper, or small class C to RV travel in Mexico if at all possible, and know the rules of the road before you arrive. The most important things to know while driving in Baja include the following:
Take It Easy
Driving an RV in Mexico is tight. Trying to go fast could very easily result in an accident. Instead, take it slow. Don't worry if someone comes up behind you, they will go around, and your safety is more important than their need for speed.
Keep an Eye Out for "Topes"
Baja has a whole lot more speed bumps than the US. Not only that, but these can pop up anywhere, even on the main highways. For this reason, you will want to keep an eye out for signs stating that "topes" are ahead (or signs with images of multiple humps in a row). It's also a good idea to watch the road itself, as topes are not always announced by signage.
Plan Short Drive Days
Some of your drive in Baja is bound to be nerve-wracking. Slow, windy, white-knuckle driving can be extremely tiring. For this reason, I highly recommend planning on short travel days in order to ensure you have plenty of breaks, as well as time to deal with problems should anything come up.
Fill Up When You Can
In some areas of Baja, gas stations are totally non-existent for hours of drive time. This isn't an issue if you head into a barren area with a full tank of gas, but you can't always know when these long stretches are going to come up. For this reason, filling up whenever you can is a good habit to have, even if you don't really need fuel just yet.
Avoid Driving at Night
Another good rule to keep in mind? You never want to drive in Baja at night. No, this isn't because bandits will jump out of the bushes and get you. It's actually because animals such as cows and burros (donkeys) wander many areas freely and they sometimes choose to hang out in the road.
Since the roads in Baja generally aren't lit outside of towns, it's almost impossible to see these animals at night, posing a serious hazard to both nighttime drivers and the animals.
The Best Places to Go when RV Camping in Mexico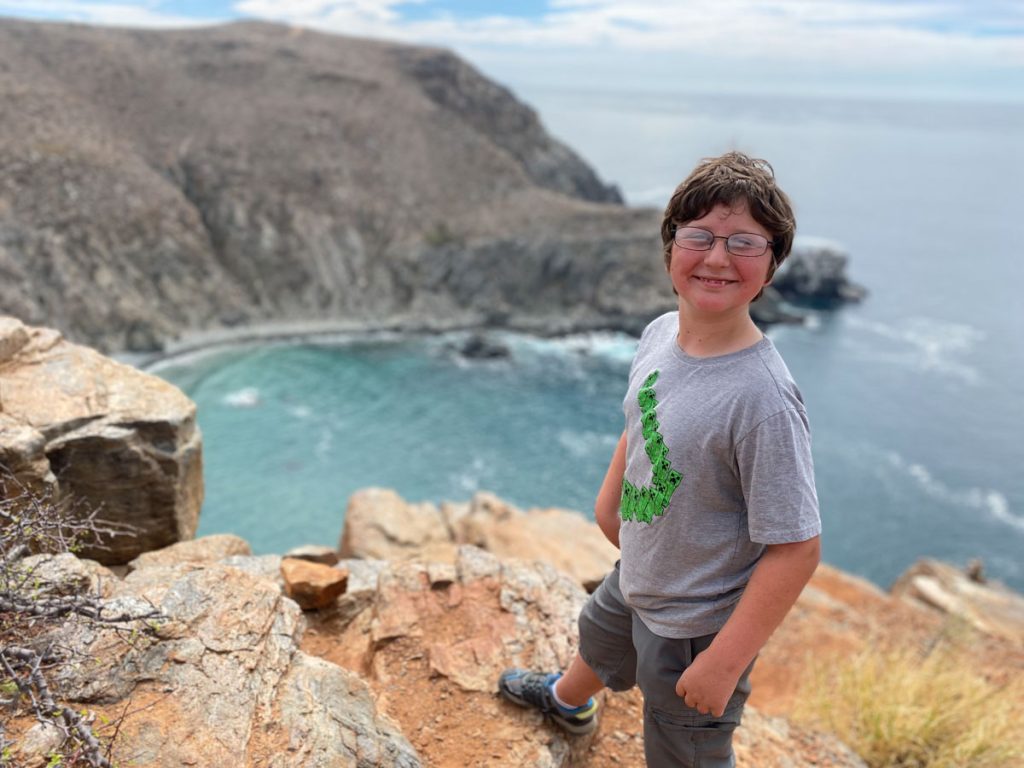 Wondering where to go and where to stay when camping in Baja Mexico? There are a few wonderful RV parks in Baja Mexico that you should check out. Additionally, there is some great Baja beach camping—as well as some destination cities and towns—that you won't want to miss.
Here are the best spots to check out while RV camping in Baja California.
San Felipe
The first nice spot to stop and camp after crossing the border on the east side of Baja is San Felipe. Although we didn't find much to do in this town, we actually really enjoyed spending a few days here visiting the local eateries, walking the malecón (boardwalk/pier area), and getting acclimated to being in a foreign country.
Where to Stay
Looking for a beachfront RV park in San Felipe Mexico? Lucky for you, there are plenty of San Felipe Mexico camping options. Many of our friends stayed at Club de Pesca right in the middle of town and absolutely loved it. That said, the prices in town are quite high. Therefore, we opted to stay at Villa Marina about 20 minutes outside of town, and did not regret it.
Both parks offer beachfront RV parks, full hookups, tent camping, and more. This place is an awesome beach camping spots for your Baja camping trip.
Gonzaga Bay
We got our first real glimpse of the absolutely stunning beauty Baja has to offer in Gonzaga Bay. We really just stopped here to break up the drive between San Felipe and Guerrero Negro, but we absolutely loved it. We parked right on the beach where a small island appeared at low tide.
The island was absolutely filled with small crabs and amazing shells, which the kids loved collecting. This is also a great place for paddling, but we didn't see any rentals available, so you'd have to bring your own.
Where to Stay
We stopped in at Rancho Grande in Gonzaga Bay for a quick overnight and ended up staying for two nights instead of just one. This place is absolutely beautiful, and although it was a bit pricey for dry camping, we found that the campsites right on the beach made it worth staying for a while. (Having a well-stocked convenience store and gas station within driving distance helped as well.)
Guerrero Negro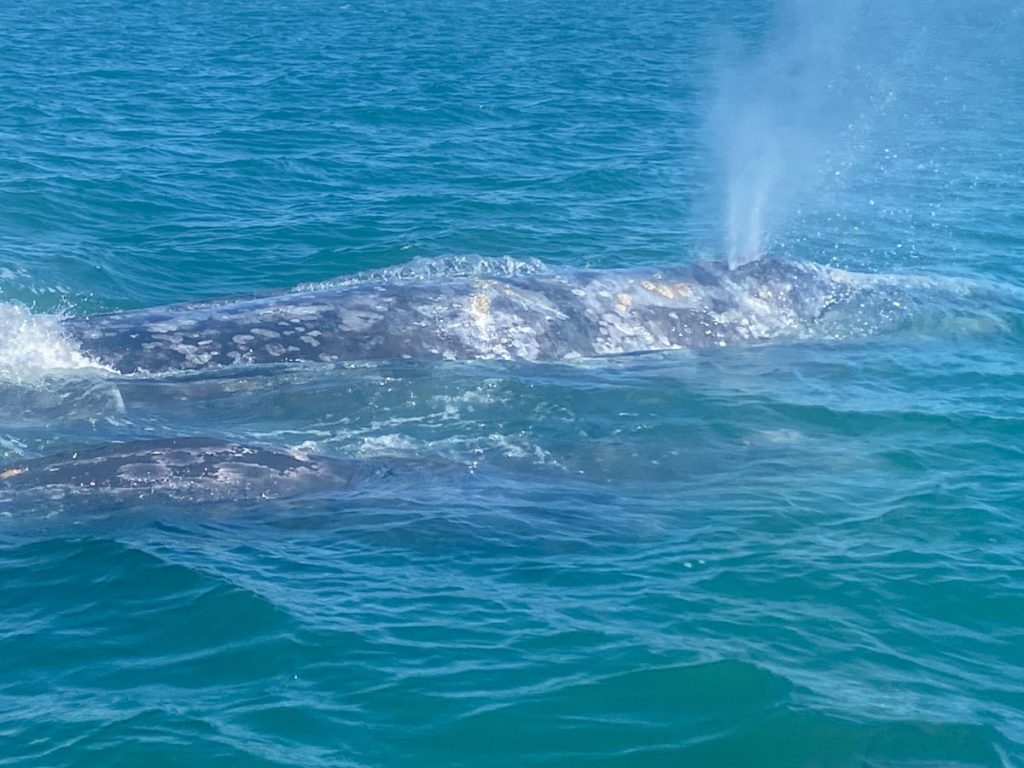 The town of Guerrero Negro is just a regular Baja town, really, but it's still a place you'll want to stop. This is because the best whale tours in Baja leave from Mario's Tours in Guerrero Negro.
The tour started at Mario's Restaurant and RV Park with a short lesson on gray whales. From there, we hopped on a bus and rode through the salt flats while the tour guide told us about the history of salt mining in the area. Once we arrived at the dock, we all donned life jackets and hopped in a small boat.
The boat took us out for an hour-and-a-half or two, and we were treated to tons of gray whale sightings. We saw mamas with their babies, and one playful young whale even swam under our boat, coming close enough for us to pet it and picking the boat up in the process.
This was easily one of the most incredible experiences of my life and I can't recommend it enough!
Where to Stay
One thing we found while camping in Baja California campgrounds is that not all electric hookups are usable. Mario's Tours RV Park was the first place we found the electric hookups completely useless (due to the voltage jumping all over the place) and we do not recommend plugging in here at all if you can help it. That said, we still recommend staying at the place for cheap camping and easy access to the amazing whale tours.
San Ignacio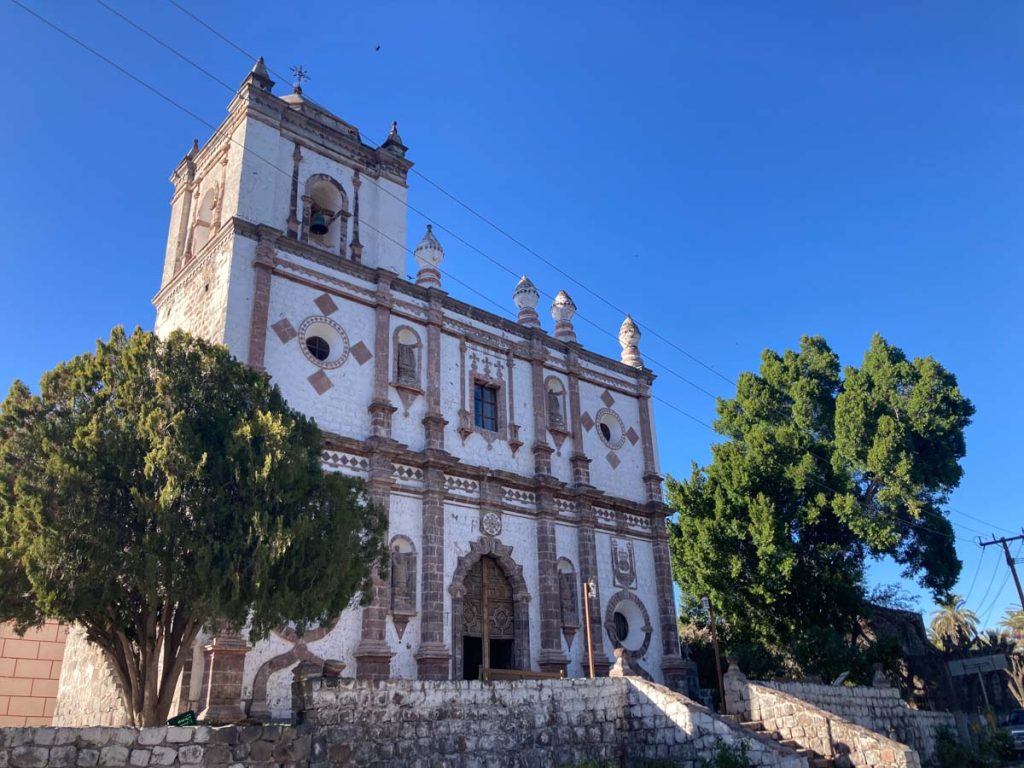 San Ignacio is a tiny, sleepy town halfway between Guerrero Negro and Bahia Concepcion. The town is home to a beautiful historic mission that is open to the public. It also plays host to a small, free museum that gives guests information on the nearby cave paintings.
We very much enjoyed the adorable ice cream shop as well as the little shops located in the town square. There are also lots of hiking trails in the area that are fun to explore.
Where to Stay
Some of the cutest RV parks Baja California Mexico has to offer are found in the town of San Ignacio. We really liked El Padrino Campground, which offered flush toilets, hot showers, and dry campsites, all within walking distance of the adorable downtown area. Another option is the brand new Paraíso Misional, which offers the same amenities, is even closer to town, and looked very well-kept when we walked by.
Bahía Concepción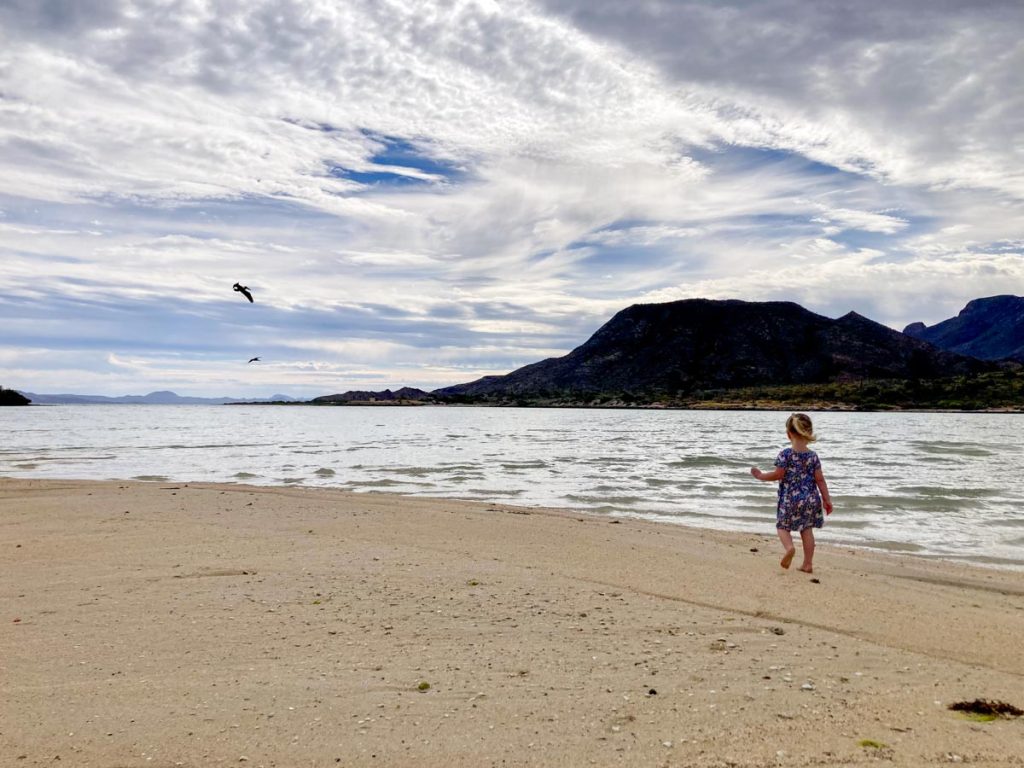 Perhaps the prettiest place we visited during our time in Baja, Bahía Concepción is one stop you do not want to miss. This gorgeous bay features bright blue water and is dotted with small islands that are just begging to be explored.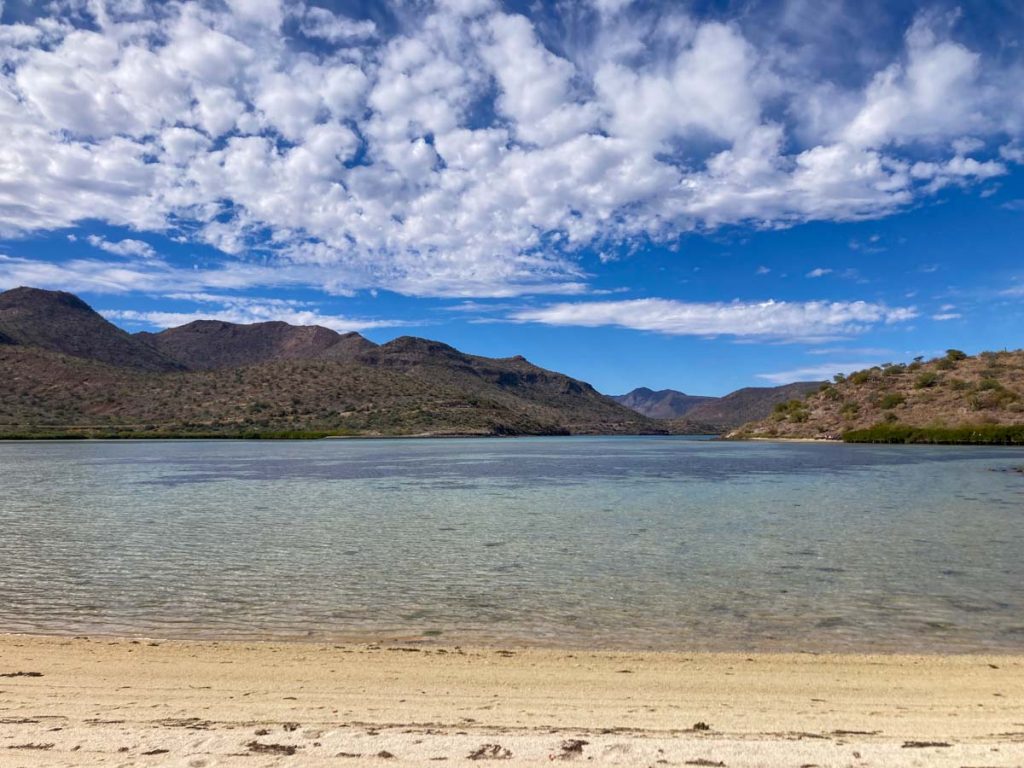 It's the ideal location for paddling, and we also found some rocky areas that lend themselves well to snorkeling. The town of Mulegé is nearby for food, but still far enough away that you truly escape the hustle and bustle.
On top of all that, Bahía Concepción sometimes puts on a nighttime bioluminescence show for lucky visitors!
Where to Stay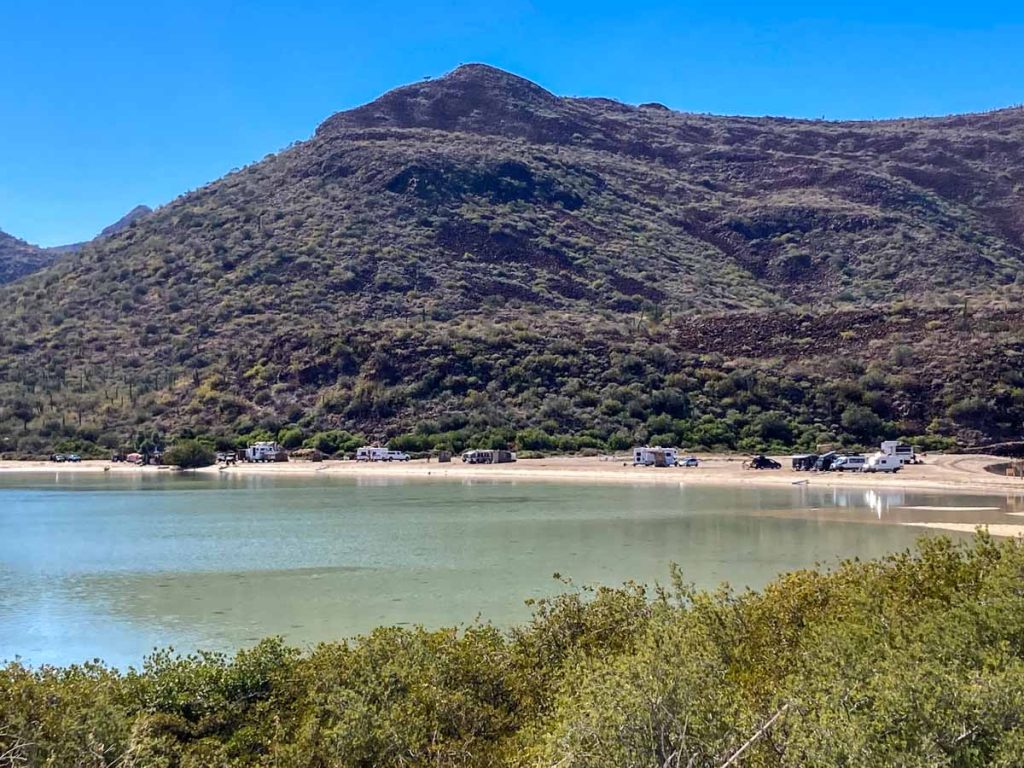 Some of the best places to camp in Mexico are found along the Bahía Concepción. These include the gorgeous Playa el Requeson where you can walk along a land bridge to an island, as well as the ever-popular Playa Santispac which includes services such as trash, toilets, a dump station, and beach vendors. Both of these are dry camping spots, and both are 100% worth checking out.
Loreto
Loreto is another cute little town that you will want to be sure to check out. It's much bigger than San Ignacio, and, therefore probably deserves a little more of your time, so plan accordingly.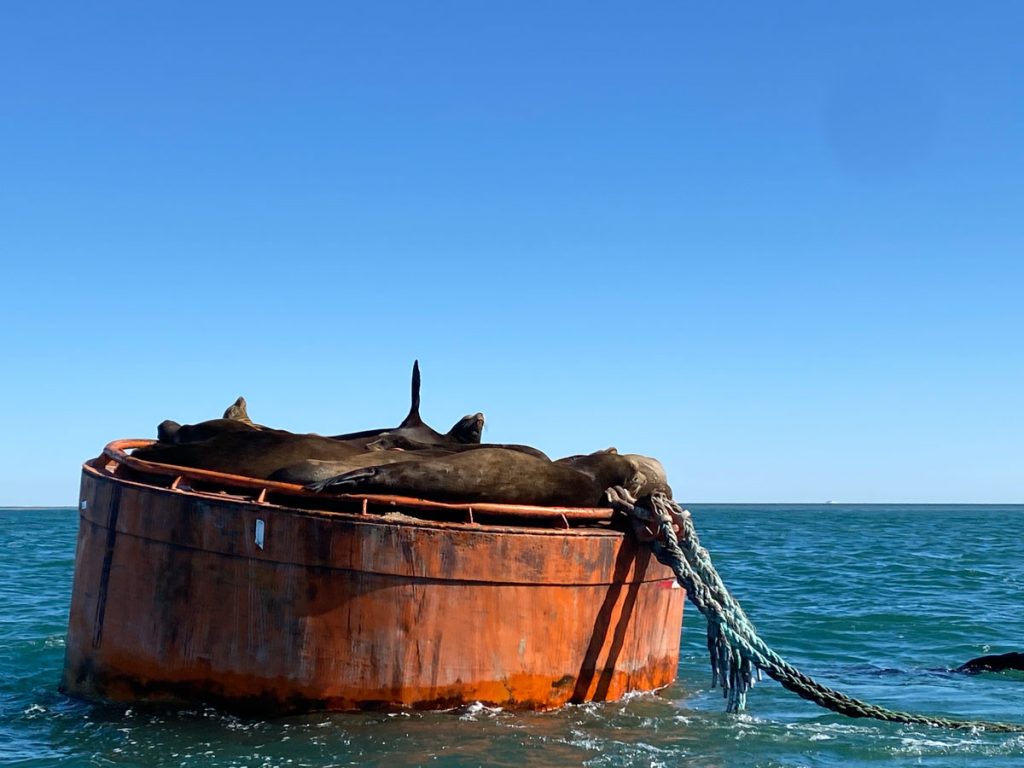 We really liked the paintings found in the town hall, and the town square just outside that building was super fun and festive, especially at night. The Loreto malecón is worth walking in this town, and you can go to the marina to pick up a boat and tour around the nearby Coronado Island to see sea lions, blue-footed boobies, and a number of other local animals.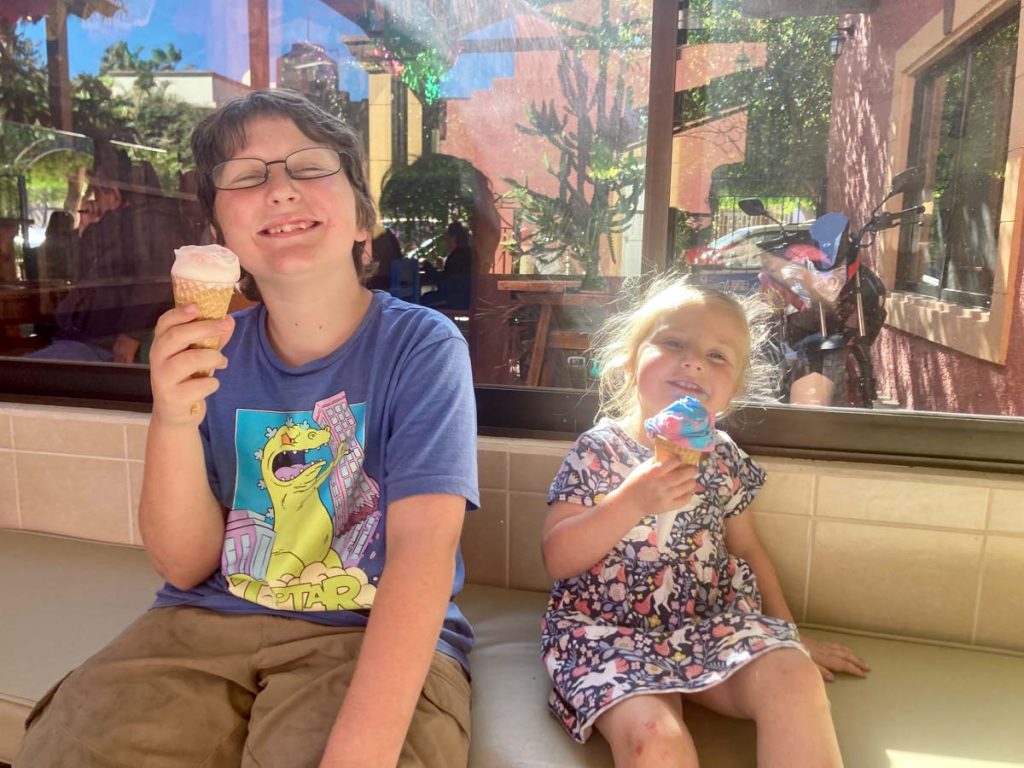 We really loved the little ice cream shop called Michoacana Ice Cream, which had fantastic ice cream at really low prices, and the tacos sold at Tacos Nany were fantastic!
If you enjoy hiking, be sure to make the drive to Tabor Canyon (Cañón Tabor) for a beautiful and super fun hike! (Take a swimsuit in case the pools are full for swimming.)
Where to Stay
When it comes to Mexico RV Parks, Loreto Shores is a favorite for sure. This place has brand-new bathrooms with cold showers, a gorgeous and well-kept pool, full-hookup sites, and easy access to the town of Loreto.
We didn't love that we had to choose between driving our RV either through the bustling and narrow town roads or driving down an extremely bumpy road trip to get in and out of the campground, but this was forgivable, as the RV park itself was wonderful.
La Paz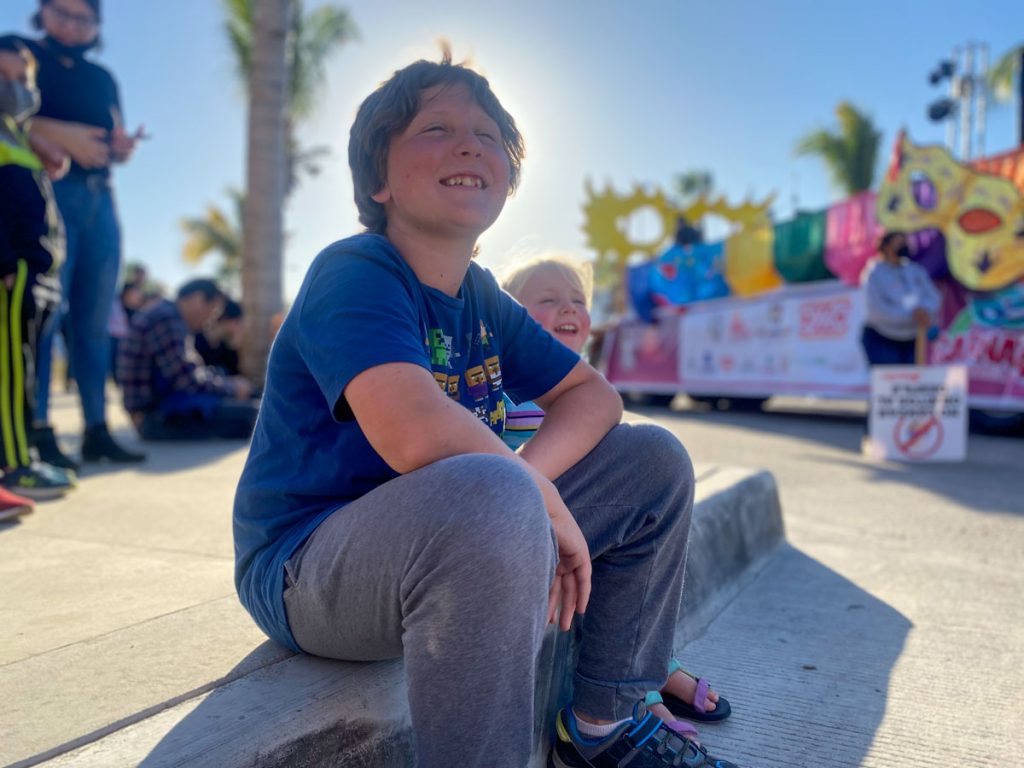 One of the most popular stops for RV travelers exploring Baja, La Paz is a city you will want to be sure to check out. There are all kinds of great restaurants in the city, and once again, we recommend walking the malecón. We visited during the Carnaval celebrations and really enjoyed the parade the town put on, so be sure to check for local events during your visit.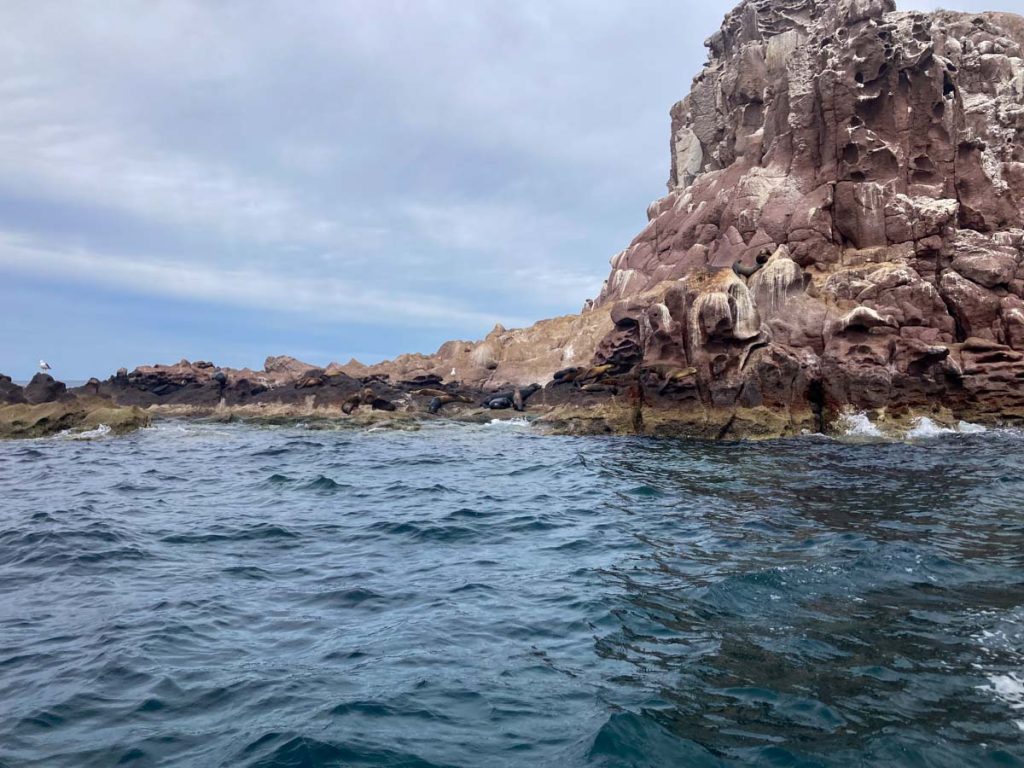 You will also want to check out the many tours that leave from La Paz, including tours to swim with whale sharks, along with tours of Isla Enspíritu Santo that allow you to swim with sea lions. We missed the whale sharks because the season ended early, but we got to swim with sea lions, and it was incredible!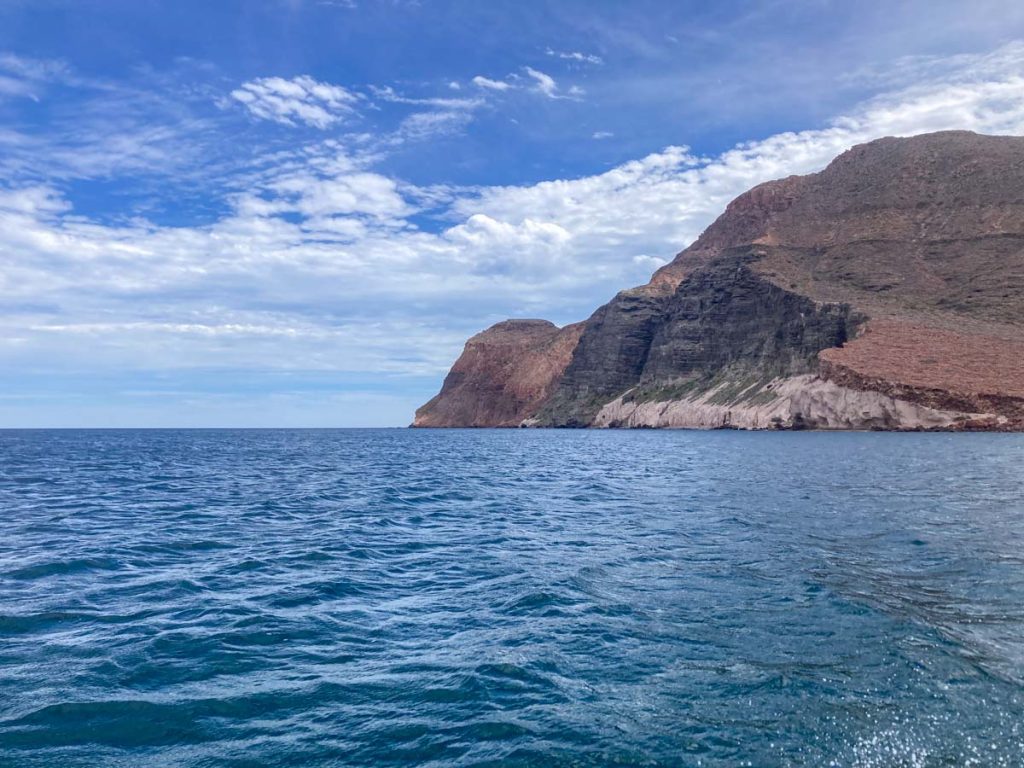 Where to Stay
Campestre Maranatha is our favorite of the RV parks in La Paz, Mexico, and is one of the best Baja RV parks in general. It offers absolutely everything a person could want from an RV park, including full-hookup sites, a laundry room, a lovely pool, an awesome playground for the kids, and even an onsite cafe!
Playa Los Cerritos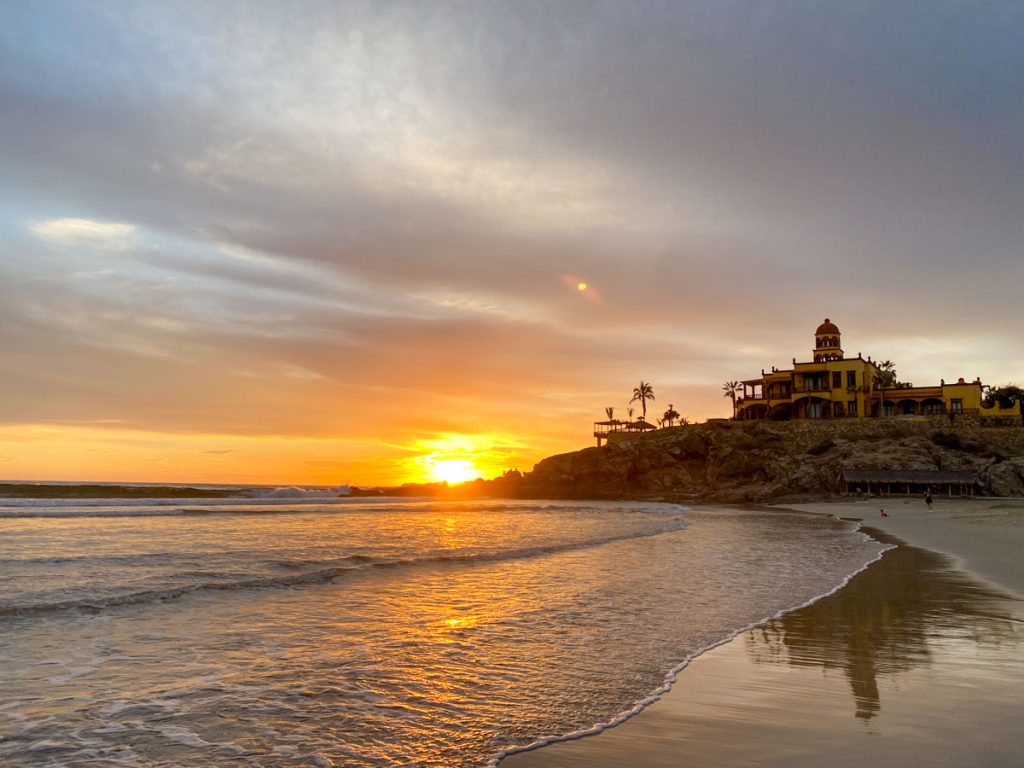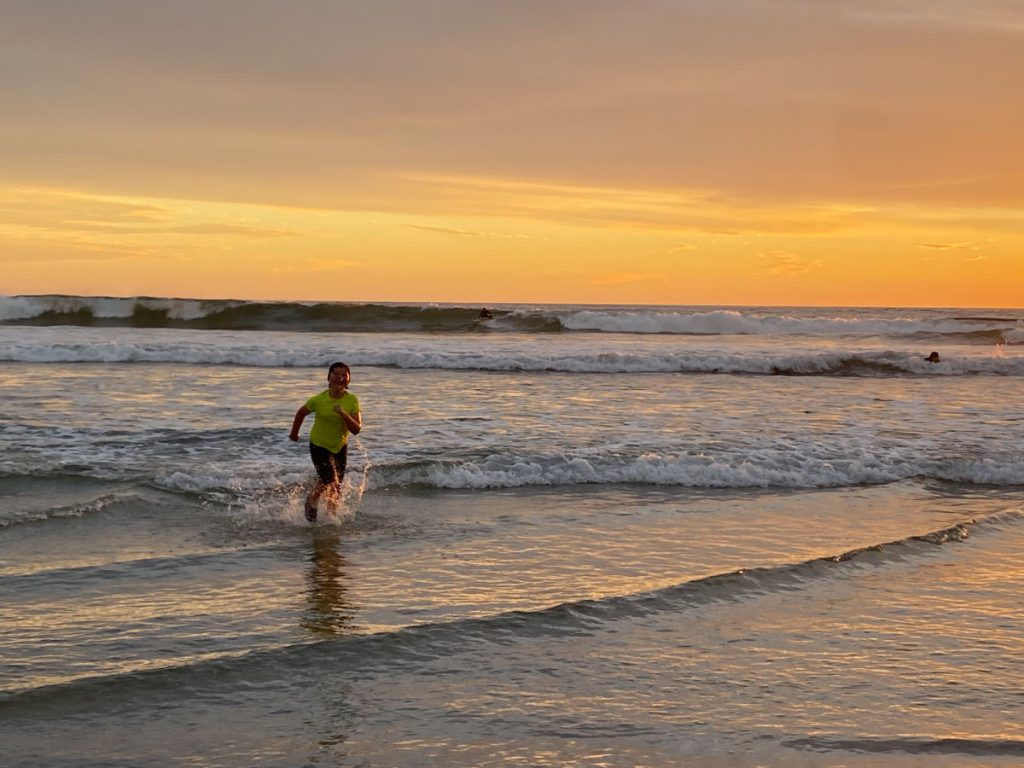 This might have been my very favorite stop on our entire trip. The vibe at this each is just so friendly and fun, and there were tons of kids for my kids to play with. We loved the awesomely big waves that were perfect for boogie boarding. We also enjoyed the tide pools created on the rocky parts of the beach, as well as the ability to see whales from the beach.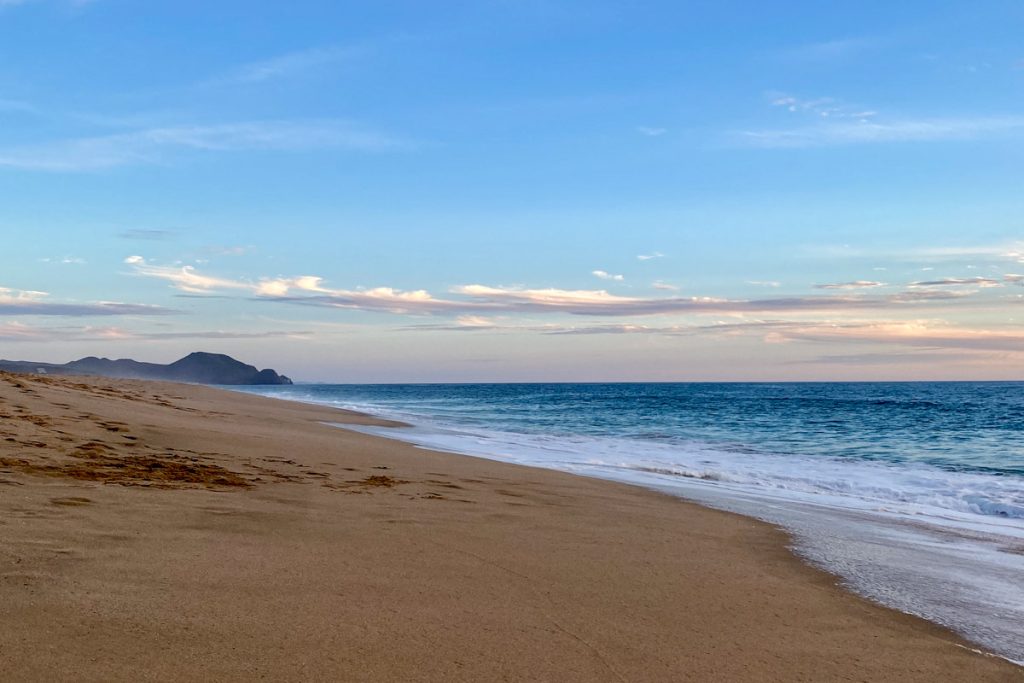 We drove to Todos Santos from here and saw baby sea turtles being released on the beach, which was a super cool experience. We also found my favorite taco spot (Tacos la Salsa) in Todos Santos.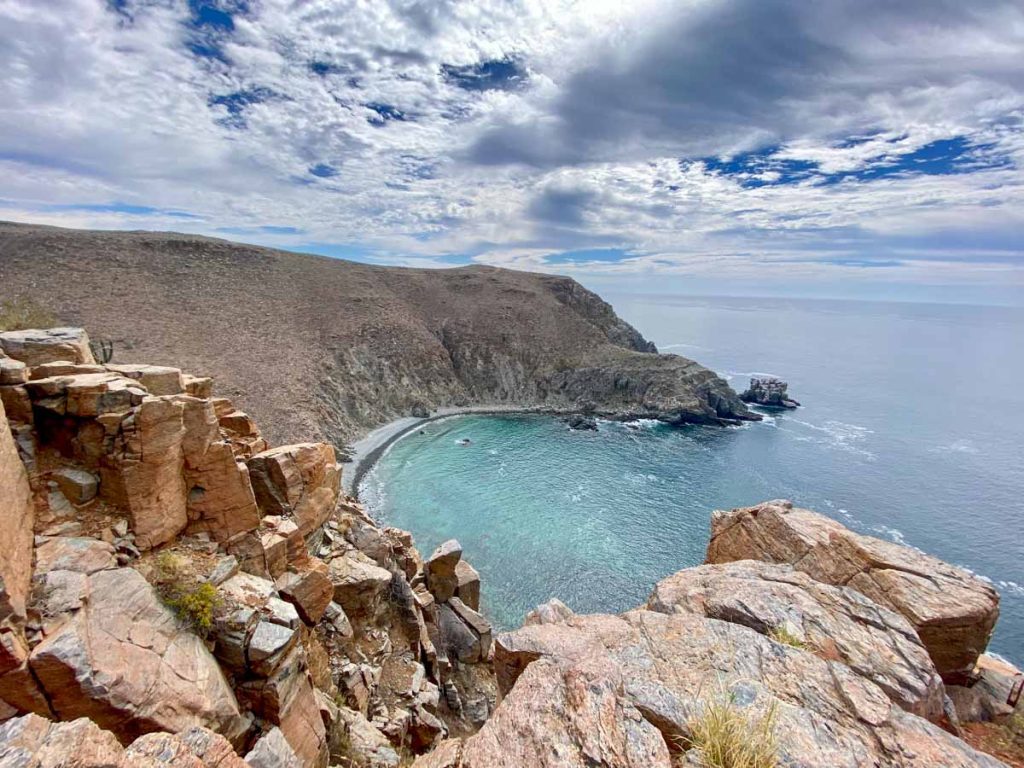 Other things we did from this beach included a hike to the Old Port of Todos Santos with friends, exploring Cabo San Lucas a little, and enjoying quality coffee beverages from the super close-by Cafelix.
Where to Stay
Considering living fulltime in an RV in Mexico? Many RVers who wish to stay stationary for the winter choose to hang out in the beach parking area at Playa Los Cerritos. This is one of the many campgrounds in Baja Mexico that offers almost no services (flush toilets and trash are the only amenities), but it is still well worth visiting for the low price and the ability to park right by the beach.
Playa Tecolote
We went to Playa Tecolote for a meetup with other RVing families and had an absolute blast there! This beach is just 45 minutes from La Paz, so you could day trip here, but I highly recommend camping on the beach for a few nights if you can. The water is so, so blue, the sand is soft, and the shells we found here were so unique and varied.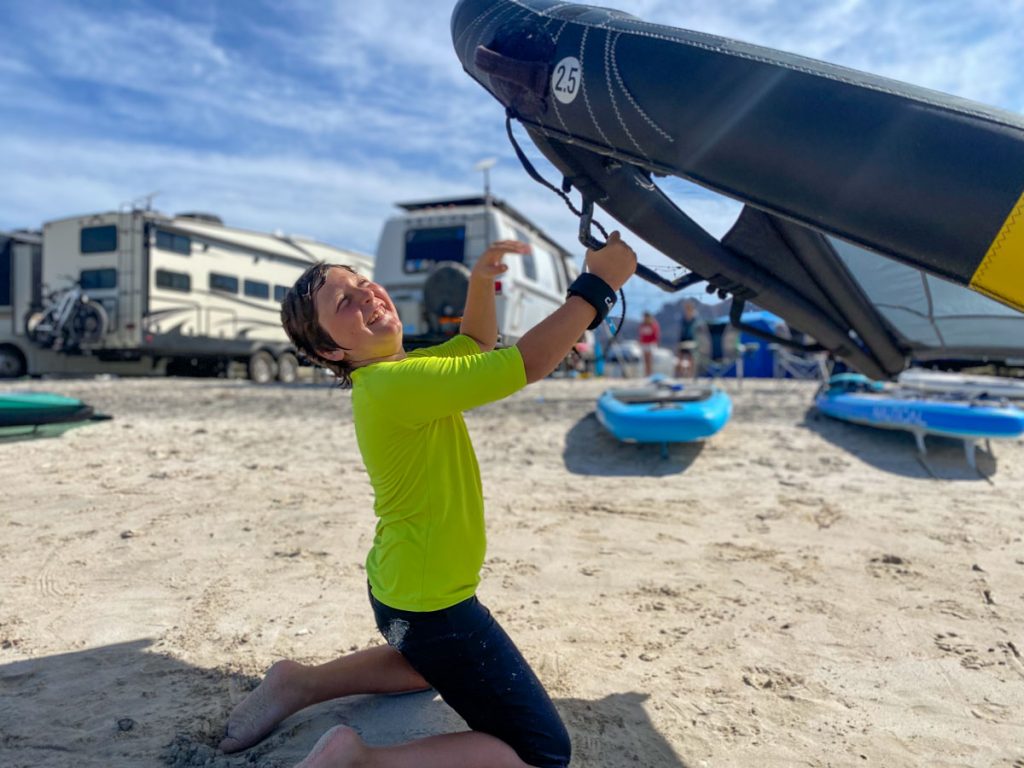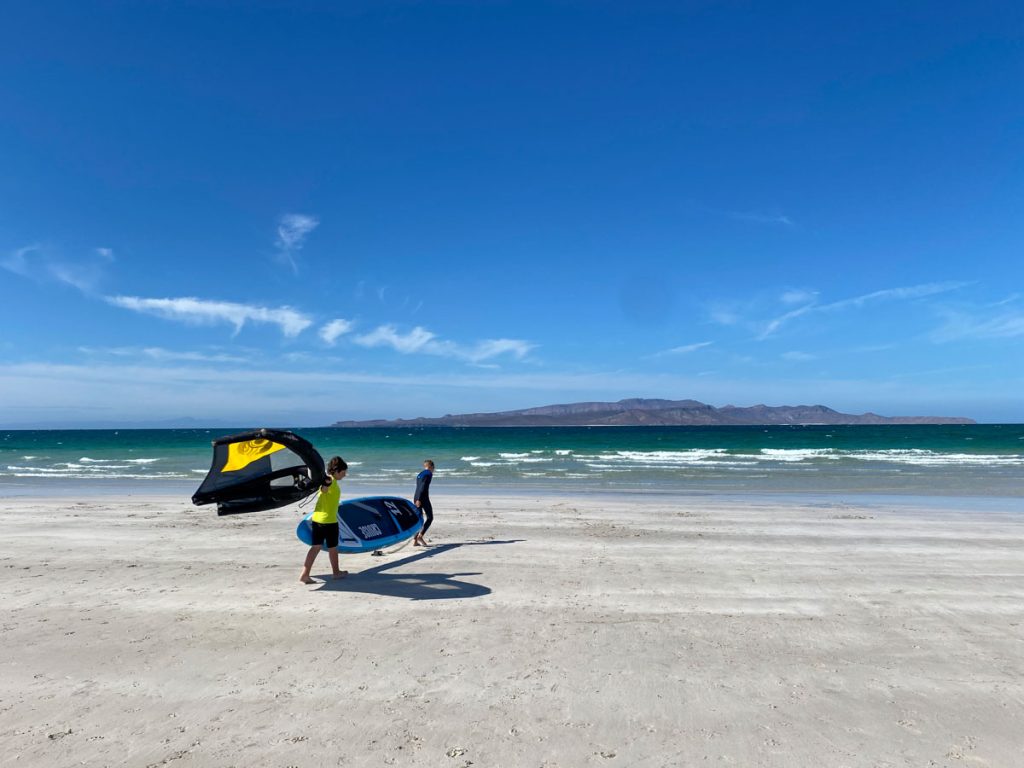 Our son tried wing-surfing for the first time on this beach, and many people in our group enjoyed paddling the area. One must-do that is near Tecolote is Playa Balandra. This is considered by many to be the most beautiful beach in Mexico and is definitely worth checking out, but you will need to arrive as soon as a session opens to snag a free camping spot.
Where to Stay
Like so many other Baja beaches, Playa Tecolote allows visitors to park right on the beach, and overnight RV parking is 100% okay. Not only that, but it is also totally free to stay at this beach, something we didn't find anywhere else on the peninsula.
There were eateries and vendors down the beach from us—we recommend trying the seafood tacos from Isla Partida!—and trash cans were available on the beach, but otherwise, there really weren't any amenities available.
Cabo San Lucas
Honestly, we didn't do much in Cabo San Lucas. It was a pretty bustling town that had all of the shopping and dining options you could possibly want. That said, the thing most people visit is the view of Lands End. If you want to see Lands End, you will want to grab a boat at the marina. Try to find a tour that includes a stop at the beautiful Lover's Beach!
Where to Stay
Because there are no true Cabo San Lucas RV parks (or other RV services), we opted for a day trip into the town from Playa Los Cerritos. Therefore, we don't really have any suggestions for places to stay while visiting.
Bahia de los Angeles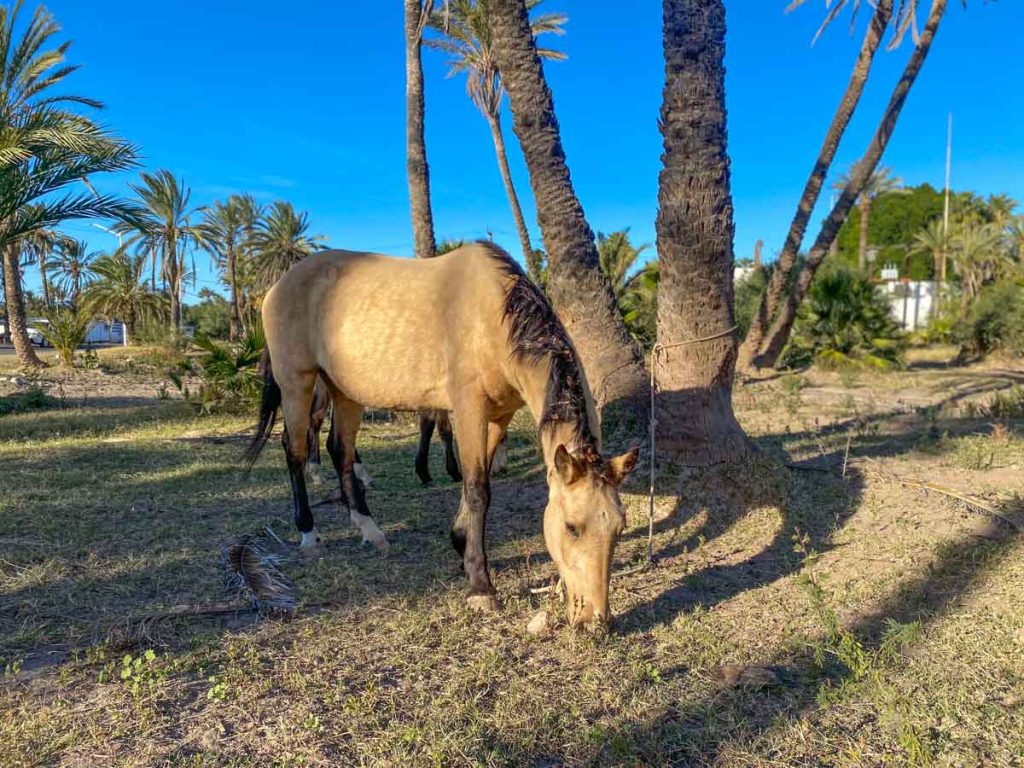 I wanted to add this beach to our itinerary because I had heard so much about what a gem it is! This bay was absolutely stunning, and the town of Bahia de Los Angeles, and the beach itself, were laid-back and very calm. You'll be greeted by the Pacific Ocean and the Sea of Cortez, a perfect combination of beaches.
Where to Stay
We heard that some RVers just park their rigs right on the beach and stay there. We didn't see anyone doing this, but it definitely seemed like a viable option for those who want to stay the night.
San Jose del Cabo
San Jose del Cabo is a beautiful beach town, and the highlight for us was its plenty of boondocking sites. There are a few RV Parks, but boondocking is still the most popular option. We stayed at a spot near the El Tule beach – it was right next to the ocean, had views of the mountains in the background, and was very peaceful.
Where to Stay
For overnight stays, boondocking is definitely the way to go. Or else, you can also camp at Villa Serena RV Park. It's close to stores and has beach access, but it's not a beachfront campground.
Hopefully, this article helps you feel more confident in your ability to experience RV travel to Mexico. If you're still feeling nervous, you could always choose to join an RV caravan to Mexico, as this would allow you to head down with experienced travelers. Either way, we are certain you're going to have an amazing time exploring this incredible place in your home-on-wheels!