There are RV must haves that you need to be able to travel safely and comfortably in an RV. Camping, RV travel, cooking, and internet connections are just a few of the things we touch on while going through a list of 34 RV must haves.
We hit the road to travel as a full-time RV living family back in 2017, so we also include a few ideas that will help digital nomads who want to travel in RVs. We include our top RV essentials for beginners and suggestions of the best RV accessories for inside your camper.
These are items we highly recommend for all types of RVs including a travel trailer, motorhome, fifth wheel, and any other type of RV living or camping. Some, you can do without for the first few days or weeks of traveling, while others you must have to make it work.
Check out our list of the best RV gadgets for 2023 that we feel we could not travel full time without!
THIS ARTICLE MAY CONTAIN COMPENSATED LINKS. PLEASE READ OUR DISCLAIMER FOR MORE INFO.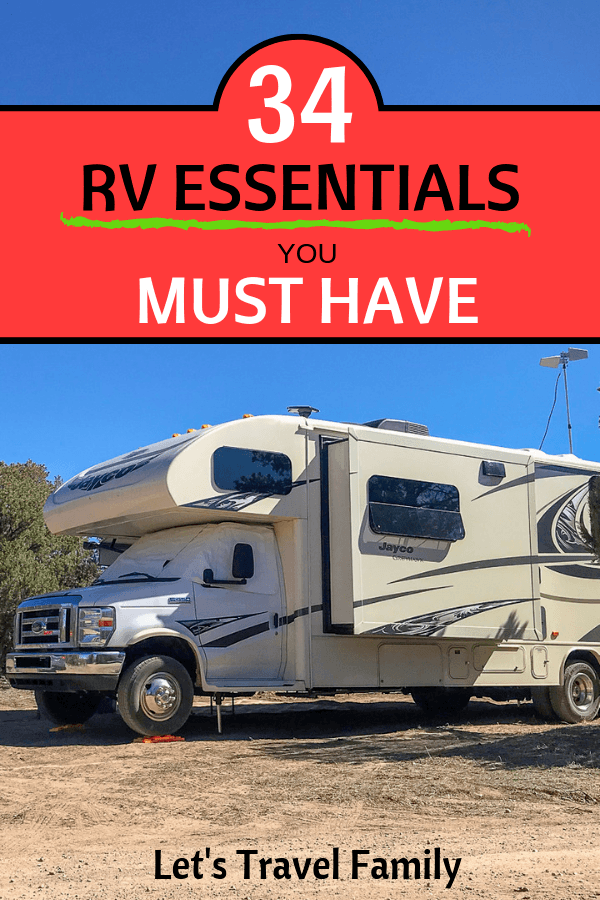 RV Must Haves – The Essentials
These items are the best RV accessories you must have right away. They are must haves for RV camping of any kind, either full-time RVing or weekend camping. So, if you're planning to take your RV out for the first time, be sure to shop for these RV must haves for newbies and seasoned travelers.
1. Drinking Hose
Be sure to have a clean and ready-to-use drinking hose ready to hook up to your fresh water tank. We learned a simple tip to connect the two ends while traveling so that nothing climbs up into the hose when it's not in use.
A second hose that you plan to use to flush your tanks, or to clean off your sewer hose, is also one of the items you need for a camper trailer or RV. We keep a grey-colored hose for this purpose in the same container that we carry our sewer hose, which is separate from our freshwater hose.
2 (a). Surge Protector & EMS for 30 Amp
The EMS component of this surge protector protects your RV from over and under voltage by automatically shutting off your power to save your RV electrical system. This is one of the top must have RV accessories!! Do NOT go without one of these!
While it may seem a bit expensive, this EMS will tell you when there are issues and actively turn off current to your RV… taking care of your RV when you aren't even there.
We've hooked up to a pedestal before and right away it told us if the polarity is reversed, meaning it was wired with the hot to the ground.
Click here to check prices on Camping World for the Progressive EMS Surge Protector.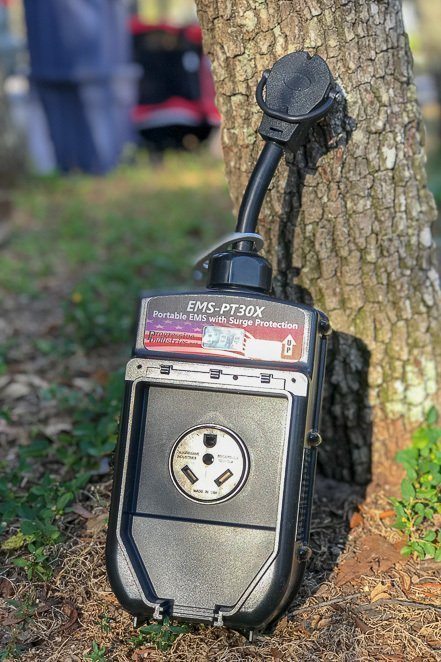 Or, we've been out exploring and came back and noticed the microwave clock was reset, so we look at the EMS and it gives us the error code. In this case, it was a power surge. Without this we probably would've had fried systems in our RV and may have had to pay to have our entire electrical system replaced!
That's why I cannot stress it enough that this is one of the must have camper accessories for every RV owner.
Related Post: Click here to read our full review on the best RV surge protectors.
2 (b). Surge Protector for 50 Amp
If you have an RV that needs 50 Amp then this is the surge protector that we recommend. Again, this is one of the top, must-have camper accessories and does exactly what the EMS above does, but for a rig that has 50 AMP instead.
3. Sewer Hose
Sewer hoses are RV items you just NEED. We recommend getting 15 to 20 feet of sewer hose, as some connections can be a bit of a stretch. The Camco brand has done well for us and I'd say that this is for sure one of the camper essentials you can't go without.
If you're looking for a quick download that you can reference back to on how to keep your RV organized, then be sure to check out our free guide below!
4. Clear Sewer Connector
It's gross, I know. Yet, having a clear elbow is really helpful when dumping the tanks so that you can see that it's all done.
This is all about paying the "paradise tax" 🙂
5. Disposable Gloves
Please buy some disposable gloves…and use them when touching any sewer hose or connections! We use ours each time we dump the gray or black tank.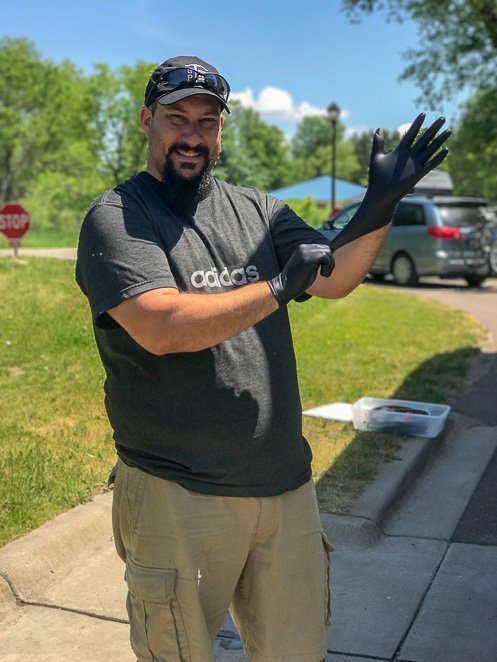 6. Leveling Blocks & Chocks
Whether you have a camper trailer, pop-up trailer, fifth wheel, or motorhome, these leveling blocks come in very handy and I'd say are some of the simple camper must-haves listed. We use them quite often.
Even though our motorhome has leveling jacks, there comes a time when even the most "level" site isn't level enough. This is where the blocks come in handy, especially if our front wheels are off the ground due to a sloped driveway. I'll put these down and drive up on them so the tires don't appear "dangling" to scare the neighbors.
If you have a pull-behind camper such as a travel trailer or a fifth wheel, you're going to want a set of X-Chocks as well. X-Chocks are absolutely travel trailer necessities.
If you want to know more about which leveling block is the best for your RV, check out our Best RV Leveling Blocks blog post!
Related Post: Click here to learn our expert tips for living full-time in an RV with kids!
Best RV Gadgets
We recommend grabbing all of these RV must haves before you travel in your RV. You could make it a day or two without the following camping must haves, but we wouldn't suggest it. Only if you are tight on money, you may be able to wait. If you recently bought the best RV to live in full time and now need all the right accessories, then please keep reading.
Do NOT wait too long for some of these camping accessories…especially a generator.
7. Generator
If you don't have an onboard generator as we do, then this is the highest-ranking portable generator available and one of the top RV must-have accessories for boondocking or dry camping.
Or consider getting an Eco Flow portable power station and solar generator that you can run just about anything off of!
We also created a detailed review of the best generator for camping and RVing here. Go check it out.
8. Air Compressor
We started our full-time RV living journey out without carrying an air compressor until we had our first flat tire. Now we have one with us at all times and check the tires in the motorhome and our minivan before each and every travel day.
If you have the budget and space, don't go without carrying your own portable air compressor with you…or you just might be trying to fill your spare tire with a bike pump like we had to do!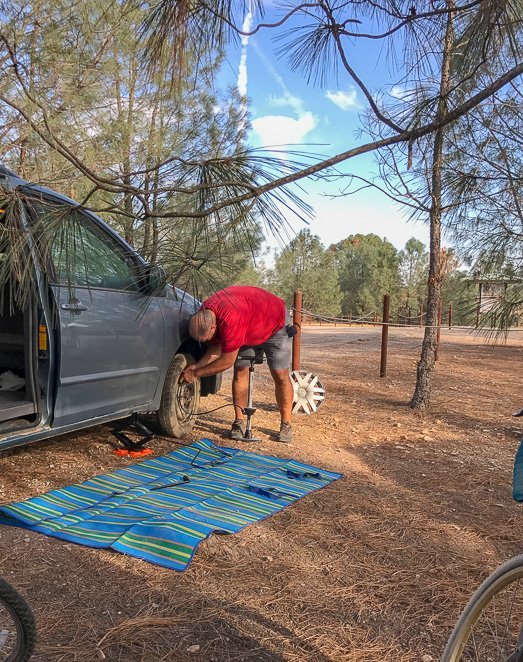 Don't be like us. Be sure to always have an air compressor while traveling. We bought our air compressor the day after we had this flat tire up the side of a secluded mountain.
9. Walkie Talkies
We drive in two separate vehicles while RVing the states full-time, so these Two-Way radios come in very handy. Especially when we've been in the mountains or areas with no cellular service so that we couldn't call each other on our phones even if we wanted to. They are great since you can select nearly any channel on the spectrum, not just the few general channels.
10. RV GPS
We've heard great things about driving with the use of an RV GPS. What a great RV must have gadget to own! This is one of those RV must haves for newbies that would make a great gift!
It helps by suggesting routes based on your inputs such as length, height, and towing. It'll avoid tight areas, low-bridges, etc for your routes.
Friends of our swear by their Garmin.
Or, you can check out the top rated RV GPS's at Camping World here.
11. Shower Head
The shower head in your RV is not worth keeping. We bought and changed ours before we even used the RV. This one has worked out well for us so far.
It's without a doubt the favorite of RVers out there. It's able to take even the lowest pressure from poor lines and give you a clean, fresh, blast!
12. RV Mattress
RV mattresses are usually pretty hard and many people replace them quickly. We needed a queen short mattress that would NOT overheat us and was comfortable. This mattress has worked great in our Class C motorhome.
I've also found that Camping World carries many high-quality mattresses. Such as this Comfort Zone 10″ Elite Queen Short mattress made just for RVs.
Check out our more detailed guide to replacing your RV mattress.
13. Water Pressure Regulator
A water pressure regulator makes sure that the pressure isn't too high where it can do damage to the pipes in your RV as it comes in through the freshwater hose. We use one at every campground. It's one of these essential RV accessories you should add to your list.
Like an EMS, a water pressure regulator is one of those things needed for RV camping you just don't know you need until it's too late.
14. RV Sewer Hose Support
We didn't start with this RV sewer hose support, but bought it quickly after we began to travel more. We use it quite often when the campsite isn't very level. It's one of those essentials for RV living.
Since sewer connection locations for RV sites can vary so much, this will help keep a downward slope on your sewer line so things drain AWAY from your RV.
15. RV Water Filter
Many RV's come with an inline water filter. If yours did not, we highly recommend purchasing one of these. The water at campgrounds isn't often filtered.
Even if you have a coach filter these are nice for hooking up anyway because you never know what's coming out of that spigot. Add this to your camper supplies list just to be safe.
16. 50 amp to 30 amp Adapter
We have an RV that requires 30 amp service. If you have an RV that requires 50 amp then you will need the 50 to 30 amp adapter at some campgrounds if there are no 50 amp spots left. Or for us, we carry a 30 to 50 since we've gotten places with only 50 amp before too. Your RV needs one of these adapters if you have to hook up to power that is not what your RV is built to use.
17. Tire Pressure Gage
We needed this particular gauge to read the second (or inside) tires on the dually of our motorhome. You'll want to have a tire pressure gauge to check all of your tires regularly to avoid a blow out!
If you have a Class A, Class C, Class B, or tow with a dually then you'll definitely want the right tools to check your tire pressure and this simple one doesn't take up much space. Consider this one of the essentials for RV camping.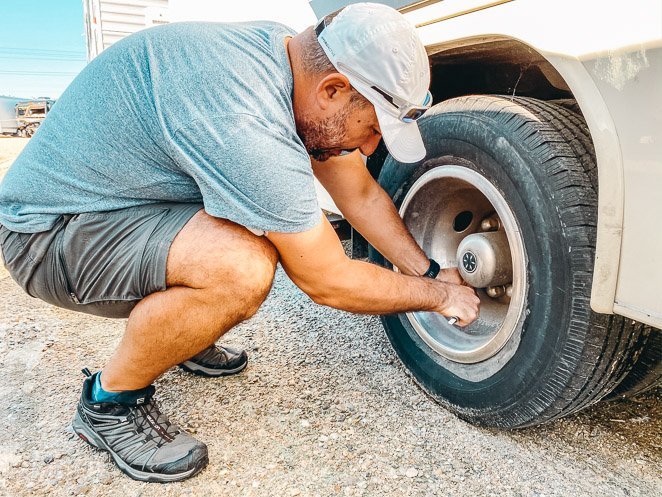 18. Travel Laundry Bag
We highly recommend having a laundry bag that is portable when you're camping or RVing. Laundry is a necessity and even if you have an RV washer dryer combo in your camper, you'll still need a hamper/bag to collect dirty clothes. This bag with straps to put over your back is the most ideal.
Related Post: Best RV Vacuum Cleaner
RV Kitchen Accessories
Here is our family's list of RV appliances and other RV must have items for your kitchen. If you plan to spend some time cooking in your RV, then we highly recommend purchasing these RV kitchen accessories and items to make life in a camper, motorhome, or trailer easier.
19. Instant Pot
Meal preparation is much easier with our Instant Pot! I use it daily! We cook dried beans in under 1 hour without soaking, stew, roasts, soups, rice, and more. Oh, and we also use it make hard-boiled eggs in just 5 minutes. I honestly recommend it to everyone I talk to.
20. Cast Iron Skillet
We use our cast iron skillet daily and store it inside our oven when it's not in use. Our eggs taste so much better cooked in it. This is one of those RV camping must-haves because you can use it over a fire, in the oven, or on the stove top.
21. Berkey Water Filter
The best purchase that we've made yet!
Finding clean, safe, and pure tasting water on the road can be hard if you don't just buy bottled water all the time. Oh, and if you DO, be ready to have a TON of plastic bottles laying around. We drink a lot of water as a family of 6 living in our RV full-time, so the Travel Berkey has been amazing. It filters out ALL of the bad bacteria, viruses, and sentiment and puts my mind at ease. Oh, and it makes our water taste the same no matter what state we're in.
Click here to grab a Berkey water filter now, or check out our review of Berkey Filters on our post sharing why we feel they are the best countertop water filtration system available for RV owners.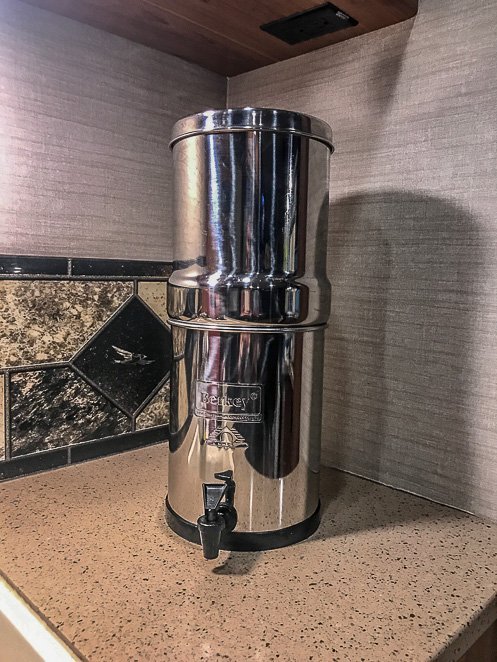 We use our Berkey for all of our drinking water and we consider it on the top of the list of the best RV accessories 2021 has.
22. Immersion Blender
We have an immersion blender like this one and use it often in place of a food processor. It works great and is much smaller and lighter than a food processor.
While it won't replace a Vitamix, it does a fair job of blending without taking over an entire cupboard for storage.
23. Espresso Maker or Coffee Maker
We have owned our Breville Espresso Maker for almost 10 years and it's still going strong! Honestly, it's even fallen on the floor a few times and still works great. Now, if you'd rather have something smaller and easy to transport we also LOVE and highly recommend the Staresso Portable Espresso Maker.
24. Kitchen Knife set with Covers
A good set of sharp knives is right up there as one of the top RV accessories for most campers.
Now, having covers for your knives is a bonus, and rates it high on my list as one of those cool RV accessories because then we can throw the knives in the drawers and not be afraid of cutting ourselves.
Not having to worry about a knife block tipping over and knives flying about is a good reason to store your knives in a drawer while traveling. But all the bumping around will dull them quickly, that's why these knives are great since they all have covers.
Related Post: Click here to read our ultimate list of RV Kitchen Accessories.
Camping RV Supplies
These outdoor camping items and fun RV accessories are those that we highly recommend and enjoy.
We're often asked about the must have camping gear and gadgets. Take a look at the list and see if there's any camping gadget on here that you may not have thought of!
Or, check out our recommendations of dry camping essentials if you plan to go boondocking or wild camping without hookups.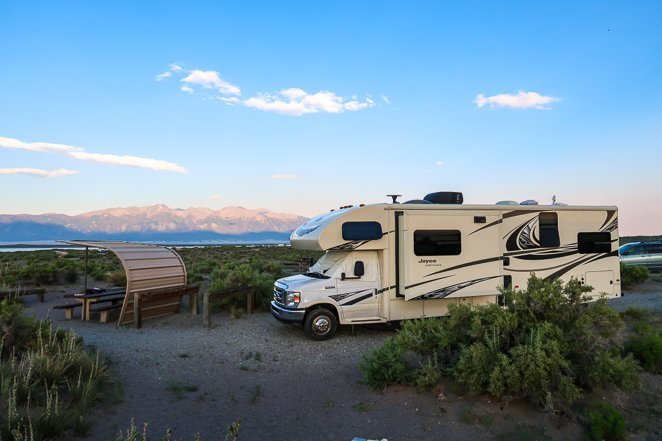 25. Hammock
Our friends have one of these and we just love it! The kids play in it, it's durable, and it packs up very easily.
While it can take up more space, it's definitely a priority to have a hammock to unwind in and this one has it's own stand so you don't have to worry about needing trees to hang it in.
26. Propane Firepit
Many campgrounds don't allow wood burning fires. Either due to the close proximity to fellow RVers, city regulations, or if you're out west during the dry summer and fire season. This comes in handy in those instances and our friends would rank it as one of their best travel trailer accessories.
Although Florida is known for its warm winters, this comes in especially handy at night when the temps dip down but you want to still socialize outside with friends and neighbors.
Read our review of the best portable propane fire pits for campers here.
27. Grill
We love our Cuisinart grill. Not only does it store easily in a Rubbermaid bin for travel, but it allows us to cook outside too! Grills are definitely must have RV camping accessories that you want to consider bringing along with you on any camping or RV trip.
And when ours finally died after being used 3-4 times per week for 2 years, we bought a second one exactly like the first.
28. Folding Table
This table is one of the camper trailer essentials that we highly recommend! It adjusts to be just the right height for the kids to eat at outside while sitting lower to the ground. It also functions as a work table that we stack on a second table or on top of our bed to hold our laptops on as a workstation!
Make sure to put your name on the bottom of this table though, as you will quickly see it's an RV standard and most people have one. So at the next potluck, yours could get scooped up by an unsuspecting RVer.
Check out our review of the best camping tables here.
29. Chairs
These chairs are great for around the fire or at the beach, making them some of the best RV gear. We love multi-functional items. They have storage on the back and straps to make it easy to carry.
30. Grilling Utensils
A good set of grilling utensils are a camping item that most RVers can't go without. If you don't already have some, grab a set now and keep it with your grill.
31. Best Bike Rack
This bike rack has worked great carrying 2 adult bikes and 3 children's bikes. We looked into many different racks before choosing this rack based on the reviews and it has really held up great.
We are now 2 years into full-time RV life and it's still holding up great on the back of the RV, or the back of our minivan.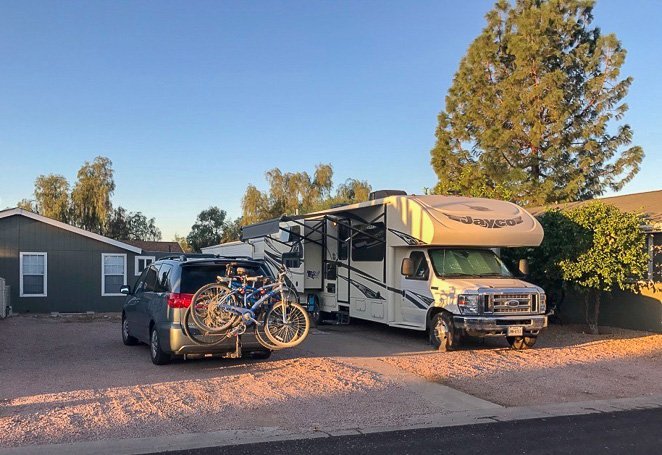 RV Internet Accessories
If your plan is to travel full time in an RV, then you might want to stay connected to the internet on a regular basis.
We don't recommend depending on campground wifi connections, as they are often very unreliable. Cellular internet is your best bet, and in order to have a great connection to stream videos or even connect on Facebook, you will need these must haves for RV living.
Learn all about RV internet here, as we deep dive into the topic to help you understand your options better so you can get internet on the road.
32. We-Boost
Install this in your RV to boost cellular signal for hot spots and cell phones. We could not have worked online in many places out West without our We-Boost. We highly recommend investing in a We-Boost if you need to work online like we do!
While it's not required to use all of the time, if you don't have one it could make you miss work or have to choose another campground or area to stay in.
33. Laptop Stand
This was a game changer for our posture while working on our laptops. As soon as we discovered this laptop stand, bought it, and began standing to work, shoulder and back pain went away. It folds up small and has a carrying case too.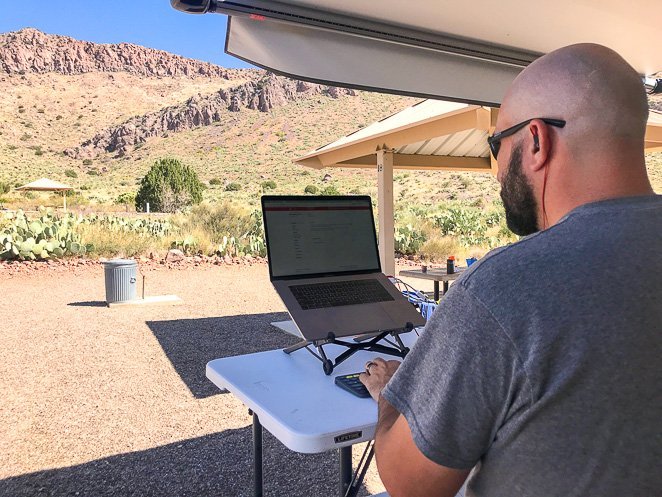 34. Battery Pack
You WILL use your battery pack to charge cell phones or run laptops while away from access to power. It is a must have item. We have also found it very helpful when we are boondocking!
35. Hot Spot Antenna
Connect this to your cellular hot spot to increase the range, and you can pick up signal when you may not have been able to.
I use this in the van to help boost signal while driving.
In fact, this is in use almost every time the hotspot is in use. Having a MIMO antenna like this helps even a good signal.
My Favorite Gifts for RVers!
We recently created an additional post with some fun ideas for gifts for RV owners. Honestly, just make sure that whatever you get for an RVer, that it has a function (or multiple functions) and is hopefully small or lightweight.
Here are a few of our top picks:
36. RV Logbook
This RV Logbook is such an inexpensive, thoughtful, and useful gift for any RVer! Whether you're looking for must have RV gadgets or must haves for campers, this is a great find.
We actually wrote an entire review here for you to check out if you want to learn more about this RV logbook.
37. Headlamp
A headlamp could make a great gift for any RV owner. It's very useful and small enough to even be a stocking stuffer.
38. Organize Your RV Like A Pro
Consider gifting your RV friend a 73-page eBook on how to keep their RV organized. They will learn exactly HOW to become a master at keeping their RV organized and looking amazing without feeling overwhelmed when they read our ebook called Organize Your RV Like A Pro.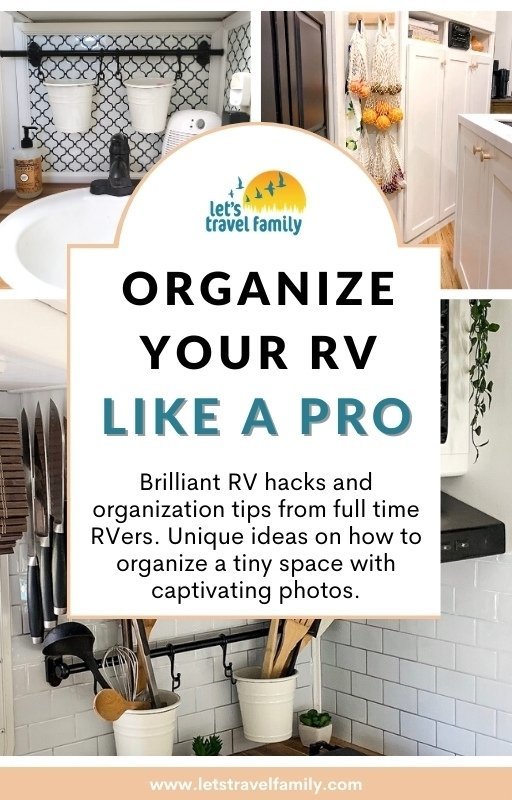 Created with 12 other RV owners, the 73-page digital ebook contains 100+ captivating photographs of how others organize space inside small RVs they call home on wheels: from kitchen organization tips (don't forget those spices!) or bathroom organizational tricks; through organizing bedrooms, living rooms/entryways, children items such as toys or clothing chests.
Click here to order a digital copy to be delivered to your friend's inbox today.
What Other RV Accessories?
What other RV accessories do you highly recommend? As a full-time RV family of 6 that traveled the US for over 2 1/2 years, we've tried our best to keep this post up-to-date with recommendations and tips. However, we love hearing about other ideas that maybe we haven't thought of. Add it in the comments below.
Or, if you're looking for some other great resources for finding things for your RV check out these related posts.