While driving up Interstate 35 on our way to the North Shore of Lake Superior, I glanced over at my husband to see the look of excitement on his face. Taking a weekend away from the hustle and bustle of the Twin Cities to find fun things to do in Duluth with kids was exactly what our family needed.
Time for a break from our eight weeks of being 'stationary' in our RV!
THIS ARTICLE MAY CONTAIN COMPENSATED LINKS. PLEASE READ OUR DISCLAIMER FOR MORE INFO.
Things To Do In Duluth With Kids
We had been back in Minnesota for four weeks visiting family and friends. We had been traveling full time as an RV family for 1 year and we were ready for a bit of travel. Even if only for a weekend.
Our family decided that after a year of living the digital nomad family-life, we're not even close to being done. We have way too much wanderlust! With all that wanderlust, staying in ONE place for four weeks was starting to get to us. A trip to Duluth, MN was just what we needed.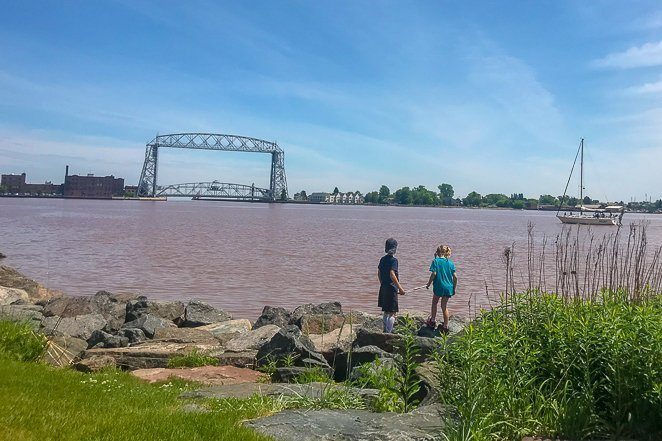 Tony and I, along with our four kids, left the RV behind at my Dad's house and took our minivan on a road trip for a weekend of finding things to do in Duluth, MN.
Related Post: 15 Fun Things To Do In Stillwater MN
First Stop On Our Way To Northern Minnesota: Tobies Restaurant
Tobies Restaurant is in Hinckley, MN just off Interstate 35. It's a popular place to stop on your way 'up north' or on your way back down to the Twin Cities. They have a great breakfast menu, but what they are really known for is the doughnuts and bakery items.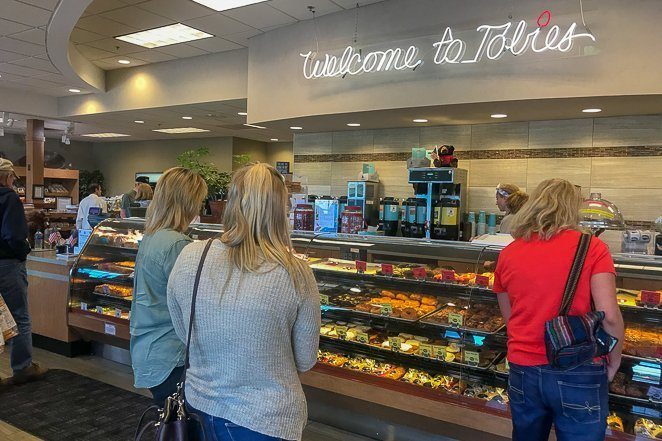 We made a quick stop to grab a coffee and a few baked goods on our way up to Duluth. I wandered into the back of the bakery and found a freezer section with delicious-looking baked goods that were labeled 'Gluten Free' and 'Dairy Free'!Jackpot!
I was thrilled, as our youngest daughter has a dairy intolerance and could not eat any of the baked items displayed in the front window. Our family left Tobies with huge smiles on all our faces!
Stop For A Photo On The Way To Duluth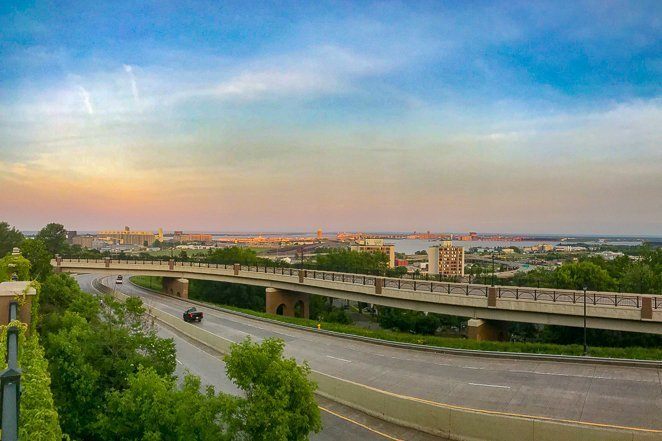 The skyline was amazing as we came into Duluth, so I made Tony stop for a quick photo at the rest stop coming into the city. Then we started our day out finding all sorts of fun things to do in Duluth, MN with kids.
Enjoy Playfront Park
If you have read many of our other posts, or follow us on Facebook and Instagram, you may have heard how often I bring up our family's enjoyment of playgrounds around the country.
They are usually free, colorful, and inviting, a great way to move our bodies and get our wiggles out, a convenient place to meet other children to play with, and a place where all 6 of us can run around and be a bunch of big kids.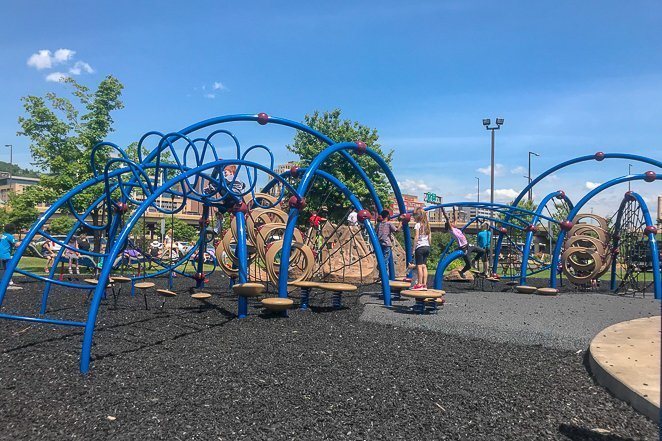 Playfront park did not disappoint us on this sunny day. There happened to be many other kids at the playground, so off our kids went to find friends for an hour or two.
I appreciated the clean bathrooms with flush toilets (it's nice to have a break from port-a-potty's), shaded picnic tables, and free parking. Playfront park was also a short walking distance to Lake Superior's shoreline and the Bayfront Festival Park.
Walk Up To Bayfront Festival Park
Walking up the sidewalk to Bayfront Festival Park gave us an amazing view of the Aerial Lift Bridge.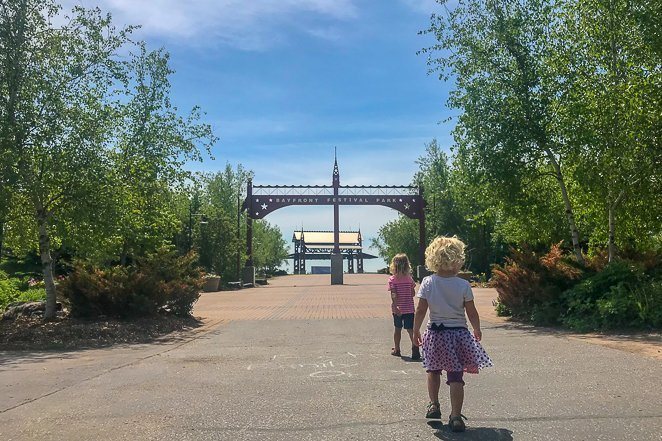 Bayfront Festival Park is located on the shores of Lake Superior, providing large rocks for the kids to climb on. We grabbed several photos of the bridge and let the kids play for a bit before we began walking up the boardwalk toward the Great Lakes Aquarium.
Visit Great Lakes Aquarium
Located on the lakeshore of Lake Superior next to Bayfront Festival Park, the Great Lakes Aquarium is one of the Duluth attractions that we had learned about before arriving. However, we decided to opt-out as we were hungry and wanted to catch the FREE trolley ride into downtown Duluth to grab a late lunch.
I did learn that the Great Lakes Aquarium is unique in that it holds many freshwater and Great Lakes animals. Admission fees range from $11.99 to $17.99 for children and adults, while children 2 and under are free.
Take The Free Trolley – Port Town Trolley
We hopped on the Free Port Town Trolley and made our way into downtown Duluth for lunch.
Our kids are always thrilled to travel on public transportation, especially trolleys and buses. I think it may have something to do with not having to sit in car seats and seeing the skywalks in downtown Duluth.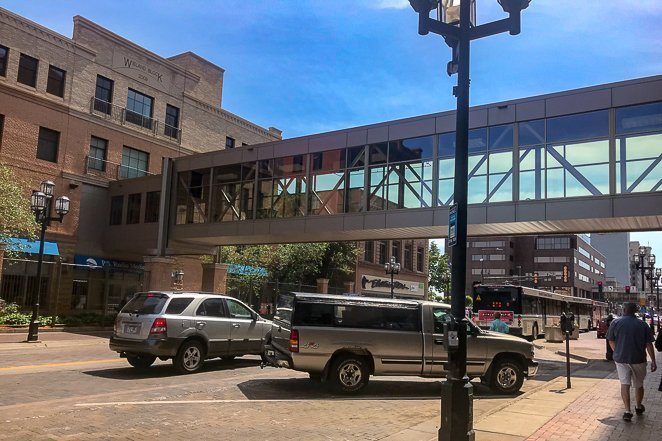 The Port Town Trolley provides free rides from the first week in June until Labor Day throughout the summer to help visitors see much of what Duluth has to offer.
I appreciated the air-conditioned trolley along with providing FREE transportation for our family!
Eat At Pizza Luce – You Are Going To Be Impressed
Our family hopped off the trolley and walked a few blocks to…..hands down….the best pizza place in Minnesota.Pizza Luce.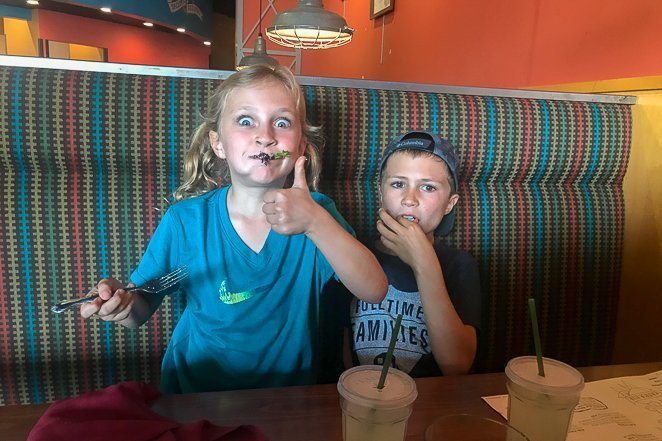 Pizza Luce offers some of the best pizza, along with sandwiches, pasta, and huge salads. Everything is always so flavorful and the service is amazing.
We arrived late for the lunch hour, so found seating immediately. The kids sat right down and started coloring away on their children's coloring sheets provided. I was excited to learn that Pizza Luce now provides a dairy-free cheese option from in-house soaked cashews. Our youngest, Jasmine, was thrilled to have her very own pizza! Other than dairy-free cheese, Pizza Luce also offers gluten-free crust, vegetarian, and vegan options.
I had the Greek Salad and shared some pizza with the kids while Tony had the pulled pork sandwich. We all left feeling very satisfied. All that Tony and I needed at that point was some espresso.
Enjoy Duluth Coffee Company
The Duluth Coffee Company was only 1 block down from Pizza Luce and came highly recommended by our waitress.
It's a local coffee shop that roasts their own coffee beans…right there! We all enjoyed watching the roasting process for a minute before we walked inside to grab an excellent espresso and Americano.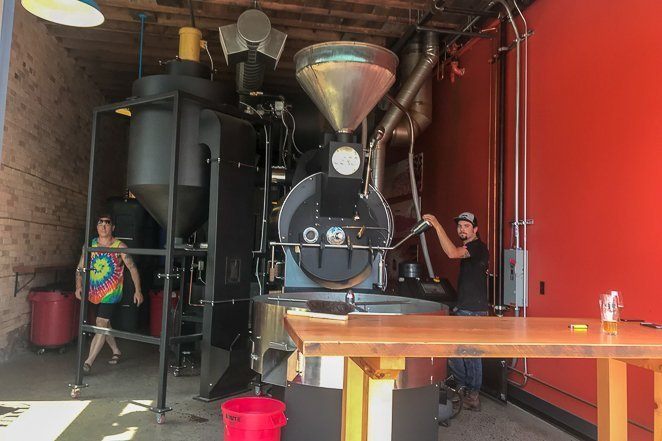 The outdoor seating on the street was unique too.
Once Tony and I took in our caffeine, we were ready to show the kids the hotel and pool.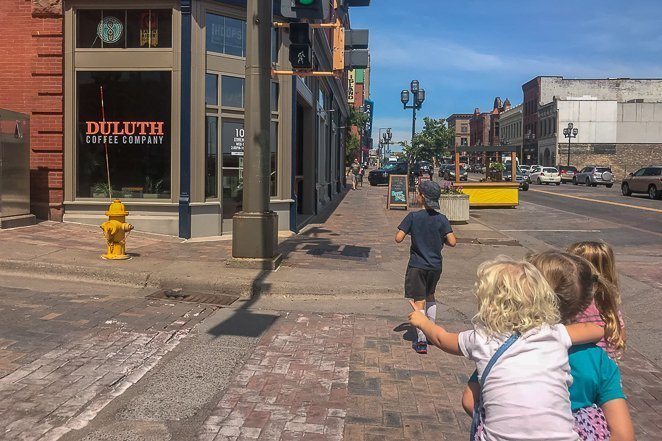 Stay At The Holiday Inn
As a full-time RV family, we do not often get a chance to 'vacation' or 'holiday' in a hotel. When we do, the entire family is giddy with excitement.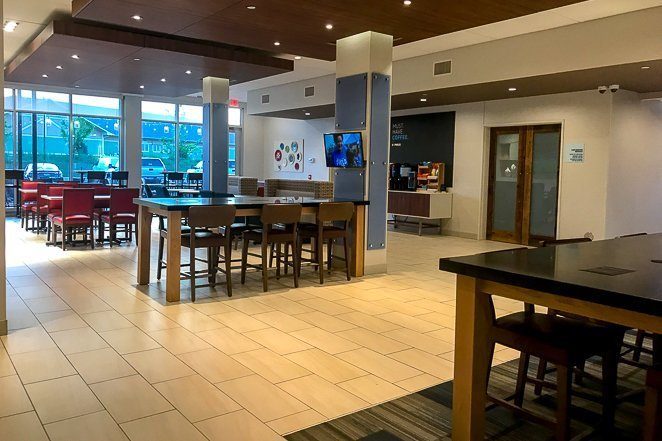 Especially the kids. So if you are looking for places to stay in Duluth MN, then look no further. The Holiday Inn Duluth – North Miller Hill did not disappoint.
The service was great, rooms were clean and very well decorated, beds were comfortable, there was free hot breakfast in the morning to look forward to, and an indoor pool and hot tub!!
All the things our family looks for in a great family-friendly hotel were there. It even had a nice-looking exercise room and patio out back, which we didn't use. However, if I had planned I would have brought my exercise clothes and used the gym before the kids woke up the following morning. Instead, I was typing away on the laptop in our dark room while the rest of the family slept.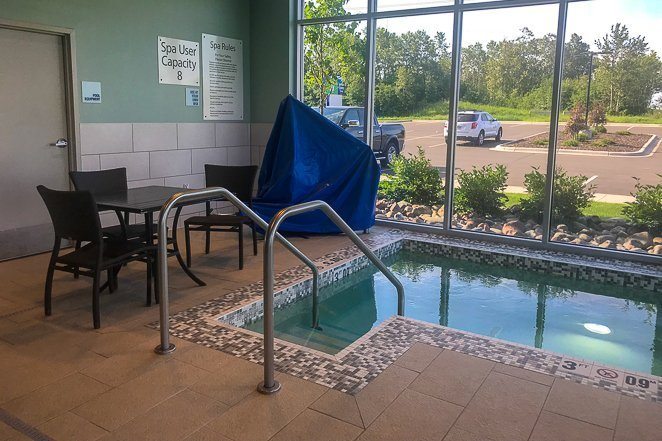 The pool and breakfast buffet were our children's favorite parts of the hotel. I appreciated the free parking, easy to get to location, and hot tub!
We only stayed for one night, but we made use of our time and swam until checkout time at noon! At that point we were hungry so went down the street to grab some lunch at Grandma's.
Click here to see a list of great accommodations in the area!
Grab Lunch At Grandma's
One of the big Duluth attractions is Grandma's Marathon. It started in 1977 with a group of 150 marathon runners and was sponsored by Grandma's Restaurant, located in Duluth. The marathon now has over 18,000 participants and many more sponsors, but Grandma's Restaurant​is a well-known place to stop and grab a bite to eat.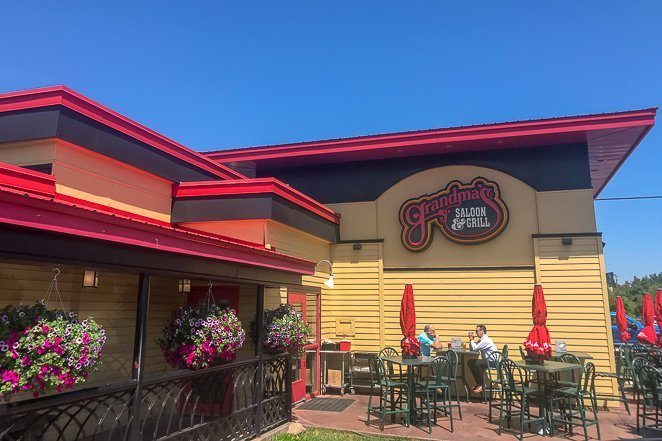 Our family enjoyed sandwiches, burgers, and fries before we hit the road in search of the local zoo.
Spend The Afternoon At The Lake Superior Zoo
I wasn't sure what to expect from a smaller zoo in Duluth, MN. Sometimes the small zoos don't have a lot to offer, but we always try to stay open-minded when we are visiting a new place.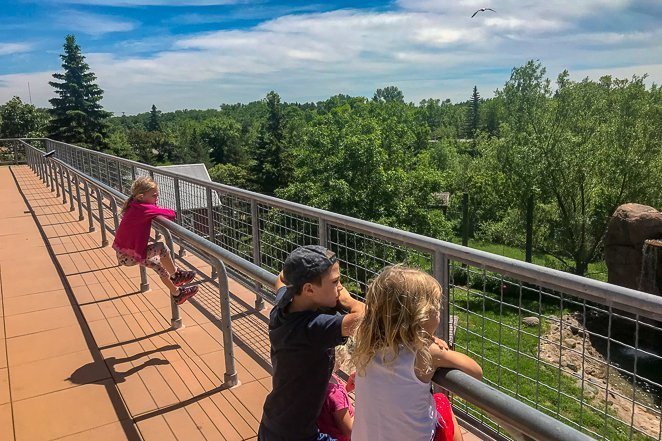 That's why I was surprised to find that the Lake Superior Zoo in Duluth had wallabies, an Amur tiger, a playground, and a creek with a waterfall and a hiking trail!
Honestly, it was the hiking trail that surprised me the most. The kids and I enjoyed hiking up the hill into the woods and across an old bridge, all the while being in the zoo. Then we found our way to the playground.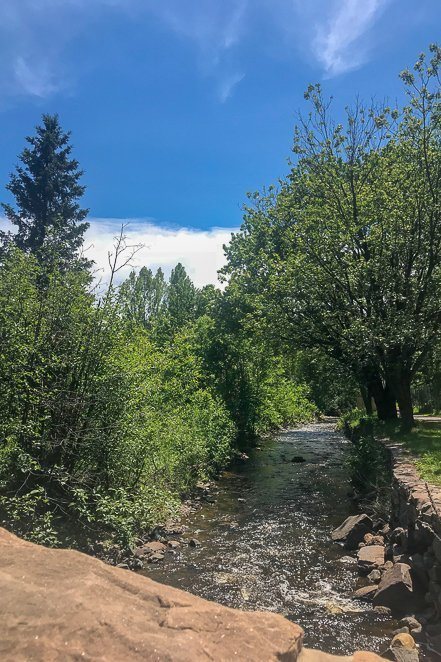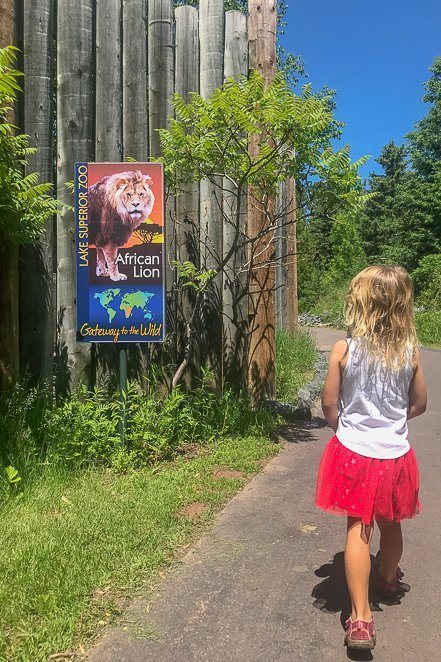 The cost to get into the Lake Superior Zoo was $13 per adult, $5 for children, and under 2 years were free. If you are a part of the Blue Star Museums – active duty military and their families – then you receive free admission to the zoo. If you are a military veteran you receive $1 off admission.
We could get admission for free as we had a pass to a different museum with the ASTC membership. Often we find Science Museums around the country that allow us in at no cost with the ASTC membership, yet this time it was the zoo! We grabbed a few great photos on our way out of the zoo before we got back on the road and began to drive back toward Minneapolis.
Our Take On Duluth With Kids
Overall, we found so many fun things to do in Duluth with kids that it made a great weekend destination for a family trip.
Duluth's location on the shores of Lake Superior and is only about a 2-hour drive from St. Paul or Minneapolis makes it a very appealing place to visit. There was plenty to keep us all busy, while still being able to relax and explore a fun new place together.
PIN THIS TO PINTEREST