If you are looking for fun things to do in Niagara Falls with kids, then look no further. We just finished spending a week in Niagara Falls, not only connecting with friends but making some amazing memories together.
Traveling full-time in an RV allows us to stay in places longer than just a few days if there is a lot to see and do. Therefore, we made our trip last 8 days.
We filled it up with finding fun Niagara Falls attractions, taking self-guided Niagara Falls tours, and seeking out the best places to visit in Niagara Falls. I'm already looking forward to going back and trying out one of the Niagara Falls Helicopter tours I've heard so much about!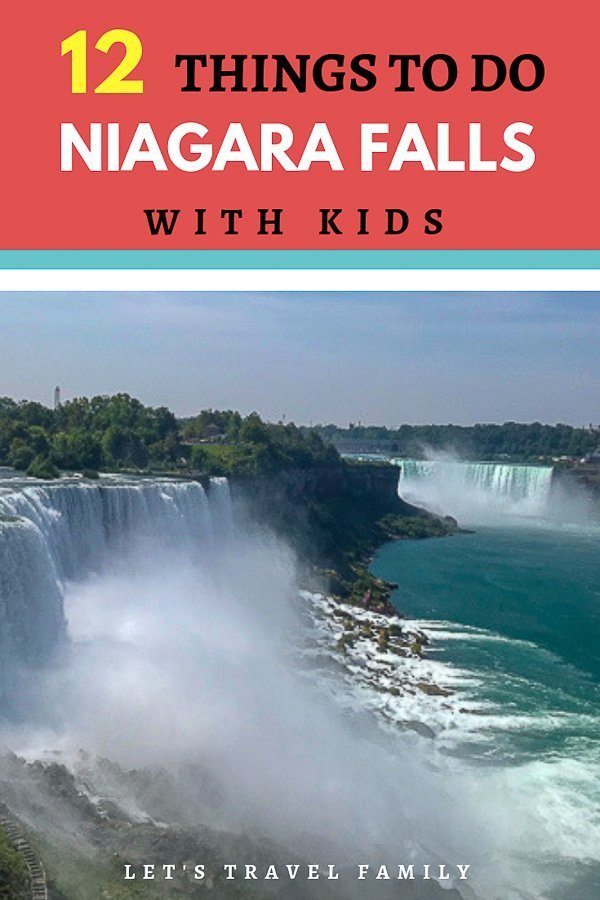 A quick question for you….how many sets of falls makeup Niagara Falls?
There are three!
The falls you often think about, Canadian 'Horseshoe' Falls, is a large horseshoe shape and is on the Canadian side.
The American Falls and Bridal Veil falls (which look like one large set in person) is broken up by a small island.
These are fun tips we learned while exploring the area.
Tony and I loved bringing the kids along for our first experience catching sight of the beautiful falls. Now, TOUCHING the falls was probably at the top of my list of exciting things to do (number 5 below), while I think our family as a whole was pretty excited to finally use our passports (number 10 below).
12 Things To Do In Niagara Falls With Kids
1. Check Out The Visitor Center
The Niagara Falls visitor center is located just next to the Rainbow Bridge on the US side of the falls. This is where we bought the Discovery Pass, which included tickets for the many activities listed below.Pro tip: parking is FREE if you are camping at Four Mile Creek State Park. Otherwise, it's $10 per day.
2. Watch the film at the Niagara Adventure Theatre.
The movie theatre is located in the lower level of the Niagara Falls Visitor Center. Our kids really enjoy watching documentaries and movies when we arrive at new destinations, so we made sure to watch this film before heading out.
3. Take the Niagara Falls Scenic Trolley Ride to see the sights on the US side.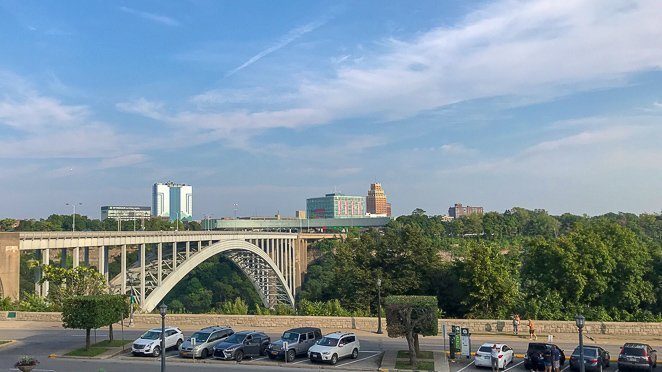 Investing in trolley tickets can be a simple solution to keeping your kids happy and having enough energy to see everything you want to see in a day.
Our kids always love experiencing public transportation. Maybe it has to do with not being required to be in a seatbelt, or maybe it's the novelty of it.
4. Visit Goat Island and walk around to see both sets of falls.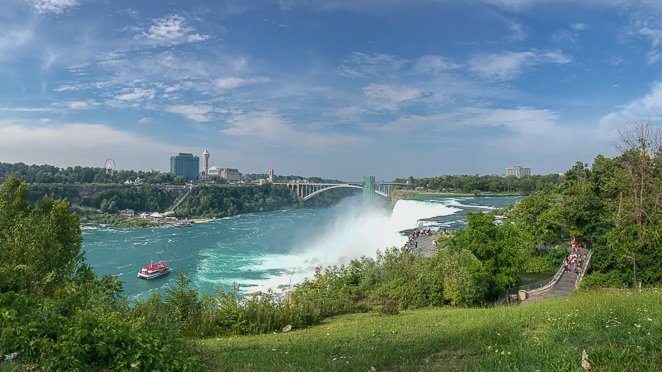 Goat Island is the piece of land between the American Falls and Horseshoe Falls. You can either take the trolley across the bridge to the island, or you can walk for about 15 minutes from the Visitor Center.
There are paths all around the island that will take you to some spectacular views!
5. Take the Cave Of The Winds tour! (you will get wet!)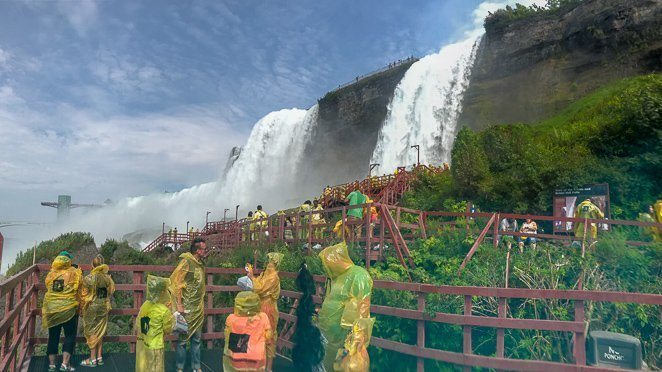 We took the elevator down 17 stories to the foot of the American Falls and were able to walk up and UNDER the falls!
Feeling the power and wind of the fresh water was absolutely exhilarating!Pro tips: You will get soaked during the Cave of the Winds tour. So do not bring anything with you that you cannot get wet. The ponchos really don't do much and they even give you souvenir sandals and a plastic bag to use to carry your regular shoes in to keep them dry!!
6. Go on the Maid of the Mist boat tour.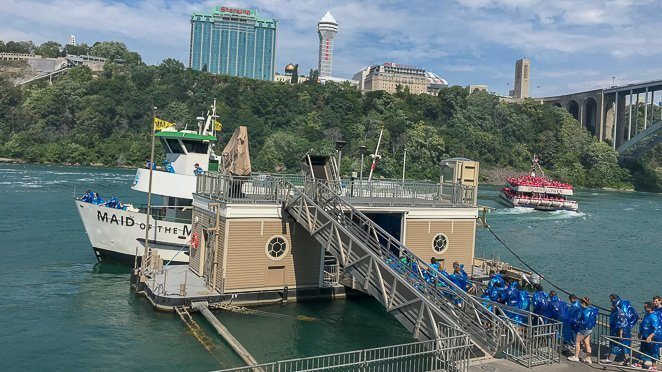 A friend of ours who grew up in New York highly recommended taking the Maid of the Mist boat tour, and we are SO glad that we did!
It was another one of those experiences that I just cannot express in words. Magical, breath-taking, exhilarating, wondrous. The kids loved it, we felt safe, and we got wet. This is a must-do activity in Niagara Falls.
7. Camp at Four Mile Creek State Park.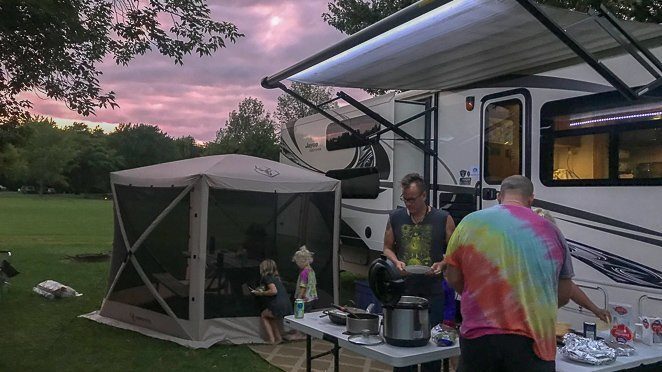 Camping just 20 miles outside of Niagara Falls and ON Lake Ontario, we felt like we found the jackpot! We lucked out and booked a campsite that backed up to an open field and large playground for the kids. The shower houses were modern and clean, the campsites were large and level, and we even got Verizon and AT&T cellular coverage.
These are things that us full-time RVers look for, as we need the internet to work while traveling.
Lake Ontario was clean and beautiful to walk along as well.Pro Tip: If you camp at Four Mile Creek State Park, then the parking pass they give you for your vehicle gets you free parking at all the state parks including Niagara Falls visitor center, Goat Island, and the Discovery Center.
8. Step foot into Lake Ontario and enjoy with friends.
Visiting one of the 5 Great Lakes of North America can be such a fun experience. Not only do you look out to the horizon wondering how it can be such a LARGE body of fresh water, but you may forget for a moment and feel like you caught a glimpse of a whale.
At least that's what happened when we visited the lake with our friends Jen and Craig who are from Santa Barbra, CA.
Our kids really loved playing around in the creek while the parents enjoyed watching the sunset over the lake one night.
9. Spend a few hours at Vista Power Plant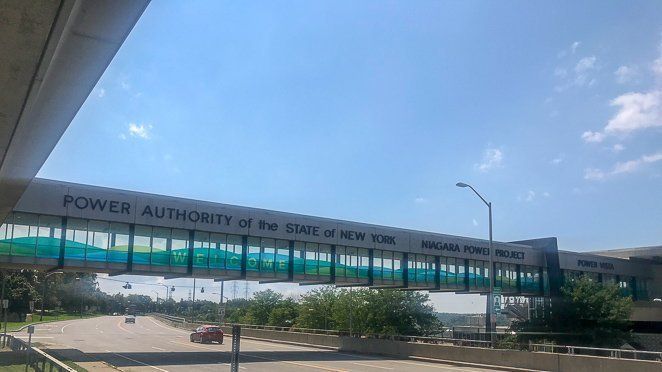 If you are wondering what to do in Niagara Falls, NY on a rainy day, then check out the Vista Power Plant. This Niagara Falls attraction is not only highly educational and engaging, but it's also free! Free parking and free admittance that can keep your family busy for hours!
10. Walk over the Rainbow Bridge to visit Niagara Falls in Canada.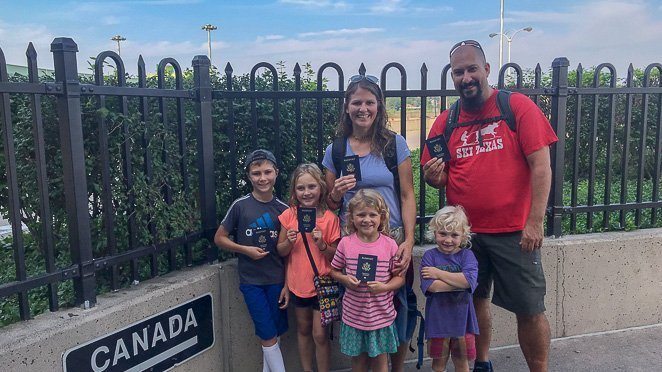 If you are planning a trip to Niagara falls, then bring your passports and plan a day in Canada!
Save your sanity and plan to walk over the bridge to Canada rather than drive over and try to find parking.
The line of cars going back into the US can get really long, the price to park can be high, and finding parking can be difficult. Plus, seeing the falls from the center of the Rainbow Bridge is an experience you do not want to miss!
Pro tip: Bring $1 in quarters per person to pay the walking toll to get back INTO the USA. There is a change machine that will give you quarters for $1 and $5 dollar bills, but anything higher (such as a $20 dollar bill that I had on me) will not work. Tony had to go to the Duty Free store in order to break our 20 dollar bill so that we could get change in order to cross back late one night!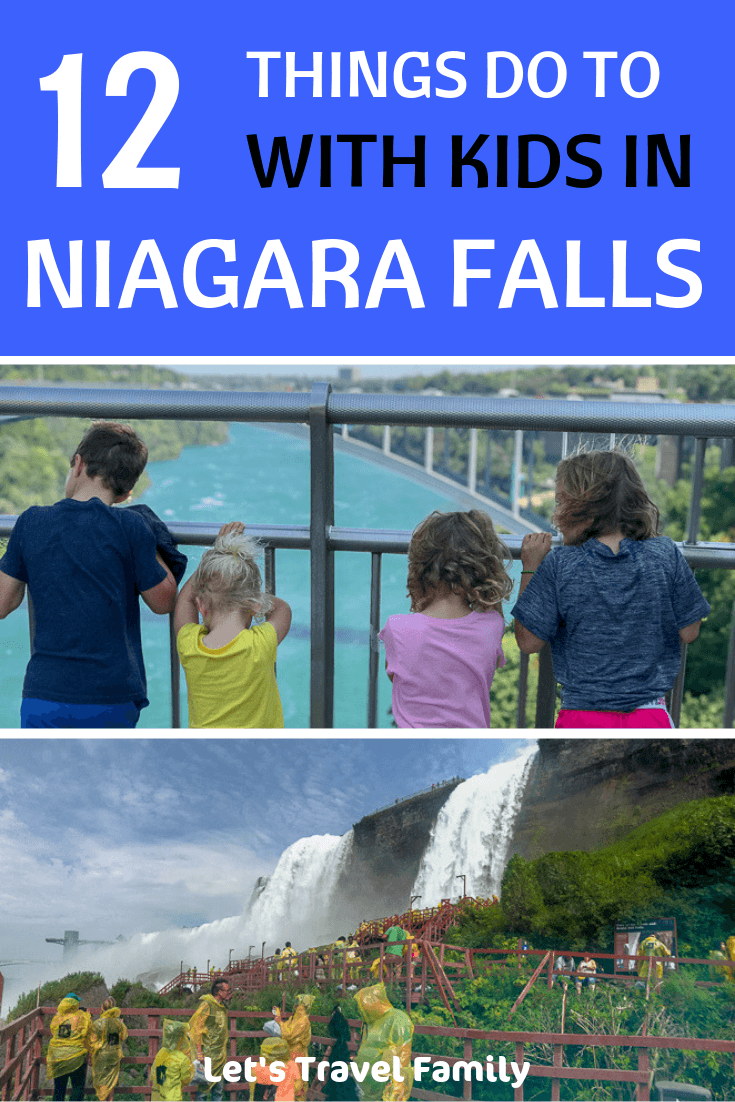 11. Visit Hershey World in Canada.
Our kids remember the international candy that Tony brought back when he traveled to Europe for a business trip last Spring, and they wanted to get 'international' candy in Canada. Having a dad that travels for work, they've looked forward to the treats that he can bring back from other countries.
Then they saw there was a Hershey store and decided that was what they wanted!
It was fun, but man you can spend a lot of money quick in this store!
There are so many fun things to do in Niagara Falls Canada, but the Hershey World store is just across the Rainbow Bridge and so convenient.
12. Watch the fireworks and colorfully lite up falls at 10pm most evenings.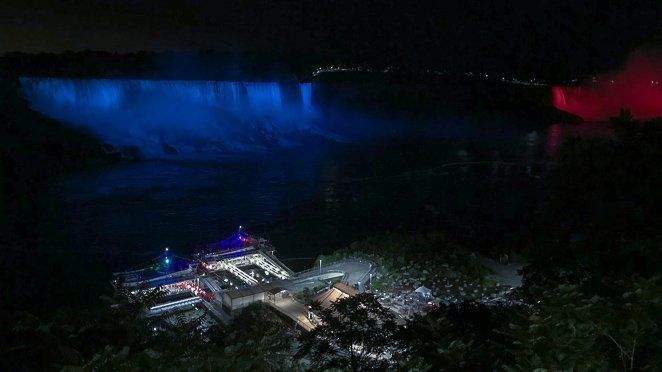 Both the American and Horseshoe falls are illuminated every night from lights shining from the Canada side onto the falls. It's an amazing sight to see and something you cannot miss while visiting Niagara Falls.
Even if you have little ones who cannot stay up late, or maybe you are too tired to make it until 10pm, I highly recommend at least waiting until dark so that you can see the falls lit up.
Yet, if you can manage to stay for the Niagara Falls fireworks display, do it!
Niagara Falls With Kids – Go For It!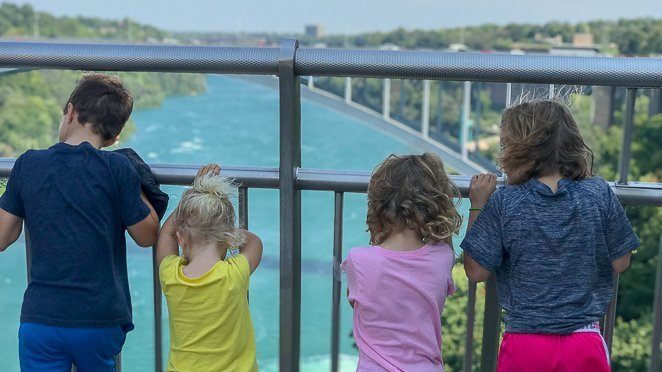 Niagara Falls is such a family-friendly vacation destination. Not to mention a huge family bucket list idea for your next trip.
​It is not just a romantic place for couples. Niagara Falls is a wondrous destination for kids of all ages. Memories will be made that your family will talk about for many years to come.
Learn more information from the New York State Parks website regarding ticket prices and hours for visiting Niagara Falls here.