Have you tried making your own bucket list for your family? Was it difficult to come up with the simple bucket list ideas?
Visiting places like the Grand Canyon, white sand beaches, and Glacier National Park have always sat at the top of my bucket list. However, the simple things in life often bring us the most joy.
If you need some inspiration or motivation to create your family bucket list ideas, then look no further.
I want to share with you our family's simple bucket list ideas. These are bucket lists that we have crossed off of our list after taking the leap and traveling full time together across the US in our motorhome for over a year.
THIS ARTICLE MAY CONTAIN COMPENSATED LINKS. PLEASE READ OUR DISCLAIMER FOR MORE INFO. THIS POST WAS WRITTEN BY JILL GREISING-MURSCHEL, A FAMILY TRAVEL AND RV LIVING EXPERT.
What Is A Bucket List?
A bucket list is a list of goals, activities, or things to do before you die. The name 'bucket' refers to people wanting to accomplish items on the list before they 'kick the bucket', or die.
It can involve visiting an exciting destination or doing something you haven't done before, but have always wanted to.
Some people may refer to it as a dream list.
Other people make a list of things to do before they die and then set off to slowly achieve each item.
As a mother to 4 children, I try to think as positive as I can each day. I want to encourage our family to seek adventure in the simple things as well as the big experiences in life.
I will call this our collection of Simple Bucket List Ideas.
Fall Bucket List Vacation Ideas
Taking a road trip or family vacation this fall might sound like the best idea yet. I think we all need some time away from the chaos of life, and fall is one of the cheapest and least busy times to travel in the USA. Check out our list of the Best fall Vacations in the US and see if you might get any cheap bucket list ideas!
Camping Bucket List Ideas
We've had a lot of interest on the blog about great camping bucket list destinations and ideas. Click here to read our top RV campsites we've stayed at in the US to help you plan a camping trip.
What Is A Bucket List For Kids?
Stargaze

Have a picnic

Eat too much ice cream

Swim in the ocean

Go on a roller coaster

Fly a kite

Jump on a trampoline

Go camping

Watch fireworks

Play in the rain

Have a lemonade stand

Have a water balloon fight

Splash in a pool
These are just a few quick ideas to get you started. Keep reading for some more unique, yet simple ideas.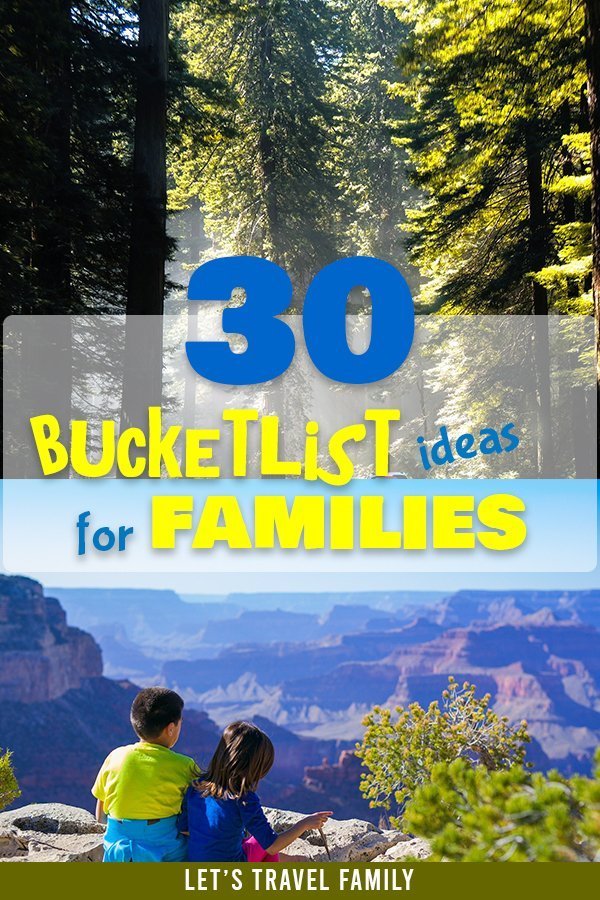 First, What Is The Origin Of Our Family's Simple Bucket List Ideas
As I think back to before our family began traveling full time together, my bucket list has shifted a bit. Honestly though, it did not shift as much as you may think.
As a full time RV living family, we bring our children along to many of the places we've wanted to visit before having kids.
They are little humans, growing up to be adults soon. So why not include them in our decisions as we're living in an RV full time.
For example, I wanted to visit downtown Broadway Street in Nashville, TN. The typical set of traveling adults may want to enjoy the nightlife in Nashville, while we made sure to arrive by mid-afternoon and left by dark. Allowing for a great experience with kids in Nashville!
I also shifted my 'bucket list' mindset from feeling as if I want to do it NOW…..to, 'let's experience fun things and visit destinations that we can enjoy with younger children now'!
They will grow up quickly and we will THEN experience the more adventurous bucket list ideas when they are older, such as white water rafting and taking a 10-mile hike into Grand Teton's National Park. Or maybe plan a trip to go rock climbing in North Idaho and then visit all of the Koreantowns in North America.
I suggest that you look through our list below to see which ideas spark your interest. Then decide if 'now' is a good time to try to achieve it.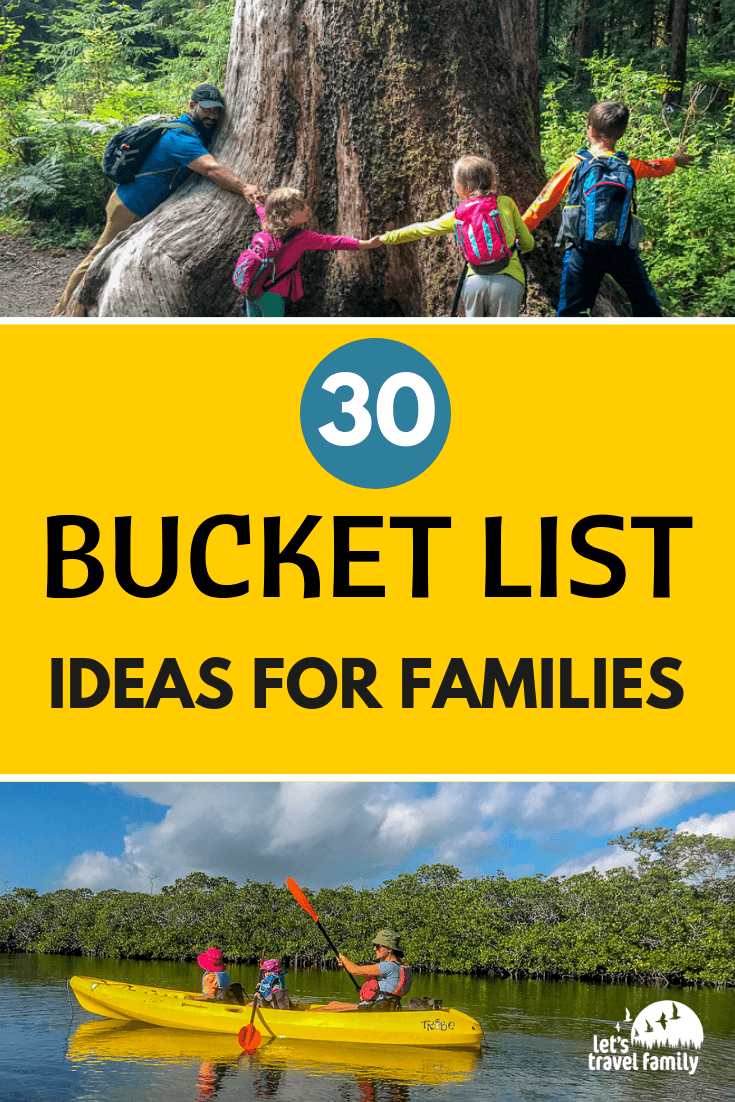 Would it be best to wait a few years if you have young children or a health issue that you are trying to manage? Or, can you get to everything on your list?
Below are our family's suggestions of simple bucket list ideas that you can achieve right here in the USA. They are things you can put on a bucket list that will hopefully inspire you to get out and travel more together with your family.
30 Simple Bucket List Ideas
1. Hug a giant tree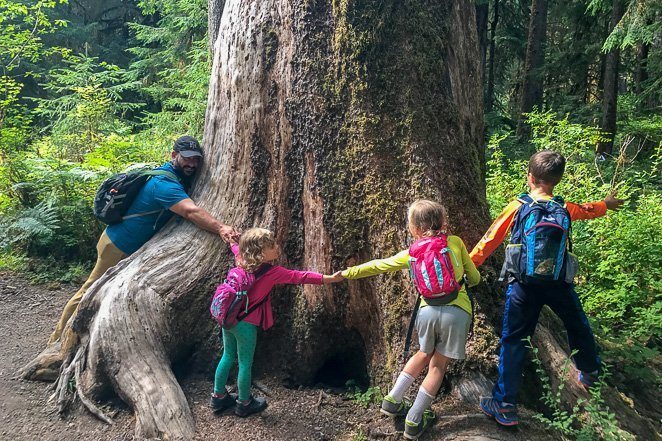 Explore the Redwood forest in Northern California and hug a 500 year old tree. These giants are beyond breathtaking!
2. Go Kayaking together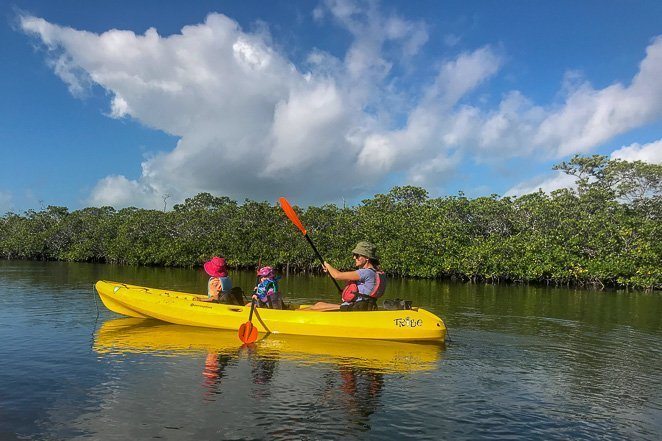 Rent a double kayak or two and pile the small and big kids in for a family kayak experience. John Pennekampe State Park in Key Largo has affordable kayak rentals and a family friendly ocean kayak experience for the entire family.
Visiting the Florida Keys only requires you to take a road trip, you don't even have to fly! Check this out if you are looking for great gifts for kayakers!
3. Take a dolphin cruise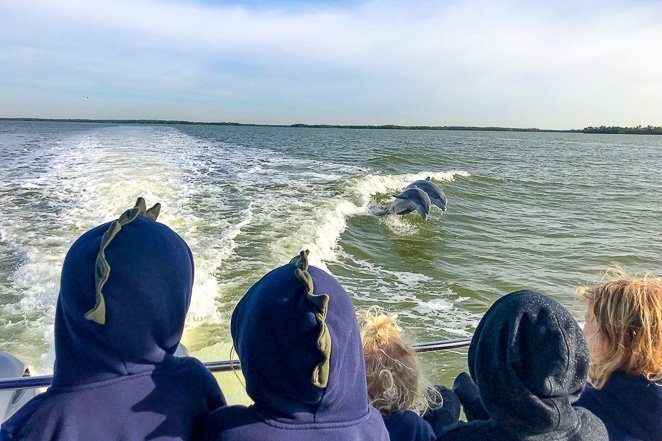 Plan a trip to a fun beach destination and take a dolphin cruise. Western Florida is a great place to see dolphins. Witnessing these amazing creatures jumping behind the boat can bring your excitement to new levels! Or, consider visiting Bellows Beach in Ohau, Hawaii.
4. Hike in the snow in the summer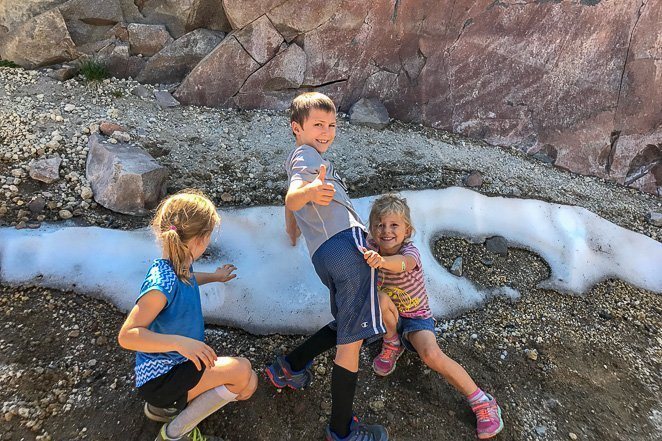 Plan a summer hike in the snow! Find snow in the Rocky Mountains that hasn't melted until well into July and let the kids explore.
We found snow at Crater Lake National Park in late July and even more snow in Glacier National Park.
5. Visit a tide pool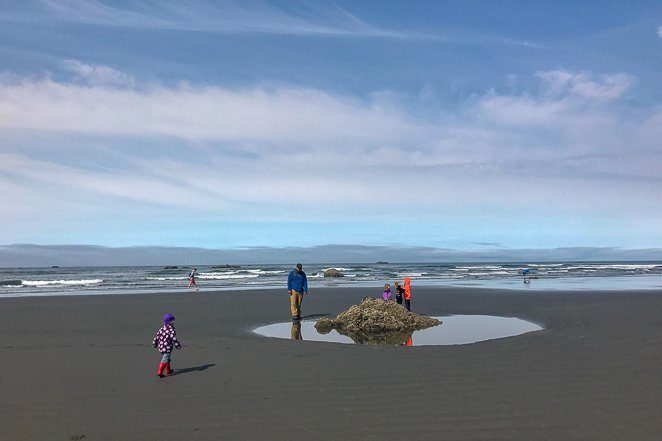 Visit Ruby Beach's tide pools during low tide at Olympic National Park in Washington State. Take the time to gently touch the sea stars and play in the sand.
6. Search for a rattlesnake in the wild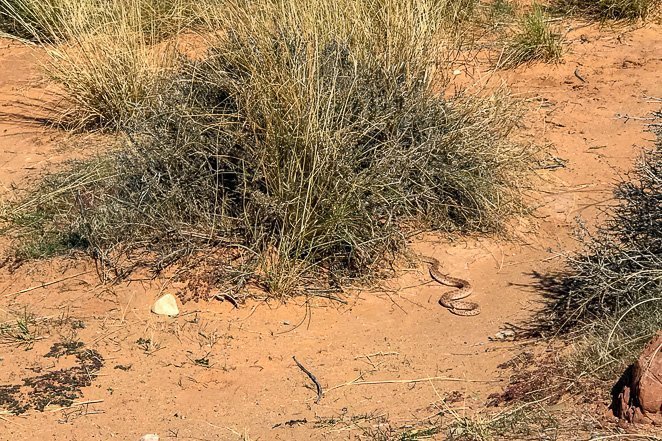 Catch the tell-tale sound of the rattle snake's rattle while out exploring in their habitat. You may just come across one if you hike in Utah or much of the Southwest. We found this one in Utah at Arches National Park!
7. Stand at the southernmost point of the USA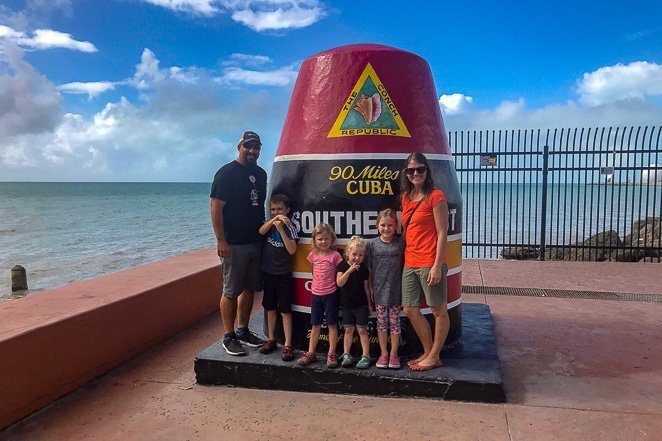 Grab a family photo early in the morning in Key West, standing at the southern most point of the USA located in the Florida Keys.
8. Enjoy a carriage ride through a historic city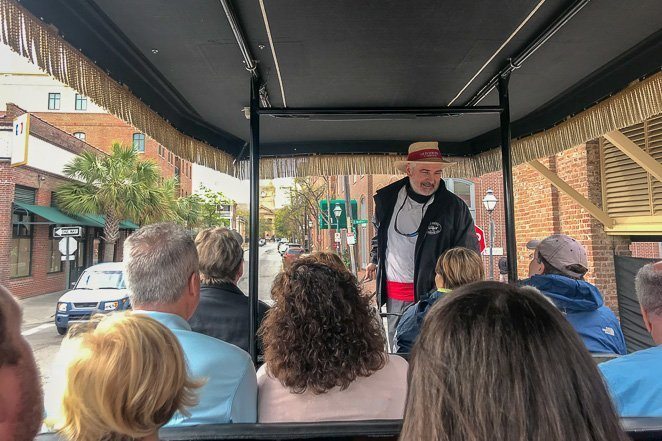 Take a carriage ride through a historic city such as Charleston, South Carolina. Arrive early so that the kids can pet the horse and build excitement for the ride.
9. Go snorkeling in the ocean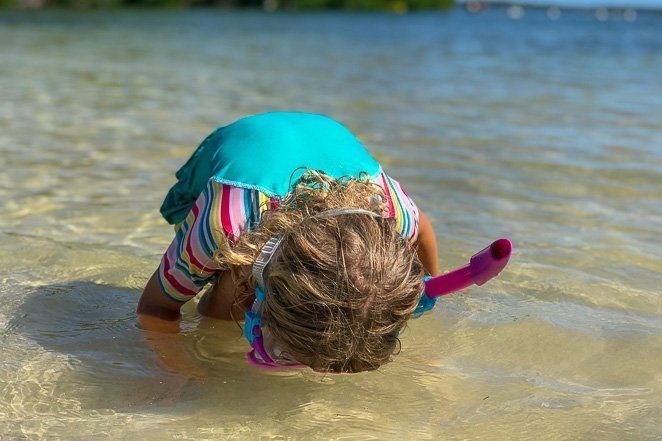 Snorkeling in Culebra, and small island that's part of Puerto Rico, is a great destination to add to your bucket list.
Take your kids snorkeling in the Florida Keys or in the Gili Islands just next to Bali, Indonesia. Renting snorkel gear can be very affordable, or bring your own. Or, take a trip to Puerto Rico for a great tropical snorkeling experience!
10. Take the family geocaching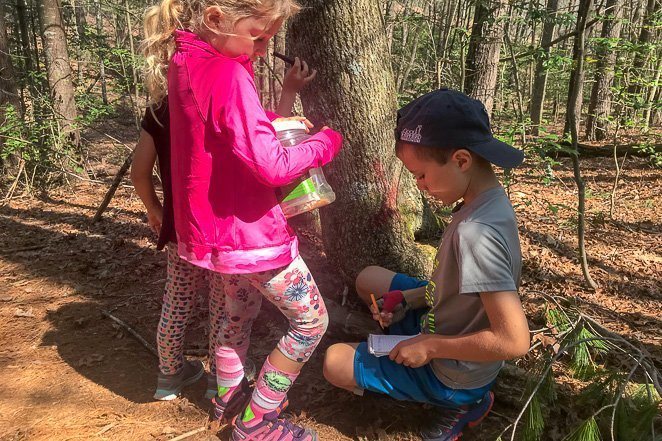 Go on a scavenger hunt by geocaching! Hiking along while searching for a treasure can be so much fun as a family, while also encouraging the children to learn by experience and then later use some online home education resources to expand on their learning.
11. Take a family bike ride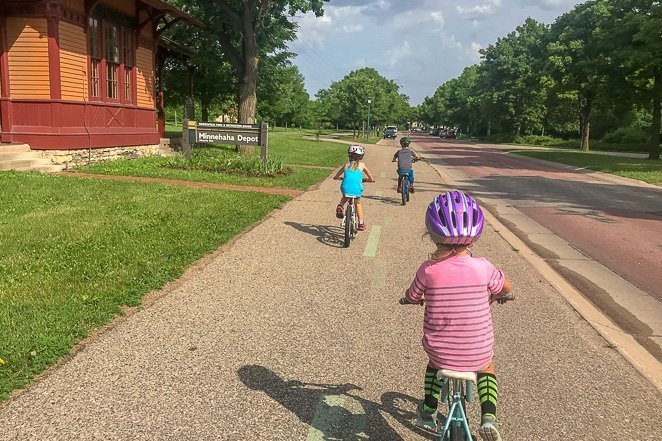 Plan ahead and bring water and snacks so that you can enjoy a fun family bike ride on some great trails.
Find a fun destination to ride to so that the kids will stay motivated while biking. We took a family bike ride in Minneapolis, MN and stopped midway through our 6 mile ride at Minnehaha Falls.
12. Witness a total solar eclipse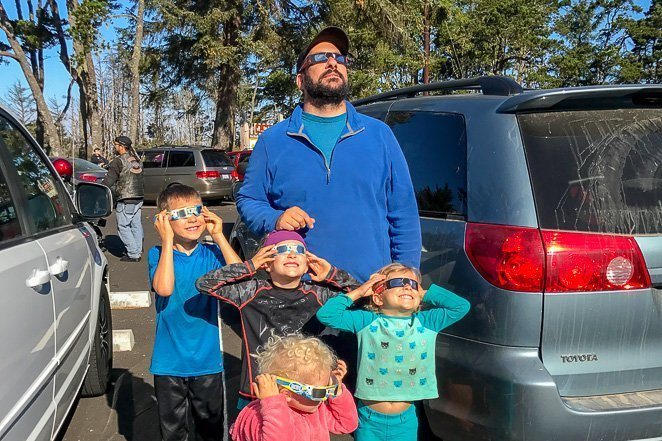 View an eclipse in totality and feel how quiet and cool it gets. Look ahead to see when and where the next total solar eclipse takes place. Our family's experience on the coast of Oregon in 2017 was breathtaking.
13. Boondock or dry camp in a National Forest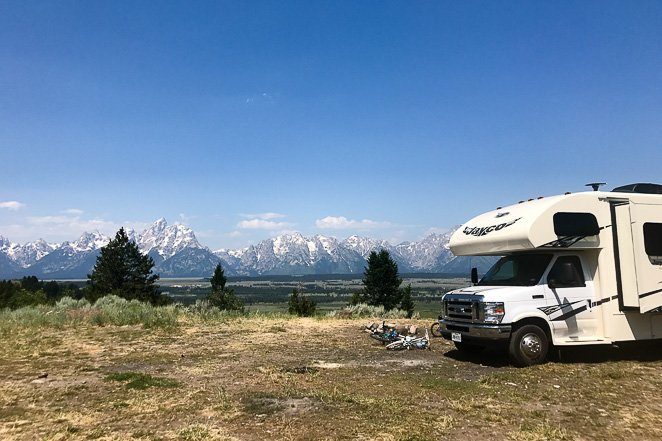 Camp out in a National Forest or BLM land in the US for free. Camping in Teton National forest near Grand Teton National Park allows for a free and picturesque campsite outside of the busy park.
Learn more about boondocking (free camping) here.
14. Visit a Cave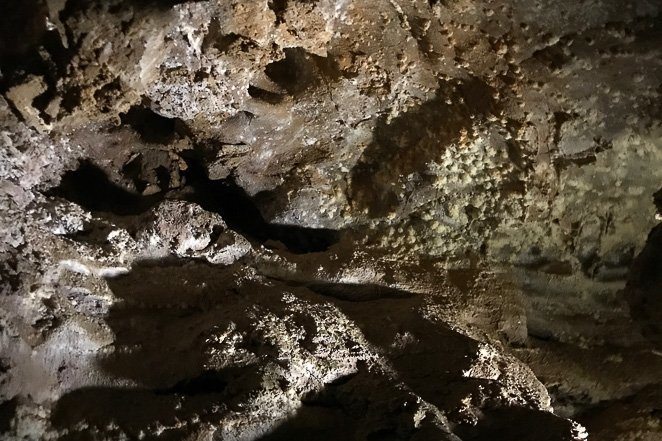 Dress warm, wear good hiking shoes, and hike into a cave at a National Park. We enjoyed discovering the smells, sounds, and sights of Wind Cave National Park in South Dakota.
15. Collect seashells on Sanibel Island in Florida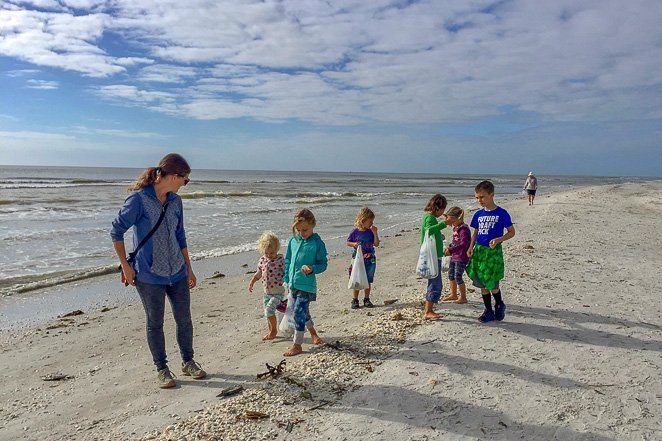 Collecting seashells can be such a fun family experience. The amount of seashells found on Sanibel Island is too many to count! If you are in the Fort Myer's Beach area, take a day trip over to Sanibel Island and see for yourself.
16. Hike in the Desert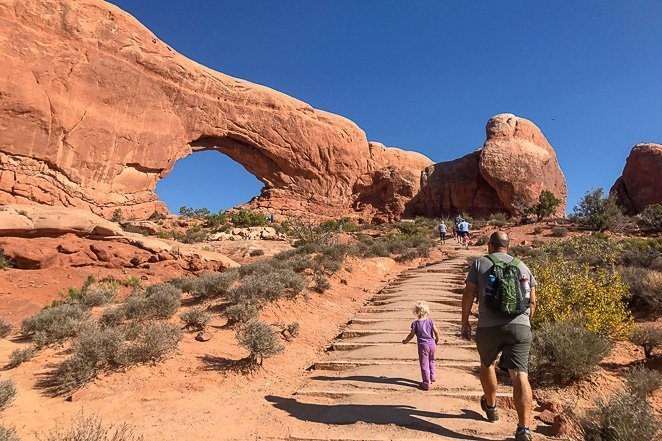 Pack extra water to stay hydrated, even if it's cool, while you go on a family hike in the desert. We drank a lot of water when visiting Canyonlands National Park and Arches National Park. Check out our top gifts for hikers here.
Do you have teens who want to have some desert and city feel? Then discover some fun things to do in Phoenix with a teenager, including hiking the famous Hole in the Wall.
17. Hike in a rainforest….in the USA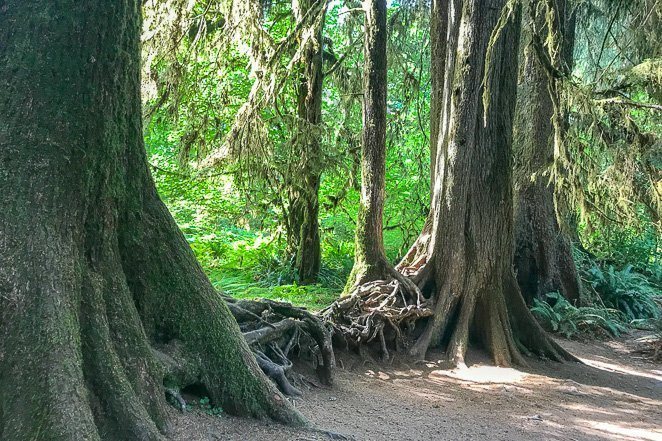 Plan a family hike in a rainforest, located in the United States. Olympic National Park's Hoh Rainforest in Washington is a temperate rainforest that receives over 140 inches of rain a year.
18. Visit Natural Hot Springs in Idaho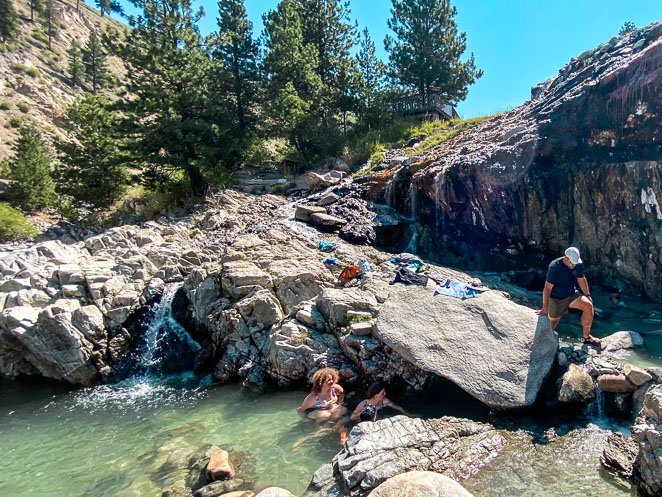 Plan a road trip to Idaho and visit some of natures Hot Springs near Boise, Idaho. Many of these Idaho hot springs are free, or cost only a $5 parking fee, and are great for families!
This is a favorite of many when looking for adventure ideas to add to their bucket lists.
19. View a tarantula in the wild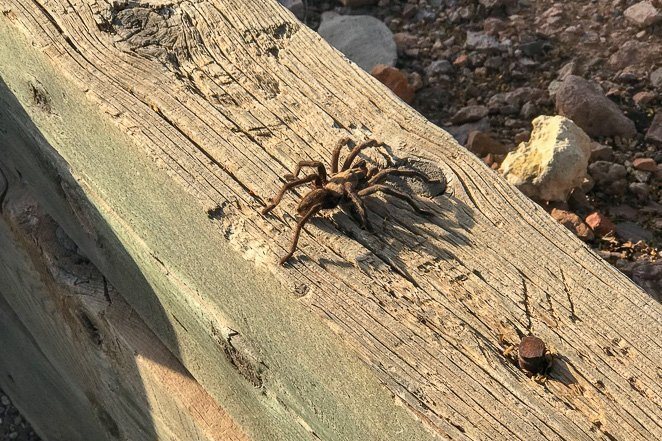 Have your camera or phone ready while visiting New Mexico. You just may see a tarantula make their way across your campsite!
20. Go whale watching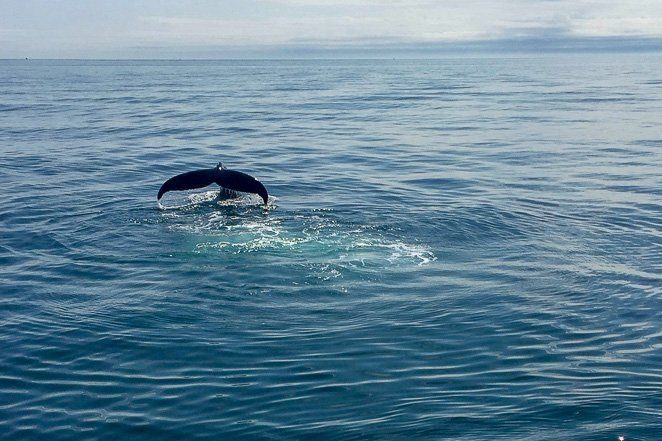 Visit the Pacific Ocean and do some whale watching. Be sure to ask the locals where the best place is to view whales in the area.
21. Take a double decker bus tour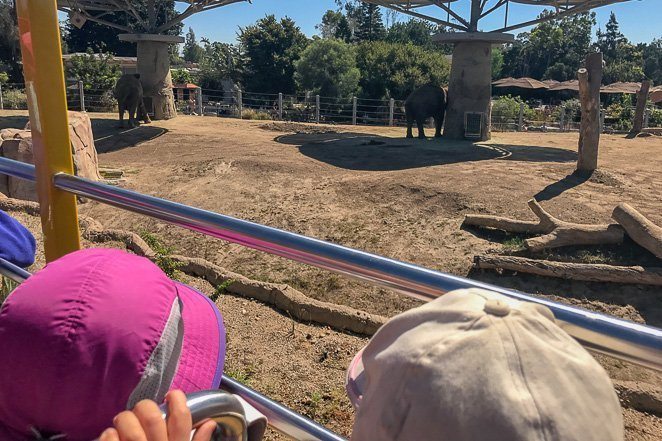 Sit on the top deck of a double decker bus to get a great view of what they have to offer. Bring a sun hat and a camera to enjoy the sightseeing adventure ahead. We took the double decker bus tour with a birds-eye-view and saw many animals at the San Diego Zoo.
22. Go on a chocolate tasting tour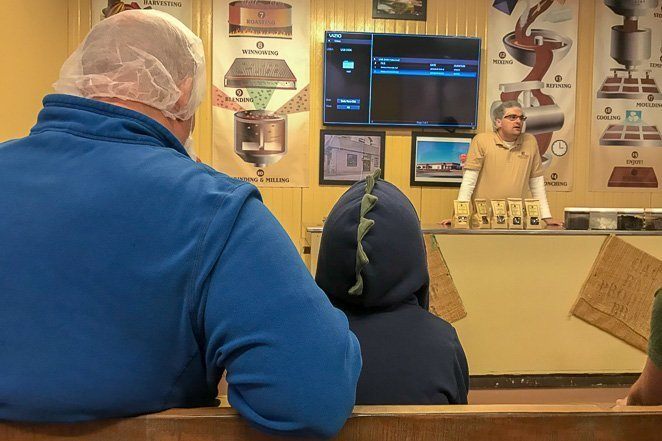 Go on a chocolate tasting tour at the Whetstone Chocolate Factory in St. Augustine, Florida. It's kid friendly, educational, and fun for the entire family. Or, find a tour near you.
23. Ride your bikes on the beach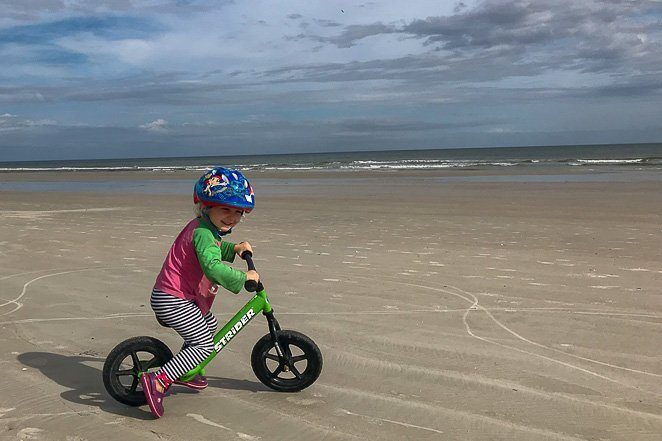 Go for a bike ride on the beach. Many of the beaches along the Atlantic coast are packed down enough to allow for some bicycle time.
24. Make a sand man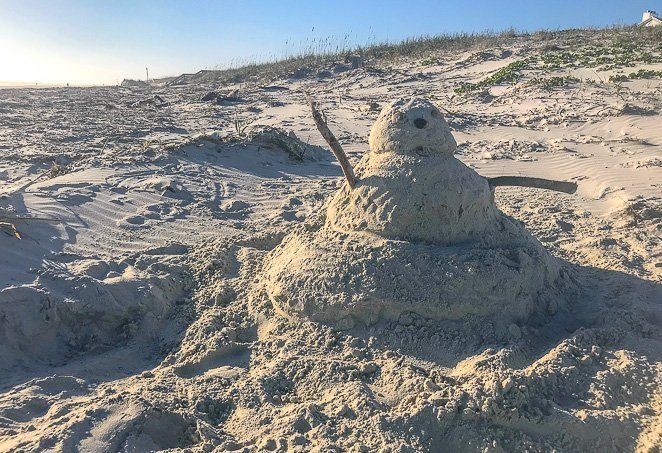 Instead of a snowman, make a SAND MAN at the beach! We loved the Florida Keys beaches especially!
25. Hike to a Glacial Lake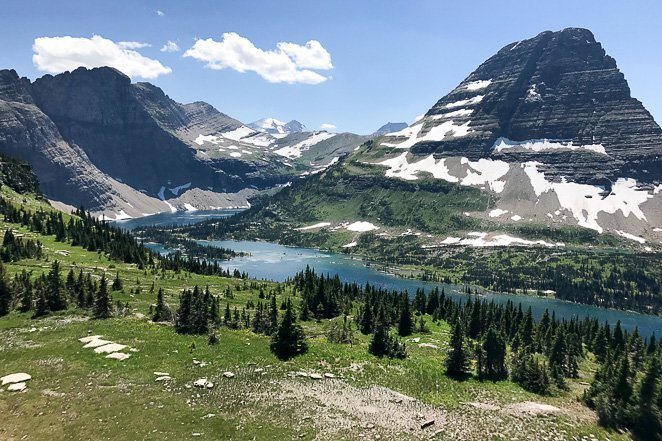 Hike to a glacial lake in the summer, when there is still snow and ice on the trail at Glacier National Park. Enjoy the green grass, warm temperatures, and bright blue waters and sky along with the snow during your hike.
26. Go Boogie Boarding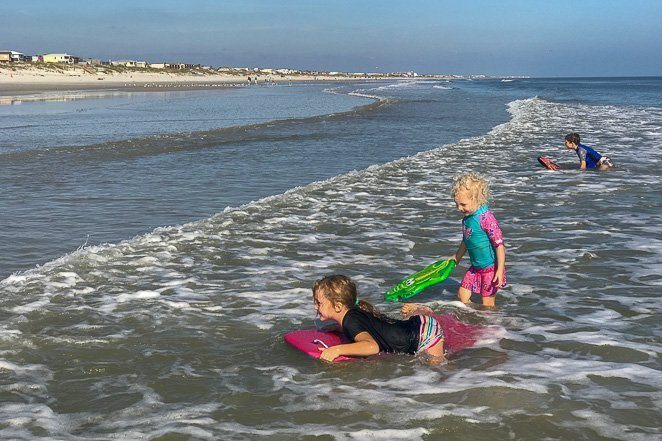 Rent a boogie board and hit the waves with your kids while visiting the ocean. We enjoyed boogie boarding in St. Augustine, FL during our stay in December.
27. See a bear in the wild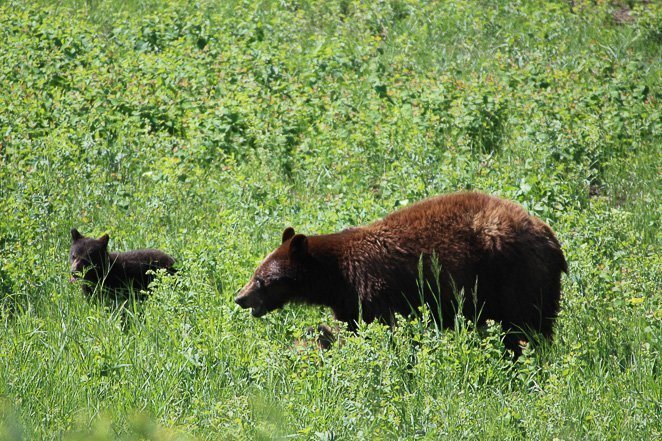 Catch a glimpse of a bear and her cubs in the wild. Glacier National Park is where I found a mama bear and her two cubs! It was one of those 'ultimate bucket list ideas' that I was thrilled to experience!
28. Visit Disneyland or Disney World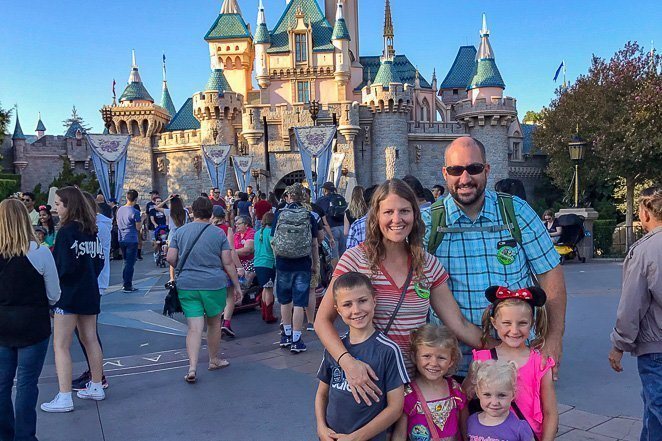 Plan a full day at Disneyland in Southern California or at Disney's Magic Kingdom in Florida. It truly is a magical experience. Think ahead for things to bring with you to Disneyland or read here for budget saving tips for visiting Disney.
29. Take in the view of the Grand Canyon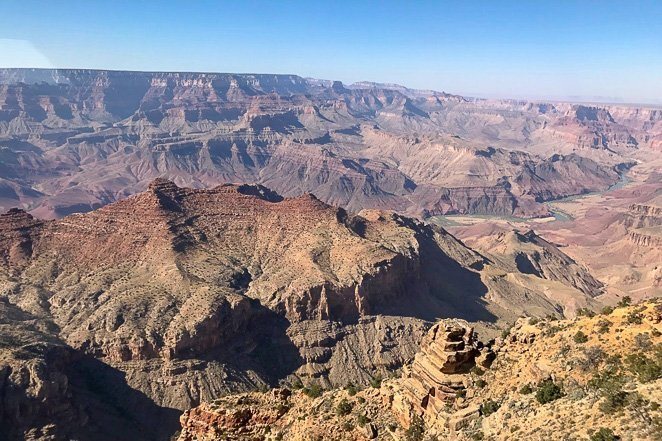 Visit one of the top bucket list destinations around, the Grand Canyon. Take in the view, hike along the rim, and enjoy the wildlife with the kids.
30. Go Paddle Boarding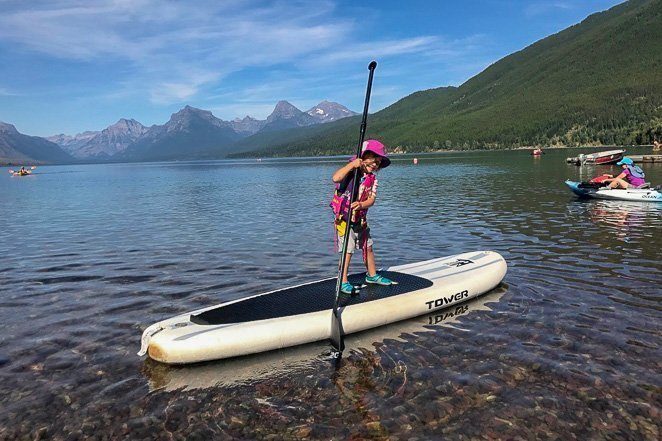 Buy or rent a paddle board and take the kids out on a nice calm lake. Practice your balance and be ready to get wet!
In case you aren't able to get out and travel together right away, here is a list of even SIMPLER bucket list ideas that you can do just about anywhere.
I hope they inspire you to get started on building those memories together as a family and experience fun moments together now.
SIMPLER Bucket List Ideas – When Staying Local
Pick wild berries such as blackberries, blueberries or raspberries
Watch the stars come out
Follow your child's lead for a day and see where you go
Go swimming in the ocean
Brew your own kombucha
Sleep in a hammock
Visit a local art center
Take a selfie together
Collect seashells
Go camping
Wake up early to watch the sunrise
Eat sushi for the first time
See a play
Learn to ride a horse
Go on a distillery tour
Do a tasting tour of around your own city
Go on a hot air balloon ride
Build your own family tree
Learn a magic trick together
Have a murder mystery dinner party
Watch a foreign film or learn a foreign language
Join painting class or art class
What's on your bucket list? I'd love to hear your suggestions for additional cool bucket list ideas for families as we continue to add more to our list here.
It's not that you need a bucket list to be happy, but it can give you so many great ideas to add to your life goals list.
Do you want to sell it all and buy an RV to travel full-time? Or maybe plan a trip to Niagara Falls? Or maybe you'd like to visit some of the best National Parks for kids. Think creatively and you might surprise yourself.
PIN THIS TO PINTEREST