I started listening to these best podcasts for family road trips a few years ago and I can't tell you how much knowledge I've gained since then. As a busy mom and a digital nomad family, I don't always have the time to sit down and read a self-development book or a blogging article.
​Yet, on long flights I DO have time to put on my noise canceling headphones and listen to several episodes of some of my favorite podcasts – because I can get a bit motion sick if I read on a plane. That's life I guess.
Best Podcasts For Kids On A Family Road Trip
​What I've been wanting to change and shift a bit is to be able to listen to FAMILY podcasts together with my kids in our van or motorhome, on family road trips.
If you're new here, you may not know just how many hours our family has spent driving across, around, up and down, and again across the USA as a full-time RV family. We spent 2 ½ years on a giant family road trip – and we didn't listen to many family podcasts.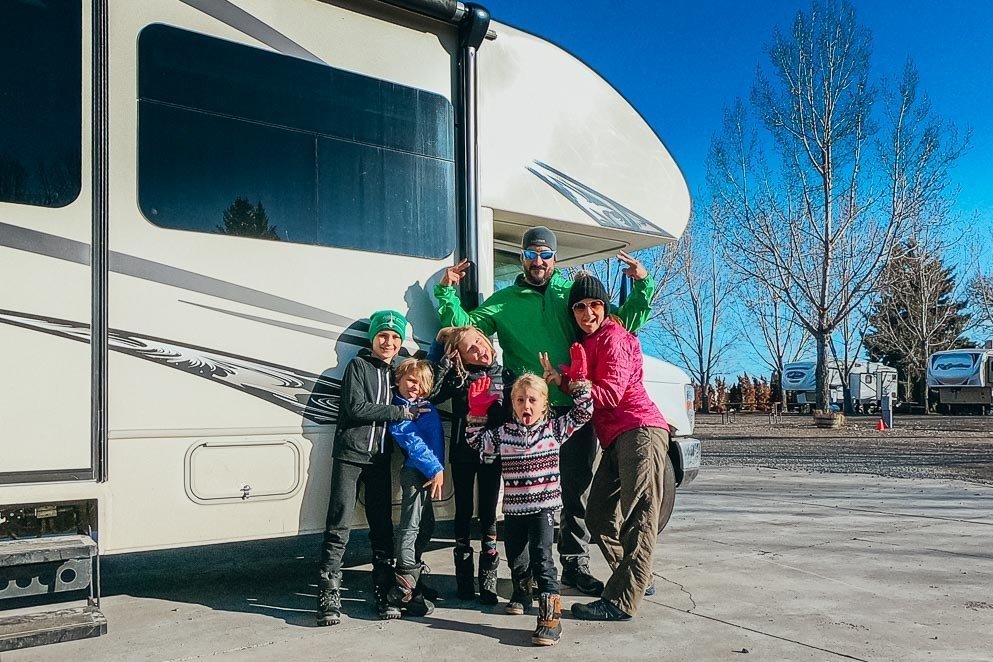 I'm going to change that now. Besides having the best road trip accessories, I wanted to have the best podcasts for families on hand.
I decided to do some digging to come up with some of the best podcasts for kids ages, educational podcasts, best storytelling podcast, history podcasts, fairy tale podcast, best science podcasts, best family podcasts, and overall family-friendly podcasts for road trips.
​We want some excellent podcast listen to as a family during our next road trip….which will hopefully be soon, and somewhere in Idaho, the state where we settled down and bought a home.
​My plan is to start listening to some of these at home while the kids are doing their homeschooling too!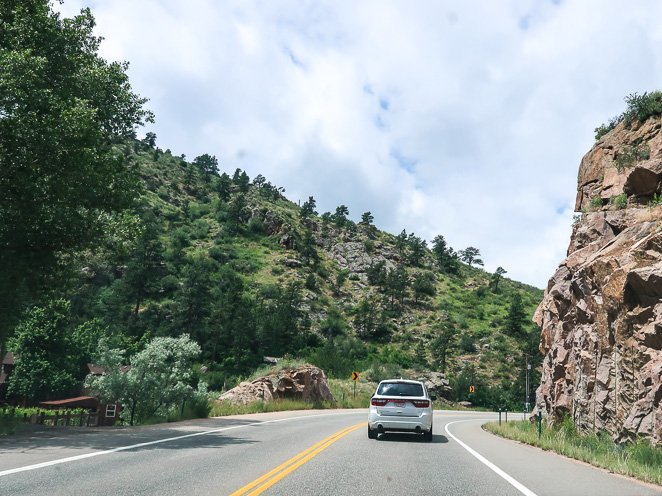 ​So, if you're tired of listening to the radio or you're watching too much of the news, then this list might be just what you need. It can also be super helpful if you are a traveling family looking for educational resources to keep busy on long road trips.
​I personally know how hard it is to find online content that is suitable for all ages these days. To make your search easier, I made a list of family-friendly podcasts to listen to on your road trips so check it out.
1. TED Talks Daily
​Exercise your mind by listening to some thought-provoking discussions by TED Talks Daily. Every weekday, TED Talks supplies its listeners with a fresh episode featuring amazing guests.
​Almost every topic that you can think of can be found in this podcast. Some of its episodes are even used by academic instructors at times. Listeners love it for its versatility, wholesomeness, timeliness, and 'perfect length'.
​Available on: Spotify, Apple Podcasts
2. Radiolab for Kids
​If you want to hear some great story-telling, Radiolab is the way to go. Radiolab is a multi-awarded radio adventures program from New York City which offers great podcasts. It is known for "making science accessible to broader audiences."
​Under it is Radiolab for Kids, trusted to make family-friendly content. Parents love listening to this podcast with their kids in the car so it's a great one to add to your list.
​Available on: Spotify, Apple Podcasts
3. The Happiness Lab with Dr. Laurie Santos
​Learn more about this important emotion called 'happiness' from Dr. Laurie Santos, a Psychology professor at Yale University. From personal experiences to scientific research, the psychology of happiness is thoroughly discussed in this podcast.
It may seem intimidating and heavy, but it's not. It's light enough for a whole family to listen to together! Inspirational and relatable, it makes for a good companion during long road trips.
​Available on: Spotify, Apple Podcasts
4. Brains On! Science Podcast for Kids
​Let your kids enjoy science by listening to this fun podcast that's all about science! It's co-hosted by kid scientists which makes it even more appealing for the younger audience.
​That doesn't mean that only kids would enjoy it, though. Adults are very welcome to listen in and get their own curiosities answered.
​Find the science behind the simple things in our everyday lives through Brains On!
​Available on: Spotify, Apple Podcasts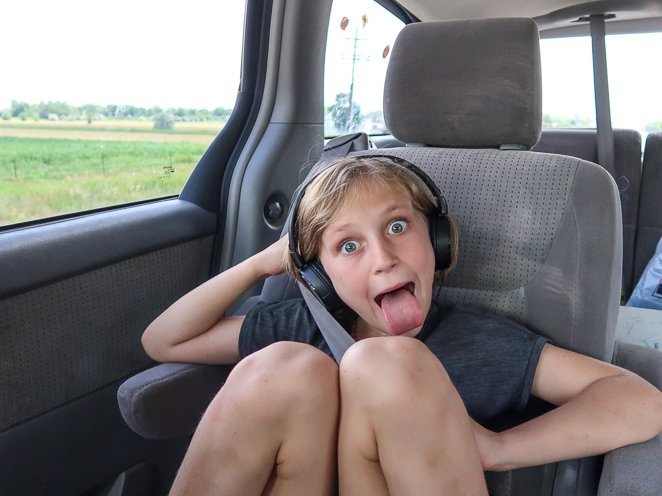 5. But Why: A Podcast for Curious Kids
Another great educational podcast that focuses on kids' curious questions is But Why: A Podcast for Curious Kids. The concept is almost similar to Brains On! with its aim to answer curious questions. However, this podcast is not very science-heavy and leans more on the 'comfy discussion' side.
​You can even send in your kid's question and they might answer through a podcast episode. Isn't that cool?
​Available on: Spotify, Apple Podcasts
6. What If World – Stories for Kids
​Don't you ever wonder about the things that can happen if a certain thing is completely different from how it normally is? Hear about wacky stories inspired by conversations about what can happen if bizarre events ever take place from the What If World podcast.
​It makes for great stories for kids and kind of a comedic relief for us adults.
​Available on: Spotify, Apple Podcasts
7. The Montessori Notebook
​Have you ever heard of the Montessori teaching method? It is a method where an environment is prepared to support child development and it makes use of hands-on learning and collaborative activities. It's a great idea for parents like us who worldschool their kids.
​In The Montessori Notebook, Simone Davies, who is an experienced Montessori teacher shares her insights, tips, and answers through podcast episodes.
​It's a great resource for parents and is extremely helpful in the process of raising kids.
​Available on: Spotify, Apple Podcasts
8. TED Talks Society and Culture
​Another one from TED Talks is TED Talks Society and Culture. This podcast focuses on being human and can be great teaching material to everyone. Teach values to your kids while enjoying a road trip. I'm sure the lessons they get from the episodes will last a long time and may even get the discussions going.
Available on: Apple Podcasts
9. Simple Families
​Learn more about minimalism, positive parenting, family wellness, and decreasing mental load from a fellow parent who has a doctorate in Child Development by listening to Simple Families.
​This one is more appropriate for parents. You can try and sneak an episode once the kids are having their nap time during your long drive. Simple Families is helpful in a way that it combines research and experience to help parent listeners.
​We just love how they discuss minimalism since it really applies to our full time RV living!
​Available on: Spotify, Apple Podcasts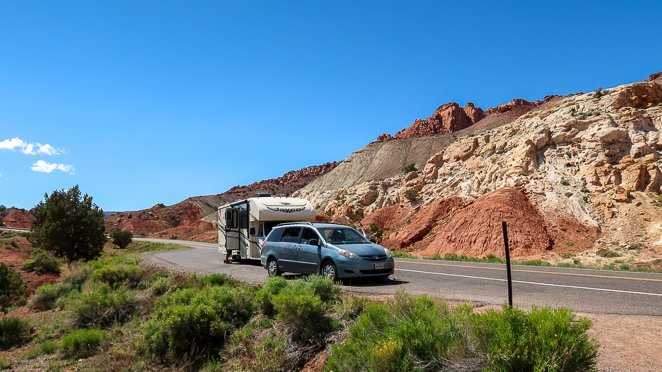 10. MusicalSplaining
​Want some music with a little more story? Are you and your kids into musicals? Then check out MusicalSplaining.
​Tickets to attend a musical can get expensive, but you can experience a short part of it for free in this podcast. From the classic Cats to the trending Frozen, they have it all here. Prepare to sing over the podcast now!
Available on: Spotify, Apple Podcasts
11. TED-Ed: Lessons Worth Sharing
​Be inspired by stories from different kinds of people by listening to the TED-Ed: Lessons Worth Sharing podcast.
​Another great one from TED, this podcast is helpful and very educational with many short episodes in a story telling format great for kids. Listening to it will give the whole family a lesson or two.
​Available on: Apple Podcasts
12. Story Pirates
​This is one of those great storytelling podcasts for kids. Stories written by kids can be pretty awesome especially after it's acted out by actors, comedians, and musicians. Story Pirates is a platform that turns stories to entertaining performances no matter how simple it may be.
​Every episode is jam-packed with fun story-telling and something the entire family will love.
​Available on: Spotify, Apple Podcasts
​13. The Sustainable Minimalists Podcast
​As RVers who love nature and traveling more than anything else, we can't leave out this podcast that tackles sustainability and minimalism. The Sustainable Minimalists Podcast is targeted towards eco-friendly families who want to make a change.
Deep dive on how to protect nature all while having a very healthy lifestyle. This is a great tool if you want to introduce your kids to a minimalist lifestyle or just want to answer their why's.
​Available on: Spotify, Apple Podcasts
​Aside from saving you from boredom on your next road trip, listening to podcasts can give you insights on various topics and educate your entire family in a healthy way.
We've already started listening to many of these listed above and we gain inspiration from these episodes. I think that is something that's worthy of a few minutes of our time.
​Road trips can't be complete without music? That's not true, podcasts can take music's place!
Have fun and be educated by listening with the whole family on your next family road trip. I'm sure your road trips will bring you some great memories.