Planning the ultimate road trip can be so exciting! Especially with these best road trip accessories that will keep your trip more fun and efficient.
Making those amazing memories with your kids while visiting some bucket list destinations is often what many families look forward to each summer. Yet, deciding what to bring on a road trip, those road trip essentials can sometimes make or break your experience.
Road Trip Essentials
That's why we are sharing our list of 25 road trip essentials that will help you decide what things to pack for a road trip!
We'll also dive into how to pack for a road trip, including a family road trip packing list and road trip checklist.
THIS ARTICLE MAY CONTAIN COMPENSATED LINKS. PLEASE READ OUR DISCLAIMER FOR MORE INFO. THIS POST WAS WRITTEN BY JILL GREISING-MURSCHEL, A FAMILY TRAVEL AND RV LIVING EXPERT.
Basic things to bring on a road trip:
Now, being a full time traveling family, we often bring our ENTIRE house with us on our ultimate family road trip, (that just keeps on going).
If you've never been to our website before, then you may not know that we were a full time RV living family of 6 who traveled North America from May of 2017 until September of 2019.
One might say we have road tripped full time!
Does that mean if you're taking a week-long road trip and don't do this RV thing, this information doesn't pertain to you? No, not at all.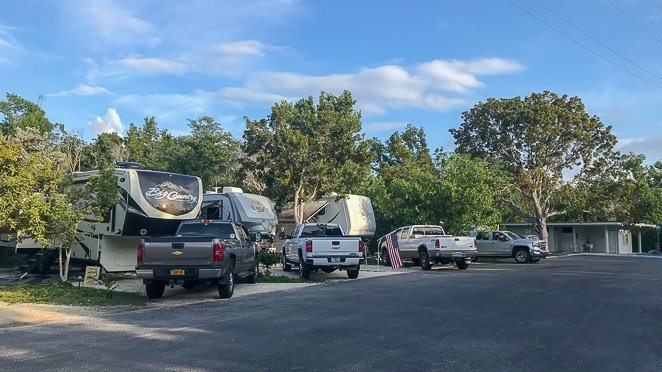 I will be sharing with you what we've found to be the most helpful road trip tips with all of our experience traveling to over 43 states in our first 2 years on the road in our RV and minivan. So we have compiled a list of cross country road trip essentials.
I'm also sharing our list of what to pack when going on a road trip that we learned were super helpful when we most recently took a road trip from Idaho to Minnesota in only our minivan….in the winter!
So, whether you are taking the ultimate Utah road trip, a week long Florida road trip, or maybe a Key West road trip, these trip accessories are sure to help you be prepared along with the tips for making your road trip a success.
Here are what I believe are must have road trip items that I think everyone should consider when planning out a road trip. Let's dive into our top family road trip essentials.
1. Emergency Roadside Kit
It's always a great idea to have an emergency roadside kit in your vehicle before you leave for a road trip. In this kit, be sure to have jumper cables in case your battery dies. This is something to include in your family road trip checklist.
2. Tire Repair Kit
Roadside assistance is a must have, but carrying a tire repair kit doesn't hurt either.
As an RVing family, we also carry around this slightly more expensive item, so that we aren't stranded at the top of a mountain with a flat spare tire needing to pump it up with our manual bike pump again (true story).
You don't have to carry all the tools you have, just a few items that can help you fix a flat tire.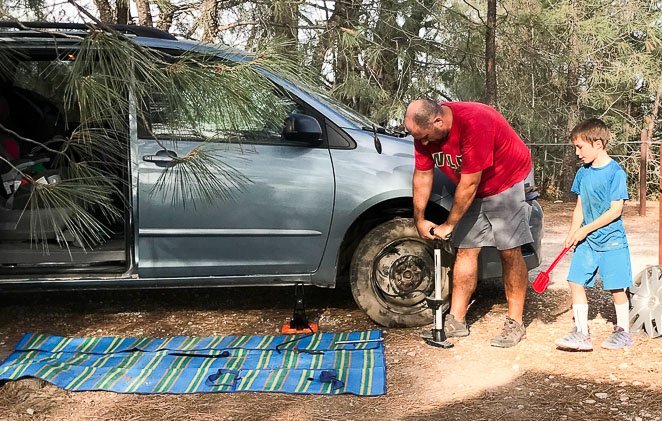 3. A Spare Tire (check to make sure you have one!)
Speaking of a tire repair kit…..whatever you do, be sure to check that you have a spare tire that is INFLATED with you on your road trip. These are one of those ROAD TRIP MUST HAVES.
You never know what might happen. Flat tires are a common occurrence and it's so much easier to fix it in minutes than wait for a tow truck. With that make sure you also bring the important road trip gear for installing them.
4. Baby Wipes
Unscented baby wipes can be used for so many things. If you DO have kids, they can help clean up sticky fingers or spills in the car. I've often used mine after filling the van with gas or checking our tire pressure at a gas station.
5. Tissues
Have you ever found yourself driving down the interstate without a rest stop in sight….and you need to go to the bathroom? Adults and children alike can spring a 'side of the road' potty break. Have some tissues on hand (with a small plastic bag for garbage) to use as your TP.
6. Hand Sanitizer
Now when you take those quick potty breaks, you'll want some hand sanitizer to use afterwards. Pack a few in your car and another in your purse or suitcase. This is a simple 'what to pack for a car trip' items that everyone should have.
7. Travel Pillow
If you find that your passengers (kids or adults) like to nap on travel days, then bring a travel pillow along. Pillows are great best car accessories specially if you plan driving on long hours!
Our kids often just lean over and pass out, but their poor necks really need one of these if we remember to use them. This really helps them to have a good night's sleep if we ever plan going on long hours. I also like that you can use them as a real pillow if you are going camping.
8. Water Bottles
Water bottles are MUST HAVES for a road trip in our family. We love these water bottles.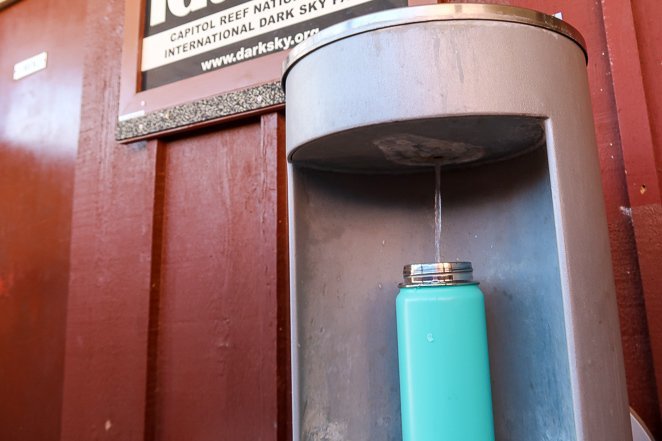 They keep your cold drinks cold and stay sealed without any leaks! Oh, and they wash easily….unlike so many other water bottles we've used before. As the old water bottles break or get lost, we replace them with Takyas.
9. First Aid Kit
Another one of those things to pack on a road trip is a simple first aid kit. Keep it in your vehicle, you never know when you might need one. We keep one buried in the back of our minivan at all times and use it every few months. Now, we do keep a large first aid kit in our motorhome that we use more frequently.
10. Old Fashioned Maps
Some people swear by having an old fashion atlas or map in the vehicle with them. If that's you, then be sure to get one before you leave.
When we first started taking frequent family road trips, we would bring a map. Now, we're good with using GPS.
As I'm typing this, however, I'm remembering that just last week, our friends who have been RVing full-time for 5 years pulled out their trucker's atlas to look at their upcoming route. So, if that's you, grab one.
11. Phone Holder
This cell phone holder (or car phone mount) is exactly what we use every day in our minivan. It's the perfect car accessories that you didn't know you needed!
I love how it stays put and lets me be hands-free on road trip days. It's pretty inexpensive and so far it's lasted for over 1 year in our hot van.
You can place it near your car's auxiliary power outlet so that when you have to charge, it's always within reach.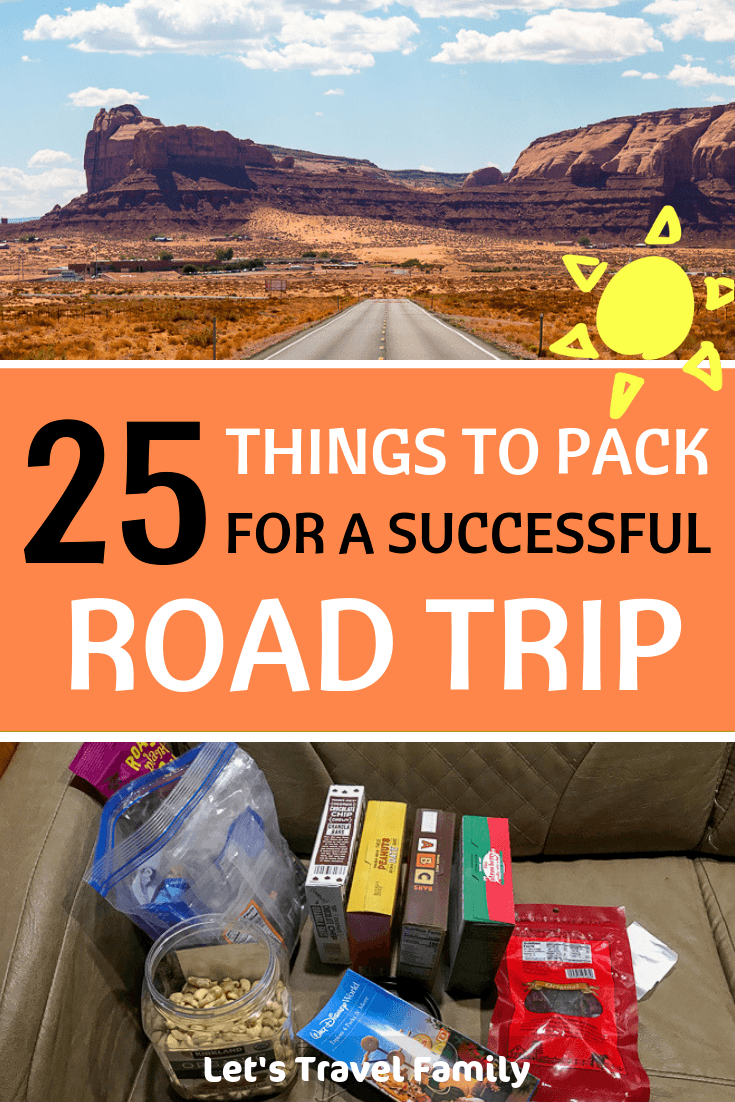 What to pack on a road trip the morning of?
Now, you'll want to find the last minute items you put off packing the morning of. Especially snacks and other simple road trip supplies such as your cell phone charger and a small cooler with a cold pack and drinks that I consider road trip must-haves.
These are things to pack for a long car trip, or even just a few hours road trip.
Make a list of any other items that you will use up until the day OF….such as your prescription medications or your favorite hair brush.
12. Cell Phone!
Do not forget to BRING YOUR CELL PHONE! It would be a rough trip if you didn't have your cell phone with, so I had to add it to this list just to help remind you.
Side note here….there are some amazing apps for cell phones that can come in very handy when planning out your route. Also, it's an efficient way of taking photos, listening to music, and just capturing road trip memories!
Read this to learn about the top 20 apps we recommend downloading.
13. GPS
If you'd rather use a GPS other than your cell phone, then check out this cool one. I've heard great things about it from friends of ours (we still use our cell phone and the apps I mentioned above).
14. Sunglasses
I feel like sunglasses are one of the things to take on a road trip that sometimes gets overlooked. Especially if you aren't traveling in your own car.
Whether you're the driver or passenger, you might want to bring a pair of sunglasses.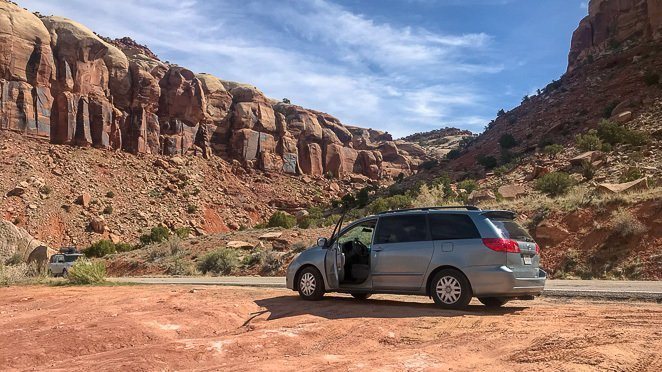 15. Road Trip Snacks
I highly recommend packing easy to eat road trip snacks….or you might be spending a lot of money on overpriced gas station food. We often use our soft sided travel cooler to hold our day's worth of snacks. It folds up and stores really easily when not in use too. Keep reading for our tips of which types of snacks to bring.
It's also great to have a car trash can in the back seat to keep your car clean and tidy. This Car Trash Can with Lid is a handy, lightweight way to keep snacks, trash, and other items off of the floor. It also has a small pocket to hold your phone, wallet, or other items.
16. Drinks
Save yourself time and money by packing cold drinks the morning of your road trip. If you need soda or iced coffee, this is a great way to save a few dollars and allow you to make less stops on your travel day.
17. Travel Mug
If you're a coffee or tea drinker, having a travel mug with a lid can make your vacation start off right. I love this travel mug's ability to keep my Americano hot for hours…while also keeping me from spilling all over my van.
18. Medication
If you have prescription medication, don't forget to fill it before you leave and bring enough to last you the length of your trip.
Now, if you're taking a long road trip and are concerned about refilling it on the road…I recommend switching to CVS or Walgreens as your pharmacy. That way, you can refill your prescriptions all across the USA like my husband Tony does for his insulin.
19. A Carseat For A Little One
If you're planning a family road trip and have a baby or toddler, then you will need a carseat. A carseat is one of those road trip essentials for kids you can't skip.
Now, you might already have one but you may want to consider finding a comfortable booster seat for long trips.
What do I need to know before going on a road trip?
Be flexible and prepared. Get your tires checked and oil changed so that you have a full check of all fluids and lights before hitting the road.
This is checking your car's battery, if all the straps are snug, car windows, and if the brakes are working correctly.
Preparing for a next road trip can be fun for those of us that like to plan….if you aren't much of a planner than hopefully this list will help take the work out of it for you!
Quick tip: plan your route using easy to use apps like these. Know where you plan to sleep each night ahead of time. Especially if you're traveling during the summer vacation season when many campgrounds and hotels are booked.
Road Trip Packing List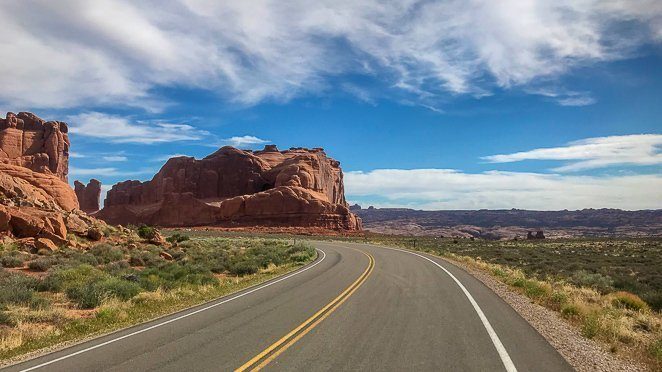 Beyond the things I listed above that are SPECIFIC TO ROAD TRIPPING….be sure to pack the basics for a fun vacation too.
Sweatshirts/Jackets
Shirts and pants/shorts
Socks and underwear
Hiking shoes and sandals
Swimsuits (if heading to the beach)
Mosquito repellant
Sunscreen
Sun hats
Toiletries (shampoo, toothbrush etc.)
Towels (we love these quick dry ones)
Hairbrush
Camera (selfie stick or tripod)
Cash and wallet
Travel Bag (this is what we use on road trips or flights)
Road Trip Snacks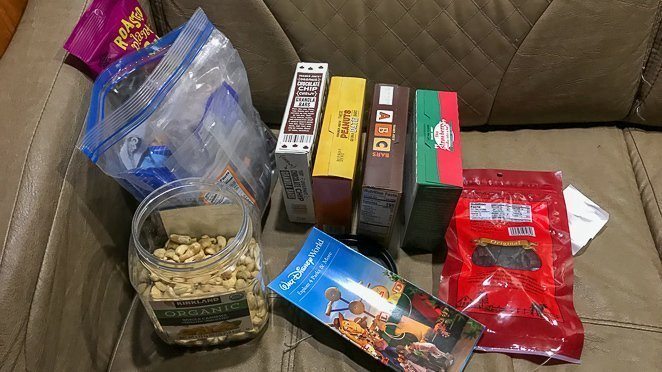 The best food to take on a road trip is of course the non-messy-type-snacks.
But, how do you bring snacks on a road trip really?
Well, my best advice to you is to keep it simple and use containers such as disposable ziplock bags or plastic containers with lids. A few examples of thing you can eat easily without making a mess are:
Apples or pears
Beef jerkey
Some trail mixes
Granola bars
Fruit Snacks or Fruit leather
Applesauce pouches
Cheese sticks
Family Road Trip Necessities For Kids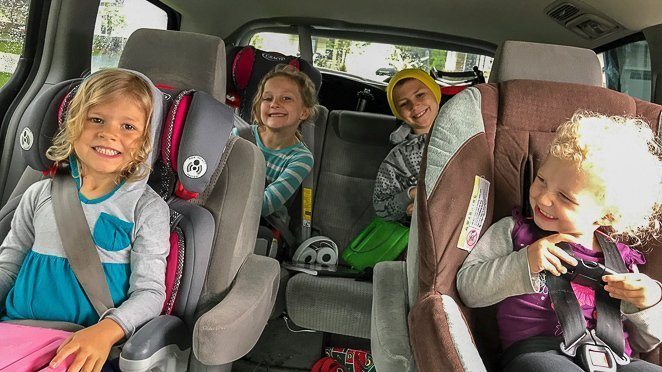 If you're traveling with kids, then you ABSOLUTELY need to find some fun things to pack for a road trip such as toys or things to do in the car with your kids.
Download some great podcasts for kids ahead of time for some family fun.
You could also plan to bring iPads, Kindles, books, and DVD players that might keep your kids happy and content for hours. We love downloading audiobooks to our kids' iPads before big travel days…then we set them up with headphones, and they are good to go for a while. Or, grab the best iPad for drawing so that your kids can practice on the road.
As a full-time traveling family…I have to tell you that when the grandparents gifted each of our 4 children with their own iPad, we didn't know how good we had it. They use them on EVERY travel day! Think educational games, Facetiming the grandparents and cousins, and listening to music or audiobooks.
But don't forget to bring simple things like notebook and pencils, and maybe a road trip game or two.
What's your favorite road trip item?