Going to the beach with your family soon? If you still need to buy the best water shoes for kids then keep on reading.
We did the research for you this year to find the best water shoes for girls, the best water shoes for boys, the best infant water shoes, and the best water shoes for toddlers. We even dug into what we feel are the best brands for kids' water shoes.
Introduction to finding the best water shoes for kids
Whether you're visiting Florida Keys' best beaches or having a Niagara Falls adventure, you'll need good water shoes for everyone, especially the kids!
To protect the kids from having their feet scratched from rocks and shells, or to endure the hot sand, they'll need kids water shoes.
Buying water shoes for toddlers can reduce your anxiety during the trip. Now you just need to find kids swim shoes that are best for your family. Keep reading as we're here to help.
Comparison Guide
When it comes to gear for kids, we HAVE to be meticulous. From our kids swim shoes reviews below, find which will fit your needs the most.
To choose the best water shoes, we need to set some standards.
First, think of the type that they'll need. Are you going to the beach or the pool? Kids beach shoes can be different from pool shoes for kids.
In this comparison guide, we will consider the material, closure, outsole, and weight per pair.
​Comparison Chart
Brand

Image

Material

Closure

Outsole

Rating

Cost

Popular

Mesh – leather

Strap

Non-marking rubber

****

$$

KEEN Seacamp II CNX Sandals – Kids'

Top Pick

Polyester webbing

Bungee lace

Rubber

*****

$$$

Favorite

Polyester webbing

Single pull lace

Rubber

****

$$$

Quality Brand

Water ready polyester

Strap

Rubber

****

$$$$

​

Favorite

​

Polyester jacquard webbing

Strap

rubber

****

$$$$
What are the best water shoes for toddlers?
Looking for the best toddler swim shoes? Then KEEN Newport H2 Sa​​ndals – Kids is for you.
It is usually hard to find good toddler water shoes because of the limitations when it comes to sizes. Most water shoes for kids start at size 7 already.
What makes KEEN Newport H2 Sandals the perfect pair for toddlers is their wide size range from 4 Tots' to size 6 for kids. Technical-wise, it has a quick-dry webbing which can be used even if you're not visiting the beach.
With 9 colors to choose from, I'm sure you would find the ideal toddler aqua shoes here.
​Features:
​9 colors
​​Adjustable hook-and-loop straps
​Washable polyester webbing uppers with hydrophobic mesh lining
​Nonmarking rubber outsoles
What are the best water shoes for girls?
For a fashionable look on the beach, Chaco's for Kids– Kids is the perfect girls water sandals.
These limited edition sandals are comfortable AND easy to adjust to. It can also make you feel less anxious about your kids slipping around because of the water thanks to its nonslip classic diamond pattern topsoles!
Huge plus for our nature-loving friends: the construction of these sandals feature recycled materials.
​Features:
​Polyester jacquard webbing uppers
​​​Pull tabs at heels
​​Nonslip classic diamond pattern top-soles
​​Durable LUVSEAT™ polyurethane midsoles
​​​EcoTread™ Kids' Classic no-nmarking rubber outsoles with 25% recycled rubber enhance traction on wet and dry surfaces
​​​Vegan-friendly construction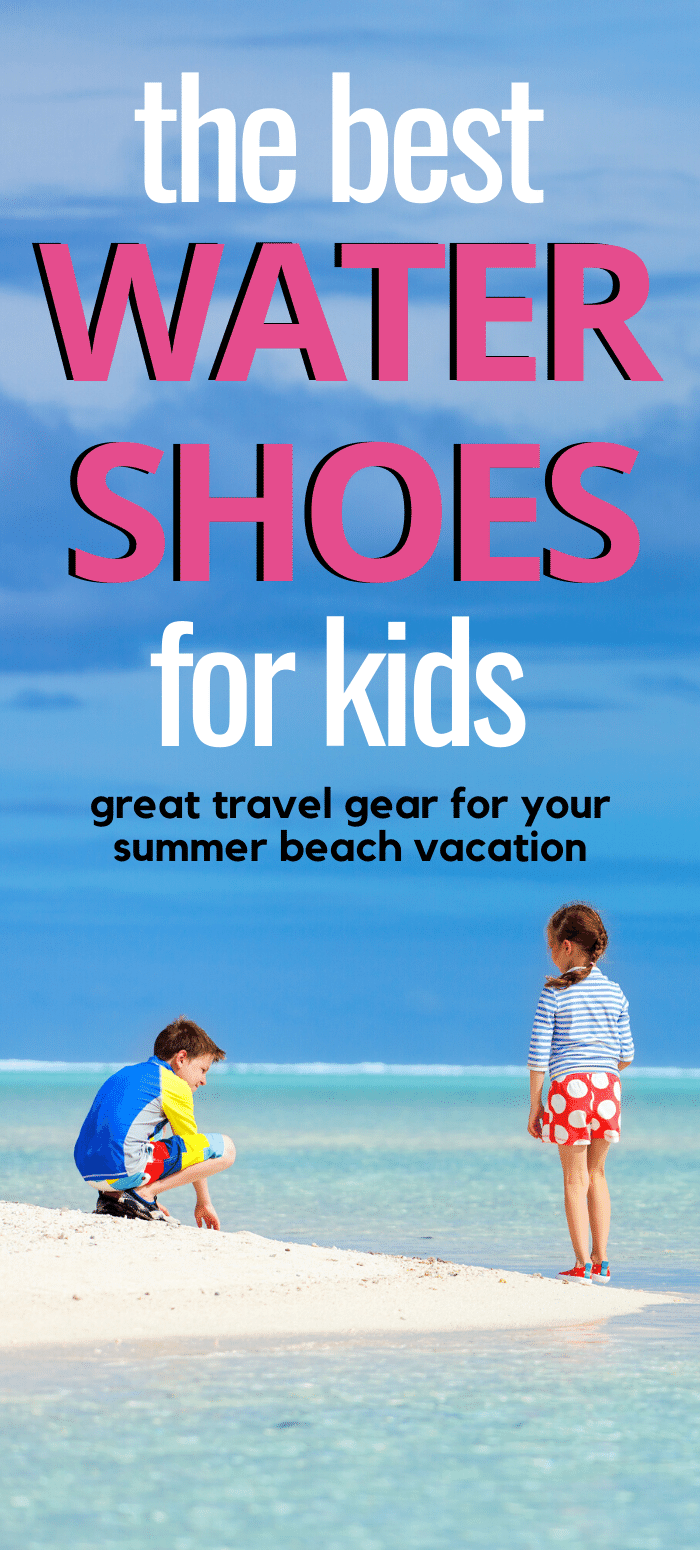 What are the best water shoes for boys?
Going for a cool look? Go and get a pair of Columbia Techsun Wave Sandals – Kids'!
Perfect for any adventure (in and out of water), this pair's cush footbeds and closed toes will protect the kids from any scratches and wounds. Easy to wear and move around, adventurous kids will surely love it.
​Features:
​​Cush footbeds and closed toes
​​​​Hook-and-loop closure straps
​​​​Mesh and leather uppers
​​​​Omni-Grip™ nonmarking rubber outsoles
Best Infant Water Shoes
​For your baby's beach fashion, here's the Bigib Kids Water Shoes. Why is it the best baby water shoes you ask?
​These baby swim shoes provides a supportive fit that's perfect for both indoors and outdoors. It also has a smooth design and is easy to take on and off the baby's foot!
​Features:
​​​Fabric upper with overlays
​​​​​Rubber outsole
​​​​​Smooth neck design
​​​​​Slip-resistant sole
​Best Brands For Kids' Water Shoes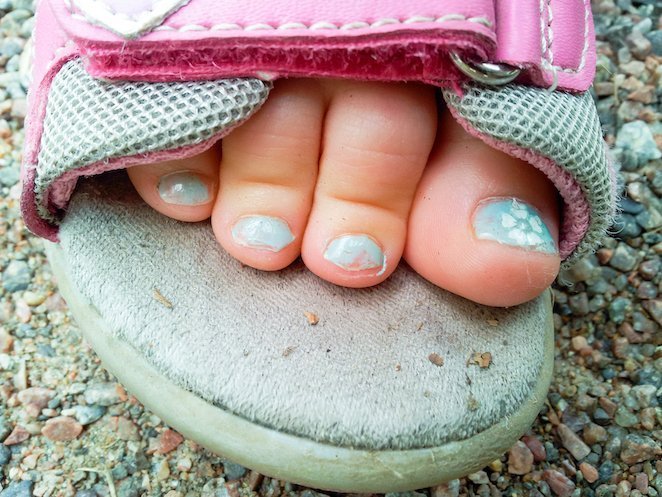 You may be thinking of where to buy water shoes. Honestly, it's pretty easy to find water shoes for kids. You can find some online on Amazon or REI's website and in the nearest department stores.
However, we want to make sure that the water shoes our kids use are the best for them. If you don't know how to start looking for one, you can start with the brand.
1. KEEN
KEEN Footwear is a company that offers high-quality shoes after a sustainable process. It is their advocacy to make a change in the industry and make the world a better place with their products.
KEEN Kids water shoes have great reviews so go and try them yourself. The company is also a pioneer when it comes to resourceful and innovative advances in the industry.
They are relatively new, having been founded in 2003, but they can surely last for a long time with their great ideas and efforts on environmental conservation.
Our children wear Keens all the time. We used them as our main shoes while traveling around Southeast Asia.
2. Chaco
​Chaco is a brand that specializes in footwear for outdoor activities. Having said that, they make sure to take into consideration what outdoorsy people NEED and try to incorporate it in their designs.
They started out in 1989 with the goal of making footwear that can be used both in and out of water which is why they have such great water shoes!
Tony has been wearing his first pair of Chaco shoes daily for months now and loves them.
3. Columbia
In contrary to the previous brands, Columbia is not exclusively a store for footwear. However, it is their main product.
Columbia aims to assist adventure-loving people like us in our journeys since 1938! They always strive to make innovations that can make our outdoor adventures more comfortable NAD safe.
This just shows how dedicated they are to provide high-quality products. We own many Columbia products including their shorts, sweatshirts, and hiking boots.
4. Crocs​
Crocs has been a well-known brand since it started in 2002.
Their number one priority is COMFORT. The brand has come a long way from its classic pair now and it's still going strong.
This is why when it comes to water shoes, you can't forget this brand. Make sure that your kids are having a comfortable adventure while wearing a pair of Crocs.
5. Speedo
When it comes to swimming essentials, Speedo is a brand that always comes to mind. However, most people know of it for their swimsuits and goggles.
But it's not too late to be introduced to their footwear line. By focusing on durability, comfort, and style, Speedo kids water shoes are rapidly rising in reputation.
​Top 10 Water Shoes For Kids
As we've said before, KEEN Newport H2 Sandals for Kids are the best water shoes for kids you can find. They have a wide size range from 4 Tots' to size 6 for kids. Technical-wise, they have a quick-dry webbing which can be used even if you're not visiting the beach.
Another set of KEEN water shoes worth mentioning is the Seacamp II CNX Sandals – Kids'. These shoes were made to make kids comfortable during warm-weather activities and boasts of a PFC-free construction!
You better buy this one fast because it's limited edition! This pair of non slip water shoes is one of the best choices if your swimming adventure is in the pool and not the beach. Its rubber outsoles also have 25% recycled rubber to enhance traction on wet and dry surfaces.
From one of the best brands, Techsun Wave Sandals has a special Omni-Grip™ nonmarking rubber outsoles.
With its water-ready polyester webbing, this pair is made to provide better traction than their previous models.
If you want a stylish pair for your water adventures, this one's for you. The brand also vouches for a comfortable support.
What makes this pair special is the softness and comfort despite the microfiber overlays for structure. It also integrated the Cleansport NXT to control odors!
Lightweight and ventilated, perfect for kids! What's even more, it's machine washable and quick drying. With the designs fit for any gender, this pair also boasts of a slip resistant sole to keep your kids safe.
Its Croslite™ material and molded design makes this product a good choice. To make it more fun for your kids, they can even customize the design with Jibbitz™ charms.
Didn't find your type from the first 9 choices? A breathable multipurpose pair may be just what you need! It even has hydrophobic materials that helps it with its fast-drying properties.
As you can see, there are lots of options when it comes to kids' water shoes. The best water shoes is extremely subjective, you may prioritize the materials while others may choose overall comfort more so be careful in buying a pair!
And who knows, you might be visiting Bali soon!
If you're looking for other gift ideas, click here to check out our other posts with great gift ideas.