When taking a vacation to the best beaches in Florida Keys, you may be envisioning the bright white sand beaches and palm trees in Florida. However, even the best beaches in Florida Keys are not going to be a powdery white sand.
Wait, don't stop reading yet! Because recently, on our family's second trip to the Florida Keys, I was on a mission to find the best beaches in the Florida Keys and we found several great options!
We even camped near one of our favorite beaches, as we RV full-time and love finding great destinations and experiences to mark off our bucket list.
Below, we list the best beaches in the Keys after taking some time to scope them out. I even listed what we feel is the very best beach in Key West and our pick for the best beaches in the Florida Keys for families.
Be sure to create your family beach vacation packing list before you go!
The Florida Keys are small islands made up of a lot of rock. So some of these beaches require water shoes, while other Florida Keys beaches are small with sand brought in from off the islands.
With that being said, I assure you that when looking for things to do in the Florida Keys, finding a nice beach to relax on should be near the top of your list.
THIS ARTICLE MAY CONTAIN COMPENSATED LINKS. PLEASE READ OUR DISCLAIMER FOR MORE INFO. THIS POST WAS WRITTEN BY JILL GREISING-MURSCHEL, A FAMILY TRAVEL AND RV LIVING EXPERT.
Key Largo Beaches
We found some of the most accessible and best beaches in Key Largo to be located in John Pennekamp State Park.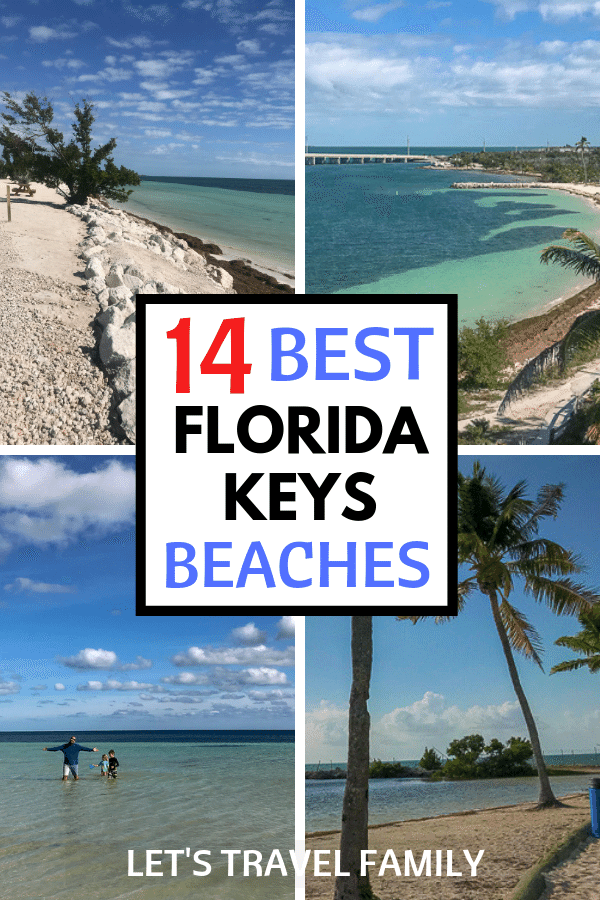 John Pennekamp State Park Beaches
John Pennekamp State Park has 2 beach areas that are never too busy. They are great for kids and families with bathrooms, snorkel rentals, and kayak rentals nearby.
The current is calm but be prepared to have everyone wear water shoes. The beaches are very rocky at John Pennekamp with a lot of seagrass and sea life.
Far Beach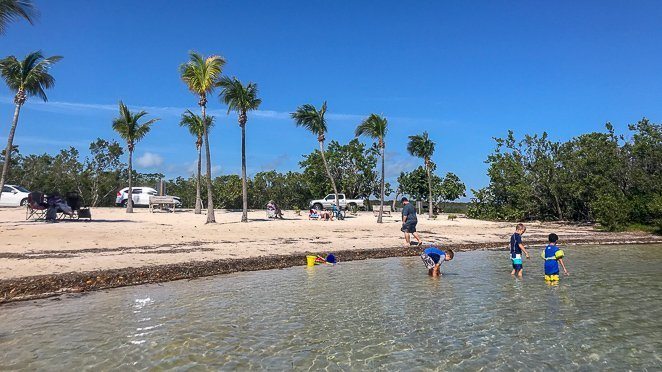 Key Largo Cannon Beach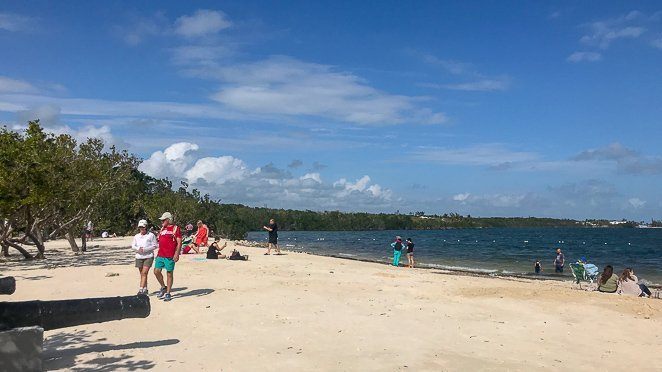 Harry Harris Park and Beach
I think I found one of the best beaches in Key Largo, Harry Harris Park Beach! Not only is there soft sand and shallow waters, but this beach is perfect for families visiting the Florida Keys.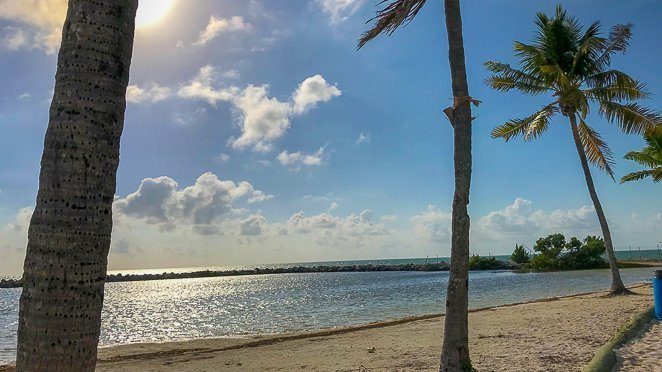 The playground has shade and a fence surrounding it making it safe for all ages. Along with some benches and soft sand, you can't go wrong.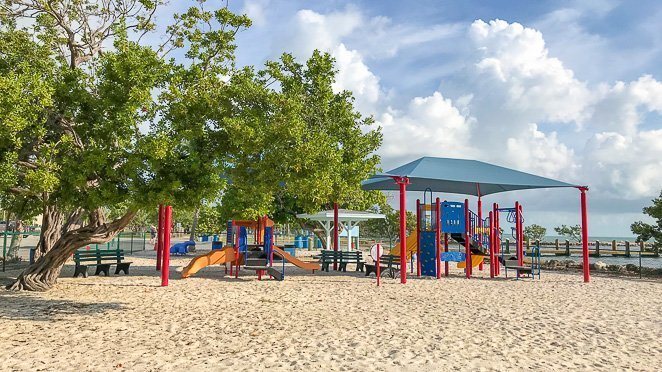 The shallow waters and lack of seagrass, which is found in many other Florida Keys beaches, can make many families jump with joy.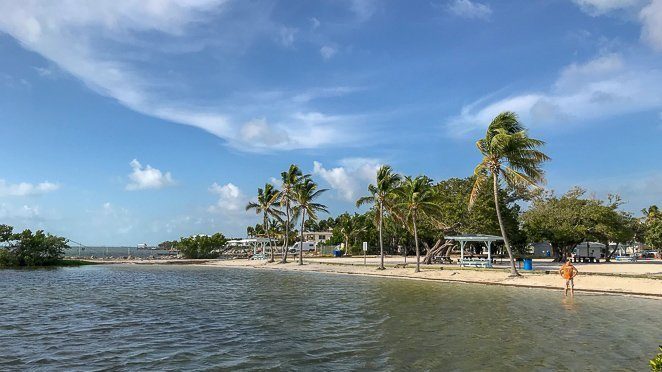 I appreciated the many shaded picnic tables, grills, and bathrooms available! As a mom of 4, I am always on the lookout for easy-to-access restrooms and Harris Park did not disappoint.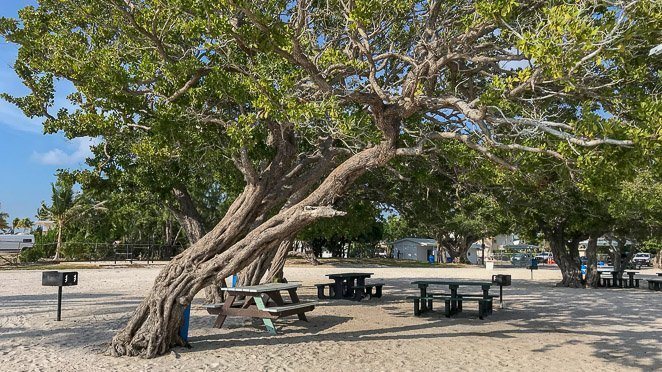 Key West Beaches
Planning to take a road trip to Key West and want to spend some time beachside? There are a few different options when looking for Key West public beaches. The best part is, they are free! Be sure to arrive early in the day in order to find parking.
Smather's Beach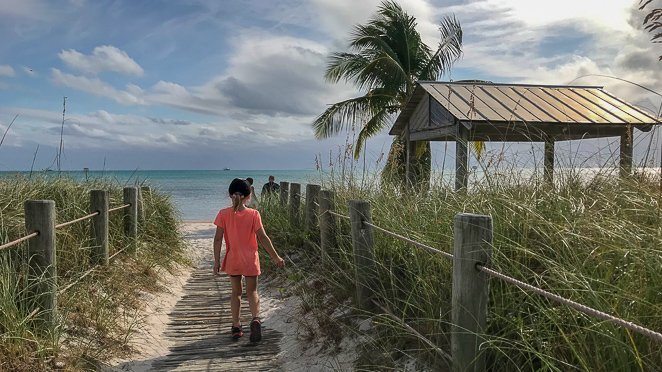 Smather's beach is my favorite and I might even rank it as the best beach in Key West.
It's located near the airport and there is plenty of free street parking. From shaded picnic tables among the soft sandy beach to bathrooms and chair rentals, Smather's beach is a great beach to visit if you are visiting Key West.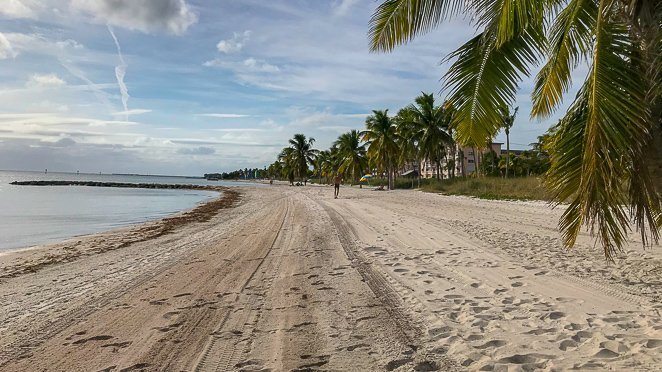 Other beaches in Key West that you might be interested in visiting would be Higgs Beach, Rest Beach, and Zachary Taylor State Park Beach.
Higgs Beach
I liked that this beach had a shaded and fenced in playground for the kids to play.
It overlooks the Atlantic Ocean and is nearby the White Street Pier. You can also rent kayaks and paddleboards here, making it a great spot for water activities.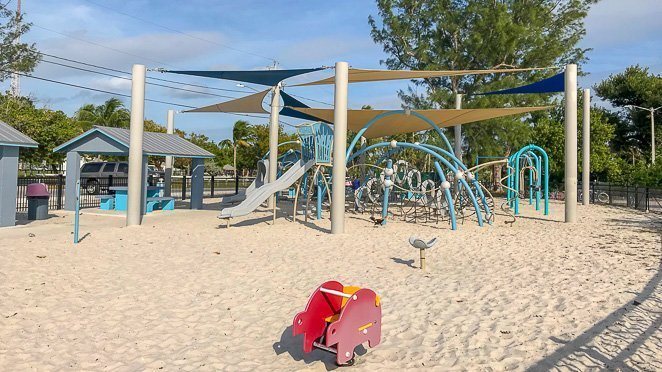 What I didn't like was that there is a wall going down into the water, so you can't just walk from the sand on the beach into the water.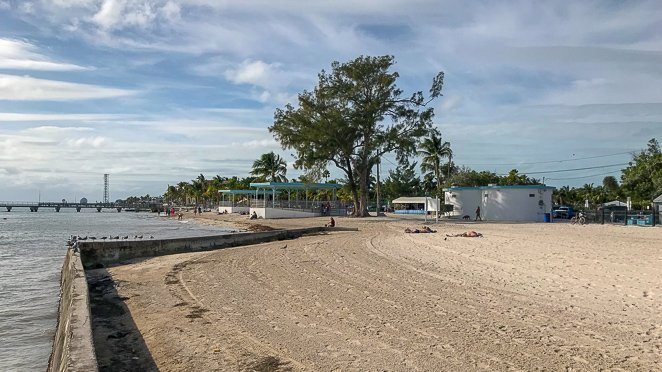 It also doesn't have as soft as sand as Smather's beach in Key West. Higgs Beach does have public bathrooms, outdoor showers, and a free parking lot, so that's a positive.
Rest Beach Park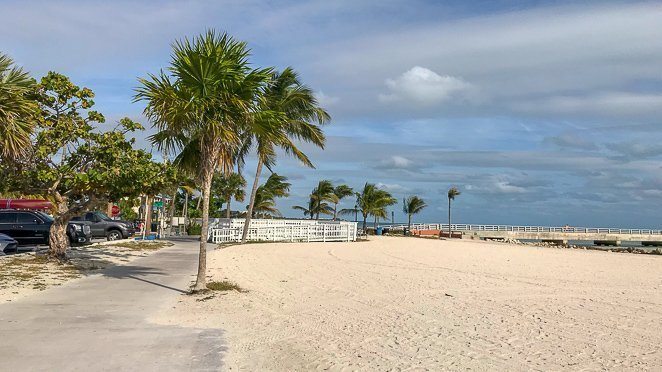 This small beach is found just on the other size of the Key West Garden Club at the West Martello Tower from Higgs Beach in Key West.
It was quiet and looked great for families who might want to get away from the crowds at Higgs Beach. There were no bathrooms, but you are a short walk to Higgs beach to use their public bathrooms if you need to.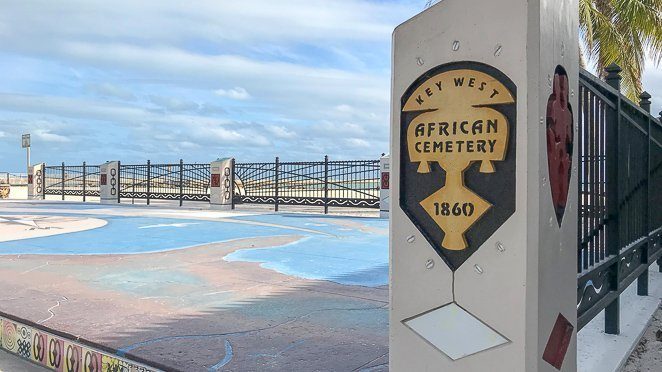 Oh, and there's a beautiful African Cemetery memorial at this beach to check out.
South Beach
South beach is a small beach near the Southern Most Point in Key West. Parking can be hard to find, as it's metered and paid street parking.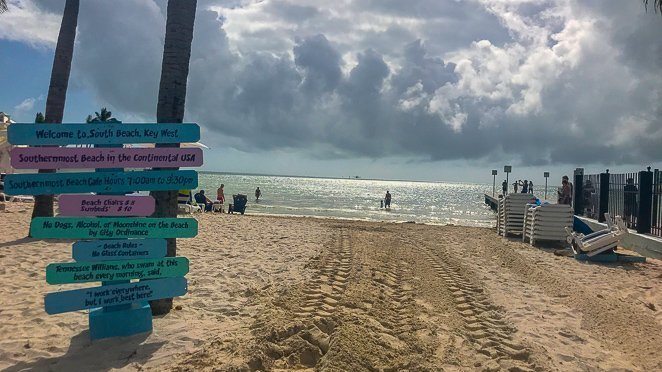 What I did love about this beach was the public peer you can walk out on and the family friendly restaurant on the beach.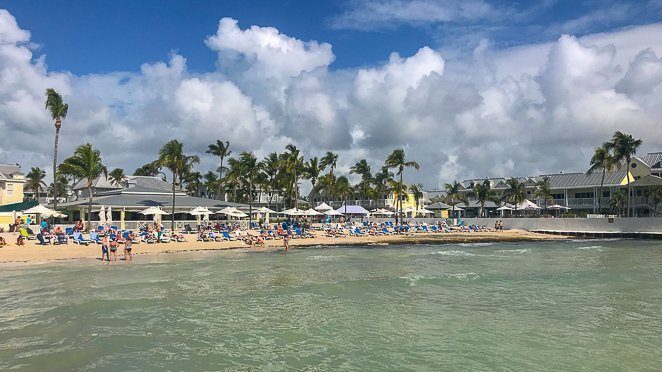 You can purchase food and beverages from servers right on the beach, if you rent one of their chairs.
Logerheads Beach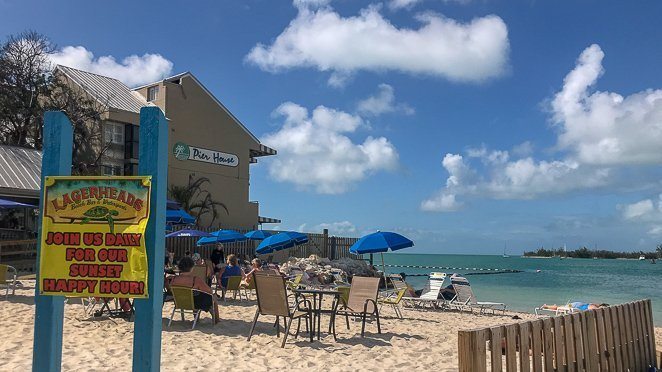 This is a very small beach near Mallory Square in Key West. There is a paid parking lot and Lagerheads Bar rents chairs for $10 and serves food and drinks on the beach.
Zachary Taylor State Park Beach
On the west end of Key West you can visit Zachary Taylor beach. Our family never got a chance to visit but we heard great things about it.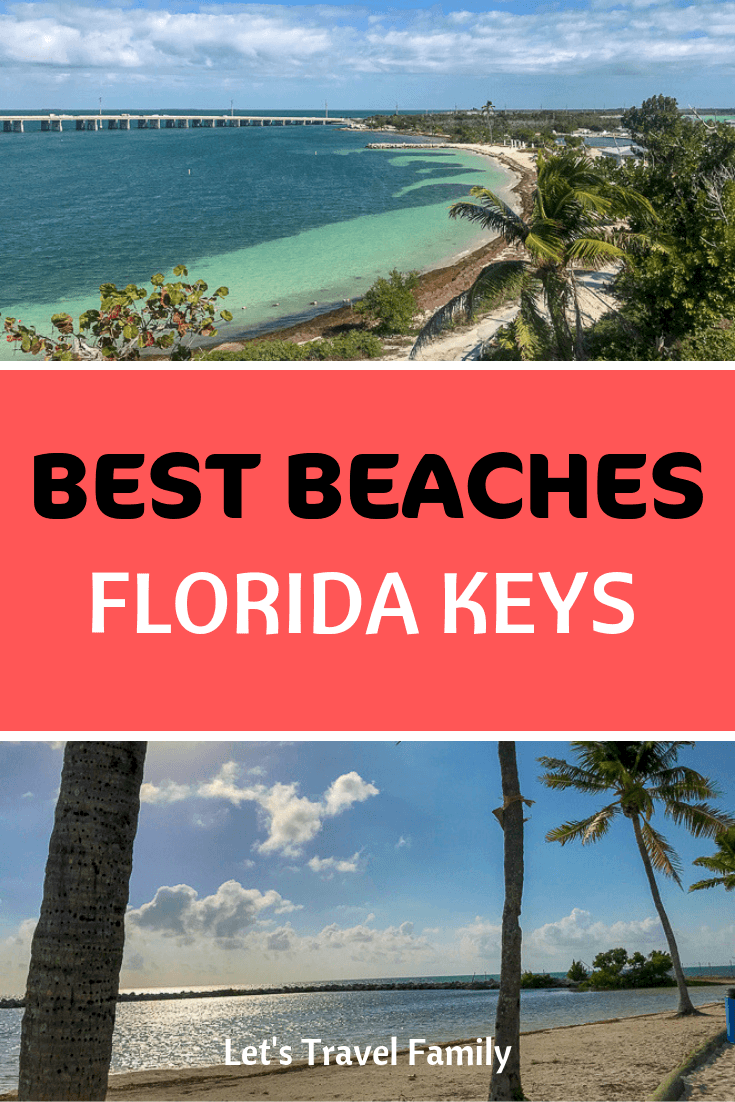 Best Beaches In The Florida Keys For Families
Our top 3 picks for the best Florida Keys beaches for families are: Islamorada Founder's Park private beach, Sombrero Beach in Marathon, and Bahia Honda State Park beaches.
Islamorada Beach at Founder's Park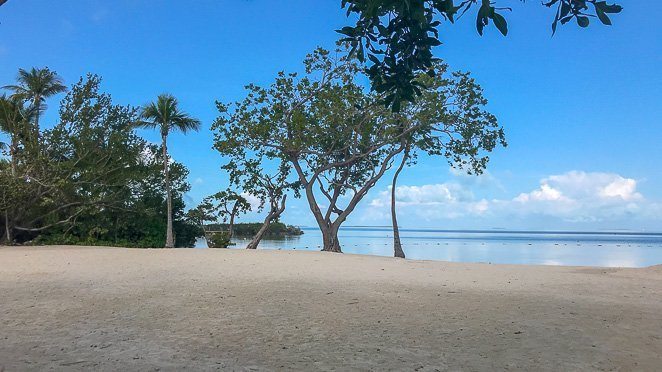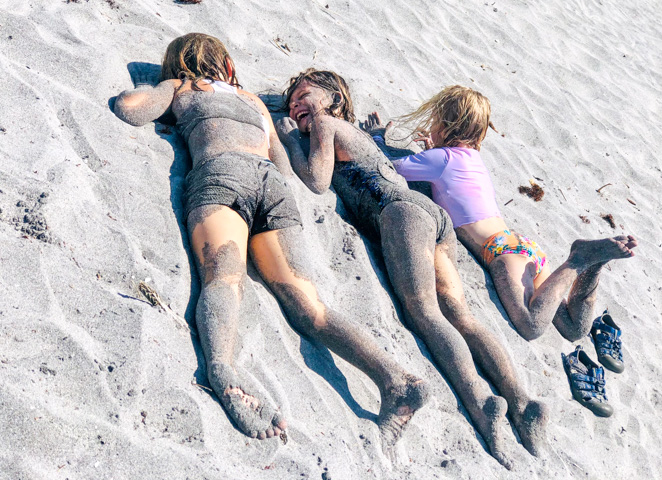 This Florida Keys beach provides really calm water, a fun and shaded playground, bathrooms, and soft white sand.
If you pay for the day to visit their entire complex, you can also visit their heated Olympic sized swimming pool and splash pad too!
Sombrero Beach in Marathon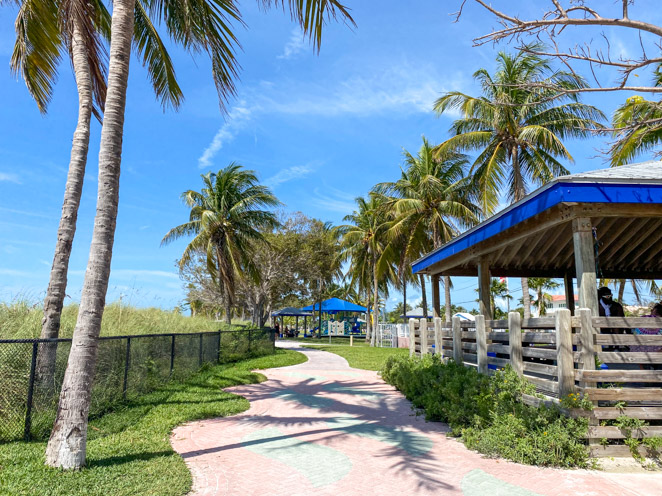 I would rank Sombrero Beach as one of the top public beaches in the Florida Keys for families for many reasons. It has all the amenities a family might be looking for from public bathrooms and shaded picnic shelter to a playground and lots of soft sand set up for the day.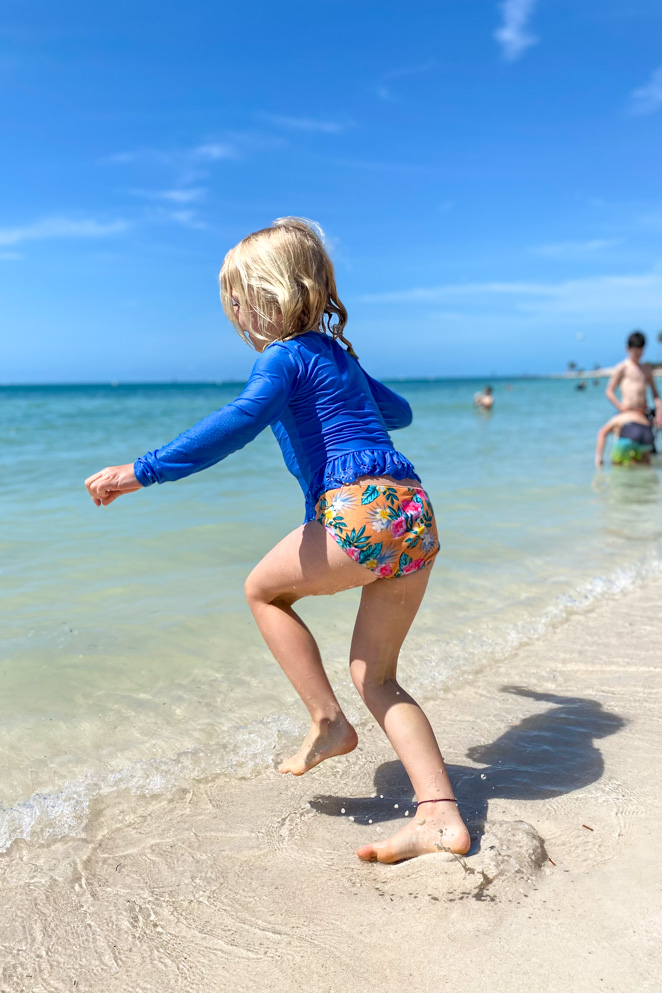 I also loved that it was located midway through the keys and offered free parking. You may enjoy finding the best beach cart to bring all of your sand toys around this large beach for the day. There's also free public parking and a family vibe at this beach.
Bahia Honda State Park Beaches
I think I saved the best Florida Key beaches for last! Bahia Honda is a MUST visit destination if you are visiting the Florida Keys with kids.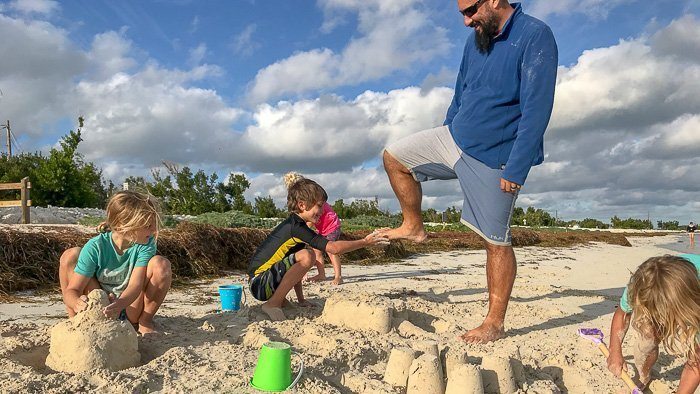 The soft sandy beaches are perfect for making sand castles and the State Park provides a few beach options.
We spent a week camping at Bahia Honda and found that each day, depending on which direction the wind was coming, we'd choose a beach either facing the Atlantic or the Gulf coast. The clear shallow waters were perfect for our beginner snorkeling kiddos too.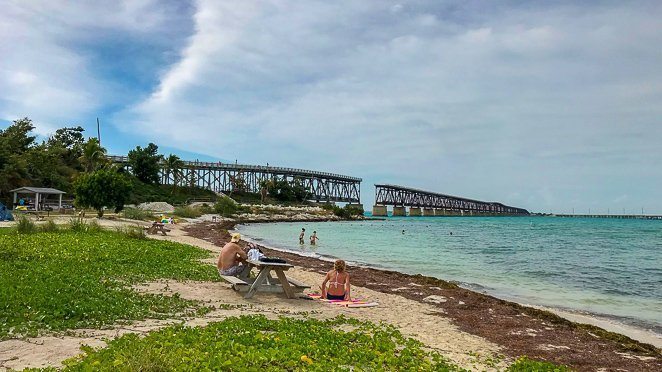 Calusa Beach is a cove of a beach just next to the Railroad Bridge, between Big Pine Key and Marathon. There are covered picnic tables and bathrooms nearby.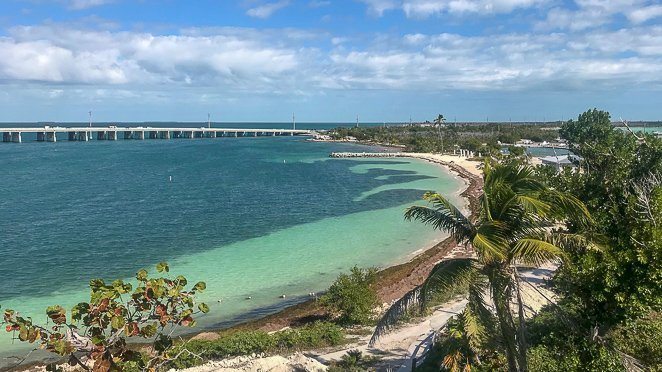 The water temperature stays warm in the Keys from mid to upper eighties in the summer, to the mid to lower seventies in the winter.
Loggerhead beach sits at the south side of Bahia Honda, just on the other side of the old bridge from Calusa.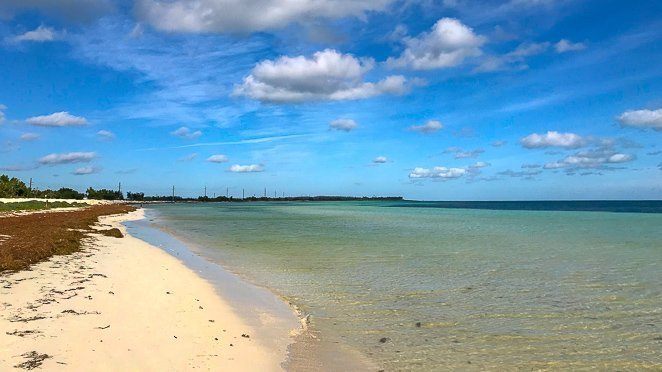 Sandspur beach is still closed from Hurricane Irma.
Other Beaches To Note In Florida Keys
Coco Plum Beach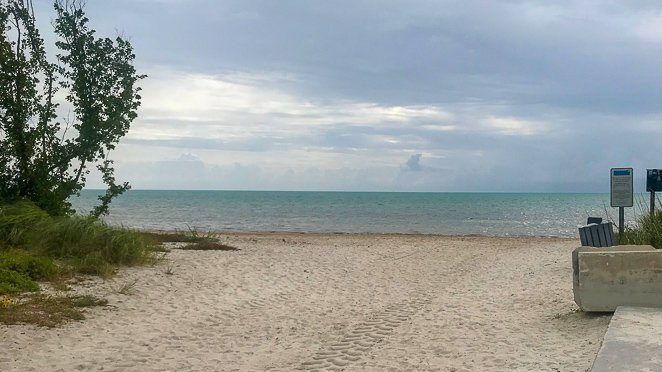 I took a quick drive to Coco Plum beach to see if it would be worth recommending you. Things to note: there's a small free parking lot, one covered picnic table, it's dog friendly, and it's FREE! I'm not sure I'd purposely plan to visit Coco Plum with my family, with Sombrero Beach close by in Marathon, but if you had a dog and wanted some privacy or a quiet time this might be the beach for you.
Curry Hammock State Park Beach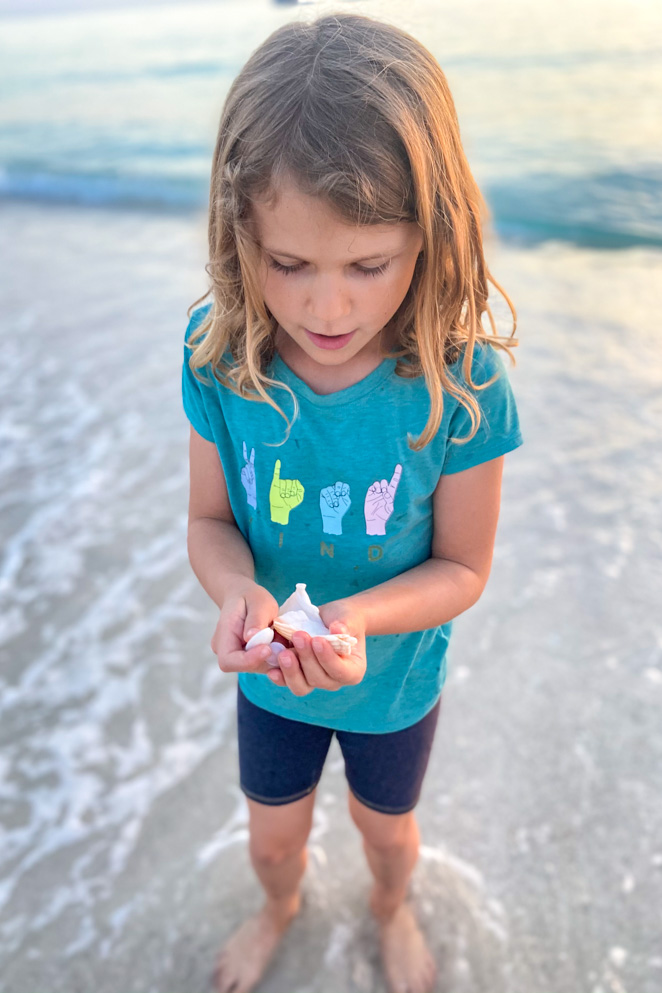 I spoke with a couple that spent a week camping at Curry Hammock and said they really enjoyed watching the kite surfers at the beach and seeing all the birds. Our family never got a chance to visit.
Anne Eaton Beach
I have heard great things about this beach, but we never had a chance to visit this Islamorada beach.
Key Colony Beach
Located in Marathon, Key Colony Beach has a small and quiet beach perfect for families. The water is calm and shallow, the sand is sort of narrow sliver, but the views are stunning. There's also a play area for kids and picnic tables available.
Cannon Beach
Cannon Beach is a small beach located at John Pennekamp Coral Reef State Park in Key Largo. It's a popular spot for snorkeling and kayaking, but it also has a beautiful sandy beach for lounging and swimming.
What To Bring To The Beach?
The beaches in the Keys are fairly soft, but you may want to bring your best water shoes for your kids just to be on the safe side. We also brought our own towels, sun hats and sand toys.
The Best Beaches in Florida Keys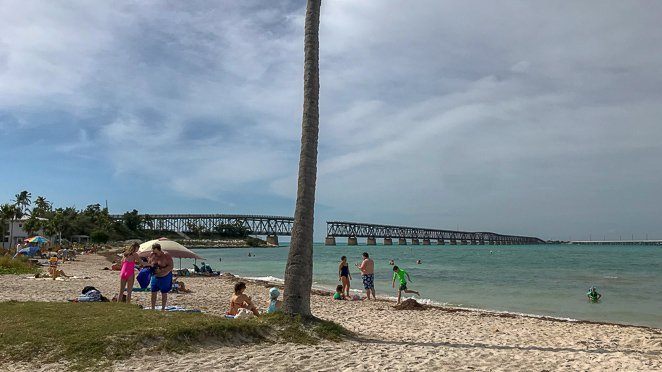 Have you visited some of these beaches? Which public beaches in the Keys did you like best? Or, which ones did you feel were the best beaches in the Florida Keys?
Be sure to plan to visit at least one of these if you're taking a Florida road trip through the Keys, you'll be happy that you did!
Comment below or send us a message on Instagram.
We LOVED our time in the Florida Keys and also created a few other guides that might help you. First is a complete list of ideas of things to do in the Florida Keys with kids. We also listed 35 fun things to do in Key West with kids here.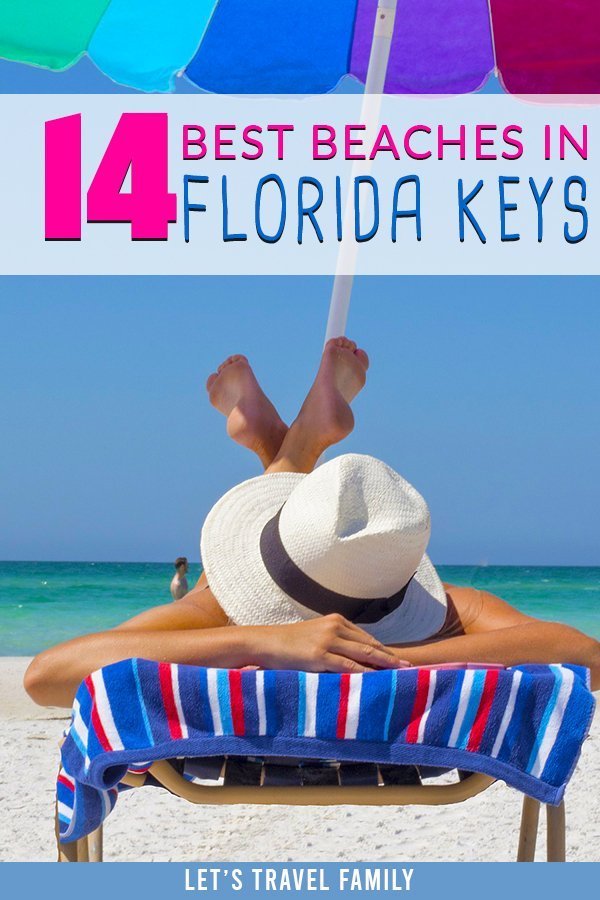 Check them out!