Florida's Gulf Coast is a top vacation destination for many, and an area of Florida that we love to visit often. Recently, we took a trip back to find some fun things to do in Venice Florida with friends of ours who recently moved there.
Keep reading to learn about some great Venice Florida attractions, great places to eat, where to stay in and around Venice, and a list of things to do in Venice Beach Florida.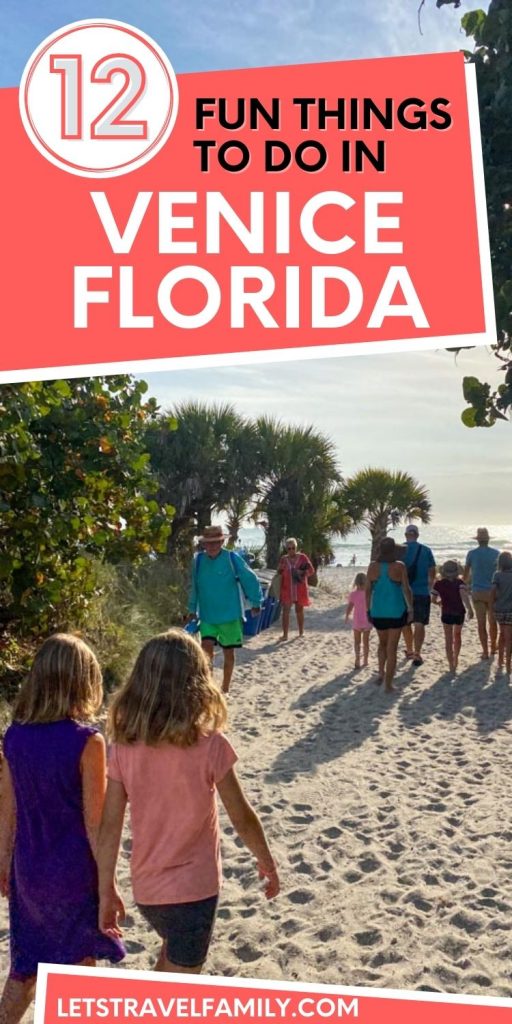 Fun Things To Do In Venice Florida
Feel free to jump around as you find where to stay in Venice FL, things to do nearby, where to eat in Venice Florida, and even where to find shark teeth at the beach.
Visit Historic Downtown Venice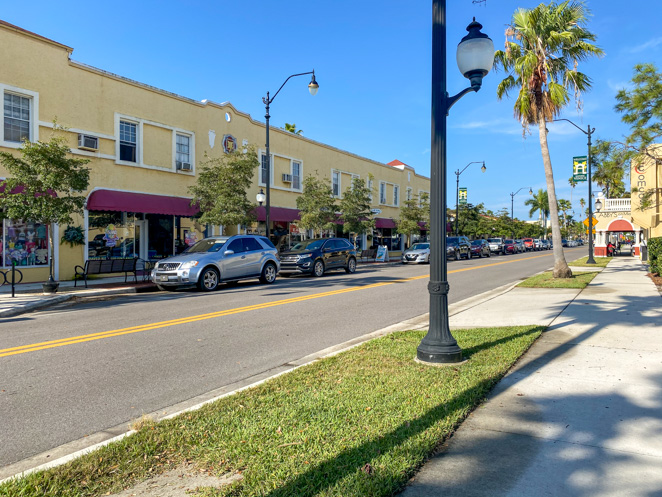 Located less than a mile away from Venice Beach, historic downtown Venice dates back to the 1920s with many beautiful buildings and shops. Walk around, do some shopping, or grab a snack at a local coffee shop.
Centennial Park
In the heart of downtown Venice, you'll find a splash pad for the kids at Centennial Park. With a nice Gazebo and green space, it might be a great place to enjoy a snack or treat while letting the kids cool off in the water.
Enjoy A Day At Venice Beach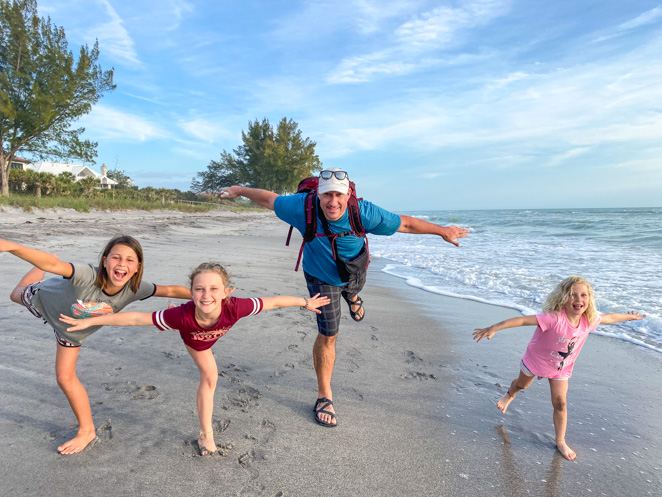 With over 14 miles of white sand along the Gulf Coast, Venice offers some of the most beautiful beaches in Florida. Venice Beach is a popular beach, as it's a short walk from downtown Venice.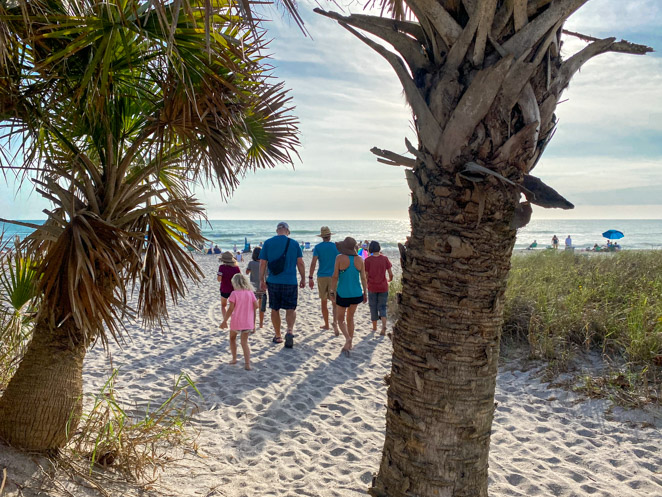 Or, if you're looking for a little lesser-known beach you can drive to, Caspersen Beach was our favorite while we visited Venice and Nokomis area.
Venice Fishing Pier
At 700 feet long with a bait shop at the end, the Venice Fishing Pier is a popular spot in Venice. It's a great place to watch the sunset, look for dolphins, and you can fish without a fishing license from the pier too. Nearby you'll find ample parking, public restrooms, and even a Brohard Paw Park located at Brohard Beach.
Rent Bikes from Venice Bikes and Trikes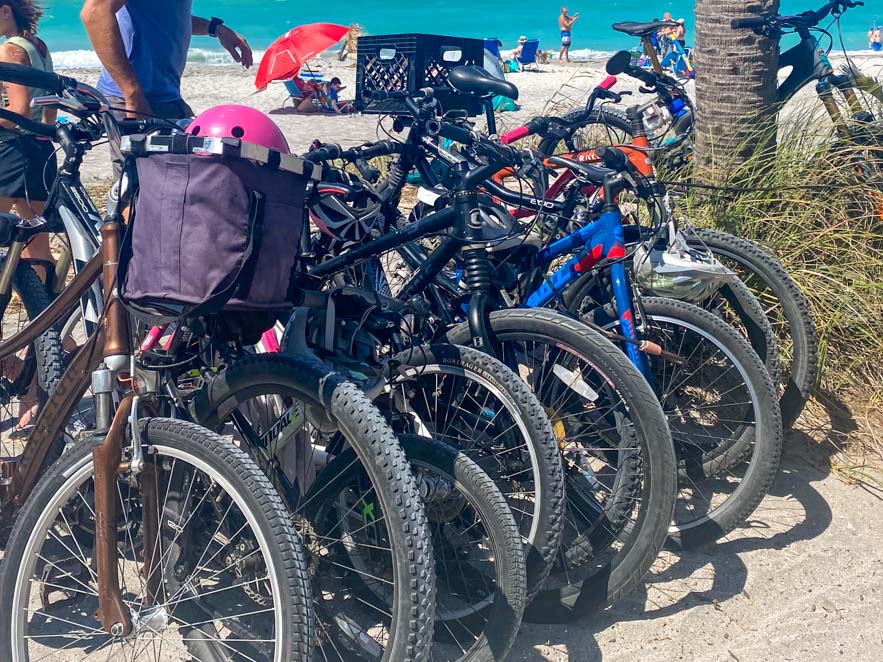 We rented bikes online for our entire family from Venice Bikes and Trikes for two days. It was a very simple process and I'm so happy we did it. As part of the service, they deliver the bikes to your hotel, Airbnb, or any other place you list early in the morning. Along with bike baskets, helmets, and locks, we were set for the weekend. Then, when we were done with them, I texted them and left them locked up outside our friends house and they came to pick them up.
Bike The Legacy Trail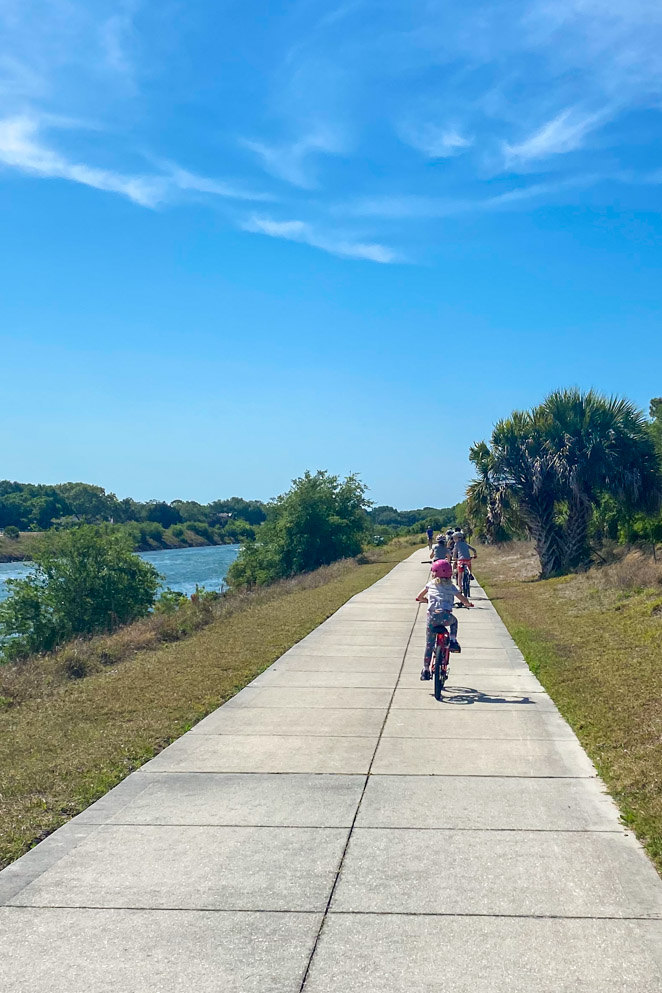 Take a few hours to bike The Legacy Trail, a nicely paved bike trail in Venice with great scenery. It connects to the Venetial Waterway Park Trail offering a continuous 20-mile ride if you'd like to go that far.
Visit Shamrock Park and Nature Center
While you're out biking, you can bike the Venetian Trail down to the Shamrock Park and Nature Center. Located on the coast, this Sarasota County nature center holds some of the most coastal scrub in the area making it home to many Florida Scrub-Jays.
Stop By The Venice Farmers Market
A Farmers market that runs year-round as most do in Florida, the Venice Farmers Market can be a fun place to explore. Every Saturday morning at Venice City Hall in downtown Venice, you can walk among the tables to find some fresh local produce and other unique goods.
Take A Tour in Venice Museum and Archives
For a fun and interesting look into Venice's history, stop by the Venice Museum and Archives. This historic museum showcases items such as old photographs, artifacts, and more from the city's past. Here you can learn all about Venice's history and the stories of the people who lived here.
Things To Do Near Venice Florida
Visit Detwiler's Market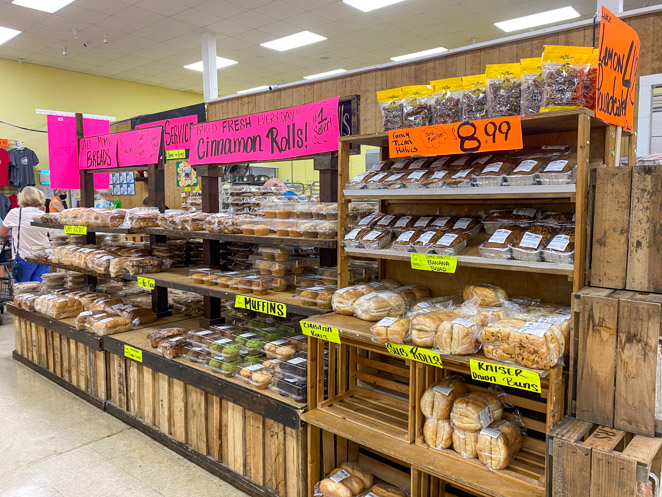 Grab some fresh produce, baked goods, or some delicious ice cream at Detwiler's Market. You can even pick up a cooler and pack up snacks and lunch for a beach day. Detwiler's is a farmers market that started out in Sarasota inside a grocery store. They eventually grew and now have their own business in a few locations in Southern Florida. Providing an abundance of locally grown produce, much of it organic, we were excited to go stock up before hitting up the beach.
Find Shark Teeth At Manasota Beach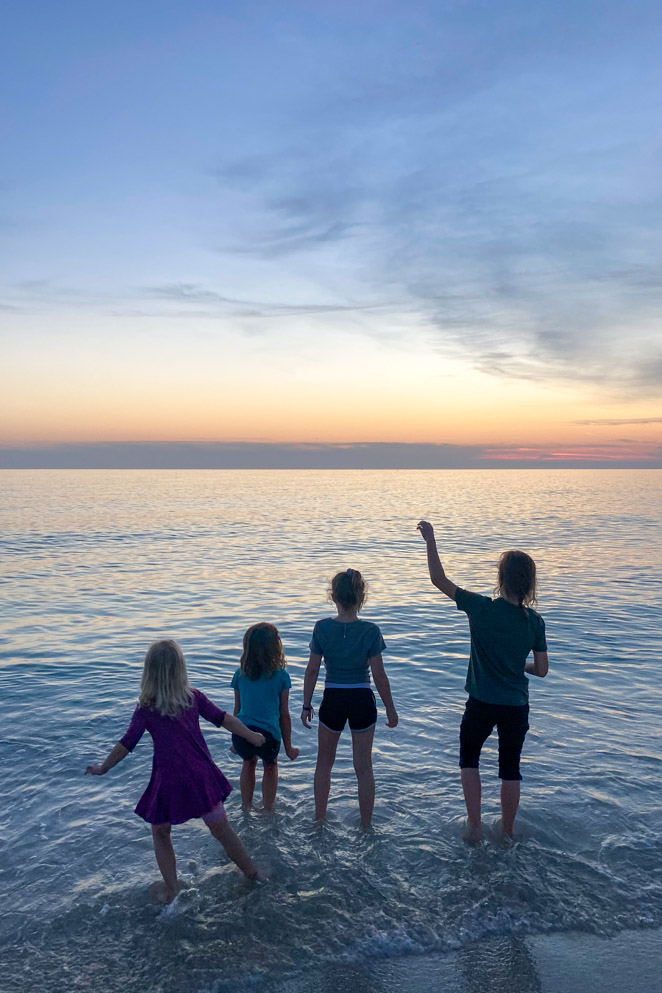 Did you know that the beaches in and near Venice hold an abundance of fossilized shark teeth? Venice is actually referred to as the Shark Tooth Capital of the World. It might even be the best shark tooth beach Florida has.
Our family walked with friends of ours for a few hours and came home with dozens of fossilized shark teeth.
Attend A Drum Circle On Nokomis Beach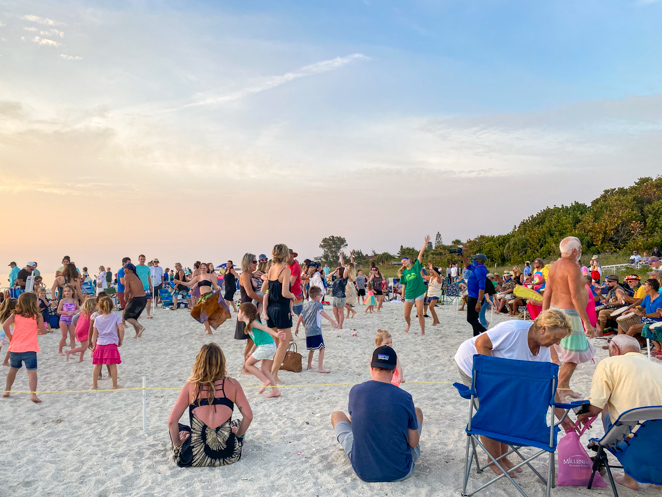 The Nokomis drum circle is a popular gathering every Wednesday and Saturday evening on the beach. People both young and old arrive with blankets, lawn chairs, snacks, and even a bottle of wine to listen to the local drummers as the sun begins to set.
Be ready to witness some festive dancing with ribbons, hoops, and all sorts of creative props inside the circle that's made in the sand each time.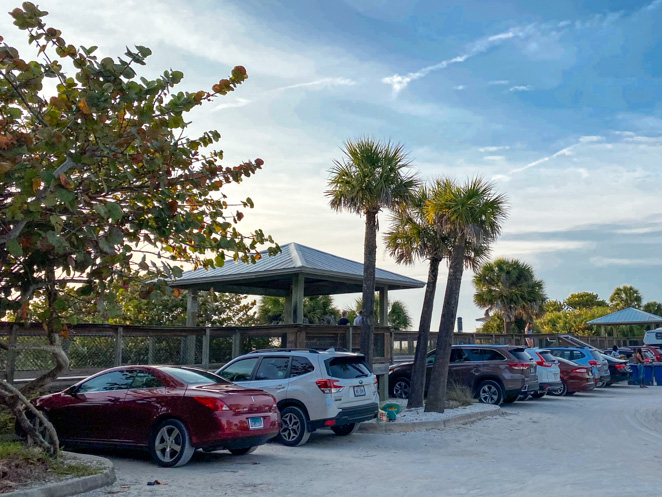 There's a lot of free parking, public restrooms, and places to rinse the sand off as you leave Nokomis beach.
We've attended the drum circle several times and always have so much fun. The community is so kind and the atmosphere is festive and family-friendly. Click here to learn more.
Visit A Florida State Park
Get out into nature and visit a Florida State Park during your visit to Venice FL. Oscar Scherer State Park is just a few miles north of downtown Venice on the Legacy Trail, making it a popular visit for travelers. You might be surprised to see bald eagles or osprey around the freshwater lake inside the park, or alligators among the mangrove trees if you decide to kayak along South Creek in the park.
Myakka River State Park hosts over 50 miles of the Myakka River flowing through palm trees and Spanish moss-covered oaks. As one of the oldest Florida State Parks, when we visited Myakka River State Park it felt as if we drove into a jungle.
You might also consider taking a day trip north towards Bradenton Florida, and finding yourself at Fort Desoto County Park, a favorite of ours.
Where To Stay In Venice Florida
During our most recent visit to Venice Florida, our family of 6 was able to stay in an affordable family suite at the Hampton Inn in Venice. Our kids enjoyed the free continental breakfast and outdoor pool and hot tub, while Tony and I appreciated the kitchen and living room being separate from the bedroom to help us all have a bit of space to stretch out.
Click here to find rates at the Hampton Inn Suites Bayside Sarasota hotel.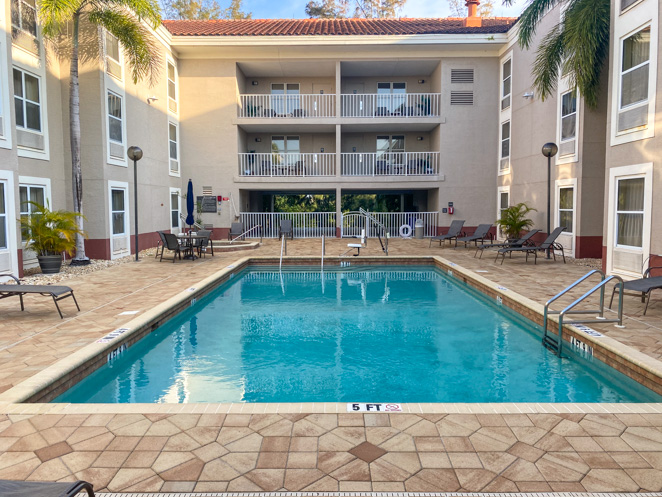 Camping In Venice Florida
If you're RVing full-time or want to do some camping on your Venice trip, then you have several options.
Both tent camping and RV camping are available at the nearby Florida State Parks. Oscar Scherer and Myakka River State Park are popular camping destinations, so be sure to book months in advance. Also, if you need internet in your RV so that you can work on the road, then don't plan to camp at Myakka River as there is no cell signal in the park.
There are also two very nice RV resorts nearby. Rambler's Rest and Royal Coachmen RV Park are close by and have full RV hookups.
Where To Eat In Venice Florida
Other than shopping local and packing meals for the beach, you may still want to enjoy a few great places to eat during your vacation to the west coast of Florida.
Sharky's On The Pier is a popular seafood restaurant that is right on the beach near the Venice Fishing Pier. Yet, our friends who live in Venice like Captain Eddy's Seafood a bit better.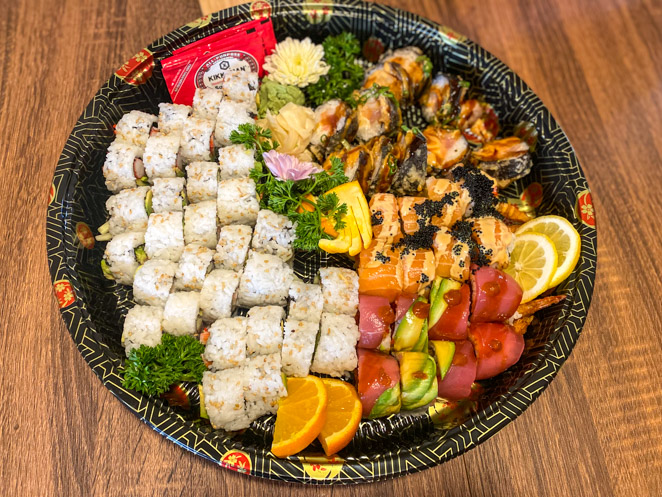 Star Thai Sushi was a hit for our family. We did order it for takeout, so I don't have anything to say about the atmosphere but the service was incredible as they made special sushi rolls for Tony and our friend Nathan when they picked up our large order, as a sweet thank you.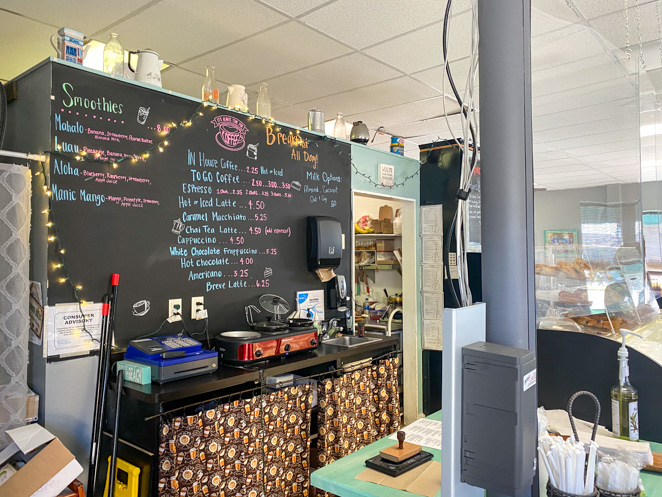 Venice Island Coffee has great coffee and is located in downtown Venice. This would be the perfect place to pick up a yummy baked item and walk over to Centennial Park in downtown Venice.
Detweiler's Market isn't just great for its produce, but it's a famous place to grab a yummy ice cream. Or, you can try out Scoops Ice Cream that's also another popular option.
Other Florida Destinations
If you're still searching for place options, the Bird Bay Plaza, Clyde Butcher Venice Gallery, and the Venice Area Audubon Rookery are all great spots to check out.
Once you finish exploring Venice Florida, consider taking a South Florida road trip and discover unique things to do in Everglades National Park.