Encompassing a whopping 1.5 million acres of wilderness, Everglades National Park is one of the biggest and richest national parks in the United States.
This vast national park is located in Florida and is home to plenty of different ecosystems, all of which boasts an exciting array of wildlife. Alligators, manatees, dolphins, pelicans, flamingos, and turtles are just a few of the reasons this park is much beloved by animal lovers.
Planning to add The Everglades to your next Florida Vacation? Then keep on reading.
In this post, you'll find everything you need to know about visiting Everglade National Park, including some of the best things to do, when to visit, and more.
THIS ARTICLE MAY CONTAIN COMPENSATED LINKS. PLEASE READ OUR DISCLAIMER FOR MORE INFO.
The Ultimate Guide to Everglades National Park
When to visit Everglade National Park?
The Everglades see two seasons: Wet (April through October) and dry (November through March). The dry season is a bit cooler and considered the best time to visit for pleasant weather, hiking opportunities, and accessible trails and roads.
Where Is Everglades National Park?
Everglades National Park is located in South Florida covers over 1 million acres and is located in three different counties. Miami Dade County, Monroe County, and Collier County.
Where To Stay In Everglades National Park?
If you're looking to stay near Everglades National Park is in Everglades City, FL west of Everglades National Park. If you want to stay east of Everglades NP then check out these places in Homestead, FL.
Everglades National Park Entrances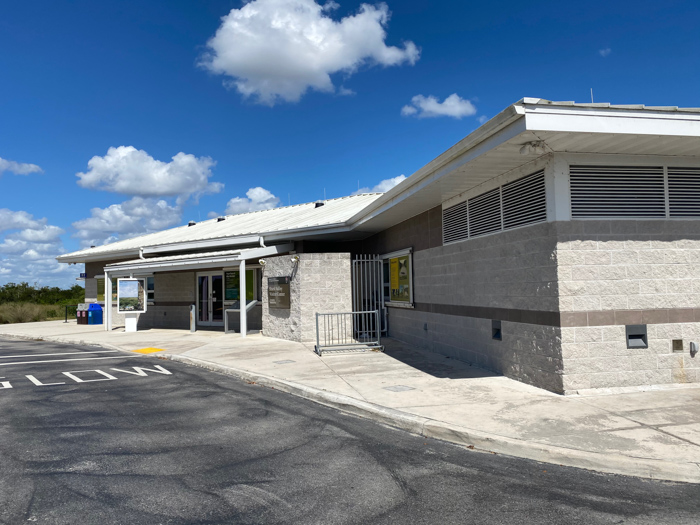 The park has 3 main entrances and 4 different visitor centers, all of which are vastly different and offer unique activities and sights.
If you have a National Park Pass, then you can enter the park for free. Otherwise, the entry fee to Everglades is $30 and is good for 7 days, so you could technically visit all sides of the park using a single ticket. Or, if you have a child in 4th grade your family can get a free 4th grade annual pass for US National Parks.
Gulf Coast Visitor Center – Located in Everglades City. This is the access point to Ten Thousand Islands, where visitors can grab a canoe or boat and make their way through a network of mangrove islands. Manatees, birds, and dolphins are all present on this side.
Shark Valley Visitor Center – Located about 40 miles away from Miami, this is a freshwater prairie that is the park's most popular entry point. Alligators are easy to see here.
Ernest F. Coe Visitor Center – Set about 50 miles from Miami and offers plenty of walking trails as well as wildlife spotting opportunities.
Flamingo Visitor Center – This part of the park is found at Florida Bay and provides excellent chances to spot animals such as manatees, dolphins, and flaming
Things to Do in Everglades National Park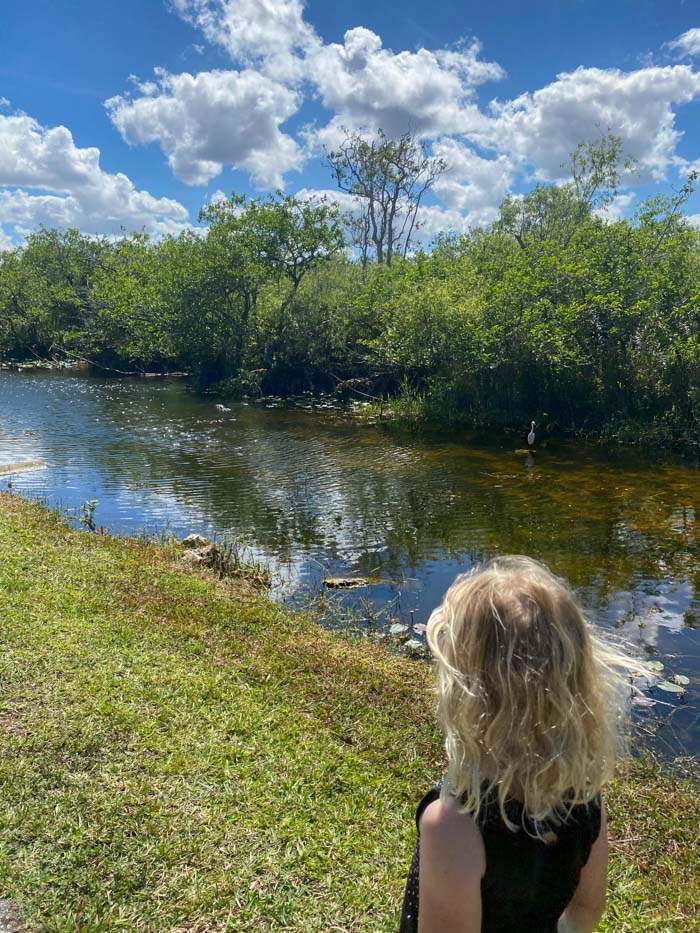 Go Hiking In The Everglades
Even though most of the Everglades is set underwater, there are plenty of gorgeous hiking trails available for those who want to explore the park on foot in order to get close and personal with it and its wildlife.
If you plan to do any hiking, even a short ½ mile hike, then be prepared for the Florida elements. You'll want to wear some sort of bug repellant, sunscreen, a hat, and lightweight clothing to protect yourself against the sun and mosquitos. You want to make sure that you have all that you need in your hiking pack.
Anhinga Trail: An easy 0.8-mile loop found at Ernest F. Coe Visitor Center. This is an extremely popular trail because it provides plenty of chances to see animals – alligators and many tropical birds included!
Gumbo Limbo Trail: A shaded 0.4-mile trail accessible from the Ernest F. Coe Visitor Center. The path is paved and goes through a hammock of gumbo limbo trails, ferns, and air plants.
Bobcat Boardwalk – This trail starts at the Shark Valley Visitor Center and meanders through a sawgrass slough over a raised boardwalk.
West Lake Trail – A 0.5-mile path over a boardwalk that crosses a mangrove swamp. This trail starts at the Flamingo Visitor Center.
Snake Bight Trail – Accessible from the Flamingo Visitor Center, this trail is 1.6 miles and is a little tougher than the ones mentioned previously, but it provides wonderful chances to spot wildlife at its best.
Park Loop Trail – Perfect for hikers looking for a more challenging course or cyclists, this trail provides a 15-mile loop from the Shark Valley from where you're guaranteed to spot an abundance of animals.
The Coastal Prairie Trail – An easy but long trail perfect for those who want to get very close and personal with the Everglades. This path is accessible from the Flamingo Visitor Center and goes on for 17 miles through various terrains and ecosystems.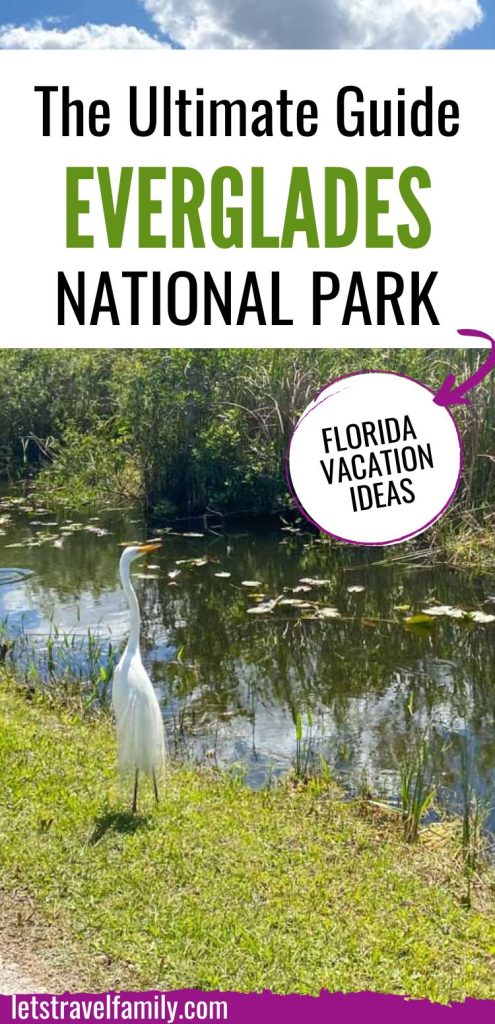 Go on a paddling or kayaking adventure
Paddleboarding and kayaking in the Everglades are wonderful ways to get super close and personal with the park. Most people choose to take a day trip out to Nine Mile Point, a route that lasts 5.2 miles and will take you through mangrove islands and grass marsh, in order to see plenty of wildlife and unbeatable sights.
If you plan to take a Florida Keys road trip following your visit to Everglades National Park, then be sure to visit John Pennekamp State Park for another great kayaking opportunity. Our family loved our experience paddle boarding among the mangrove trees at John Pennekamp.
Take an airboat tour
If you're short on time or want to see as much of the Everglades as possible, an airboat tour is a fantastic option.
In order to make sure your airboat tour is ethical and doesn't disrupt the park's ecosystems, make sure you go for one that is authorized by the National Park Service.
See the alligators at Shark Valley
Alligators are definitely the stars of the show at Everglades National Park, and Shark Valley is definitely the place where it's easiest to spot them.
Here, you can take a short walk down the fully 15-mile loop that goes through the area in order to spot gators as well as a plethora of other animals. You don't have to go far in order to spot some! The path is paved and you can choose to walk, bike, or take a guided tram tour if comfort is a priority.
Moreover, there's also an observation tower that provides glorious 360-degree views of the park!
Do some serious birdwatching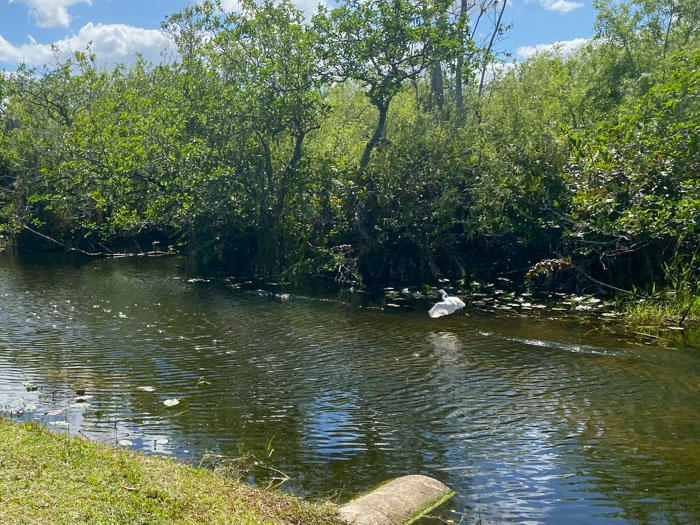 Home to over 300 bird species, birdwatching in the Everglades is an experience like no other.
Granted, you'll be able to spot tons of birds no matter where you are in the Everglades, but if you want to head to the hot spots, there are a few places they love hanging out in including Eco Pond, Nine Mile Pond, Mrazek Point, and Paurotis Point.
Get personal with the park by joining a ranger
For those interested in diving deeper into the Everglades and learning all about its flora and fauna, there are plenty of ranger-led programs where you'll get to explore the park alongside a ranger who can tell you all you need to know.
You'll find ranger-led programs in every Park Ranger Center in the National Park. Reservations are needed and most programs are only offered during the dry season. For more information as well as the park's program calendar, head over to their official website.
Other Fun Florida Destinations
While planning your trip to Everglades National Park, you may want to include a few other great Florida Destinations. Consider flying into Tampa and renting a car to create a full Southern Florida road trip. Drive down the west coast of Florida and consider supporting the area after Hurricane Ian by visiting the businesses in Venice Florida, Fort Myers Florida, and Naples Florida.
Then head east to visit The Everglades before heading south again on a trip to Key West. When you're finished enjoying the slow-paced life hanging out on the best Florida Keys Beaches, then drive north to Miami and Fort Lauderdale.
South Florida has so much to offer, so enjoy not only The Everglades National Park but the entire region.