If you are looking for fun things to do on a family vacation, then check out our family's list of 15 things to do on the West Coast of Florida with kids.
Our full-time traveling family spent 4 months visiting the Florida west coast one winter and then 5 months the following winter. Since we live in a motorhome full-time, we try our best to find warm climates to spend the winter, and Florida was right there at the top of our list.
We basically took several Florida road trips across two winters and are excited to share our favorite spots on the west coast of Florida with you.
As an RV living and traveling family, we are often asked where our favorite place to visit has been.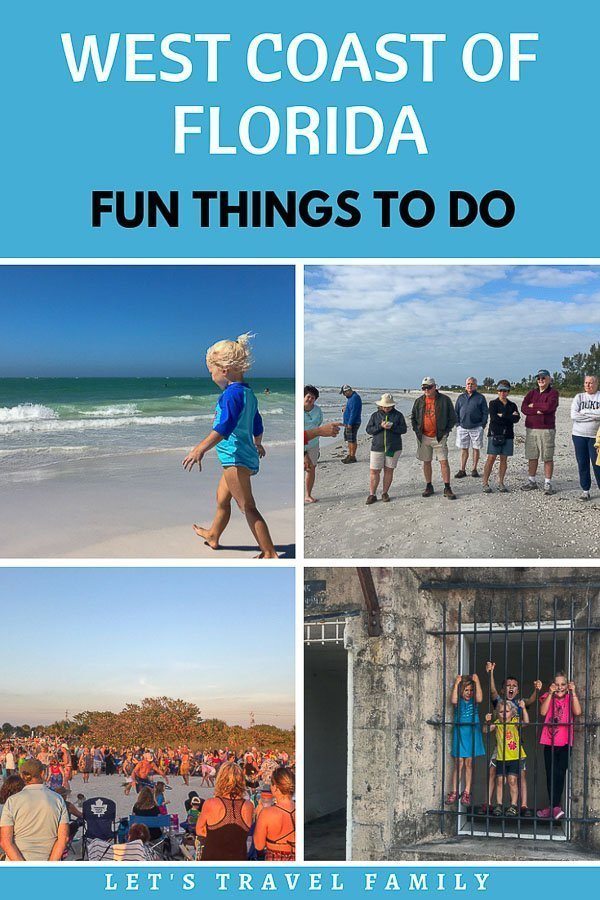 Our kids almost always say, 'Florida!'.
Tony and I will more specifically say Nakomis Beach, Sarasota Beach, Naples Florida, Siesta Key, Captiva Island, Clearwater Beach, or the beaches in the Florida Keys. You see, we just can't decide. The Gulf coast of Southwest Florida has soft-sand beaches, many family fun things to do, a calmer ocean experience, and often great weather.
One region of Florida that we truly do love is the west coast of Florida.
THIS ARTICLE MAY CONTAIN COMPENSATED LINKS. PLEASE READ OUR DISCLAIMER FOR MORE INFO. THIS POST WAS WRITTEN BY JILL GREISING-MURSCHEL, A FAMILY TRAVEL AND RV LIVING EXPERT.
Where To Stay On The Florida West Coast
When looking for where to stay on the west coast of Florida, I recommend searching for the best hotels on the gulf coast here. We've had great success during our travels using Expedia, but also love renting vacation homes whenever we get a chance. Check out the high-quality options you have in Sarasota on VRBO here.
15 Things To Do On The West Coast Of Florida
As a family who loves Florida, we are hoping to get back soon. Our friends highly recommend visiting Destin Florida with kids, so that's going be at the top of our list for next time.
Just be sure to use our family beach vacation packing list to help you prepare.
Now, if you're looking to get away from the cold fall or winter, then read our top 15 unique things to do on west coast of Florida.
1. Visit Sarasota's powdered sand beach.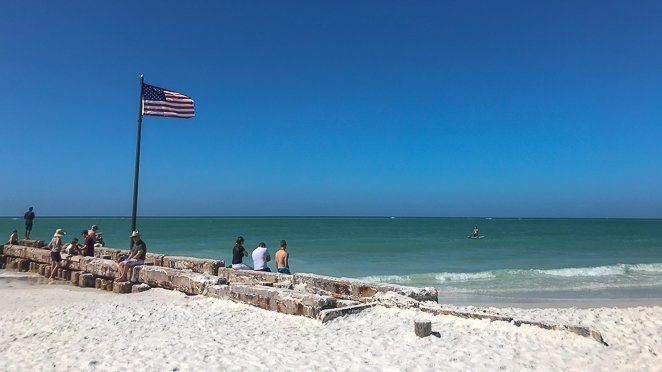 The beaches in and around Sarasota have the whitest and softest sand in Florida. Siesta Beach located on Beach Road on Siesta Key has been named the #1 beach in the USA by many people.
With dreamy bright white sand, turquoise water, and great amenities, it's not surprising so many people love it. Take a day and enjoy the powdered sandy beach and see it for yourself.
2. Check out the Naples Farmer's Market.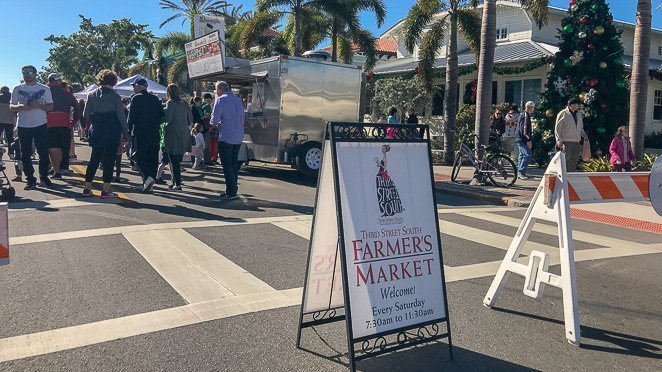 Finding fresh produce in the middle of winter was a novelty for us last year when we visited Naples. The Third Street Farmer's Market was such a fun place to spend a Saturday morning and we honestly love visiting Farmer's Markets when we travel.
3. Go on a dolphin cruise in Fort Myer's Beach.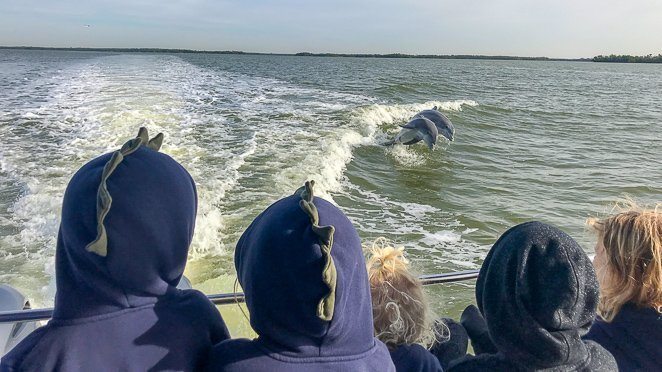 Take the family out on a dolphin cruise. Witnessing dolphins jumping behind your boat tour can excite anyone!
4. Visit The Naples Children's Museum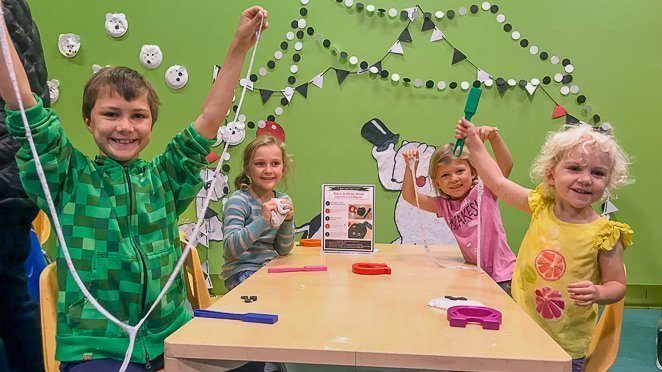 If there's a rainy day, be sure to check out the Naple's Children's Museum. Our kids loved being able to create crafts, climb their indoor ant hill, and play outside in their large play area.
5. Attend A Drum Circle On Nakomis Beach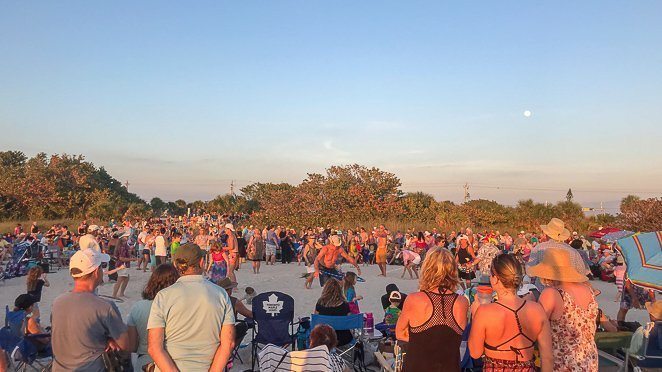 One of the things to do along the Gulf coast of Florida is to find a drum circle!
Almost every Wednesday and Saturday evening about 1 hour before sunset, there is a very well attended drum circle right on Nakomis Beach just outside of Venice Florida.
Bring your beach chairs or blankets, and watch the sunset with the friendly crowd while listening to the locals pound on their drums.
If you arrive early enough to let the kids play in the water, you could also bring water shoes for your kids and some sand toys as well.
6. Attend a ranger-led hike in Oscar Scherer State Park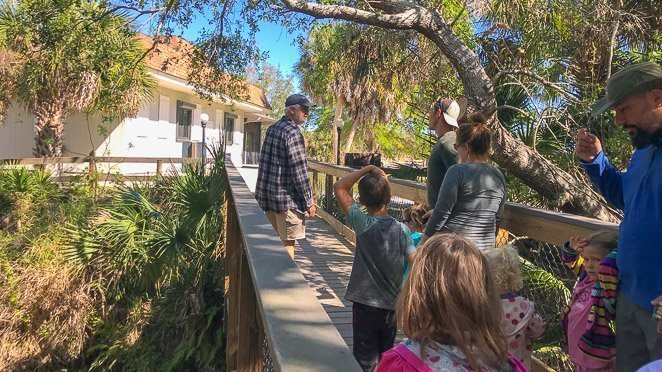 If you have plans to be near Venice or Nokomis, Florida, then I recommend a visit to Oscar Scherer State Park. You'll feel like you've driven into a tropical forest just a few miles from the beaches.
Saturday mornings throughout most of the winter and spring, the rangers coordinate a ranger-led hikes and programs in Oscar Scherer State Park that are great for families.
7. Visit Fort De Soto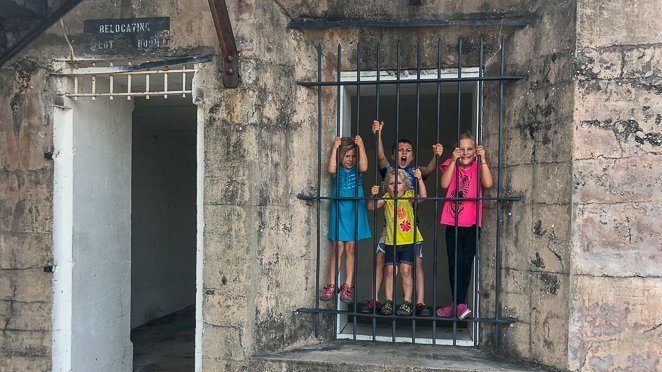 Take some time to hike around Fort De Soto, just south of Tampa on the Gulf Coast.
If you aren't much into hiking but more into camping, then you have to check out how many of their campsites back up to the ocean! Just be sure to make your campsite reservations 4-6 months in advance, as they are very popular campsites.
Fort de Soto is a county park made up of many Key islands just south of St. Petersburg, Florida. It's well worth a visit.
8. Catch some waves at Fort Myers Beach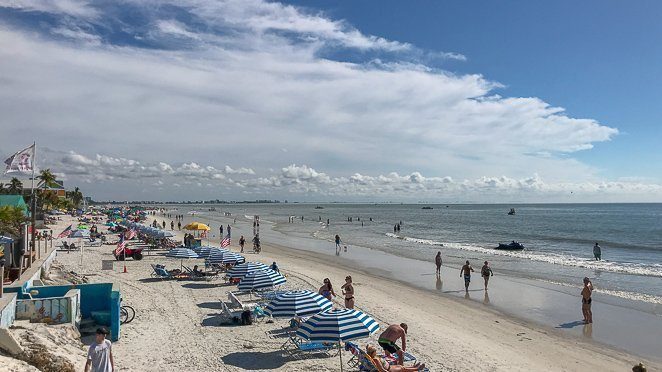 If you're looking for things to do in Southwest Florida, then you have to plan to visit Fort Myers Beach. It's the place to be over the winter months and Spring Break time of year.
If you want to avoid crowds, then arrive early in the day and try to visit during the week. Otherwise, you'll find it a very lively place to visit.
Our family enjoyed taking the bus in order to avoid parking and hitting up the beach before noon.
9. Visit the Tampa Children's Museum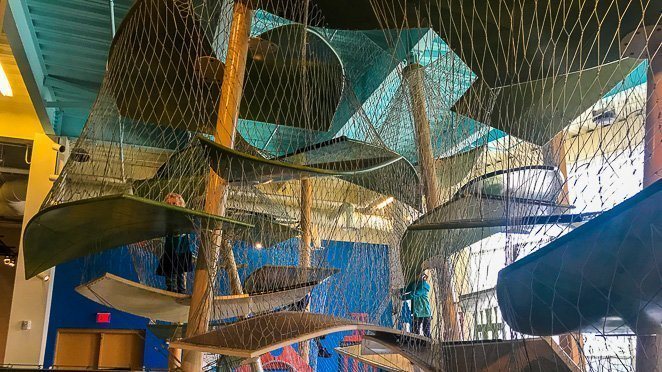 One of the best things to do in Tampa with kids is taking them to the Tampa Children's Museum to burn off some energy. You could spend all day there, I know that we did.
Tony ended up coming along with us and worked online using his laptop in the cafe area while the kids had a blast climbing around.
While you're in Tampa, might as well enjoy Tampa Bay a fishing trip along Florida's gulf coast.
10. Go on a shell hike with Sanibel Sea School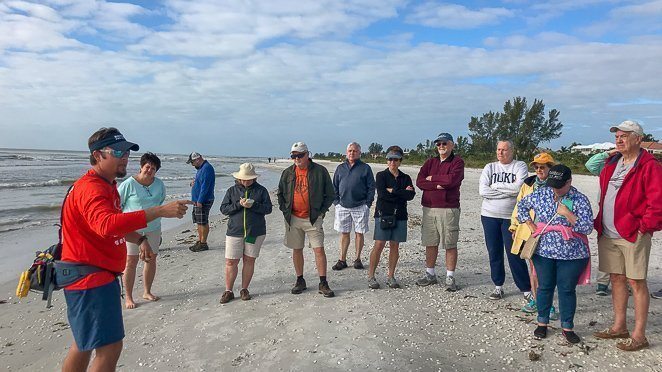 Take a hike with Sanibel Sea School on Sanibel Island and see the abundance of shells on this beautiful Gulf Coast island!
We enjoyed a 1 hour hike with a great Naturalist along with friends of ours when we visited Sanibel Island. It was so nice to have someone that knew the answers to all our questions about all the things we saw on the beach!
Sanibel Island is one of Florida's West Coast attractions that should make everyone's list of places to visit.
11. Visit Marco Island – just outside of Naples, FL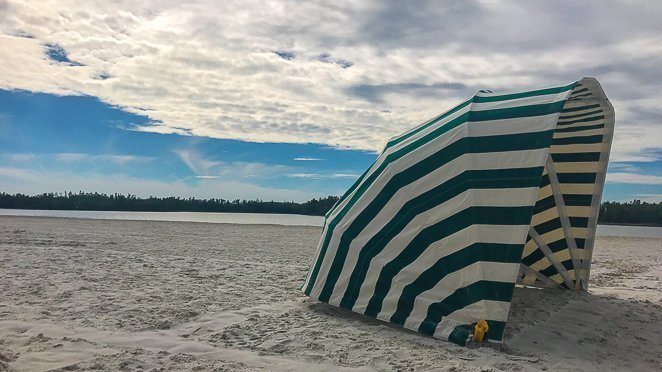 One of the fun things to do in Naples is to take a day trip to Tigertail Beach on Marco Island for some calm water experiences and play.
We found a great playground, paddle board rentals, and calm water to play on here during our visit.
12. Take a day to visit the Naples Zoo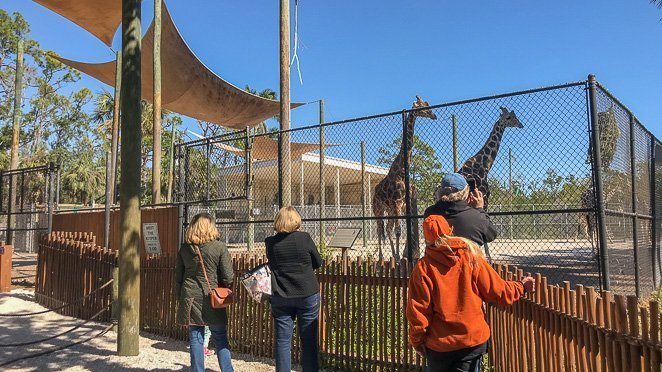 Although on the smaller side, the Naples Zoo has many fun exhibits to check out including giraffes, alligators, and penguins.
We loved seeing the zookeepers feed the giraffes and hearing how they handle hurricanes at the zoo.
13. See the Manatees during the winter months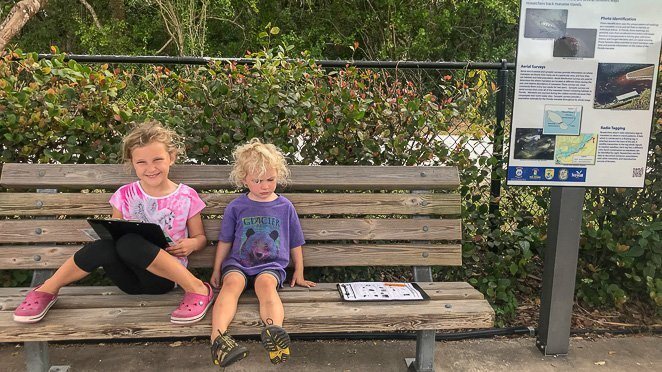 The manatees come into the inter-coastal water areas during the cold winter months, allowing for some great sightings of these large and gentle creatures.
We took a day trip in February to Blue Springs State Park so that we could walk along the boardwalks to see the Manatees near the FL west coast. You see, in the winter months the manatees will come to the springs that remain 70 degrees year round, to stay warm as the ocean gets a bit too cool for them.
This is a great time to be able to see them up close, without having to get on a boat or swim in order to catch sight of the gentle creatures.
14. Camp or hike at Collier Seminole State Park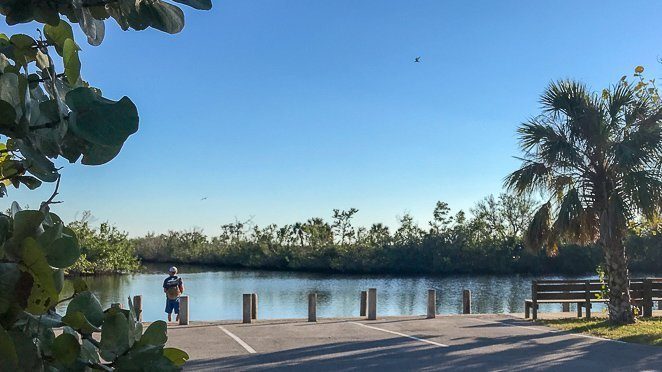 Collier Seminole State Park is just outside of the Everglades and worth a visit.
If you aren't a camping kind of family, you can still enjoy a day trip here to hike around the canals that are bordering the Everglades and try to catch a glimpse of an Alligator.
15. Visit Legoland Florida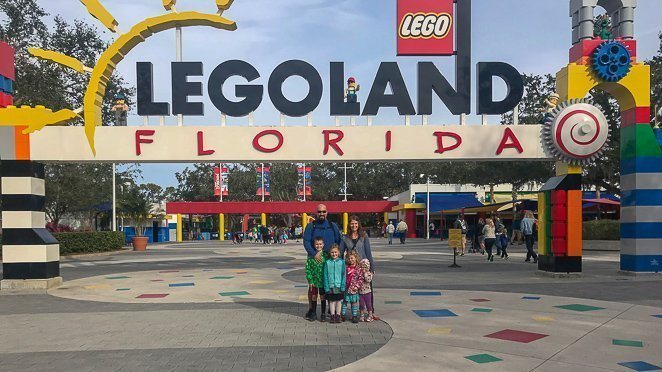 Take a day and go inland a bit to take the kids on some rides at Legoland. This is one of the many theme parks in Florida, but tends to be less busy than the Orlando parks.
Be sure to catch the water-ski show, they are so talented and the kids will love having a break in the shade to eat a snack.
Or, if your willing to drive into Orlando during your visit to the West Coast of Florida then think about visiting Disney's Magic Kingdom!
There are many other things to do in Orlando during a day trip if your family isn't into theme parks.
Have you ever visited the West Coast of Florida with kids? If so, where was your favorite place to take the kids?
I hope that whether you are taking a family road trip down the Gulf Coast, or a family vacation to Florida, we gave you a few new ideas.
Planning to see more of Florida? Then check out some of these related posts:
Things to do in the Florida Keys with kids.The best rides at Magic Kingdom.Find great things to do at Disney Springs here.
Or, check out our Florida Destinations page to get more ideas.