Do you plan to visit Nashville soon? We were looking for the best things to do in Nashville with kids and had a hard time deciding.
There was just so much to do and see! One may think that Nashville, named the Music City, is a city for only adults to visit, not a family.
Well, after our family spent 4 weeks finding fun things to do in Nashville, TN with kids we compiled an ultimate list of kid friendly things to do in Nashville, TN.
Things To Do In Nashville With Kids
From Nashville attractions to great restaurants, we have you covered! Keep reading to learn about the top things to do in Nashville with your family.
THIS ARTICLE MAY CONTAIN COMPENSATED LINKS. PLEASE READ OUR DISCLAIMER FOR MORE INFO. THIS POST WAS WRITTEN BY JILL GREISING-MURSCHEL, A FAMILY TRAVEL AND RV LIVING EXPERT.
Nashville Zoo
Top on my list of fun things for kids to do in Nashville is the Nashville Zoo.
I loved that there were a huge variety of animals that we often do not see at other zoos. From a kangaroo exhibit that you can walk through to the noise and sight of gibbons swinging through trees as you walk into the zoo, you will not leave unimpressed.
The bamboo forest was fun to walk through from one exhibit to another.
My kids LOVED the Jungle Gym (playground) and I highly recommend saving this one for last. Or, you may not get them to want to leave the playground to visit the animals that YOU want to see.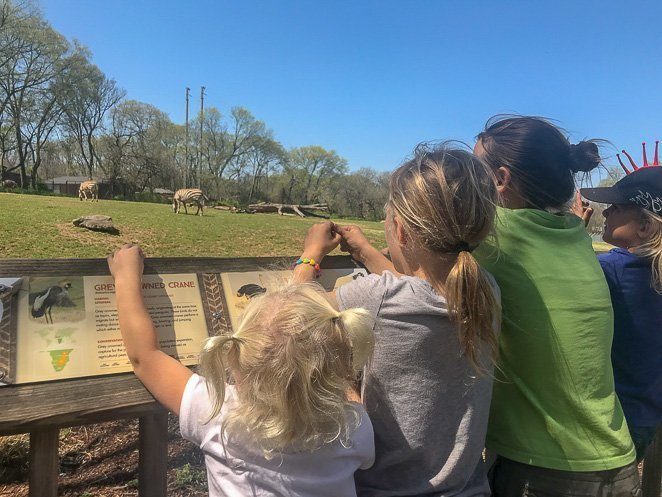 Pro Tip: Have everyone wear walking shoes, bring a stroller or converted bike trailer if you have children that do not like to walk much, bring water bottles and snacks, and plan for a full day at the Zoo.
The Nashville Zoo is open from 9:00-4:00 during Winter months and 9:00-6:00 during the peak season of March-October. Ticket prices vary from $12-18 per person above the age of 2. Children 2 and under are FREE! See the Nashville Zoo's website for more details on current ticket prices and fees.
If you have a membership to a zoo or aquarium that belongs to the AZA reciprocity program, then you may receive 50% off tickets to the Nashville Zoo for your entire family. ​
Adventure Science Center
A great indoor place to visit in Nashville to stop by is the Adventure Science Center.
When I say 'stop by', what I really mean is to plan an entire day to spend inside the air-conditioned and super fun museum.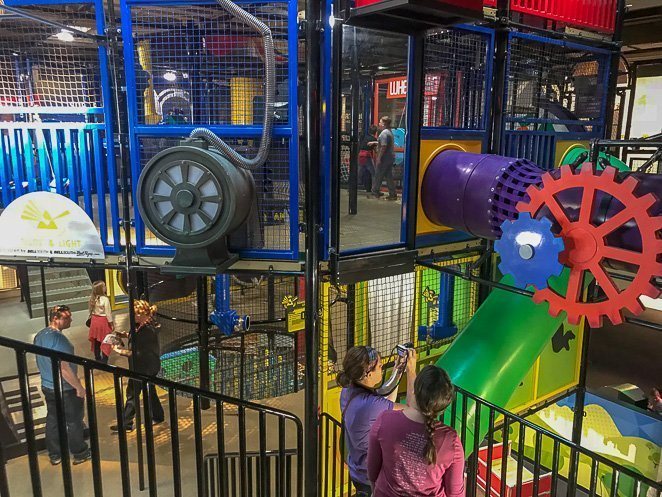 Our family met up with another family from Fulltime Families at the Adventure Science Center, and spent over 6 hours there!
From a fun climbing structure that goes up the center of the Science Center to the interactive exhibits, our kids ranging in ages 3 to 12 were more than happy to spend all day here.
Pro Tip: Bring a bagged lunch or plan to purchase lunch from Subway inside the Science Center.
If you are a member of the ASTC passport program, by having a membership card to a participating Science Museum, entrance for the entire family is free. Parking is free for everyone and located in front of the Museum. The museum is located just outside of downtown Nashville, so it's easy to get to. Ticket prices range from $12-$16 per person over the age of 2. Children under 2 are FREE!
Frist Art Museum
If you are looking for another great family friendly attractions in downtown Nashville, then be sure to check out the Frist Art Museum. With the purchase of adult admission, all children are admitted FREE!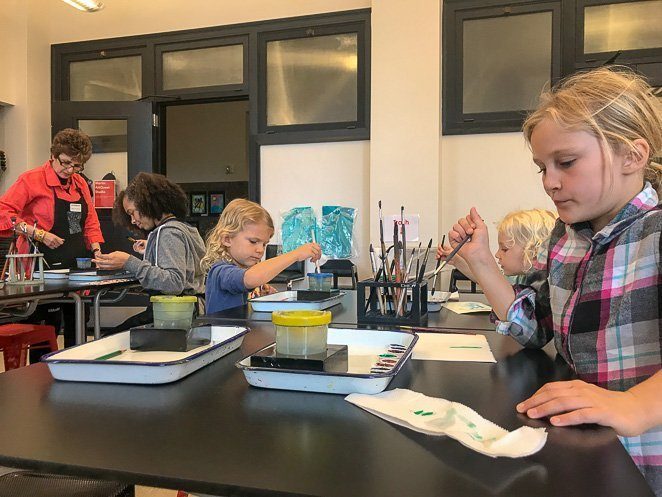 The best part about taking your kids to the Frist Art Museum in Nashville, is the interactive art room.
During our visit, the kids spent over 2 hours in the art room painting with watercolors, making stamps, and drawing.
​The studio employees were very helpful and kind, and there was a kid's play area just outside the room with books and Magnatiles to play with. This is where my son, who is not a huge art fan, enjoyed his time.
The Frist Art Center is open 10-5:30 most days, with limited hours on Sundays. The price for adult admission is $12 and $9 for college students and seniors 65 and up. Children are FREE! ​
​Country Music Hall of Fame and Museum
When you ask anyone who has visited the Music City, what are one of the top things to do in Nashville? They will most likely tell you to enjoy the music scene.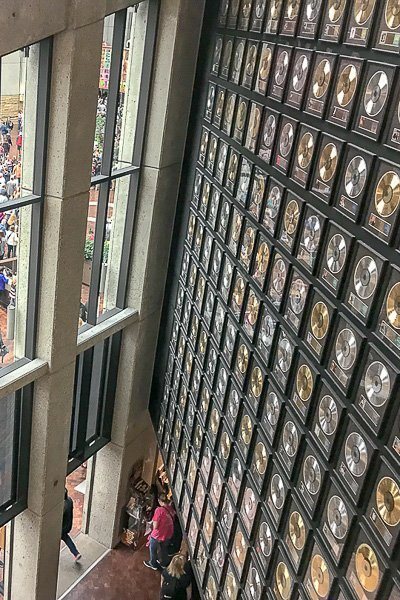 Yet, with kids you may wonder what you can enjoy together?
The Country Music Hall of Fame and Museum is a fantastic place to visit and learn all about the history of country music together. It is one of Nashville's Downtown attractions, so easy to find and enjoyable for the entire family.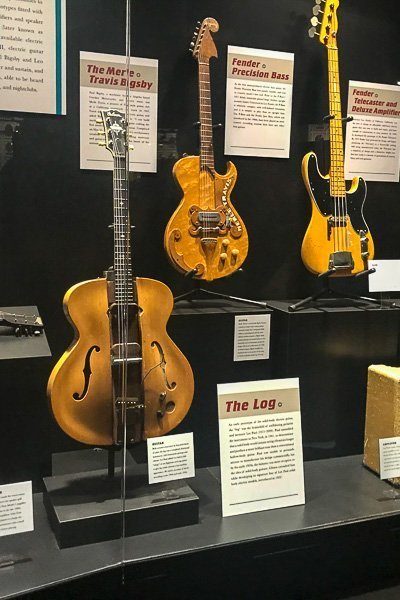 Read a more in-depth account of our family's experience here.
Admission tickets for general admission range from $16-$26 per person. Children ages 5 and under are FREE! Click here to learn more. Discounts are offered for the Military, students, and seniors.
The Nashville Children's Theatre
Our family spent a Saturday afternoon at the Nashville Children's Theatre, and we loved it!
Not only did the kids sit quietly and stay interested in the entire play, but Tony and I were VERY impressed with the amount of talent on stage! Read more about our experience here.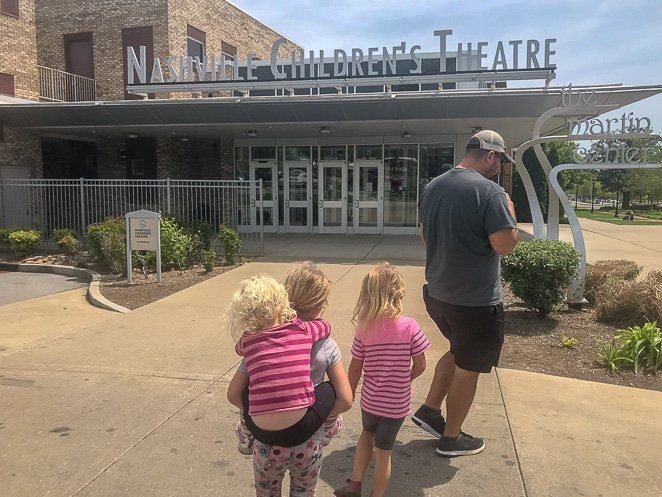 The Nashville Ballet partners with the Nashville Children's Theatre to put on fantastic performances that quiet often sell out. So, if you are looking for things for kids to do in Nashville, then look no further than the Nashville Children's Theatre.
Parking is FREE and easy to find. Tickets for admission to the Nashville Children's Theatre range from $16 – $21 for children and adults. Discounts available for Military, Educators, and Seniors. Learn more here. Shows often sell out, so be sure to purchase your tickets ahead of time.
Centennial Park Nashville
Sometimes when visiting a city, I look for an area with a lot of green space and possibly a playground nearby to have a picnic and let the kids run around. Centennial Park was just the place in Nashville, TN.
There is a great playground, a huge grassy area, and a beautiful view of the Parthenon. My only tip would be to visit during the day, and know that there are some homeless people that do frequent the park.
The Parthenon Nashville
The Parthenon is one of the top places to see in Nashville during a visit. It is a complete replica of the original Parthenon in ancient Greece. Even if you do not plan to go inside, you can visit Centennial Park and grab a few great photos of the magnificent building.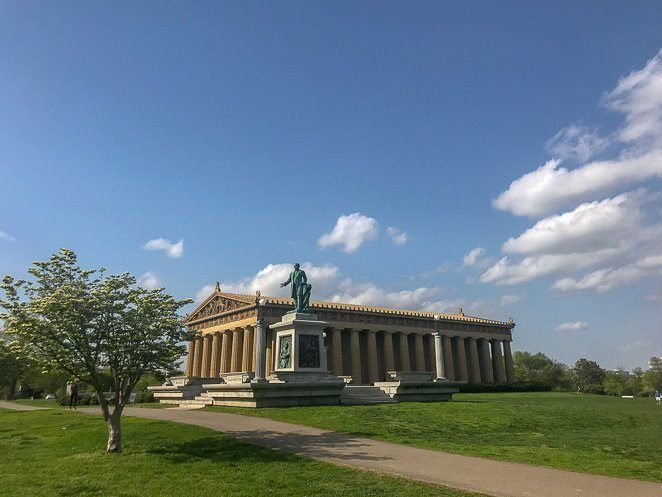 If you are able to go inside, you will see the 42-foot statue of Athena that was built in 1990 along with many other pieces of art. The Parthenon also functions as one of Nashville's Art Museums, holding many paintings.
Tickets for entrance to the Parthenon range from $4 to $6. Children 3 and under are FREE!
Grand Ole Opry
One of the top things to do in Nashville is attending a show at the Grand Ole Opry House. Whether you plan to attend a show at the end of your trip, or the beginning, it's one of those things you do not want to miss.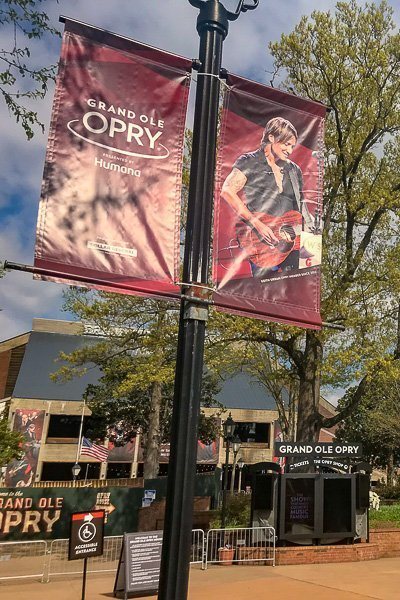 Kids are welcome, yet be aware that the shows are often in the evenings. So if you have a little one who is used to an early bedtime, she just may fall asleep during the show.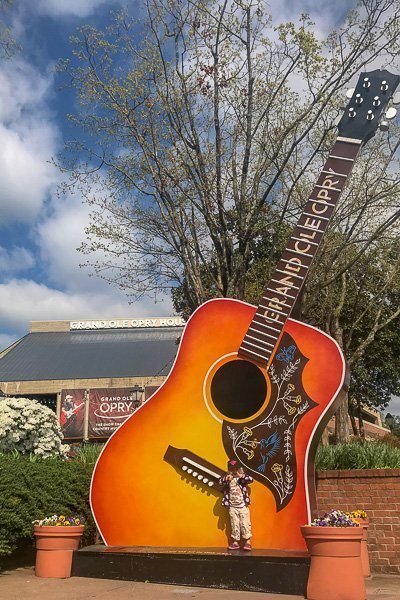 Shows are usually weekly on Tuesday, Thursday, Friday, and Saturdays. The tickets range from $40 to $100 per person. Click here to book your tickets. ​This is an experience you want to save up for, but totally worthwhile. Parking is free and located nearby.
Downtown Nashville With Kids
Some may wonder if visiting downtown Nashville is a family-friendly activity.
In all honestly, I wondered the same thing. Yet, I really wanted to take the kids so that we could all experience the 'feel' of Nashville in all its glory. So, we asked our friends to join us and we made it happen on a weekday afternoon using our GPSmyCity app on my cell phone.
I am SO glad that we did! My good friend Ashley suggested that we park for free at Cumberland Park and let the kids play for a bit before crossing the footbridge.
Cumberland Park Nashville
First off, parking at Cumberland Park was free, which is so nice to find when visiting a large city.
As we walked to Cumberland Park from the parking lot, the kids began to run ahead and they were thrilled to play on the rolling hills and green space. Next, they found a climbing wall and slide to play tag on while the parents chatted a bit.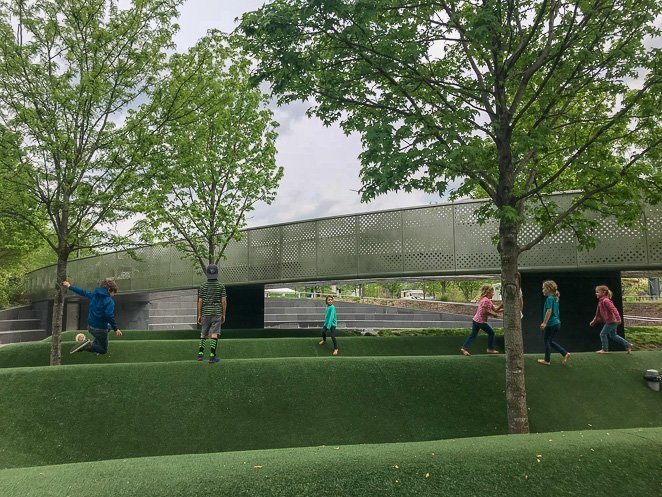 We then took a bathroom break near the elevators, yes I said that correctly….elevators….that brought us up to the Cumberland Footbridge. The view on this bridge was amazing!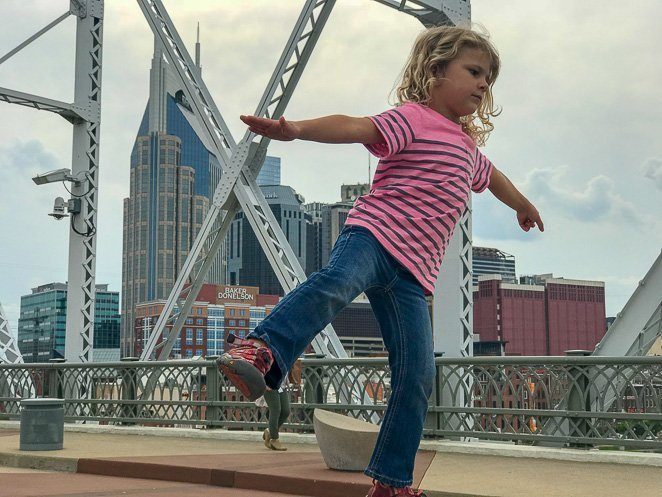 Once across, we ventured off to Lower Broad – or what others know as the Honkey Tonk Highway.
Honkey Tonk Highway – Broadway
Now, is a strip of bars really a great place to take your kids? Well, after dark or on busy weekends I would say no, it's not.
However, if you want to allow your family to experience hearing live music blasting through open-aired bars, see people of many backgrounds, visit the candy shops, and feel the culture of the Music City capital of America…then plan to visit during a weekday afternoon.
We took a stroll on a Wednesday afternoon and our entire family does not regret doing so!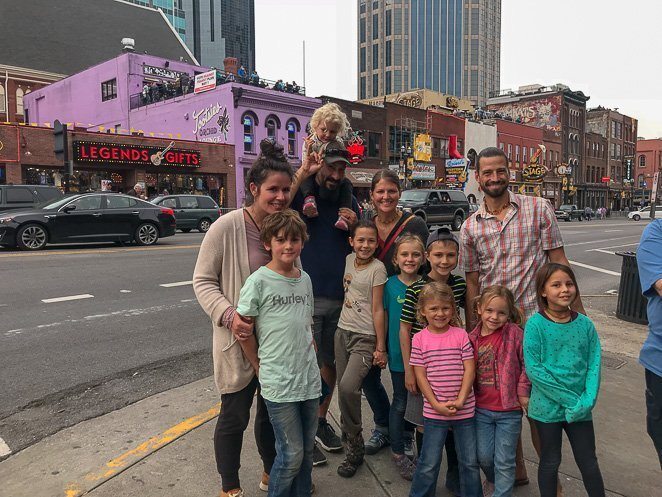 Pro Tip: If you have a little one, be ready to carry her as the sidewalks are not great for strollers, and with so many people and streetlight signals to follow, you will not want a small one walking on her own. Either place the little one on your shoulders like my husband Tony did or bring your soft carrier.
Country Line Dance at The Wild Horse Saloon
We did it. We actually took our kids into a Honkey Tonk bar!!In reality, I felt completely okay with this as it was still dinner time and the country line dance lessons had just ended. Not to mention, our friend Nathan knew the singer on stage and we had the dance floor to ourselves for a few songs with the kids before other people started to join in to do some country line dancing.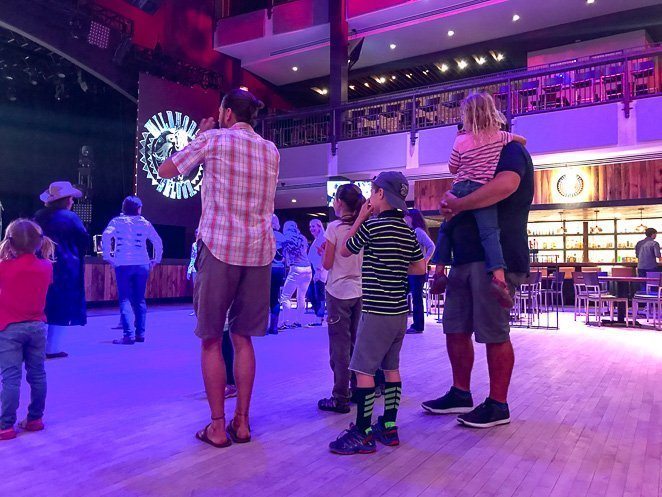 We stayed at the Wild Horse Saloon less than an hour, but long enough for the kids to start getting tired, and some a bit upset about how loud the music was. It was a great talking point during our walk back across Cumberland Bridge to our cars.
​​​​Fun Places To Eat In Nashville
While spending time in Downtown Nashville, I knew we'd need to find a place for both families to eat.
Somewhere walkable, kid-friendly, and that provides vegan-friendly dishes, as our friends are vegans and strive for sustainable travel. Rock Button Brewery fit all our criteria.
Rock Bottom Brewery
Rock Bottom Brewery is located on 2nd and Broadway, near the Cumberland River. They have a rooftop bar that overlooks the Honky Tonk Highway and river if that's what you are looking for. I found the staff to be extra kind with our children and the food was surprisingly good for a chain restaurant in downtown Nashville.
Ted's Montana Grill
Not in downtown, but located on the West End of Nashville, we found Ted's Montana Grill to be a decent place to take our family for a meal with friends.
With homemade vegan burgers available, along with amazing buffalo burgers, you can't go wrong ordering off their menu. My daughter wasn't a fan of the kids macaroni and cheese, but they all loved their burgers.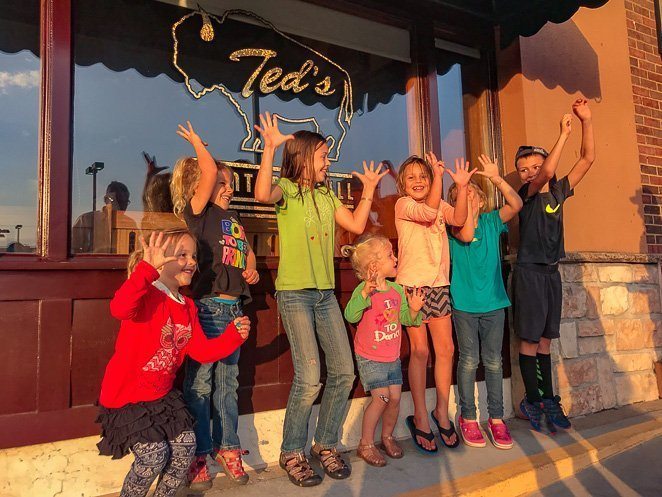 Coffee Shops In Nashville
If you have read any of my other posts, you may have noticed that I get a bit excited when I find a good coffee shop during our travels. Tony and I LOVE our espresso, so much so that we carry our espresso machine around the country with us in our RV!! Yet, when we are out seeing the sites for the day, it is nice to stop and find a local coffee shop with an amazing brew. We found two in the Nashville area we'd like to share with you.
The Perch
The Perch is a coffee shop with 3 locations in the Nashville area. It came highly recommended to me by some good friends, so I made sure to stop by. With my Americano in hand, I sat down and took it all in.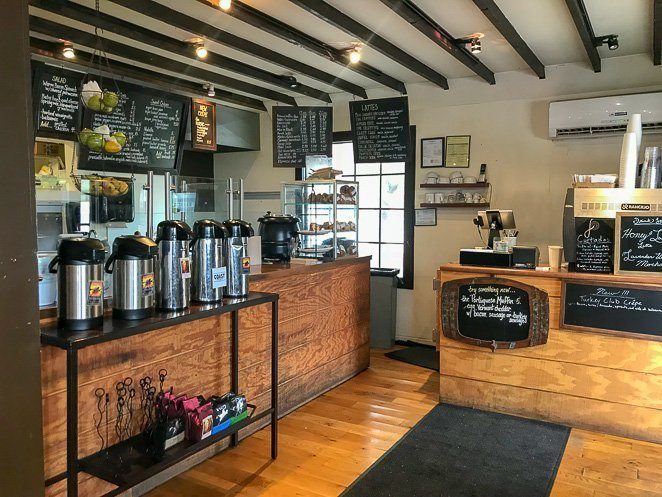 The wood interior, chalkboard menus, amazing smells, and talk of making music flowing among the conversations inside the Perch. If you have a chance, be sure to stop by!
The Frothy Monkey
Frothy Monkey came highly recommended to me by several people, so I had to stop and grab an espresso to try it out.
What I found was great coffee, a fun atmosphere when you walked in, and a sit down style restaurant if you are looking for that.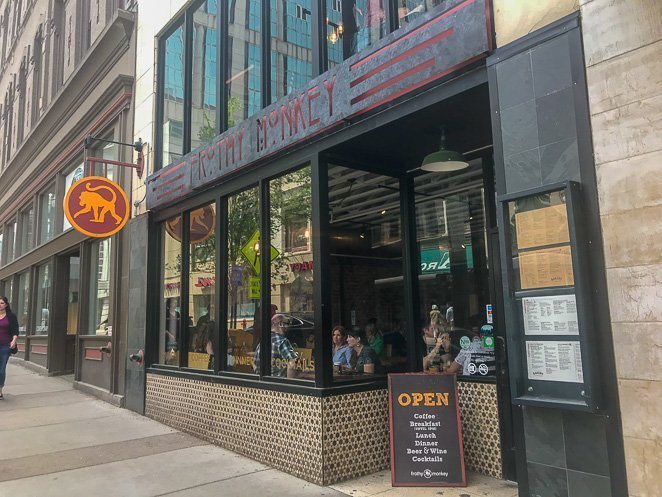 Brunch is offered daily until 5pm along with breakfast, lunch and dinner. At Frothy Monkey, you will also have the opportunity to order beer, wine and cocktails. Click here for a full menu, hours, and locations.
Pro Tip: Parking at the downtown location can be difficult. If you are planning on grabbing a meal, do so as a part of a old town trolley tours in Nashville. Or, if you just need a cup of coffee or shot of espresso than do what I did and have your husband drop you off at the door to grab coffee to go, then circle back to pick you up again.
Where To Stay In Nashville With Kids
When planning a family fun vacation, it usually requires finding a great place for your family to stay. If you do not want to check out what Airbnb has to offer in the area, why not go all out?
The Opryland Hotel is the cream of the crop when it comes to staying in Nashville!
Opryland Hotel
The Gaylord Opryland Resort is the place most people dream of staying while visiting Nashville.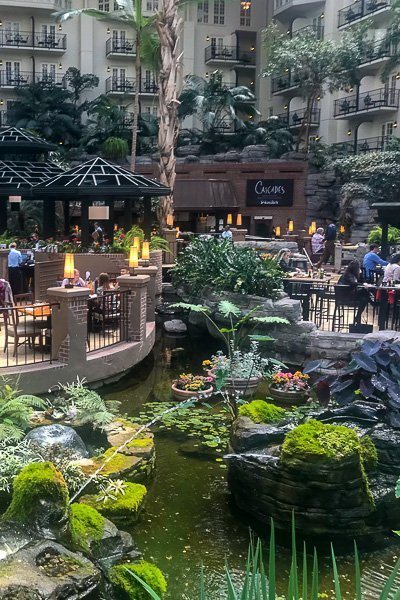 It's within walking distance to the Grand Ole Opry but it is not downtown. You would need to take an Uber from the hotel to get to downtown Nashville.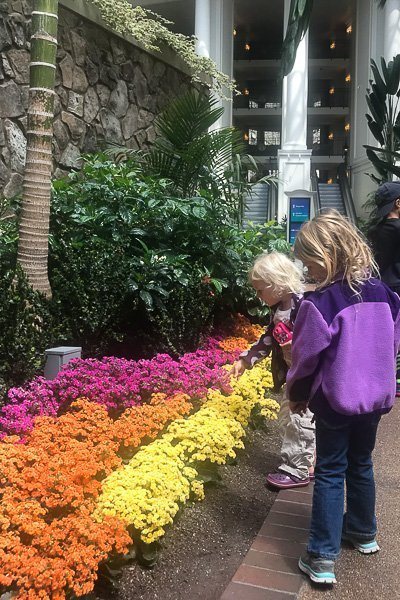 On a cold rainy day, I took the kids to visit the Opryland Hotel. It not only feels like an indoor tropical paradise, but it is also HUGE! With waterfalls, indoor boat rides, a toy store, and a coffee shop, we were set for the afternoon! We walked around for over 2 hours and still didn't see it all.
So, even if you are not sure about staying at the Opryland Hotel, feel free to stop by for a few hours to stroll through the amazing gardens.
Seven Points Campground
As a full-time traveling family, we travel and live in our motorhome. Therefore, when we visited Nashville we were excited to find Seven Points Campground.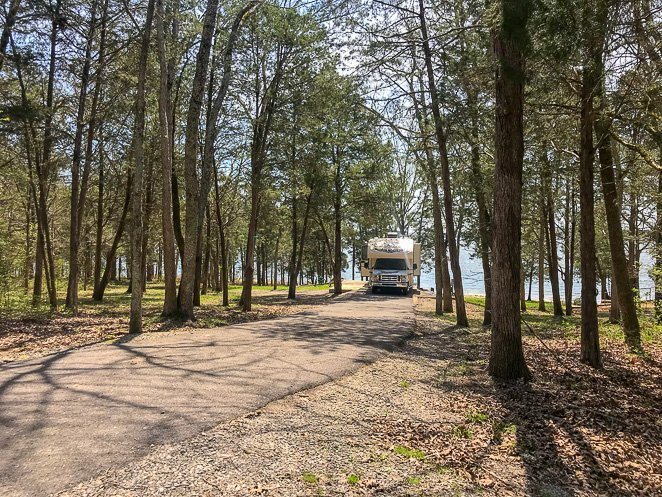 The campground was within a 25-minute drive of both downtown Nashville and The Grand Ole Opry. There was a fun playground, beach front campsites, and we had a great cellular signal which allowed Tony and I to work…which is a must.
Holiday Inn Downtown Nashville
If you are looking for a family friendly hotel in a great location in Nashville, then check out the Holiday Inn Downtown Nashville. It is not only near the top attractions in Nashville, but it is within walking distance of many restaurants and even Cumberland Park.
Additional Kid-Friendly Things To Do In Nashville
So, I am constantly finding that I over plan when we arrive to a new city. As a mom who LOVES to travel with her kids, I found myself with a long list things we must do in Nashville.
Well, we did not get to them all. And I'm totally okay with that. Our family needed some downtime, and a chance to recharge. We also decided that as a full time traveling family, we are going to plan another trip to Nashville in the new future. So I'll share with you our places to visit in Nashville next time!
I am also looking forward to seeing more of Tennessee during our next trip to Nashville. I'm especially interested in finding some fun things to do in the Smoky Mountains with kids and things to do with kids in Gatlinburg Tennessee. We need to make a trip back to Tennessee!
~ Visit the Ryman Auditorium
~ Visit the Carton Plantation
~ Dine at the Aquarium Restaurant
~ Seek out the famous Murals in Nashville
~ Go Shopping at Nashville Opry Mills