RVing full time can be exciting, fun and a chance of a lifetime! However, if you're not too careful, or intentional, you can also start to feel isolated on the road. As a full -time RV living family, we learned early on that we needed to be intentional when seeking out friendships and community on the road. Visiting some bucket list destinations can be so thrilling, but when you begin to feel lonely then it's time to start making some changes.
The RV living community is growing more and more each day. From retired couples and digital nomad working adults to families with many children traveling the country full time, there is a huge community at your fingertips waiting for you.
THIS ARTICLE MAY CONTAIN COMPENSATED LINKS. PLEASE READ OUR DISCLAIMER FOR MORE INFO.
Here are 5 tips to help you make friends while RVing Full Time
1Learn how to spot full time RVers at campgrounds.
2Keep an eye out for Fulltime Families Signs.
3Visit a Thousand Trails Campground.
4Join a few RV community memberships.
5Use an app to connect with other RVers.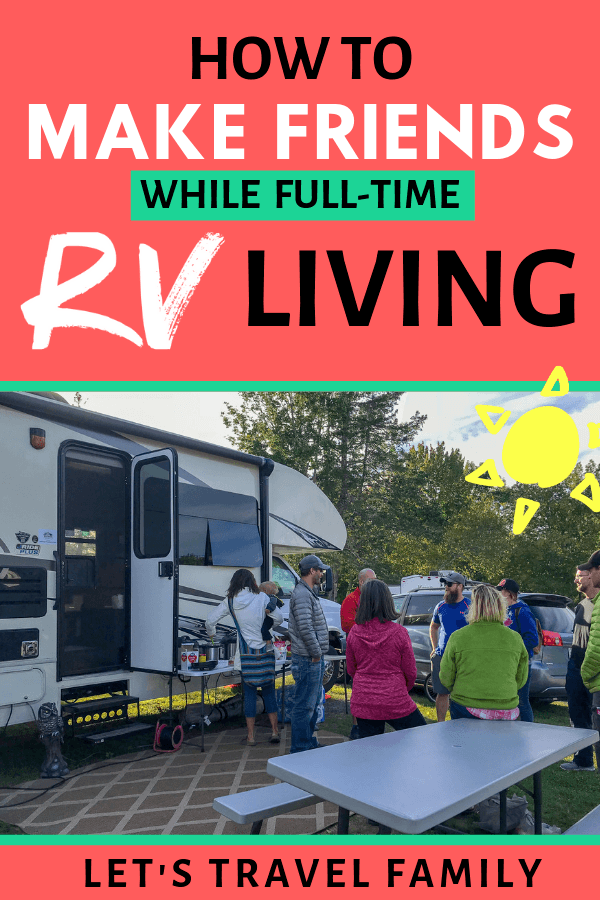 1. Learn how to spot full time RVers at campgrounds.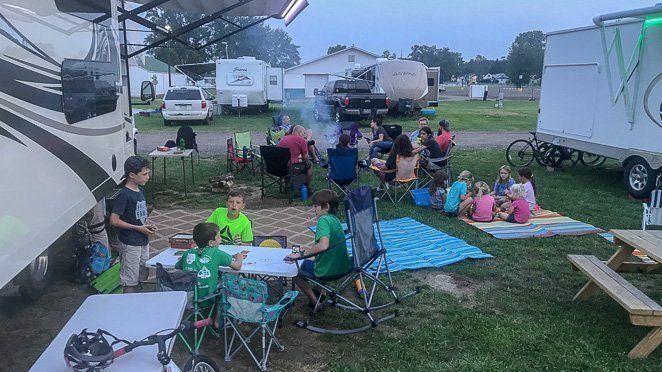 If the license plate is from Florida, Texas, or South Dakota then you might be in luck! Many full-time RVing families and couples change their state residency to one of these 3 states.
Furthermore, if you see a lot of toys and children's bikes outside an RV, you may have found a full-time RV family!
My tip to you is to approach the RVer and strike up a conversation, you'll be surprised how quickly you might connect with each other. Full-time RVers have so much in common!
You can also follow hashtags on Instagram or follow some of the popular YouTube channels for RV Living to get ideas on where many families are traveling.
2. Keep an eye out for the Fulltime Families Flags!
If you have children and are RVing full time, you MUST become a member of Fulltime Families.
A Fulltime Families membership allows you to connect not only in person at events held each year around the country but also online in their many private Facebook Groups. Look for the Fulltime Families stickers that ALL members receive to put on their RV's and extra vehicles.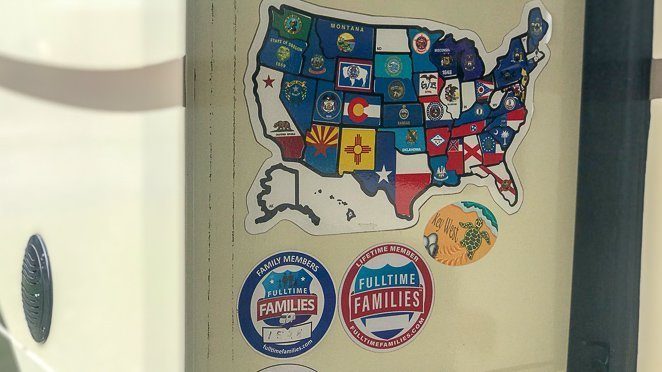 If you see a Fulltime Families Flag at a campsite, you know that you've hit the jackpot!
Besides the stickers and flags, you may also see many adults and kids wearing their Fulltime Families t-shirts around the campground, so keep an eye out for them!
3. Visit a Thousand Trails Campground.
Many full time RVers have a Thousand Trails campground membership and frequent the parks to help keep their costs down.
More specifically, you'll find MANY people living the RV life at Thousand Trails parks in Florida during the winter.
For instance, during the winter of 2019, Fulltime Families hosted an informal Valentine's meet-up and a Chinese New Years' meet-up with dozens of families attending at the Thousand Trails Orlando park!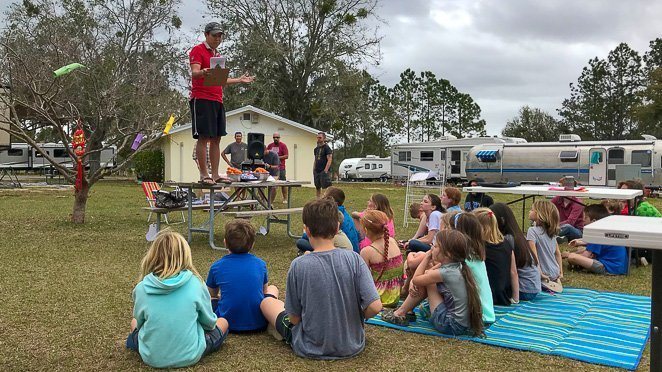 Outside of other organizations, Thousand Trails itself often organizes activities at their campground clubhouses. So, join in and start a conversation with someone new!
4. Join a few RV community memberships.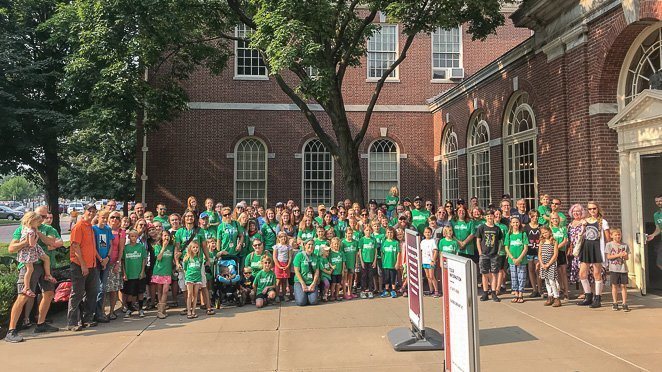 The RV community likes to plan meet-ups, rallies, convergences and caravans. Once a member, sign up to attend an event and plan your travels around the event date and location!
~ Fulltime Families – a MUST HAVE membership for any family on the road.
~ Escapees – a great membership for retired RVers, but also for any full-time RVers~ Xscapers – is an off-shoot of your Escapees membership that helps RVers who are still working on the road (and not retired) build a community. Join Escapees and then you can hop on the Facebook Group for Xscapers and join their e-mail list to stay up to date with the next meet-ups.
5. Use an App to connect with other RVers.
There are a few apps that RVers will use to try to connect when they are RVing across America.
RVillage app – was created just for RVers. You can check in at certain locations, join groups and even chat with each other. Think Facebook for RVers.
Life 360 app – was created for families with teen drivers. It allows you to see where your 'friends' are, when they've checked into a certain location, and even how fast they are traveling on the road. Remember, great for families with teens. Yet, many RVers download the app and begin to follow each other around the USA.
Ways To Really Build Friendships On The Road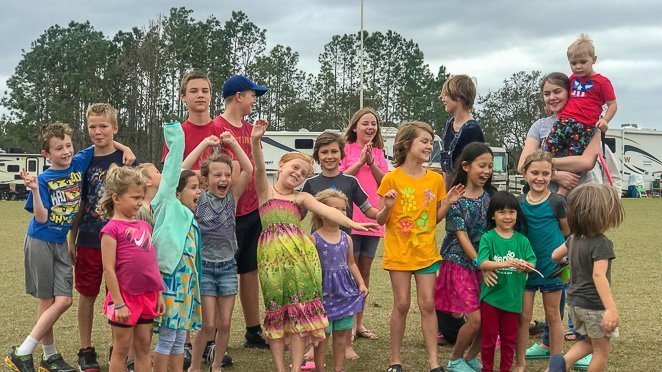 If you really want to meet like-minded friends while living the RV life, then attend a rally or event held by Fulltime Families if you have kids, or Escapees if you don't!
Furthermore, be intentional with your travels. If you make a friend then ask to meet up again down the road. I know it sounds simple, but sometimes you just need to take that extra step.
Set a date and location or share each other's phone numbers or Instagram handles. Then stay connected when you part ways.
Let's Travel Family is a participant in the Amazon Services LLC Associates Program, an affiliate advertising program designed to provide a means for sites to earn advertising fees by advertising and linking to amazon.com, amazon.co.uk, amazon.ca. Amazon and the Amazon logo are trademarks of Amazon.com, Inc. or its affiliates.