Traveling full-time in an RV across the country can sound like a dream come true. Yet, one of the first questions people ask is: What is the cost of full time RVing, really?
Do you save money if you sell your house, buy an RV, and hit the road full-time? Or is the cost of RV living more than your current monthly expenses living in a sticks 'n bricks (your house without wheels)?
Planning a vacation and creating a great vacation budget can be really helpful, however, if your goal is to make a full lifestyle change into traveling full time, then your goals are very different.
Tony and I decided that it was time for us to answer this question in detail to help you understand your options if full time RV living with your family is a dream of yours.
You see, we understand the need to have as much information in front of you before you make such a huge decision. That's what we needed before we became a full-time RV family back in the Spring of 2017.
Here's the truth.
RVing can be as expensive or inexpensive as you choose.
We often hear about families who travel full-time and are able to make it happen on a much smaller income stream. Yet, others had received a huge raise and found that they were not saving any extra money by traveling full-time, but spending it all.
You could even do the travel hacking and find the best credit card for RVers to help you get cash back on fuel and food purchases.
It really depends on your goals, budget, and what type of travel life you want to live. Affording family travel does take some dedication, no matter how you travel.
Living on a full time RV income can be possible, it just depends on your mindset and RV lifestyle.
THIS ARTICLE MAY CONTAIN COMPENSATED LINKS. PLEASE READ OUR DISCLAIMER FOR MORE INFO. THIS POST WAS WRITTEN BY JILL GREISING-MURSCHEL, A FAMILY TRAVEL AND RV LIVING EXPERT.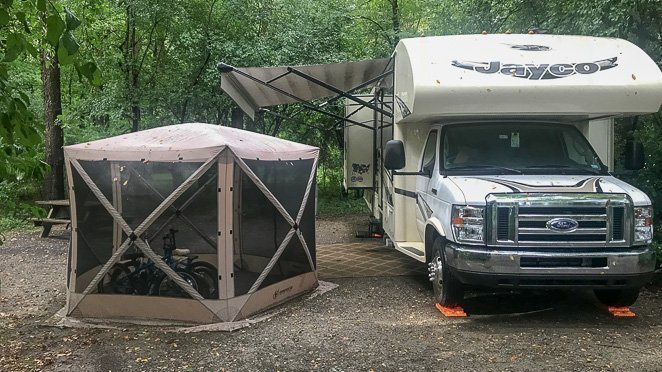 Don't have time to read a bunch of RV travel posts and reviews? Here are some of our top picks for RV living:
Our Favorite RV Resources:
Specific Costs of RV Living Full Time:
How Much Does an RV Cost?
Gas Budget
RV Maintenance and Repair
How Much Does An RV Cost?
It really does vary depending on if you are buying new, used, or very used, and need to invest in some time and money to remodel the RV.
Honestly, anywhere from $5,000 to $500,000!
It also depends on whether you plan to purchase a motorhome and already have a towed (a small vehicle that you will tow), or if you are purchasing a travel trailer or fifth wheel which will require a good-sized truck to tow it with.
RV prices can vary quite a bit.
We purchased a Class C motorhome new and financed it, yet we did not need to make a second purchase on an extra vehicle. Our minivan, which we already owned, worked well for us and fits our large family of 6 so we chose to keep it and drive it separately.
There are advantages and disadvantages to each type of RV. Sometimes an RV tour can help you visualize what might be better for your family.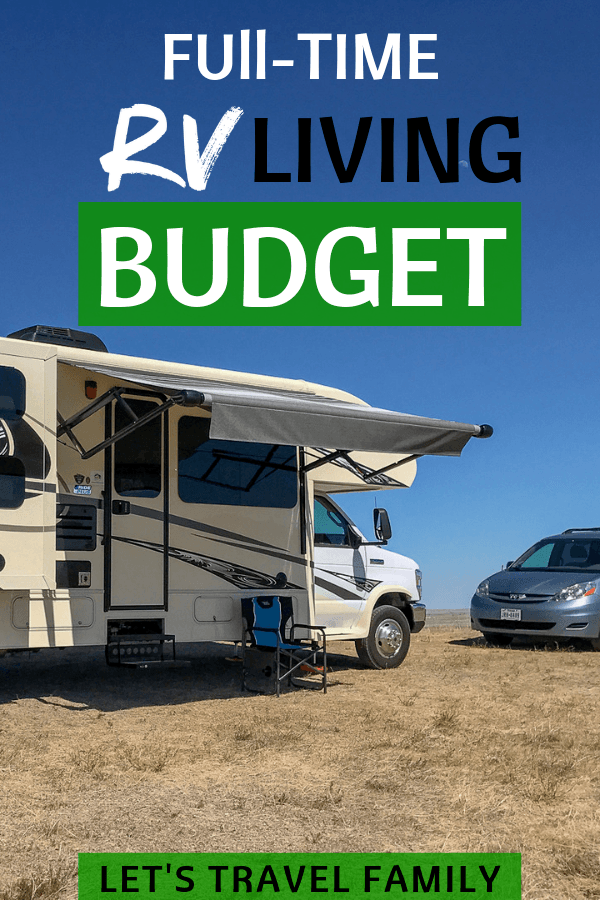 Our Monthly RV Payment
We financed our RV when we launched in 2017. So, our monthly RV living cost is $709.
Download your Free RV Budget Workbook
11-pages of useful worksheets!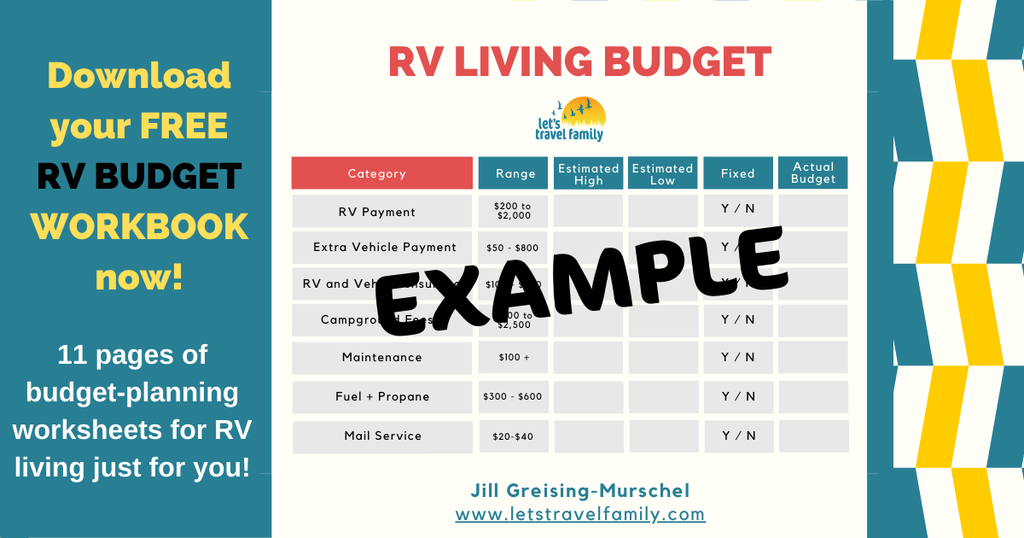 Campground And RV Park Prices
RV Resort – Campground – Private Campground Prices
Your monthly fees for camping can vary depending on which type of campground you end up staying in. If you choose RV campground or RV resorts, the prices can range from $40 – 100 per night and often give you 'full hook-ups'. Meaning, you have water, electric, and sewer hook-ups at your campsite. Joining some campground membership programs can help you cut down on your RV camping fees.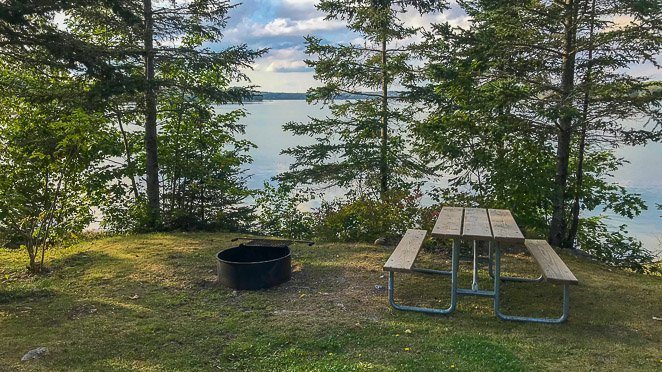 National – Sate – County Park Campground Prices
Yet, if you plan to camp in a national park, state park, RV parks, or county park campground, the prices can range from $10-$35 per night.
They also usually have sewer hook-ups and sometimes only provide electric. If that's the case, they will have a dump station and freshwater area to use before you set up or after you tear down camp.
Membership Campground Prices
Membership campgrounds can offer you the opportunity to save money while living in a camper or RV. Thousand Trails is a membership program that we use, and it works really well for us.
We pay about $75 per month for our dues to cover our membership. We can then stay up to 14 days in one of the Thousand Trails campgrounds within our zone of the nation, for no additional fees, as long as we are out of the Thousand Trail system for 7 days prior to our stay. So, this allows us to stay anywhere from 1-21 days per month in a TT campground for no additional fees beyond our monthly fee.
Boondocking – Free
One of the best tricks to cheap RV living is to boondock.
Boondocking means you camp without hook-ups and usually for free. So, as long as your RV has a generator or solar to provide basic electrical functions, you could seek out places to camp for free. One great resource is Boondocker's Welcome.
We paid a $35 annual fee to be members, and now can sign up and book 1-3 nights of boondocking in a friendly camper's driveway all over the country.
Sometimes, they even offer electric hook-ups and access to fresh water!
You can also boondock on BLM land across the USA. Campendium is a great website and resource that we use to find boondocking campsites.
We've also boondocked at Cracker Barrel, Walmart, and Cabela's parking lot for a quick overnight. In this case, it's a place to park and sleep during the evening hours so that you can get back on the road quickly again the next day.
Read our Ultimate Boondocking Guide here to learn more!
Moochdocking – Park In A Friend's Driveway
Moochdocking is a term that is used when someone full time RVing is invited by family or friends to park it in their driveway and use their electricity and water.
We have enjoyed moochdocking, not just for the money savings but for building our friendships. Even just for a few nights, it can cut your expenses down quite a bit and allow you to connect with family or friends all over the country.
Our Monthly Campground Budget
Our monthly budget for campgrounds is $600 per month. That includes our $74 per month that we pay for our Thousand Trails membership, which allows us to stay in their campgrounds for no additional expense.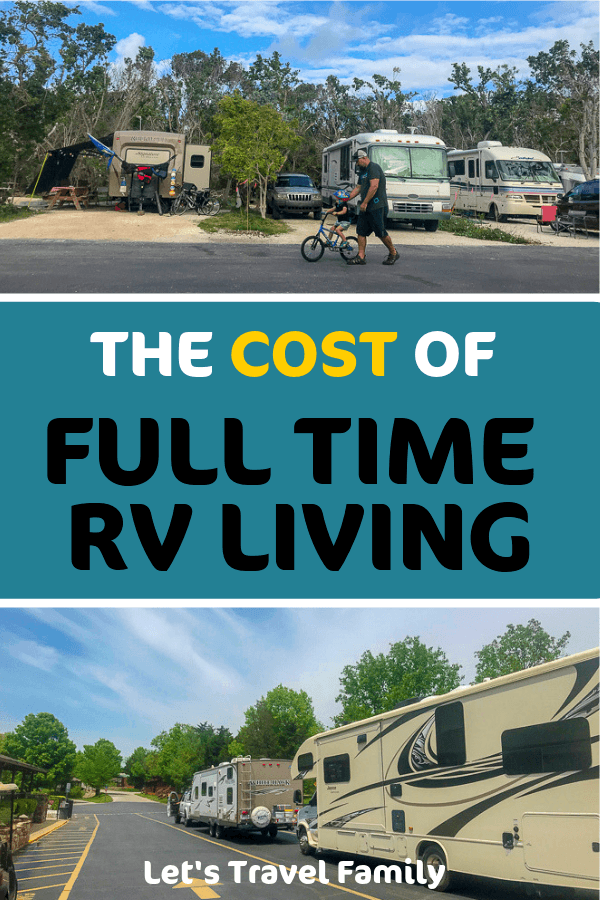 Full Time RVing Gas Budget
This one can be tough because the price of gas fluctuates depending on what part of the country you are in and what season it is. It also depends on how many miles you plan to travel in one month, and then once you arrive, how often you plan to travel around the area in your extra vehicle.
Try to decide how quickly you plan to travel or how frequently you will pack up and move on. RV life can become a bit stressful if you travel too frequently. We try to keep our travels down to once every 1-2 weeks, however I know families that stay up to 4 weeks at each new location.
Our Monthly Gas Budget
Our monthly budget for gas to cover our motorhome traveling at 8 miles per gallon and our minivan also traveling, as we don't tow, at 22 miles per gallon is $500 per month. That has been increasing the price of gas has gone up with inflation over the last few years.
RV Insurance Budget
How much does full time RV insurance cost? Well, it depends on which state you domicile in, your driving record, and if your RV is newer or used. You also need to take into consideration if you can receive a discount on your insurance plan by having your second vehicle under the same policy.
Whichever insurance carrier you decide on, be sure to ask for full time RV insurance.
Our Monthly RV and Van Insurance Budget
For full coverage under a full-time RV insurance policy for our motorhome, we budget $84 per month. Then our van is $68 per month.
RV Repair And Maintenance Budget
Are you prepared to spend some money on tires, a water pump, or a new rug? When living in an RV full time, you will need to budget maintenance expenses. Just like owning a house, you will have repairs and other things that come up.
I'd also suggest having an RV tool kit on board for the small repairs you can make yourself.
Our Monthly RV and Van Maintenance Budget
We budget $100 per month for RV repair and upkeep. Some months we don't spend any of that, and other months we go over. It all depends on what's needed.
Propane Expenses For Your RV
Instead of paying for electric, gas, cable, water, trash, etc. in a regular house, you will have a few other expenses in an RV such as propane.
The amount of propane you use each month can vary. It depends on how often you use your stove and oven, if you have a propane water heater, and how often you run your furnace.
Our Monthly Propane Expenses
We budget about $30 per month on propane. Some months we need to fill and others we don't and save money.
RV Expenses – Breaking It Down

RV Payment

$709

Campground Fees

$600

Gas

$500

RV Insurance (and extra vehicle)

$152

RV Maintenance

$100

Propane

$30

Total RV Expenses

$2,091
Expenses for Full Time RVing NOT Related To RVing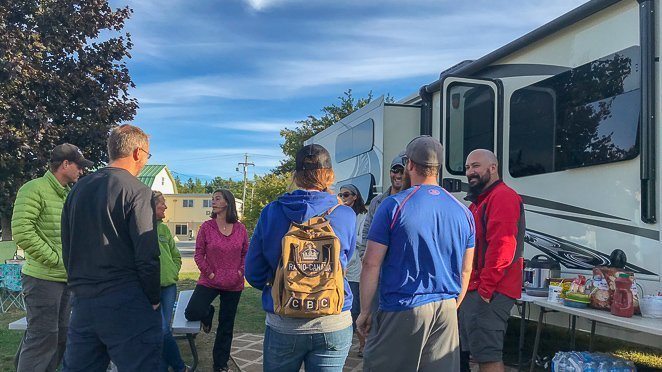 When we launched to travel full-time, we found it SO helpful to read other full-time RV living family's budgets. It makes it so much easier to picture if this is a life you could afford to live.
Below, we listed all of our 'other' monthly budget expenses outside of RV-specific items. Now, Tony would argue that a budget for good internet is specific to full-time RVers. However, I included this budget below. Expenses for Full Time RV life not related to the RV itself:
Other Monthly Full-Time Travel Expenses

Laundry

$60

Medical Insurance

$780

Cell Phone Bills (2)

$150

Hot Spot Internet

$50

Groceries

$1,200

Prescription Medication

$60

Restaurants or Eating Out

$200

Entertainment

$200

Tolls

$20

Mail Service

$0 (we have 1 year free)

Student Loans

$170

Total 'other' travel expenses

$2,890
Our family of 6 travels full-time in an RV with a budget of $4,981.
Right now, Tony works for a great company that offers medical insurance as a benefit. So, the $780 is taken out of his paycheck pre-taxed and before we even see it. So, we think of our expenses as really being around $4,201 as we never actually see or pay for our insurance.
Are we in the high range of expenses for a family of 6 that travels full-time?
No, not really. Not after I spoke with many other families during our travels. Honestly, I feel we are close to about average.
I know several families that spend well over $6,000 per month while I've also met others that keep their budget under $3,000 while living in a camper full time.
The cost of full time RVing can fluctuate and change depending on your traveling style, and how much you want to spend when you arrive at a new destination.
I know that when we show up to one of our bucket list destinations, we are thrilled to be there and it's hard not to go over your 'spending' budget and do all the fun things.
Self-control can be hard! But, when you set your mind to making this lifestyle work for you, anything can happen. Hey, you may even consider traveling around Australia for 12 months on a budget, like Emma and her family have done.
Now, if you're looking for a way to earn money to create a budget like above, check out how these 19 other traveling people found digital nomad jobs.
Are you a full-time RVer or do you want to be one?
Have you ever sat down to make out your budget?