​Have you ever thought about visiting Bali, Indonesia? In this article, we're going to talk about where to stay in Bali and the best Bali accommodations to help you plan your Bali trip.
Your travel experience can be so much better if you stay in great lodging and we're here to help you with that.
Be sure to check out our ultimate Bali packing list before you take your trip!
Where to stay in Bali, Indonesia? Keep reading to find out our top suggestions.
THIS ARTICLE MAY CONTAIN COMPENSATED LINKS. PLEASE READ OUR DISCLAIMER FOR MORE INFO.
Best Places to Stay in Bali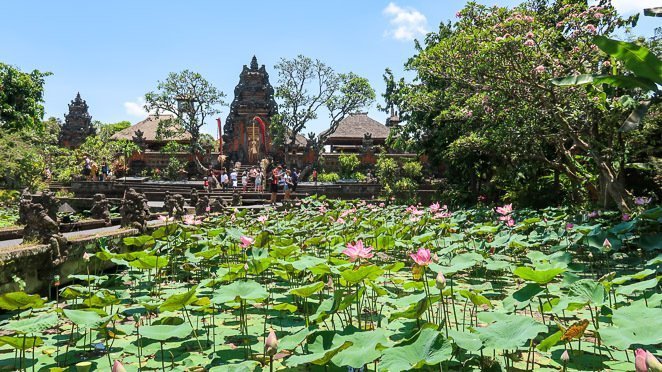 As a prime tourist spot, Bali sure does have a lot of accommodations waiting for visitors all year-long.
From Bali hotels to Bali villas, there are just so many to choose from. To help you decide, we'll narrow down your choices to these accommodations we found.
What are the best hotels and resorts around Bali?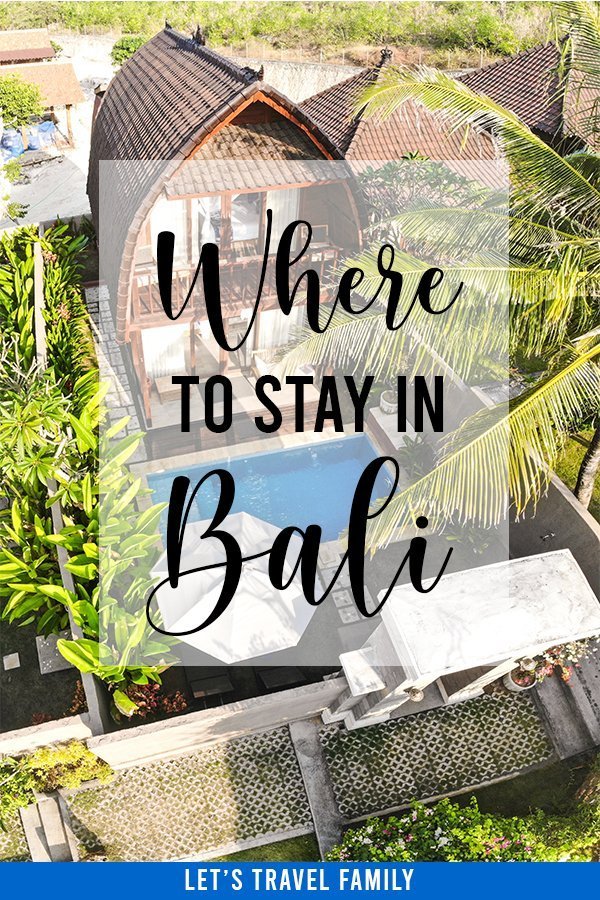 ​
Best Resorts in Bali
1. Arma Resort
This Luxury resort is located in the middle of Ubud, Bali and gives its tourists a great location to set off on. It's called the ultimate destination for a reason.
​The authentic design of the place is amazing as it makes you feel like you're in a jungle right in the middle of the city. It's located within the Agung Rai Museum of Art.
They have rooms starting out at $97 per night some for families and some for couples.
2. Nandini Jungle Resort and Spa Bali
​Another resort that offers a luxury jungle experience is the Nandini Jungle Resort and Spa. Aside from their main attractions which are the spa and resort, they also offer fresh cuisine that's a huge hit for foreign tourists!
What makes this resort special is how it contained luxury in a way that still shows off Bali's unique culture and lifestyle.
Villas are designed based on the traditional Balinese Village and the place gives an amazing view over the river gorge.
There are three types of villas, the Jungle View Villa, Sunrise View Villa, and the New Panorama Villa. Just by reading the names, you'll know what each of them has to offer so choose wisely.
They also have special offers that you may want to take part in! These offers are only available for a limited time so better sign up if you're really interested!
Click here to see the current rates.
3. The Bali Dream Villa Resort Echo Beach
Looking for a more affordable option? Choose The Bali Dream Villa Resort Echo Beach. Just like the previous ones, the place has a traditional design to make its visitors relaxed.
Among the three in this list, this resort offers the least rooms. It only has 16 rooms and 14 free-standing pool villas. It is also the only one that's located in Canggu, that's definitely worth a visit.
The place offers several packages that can help you save a lot for your trip without sacrificing quality!
Click here to see the latest rates.
​Best Hotels in Bali
If a resort isn't something you're looking for, then keep reading to learn about some of our top picks for hotels in Bali.
1. Grand Hyatt Bali
With their free parking, free high speed WiFi, fitness center, bar, tennis court, the beach, and even a babysitting service, Grand Hyatt Bali's got everything you'll ever need for a lodging.
They have four villas and a total of 636 rooms ready for you. Not only that, they have 5 swimming pools and 24 spa villas!
In here, you won't run out of food for they have 5 restaurants and 3 bars. Food diversity is great for a long stay!
It is a bit pricey but it's all worth it especially if you avail packages that includes benefits. It is located in Nasa Dua.
Click here for the latest rates at the Grand Hyatt Bali.
2. Eden Hotel Kuta Bali
Strategically located near Kuta Beach, WaterBom Park, and Bali Discovery Mall, Eden Hotel is a great choice whether you're in Bali for a vacation or for work.
Some special services? You can have a floating breakfast on the pool or listen to live music in their 360 Lounge and bistro every Tuesday and Thursday.
Staying here is also affordable and very convenient since it's also near the Ngurah Rai International Airport.
Their facilities include a sunken pool bar, pool, spa, diner, and a coffee shop. Don't miss a chance to have a romantic dinner on their main pool sundeck.
Click here for the latest rates at the Eden Hotel.
​

3. Plataran Ubud Hotel and Spa
With Ubud being the artistic heart of Bali, it's a great choice of accommodation. But, exactly where to stay in Ubud?
You can stay in Plataran Ubud Hotel and Spa which is one of the best hotels in Ubud.
It has 51 rooms, and one private residence. Its facilities include not just one but TWO infinity pools, a spa, an outdoor gym, meeting venues, and two restaurants.
You can choose from rooms to whole villas. For huge families visiting, we recommend the Three-Bedroom Private Pool Villa. It'll feel like you have your own vacation house in Bali!
They also have packages and special offers at times too.
Click here to find the best rates for Plataran Ubud Hotel and Spa.
Airbnbs In Bali
If you are traveling for an extended period of time in Bali, then renting a house with a kitchen may be beneficial. As a full-time traveling family we often stay in Airbnbs if we plan to stay in an area for a month.
I always check out Airbnb for longer stays and compare them with hotel accommodations.
Click there to save $50 on your first stay with Airbnb!
​
Best Area to Stay in Bali
Okay, so you're planning a trip to Bali, but you're not sure what area you want to stay in. I can understand that, there's a lot to see and do and it can get overwhelming for sure. That's why we are going to break down the different areas to stay here.
1. Ubud
As Bali's cultural heart, Ubud is where you can find the beauty of Balinese culture through art, music, and food!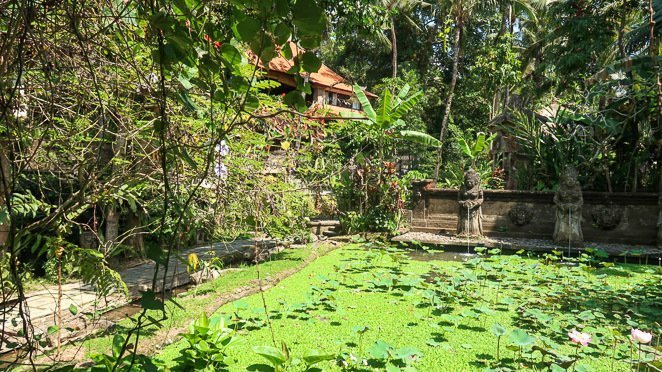 You can enjoy day trips to tourist spots including Agung Rai Museum of Art, the Ubud Palace, and the Ubud Monkey Forest. There are many things to do in Ubud, you could stay busy for weeks.
​However, if you're visiting Bali for the beaches and fun water sports, Ubud may not be the best area to stay for you as it's located in central Bali.
Click here to find the best deals on hotels in Ubud, Bali.
When our family visited Ubud, we stayed at the Villa Bhuana Alit. As a family of 6 we did need to rent 3 rooms, but they had other options for families, we were just late to book our stay.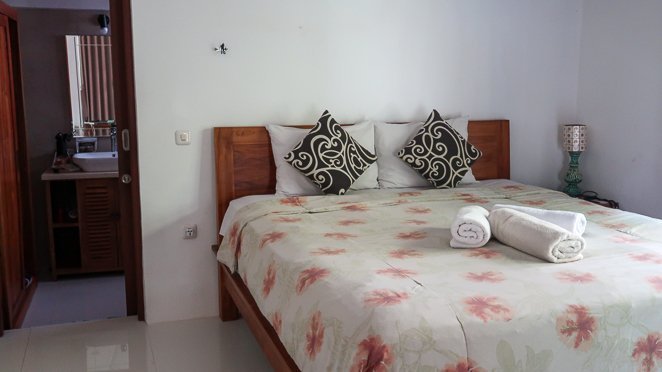 Villa Bhuana Alit
2. Sanur
Is it your first time in Bali? Well then you may have to choose an area where you won't be overwhelmed with activities. For that, we suggest that you stay for a while in Sanur on the southeast coast of Bali.
Avoid the traffic and crowd while still having fun with food and day trips. Visit the Blanjong Pillar and learn about some history. Perfect for those who are coming with kids.
Another must-visit is the Bali Orchid Garden to take some IG-worthy pictures! Note that this garden is not really in Sanur but only a few miles away. There are also diving spots a boat ride away for your water adventures!
Click here to find the best rates on hotels in Sanur, Bali.
​

3. Kuta
Do you love the nightlife? What about shopping? Get the best of both worlds when you stay in Kuta, Bali on the southwest side of Bali.
Home to the infamous Kuta Beach, this place is the best spot for those of you who just love bustling places.
You also won't run out of beach games to try. Surfing? You can absolutely do that here!
Other famous spots in Kuta include Waterbom, which is a great destination if you've got children with you, Beachwalk, Vihara Dharmayana Kuta, and Kuta Theater.
Click here to find the best rates on hotels in Kuta, Bali.
​Best Time to Visit Bali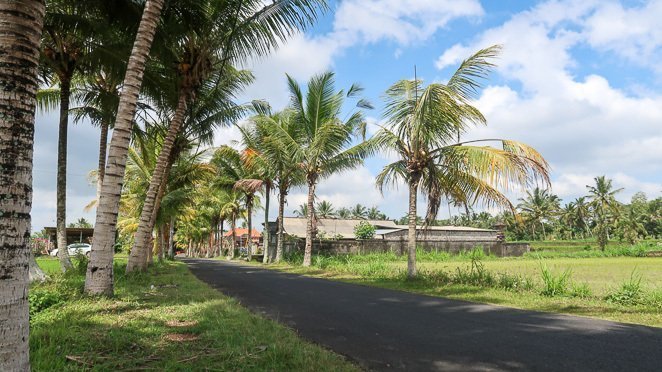 To avoid the crowds and higher accommodation fees, it's best to visit just before or after the busiest months of July to August and December to January.
Visit from April to June and there will be less humidity and low chances of rain. These times are also good choices if you love water sports.
If you don't mind the traffic and noise, you can go during peak seasons and enjoy the numerous festivities held at that time!
Bali is an amazing place with an amazing culture. Visiting is a BIG deal especially if it's one of your dream destinations… which it probably is as it was for us.
If you're looking for ideas on where to visit after Bali, then I highly recommend taking a fast boat to the Gili Islands next. You will thank me later.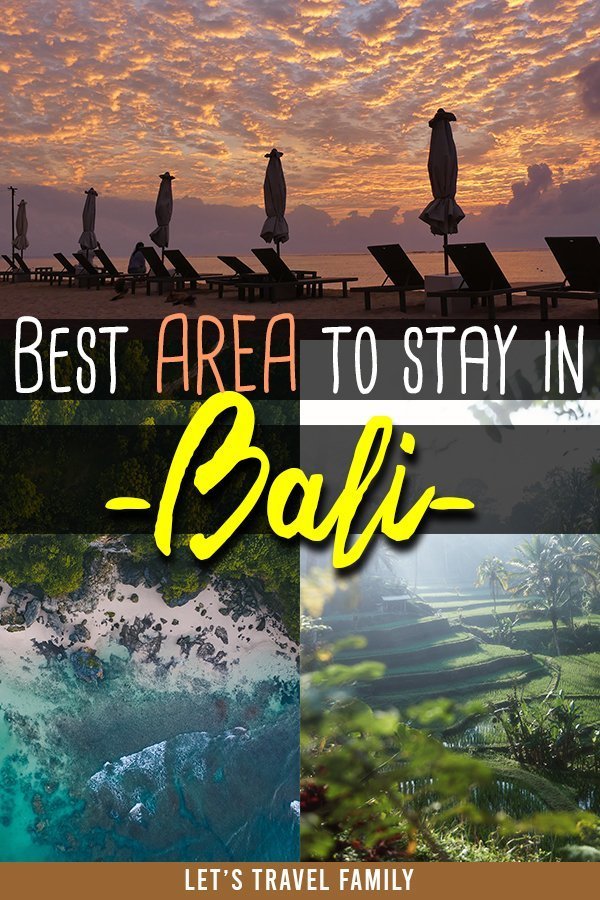 Let's Travel Family is a participant in the Amazon Services LLC Associates Program, an affiliate advertising program designed to provide a means for sites to earn advertising fees by advertising and linking to amazon.com, amazon.co.uk, amazon.ca. Amazon and the Amazon logo are trademarks of Amazon.com, Inc. or its affiliates.