​Are you planning to visit the gem called Bali in Southeast Asia? We'll help with your Bali trip preparation with our ultimate Bali packing list.
​Your Bali travel experience can be so much smoother if you KNOW what to bring and other know-hows of visiting the Indonesian island. Be sure to read to the end to learn some of our top tips for your Bali vacation and where to go in Bali. This is much more than just a Bali packing list, but a detailed post to help you plan your trip.
THIS ARTICLE MAY CONTAIN COMPENSATED LINKS. PLEASE READ OUR DISCLAIMER FOR MORE INFO. THIS POST WAS WRITTEN BY JILL GREISING-MURSCHEL, A FAMILY TRAVEL AND RV LIVING EXPERT.
​
What To Pack For Bali
​Get your packing cubes ready as we list the important things to take to Bali.
​Packing for an international trip is different from packing for a road trip – which we usually do. Sure you can find a printable Bali packing list online but is it really tailored to your needs?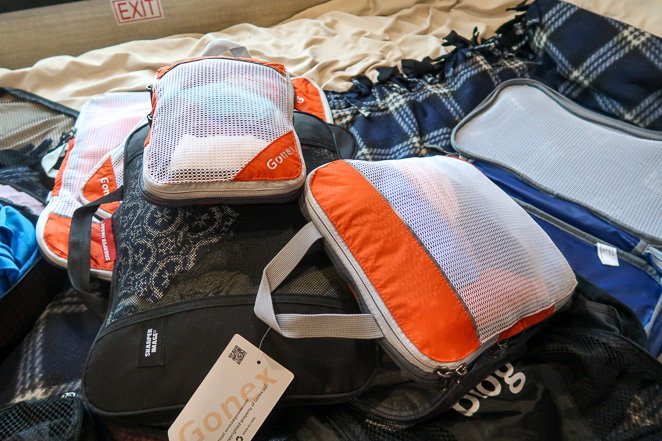 This is why we suggest that you make your OWN "what to take to Bali checklist" with our help from this post. And even consider checking out our list of the best travel accessories for long-haul flights.
Let's get started!
1. Hat or Sun visors
​The weather in Bali is hot and walking around can make it feel a lot worse. To avoid being so stressed because of the heat, wear a cap, hat, or sun visor.
​They can be fashionable like this one and it helps in covering your eyes from the bright sun. You can also protect your face from heat rash.
2. Flip Flops
​Be comfortable while walking along the sand with flip flops.
​It is basically a necessity to anyone who wishes to visit an island. It's easier to remove for when you want to dip in the open waters or when you have to enter a temple. Plus, they pack so easily and take up little space.
​Click here to read our tips for buying water shoes for kids.
3. Water Bottle
​Have you ever heard of Bali belly? It's when travelers get an upset stomach after a sudden change in diet or consuming contaminated water/food. Just so you know, it is pretty common among travelers and you have to know about it before going to Bali.
​The best way to avoid this is to bring your own water bottle and only filling it with drinking water. By doing so, you can make sure that the water you brought is clean and okay to consume.
​Or better yet, bring one of these filtered water bottles so that you are safe to drink any water. It also really cuts down on plastic use.
4. Day Bag or Backpack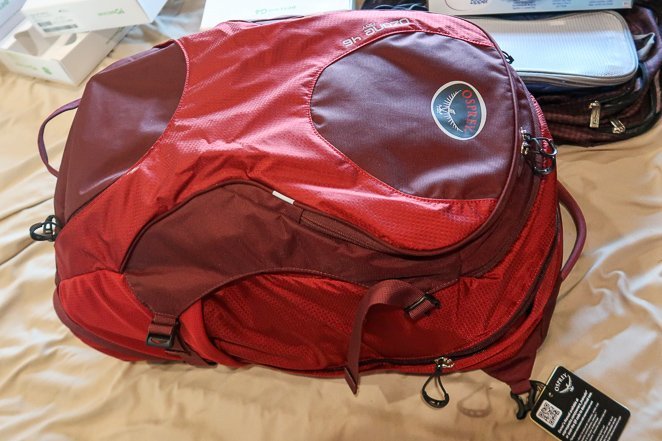 To explore, you'll be doing A LOT of walking.
It's not very practical to just buy whatever you need in the place you visited. It would be so much better if you can just bring your day trip essentials in a day bag. This is SO important, especially for moms like me.
​We love our Osprey backpack for this reason. It compresses down to a smaller version of a daypack or can be used as a simple carryon piece of luggage.
5. Rain Jacket
​You may be wondering why a rain jacket is essential for Bali when the weather's so hot. Apparently, the rainy season in Bali can be really severe so make sure to bring proper rain jackets with you.
​Now, you can wing-it like we did and luck out without having rain. But, if you're a planner then bring along a rain jacket because the weather report is NEVER spot-on.
6. Camera
Seal your memories with some photos of your trip.
Of course we believe that it's better to live in the moment and look at the beauty of nature. But a few pictures here and there can help you keep these memories forever. Or allow you to share your moments with friends from back home on Instagram or Facebook.
Bali has a lot of wonderful views to offer, it would be a waste to not have any photo of them!
​We love this camera because it's small enough to pack away but still provides high quality photos and even allows you to shoot like a pro in manual mode.
7. Sunscreen
A basic essential when visiting any beaches or pools is the sunscreen. Protect yourself from the extreme heat and its possible consequences.
It's super important, especially for kids who love running around the beach all day or if your visiting from a climate that hasn't seen the sun in awhile.
​This is our favorite sunscreen as it's safe to use on the environment and mineral-based, providing a full spectrum of protection.
If you're visiting Bali with kids, then be sure to bring the best kids sunscreen from home, along with non toxic kids shampoo and soap. You can't find the best brands in Bali.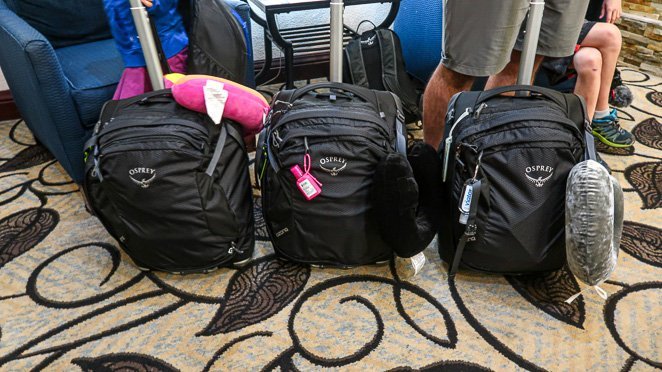 8. Neck wallet, Purse, or Man Bag
​What do I mean by this? Well, man or woman you should plan to bring some sort of 'bag' to carry around your wallet, phone, keys, snacks etc. Tony ended up buying himself one once we arrived in Bali, while I bought mine before we came.
​It's really helpful when you're riding on scooters hanging at the beach, or shopping and want to carry all of your things when you don't always have a pocket to hold them all.
​It could look like this over one shoulder or like this around the waist. The second one I have and use daily.
9. Bali outlet plug
Power outlets in Bali can be different from what you usually use. To be sure that you can charge your electronics anytime, you should bring a Bali outlet plug with you.
​Remember this because it's really necessary especially for digital nomads like us!​
​​This international travel plug adapter can be well worth the purchase ahead of time and a great investment because it functions in most countries.
​10. Waterproof Phone Bag
Remember that Bali is an island and water is EVERYWHERE.
Protect your important phones and bring a waterproof bag for your phone. We brought ours after using it often when visiting the Florida Keys last winter.
What To Wear in Bali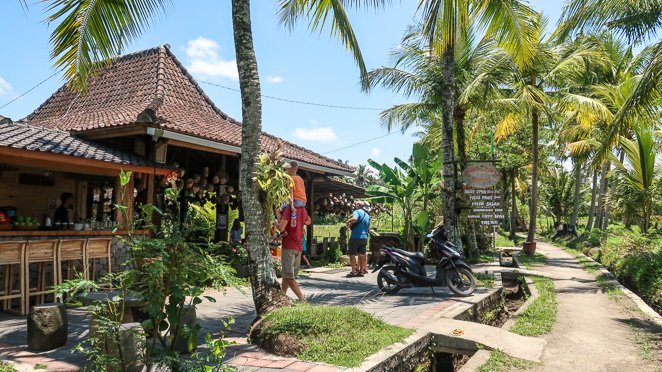 What to wear in Bali at night? Do the temples in Bali have a dress code?
When visiting a different place with a different culture, it's important to know their social etiquette in advance. This way, we can avoid offending anyone during the entire trip.
​For conservative countries, your choice of clothes is especially important. So for questions like the ones above, we made a short list of Bali outfit ideas below.
Cotton shirt and pants
The best outfit to wear when walking around Bali is a cotton shirt and pants. It is comfortable to move around in these and you won't have to worry about offending anyone with a modest feel. Oh, and wearing lightweight pants will feel a lot more comfortable if you ride on a scooter in Bali as well.
Now, when I say modest here I'm referring to only wearing your bikini at the beach, not around town.
Swimsuit
​Of course you can still bring your favorite swimsuit to wear at the beach and hotel pool. Enjoy a day of fun water activities and getting your tan on.
Sarong and a shirt
​You have to be extra careful on how you dress if you're planning to visit temples in Bali. Wear a shirt that covers your arms and shoulders, and pants to cover your legs if possible. Wearing a sarong around your legs can work or over your shoulders if you don't have pants or a shirt that covers your shoulders.
​If you want to attend other cultural or religious festivities, always research on the proper dress code to respect Bali and its people.
What's The Best Time Of Year To Visit Bali?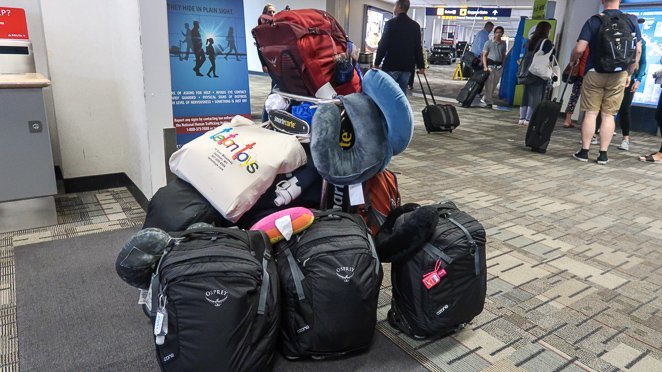 ​When planning your Bali trip, remember that the weather in Southeast Asia is SO different from the US. Having only two seasons, rainy and dry, you should try your best to get a trip schedule during the dry season. Specifically sometime between April and October so that you can enjoy the beaches more and avoid the mosquitoes.
​Also, be aware of the events in Bali that can match your trip schedule. They have numerous festivals and events from June to August that tourists love.
​These events include Bali Arts Festival and Nusa Dua Festival from June to July, and Bali Kites Festival from July to August.
​Where Should I Go In Bali?
​As a center of culture and tradition, Bali never disappoints… as long as you know where to look.
​Some people don't like crowded places but if you visit Bali during peak season, you can't help but be surrounded by a crowd whenever you visit a known tourist spot.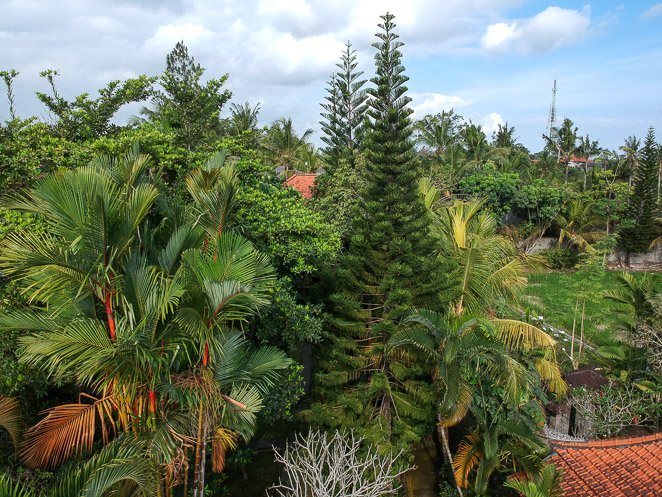 ​Friendly tip: Know that there are lots of interesting places in Bali aside from the popular ones that we see on the internet. Here's a list of spots and places to visit in Bali, including the popular and the secret gems of the island.
Menjangan Island
​Want to start off with a place that's not crowded? Then visit the Menjangan Island which is a few miles from the coast of Bali.
I know it's not ON Bali, but it's just off the Northwest coast.
​It's perfect for people who want to feel like they have the whole place to themselves! With its white sand and clear water, you'll enjoy spending time on the beach before moving on to other activities. Maybe you have some time to go diving and snorkeling too.
You can visit numerous temples on the island for free, including the Pura Segara Gili Dharma Kencana Temple. There's no entrance fee.
Lastly, you can walk around the West Bali National Park, a great experience especially if you have kids with you.
Uluwatu Temple
Situated on top of a cliff with an amazing view, the Uluwatu Temple is one of the nine key directional temples of the renowned island. If you're lucky enough, you may even witness the temple celebrations and festival after every six months based on the 210-day Pawukon cycle.
It's a great destination if you want to see the beauty of Balinese architecture and tradition.
Monkey Forest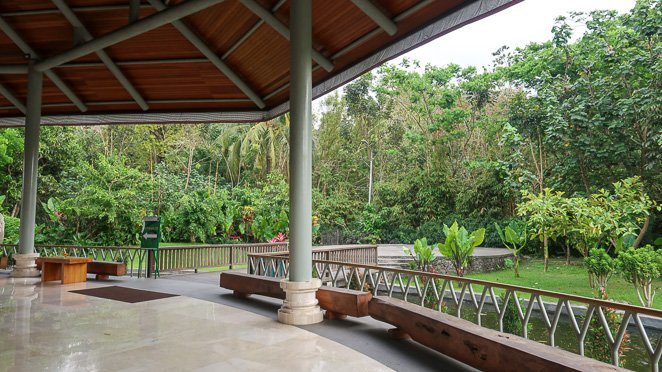 ​One of the first places that come to mind when you hear Bali is the infamous Monkey Forest in Ubud. We talked about it in our post about things to do in Ubud Bali.
​The Monkey Forest doesn't only showcase the cute monkeys of Bali, you can also visit temples and appreciate the forest while you're in there. It's three in one.
​Once you pay for the entrance fee, you can spend all day inside.
Tanah Lot Temple
​Giving you a majestic view of the earth (Tanah) and the sea (Lot), this spot surely lives up to its name. It is said to be the most photographed temple in Bali — that's just how beautiful it is!
​Try to visit around the time of their Kuningan, which is five days before the temple's anniversary, to witness their festive parade.
​Also, there is an entrance fee for both kids and adults.
Kuta
​One of the most famous places in Bali, Kuta boasts of a lovely nightlife scene and bustling crowds. It has everything – food, shopping malls, beach, and local markets.
This tourist-favorite is filled with exciting activities that anyone can enjoy so go and stay here for a few days or more. This is the place to visit if you like great energy and people.
Nusa Dua
​Stay here and you'll see a different side of Bali. With its tourist-exclusive area, Nusa Dua aims to give its visitors a dream vacation in paradise.
​If you want to steer clear from crowded beaches, you can opt to stay in the high class resorts in Nusa Dua. You'll probably feel like royalty.
Pura Ulun Danu Bratan
Want to dwell in the natural beauty of Bali? Visit Pura Ulun Danu Bratan in the middle of Bali!
It gives the impression of a floating island because of how it's situated and the fog that occasionally surrounds the area. Totally IG-worthy.
​You can also spend some time fishing, I'm sure kids will love it.
Sidemen Valley
An awe-striking landscape awaits in East Bali. You may not have heard of it but it certainly is a spot worth your visit.
This spot can give you a glimpse of the simple life of Balinese people. After days of looking at the blue of Bali's beaches, take the time to look at the green fields of Sidemen Valley.
​Staying here is surely relaxing, you won't need to visit a spa!
Tirta Empul
​Learn more about the rich culture by visiting the Tirta Empul. You may have seen pictures of this sacred place without knowing it!
​Hindu worshippers visit the sacred springs of Tirta Empul which is said to be a creation of the God Indra. It is always so fascinating to witness the rich culture and see the strong faith by visiting sacred places like this one.
Mount Batur
​Another infamous destination in Bali is Mount Batur. For fellow National Park and hiking lovers, this one's for you!
Tourists always try to climb Mount Batur, and for a good reason. The view once you've reached the top is totally worth it. Even pictures can't compare to its actual beauty.
So go and try it too!
​How Expensive Is Bali?
Trips can be very expensive … or not. It really depends on your lifestyle and on what type of tourist you are.
Yes, it's all up to you.
​If you're traveling from the US then your flights to and from Bali will most likely be your biggest expense. Being the number one tourist spot in Indonesia, some things can be a bit more expensive than you might think. But it doesn't mean that you can't find some cheap stuff around.
​For a week-long stay for 2 people in many hotels, you can find yourselves paying anywhere from $500-$1,000. Eating out at restaurants is less expensive than the US, but if you want alcohol or western foods than it may be similar in price.
​If you're on a budget, you can choose from cheap food and Bali accommodations around. It won't be too hard to find one.
Bali is a dream destination for a reason. It's rich in culture and tradition and visiting can be one of your best memories.
They've got everything that anyone can need. A quiet and peaceful landscape? Go to East Bali.
A bustling nightlife? Enjoy in Kuta.
A fun family outing? Pick from the many beaches around.
So don't let it be just a dream, make it a reality! With some rigorous planning, you can go there.
We look forward to hearing your Bali stories in the comment section below.