What are your expectations for experiencing the famous Angels Landing Zion hike? Well, let me walk you through what to expect and how you might feel while experiencing this epic hike after we accomplished such a feat.
Angel's Landing Zion Hike Expectations
Just realize that the Angels Landing Hike in Zion is a day hike, so be sure to bring everything you need for a day hike in your pack. Also, be prepared for a workout on this hike, it's a fun but challenging one.
THIS ARTICLE MAY CONTAIN COMPENSATED LINKS. PLEASE READ OUR DISCLAIMER FOR MORE INFO.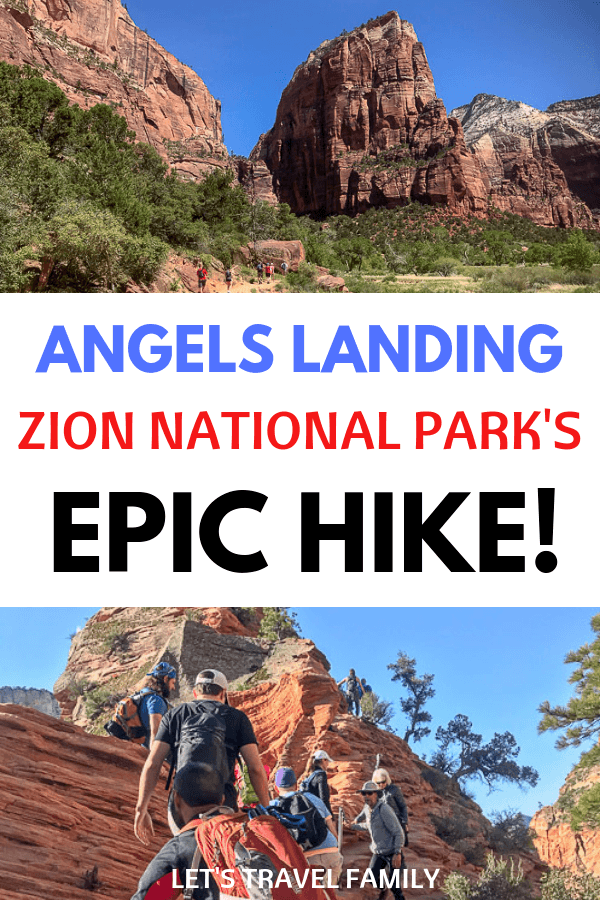 Burn.
That's all that goes through your head is the burn. Your lungs, your legs, your feet, your back, all burning in a symphony worthy of Mozart.
And that's just the hike up through Walter's Wiggles.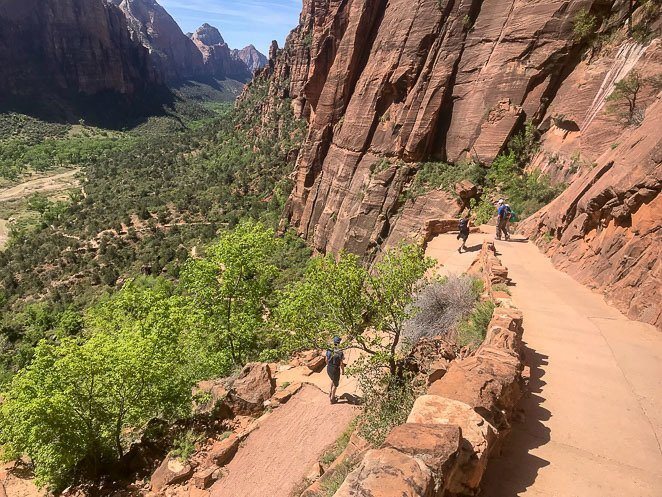 Once you've regained your composure, used the strategically placed restrooms at the base of the "chains" called Scouts Lookout, now the real hike begins.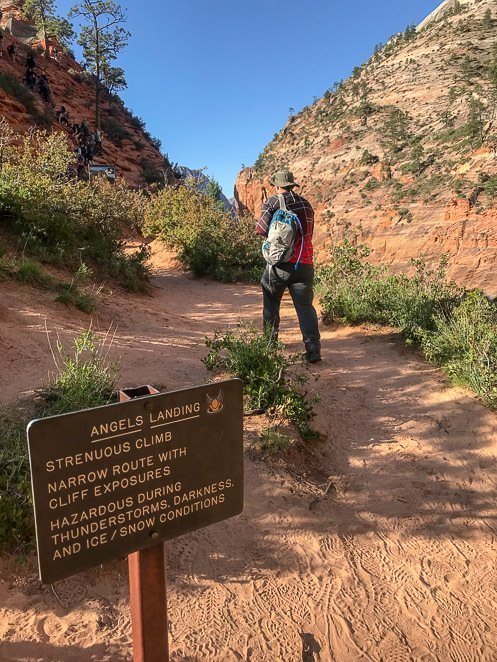 Standing in front of you is only a half-mile left of hiking to reach the summit. But over that half-mile you will climb up nearly 500 vertical feet, passing over areas 3 feet wide with 1200' sheer cliffs on either side of you.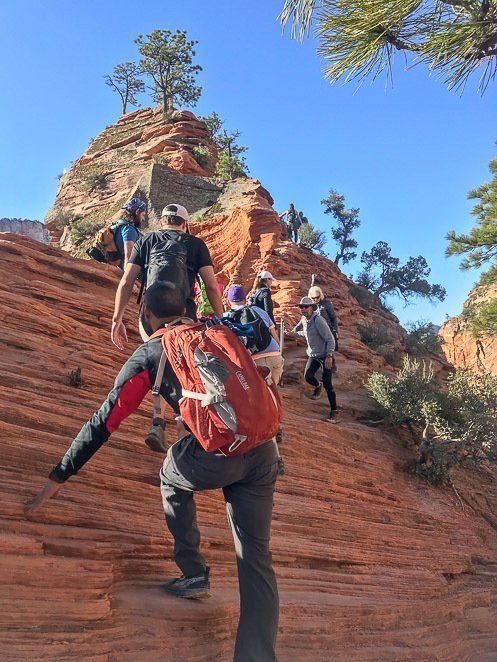 Don't let that worry you though, there are chains to hold on to while you traverse the spine of Angel's Landing.
Working your way across the spine while passing others you need to be okay getting close, and I mean real close to other people. Depending on the time of day you leave and how many people are there, you will need to leapfrog over sections of chains with others and be okay with that.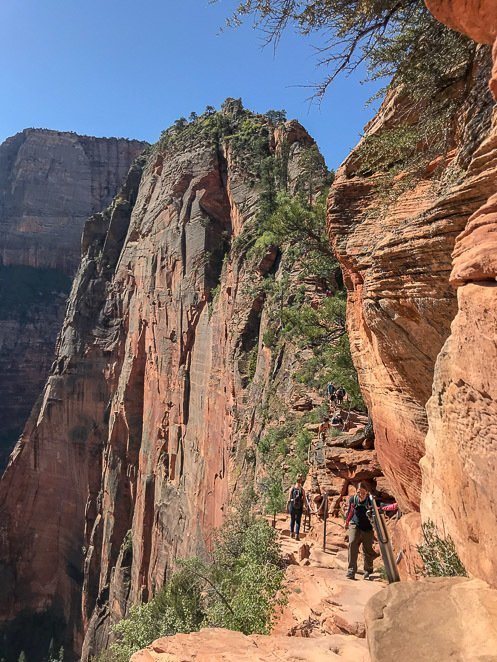 None of what is being written is to deter you from completing, no, it's to make sure you succeed because you will need to move past quite a large number of hurdles. But succeed you will!
Various sections of the climb will be waiting in-turn for others coming down as that can be a little more strenuous without as many waiting areas. Take those breaks as they come because you'll need the energy to keep moving forward and pushing through the final climbs.
After conquering the spine you will be placed at the peak and truly feel as if you're smushed up against the sky.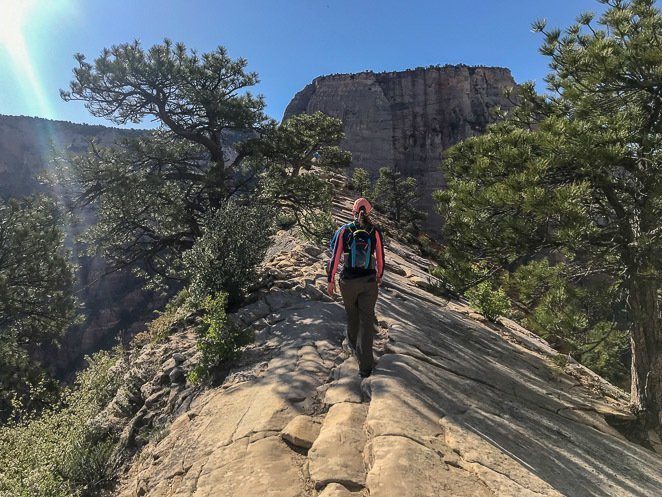 Standing up on the landing you can see why it was named Angel's Landing; because if they came down to Earth it feels like they'd just set down right where you're standing.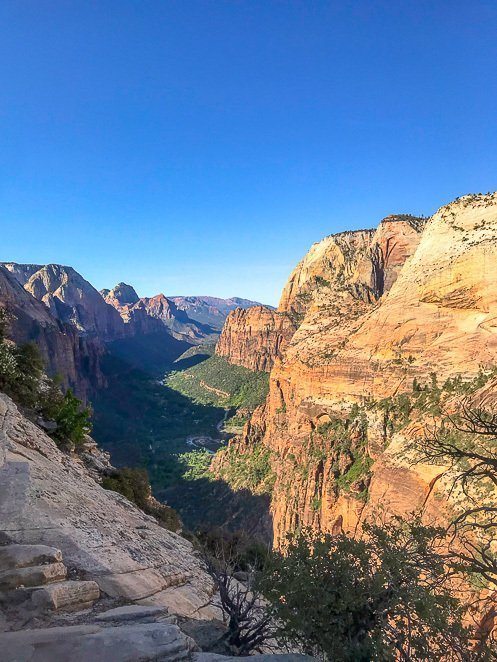 Jill and I were able to hike Zion National Park's famous Angel's Landing one May morning while her mom was in town watching our kids. You see, if you've never read anything on Let's Travel Family, you probably don't know that we are a full time traveling family and have our 4 kids along with us during most activities and adventures.
Yet, Zion's Angel's Landing was a hike we knew we wouldn't feel comfortable doing with the kids. So we left them with Grandma and spent over 6 hours taking the shuttle, hiking, and getting back to our Zion National Park campsite.
How Long is the Angel's Landing hike in Zion?
The Angel's Landing hike in Zion is 5.4 mi or 8.7 km with 1,488 feet or 453 m in elevation change. Give yourself 4-6 hours to complete the hike.
How do you hike Angel's Landing?
Leave early!
The first shuttle leaves at 7:00 am and I would suggest getting on that if you're staying in the park or nearby. Line up around 6:30 am and you should be on the first shuttle rolling out so that you can be on the trail before most people. The Angels Landing trail can become crowded during the day.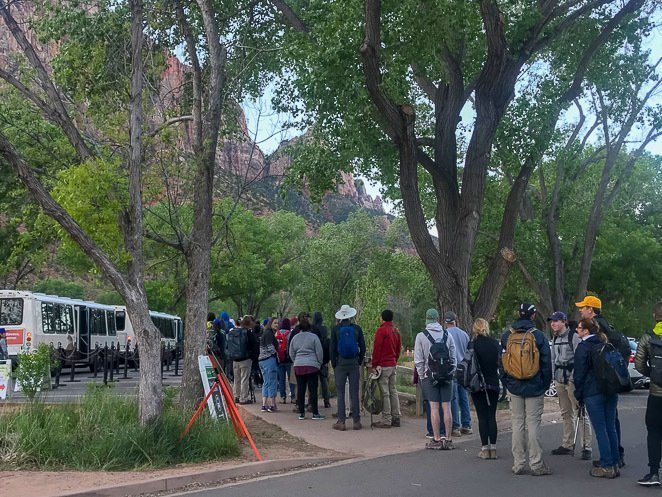 What to bring when hiking Angels Landing:
Water
Snacks and protein
Hiking boots
Hiking poles
Sun protection
Related post: What To Wear Hiking
Water
Yes, lots and lots of water. Any hike in Utah, even if early in the morning, will require you to stay well hydrated. It's the high desert and I suggest you invest in a hydration pack.
Snacks and Protein
During the hike up you probably won't need much besides water and a burning desire to make the peak. However, once you arrive to the landing, you will want to take a load off and re-energize for the climb down.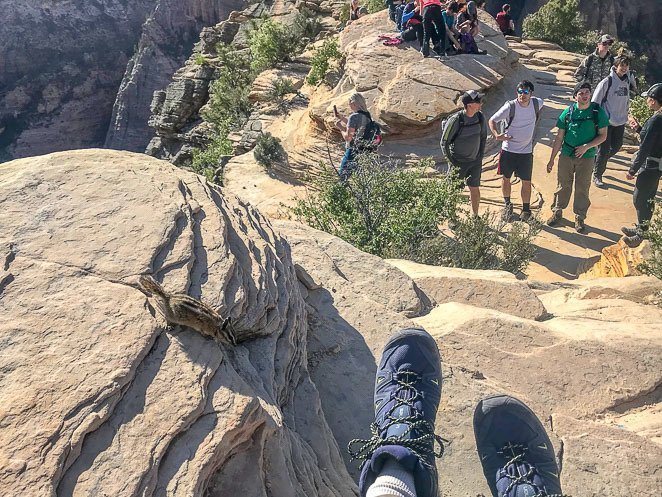 Also, keep an eye on your food as you will encounter the most extreme chipmunks ever seen. They'll be hopping all over and bouncing off the edge of the cliff without a care in the world, which makes your hike up seem pretty boring by their standards.
Hiking Boots
While there is debate on the best hiker or approach shoe to choose, make sure and choose one that has grip and protection. Tennis shoes, flip flops, Crocs, slide-ins, are all a no-go. There isn't a guard up there making sure you have made the correct choice in footwear but proper gear will make the climb enjoyable and safe.Jill and I both wore hiking boots with amazing grip and we're glad that we did.
Hiking Poles
We personally don't use poles yet, but we had plenty of chances to use them on the hike up, especially on Walter's Wiggles. Also, once you are down off the chains they can help your descent during the rest of the way down.
Sun Protection
Whether it's a hat, scarf, or sunscreen, you're going to want sun protection while hiking Angels Landing. The amount of exposure once out of the canyon and the Wiggles can burn any type of skin.
What are the best hikes at Zion National park besides Angel's Landing?
Other than Angel's Landing trail and hike, we found Riverside Walk and the Lower Emerald Pool trail to be a few of our favorites.
Just remember, Angel's Landing is not the best hike for young kids. So if you have young kiddos with you, then be sure to check out our other post listing the best hikes at Zion National Park.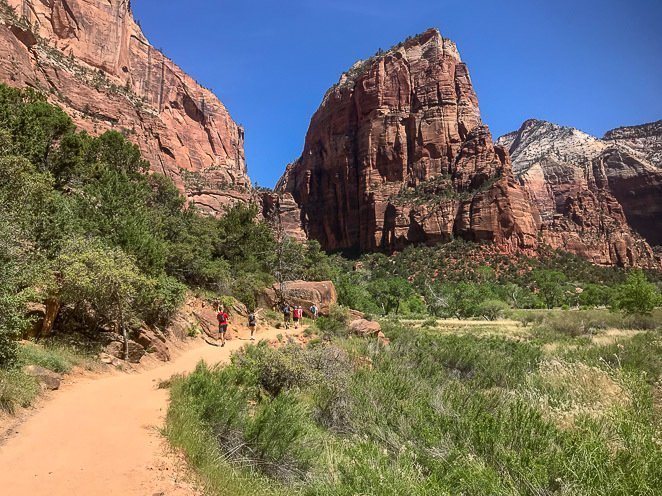 Zion National Park has so many amazing hikes, views, and has become one of our favorite National Parks to visit. Some people say it can become crowded, but we found that the park shuttle service does an amazing job of bringing everyone where they want to go.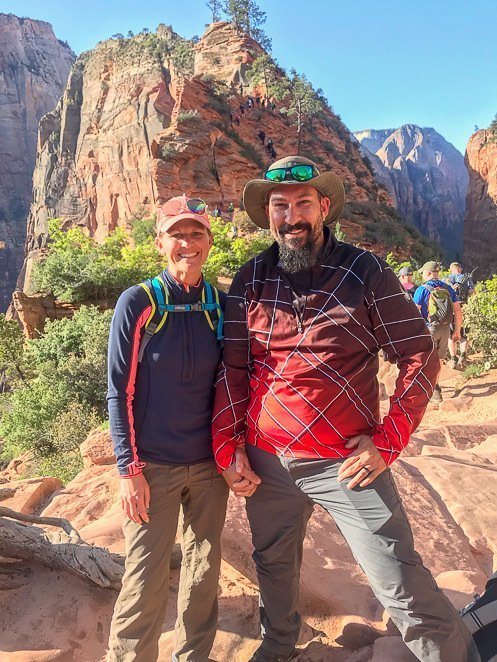 Is Angel's Landing on your bucket list?
If Angel's Landing is on your bucket list, then make it happen.
It's a hike that you will never forget and feel such an amazing sense of self worth to complete. Jill and I did!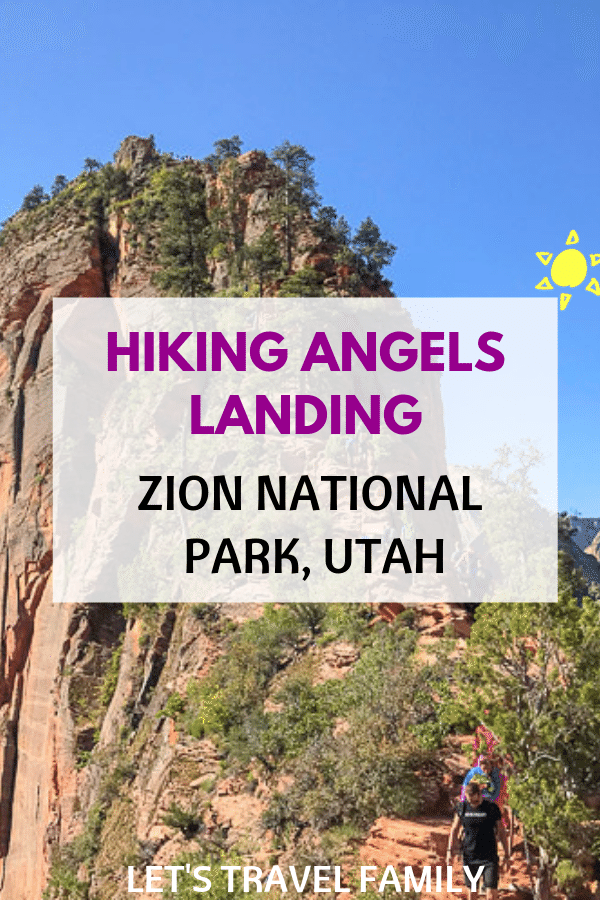 Let's Travel Family is a participant in the Amazon Services LLC Associates Program, an affiliate advertising program designed to provide a means for sites to earn advertising fees by advertising and linking to amazon.com, amazon.co.uk, amazon.ca. Amazon and the Amazon logo are trademarks of Amazon.com, Inc. or its affiliates.