Hiking in Zion National Park is one of best things to do when visiting Utah's famous park. From the famous Angel's Landing hike to the beautiful Riverside Walk on your way to The Narrows, you're sure to find something that will inspire you or your family.
That's why we want to share with you our list of the very best hikes in Zion National Park that will keep your family, friends, or just yourself busy for your entire trip to Zion.
THIS ARTICLE MAY CONTAIN COMPENSATED LINKS. PLEASE READ OUR DISCLAIMER FOR MORE INFO.
The Best Hikes In Zion National Park
Hiking in Zion National Park can be an amazing experience. Not only is it a way to mark something big off some people's bucket lists, but it's a great way to feel pretty small in this amazing world around us. Zion Canyon stands tall with the Virgin River flowing down the center of it, allowing the Zion National Park service to provide a paved road most of the way through.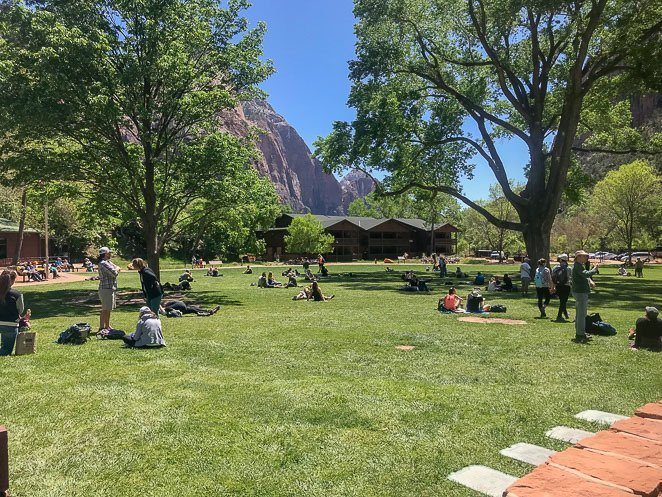 Zion National Park hiking trails can be found all along the canyon and at a variety of levels of difficulty. Just take the Zion Canyon Shuttle along with some water and good hiking shoes and set off to find your favorite Zion hikes. Which trail provides the best hiking at Zion National Park?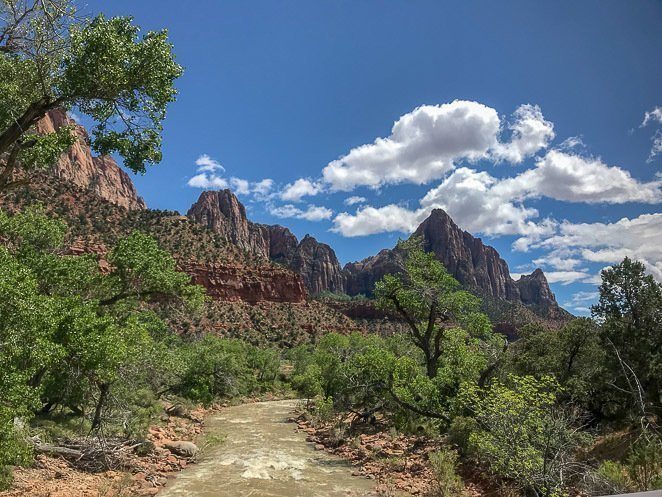 Well, it really depends on what you're looking for. That's why we listed the best hikes below along with level of difficulty, length of a round trip hike on the trail, which shuttle stop to get off on, and the elevation change during your hike.
Be sure to check out our day hike packing list so that you have everything you need to be prepared, too.
Keep reading to learn which Zion National Park hikes you'd like to try out.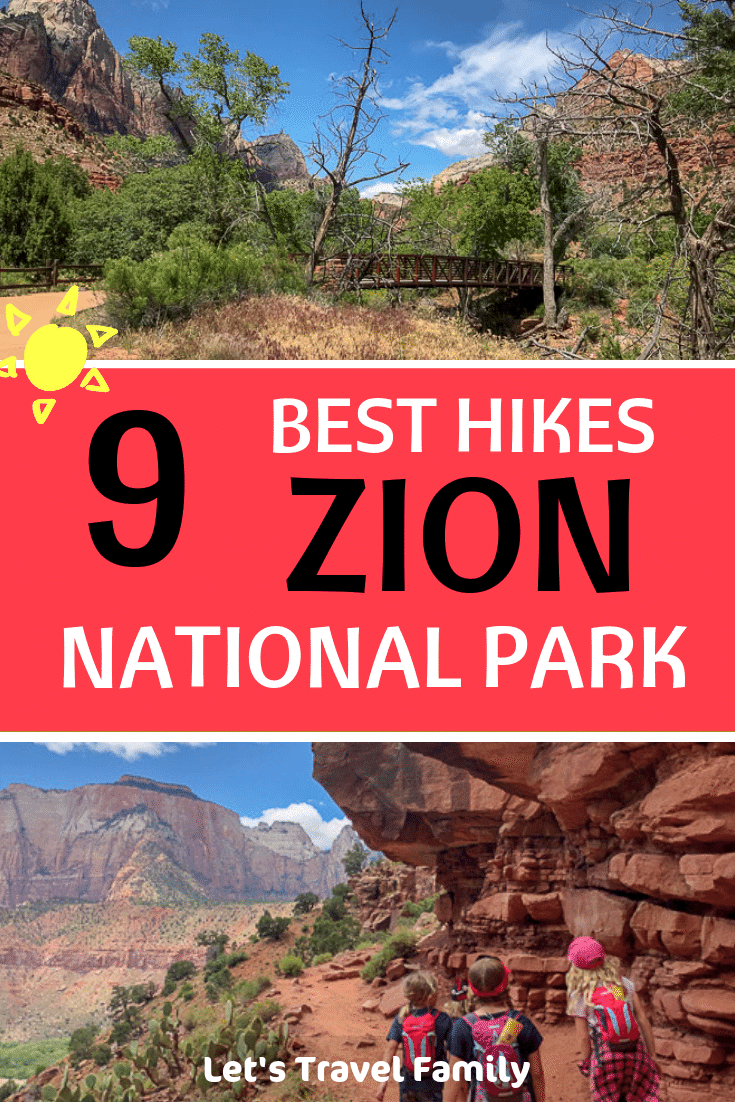 Watchman Trail Zion
The Watchman Trail is one of two that begin right from the Zion Visitor Center. No need to take the Zion Shuttle for this one.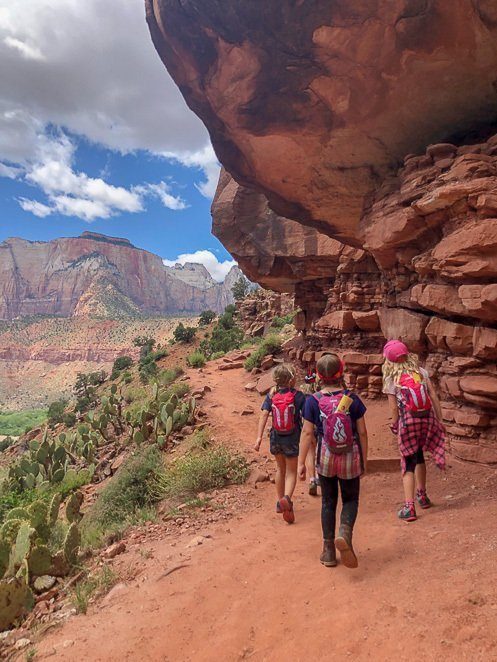 Distance: 3.3 mi or 4.3 kmElevation Change: 369 ft or 112 mDifficulty: ModerateZion Shuttle Stop: Visitor Center stop #1
​Angel's Landing Hike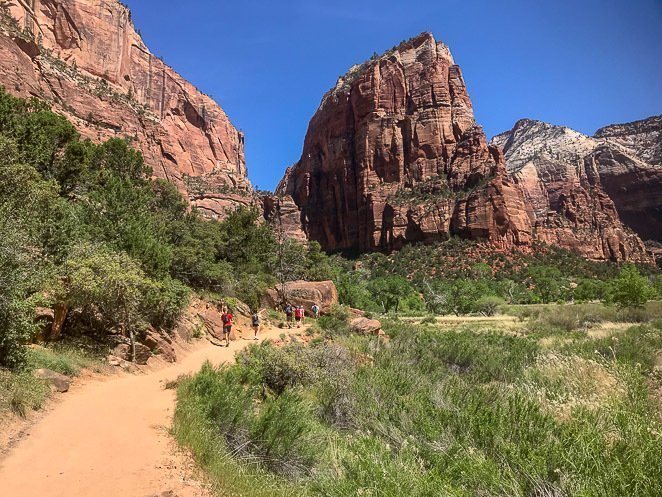 Angel's Landing is one of the most popular hiking trails in Zion National Park. It not only takes you up over 1,400 feet in elevation, but the portion at the top of Angels Landing requires you to hold on to chains with steep drop-offs on either side.
Read our in depth account of what to expect when hiking Angel's Landing here.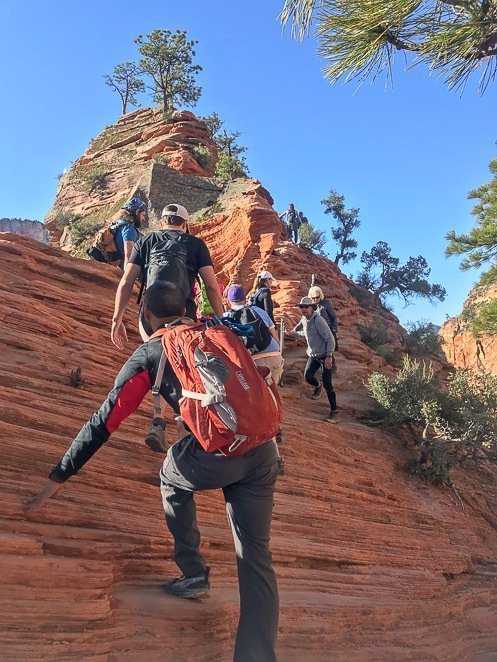 This hike is one where you need great hiking boots, a hydration pack, and an early start. Oh, and we do not recommend taking young children on this hike.
Distance: 5.4 mi or 8.7 kmElevation Change: 1,488 ft or 453 mDifficulty: StrenuousZion Shuttle Stop: The Grotto stop #6
Lower Emerald Pool Trail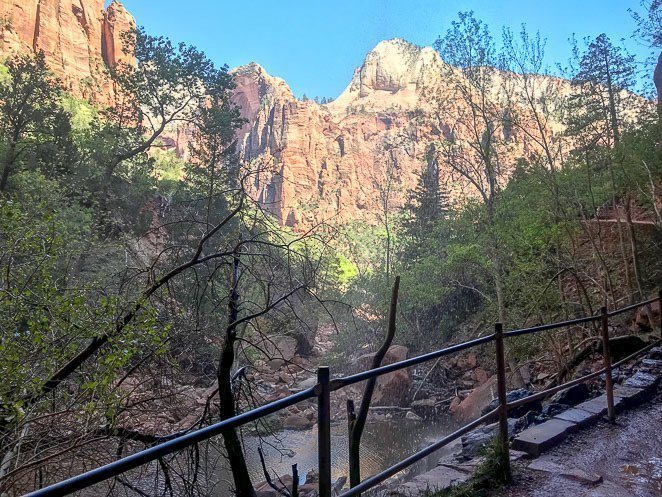 The Lower Emerald Pool hike at Zion is a packed trail that leads to a beautiful pool along with a misty waterfall. It's a great Zion hike to take kids and grandparents on and is simple enough to access from the shuttle stop.
Distance: 1.2 mi or 1.9 kmElevation Change: 69 ft or 21 mDifficulty: Easy Zion Shuttle Stop: Zion Lodge stop #5
Upper Emerald Pool Trail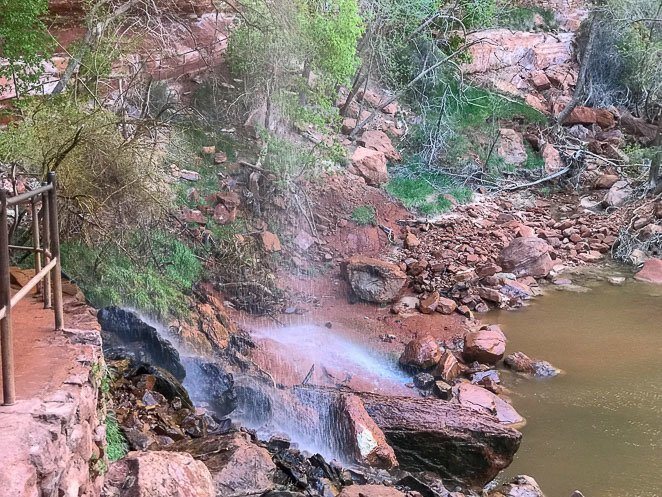 The Upper Emerald Pool trail continues on after the Lower Emerald pool, and brings you to middle and upper Emerald pools. You can also reach the Upper Emerald Pool trail from the Kayenta Trail if you start at shuttle stop #6.
Distance: 1 mi or 1.6 km (beyond the Lower Emerald Pool trail)Elevation Change: 200 ft or 61 mDifficulty: ModorateZion Shuttle Stop: Zion Lodge stop #5 or The Grotto stop #6
Kayenta Trail Hike
This hike takes you from The Grotto bus stop west across the Virgin river and toward the Upper Emerald Pool Trail. You can then choose to circle down the Lower Emerald Pools hike and arrive at the Zion Lodge.
Distance: 2 mi or 3.2 kmElevation Change: 150 ft or 46 kmDifficulty: ModorateZion Shuttle Stop: The Grotto stop #6
Pa'rus Trail Hike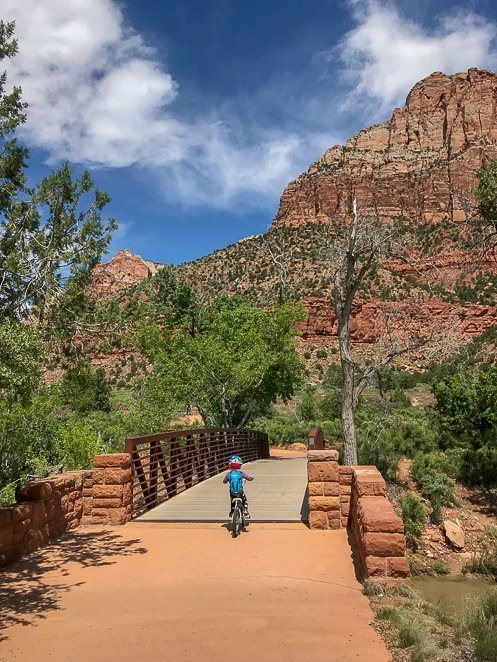 The Pa'rus trail is a fully paved hiking and biking trail the heads North from the Visitor Center, following the Virgin River. This is the only trail in the park that allows dogs, so it can be great for many families. We took our kids on a bike ride on the Pa'rus during our visit to Zion. I love finding paved biking trails in National Parks. We found one at Glacier National Park that we also took our bikes out on.
Distance: 3.5 mi 5.6 kmElevation Change: 50 ft or 15 mDifficulty: EasyZion Shuttle Stop: Visitor Center stop #1
Riverside Walk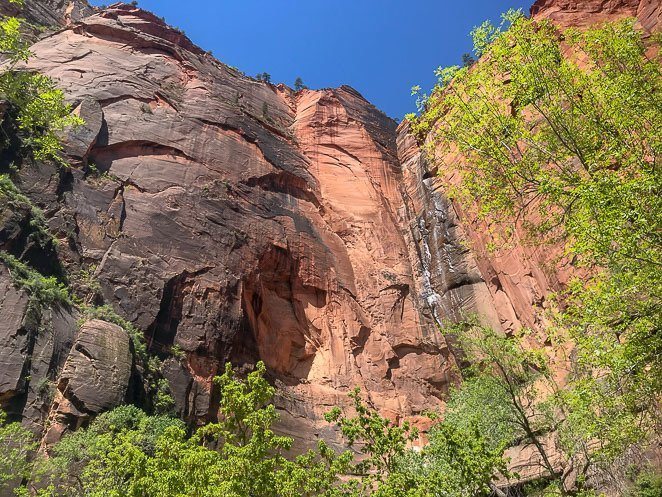 This is a fully paved trail that follows the Virgin River at the 'end' of the Zion Canyon before you arrive at the Narrows.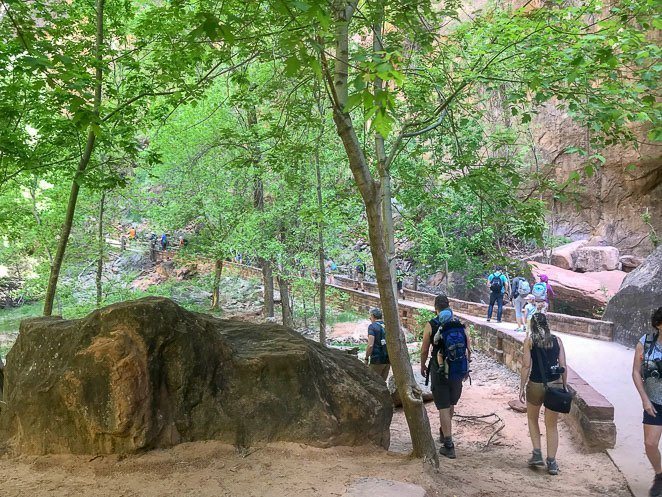 Distance: 2.2 mi or 3.5 kmElevation Change: 57 ft or 17 mDifficulty: EasyZion Shuttle Stop: Temple of Sinawava, stop #9
The Narrows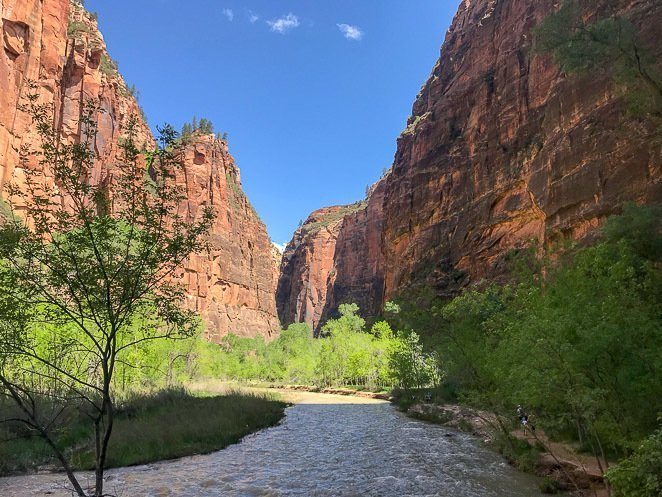 The Narrows is a very popular trail to hike that involves hiking IN the Virgin River. If it's early springtime when you visit, be prepared for this trail to be closed due to fast running water as the melts from the snowcapped mountains fills the river.
Distance: 9.4 mi or 15.1 kmElevation Change: 334 ft or 102 mDifficulty: StrenuousZion Shuttle Stop: Temple of Sinawava, stop #9
Canyon Overlook Trail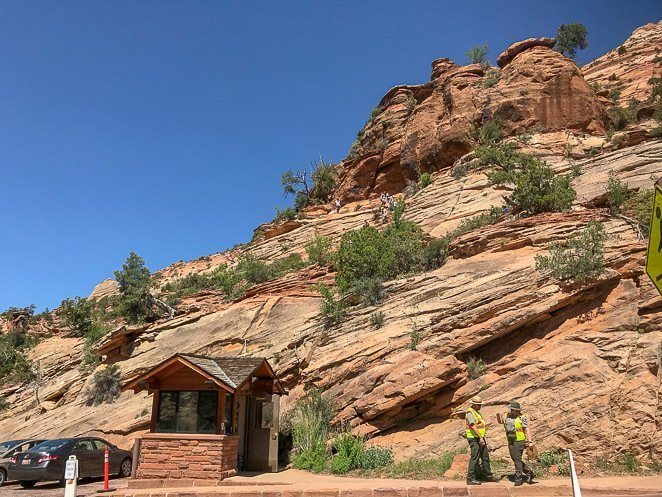 The Canyon Overlook Trail is only accessible from your own vehicle after you drive through the Zion tunnel. The Zion Shuttle does not reach this trail. As soon as you get through the tunnel to the East side of Zion on Carmel Highway, turn right into the small parking lot.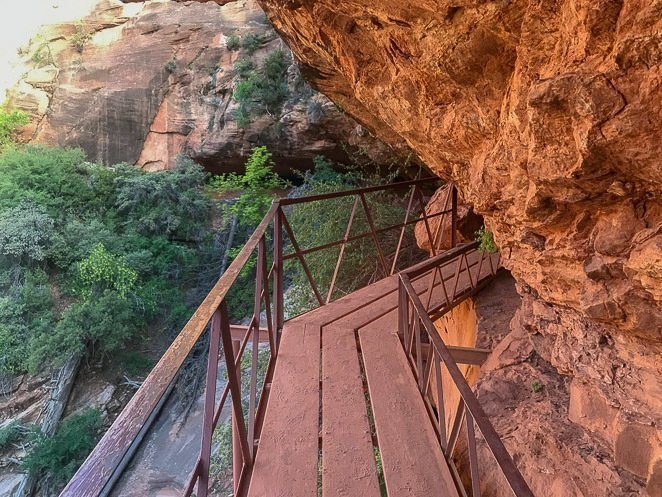 The trail climbs up to a beautiful viewpoint of Pine Creek Canyon and has some narrow paths with drop-offs.
Tony and our son Riley hiked this trail early one morning and felt almost completely alone. Well, other than seeing a lot of animal tracks!
Distance: 1 mi or 1.6 kmElevation Change: 163 ft or 50 mDifficulty: ModerateZion Shuttle Stop: No shuttle to this hike – Located on the East side of the tunnel.
When Is The Best Time To Visit Zion National Park?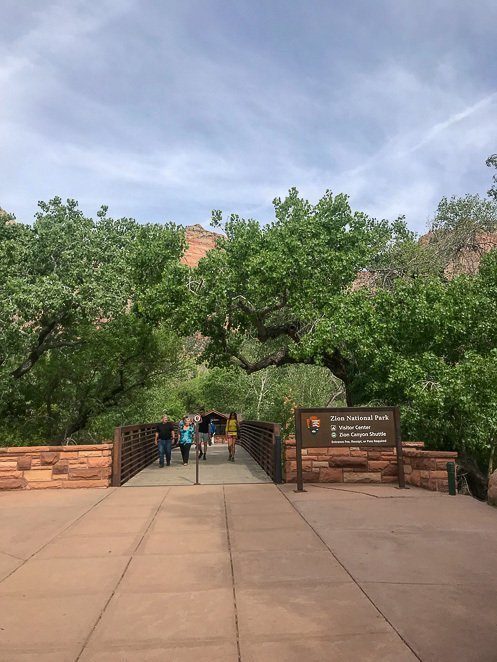 Zion National Park gets pretty cold in the winter and sees snow. It's also located in the high desert and reaches triple digits in the summer. So if you're looking for great hiking conditions with the best temperatures the best time to visit Zion National Park is the Spring and Fall.
Keep in mind that depending on how much rain and snow parts of Utah received over the winter will affect a few trails being opened or closed in the spring, such as The Narrows.
Zion National Park With Kids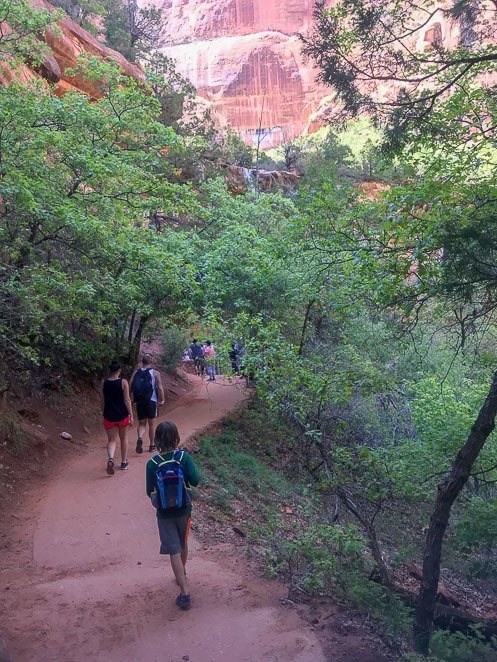 One of the best things to do in Zion National Park with kids is to have your kids complete their Junior Ranger booklets and receive their badge.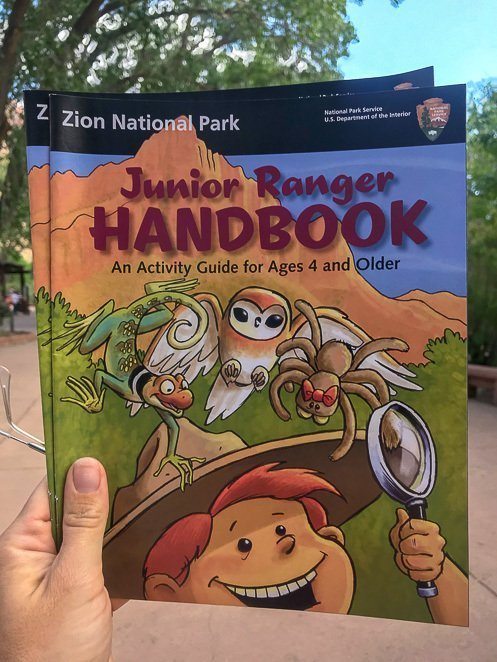 You can find the booklets at the visitor center when you first arrive. Be sure to plan to visit the Zion Museum at shuttle stop #2 where you can attend a Ranger talk and get their booklets signed.
If you want to take your children in a few fun hikes then I recommend the Riverside Walk and the Lower Emerald Pool Trail. Another great trail to take your kids if they're up for a bit longer of a hike is The Watchman Trail.
Where Is Zion National Park?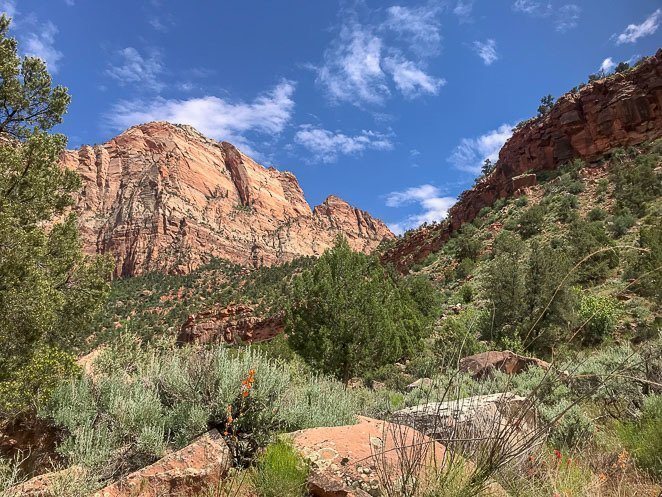 Zion National Park's most popular entrance is the South entrance located just 46 miles northeast of St. George, Utah on highway 9.
How do you get to Zion from Bryce Canyon National Park? You can take Utah 9 West from Mount Carmel Junctions to the park's east entrance.If your vehicle or RV is over 13'1 tall or longer than 50ft, you will not be able to take the Zion-Mt. Carmel Tunnel from the East entrance and will have to drive 89 South to 389 West to 59 North.
Accommodations Near Zion National Park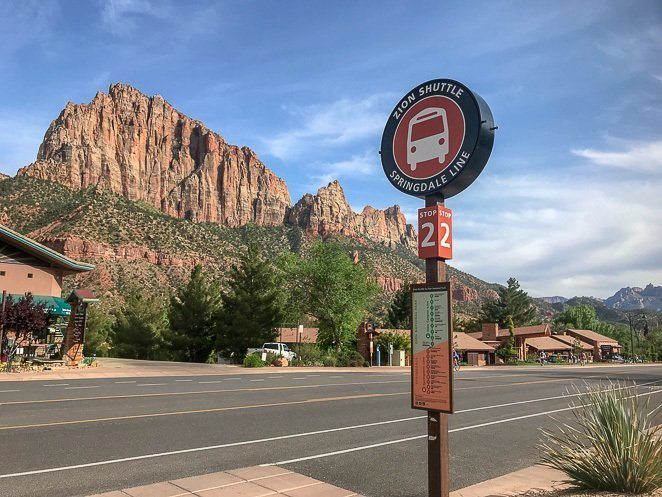 When looking for where to stay in Zion National Park be sure to check out hotels and Airbnbs in Springdale, UT. Click here to receive $40 off your first Airbnb rental!The city of Springdale is just across the narrow Virgin River and is a very walkable city. Or, if you don't want to walk too much the free Springdale Shuttle has 9 stopes throughout the city including a stop inside the park at the Zion Visitor Center.
Renting An RV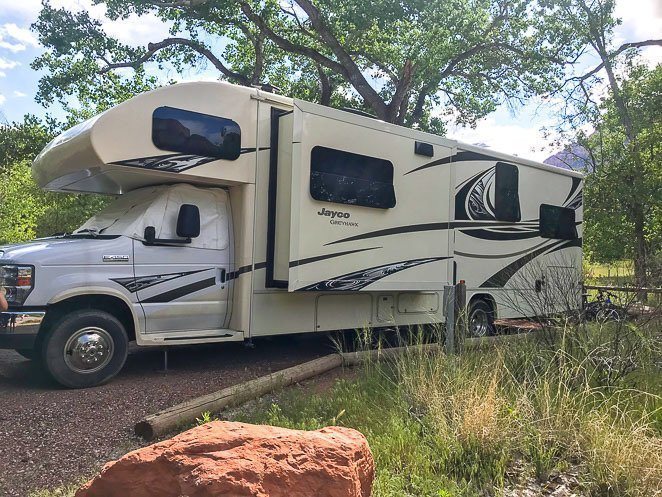 You can always rent an RV and find a great campground or camp inside Zion National Park. When we visited Zion, our family found camping at Watchman Campground inside the park. I cannot tell you how many rental RVs we saw in the campground!If you've never rented an RV before, check out how easy it is to rent here.
Hotels Near Zion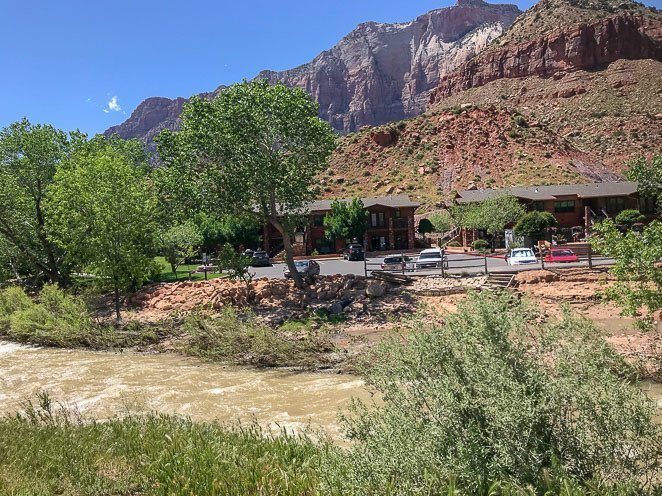 You can find a great hotel in Springdale and drive in or take the shuttle from Springdale. I love the city of Springdale with so many restaurants, stores and shops to visit. Or maybe it's just the feel of the city with the beautiful backdrop view of Zion National Park.
Let's Travel Family is a participant in the Amazon Services LLC Associates Program, an affiliate advertising program designed to provide a means for sites to earn advertising fees by advertising and linking to amazon.com, amazon.co.uk, amazon.ca. Amazon and the Amazon logo are trademarks of Amazon.com, Inc. or its affiliates.