The best hiking clothes have come a long way from animal skins to advanced synthetic materials that are quick-drying, lightweight, and even some that are biodegradable.
But don't count out those animal fibers just yet. Materials like Alpaca and Merino Wool are still a staple in most high-end hiking apparel lines. Both are often used in organic and sustainable kids' clothing of all types.
If you're planning a fun day hike, or you're looking for the best camping clothes for a weekend outdoors hitting the trails, then you've come to the right place.
When creating your day hike packing list, be sure to include quality hiking clothes. They can make all the difference.
THIS ARTICLE MAY CONTAIN COMPENSATED LINKS. PLEASE READ OUR DISCLAIMER FOR MORE INFO.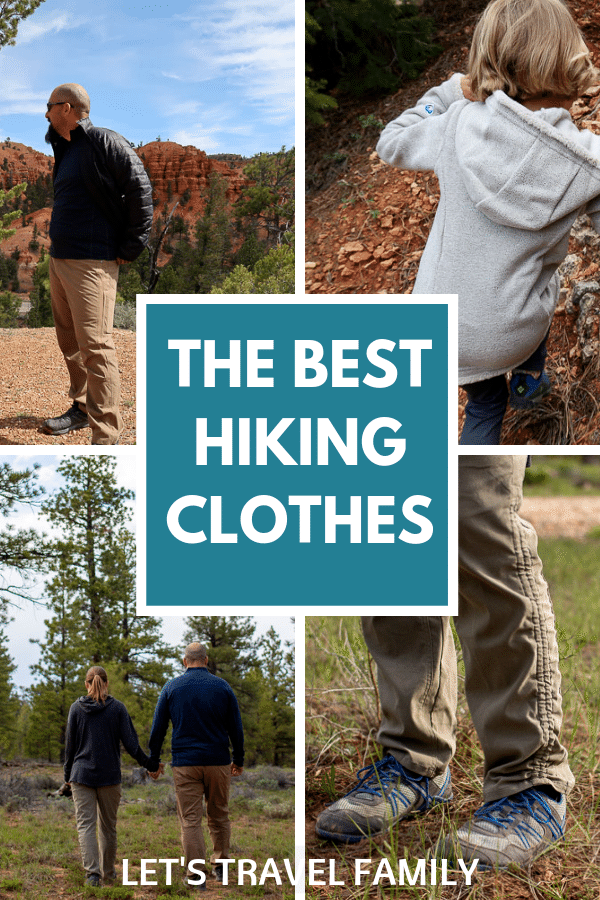 The Best Hiking Clothes – What To Wear Hiking
With so many options for finding the best hiking clothes, where do you start? Well, let's start with where you will be hiking.
Will you be visiting some of Utah's National Parks and finding amazing hikes at Zion or Bryce Canyon, or will you be hiking the rainforests in Costa Rica?
Are you looking for cold weather hiking pants for some winter hiking or typical hiking clothes for the warmer months? Your choice of hiking clothes has a lot to do with the location of your trip. For example, if you're hiking in the winter months then you're going to want to have a pair of great hiking gloves, whereas in the summer months, you may not need them.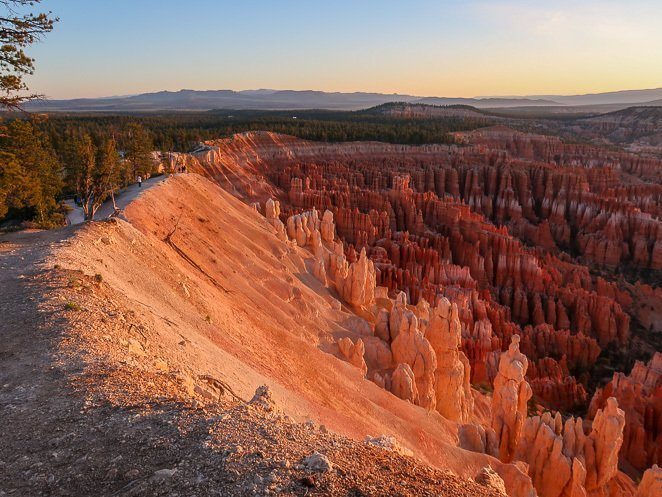 So, let's first dive into the topic of finding hiking pants versus hiking shorts and how to choose between the two pieces of hiking wear.
Finding the best hiking pants may actually lead you to find the best hiking shorts as well. Many top brands these days create convertible pants with zip-off legs so you can always be prepared.
Owning both dedicated hiking pants and convertible pants I can say both are a great choice but it again depends on where you will be hiking.
Best Hiking Shorts
Dedicated hiking shorts are a great choice if you know the temperature will stay consistently temperate and there would be little chance of severe temperature swings. Shorts are also a possibility when you know your hike will provide very little exposure to the sun and wind.
The best men's hiking shorts I've found are actually the Kühl Radikl shorts. Rugged yet soft is how I would describe them.
KUHL Radikl Shorts – Men's | REI Co-op
Where shorts…fall short…are when you are in a climate or zone where you can have extreme amounts of sun or wind exposure.
You would think staying cool on a desert hike would be the priority and wearing hiking shorts is a no-brainer. However, especially on a desert hike, you are going to want your skin to be covered completely with lightweight, breathable fabrics.
This is where you are going to want to find the best hiking pants. Again, it seems counterintuitive but having full coverage in the desert will not only keep you cool, but it will keep you safe as well.
Best Hiking Pants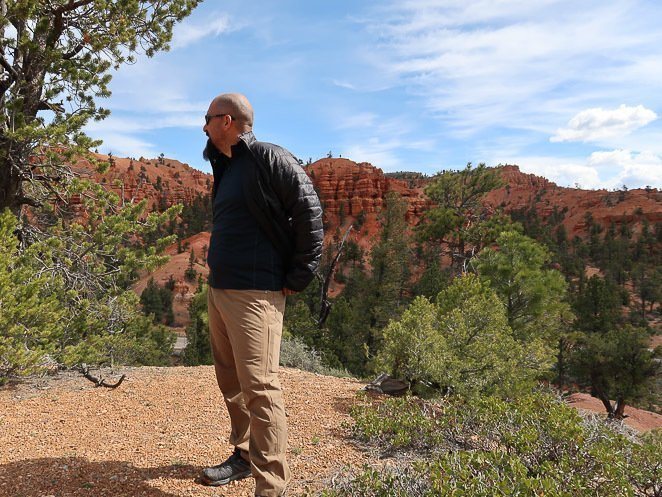 Okay, so we agreed. Based on your hiking location you want to find pants, but what pants to wear hiking for men or women? Let's find out!
Best Hiking Pants For Men
I personally own a variety of hiking pants including Kuhl, Marmot, and Columbia. Some are dedicated pants and some are convertible.
What I've found is that variety is key, especially in our lifestyle of full-time travel. Traversing Angels Landing in Zion NP I chose dedicated pants, namely the Marmot Arch Rock Pants. These worked out great because they offered enough maneuverability, coverage, and breathability for this hike which has some extreme exposure.
The Kühl Radikl pants were sent to us as part of working with them and I was shocked!
I happened to drop a glob of a melted energy bar on my leg while wearing these and thought for sure they were ruined. Not only didn't I need to wash the pants, but simply wiping them off with a damp paper towel already made the chocolate disappear without even a trace
They also met the comfort and maneuverability I was looking for in all-around hiking attire.
Kuhl offers the best pants for hiking, hanging out, and more. Click here to shop now.
Best Hiking Pants For Women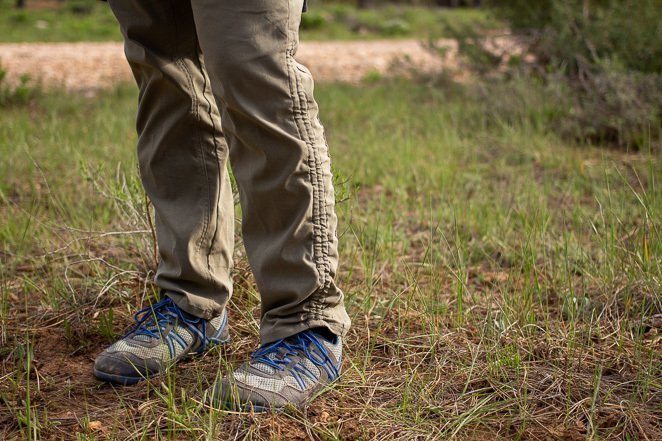 Moving on to the best hiking pants for women we'll find a lot of similarities.
Materials and composition are similar but style is where the divergence comes in or does it? With yoga pants like these being such a staple of the female wardrobe, it's surprisingly low on the list when it comes to the best hiking pants for women.
Looking through REI's online shop at hiking pants for women, the top-10 are all pants and not tights.
Something else interesting to see is that most of the top-10 best-selling pants for both men and women are convertible hiking pants.
This will tell you that most people appreciate the flexibility of having zip-off or roll-up legs since with most hikes, it's always better to be prepared.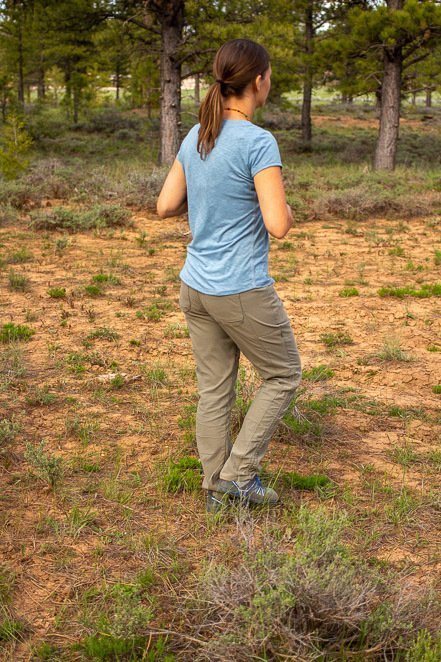 Even though the best hiking shorts out there are fantastically comfortable, rugged, and protective, most hikers generally lean towards pants. That's not to say shorts aren't a possibility, they're just less chosen due to the variability of hikes.
Jill honestly loves her new women's Trekr pants that she was given by Kuhl. Since we've been in the mountains this Spring, she wears them almost every day and they honestly don't get dirty!
KUHL Trekr Pants – Women's | REI Co-op
Now, if you were hiking a known wooded location in a temperate climate on a small loop and not camping overnight, hiking shorts are a great choice. Less weight and more breathability are what you'll gain from hiking shorts.
Best Hiking Shirts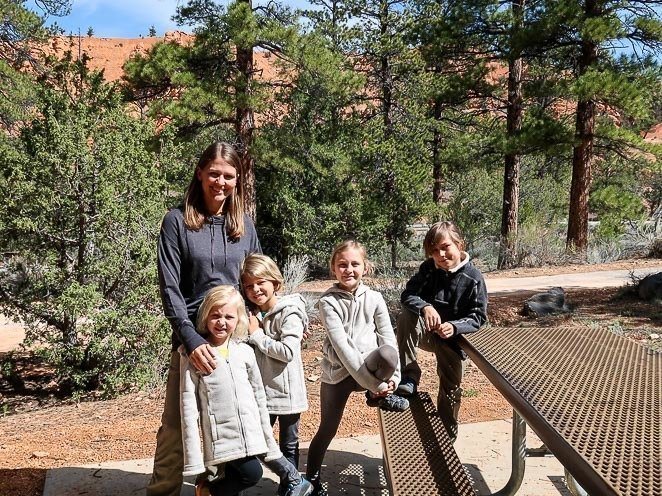 Moving upwards we're onto how to find the best hiking shirts. Just like with pants vs shorts we're going to go head-long into short sleeves versus long sleeves and which one is better.
Back to REI.
We find the top shirts sold in both categories are long sleeve shirts, and why do you suppose that is?
You guessed it: preparedness. Exposure, wind, rain, bugs, all these things a long sleeve hiking shirt will help protect you against.
Below, I'm wearing my favorite long-sleeved hoody from REI which has now lasted me over 2 years and it's in excellent shape!
NRS H2Core Silkweight Long-Sleeve Hoodie – Women's | REI Co-op
The quality of hiking clothes can make such a huge difference. I've worn my hoody at least once per week, if not more, for over 2 years and it still looks new.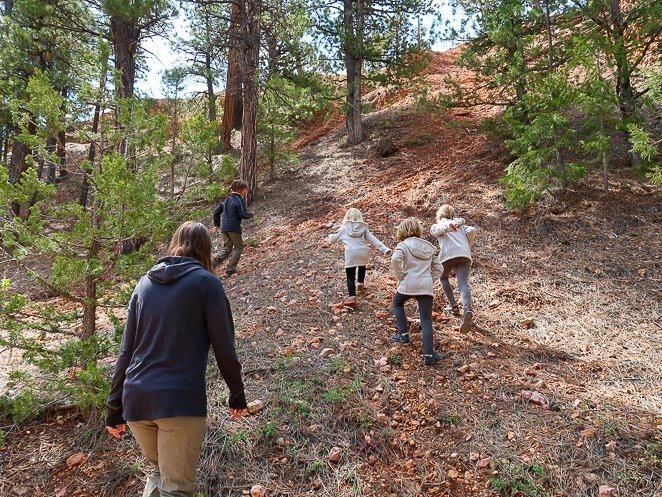 The best combination from many hiking gear stores seems to be convertible hiking pants and lightweight, long sleeve, button-up shirts for men.
Women's hiking shirts and pants were the same too. But that's not to say short sleeves aren't useful.
What do you think you'd wear under that long sleeve to be prepared for the elements? A short sleeve hiking shirt, paired with a long-sleeve shirt is going to be seen as more of a base layer.
If you want to look stylish while you're hiking, then there are plenty of options for you. There's a range of the best hiking dresses available that are both fashionable and functional. They have a flattering fit that is still comfortable, while the fabric is breathable to help you stay cool throughout your hike.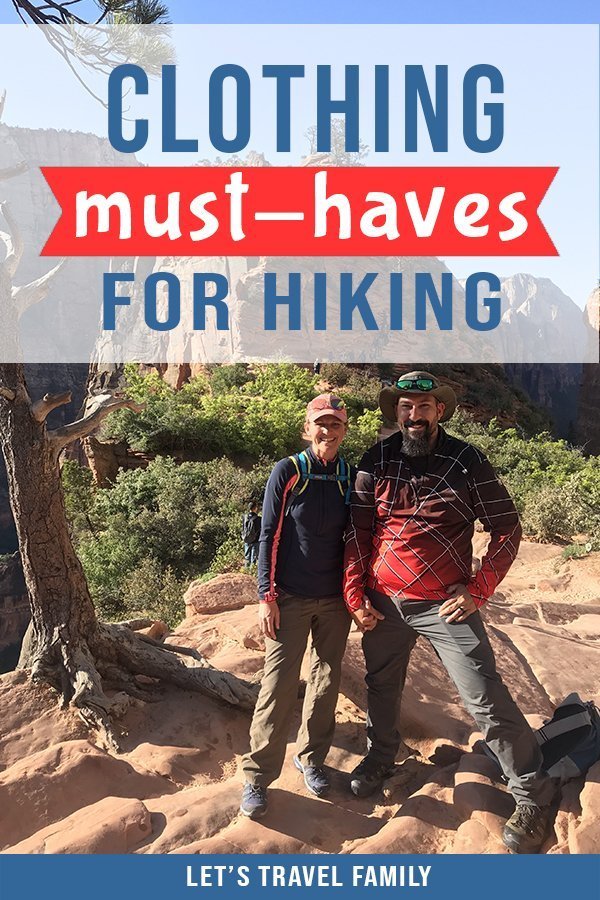 Your base layer is almost, as if not more important, than your outerwear. Depending on your planned excursions, you are going to want to have a good base layer.
This is where some hikers may falter. They get the nice, lightweight, breathable outerwear, then throw it on top of a cotton t-shirt and cotton underwear.
Soon they'll find themselves with a ton of sun exposure, no breeze, and their outerwear isn't performing as expected due to the cotton attached to their skin.
Have no fear though, the best hiking t-shirts out there include short-sleeve base layers. Made of wicking materials or my favorite, merino wool, these will help not only your gear, but your body, perform at its peak during your hikes.
Now, what about outfitting your kids for hiking?
Kids Hiking Gear and Clothes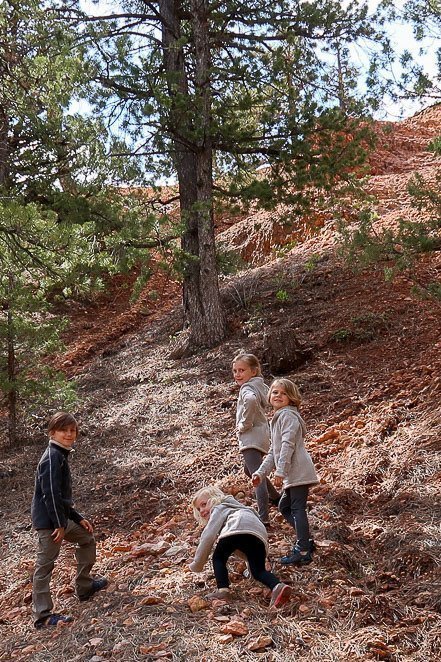 Kids can be a bit picky, but that doesn't mean you can't find some great gear to make them enjoy the great outdoors. So how do you find the best kids hiking clothes?
Simple. Find the most durable and long-lasting hiking shoes clothes and that you can!
For instance, the best hiking shoes for kids include those that are comfortable and give excellent support to make sure they don't twist an ankle. Don't forget to buy them hiking socks along with their trail running shoes!
REI has some high-quality and durable selection of kids clothes and shoes, that are great for your kid's outdoor gear.
KUHL Klash Pants – Women's | REI Co-op
We have a range of kids from 8 to 14 years old who play outside daily. They normally wear whatever fits at that moment. So when we can find high-end kids hiking clothing, I know it's worth the investment.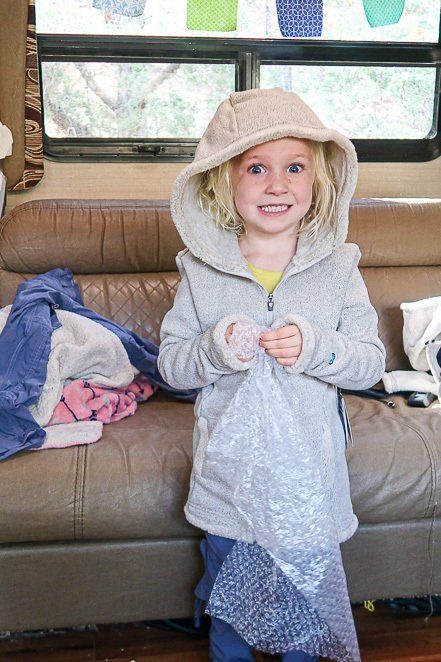 Our youngest will wear anything I buy her. While our oldest wants to have a good style and comfort. Honestly, REI is our go-to place as we can shop online and stop in a store for kids hiking outfit to try on to make sure it's the right size.
Other Gear For Kids
Specific to staying hydrated, we highly recommend getting a Camelbak for your kids. They not only will feel special and much like an adult while hiking, but more importantly, they'll stay hydrated and can carry their own snacks inside. Check out our detailed review of children's Camelbaks here.
The Best Hiking Gear For Adults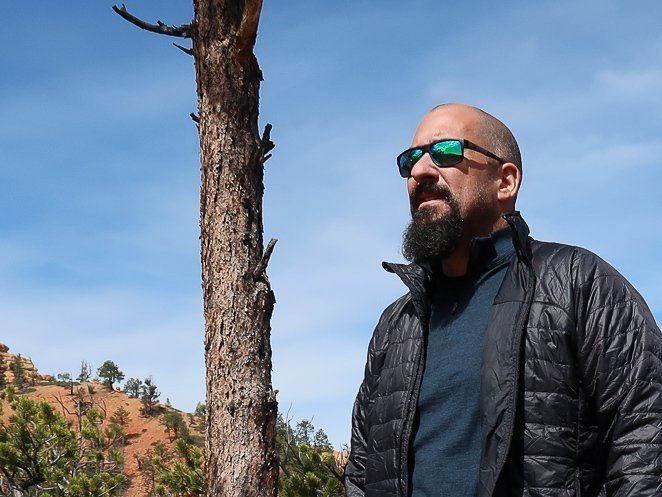 We don't have the breadth to cover what the best hiking boots or hiking packs are in this article. But we do LOVE our REI jackets that pack up small into their own pockets and we highly recommend getting your own hydration packs. A rain jacket is also a must-have especially if you're going on cold weather hikes.
Comment below and let us know what your favorite piece of hiking gear is. We'd love to know!
A special thanks to Kuhl for giving our family clothes in exchange for an honest review. Never owning clothes by Kuhl before, we were honestly surprised by how much we love their clothes.