Are you trying to find the best camping utensils to be prepared for the season? Discover the best camping cutlery set that is the most durable, functional, and best for your camping kitchen utensils set.
Below you'll find that the best camping utensil set and the camping cooking utensils that set can be some of the most important tools for camping. Think of mulit tools for camping so that they have multiple purposes.
How else are you going to be able to prepare food around the campfire or on the camp stove, and then feed your family while out into nature?
Cooking utensils for camping and camping eating utensils are listed in our ultimate post sharing the must-have camping gear if you are just starting out camping and need to know what to have on hand.
Keep reading to learn about the best camping utensils and multi tools for camping that you'll want to add to your camping gear list.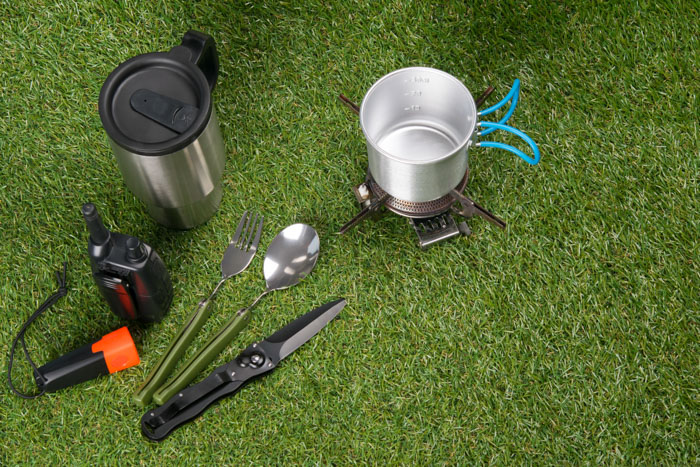 THIS ARTICLE MAY CONTAIN COMPENSATED LINKS. PLEASE READ OUR DISCLAIMER FOR MORE INFO.
Best Camping Cutlery Sets
Get ready for your next camping trip with the best cutlery for camping. From titanium camping utensils to stainless steel lightweight camping utensils listed below, you are sure to find what you need.
UST Utensil Set with a carrying case provides three separate stainless steel lightweight pieces. A spoon, fork, and knife each have multiple functions and fit in a soft carrying case. The fork handle has a can opener and hex wrenches, the knife has a serrated blade and butterfly wrench, and the spoon handle has a 2-inch ruler and a bottle opener.
The GSI Outdoors Glacier Stainless Steel Cutlery Set is also another great three-piece set to consider. It will keep your weight down if you're backpacking and won't rust.
Tapirus stainless steel spork set with a case is a durable camping eating utensils set great for families.
UCO Utility 3-in-1 set is lightweight and offers an ergonomic design. They are simple and super affordable.
Humangear at REI offers lightweight BPA-free high-temp nylon sporks that are very affordable and popular with campers. Some rate this as the best camp utensils brand.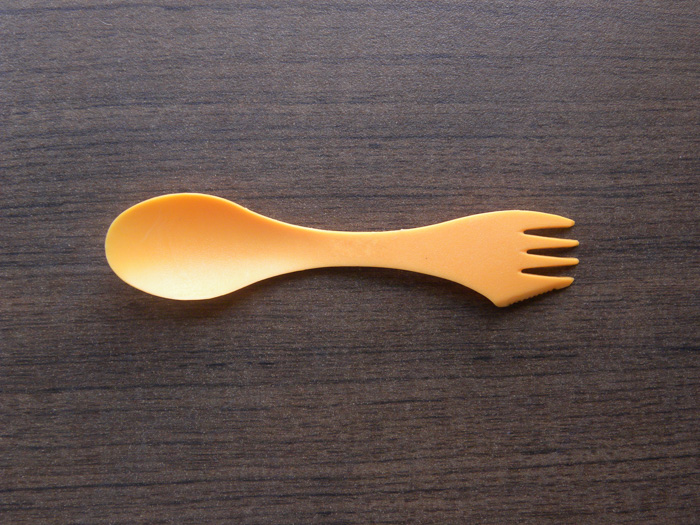 TOAKS titanium 3-piece cutlery set is resistant to corrosion and high temperatures and eliminates the metallic taste.
Related Post: Best Gadgets For Camping
Folding Camping Utensils And Multi Tools
Simple backpacking and camp cutlery sets are those that fold up to save space and can make a great multi tool for camping. Below are the top folding camping utensils that make some of the best hiking gadgets for hikers.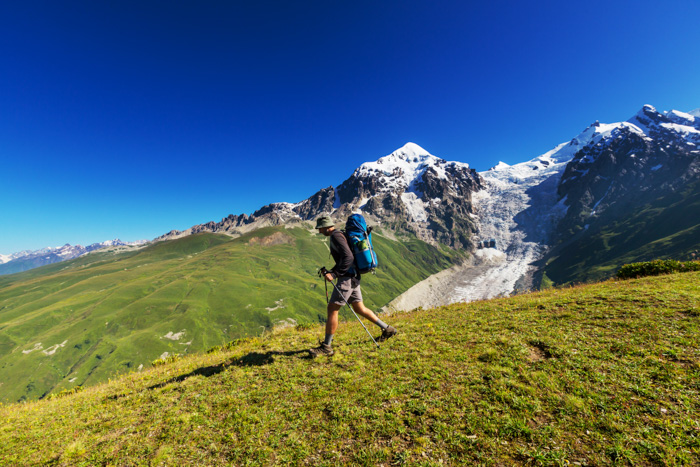 GSI Outdoors Folding Spoon is a spork that is made out of stainless steel. It comes with a lifetime warranty and functions as a fork and spoon.
Orblue 4-in-1 camping utensil set provides a spoon, fork, knife, and bottle opener that all fold up small to save space in your packing gear. It's dishwasher safe and the perfect eating utensil for car camping!
Cluck 6-in-1 might be considered the best backpacking spork set. It comes with a folding spoon, knife, fork, wine opener, bottle opener, and can opener.
Best Cooking Utensils For Camping
Looking for your best camp kitchen utensils that you can cook over the fire or on your cookstove? Then check out these sets below.
Related Post: Best Propane Camping Fire Pit
The MSR Alpine Deluxe Kitchen Set provides everything you need to cook a quick camping meal at your campsite while fitting in its carrying case. This best camping cooking utensils set includes a folding cooking spoon, spatula, knife, and cutting board in addition to the small things such as a salt and pepper shaker and a reusable towel.
11-Piece camp cooking set in a case is great for backpacking or camping. It provides just what you need for cooking your meal. Or, consider grabbing the Wealers 35 piece complete camp cooking set that includes booking utensils for camping, camping cutlery, stainless steel cups, bowls, and plates.
Discover this 27-piece portable camping utensils kit that includes cutlery and cooking utensils.