Looking for the flexibility to have a campfire to keep you warm on a cold camping night, no matter where you camp? What you'll need is the best portable propane fire pit for camping.
If you're planning to take your RV out boondocking or just regular camping for the weekend, having a portable fire pit can make life a bit easier.
What's great is you can use it for a backyard camping experience with friends too. Just be sure to grab a few of the best fire pit accessories to go along with your backyard fire pit.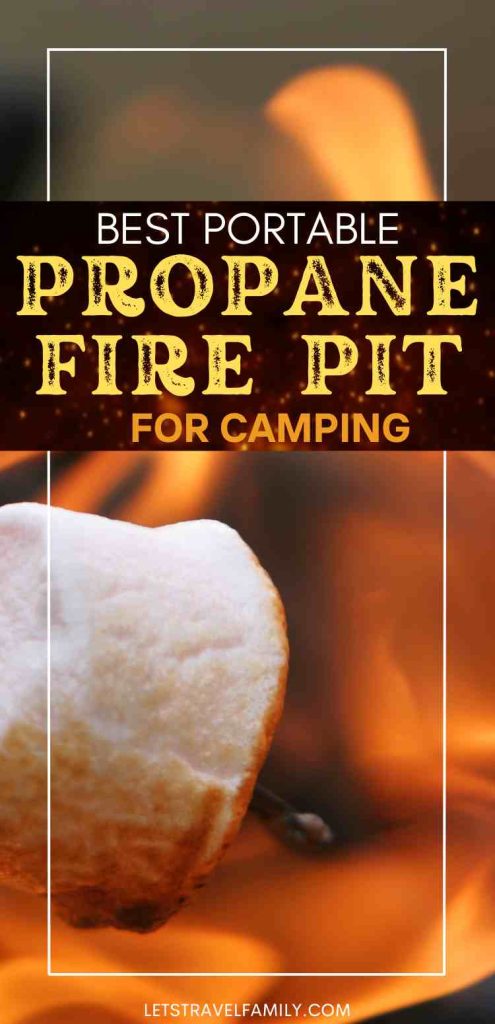 Living a full-time RV life on the road, or planning to? Then honestly, this might be a great camping accessory to grab.
Sitting around a campfire can create some fun camping activities for the entire family. Every camper would love this and it'll definitely make for a great camping gift.
More and more people are investing in propane fire pits — may it be for their backyards or for their other outdoor shenanigans. But for us who love camping, a good fire pit heat is actually a must-have. Read on to see our take on the best RV fire pit and other propane fire pits that are worth your every penny.
But first let's dive into why you'd want to choose a portable propane fire pit.
THIS ARTICLE MAY CONTAIN COMPENSATED LINKS. PLEASE READ OUR DISCLAIMER FOR MORE INFO. THIS POST WAS WRITTEN BY JILL GREISING-MURSCHEL, A FAMILY TRAVEL AND RV LIVING EXPERT.
Why choose a portable propane fire pit?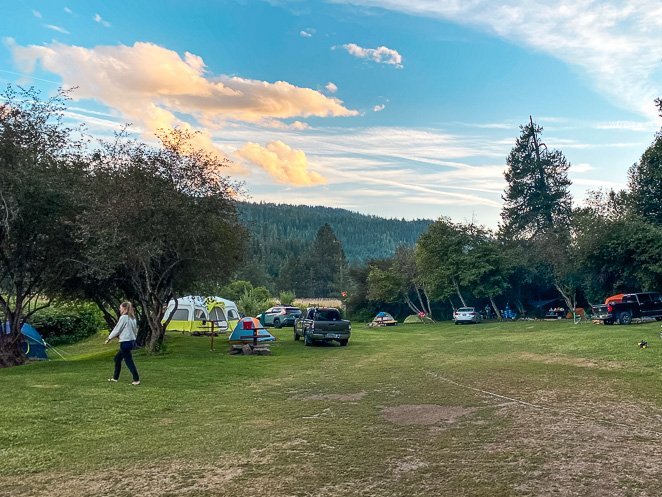 Want to jump ahead? Click here to see our top pick of portable propane fire pits.
There are a few choices for making a fire when it comes to camping. Most obvious is the traditional wood campfire that many people love. So why do some people choose a propane fire pit?
First of all, with increasing campfire bans (also known as "burn bans") resulting from a growing concern for forest fires, you may need to find an alternative.
You'll think that if campfires are banned, then all other fire-bearing apparatuses would also be not allowed. But that's not always the case. Campfire ban regulations are different for every area and depend on the stage of fire restriction.
While some may ban portable camping fire pits aside from the usual wood and charcoal-based fires, some also allow it. Learn more about fire pits during burn bans.
This makes camping propane fire pits a safer alternative for campfires at times.
Now, why not just purchase natural gas or a wood fire pit for your backyard?
Well, you might want to take it with you for a camping experience.
Also, gas fire pits in general, are much more convenient than wood ones. Easy to turn on and off, less time for preparations, not messy after use, and they don't make your clothes smell like a bonfire.
Meanwhile, wood fire pits are hard to maintain and, as we've said earlier, have higher chances of being restricted. Wood fires also require you to purchase wood locally when you go camping, as many campgrounds restrict wood from outside the area to decrease the spreading of diseases to other plants.
A natural gas fire pit is actually a great choice if you want convenience and better prices BUT it's more suited for stationary set-ups. Propane fire pits are more efficient and portable which makes them ideal for camping.
In summary, here are the pros and cons of using propane portable fire pits when camping.
Pros
Quick and easy start
Short preparation time
Minimal mess after use
Little smoke
Very convenient for camping
Doesn't require gas lines
Cons
Can be expensive
Less warmth
Propane has to be refilled
Download your Free RV Budget Workbook
11-pages of useful worksheets!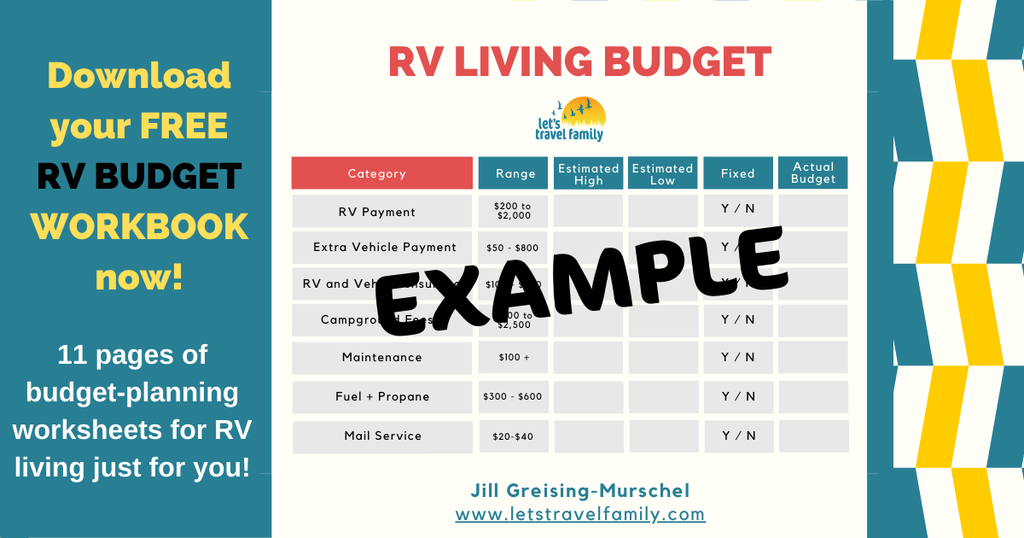 Guide to Portable Propane Fire Pits
The number of propane campfire pits you can choose from in the market can be quite overwhelming for a buyer, so we'll help out with this guide.
Here are the qualities that you'll have to consider before buying a propane camping fire pit:
Heat Output
Even though we all know that a propane fire pit will release less heat than wood campfires, we still have to hold up some standards regarding heat emission.
Your camping fire pit has to at least provide you heat you'll need for camping. We will base our reviews on heat output based on the products' BTU.BTU stands for British Thermal Unit which is, according to the U.S. Energy Information Administration, the amount of heat needed to increase the temperature of one pound of water by one degree Fahrenheit.
Higher BTUs mean it can generate more warmth. For a portable gas fire pit, the higher BTU's, the better.
Material
The main component that will determine a fire pit's durability is the material it's made of. The material also has an effect on the products' weight, which then affects their portability.
The best material you can find is stainless steel. A fire pit made of steel can be very durable because of its rust-free feature.
Another expensive material for fire pits is copper. For a more practical alternative, you can consider a cast iron fire pit.
Size
Bigger fire pits can accommodate more people, but they don't always provide a higher heat output.
Remember to take into consideration your own conditions such as how many people you're camping with. Note that I am writing as a member of a family of six, four of which are kids.
The perfect fire pit size for camping can be different for everyone.
Easy to Operate
Of course, a camping apparatus should be easy to operate.
Easy-to-operate portable outdoor fire pits can make your camping experience more comfortable. It will also be less time-consuming.
Price
A higher price doesn't necessarily mean that it's a better product. And lower price doesn't always mean that it's a practical choice.
We will only be hinting about the products' price range to help you know if it's within your budget.
Comparison Chart – Best Portable Propane Fire Pit For Camping
Product

Image

Cost

Heat Output

Material

Size

Features

Popular

$$$

58,000 BTUs

Steel construction and stainless steel burner

D: 24 in.

H: 13 In.

W: 34 lbs

Manual Ignition and chrome valve knob


Outland Living Firebowl 823

Best Budget

$$

58,000 BTUs

Stainless steel, Steel

D: 19 in.

H: 11 in.

Matchless ignition and chrome valve knob

Good

$$$

58,000 BTUs

Steel construction

D: 19 in.

H: 11.5 in.

Manual ignition with an attached dial.

Quiet

$$$

58,000 BTUs

Steel construction and stainless steel burner.

D: 19 in.

H: 11 in.

Matchless automatic ignition with chrome valve knob.

Cheap

$$

54,000 BTUs

Steel frame and stainless steel burner.

D: 18.5 in.

H: 14.6 in.

Autoignition function with stainless steel control panel.
Best Propane Fire Pit Brands
If you don't have a specific propane campfire pit in mind, and you're still learning the ropes in buying one, you can start by finding a good brand.
Many brands with outdoor and cooking needs include propane outdoor fire pits in their lists of products. It's easy to find these products on online buying sites like Amazon or the brand's own website if there's one.
With the huge number of said brands, it can be hard to pick one so we narrowed the choices to three right here.
1. Outland Living
The best propane fire pit brand you can find out there is Outland Living. In our list of the top 10 propane fire pit reviews below, we included not just one, but three of their products.
Outland Living has been around since 2010 and has been known for its Outland Firebowl released in 2012. Since then, the brand has made more and more fire pits, some a variety of the first Firebowl model.
With different sizes but similar high-quality features, Outland Living has made a name for itself to the camping community.
They also offer other outdoor products like fire tables, stoves, and torches.
2. Camp Chef
Camp Chef is a brand that has been providing outdoor cooking products for more than two decades. From complete patio grill set-ups to small cooking accessories, they have it all.
Among their propane-powered products are stationary and portable outdoor fire pits. One of these being Redwood Fire Pit, a product that's been well-praised on product reviews and is listed in our Top 10 Propane Fire Pits below.
For those of you who love cooking just as much as you love camping, then this is the brand for you.
3. Camco
Camco is a huge brand that started in 1966. Now, more than half a decade later, it has become a household name for outdoorsy people like us RVers.
Unlike the first two brands, Camco offers a more diverse selection of products. We have mentioned this brand in our other buying guides like our Ultimate Guide To Buying The Best RV Surge Protector and Best Composting Toilet for the RV Life.
The brand focuses on items that are useful and essential to those who love spending their time outdoors. May it be camping equipment or RV essentials, they have it.
Portable Fire Pit Reviews
1. Camp Chef Redwood Fire Pit
Camp Chef Redwood Fire Pit is a well-known name among RVers and campers who love propane fire pits. It is stylistic with its decorative center, and does the job really well.
One of its special features is a set of heat-dispersing lava rocks which only needs 10 minutes of "curing" for a complete set-up. It also comes with a regulator with a 5 ft. hose and a carry bag to make moving easier.
Use the extendable roasting sticks that come with the package and roast your mallows away!
Tip: Buy it as soon as you see that it's available. It's a best seller so it's almost always out of stock.
Inclusions:
4 extendable roasting sticks
Heat dispersing lava rocks
Carry bag
Regulator
5 ft. hose
Heat-control knob
2. Outland Firebowl 883 Mega Propane Fire Pit
Outland Firebowl 883 Mega Propane Fire Pit can be the weather resistant fire pit that you're looking for!
Purchasing this means receiving a COMPLETE fire pit kit including a 10 ft. hose, regulator, and a natural lava rock set. Its steel construction also gives it great durability and can get you for many years' worth of camping.
With a 24" diameter, bigger than standard fire pits, it can also accommodate more people than usual.
Inclusions:
10 ft. hose
Regulator with a chrome valve knob
6.6 lbs. Natural lava rocks
Mega slip-on cover
3. Heininger 5995 Propane Fire Pit
If you value portability, Heininger 5995 Propane Fire Pit is the top contender. It weighs only 22 lbs. and only has a diameter of 19.25 inches but it can output 58,000 BTUs!
It can accommodate four to six people, perfect for family camping (for families of six like us) or small groups of friends. It also has an amazing built-in safety feature to restrict gas flow when the valve is suddenly turned up at high speed.
It's also promoted as an all-weather fire pit but we still encourage you to never leave your fire pit out in the open during extreme weather.
Inclusions:
10 ft. hose
Decorative rocks
4. Outland Firebowl 870 Portable Propane Fire Pit
If you're looking for more affordable Outland propane fire pits, the Outland Firebowl 870 Portable Propane Fire Pit may be the one for you.
It has a 19 in. diameter, smaller than that of the Outland Firebowl 883 Mega Propane Fire Pit, but has the same heat output of 58,000 BTUs. It's also easier to operate because of its automatic ignition.
Inclusions:
Cover and carry kit
10 ft. hose
Regulator with chrome valve knob
4.4 lbs. Natural lava rock set
5. Outland Firebowl 823 Portable Propane Fire Pit
And another one from Outland Living makes it into this list!
The Outland Firebowl 823 is basically a small portable fire pit of the 883 version. Same inclusions, heat output, and materials, but 12 lbs. lighter.
Of course, it also costs less! A great alternative if you prioritize size and portability.
Inclusions:
10 ft. hose
Regulator with chrome valve knob
4.4 lbs. Natural lava rocks
Mega slip-on cover
6. Bond Manufacturing Aurora Propane Gas Firepit
Bond Manufacturing Propane Outdoor Firebowl is another lightweight propane fire pit potable that is top-rated on Amazon. It's one of the best choices if you're on a budget!
Despite the more affordable materials (stainless steel and metal) used for this product, it has a high heat output of 54,000 BTUs. We also love it for its sophisticated design that features an auto-ignition function, and portability, thanks to its 18 lbs weight.
Inclusions:
Lockable Carry Lid cover
Pumice Stones
Tank holder
10 ft. hose and regulator
7. Outland Firebowl 863 Cypress Firebowl
It seems like our best brand really has a lot in store for us. The last product on this list is still from Outland Living—the Outland Firebowl 863 Cypress Firebowl.
This small portable propane fire pit camping is lighter than the Mega Firebowl, making it more portable and fitting for a smaller group. It also has a Helios burner.
Inclusions:
Cover & Carry Kit
Pre-attached 10-Ft hose
Adjustable regulator with a chrome valve knob
4.4-Lb natural lava rock set
Best Overall
Overall, we have to say that Outland Firebowl 870 Mega Propane Fire Pit is the best propane fire pit for camping as of now. It's the best portable fire pits out of the propane fire pit products from Outdoor Living, a great brand as well.
With a bigger-than-standard diameter, a stylish look, and durable construction, it has gained the trust of countless campers since its release.
It's really well worth grabbing one!
Runner-Up
Camp Chef Redwood Fire Pit is a close second, though. With special features like the matchless ignition and fully adjustable heat-control knob, it's also always listed as one of the best propane fire pits out there.
What makes it a runner-up is its lower heat output (55,000 BTUs while others of the same size release 58,000 BTUs) and its heaviness. It's not too heavy, but heavier than usual which affects the product's portability in a way.
But overall, it is made of durable materials like heavy-gauge steel, hence the weight, and also cheaper than most of the other great fire pits.
Best Budget
We know that some of you may still be unsure of buying a propane fire pit and want to just give it a try for now. For that, we recommend that you start with a very affordable but high-quality product — like the Outland Living Firebowl 823.
It's one of the cheapest options in Outland Living, which is a top brand, and it boasts of a heat output of 58,000 BTUs. It has a 19 in. diameter and can accommodate up to groups of six!
It has a low price and great quality but it does not come with a cover and carry kit like the more expensive options of the brand. The good news is that you can buy a carry bag for this size and a compatible natural gas conversion kit separately.
The Outland Living Firebowl 823 also comes with some inclusions like a set of natural lava rocks weighing 4.4 lb, a propane tank stabilizer ring, and a 10′ hose with regulator (pre-attached).
So did you find a product that you like on our list? Have you bought any of these before? If you're looking for some other tips on camping gear, check out our reviews on finding the best dutch oven for camping or the best space heater for RV life. Or, consider learning about the difference between pellet smokers vs electric smokers if you want to cook in your backyard!