Are you looking for gifts for your friends and family members who love camping? Or are you a camper yourself who is in search of the latest and the best gadgets for camping?
If so, then you're in luck.
Campers need to consider what to use to do their cooking such as having the best camping utensils, the best dutch oven for camping, and even the best camping table.
Yet in this post, we've listed the best camp gadgets that you can find online below.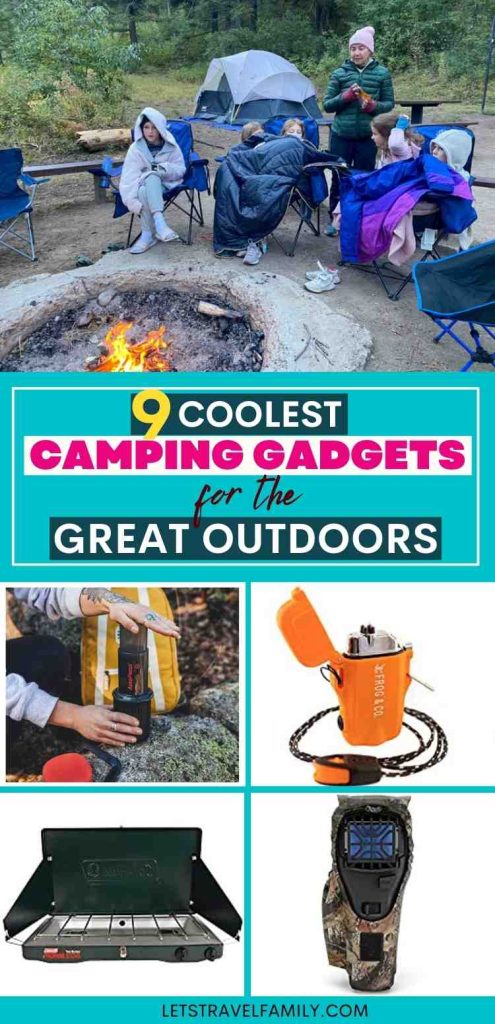 THIS ARTICLE MAY CONTAIN COMPENSATED LINKS. PLEASE READ OUR DISCLAIMER FOR MORE INFO.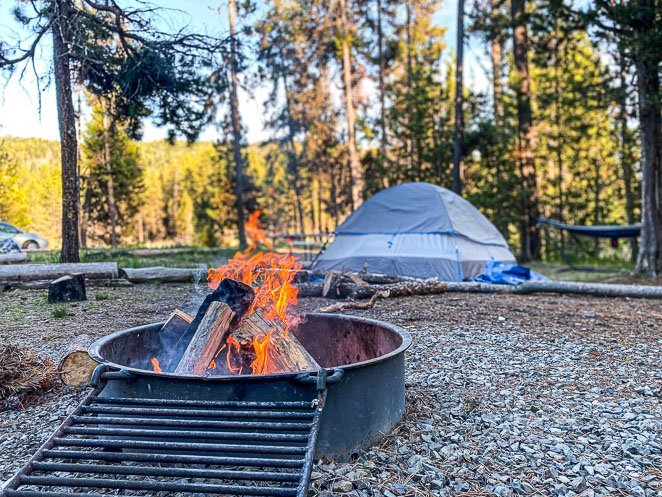 Best Gadgets For Camping
Now, you might be asking yourself if you really need the best camping gadgets…. if you already have your basic camping gear? It depends. If you are an avid camper or want to be one, then these cool gadgets for camping can help you, excite you, or inspire you to get out on your next camping trip.
Look at these cool camp gadgets as a kind of upgrade for your basic camping necessities.
For example, instead of the usual and traditional fire starter, why not get an electric one? New innovations in camping materials can help you save time, and may even have a more practical camping experience.
But there are also some gadgets that lean more on the fun side rather than the practical side. Like this portable bluetooth speaker that you can take with you on your next camping trip.
The list below will not include the basic camping essentials such as a tent and mat, — it can even be considered as a splurge in the eyes of some — but you have to admit that these must have camping gadgets can be really practical, great camping gift ideas, and will definitely add to the fun of camping.
Ultimate Camping Gadgets
Here's a curated list of the top camping gadgets we've found. These are useful camping gadgets that can even contribute to unique camping gear.
1. Wireless Power Bank
Power banks have come a long way. You're most likely going to want to bring your cell phone with you camping, and you'll need a way to charge it. You can choose from the regular wireless power bank or look into grabbing a solar charger power bank that you can charge daily in the sunshine.
This Wireless power bank from REI can last up to 40 hours and has a battery life percentage display—which is extremely useful. Especially since you can't really charge a power bank just anywhere when you're out camping.
With its display, you can control your consumption rate, reducing the risk of having the battery run out before your camping trip ends.
According to Techno FAQ, using wireless charging gadgets like this actually have more benefits than you might think. Aside from not having to deal with messy charging cables, it's safer than the traditional chargers since it will not emit electric shocks. This makes it better if you're camping with kids.
2. First Aid Kit
Don't forget to bring a first aid kit when you go camping. Get this Weekend first aid kit if you've got a weekend camping plan or this Multiday first aid kit if you're going on a 5-day camp.
What's great about getting a prepared first aid kit like this is that if ever you run out of supplies, you can easily estimate how much you'll need to replenish by looking at the size of the compartments. It works as some kind of guide, especially if you're a camping novice who's still unsure of what you'll need.
3. Camping fire starter
One of the best gifts for authentic campers is an easy-to-use fire starter since they'll need it one way or another when camping. It's a simple and cheap camping gear to have, but it's essential to every camper.
We recommend an electronic lighter or a waterproof lighter. Both of these are flameless so they're easier and safer to use. Of course, you can go with the traditional flint and steel if you love the challenge, but if you want a gadget for convenience, then these are the products to consider.
4. Travel Coffee Press
We ABSOLUTELY love coffee, and we know a lot of fellow travelers who can't live without it, too. If you're one of us, or you know someone who is, get this AeroPress Go Travel Coffee Press.
It has a smart design and is very portable. Another advantage is its fast brewing time.
We have one just like it and have used it in our RV kitchen many times. All you need is hot water and ground coffee, it's that simple. Click here to see which one we own and love.
5. Mosquito Repeller
One of the problems that campers may encounter are mosquitoes. Especially when camping in the woods or near water, since mosquitoes are most active during dusk and dawn.
Get a portable mosquito repeller or this popular mosquito repeller for a more comfortable camping experience. These gadgets don't cost much but they're really helpful and don't require you to use bug spray.
Related Post: Tips For Camping Beginners – How To Book A Campsite
6. Water Filter
When camping or hiking out in nature, you are going to need a way to filter water so that it's safe to drink.
We recommend the LifeStraw Water Filter or go for a bottle or bottle adapter with LifeStraw Flex Multi-Function Water Filter System or Grayl Ultralight Water Purifier Bottle.
Last but not least, you could grab a Sport Berkey water bottle that also works as a water purifier. Berkey is one of our favorite brands to recommend for finding clean and safe water. Click here to read our deep review on the Berkey products.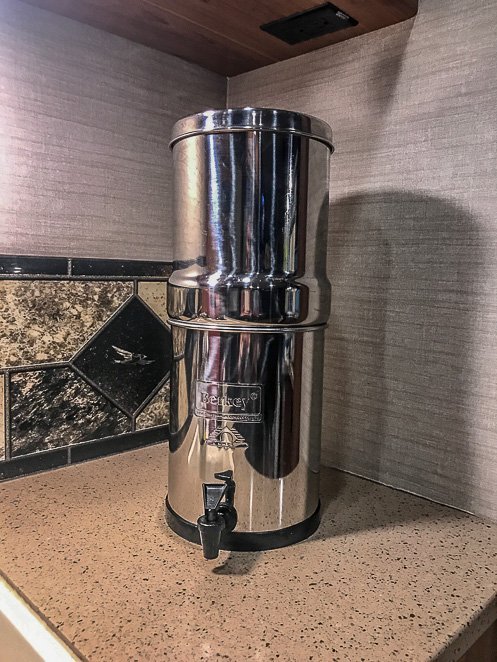 7. Bluetooth Speaker
A bluetooth speaker is one of the fun gadgets for outdoors enthusiasts if you're looking for a unique gift idea.
Music livens up the atmosphere when camping, especially when it's time for the bonfire and s'mores. It's best to not depend on portable energy sources like power banks for speakers since those will be used for charging your phone.
Battery-powered Bluetooth speakers can be fun camping gadgets to bring along. Check out the JBL Portable Bluetooth speaker here.
Dancing around the campfire under the stars is one of the fun things to do while camping and something we highly recommend trying out.
8. Portable Camp Stove
While it's fun and simple to use the campfire to cook in your dutch oven, campers often like to bring a portable camp stove.
There are some great options of camp stoves on Backcountry to choose from. You can find small backpacking camp stoves like this one or a 2-burner camp stove on Amazon if you're camping with a large group to feed.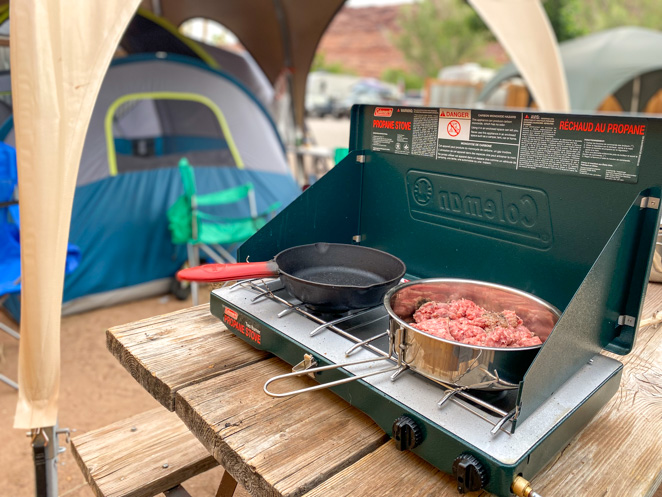 9. Unique Camping Lanterns
Aside from practical items, what about getting an item that will improve the feel of the night around the campfire or in your tent?
Campers love this outdoor inflatable solar lantern from MPOWERD. It's one of the best solar gadgets for camping aside from solar power banks.
The lantern can last for 6 hours straight if it's on the high setting. And reviews claim that it's "unbelievable light," so we're pretty sure the average or low setting will be used most often.
It's easy to bring along since it's collapsible. And it's pretty durable, too (waterproof and up to 150 lbs. pressure).
These are another fun set of camping lanterns. They are not solar, but they hook onto your bag or tent with a simple carabiner.
More Camping Ideas
Buying cool camping gadgets can be fun! It doesn't matter if the gadget's purpose is for survival, cooking, aesthetics, or fun because any camper will love it if they can bring it to their next camping trip.
Looking for other camping or outdoor gift ideas? Click here for our list of the best camping gifts for kids, here for a more general list of camping gifts for everyone, or discover some unique gift ideas for outdoorsy women here.
How about you—what's the best camping gadget for you?