Are you planning a trip and trying to learn how to cook while camping? Don't let the food part of tenting hold you back from planning a weekend outdoors. Outdoor cooking while camping is not as hard as you may think.
If you plan to try out RV living full time and want to cook outside, or you have all the van life accessories you need and now you're ready to hit the road but want to be prepared to cook outdoors, then this post is also for you.
In this article, I'm going to share with you the best way to cook while camping, what are the best camping foods, and a few camping cooking tips that are sure to put your mind at ease when cooking and preparing food outdoors.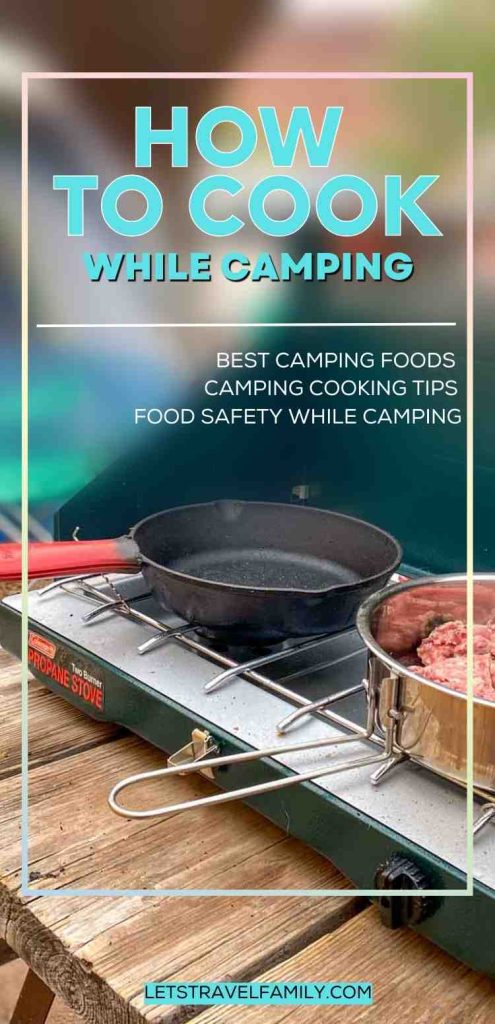 THIS ARTICLE MAY CONTAIN COMPENSATED LINKS. PLEASE READ OUR DISCLAIMER FOR MORE INFO. THIS POST WAS WRITTEN BY JILL GREISING-MURSCHEL, A FAMILY TRAVEL AND RV LIVING EXPERT.
Food Safety While Camping
Before I dive into the camp cooking meals and food ideas, let's go over some safety tips. To make sure everyone feels good during the whole trip, you need to follow the same food handling safety measures in camp as you do at home.
Don't cross-contaminate other foods with raw meat
Keep raw meat and dairy products cold
Be sure fruits and vegetables are washed with water that is safe to drink
Best Foods To Take Camping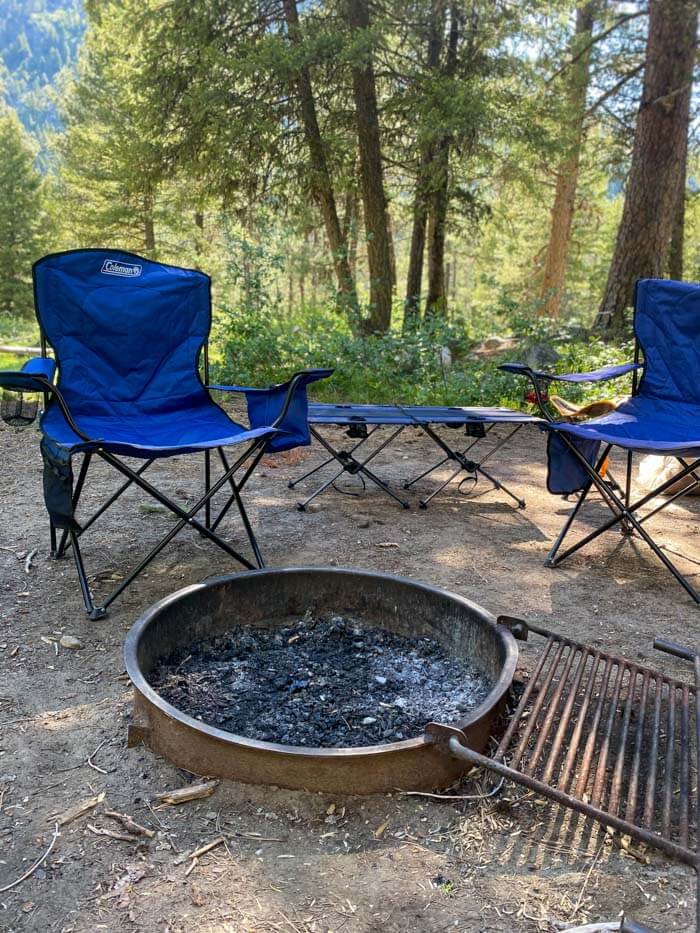 Some of the best foods to take camping are those that do not need to be cooked at all! No, really, dried fruit and trail mix can go a long way.
Raw veggies and dip, camping sandwiches, and beef jerky are also some popular camp foods that do not need to be heated up. They are common for backpacking or hiking meals.
Practical ideas for warm and good-tasting meals that are super simple include soups either from a can or mixes you can just add water to and simmer on the stove or over the campfire.
Other pre-made meals that work well include stews and rice dishes you can find in the refrigerated or frozen food section at the grocery store. These involve little cooking but can provide some tasty hot meals while camping.
Related Post: How to Stay Warm Camping In a Tent
Specific Meal Ideas For A Camping Trip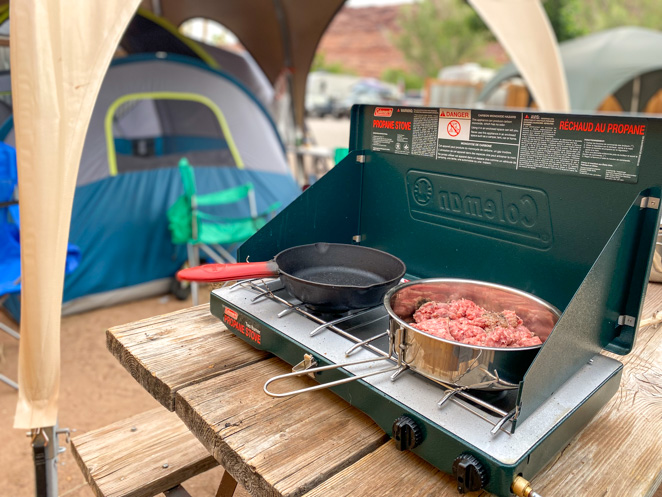 Below are some breakfast, lunch, and dinner ideas for cooking while camping. All of these suggestions and tips have been tried under various conditions including less-than-ideal ones like rain and snow. All the ideas use a simple camp stove, charcoal or wood fire, and camping cooking pans.
You may also want to have some of these camping utensils and basic camping accessories.
Breakfast
The morning can be a great time to wake up and start a campfire to warm up. Many campers enjoy using a camping tea kettle to make instant hot cacao for the kids, and tea or coffee for the adults.
A hot breakfast on a cool morning is a wonderful way to start a day in the woods. Easy hot meals include scrambled eggs with ham, and pancakes (use an easy mix that just needs water and pre-measure the mix into a mixing bowl to bring), oatmeal, or sausage and biscuit.
Lunch
Camping should be a relaxing and unwinding experience. You should not have to spend most of your day cooking food and cleaning up after meals. Here are a few great ways to have a filling and healthy lunch while not spending your time standing over a BBQ or open pit fire.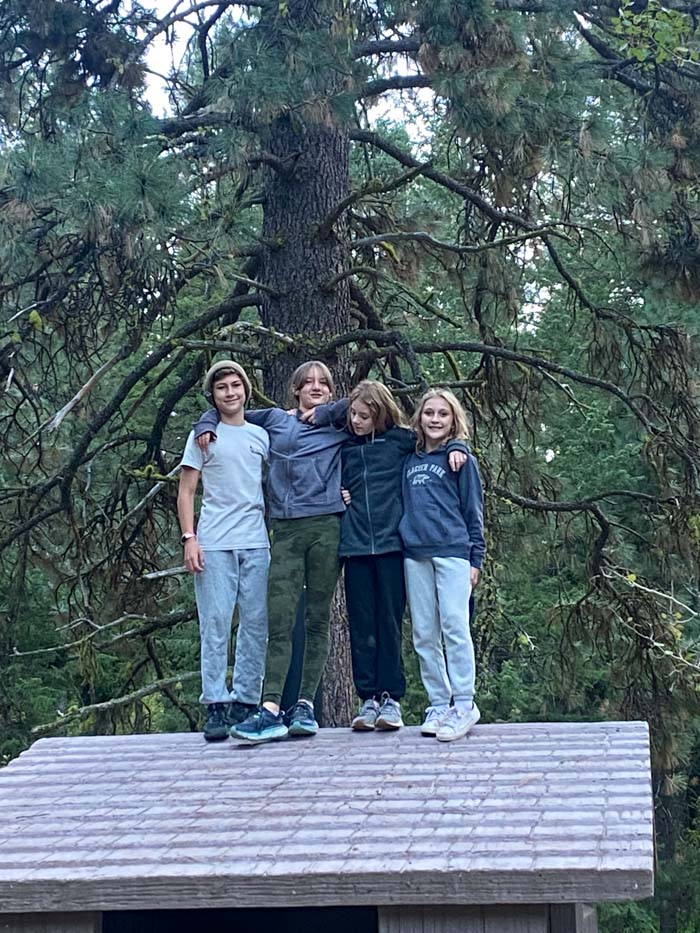 Use tortillas rather than conventional bread to create simple wraps with lunch meat and cheese. Or, consider sliced apples and peanut butter. These wraps are also great to take on hikes.
A kid-friendly favorite is a mixture of cooked ground beef with Doritos, shredded cheese, shredded lettuce, salsa, and tomatoes or whatever you prefer on tacos. Use a reusable container fill part way with the ground beef, add your favorite topping and use either whole chips for dipping or crush the chips and use a spoon for eating the mixture.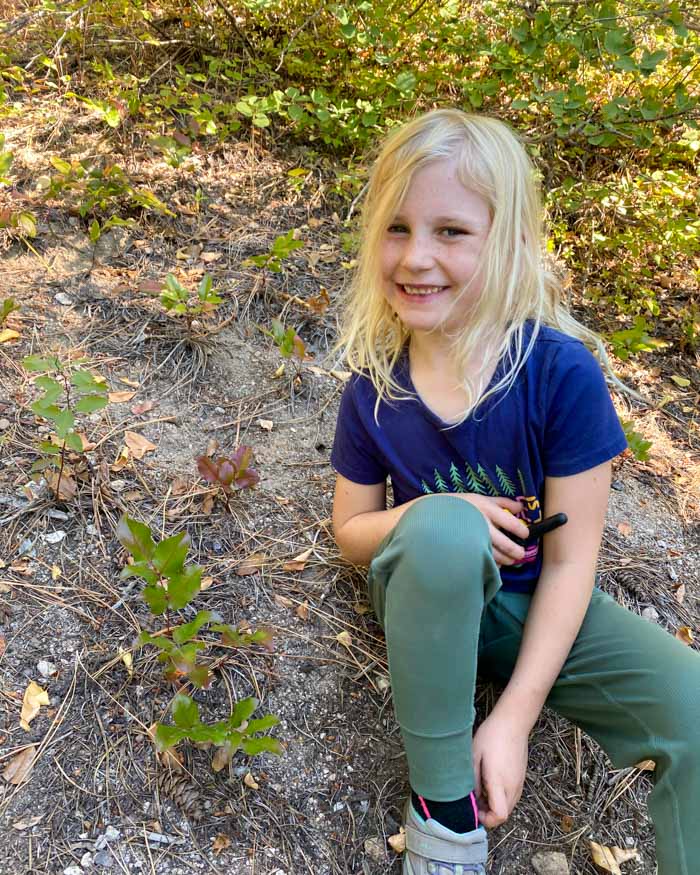 This meal is excellent for hiking lunches because it can be prepared before you leave and it travels well since it is already a jumbled mess. Kids love the flavor and texture and the novelty of being able to pick and choose their own toppings. You can make a vegetarian version of this by using beans or rice instead of meat, using regular corn tortillas, and skipping the cheese. Still a tasty hiking treat.
Dinner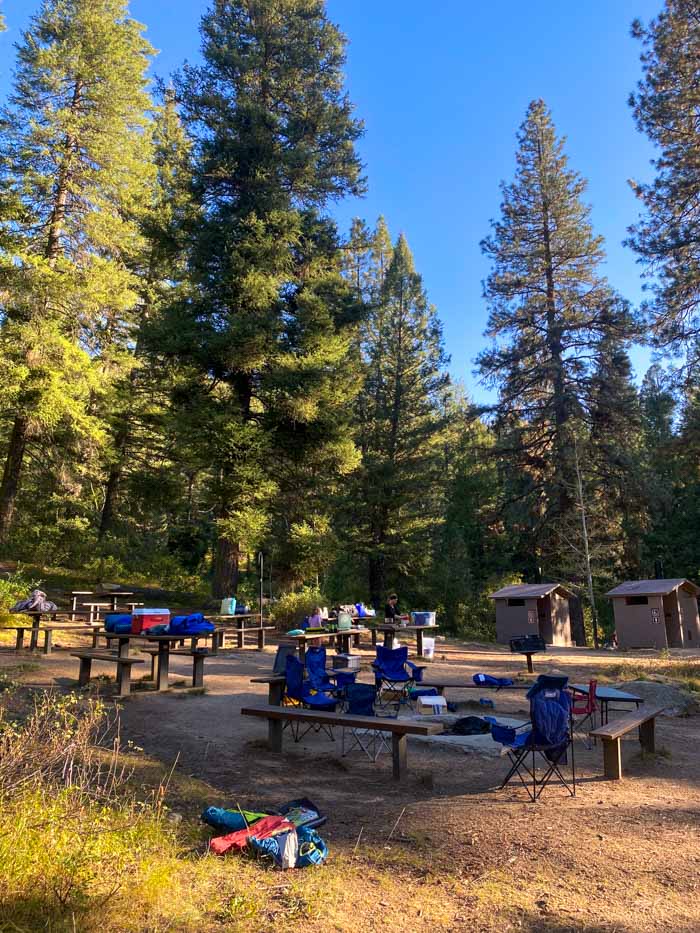 A campfire can be used to cook anything you would cook on the grill at home. To ensure a little more even heat, use charcoal as the base and add wood for a little flavor. In addition to the usual hamburgers, brats, and hot dogs, try kabobs using long-handled roasting forks.
Tinfoil potato boats and carrots are great with burgers, chicken, or steaks. To make potato boats you'll need to add some butter to a large sheet of tin foil. Then layer in some thinly sliced potatoes, onions, carrots, and any seasons you'd like. Roll up the tin foil to make a boat and place it over hot coals from a campfire for at least 30 minutes.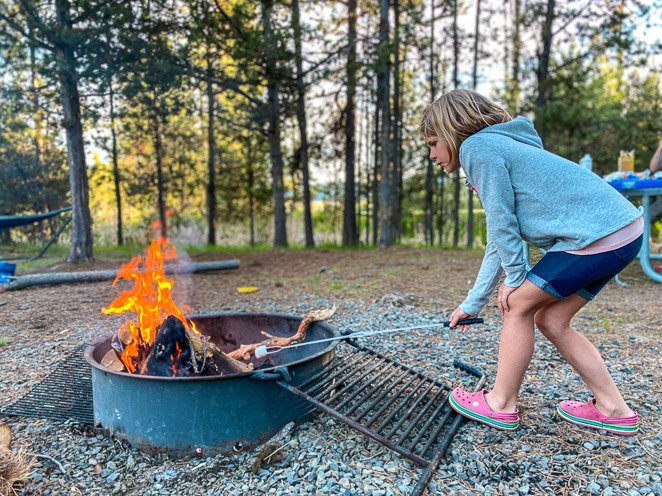 Treats
In addition to the usual roasted marshmallows and s'mores with graham crackers and chocolate, your campfire can be used for other tasty treats. Consider bringing a pie pan and adding butter bread and pie filling to make a warm pie by the fire. Or, use tinfoil to make a slit in a banana, fill it with alternating pieces of chocolate bar and tiny marshmallows, wrap it in tin foil, and place it on coals at the edge of the fire or on a grill top over the fire for banana boats.
Cooked apples with brown sugar is a family favorite of ours. Slice the apple and layer it with a bit of brown sugar, cinnamon, and butter inside a layer of tinfoil. Place it over hot coals for 15 minutes and you'll have a delicious apple pie-like dessert.
Related Post: 9 Best Camping Gadgets
Tips For Cooking While Camping
Be sure to bring the best family camping gear to set you up for success. Here are a few additional tips for cooking while you're camping.
Tin foil is great for keeping meat warm or warming bread and rolls.
The amount of heat delivered to a pan on a camp stove can vary based on wind, the outside temperature, and fuel. So meals need to be checked frequently.
Campfires have uneven heat, so be flexible.
Pots and pans used over the campfire will blacken so don't use pans you use every day at home.
Don't be intimidated by cooking outdoors. Try new things and adapt recipes by pre-cooking some or all of the items at home. Have fun and eat well!