Wow. Canyonlands National Park is absolutely beautiful! Oh, and really really big. Our family took a day to spend searching for the best Canyonlands hikes for kids and adults.
First, I want to explain a little bit about how Canyonlands park is laid out. This very large National Park is split up into three different districts that you can only access by separate roads. They are not interconnected.
The Needles District, The Maze, and The Island in the Sky.
The Needles sits in the Southeast area of Canyonlands and provides what are considered the best hikes in Canyonlands. I like that there were a variety of levels of difficulty in the Needles district because we were looking for great hiking with our kids.
The Island in the Sky has some of the best day hikes in Canyonlands with very little elevation change and a great view on top of the mesa.
It's the most visited area of Canyonlands because it's the closest section to Moab and the shortest drive to a Canyonlands National park visitor center. Yet, it's still a good 30-45 minutes in your car from Moab, Utah.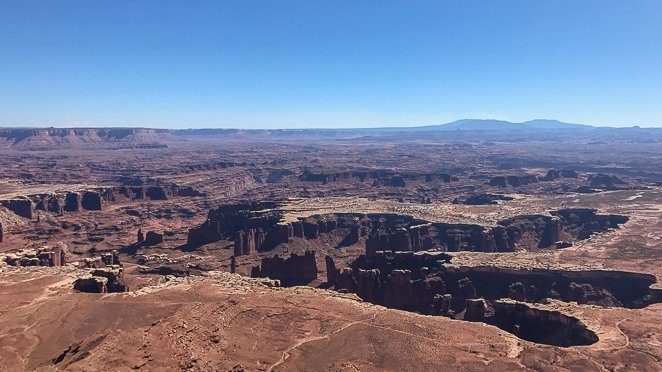 The Maze district is remote and located on the west side of Canyonlands park. You can only access it by a 4-wheel drive vehicle and is the least visited part of the National Park. We never made it to that side of Canyonlands.
I asked the park ranger what he thought were the best Canyonlands National park trails for our family to hike.
If you haven't talked to a National Park ranger yet, you're missing out. In our experience, they are always so kind and helpful.
Since our kids are between the ages of 4 and 10 we were only looking for the best Canyonlands day hikes and ones that the kids might enjoy the most. Below, we list out each hike that was recommended with some helpful tips.
THIS ARTICLE MAY CONTAIN COMPENSATED LINKS. PLEASE READ OUR DISCLAIMER FOR MORE INFO.
Canyonlands National Parks Hikes
When you're getting started out on a hike on any of Canyonlands trails, be sure to bring water bottles or cambelbaks for everyone in your group. This is the high desert and you will need to drink a lot of water even if it's cool. The visitor centers in each district has drinking water available where you can fill your bottles or packs up. If you notice in our photos, we have a Camelbak for each of our 4 kiddos.Now, let's dive into some highly recommended hikes in Canyonlands
Island In the Sky Canyonlands Hikes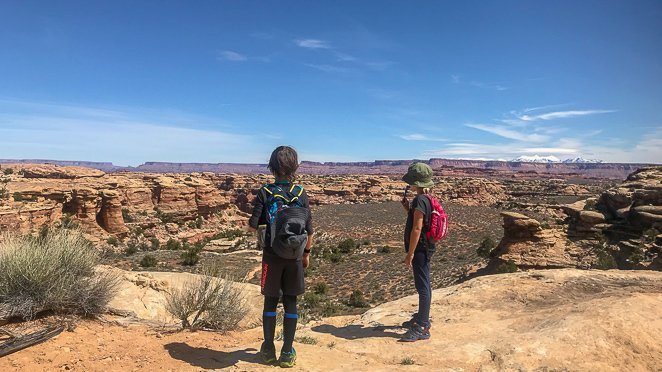 Grand View Points Canyonlands: 2 miles total
This hike is along the edge of the Mesa and provides one of the most spectacular panoramic views as it follows the canyon. You go out and back and it doesn't change much in elevation.I took our 4 kids on this hike, along with friends of ours, and we decided to go most of the way out and back since it's not a loop. If you have a child that will run away from you, do this hike with caution as you're near the edge without any rails. But the view is worth it!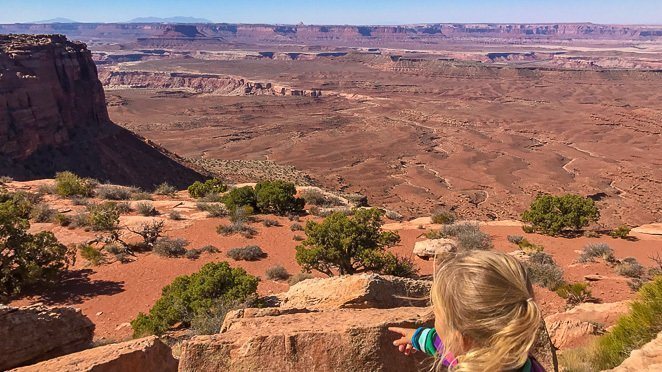 Mesa Arch: 0.5 Miles total
This short hike leads you out to a great spot to capture the Mesa Arch at sunrise. Just keep in mind, everyone knows that's when this is the best place to visit so it could be busy even at sunrise.
White Rim Overlook: 1.8 miles
The White Rim Overlook hike leads to a great view of the Colorado River, Monument basin and the La Sal Mountains. However, there is very little parking at the trailhead so plan ahead or have a back-up plan if the parking is full for a second hike.
Our Pick
The Grand View Point would have to be our top pick for Canyonlands hiking trails in the Island In the Sky District. The kids loved rock scrambling and climbing around while the view was spectacular!
Needles Canyonlands Hikes
Cave Spring: 0.6 miles
This short loop hike leads to some prehistoric paintings on the rock walls and 2 ladders must be climbed. The ranger recommended it for the kids but we chose a longer hike to start our day and we were wiped out and didn't get a chance to try this hike. Friends of ours did during their Utah road trip and they really enjoyed it!
Slick Rock Hike: 2.4 miles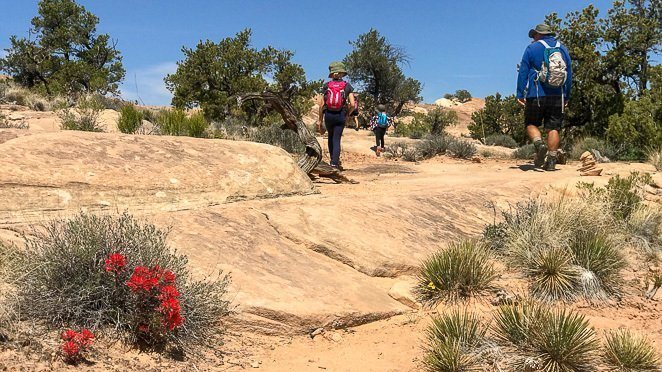 This loop hike was the longer one that our family took with kids ages 4, 6, 8 and 10 at the time. The kids did really well but were tired out at the end. There are uneven surfaces but it's not too difficult of a hike at all. I loved the 360-degree views of Canyonlands National Park needles!
Our Pick
Slickrock Hike is well worth the amazing 360 degree views and easy enough for most people. Just be sure to bring water, snacks, and look forward to a bit of rock scrambling.
Getting To Canyonlands National Park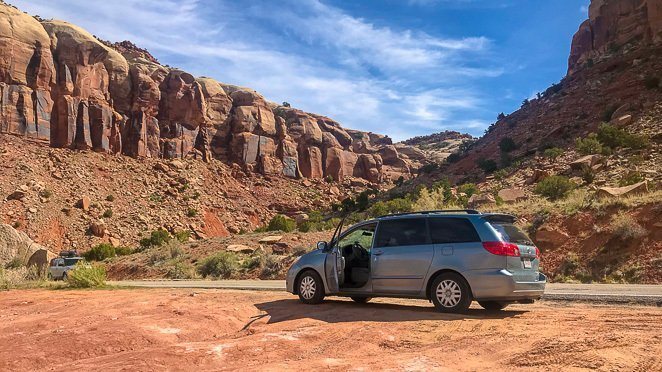 As I mentioned earlier, Canyonlands is split into 3 different districts that are NOT connected by any roads inside the park. You have to drive outside the huge park and come in separately.
In all honesty, this National Park is HUGE and can take a long time to get from one side to another. Our family took one day to drive to one district and do one hike….and that took about 6 hours total with driving both ways from Moab.
Click here to discover some fun things to do in Moab with kids during your road trip.
Island In The Sky – Getting There
The Island in the Sky Canyonlands visitor center is about a 45 minute drive from Moab. You take US 191 north for 10 miles from Moab and then UT 313 Southwest for 22 miles.
The Island in the Sky visitor center is open from March through December. They offer a 15 minute video and range programs, including Junior Ranger programs if you ask.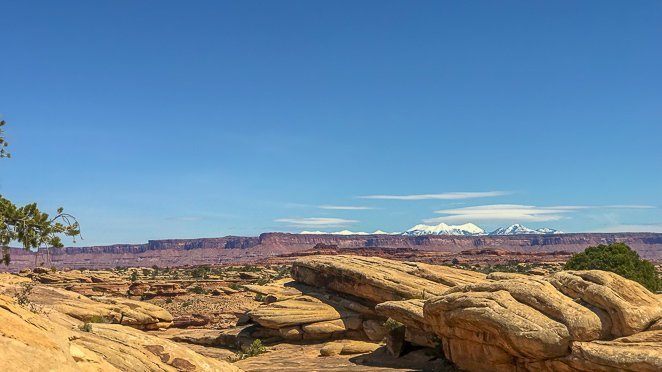 Needles District – Getting There
Canyonlands National Park needles district visitor center is a about 1 ½ hour drive from Moab. You take US 191 south of Moab for 40 miles. Then take UT 211 35 miles West. The visitor center is open daily Spring through Fall, but you'll want to check on their website for the specific dates.
Accommodations Near Canyonlands
Canyondlands National Park Camping
In both the Needles district and Island in the Sky, there are campgrounds that provide dry camping on a first-come-first serve basis for tents and RVs up to 28 feet. If you have a larger RV, need water and electric, or if you need cell service to work (like we do), then you may want to stay somewhere in Moab and plan to drive in.
Campgrounds Near Canyonlands National Park
There are several campgrounds in Moab that can work great for all types of camping. Oh, and there's great cell service in Moab. We like to check on Campendium for good reviews before calling ahead if you want to stay in an RV park. Otherwise, there are some great boondocking spots around the Moab area.
Rent An RV
If you don't own an RV, then renting one is a great option. Utah is a popular state to see RVs all over and renting one might be perfect for you. Click here to learn more about renting an RV.
Hotels Near Canyonlands National Park
There are many hotels to choose from in Moab. Search below to find the best prices and availability.
When To Visit Canyonlands National Park
Canyonlands is located in the high desert. So the winter months can be very cold and a bit snowy, while the summer months can be extremely hot.
Be sure to prepare by wearing the best hiking clothes for the season and adding things you need in your day hike backpack. The best time to visit is spring and fall. Just be prepared for Moab to very busy with other people visiting and looking for accommodations during the spring and fall months as it's a popular time and plan ahead.
Let's Travel Family is a participant in the Amazon Services LLC Associates Program, an affiliate advertising program designed to provide a means for sites to earn advertising fees by advertising and linking to amazon.com, amazon.co.uk, amazon.ca. Amazon and the Amazon logo are trademarks of Amazon.com, Inc. or its affiliates.