We've been asked by so many people lately what we think of our Camelbaks for kids. Since we've been hiking in Utah this spring, our pictures on Instagram and Facebook keep showing all 4 of our children (ages 4 -10) wearing their own hydration packs.
Do we love them? What are they? What size kids hydration pack should we get? Are they Camelbaks?
Well, I want to quickly talk to you about why we love our kids hydration packs, answer some of these questions, and tell you where we bought ours.
THIS ARTICLE MAY CONTAIN COMPENSATED LINKS. PLEASE READ OUR DISCLAIMER FOR MORE INFO.
Camelbaks For Kids
When we started traveling as a full-time RV family in the spring of 2017, we didn't know how well our kids would do once we arrived at National Parks.
You see, Tony and I were really excited to hike some of our bucket list destinations and our kids were still very little. We worked hard to create our day hike packing list, but we were new to the 'family hiking' experience, so we did the best we could.
We actually managed to 'get by' for a few months with heavy water bottles in our backpacks…but that didn't work as well when we had to have Jasmine in a baby hiking carrier some of the time. (she was only 2)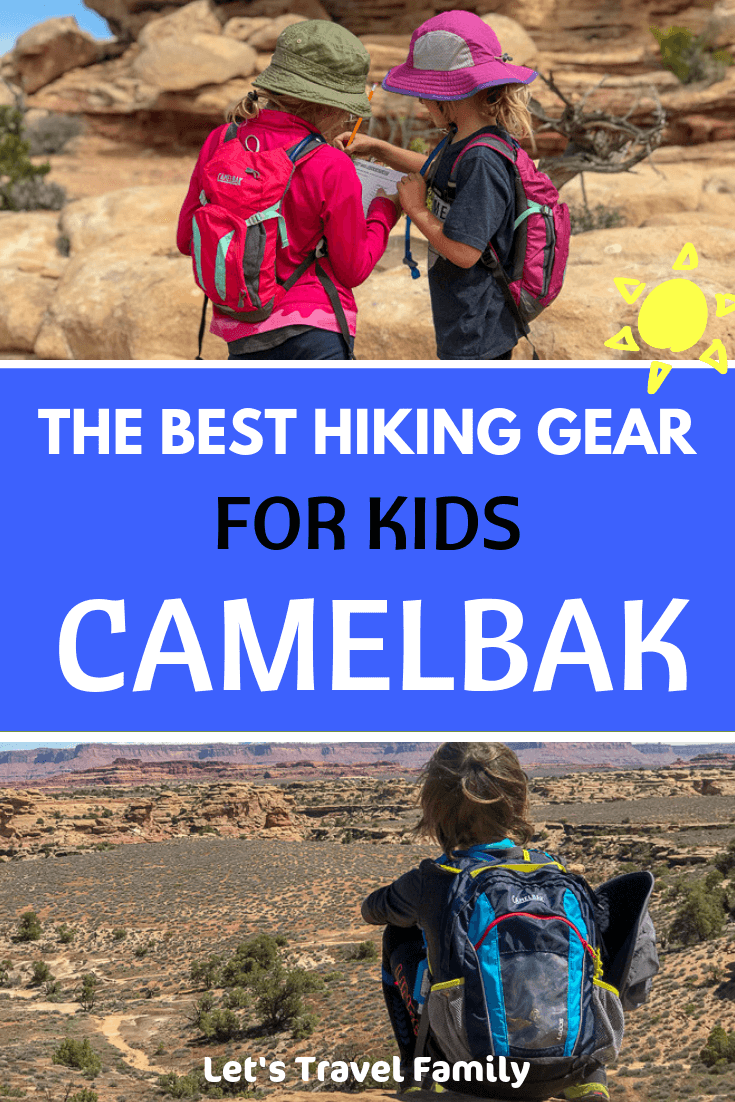 Best Kids Hiking Gear
It was once we arrived to Grand Teton's National Park and hiked with another family that we decided we needed to invest in a kid's Camelbak or two.
Our friends had Camelbaks for each of their kids and we saw the benefit right away! It's SO important to keep kids hydrated while hiking, and what better way than to have their own water source? We actually paid full price for Riley's at an outfitter store in Jackson, WY. Then later we bought Lilya and Gwen's on Amazon.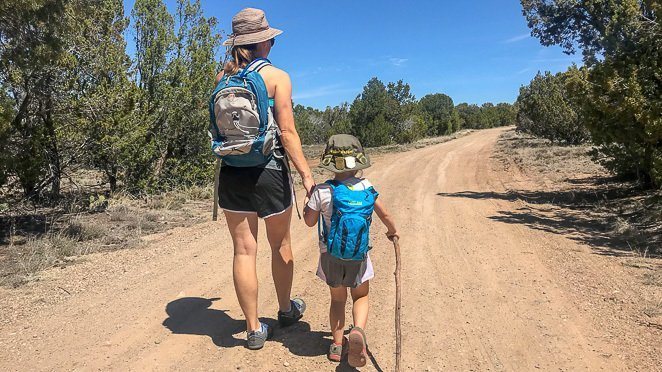 I have to say, these Camelbaks are our number 1 kids hiking gear recommendation!
Not only we you know that our kids will have their own water source with them no matter what, but they feel really special having one and it makes hiking much more exciting for them!
8 Reasons We Love Our Kid's Camelbaks
Our kids stay hydrated at all times.
The Camelbaks hold snacks and bandaids in their small pockets.
It makes our kids excited to go hiking!
There's a whistle on the pack in case our kiddo gets lost on the trail
These kid's Camelbaks have never leaked!
They can wear them hiking or biking.
It teaches our kids to be responsible for themselves on the trail.
Kids's Camelbaks make the perfect gift!
Our 4-Year-Old's Birthday Present
Jasmine just had her 4th birthday in April and was SO excited to receive her very own Camelbak! She was excited to start hiking so that she could wear it and is very proud to carry her own.
I even took her on a 'hike' around our campsite the week after she received it because she was begging to go hiking! How cool is that?
Which Camelbak Should I Get?
Let's dive into the different types of camelbaks for kids so that you know which one you might want to get.
Camelbak Kids Minie M.U.L.E
The Camelbak Kids Mini M . U. L. E. is the pack we have for all 3 of our girls. It's a small enough pack that it doesn't weigh much and comes in many different colors. It carries a 1.5 L water reservoir and they are each covered in reflective strips so it's easy to find your kiddo in low light.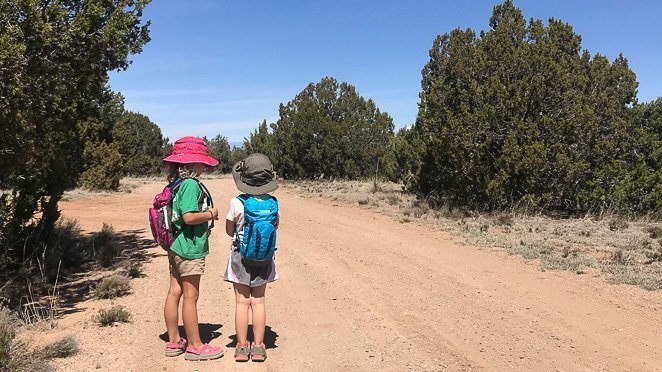 They have no problem carrying it and it fits them so well at ages 4, 6 and 8!
Click here to see the latest prices.
Camelbak Kid's Scout Hydration Pack
Riley, our 10-year-old son, has the Camelbak Kid's Scout hydration pack. His pack carries the same size water reservoir, at 1.5 L, but it's larger with more space to store fun things that he finds on the trail.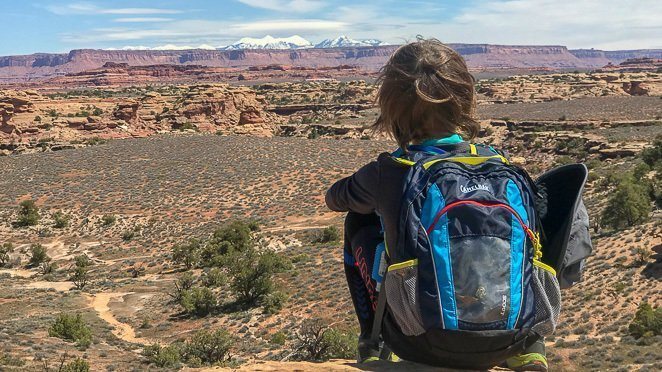 He's also been known to carry more snacks for everyone and can help Mom and Dad with carrying extra gear on our hikes.
Click here to learn more about the Camelbak Kid's Scout hydration pack.
Our Take On Camelbaks for Kids
Camelbaks make a great gift for kids that will help inspire them to get outside and enjoy getting into nature. You can pack snacks, water, and even baby wipes in the packs and they can even wear them riding bikes or hiking.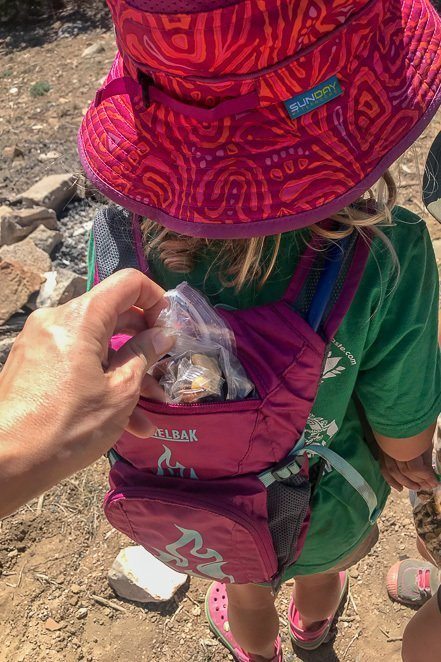 We've found that while lately hiking in the desert our kids stay hydrated. They didn't run out of water with the 1.5L hydration packs on a 3 mile hike in Canyonlands National Park or on a 2 mile hike in Arches National Park. It's more than enough water, yet light enough that they carry them easily.
As you can see, we love these Camelbaks and feel that they make a great addition to your list of things to bring on a family hike.
Please, let us know in the comments below if you have any other questions about our experience with our kid's Camelbaks.