Looking for the best things to do in Moab with kids? Moab Utah has so much to offer for a family vacation. If you're planning a family vacation and want to discover the fun things to do in Moab Utah with kids, then keep on reading.
Our traveling family has visited Moab several times over the last few years and I want to share with you some great tips. We've discovered some great kid-friendly hikes in Moab, fun places to eat, where to stay in Moab with kids, and some tips for visiting the famous Utah National Parks nearby.
That's why I'm excited to share with you all of my best tips for a fun Moab family vacation. Explore what to do in Moab with kids below, and begin planning your Utah road trip.
Fun Things To Do In Moab Utah With Kids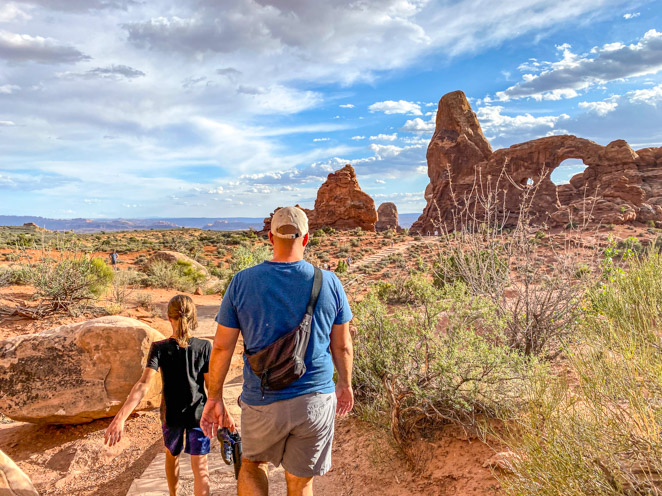 One of the bucket list things to do during a visit to Moab, Utah is to visit Arches National Park. Located just a few miles north of the city, Arches offers an amazing place to bring the kids.
Start by stopping by the visitor center and picking up a junior ranger booklet. This way, the kids can participate in the junior ranger program during your visit and have a chance to earn a badge.
Plan to drive through the park to see not only numerous arches, but also balanced rocks, spires, 'petrified dunes' and more.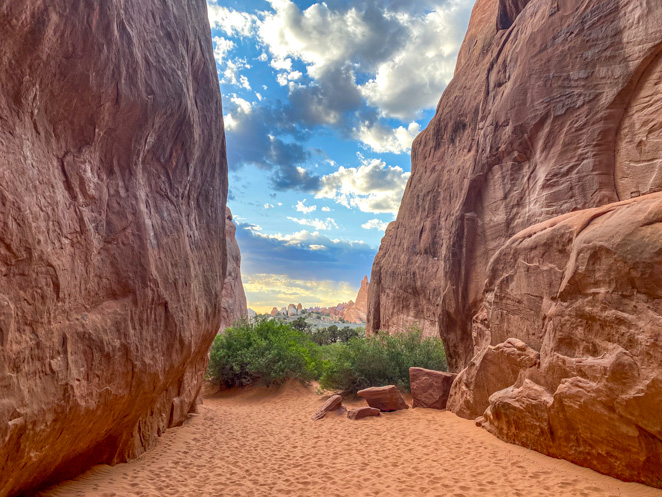 One of my favorite short family-friendly hikes in the National Park is the Sand Dune Arch hike. This is a great one to plan on stopping at during the hot part of the day, as it's shaded and has a fun sand hill for the kids to play in.
If you have older kids, you may consider the National Park Delicate Arch hike. But I wouldn't suggest it for young inexperienced hikers.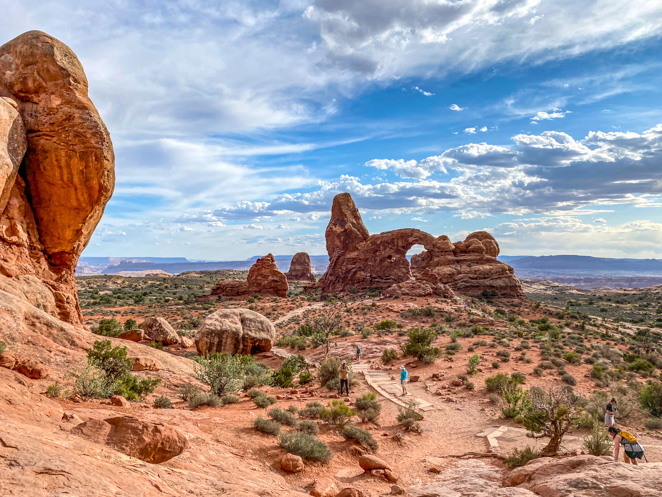 The Windows is another great area of the park to visit with kids. You can park by the bathrooms and explore several arches close by.
Arches National Park has so much to offer for families. Click here if you want a more in-depth guide of great things to do in Arches National Park with kids.
Go Mountain Biking In Moab With Kids
Moab mountain biking with kids can be a fun family adventure during your visit. Moab is known for its mountain biking opportunities. With so many trails and mountain biking companies ready to rent out all the bikes and gear you need, you have many options. Just be aware that the trails near Moab are known as some of the most unique and often challenging trails. So if your family isn't accustomed to challenging trails, you may want to consider a smooth ride along the Colorado River instead.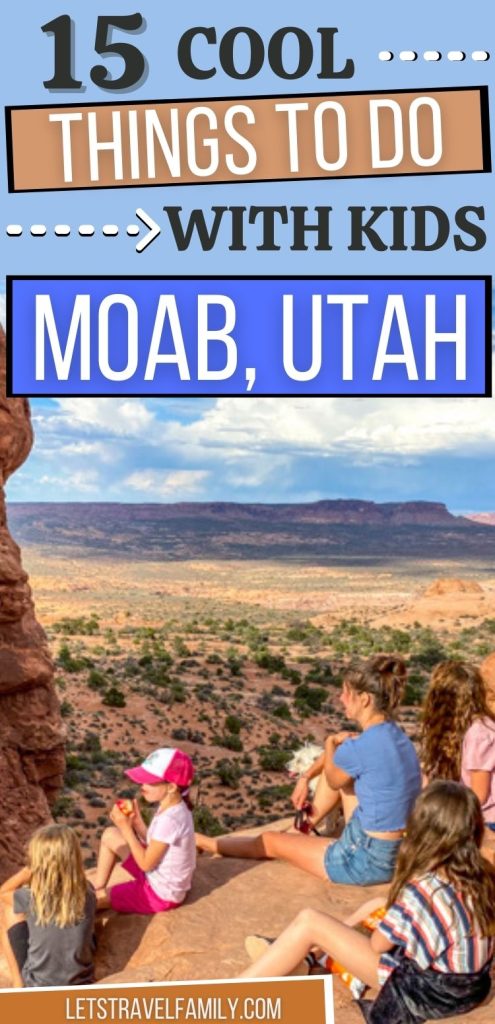 Bike Along The Colorado River Path or At the Kids Bike Park
Moab Canyon Pathway is a paved bike path on the Northside of Moab that follows the Colorado River with a beautiful bike and pedestrian bridge. With parking and bathrooms at Lions Park trailhead, it's a great place to adventure for a bit with the kids.
Another great option for paved biking in Moab is the Mill Creek Parkway trail. With over 2 miles of paved trail along Mill Creek, this is a great trail for families. Stop off at Robin Groff Memorial Park which has some fun wooden and stone ramps for kids to bike around. It's a great place to stop with the family to test out their biking skills.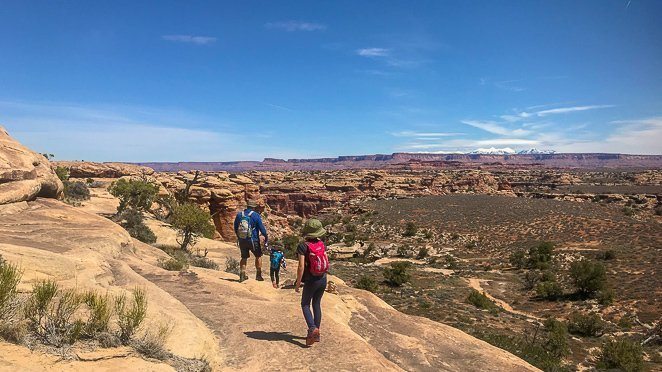 When visiting Moab, your family can drive to two of Utah National Parks for fun day trips. Canyonlands National Park may not be as popular as Arches NP, but it's worth the visit providing some amazing views and fun hikes. Click here to read more about Canyonlands National Park.
Swim At The Moab Aquatic Center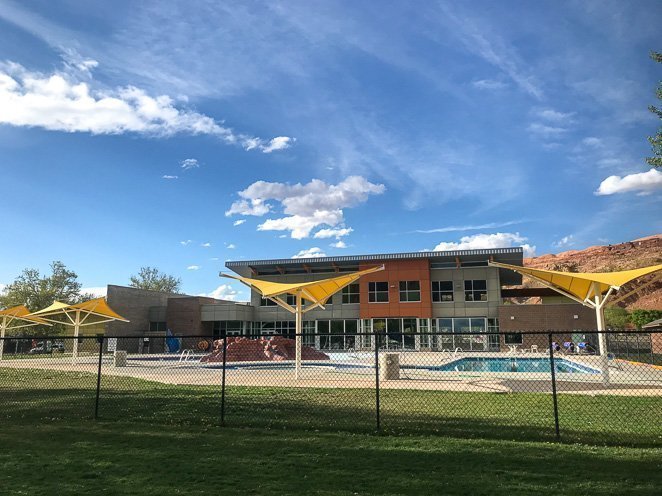 One of our favorite family activities in Moab Utah is swimming at the Moab Recreation & Aquatic Center. Offering an indoor pool and waterslide for the cooler months and an outdoor pool for the hot weather, the Moab Aquatic Center is a fun family activity in town.
Explore Downtown Moab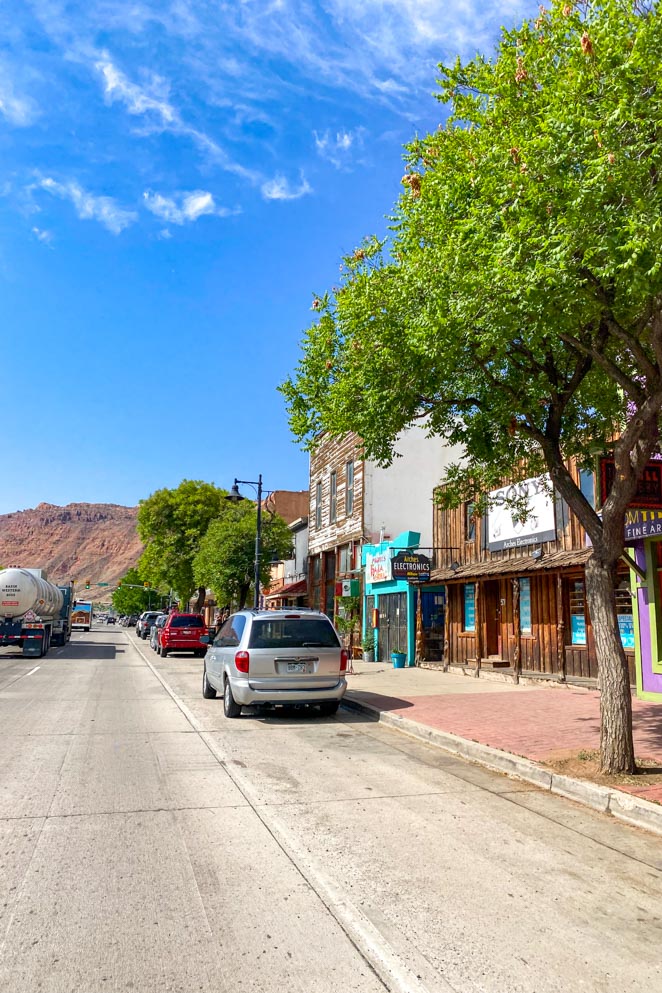 Enjoy a few hours as a family exploring downtown Moab. With many restaurants, breweries, and souvenir shops, you'll find a few places everyone in the family wants to visit. If it's a hot day, enjoy a meal inside or on the misted patio of some of the restaurants.
Visit Moab Giants – Dinosaur Discovery Museum
The newest dinosaur museum in Utah is a great place to take the family. The Moab Giants has both indoor and outdoor dinosaur tracks exhibits, along with a cafe and a 5D aquarium experience inside. The kids will love it.
Visit Rotary Park – East Side of Moab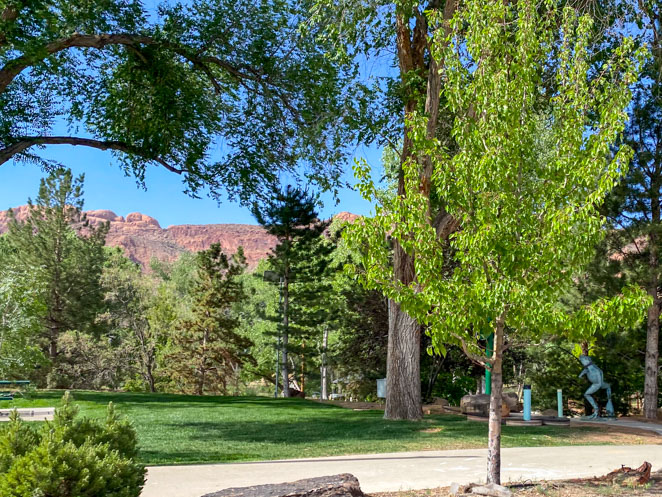 Looking for a shady playground to let the kids run around for an hour? Rotary Park is located on Mill Creek Drive in Moab, Utah. It offers a shady area to rest while the kids play. It's also connected to Mill Creek Pathway for some fun family biking.
Rafting Down the Colorado River
Rafting near Moab is another fun thing to do with the family. Enjoy some whitewater rafting down the Colorado River that flows right through Moab Utah. There are many options for family-friendly rafting trips in Moab.
Visit Dead Horse State Park
This unique state park is a peninsula of rock surrounded by sheer cliff sandstone. With camping and mountain bike rentals, Dead Horse Point State Park is a great place to consider camping on your way to Canyonlands National Parks from Moab.
Rock Climbing or Canyoneering Near Moab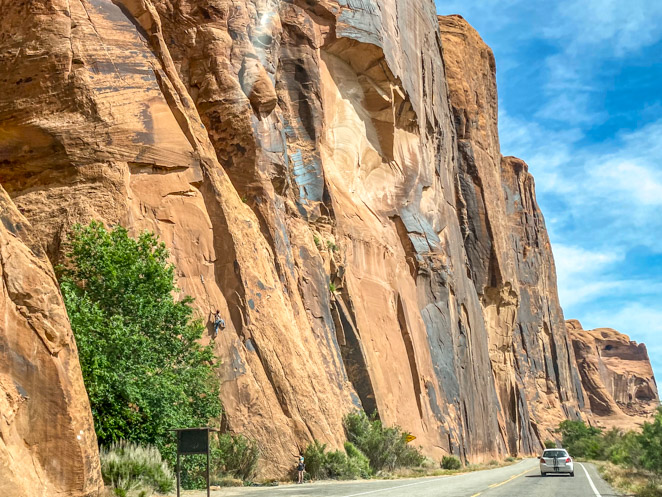 If your family is adventurous and experienced with your own gear, take your kids rock climbing near Moab. Or better yet, go canyoneering.
We saw many people rock climbing on our way to the Corona Arch Hike and it made me wish that we were more experienced so we could take the kids up on the rock walls.
Kid Friendly Hikes In Moab
If you're looking for some kid-friendly hikes in Moab that are not in a National Park, then keep reading. We've discovered two that we highly recommend to any friends or family planning to visit. Just be sure you have the hiking essentials you need for a day hike so that you're prepared.
You may even want to consider some of these fun hiking gadgets too.
Corona Arch Hike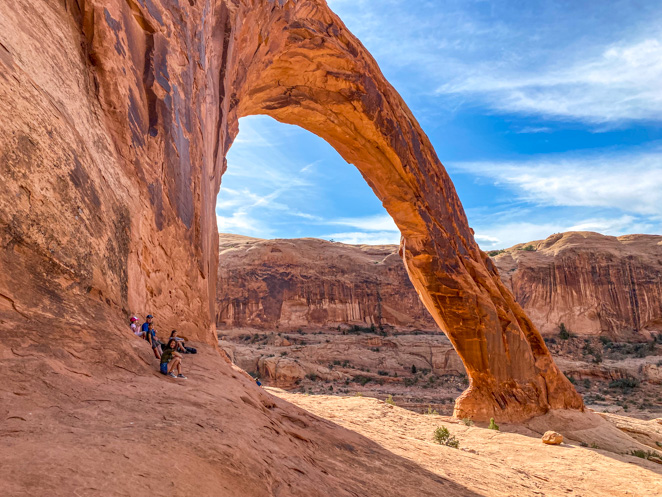 A famous hike near Moab that is not in a National Park is Corona Arch Hike. We've done this hike during two different visits with kids ages 2 to 12 and it was a great family hike in the early mornings. Why the morning time? Because there's a bit of shade if you go before 10 am which makes it much more enjoyable.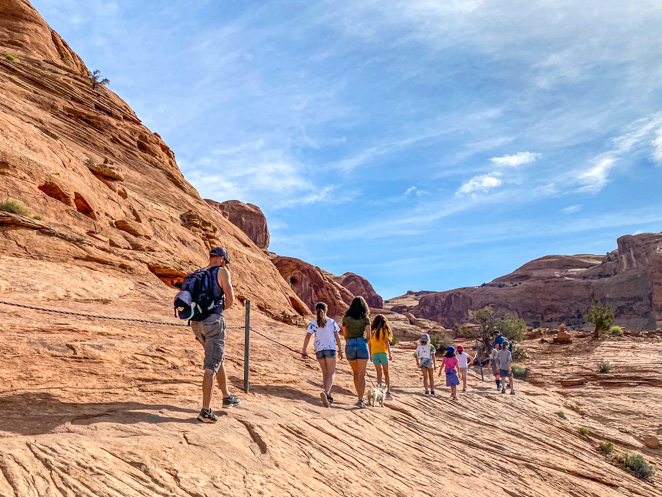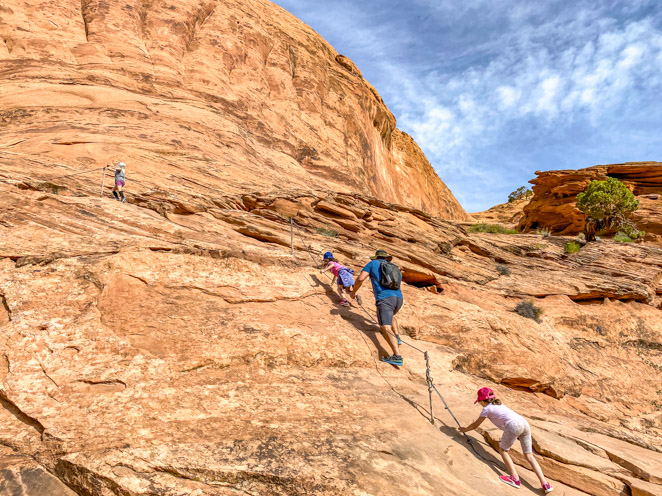 My kids loved that there was a ladder on this hike and that you walk across railroad tracks. I loved the views of the HUGE Corona Arch once we arrived at it. Oh, and the kids loved to do some rock scrambling along the way too.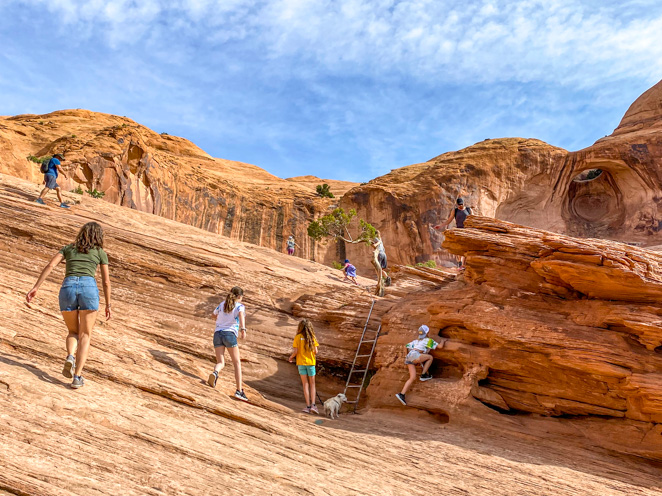 Corona Arch Trail details: The Corona Arch trail is a 3-mile hike out and back and located on BLM land. You'll have a few cables and a ladder to assist you in a few parts.
Directions: From Moab, you'll take US-191 North for about 4 miles. Turn left onto UT-279 South and travel for about 10 miles. Parking and the Corona Arch Trailhead are located on the right side of the highway. You'll find parking and vault toilets here.
Mill Creek Hike
Mill Creek Trail is a 1.8 mile out and back trail along Mill Creek just outside of Moab. It's a great hike for families when the weather is hot, because there are many places to play in the creek along the way.
If your family can wait to get wet, then I suggest hiking to the small waterfall with a fun swimming hole at the bottom. It's partially shaded and a great place for the family to relax and have a picnic lunch.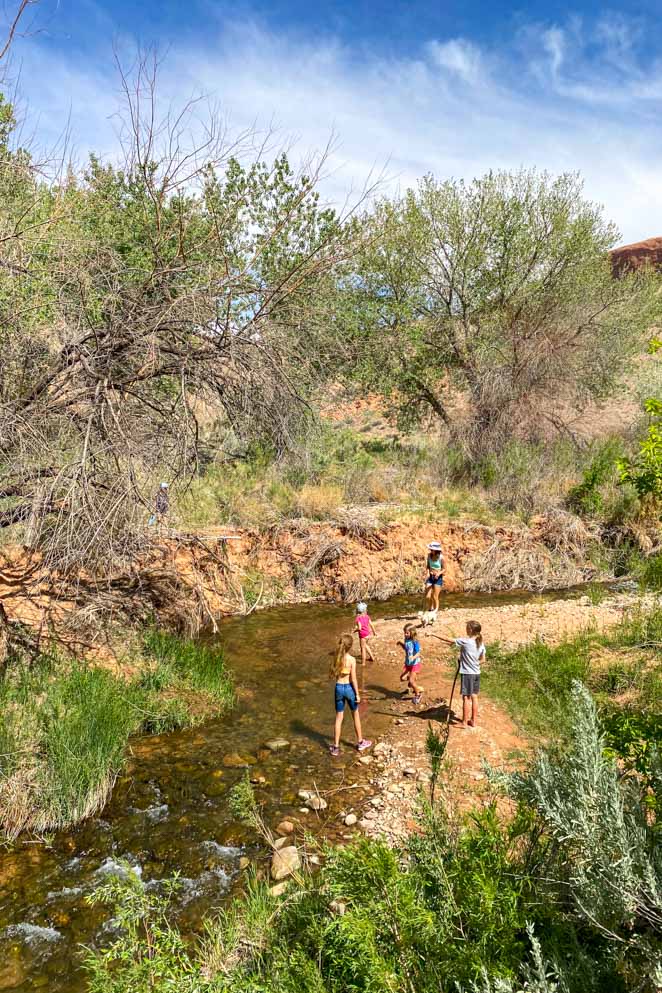 Mill Creek Trail details: Mill Creek Trail is a 1.8 mile out and back hike that has many shady areas near the creek. It's very pet friendly and close to town.

Directions: Head East on Mill Creek Drive out of downtown Moab, Utah. Turn left on Powerhouse Lane and head East for ½ mile to arrive at the Mill Creek North Fork Trailhead. You'll find parking and vault toilets here.
Where To Stay In Moab With Kids
When planning a family vacation, you'll have a few choices on where to stay in Moab with kids. You could consider tent camping as a family, renting an RV and camping, finding a great hotel, or finding a cabin or Airbnb.
I also use Booking.com to find the best prices and reviews of hotels in an area. Click here to see the best deals in Moab for your stay.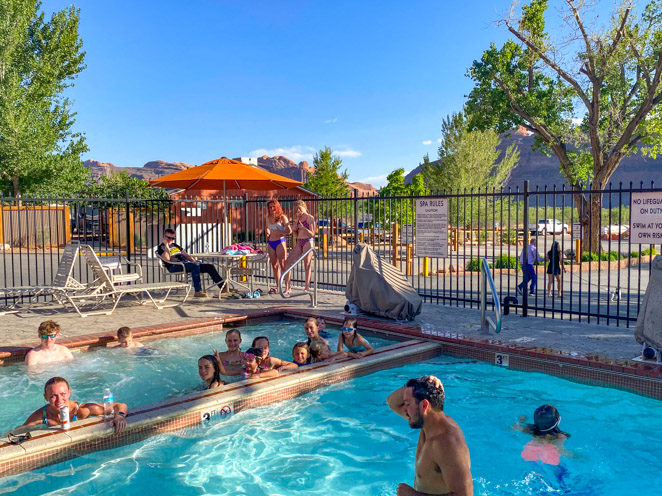 If you plan to visit during the hot summer months, then I don't recommend camping of any kind. The RV air conditioners just can't keep up with the high heat and tent camping can be extremely hot. But, if you plan to visit Moab in the Spring months of March and April or the fall months of late September and October, then camping is a great option.
There are many campgrounds right in town which provide nice bathrooms, drinking water, and even pools to cool off in. We stayed at Slickrock Campground in May of 2021 and it was a great campground. However, we were tenting. So we were a bit too hot during our stay while our friends who camped in their own RVs really enjoyed their stay.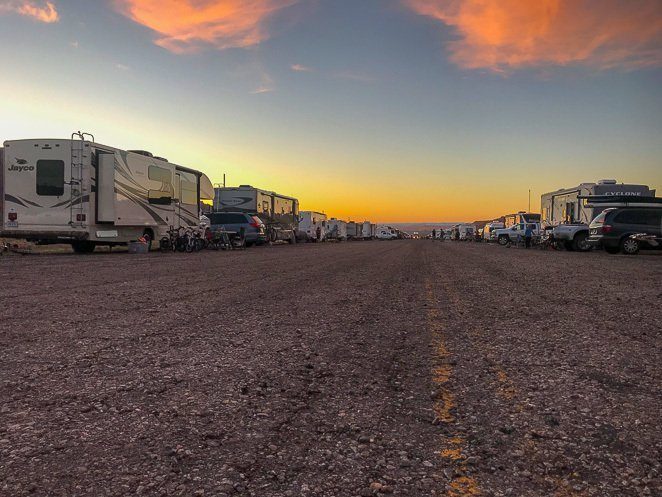 In 2017 and in 2018 we visited Moab as a full-time RVing family traveling the country. We were very comfortable boondocking (dry camping) for free on BLM land outside of Moab. Many full-time travelers will visit Moab in the Spring and Fall as there is so much BLM land nearby to camp on for free.
Where To Eat In Moab With Kids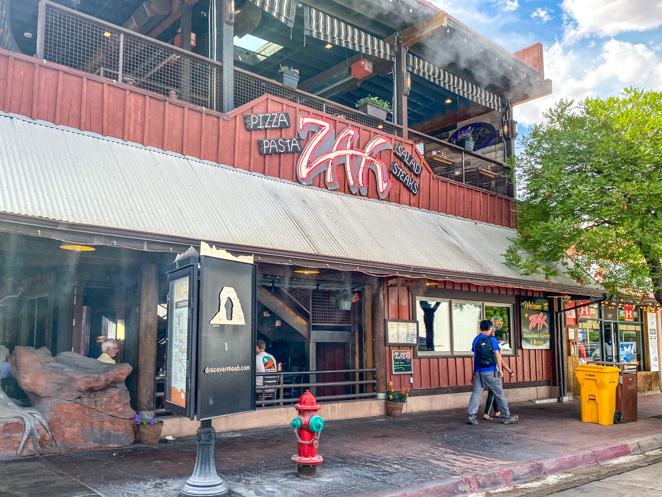 There are several restaurants in Moab that are great for families. The Food Truck Park can offer a variety of foods for the entire family. Just be aware that they close by 7 pm nightly. So you may want to plan on grabbing lunch instead of dinner there.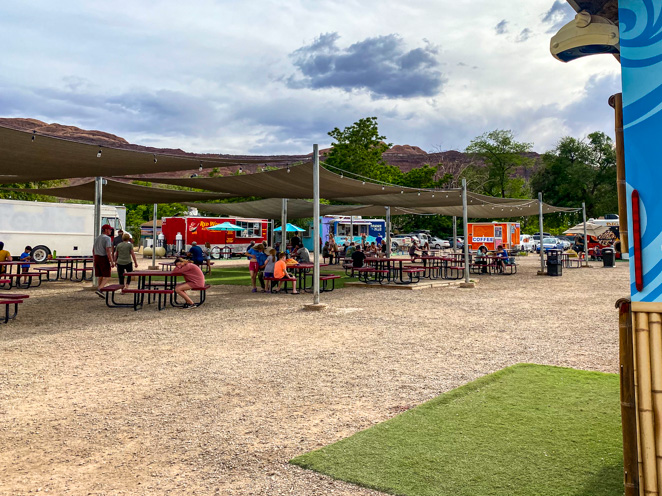 Fiesta Mexicana has excellent Mexican food and great service. I loved their fajitas while my son loved their nachos.
Zax Restaurant has a fun rooftop patio with misters to keep you cool while you enjoy pizza and their salad bar.
Milt's Stop and Eat is a fun local malt shop with grass-fed burgers and outdoor tables. Our family loved ordering at the window and eating outside with our friends here.
What To Do In Moab With Kids
I hope you've discovered some fun things to do in Moab with kids. It's really a fantastic place to visit as a family, especially if you're planning a Utah road trip with many stops. Add Moab to your list.
Consider checking out some of our related posts sharing tips on planning a Utah road trip. Planning out what to do in Arches National Park with kids. Or, finding the best hikes in Canyonland National Park with kids. Add Bryce Canyon National Park to your road trip itinerary and also plan a few great hikes in Zion National Park in Southeast Utah. Don't forget to add Capitol Reef National Park to your list of Utah National Parks to visit.