Clean drinking water is essential for every family. Yet, finding the best counter water filter for RV living, home life, or a mix, can be a bit confusing.
If you love taking your RV out camping and you're looking for the best countertop water filtration system that you can move between your home and RV, then keep on reading.
THIS ARTICLE MAY CONTAIN COMPENSATED LINKS. PLEASE READ OUR DISCLAIMER FOR MORE INFO.
You see, there can be countless countertop water filters that are found online, yet which is the highest rated and will remove the most toxins?
Our pick for the best water filter countertop is a Berkey Water Filter.
As previous full-time RVers, we've personally experienced looking for the best water filter for RV life. And in the end, we found the best match for us was the Travel Berkey.
Read through our buying guide and comparison chart below to see which water filter is for you. First, let's talk about why water filters are so important while you're camping this year.
Why Have A Water Filter While Camping?
Whether you take your RV out camping on the weekends, hope to own a camper one day, or you live in your RV full time, having a consistent and safe solution to finding drinkable water is important.
It can often be difficult to know if the water offered at each new campground you visit is rid of heavy metals, bacteria, or other unwanted substances. Not to mention, getting rid of the chlorine taste that can often overwhelm you.
That's why we've listed the Travel Berkey as a must have for RV owners. We have it on our list of RV kitchen accessories and RV must-haves.
Having your own RV water purifier can also help in reducing your use of plastic water bottles. It can count as a small effort in helping save the environment. This means that you can save some money rather than buying bottled water all the time.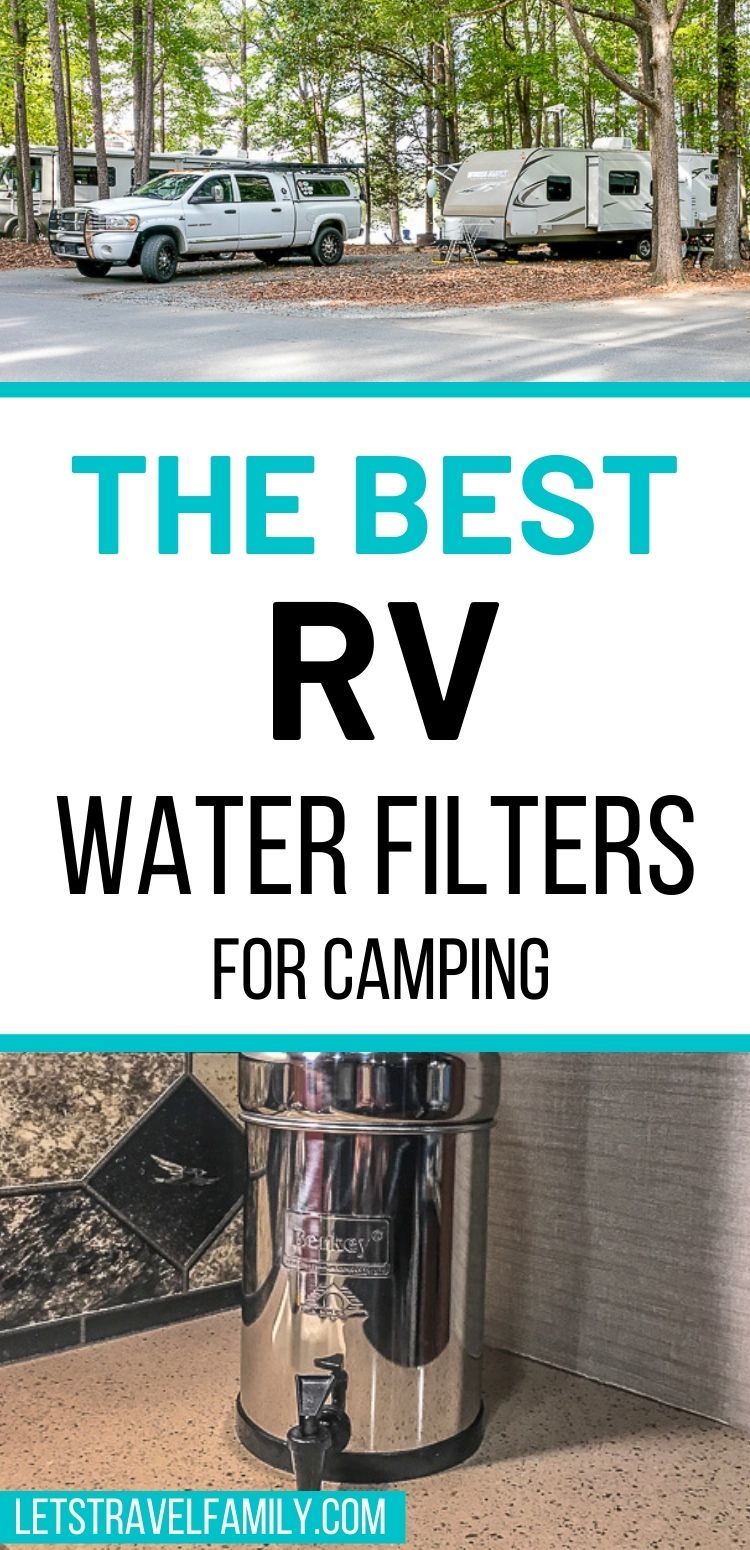 Why Berkey Water Filters?
Berkey water filters are the most popular and highly recommended water filtration system for RV owners. We've trusted this water purifier for well over 4 years and there's no installation needed.
We used our first Berkey, a travel Berkey, to provide clean and great tasting water for our entire family of 6 for over 2 years of full-time RV living.
We loved it so much that we bought a larger size Berkey Filter system – the Royal Berkey – when we moved out of our RV and into an apartment. With more countertop space in our apartment kitchen, we can fit the larger unit on our counter and provide more water for our growing family. It really is the best at home water purifier for families.
We still keep our Travel Berkey and use it when we go camping on the weekends.
Honestly, one of the best gifts for RV owners is the Travel Berkey.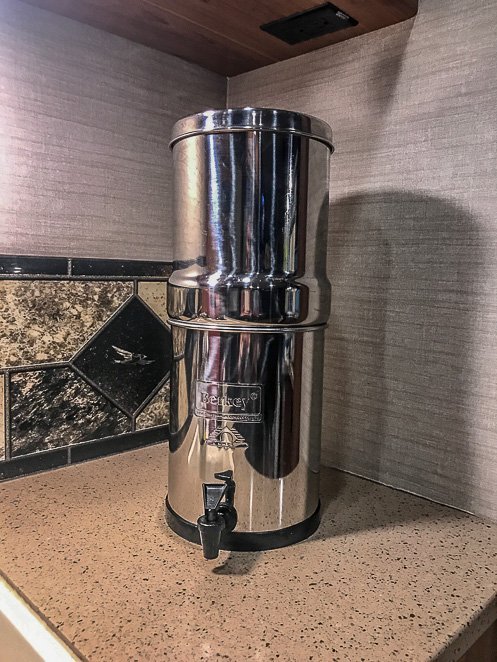 But why should you choose Berkey Water Filters?
Well, Berkey filters actually qualify as water purifiers, thanks to their 99.9999% removal rate of pathogenic bacteria and more than 200 contaminants.
You can even consider filling your Berkey water purifier with water from a nearby lake or pond, and feel safe to drink it. Much like the hiking water purifiers that many backpacking campers take along with them, you can feel safe knowing that your Berkey system will cover you during any natural disaster.
So whether what you need are RV water filters, an RV water purifier, or a water filtration system that you can move between a camper and a house, you can expect that Berkey will deliver.
Learn more about Berkey's entire purification process here.
Comparison Guide
Now, among many Berkey products, which is the best countertop water filter for you?
This detailed comparison chart below will help you decide.
Comparison Chart
Every product comes with 2 free Black Filters, a System Pro Kit, and a Spigot. Additional Black filters and fluoride filters are an option for every product before checking out your orders.
Best Fluoride Water Filter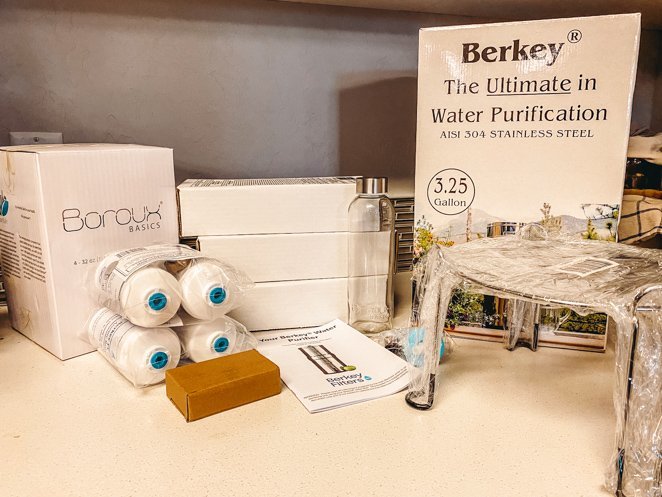 If you're looking for a way to remove the fluoride from your drinking water supply, then you can easily add additional fluoride water filters to your Berkey. The Berkey fluoride water filters work best when threaded with the standard Black Filters that come with all of the Berkey systems.
Berkey's best water filter for Fluoride removes up to 97% fluoride, including Sodium Fluoride, Sodium Fluorosilicate, and Fluorosilicic Acid 1. But it's not just for fluoride, it also removes other heavy metals and pre-oxidized Arsenic III and Arsenic V in your water.
The fluoride filters have a lifespan of one year or 1,000 gallons each.
Best Survival Water Filter
Looking for something that's easy to carry around or to take with you backpacking? Then check out the Sport Berkey Water Bottle.
The Sport Berkey Water Bottle has a filter inside that comes with it. Use this during hikes or short camping trips when you don't have the big water filter with you. These are great for backpackers or backcountry campers too.
It has a replaceable filter which you can also buy here.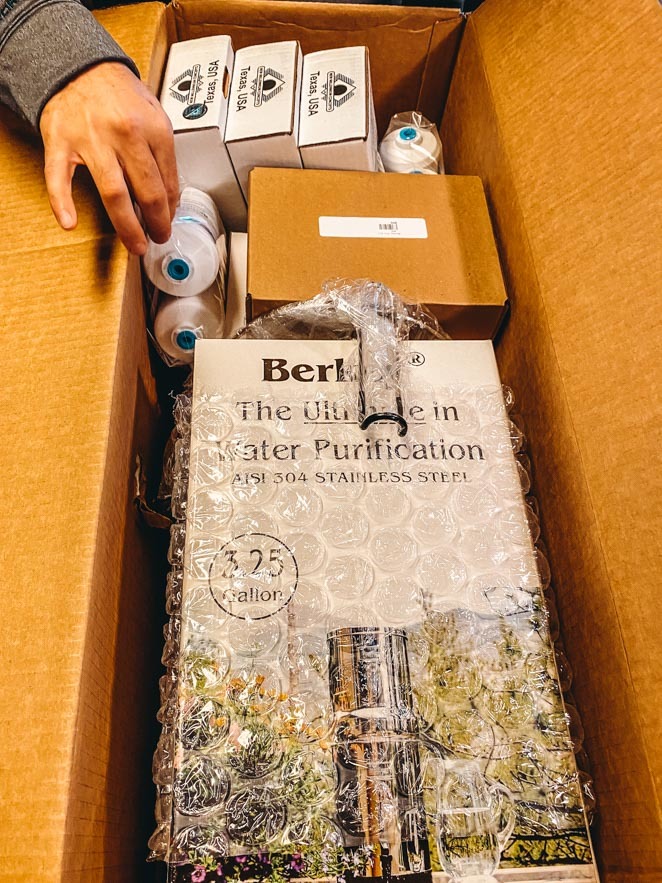 When Do You Replace The Black Filters?
Most Berkey Filtration systems come with 2 Black Filters. The life of 2 Black Filters is 6000 gallons of water, which is a lot of water.
The average family of 4 drinks about 2-4 gallons of water per day. That means, if they use their Berkey Filter for every drop of water that they consume each day, they won't have to replace their Black Filters for 4 years!
Each Black Filter lasts for 3000 gallons of water. So the more filters you add to your larger Berkey choice, the longer you can go without needing to replace them.
We keep an extra set of Black Filters at home to be prepared in case there's ever a natural disaster. In a worse-case scenario, we could collect water from the local pond to run it through our Berkey since it purifies it.
You can purchase additional or replacement black filters and fluoride filters from the official Berkey Filters website.
Best RV Water Filter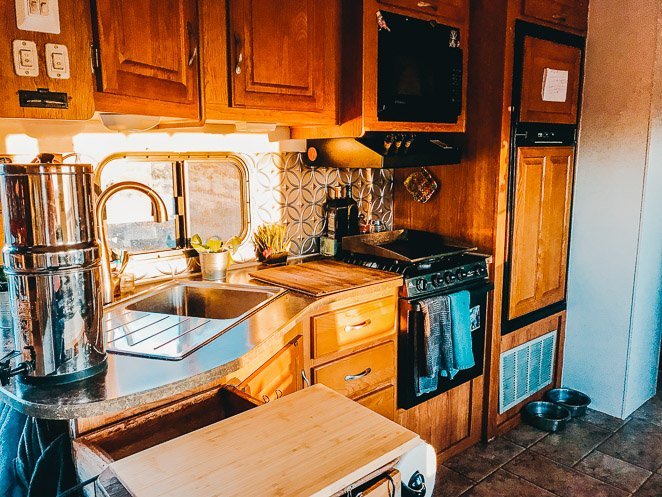 The best water filter for travel may vary depending on your way of traveling. But for RVers, the best RV water filtration system can be found in Berkey Filters.
If you meet a family or couple who lives in their RV full time, they will most likely tell you that they own a Berkey.
The size you decide on depends on the number of people that will drink from your Berkey countertop water filter.
Actually, all of the countertop Berkey water filters are very similar, just varying on capacity.
So if you're looking for a long-lasting and ideal countertop water filter for RV living, pick between the Big Berkey, Travel Berkey, and the Go Berkey kit. Consider the amount of tap water you plan to purify each day and how much room you have next to your kitchen sink for it to sit.
If you've read this far and you're still not convinced that Berkey Filters are the way to go, then I recommend you read this more in depth guide explaining what toxins are removed and why a Berkey is the best countertop water purifier. It is so much more than just a basic water filter.
Related post: Discover the best RV vacuum for your camper here.