Are you looking for the best RV gifts for RV owners in your life? As a family who has lived in our RV full-time, and who has also camped in it part-time, we wanted to create this list of the best gifts for RV owners.
Gifts for RVers are a bit unique. Some are fun and decorative, such as some of the Happy Camper-themed RV gifts for mom. While others are very useful and functional, such as the tool RV gifts for dad.
Read Our Updated List Packed With Unique RV Gift Ideas
THIS ARTICLE MAY CONTAIN COMPENSATED LINKS. PLEASE READ OUR DISCLAIMER FOR MORE INFO.
Best RV Gifts For 2023
2023 is the year for camping and RV living.
Here are some items that are great as motorhome gifts, gifts for RV campers, RV Christmas gifts, and even gifts for new RV owners!
Check them out and let us know in the comments below if you know of a great RV gift idea that we left out. Oh, and be sure to read to the end to see our specific ideas on what to get someone who lives in an RV, including some luxury RV accessories.
Gifts for RV Owners 2023: Berkey Water Filters
Berkey water filters are the most popular and highly recommended water system for RVers.
Learn how Berkey filters can purify your water, AND check out the Berkey systems. Or, if you want to read a more detailed review, then check out our guide on finding the best countertop water filter for RV life here.
1. RV Mat or Rug
An RV mat is a safe purchase if you're looking for a practical gift for RV owners. Our living space is much smaller than an actual house so we lay a mat right outside the RV for some extra storage space.
We can't stay inside the RV the whole day!
It's also extremely helpful if you've got kids like us, or if you just want to help keep the dirt out. Ours is big enough and we use it to let our kids play outdoors. Most of our RV family friends have one, too.
You may consider purchasing a welcome mat for your RV. I love this one with all the bright colors.
2. National Park Pass
One of the best RV gift ideas, in my opinion, is an America the Beautiful Annual National Park pass. So many RV owners love the outdoors, traveling, and visiting National Parks. Why not gift them something that they will use, and will mean so much to them?
Plus, if you buy a National Parks pass with this link for the same price as it would cost to buy the pass from the National Park Service directly, then REI will donate 10% back to the National Park Foundation in 2023.
Or, if you're looking for more specific National Park Gifts, then check out this post.
3. Indoor S'more Maker
If you're struggling to find great gifts for RV owners in your life, you can surprise them with this fun indoor s'more maker that they can use all year!
Honestly, this is one of the really fun camper gift ideas I've seen on Amazon in 2023.
4. Harvest Hosts Membership
There are many money-saving memberships out there for campers and RVers. Grab a gift that allows your friend or family member stay 'for free' at wineries, brewers, farms, and more with a Harvest Hosts membership.
It should be on your list of top gifts for RV campers in your life!
Harvest Hosts is a membership that allows RVers to camp for FREE at wineries, breweries, farms, and museums across the USA.
Click here to sign up for a Harvest Host Membership and get 15% off the first year.
5. Folding Step Stool
One of the simple trailer gift ideas for RV owners that might surprise you is a folding stool.
There are times when it's hard to reach the top shelf above the RV kitchen sink, and having a stool handy is very helpful. With little extra space to store one, it's helpful to have a folding stool like this one.
Click here to check out the folding stools Camping World carries.
6. RV Organization eBook (100+ photos)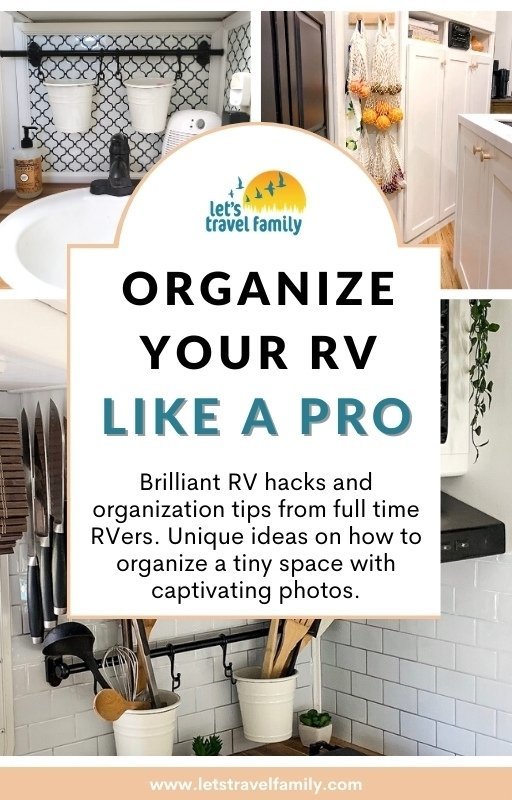 One of the best gifts for new camper owners is an ebook to help them stay organized!
They can learn to have an organized RV without going crazy with clutter by reading this digital ebook – Organize Your RV Like A Pro.
If you gift them this digital ebook, your RV friend or family member will have access to dozens of RV organization hacks from 13 RV owners who have lived in their RVs full-time in this 73-page eBook with over 100+ unique photos.
Better yet, gift this eBook to a good friend by clicking the little present/gift icon on the checkout page.
Help your RV-loving friend learn how to keep their RV organized, decluttered, and looking great without feeling so overwhelmed that they want to throw their hands in the air the next time their partner leaves their shoes in the entryway of their RV, and they just lost ⅓ of their living room floor space.
7. The Ove Glove
Another practical gift for the RV owner in your life is an Ove Glove like this one. Even though it's listed as #7 on our list, I would almost rank it as the best gift for RV owners who like to cook or grill!
8. Dish Tub
No, I'm not trying to overlook our last suggestion. But even if your loved one doesn't like to cook, they will still need to do the dishes.
That's why I'd say that buying them a collapsible dish tub might be the best gift for RV campers who like to dry camp or boondock often. Meaning, they may not always have sewer hook-ups and need to do their dishes outside.
9. Hitch Safe Key Vault
One of the coolest RV accessories that can be used to store keys, credit cards, and valuables is this Hitchsafe Key Vault. It's made of metal and the lock combination can be changed over and over!
10. Camping Dish Towel
If you're looking for a personalized towel for your friend's camper, I love these kitchen camping towels. These could make for some great RV gifts for Christmas that could even fit in a stocking!
11. Instant Pot
Useful RV kitchen appliances can make for excellent gifts for new RV owners. My top suggestion is to start with an Instant Pot. We also recommend buying an Instant Pot in our ultimate RV Kitchen Accessories post here.
Fun RV Gift Ideas For Anyone
Are you looking for really FUN RV gift ideas? The kind that are not as 'useful' but a bit more unique? Think 'RV toys' here and unique gifts for camper owners that you just don't know what to get them.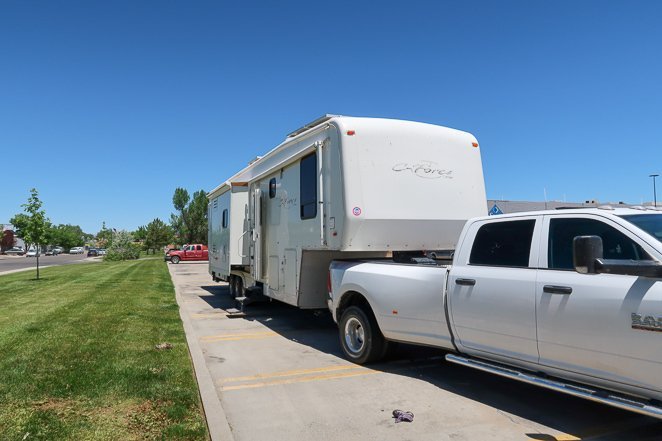 If you're looking for fun gifts for RV travelers, then here are some gift ideas for RVers that your friends and family might enjoy.
Related Post: Best Camping Gifts For Kids
12. State Sticker Map
Maps are fun. Sticker maps are even MORE fun and becoming really popular way to keep track of RV road trips!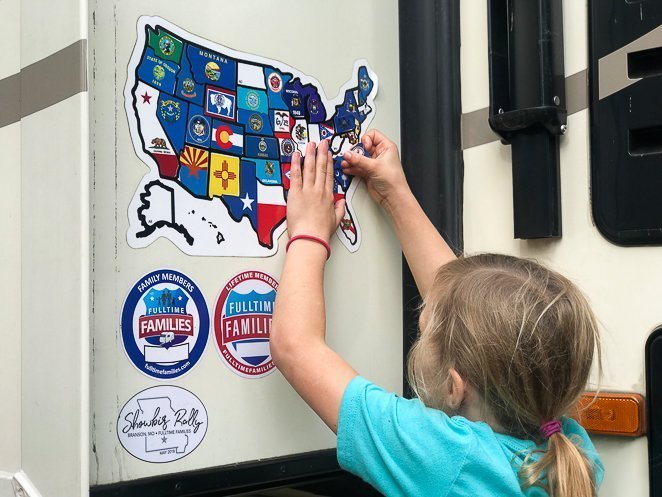 Listed as one of our fun RV accessories, state sticker maps help you keep track of what states you've visited in your camper. Every sticker we stick makes us feel like we've accomplished another great adventure.
Our own state sticker map has flags on each state, making it pretty educational for our kids too.
Grab the USA or Canadian State Sticker map here.
13. Camp Hike Cook Drink Eat
Consider this cocktail shaker gift set! What a fun gift idea for the glamping or camping trip lovers in your life.
14. Camper Mug
If we're talking motorhome gift ideas, a decorative camping mug might be a great idea.
Decorations about the camper or RVer life can be great gifts for RV travelers. They range from bumper stickers to fluffy pillows.
A "life is better at the campsite" mug can be a practical and decorative gift.
15. Happy Camper Pot Holders
Consider kitchen ideas for RV owners who may cook inside their RVs. These cute Happy Camper Pot Holders are both functional and cute.
16. RV Picture Frame
A fun and decorative RV picture frame can be one of the gifts for RV campers who have everything in your life. It would be a place for your loved ones to share memories with a photo.
17. Welcome Flag
Help your friends and family show their RV enthusiasm with a customized welcome flag! There are many welcome flag designs to choose from, but the one we have is specifically for full-time RV families.
Be sure to grab a flag stand as well! Welcome flags can make for great gifts for camper owners.
Simple gifts for RV campers like these can easily make their day.
18. Retro Lights
Strings of retro lights to hang up at a campground make fun gifts for RV owners. I love these lights as they are great for indoor or outdoor use, and they're so cute.
19. Adventure Awaits Pillow Cover
Give a gift that's small, thoughtful, decorative, and functional. Adventure Awaits Pillow Covers can be placed over any pillow that's 18×18 and make a great gift for a camper owner.
20. Portable Power Station
A portable power station can be such a great gift for any time of RV owner. If your loved one has a cell phone or laptop to charge or they want to use a fan outside, then a portable power station is one of these perfect gift ideas you could come up with. They can recharge it using a solar panel or just plug it in for a few hours inside their RV when it's hooked up.
21. Hammock
If you're looking for a unique idea for RV camping gifts, then check out a hammock that comes with its own stand! Many RVers can be seen at campgrounds setting up their hammocks to lay back and relax in.
22. Camping Ornament
If it's that time of year, then camping ornaments can make for great Christmas gifts for RV owners. I love this glittery camping ornament.
Honestly, I might be investing in a few Christmas gifts for RVers in our lives this year, and gifting ornaments is a small and simple idea. They are simple gifts for RV lovers.
Related Post: RV Christmas Decorating Ideas.
23. Portable Propane Fire Pit
Did you know that not every campsite has a fire pit? Or, that your camping friends might want to dry camp and stay outside of a campground when they are in their RV?
If you're looking for some unique and useful gift ideas for RV campers, then a portable propane fire pit might be your pick.
One of the best gifts for campers, in my opinion, is a portable fire pit and a carrying case (which quickly gets sold out).
Honestly, the smell of smoke from a wood fire can get into everything in an RV. That's why a propane fire pit is great for the RV owner of your life so they can enjoy a nice campfire without needing wood.
Related Post: Discover The Best RV Propane Fire Pit
24. Collapsible Measuring Cups
These small collapsible measuring cups and measuring spoons are fun gifts for motorhome owners like us! I love how they nest inside each other and can fit in small kitchen drawers. So, if you're looking for gifts for travel trailer owners, RVers, or motorhome owners, then these might work for you.
Camping World has another option for collapsible measure cups you can check out here.
25. Coloring Book
A really fun RV camping gift idea is a Happy Campers adult coloring book!
A few of these might even be great for a family as a set of Christmas gifts for RVers, then they can each have their own.
The Happy Campers coloring book is fun for all.
Best Gifts For RV Owners And Full Time RVers
Long time RV owners, and many full-time RVers, are a little unique to shop for. You see, they want to keep items with multiple functions and convenience. Space is limited, so every little thing should be able to contribute to the RV experience and their lifestyle.
They will want to consider what to keep in their rig if they are RV camping with dogs or pets.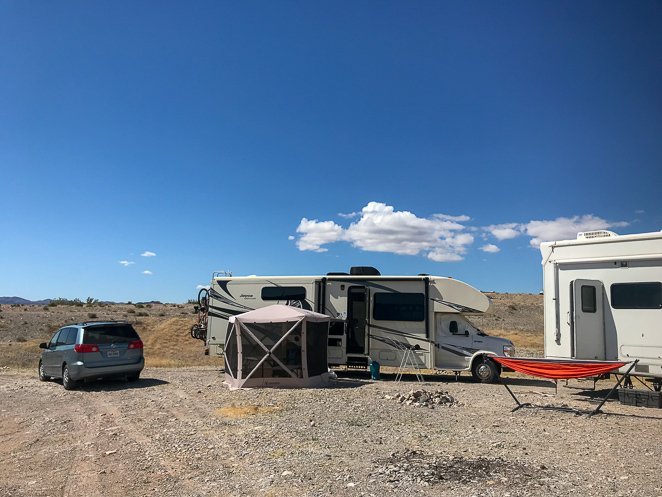 This list of gift ideas for RV travelers and full-timers may help you find some of what we think are the best gifts for RVers who are wanting to make this a full-time RV lifestyle.
To help you figure out what the best gifts for RV travelers are, here's a list of awesome gift ideas for full time RVers.
Related post: Best Full Time RV For Living In It
26. Screened In Tent
An excellent gift idea for a friend or family member who is full time RV living is a screened in tent. It will give them more outdoor living space, without the bugs, and with more shade!
This easy to set up screen tent works so well that when we visited the Florida Keys and used it, we were able to keep all of the Noseeums outside of the tent!
27. Berkey Water Filter
Every RV owner needs drinking water. A great gift to buy your RV living friend is this Berkey water filter so they don't feel the need to buy plastic water bottles each week. This water purification system allows you to put in water from any source and filter out heavy metals, bacteria, and viruses.
It is one of our most trusted RV kitchen accessories and its price makes up for the amount we save from NOT buying bottled water for years of being a full time RV family. If you want to learn a little more about the Berkey Purification system then check out our post sharing how it can be the best counter water filter for RV life.
28. Kindle Paperwhite
E-readers are great gifts for full time RVers because there just isn't space available to carry around many books. A waterproof Kindle Paperwhite is a top pick and one that most full-time RVers own.
29. Bedside Caddy
A useful RV organization hack is a bedside caddy like this one. This could be added to your list of gifts for RV living family and friends.
This is one of those gifts for a motorhome owner in your life or one of the RV trailer gifts that your loved one might really appreciate having under the Christmas tree this year.
30. Coffee Maker
If your friends are planning on living in an RV full-time and they are coffee drinkers, then a small coffee maker is a great gift idea. They even make small pod coffee makers that don't take up much space on an RV kitchen counter.
A French press coffee maker is another great gift idea for a coffee lover who owns an RV. Especially if you see them camping 'off grid' and not with electricity all the time. Why? Well because you can make an excellent cup of coffee with this French press using heated water over a propane stove.
31. Shower-house Caddy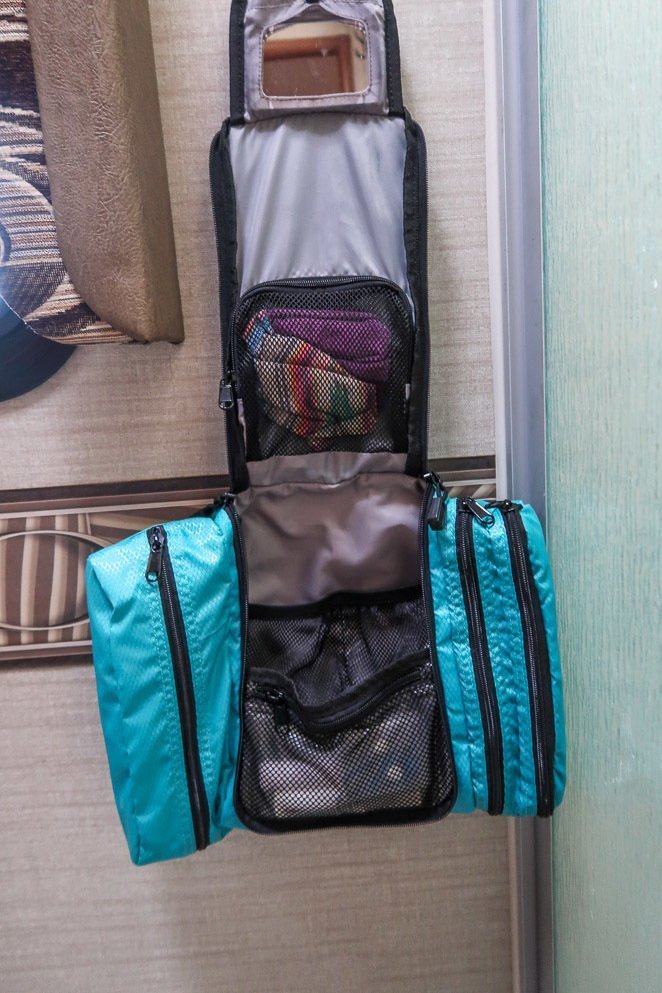 When camping without full-hookups, an RVer will often walk to the campground shower house to clean up.
They'll need a bathroom caddy to bring all of their toiletries. We LOVE our ebags bathroom organizer with a hook and use it often! A few of these would make for some great RV gift ideas for people who live in their RVs full-time.
RV Gifts For Mom
RVing moms are often the ones who take on the jobs of cooking and cleaning in the camper. Not always, but most of the time.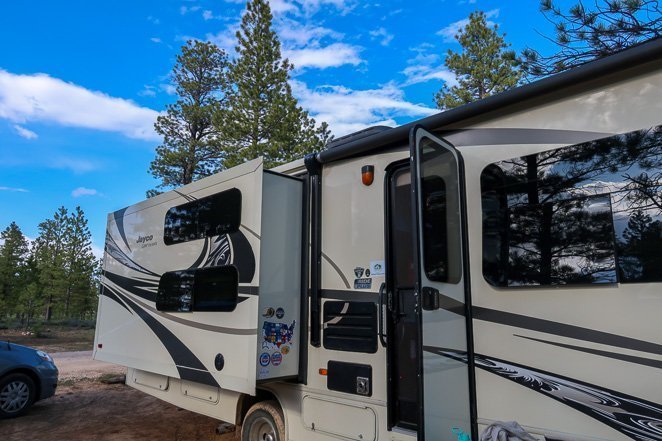 There are many camper gifts for mom that would make the RV life moms in your life excited to open as a thoughtful gift. Some are useful, and others are just plain fun! So check out our list of unique RV gifts for mom below and see what stands out to you.
Related Post: Best Gifts For Outdoorsy Mom
32. Dutch Oven
Even though it's heavier than most pots, a dutch oven is a great addition to your RV kitchen. Its thickness helps while holding more heat and the types of food that can be cooked in it are flexible!
It's really useful for cooking over a fire too!
Click here to see our top pick for a pre-seasoned dutch oven.
Or, read our deep review on finding the best dutch oven for camping and RVing here.
32. Vintage Camper Dish Set
This vintage camper dish set is lightweight, BPA-free, and would store well in an RV without breaking. Does mom appreciate practical, yet fun kitchen items? Then these are RV gifts for her.
33. Wine Glass Tumblers
If you have a wine lover in your life, then you may want to consider investing in some wine glass tumblers.
You don't just need wine glasses to enjoy wine, you need a set of unbreakable wine glass tumblers made for the shaking and rattling that an RV makes on a travel day. These stainless steel wine tumblers make a fun gift idea.
34. Door Storage Organizer
Staying organized in an RV is a challenge for many. We created a detailed post with many RV organization ideas where we shared some of our best tips.
That's why I'm including a door organizer as one of our practical gifts for an RV owner here. We even have it listed as one of the best gifts for campervan owners.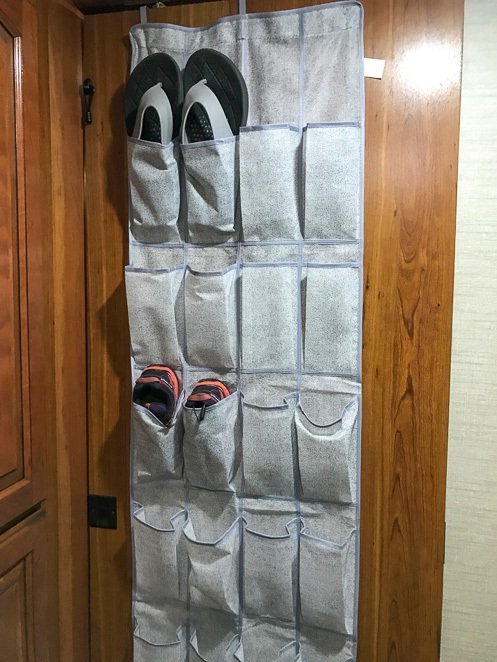 35. Camping PJs
Not as practical, but so much more fun, is to gift the RV woman in your life with some fun camping PJs.
36. Air Fryer Lid – For The Instant Pot
An attachment for your mom's instant pot that might put a big smile on her face is this air fryer lid. Friends of ours have one in their Fifth Wheel and use it often.
We spent a week camping with them and we made smores in the air -fryer!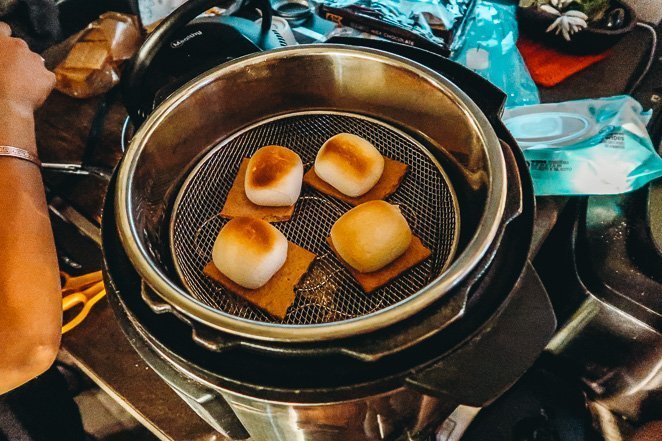 RV Gifts For Dad
Just like RV moms, RV dads would love something special for their camper lifestyle. Check out these fun and practical gifts for motorhome enthusiasts, fifth-wheel owners, or travel trailer explorers.
These are what we call the great RV gifts for dad!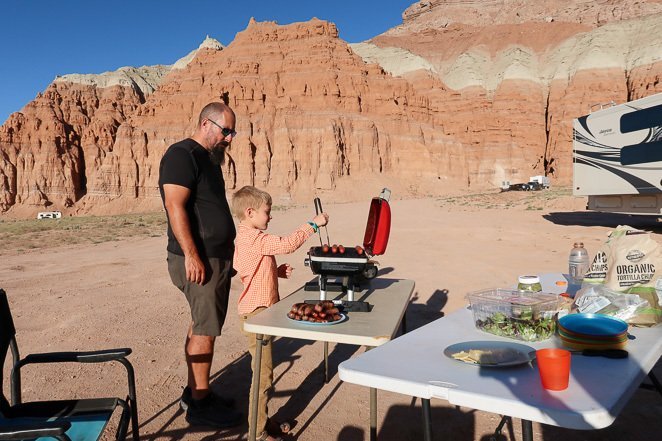 37. Tire Pressure Gauge
Listed as one of our best RV tool kit essentials is a tire gauge that works great for our Class C RV. With many RVers having a dual-tire setup, they will need a gauge that reaches inside all the angled tire stems like this one we own.
38. Headlamp
One of the best gifts for camper owners is a headlamp. If your dad owns an RV or is thinking about buying a motorhome or travel trailer, then a simple headlamp could make for a great gift.
Tony uses his headlamp regularly. We've actually gone through several as the kids love using it too and may have lost a few. A headlamp makes a perfect gift for an RV dad.
39. Watt Meter
This is a fun RV gadget that would make for one of the great RV camping gifts for dad this year. Tony bought himself this watt meter during our first year of RV living. He loved plugging almost any electronic device into it to see how much electricity it draws to help us know if we could use that appliance while boondocking and using solar power.
40. Zero Gravity Chair
A fun gift for any camping dad is a Zero Gravity Chair. They work well while camping and at home!
41. Telescoping Ladder
This compact and easy-to-store telescoping ladder is an excellent pick to add to your list of gifts for an RV owner to purchase this year. Honestly, a telescoping ladder one of my favorite RV living gift ideas for Dads.
42. Cell Phone Signal Booster
One of the perfect gift ideas for a Dad who loves to stay connected online is a cell phone signal booster. One of the best RV internet options is to use a cell phone as a hot spot and to turn on your Weboost to boost the signal. I consider this one of the high end RV gifts you could think of.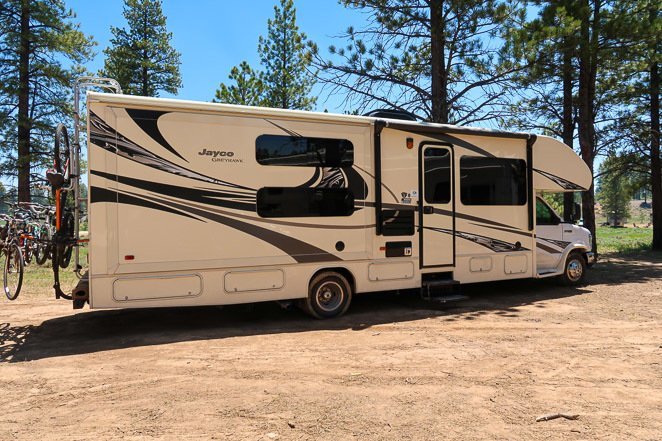 If you own an RV, camper, or trailer, what are the best gifts that you've received? Do you think it could be the best gift idea for other RV owners?
Now, if you didn't find ideas above to match what you are looking for, then check out these RV organization accessories and ideas.
Or, if you're looking for more RV must haves, then be sure to check this list out.