RV kitchen accessories and gadgets are those that fit easily into small spaces and provide great camper organization in your RV kitchen. As a full time traveling RV family of 6, we have learned a lot about what we REALLY need in our RV kitchen.
Camper kitchen tools are some of the most IMPORTANT RV gear that you can have while camping or RVing.
They often fold up, stay small, or are multi-purposed. RV kitchen gadgets are really useful camper accessories for inside or outdoor cooking.
We made an ultimate list of 29 RV Kitchen Accessories for you to look through before you begin your camping adventures.
THIS ARTICLE MAY CONTAIN COMPENSATED LINKS. PLEASE READ OUR DISCLAIMER FOR MORE INFO.
Where To Stay In Puerto Rico
One of the best places to stay in Puerto Rico is the Caribe Hilton in San Juan. It's not only oceanfront, but it has its very own private beach with calm waters for snorkeling, an incredible outdoor pool area, and several restaurants on sight. I stayed here during my visit to San Juan, Puerto Rico and used it as a great central location. It's only a 10-minute Uber ride to Old San Juan or a 15-minute Uber ride to the international airport.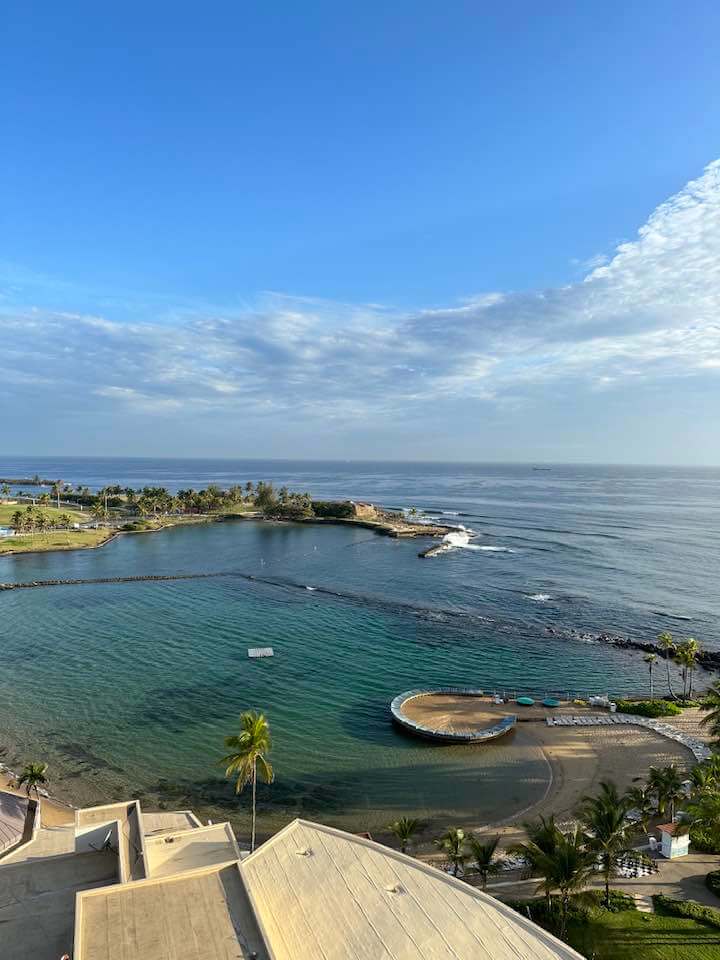 Click here to check rates for Caribe Hilton.
If you're looking for more fun in Puerto Rico beyond the adventurous experiences, then you may want to consider combing your trip to be part-adventure and part-relaxation and book a few nights in one of the top Puerto Rico resorts for families.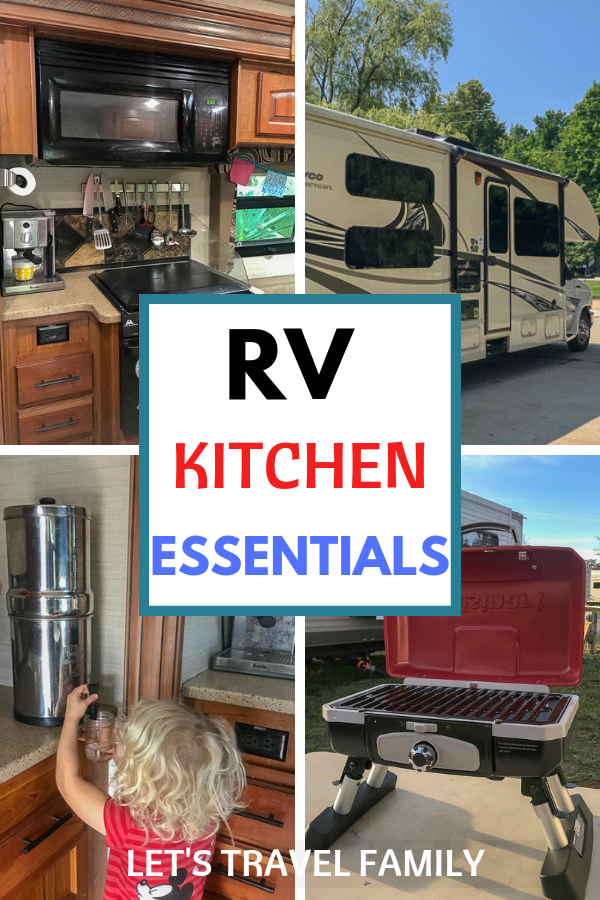 RV Kitchen Accessories
These items are RV Kitchen Accessories you must have right away. They are items that our family couldn't go without as we started traveling using our kitchen camper for daily meal prep.
Some RV kitchen appliances can be smaller than you realize, and RV dishes for RV living need to have multiple functions.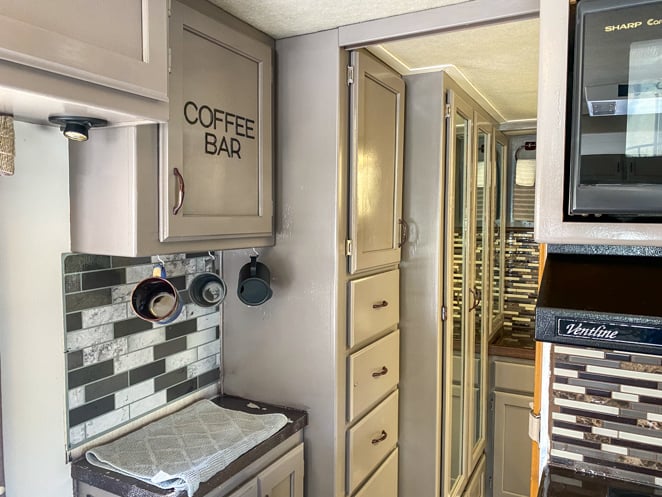 Not all RV kitchens are the same, so read through to see what you might want to add to your RV kitchen supplies list before shopping.
I find that feeding 4 kids each day out of our RV requires me to be smart about my RV kitchen supplies. So, if you're planning to take your RV out for the first time, or you are already traveling in your motorhome, be sure to shop for these RV Kitchen Essentials list.
1. Berkey Water Filter
You will need filtered and clean water when camping in an RV, camper, motorhome, or even a pop-up trailer. I never trust the water supply where we go, so we depend on our Berkey as our water purifier.
This is listed as our #1 RV kitchen accessory.
We use it each and every day and saves us a ton on having to buy bottled water.
Read more in our review of the best water filter for RV life.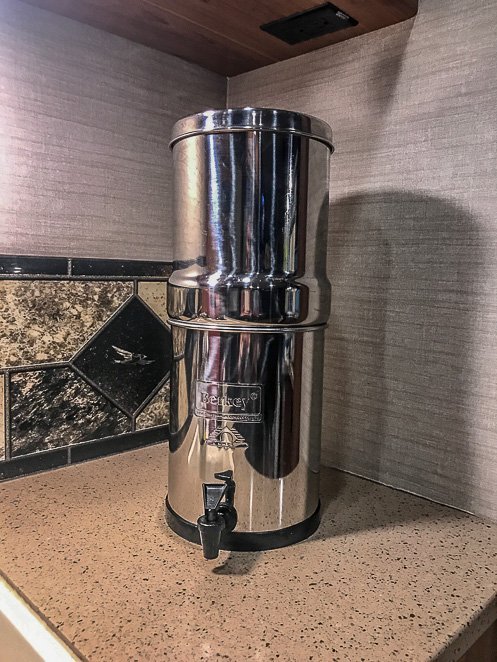 We use our Berkey for all of our drinking water. Find the best deals.
2. Instant Pot
If you want to know one of the best travel trailer kitchen accessories, then check out an Instant Pot. It can do much of what you need in an RV kitchen. This is a must-have item and one that we also use pretty regularly. I love how we can cook our taco meat in it one day, rice the next day, and then make hard-boiled eggs the following day. Yet, I think our family's favorite meal we make on a weekly basis is chili with dried beans in under an hour!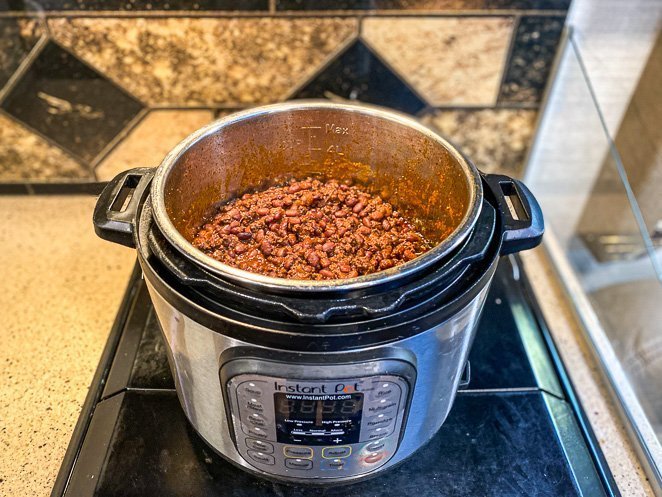 Related Post: 8 Best RV Coffee Makers
5. Cast Iron Skillet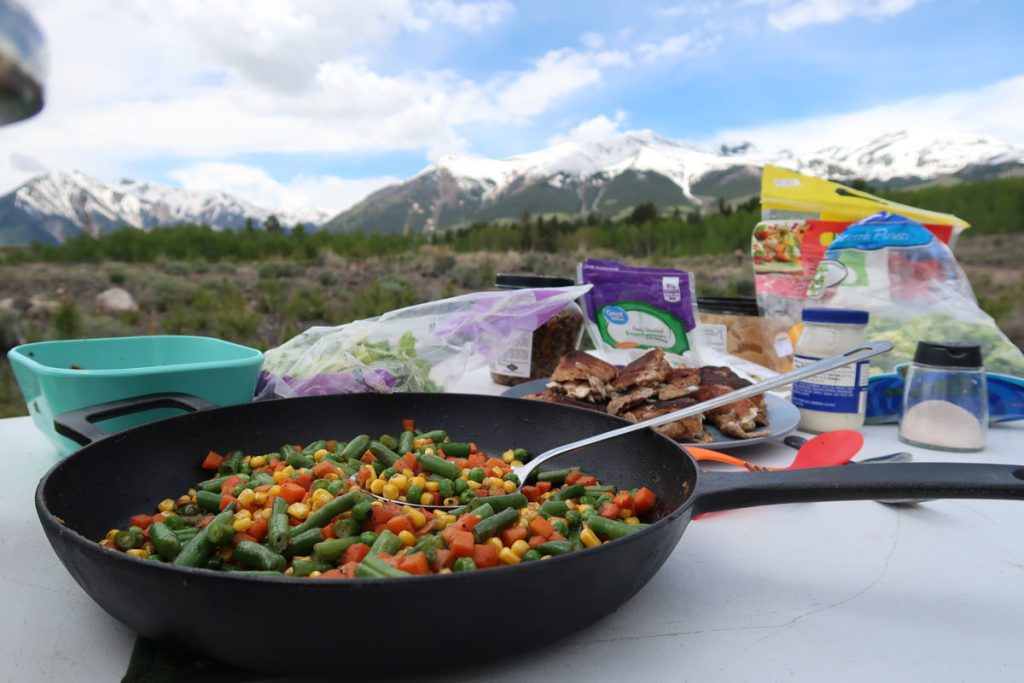 Cast iron skillets are some of the top RV camping must haves. Honestly, you can use them for most types of RV cooking, from stovetop to oven. Or even over a bonfire! We use ours to make amazing scrambled eggs, bacon, french toast or even just to warm up our lunch meat. A cast iron skillet is such a versatile motorhome kitchen accessory.
Another great option is this two-piece 3-quart combo cast iron set from Camping World that can act as a dutch oven, skillet, fryer, or even griddle.
7. Collapsible Strainer
A collapsible strainer is one of the most common motorhome kitchen accessories out there. Really, I'm not sure of many RVers that haven't been sucked into buying these handy collapsible things.
I'm such a minimalist and would rather just 'get by' with what we have before buying this new gadget. Yet, I finally realized about 6 months into living in our RV that I couldn't stand the space we were using up just to carry our old colander around.
I LOVE how much space I save in my limited space in our RV kitchen cabinets now that we finally bought one! Another great addition is these collapsible bowls with lids from Camping World.
8. Collapsible Measuring Cups
These cool guys are such space-savers! I swear that they invented these collapsible measuring cups for tiny house living in order to help with organization and saving space. Our oldest daughter uses these every week to bake homemade sourdough bread. They are some fun kitchen accessories for RV living.
12. Camping Utensils for Eating
These camping dishes are SO cool! We just bought our kids these sporks so that we could cut down on our overuse of RV silverware.
Each person in the family is responsible for cleaning their colored spoon-fork combo, and I love that they work as a knife for our toddler too!
If you're looking for the popular happy camper silverware, you should check out this RV cutlery set that comes with a silverware caddy. Or you can find a container of RV flatware that you could store inside your cabinet. There are many great options for camping utensils for your RV.
13. Camper Utensils for the Kitchen
Finding RV kitchen utensils that will not clatter when they drop is always a great find. Especially if you have a motorhome and have to listen to all the clanking in your drawers during a travel day. These bright-colored utensils work perfectly and are more than what you need for all your RV kitchenware.
Consider adding in an RV utensil holder like this one that can save you a lot of drawer space in your RV kitchen setup.
Outdoor Camping Kitchen Accessories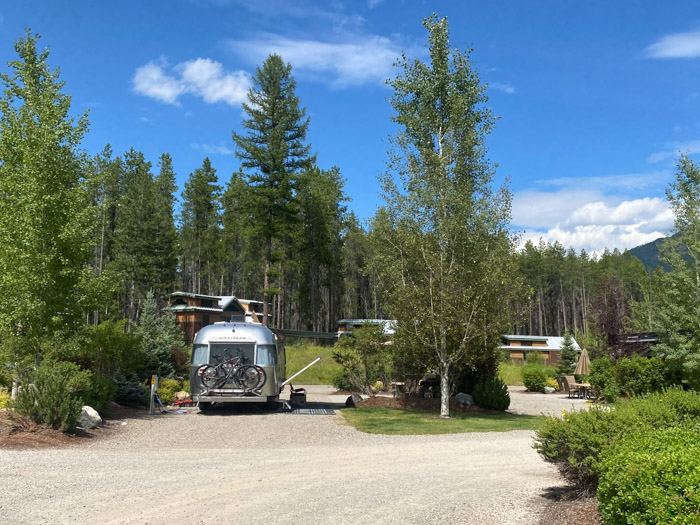 Are you looking for the best camping accessories for your RV outdoor kitchen? Below, we are going to dive into more camping kitchen items and camper essentials.
Even if you don't have a camper trailer kitchen on the outside of your motorhome or RV, you can still set up a table and do much of your cooking outside!
I've found that some of the cool camping accessories and kitchen gadgets are those that you use outside.
21. Folding Table
A folding table is a must have for a camping kitchen. I especially love our adjustable height table so we can 'match' it to the height of other tables available outdoors.
Just make sure to label it with your name since it's the #1 RV accessory that's at nearly every campsite. At a potluck or cookout, it's not uncommon to see over a dozen of these same tables in-use.
Click here to read a more detailed post about the top rated camping tables to help decide which camping table to get.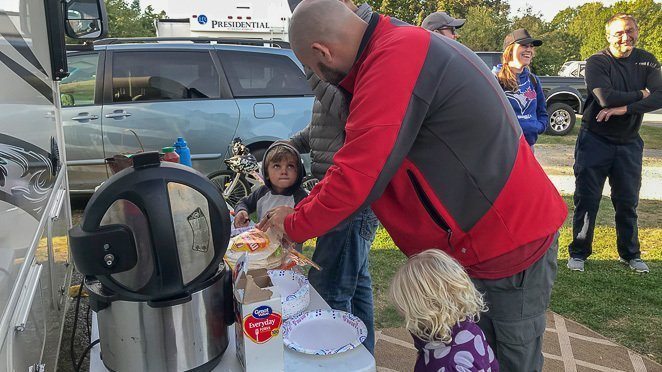 22. RV Trash Can
Many campers would say that one of the best camping accessories to have is an RV trash can. This one folds up nicely and fits up to a 33-gallon bag making a great addition to your RV gear.
While boondocking and needing trash storage or keeping local critters out of your trash bags, this popup container does a pretty good job.
Just a note, if you're in bear country, always pack away all your trash and storage containers.
23. Roasting Sticks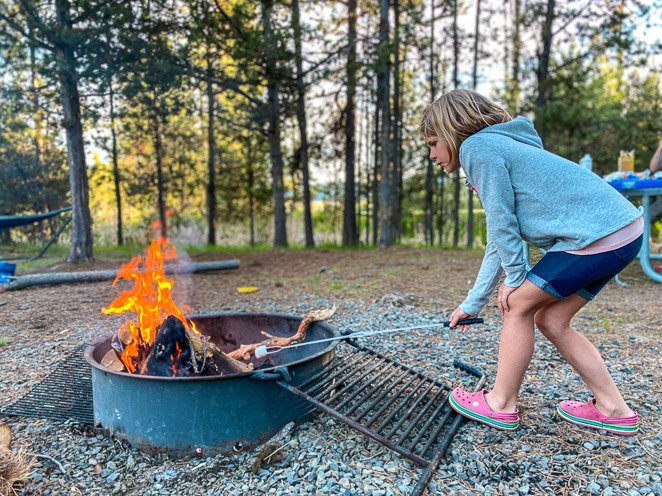 What's camping without roasting marshmallows or hot dogs? Roasting sticks like these are one of those RV camping accessories everyone needs. Plus the telescoping ability of these sticks makes them very kid-friendly so they can stand further back from an ambitious campfire.
RV Camper Organization For The Kitchen
Finding camper organization ideas that can help you keep your camping supplies and kitchen dinnerware sorted will help you enjoy your RV adventures. Honestly, I hate having a disorganized kitchen. So much so, that I tend to be the first person in the family to start doing dishes and putting them away in their place.
Below we list a few favorite items that will help YOU keep your RV kitchen organized.
You can also check out our recent and detailed post all about the best RV organization accessories and hacks.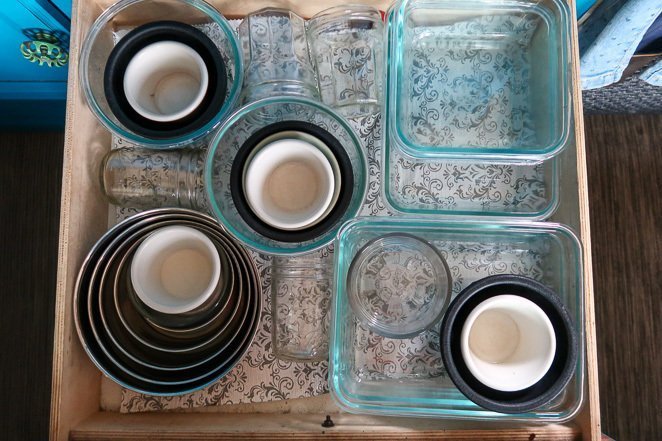 Below is our list of RV organization ideas and camper interior accessories that will help you stay organized in your RV kitchen, which usually results in keeping your stress levels down right?
Or is that just me?
Click here to find the some great RV appliances for a small RV kitchen.
24. Spice Rack
One of the tricks to traveling with food in motorhomes or RVs is keeping your spices secure. In this wall-mount spice rack, you won't have any issues there. This great RV spice rack screws into the wall so that things won't go flying around on travel day.
The last thing you want is to arrive after a long day of travel and have your whole RV smell like garlic powder and marjoram.
Or, check out Camping World's top spice rack here to see if it's a good fit for you.
25. Paper Towel Holder
If you're looking for great RV ideas for saving space on your countertops, then invest in an under the cupboard paper towel holder. It's one of those RV accessories most people appreciate and don't always think about.
This was one of the first things we bought for the RV, attached with 3M Command Strips, and it hasn't budged in 2 years of full-time RV traveling and almost 30,000 miles!
Dive into a more detailed blog post about finding the best RV paper towel holder for camping here.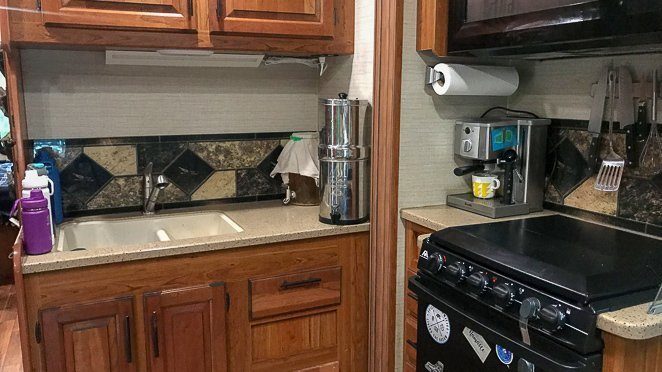 28. Over the Pantry Door Storage
This is by far one of the best RV organization ideas for kitchens or even bathrooms! Hang it on the back of your pantry or bathroom door and use each pocket to save space!
We've got one for our bathroom supplies, one for shoes, and you can even cut each row down and drape them around the base of your RV bed for even more storage.
Depending on the layout of your kitchen, these work great as an additional space to hold pantry food or dishes.
Prepare Your RV Kitchen
The trick to setting up your RV kitchen successfully is to purchase items that have multiple functions or uses and will fit well in your small space. Create your RV kitchen checklist with our suggestions above.
As a full time RV family that has been traveling and living in our RV for over 2 years, I hope that our tips and lists above helped you become inspired to get your kitchen ready.
If you're looking for more overall RV gear…beyond a kitchen, such a power surge protector and RV mattress, then head over here to find more RV Accessories.
Click here to find some great RV appliances for a small RV kitchen.
One big thing that I've learned during this big lifestyle change is that everything in our RV needs to be used regularly to keep it. Otherwise, it takes up precious space and adds extra weight. Less is more, yet finding items that work for more than 1 purpose is what I've found to be the most valuable.
If you're contemplating taking a long or extended family road trip, or even becoming a full time RV living family, then click here to see how we answered some big questions about RVing.
What do you have in your RV kitchen? Let me know in the comments below!