Are you wondering if there will be plenty of things to do in Glacier National Park with kids?
Did you finally plan the ultimate road trip with your kids out West and hope that you will ALL enjoy a Glacier family vacation?
First, what are some unique things to do in Glacier National Park, or better yet, the top things to do in Glacier National Park so that you can plan your trip out well?
Our full-time traveling family spent 2 weeks visiting Glacier National Park and we were never bored. This National Park is on many people's bucket lists and one that we highly recommend visiting, even if just for the breathtaking views of the Glaciers.
If you are a National Park lover and want to plan several National Park trips, then check out this list of all the National Parks in the US that you can print.
Or, read on to find our own list of the many things to do in Glacier National Park with kids so that you can plan a fun trip.
THIS ARTICLE MAY CONTAIN COMPENSATED LINKS. PLEASE READ OUR DISCLAIMER FOR MORE INFO.
Where To Stay When Visiting Glacier NP
Before I jump into the fun things to do in Glacier National Park, I just want to say a few things about finding accommodations in Glacier. If you're visiting during the summer months, be prepared to book your accommodations several months ahead of time.
It's very busy and the lodging and camping in the park fill up fast. I mean really fast!
You can click here to look for hotels nearby Glacier National Park. 
Or, you can use one of the RV trip planned apps that we list to help you plan out your RV accommodations.
For tent camping, you might want to look into the National Forest campgrounds nearby.
Buying Your National Park Pass
In order to enter the National Park, you'll need to pay a daily fee or buy a National Park Pass that works inside all of the National Park.
You should buy an annual National Park pass ahead of time online at REI. Not only will you be prepared with your pass in hand on your Glacier National Park trip, but you'll be helping give back. You see, REI donates 10% of its National Park annual pass sales each year to the National Park Foundation.
Click here to grab it and know that you can use this pass at all US National Parks for one year.
Buy A Vehicle Registration Pass To Glacier NP 4 Months Ahead Of Time
Vehicle registration passes are now required to get into Glacier National Park during the summer months in order to help decrease the intense congestion. With more than 3 million visitors per year, I understand why they enacted this policy. But it does mean you need to do some advanced planning.
The Vehicle Registration Passes are released online 120 days in advance and are good for 3 consecutive days inside the park. So if you'd like to visit Glacier NP in early August, then you need to book your $2 pass (it's not expensive but IS needed) in early April of that same year. Click here to learn more and to buy your pass.
Things To Do In Glacier National Park With Kids
Attend a Free Ranger-Led Program
During the peak summer season, there are junior ranger programs provided weekly which are fun Glacier National park kids activities. This is something I recommend checking out on your trip to Glacier National Park.
We attended a ranger-led hike that met at the Apgar Nature Center and took our family along on a 1 mile hike.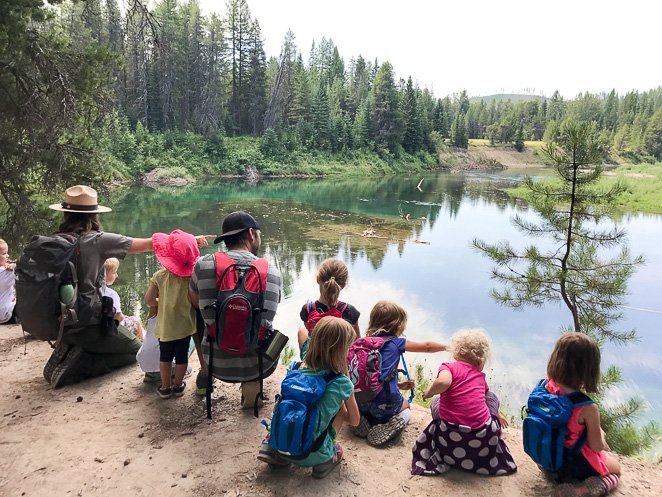 I learned just as much as the kids did and it was great to hike in a group with other families and children! Be sure to bring your bear spray, water, snacks and have good hiking shoes for the whole family.
Pro tip: make sure to wear the best hiking clothes for the season that you visit.
Earn Your Junior Ranger Badges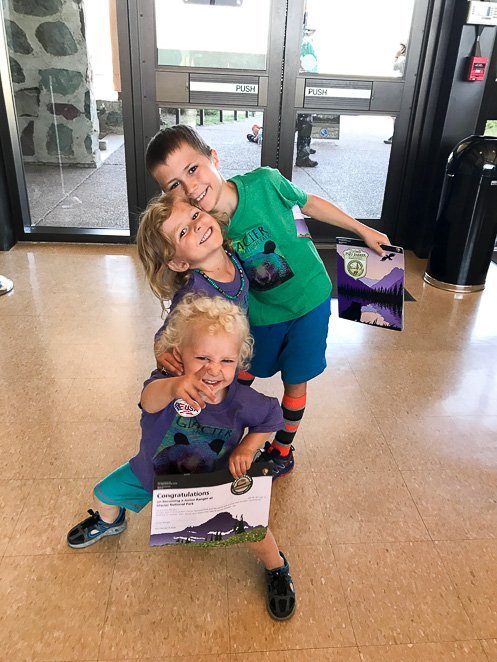 The junior ranger program in Glacier National Park is free to participate in. Anyone can pick up junior ranger booklets from any visitor center and complete them during their visit.
Many get pretty excited about these booklets, while others not as much. But if this is your first time visiting a National Park, give it a try!
The kids then turn the booklets back into any ranger to receive a junior ranger badge! So, if you're looking at Glacier National Park for kids ideas, this ranks near the top of my activities.
Many children proudly wear their junior ranger vest or hat with the badges that they've earned from other National Parks, while hiking around the park. It's fun to see.
So be forewarned that you may want to buy a vest or hat at the gift store in any visitor center.
Go On A Family Bike Ride
Another one of the fun activities in Glacier National Park is going on a family bike ride. There's a paved bike path in Glacier National Park! Our family always enjoys finding paved bike trails and decided to give it a try.
The paved path in Glacier NP connects Apgar campground to the Apgar Visitor center, Apgar Village, and then to the Park Headquarters. If you are willing to take your family on the road for 1/8 of a mile, you can then bike over the bridge into West Glacier.
Click here to read about our 9 favorite campgrounds in the USA, which included Apgar campground in Glacier!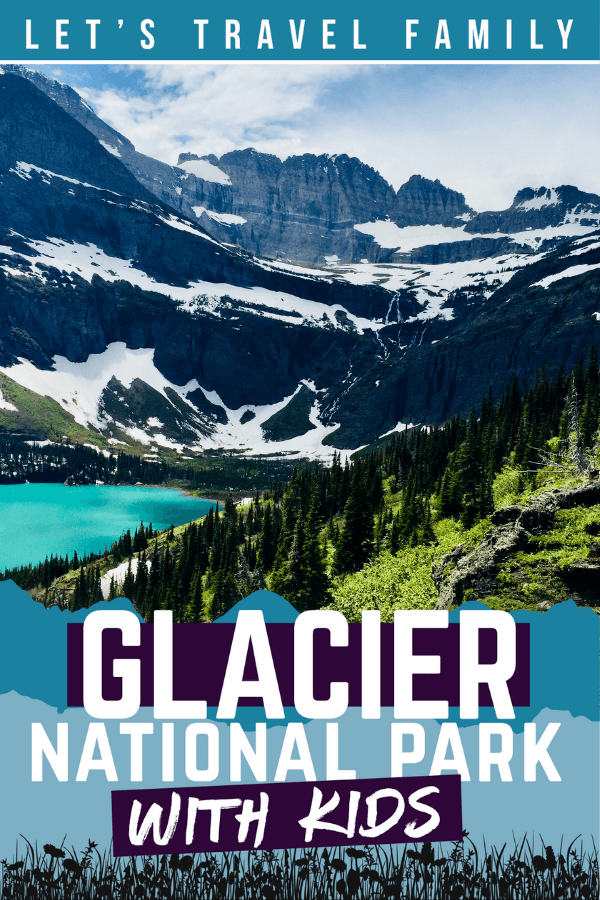 Be sure to bring your bear spray and have an adult lead the children on the bike trail. You cycle through the dense forest and the rangers warn you to be aware of many animals in Glacier National Park. Bears are the largest concern.
I would list biking on my list of one of the top 10 things to do in Glacier National Park.
Drive The Going To The Sun Road
You cannot plan a Glacier National Park family vacation without taking the Going to the Sun Highway.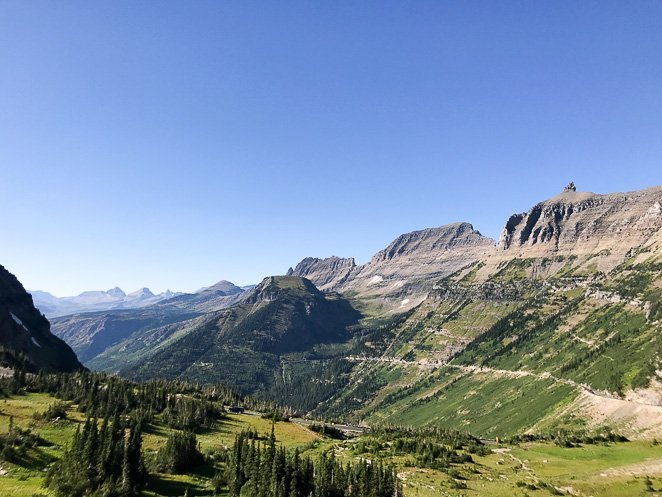 This famous Glacier National park drive will take you most of a full day so be sure to pack a lunch and plenty of water before you hit the road as a family.
Be prepared to take many stops and get out to see the beautiful views, as you drive up the curved mountainside.
If you stop near Logan pass, keep an eye out for mountain goats. The drive from Apgar Village to St Mary's and back can take several hours or more, so be sure to prepare the children with car activities and plan to pull off the road to the sun to take a few small hikes around.
We broke our day up by stopping at the visitor center at St. Mary's to watch the park video and turn in our junior ranger booklets. We also took some very short walks, the kids called them hikes, at a few pull offs.
Things To Know About The Going To The Sun Road:
Glacier National Park going to the sun road is only open during the summer months, as you are up very high in elevation and they get a lot of snow. So be sure to plan your trip around the season so that you can experience one of the best things to do at Glacier National Park.
Also, be prepared for a lot of congestion, especially at Logan Pass.
They offer shuttles so that you don't have to drive, however I suggest taking your own vehicle if you are planning to visit Glacier National Park with kids.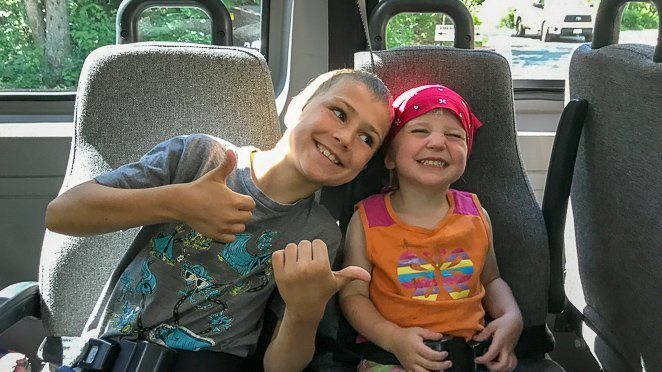 We took the shuttle the first day and had to wait 1 ½ hours to get on a shuttle. Then get off at a transit stop and wait in line again for the next shuttle that only can carry 15 passengers due to the narrow road up ahead.
As a family of 6 that involved us almost filling up half of a shuttle! Overall, it took us the entire morning before we made it up to Logan Pass Visitor Center.
The parking lot was completely full by lunchtime at Logan Pass in July when we visited. Therefore, if we did it all over again, we would wake up very early and drive our own vehicle to Logan Pass Visitor Center to park for the day. Keep in mind that Logan Pass is the half-way point on the highway to the sun road.
Hike The Hidden Lake Trail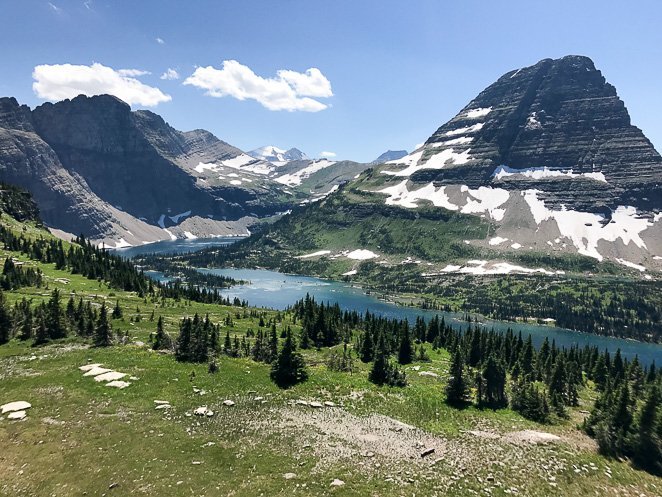 The Hidden Lake Trail was by far one of the best hikes in Glacier National Park to do with or without kids. I highly recommend you include this hike on your family trip to Glacier National Park.
You can access this trail from the Logan Pass Visitor Center and hike up into the mountains. We hiked this trail just after Logan Pass opened a few weeks earlier in July. The biggest excitement for the kids was finding snow and ice on the trail!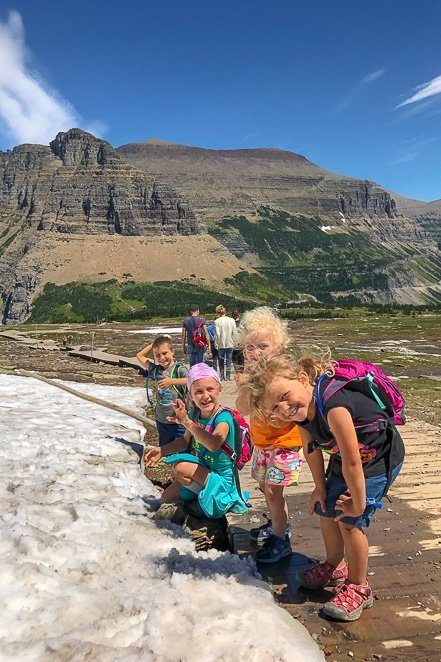 Snowball fight!
Be sure to have the children, and adults, use hiking gear and wear closed hiking shoes that can get wet. Or they will have cold feet in their Keen's sandals like my daughter did.
You are almost guaranteed to see mountain goats along this trail and a lot of sunshine. The Hidden Lakes Trail does not have any shade, so sun hats are highly recommended for the whole family. Even if the temperature is cool, you can still get sunburn.
Click here to check out our day hike packing list that can help you prepare for your Glacier hikes.
The view of Hidden Lake when you reach the top is spectacular and makes it one of our family's top picks for the best things to see in Glacier National Park.
Enjoy The Best Camping In Glacier National Park With Kids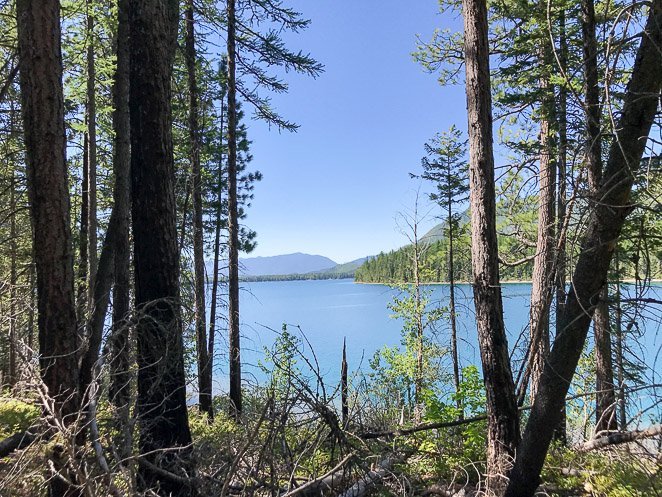 Apgar campground, in my opinion, is the best campground in Glacier National Park. The location makes it our top pick.
Camping is one of the best things to do in Glacier National Park but finding an available campsite can be a bit difficult.
Apgar campground is just inside the park from the west entrance, giving the easiest access to the Park from the nearest town and airport. It's also within walking distance to Apgar Village, the Apgar Visitor center, and shuttle bus stop. Not to mention walking distance to the beaches on Lake McDonald.
Apgar campground is also large enough to fit most RVs. So it was a great find for our family's RV.
We stayed for one night in Apgar campground, which is a first-come-first-serve campground. It fills every day during the summer, so be prepared to show up at 7am to drive around to find a spot.
I would recommend coming during a weekday so that you have a little better luck in finding an open campsite. There are bathrooms with flush toilets, but no showers. Tenting and RV camping in Glacier National Park are both great options. 
Grab Ice Cream & Espresso In Apgar Village
There are a few gift shops and restaurants in Apgar Village, with a couple offering ice cream and espresso at their outside windows. If you've read my post about the Best of the Tetons, you'll know how much my husband and I enjoy a great espresso and finding it anywhere we travel.
Rent A Kayak Or Paddle Board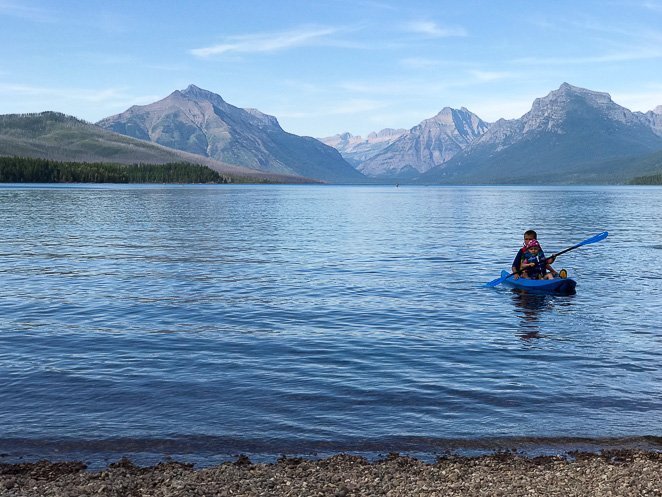 Paddleboarding and kayaking can be such a fun family experience. Even if you don't own one, you can still enjoy Glacier National Park with a toddler on your lap on the crisp waters of Lake McDonald. 
Just rent a kayak from one of the convenient rental company's right in Apgar village. Or, rent a paddle board and get out on the lake that way.
We even found that one of the rental company's rents out child-sized kayaks. The older kids were thrilled to try them out. We actually came back to enjoy kayaking and paddle boarding a second and even a third time during our two weeks in Glacier National park.
Go Swimming In Lake McDonald
As you drive through Glacier National Park, find one of the many pull-off areas to park and go for a swim. We found a great little spot along the beginning of the Going to the Sun road coming from Apgar Village to park and enjoyed an afternoon swimming in the crystal clear lake.
It was like having our own private beach.
The water was so clear and the scenery was breathtaking. Just remember, bring your bear spray…. and some snacks and drinking water because your kids will not want to leave.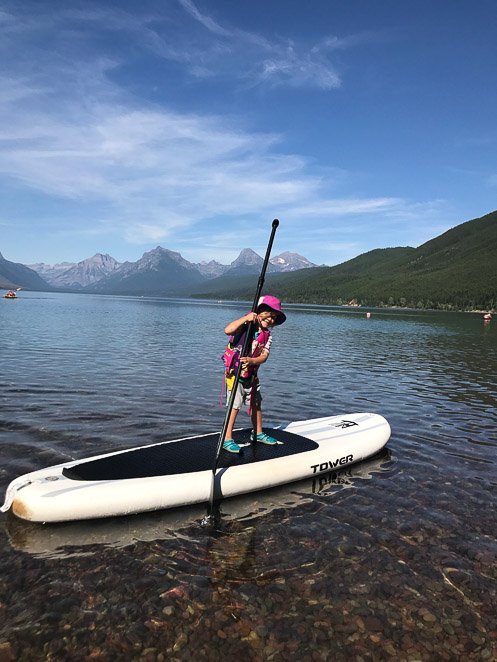 Go Rafting In Glacier
Rafting in Glacier National Park is a pretty popular event. I was surprised to see so many families do it.
There are several tour companies that work out of West Glacier, MT on the Flathead river. Many of the rafting company's welcome children on the rafting tours, depending on the flow of the river.
In May and June with all the runoff from the mountains, the river flow is heavy and attracts many adventure white water rafters.
If the flow is reasonable in the months of July and August, then usually children starting between age 3-5 may go along with their parents. The trips can range from a few hours to a few days! Click here to learn more.
Take A Hike Through The Trail Of The Cedars
The Trail of the Cedars is a 1-mile hike that has a boardwalk through much of it. It's located 5.5 miles East of the Lake McDonald Lodge and is a very popular hike, so be ready to have visitors on the trail with you.
The cedar trees are magnificent and there are ferns and moss everywhere due to the humidity in this area of the park.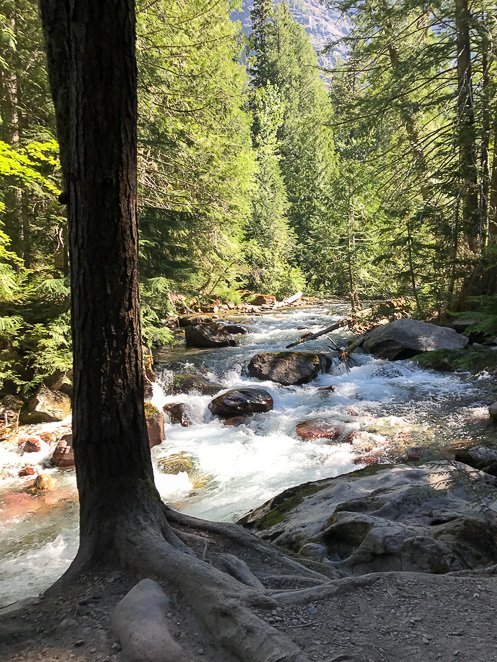 The shallow water stream is fun to climb in. The kids loved climbing over the fallen trees and on the rocks.
Avalanche Gorge is a great halfway point through the looped hike. If you feel like your kids can make it further, at the gorge you can split off to continue your hike onto Avalanche Lake trail. It will be another 1.6 miles to Avalanche Lake.
When To Visit Glacier National Park
Is there a best time to visit Glacier National Park? It depends on what you are hoping to see and do.
Some parts of the park don't open until late June or early July due to snow in the high mountains. However, if you want to enjoy rafting in fast moving water, you may benefit from visiting in the Spring.
Yet, wildfire season picks up in August and September so I'd advise staying far away from the area, or you may have to deal with a lot of smoke. Therefore, the window to visit can be pretty short if you want to get it all in.
Better yet, plan to visit Glacier National Park with your kids again and get in what you missed the first time around.
Our family spent over 2 weeks in July at Glacier National Park. We worked as digital nomads out of our RV for part of it, so it wasn't exactly a vacation.
We were in awe of the beauty and so excited for the fun Glacier National Park activities and views.
Our Take On Things To Do In Glacier National Park With Kids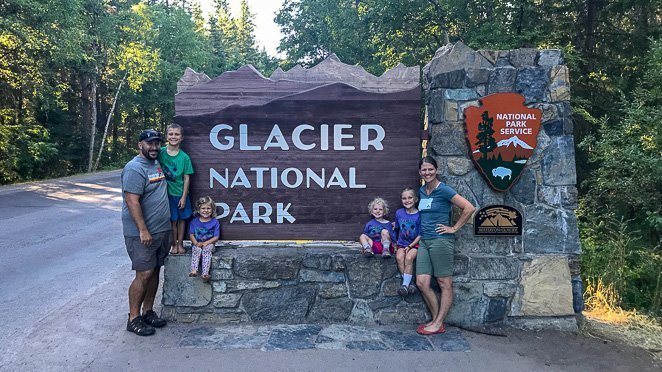 Glacier National Park is a fantastic place to visit on a family vacation.
Plan to purchase bear spray and have it on your hip, always. Bring snacks everywhere to keep the kids happy and teach them how to pee in the woods.
If you visit during the summer months, be aware that you are so far north the sun does not set until 10pm and rises at 5am.
We were not prepared for this and didn't realize how late it was while the kids were playing around the bonfire with friends until my littlest one became very cranky. That's when I checked the time and realized it was 2 hours past her bedtime!!
Bring your swimsuits and hiking boots and be ready to make some fantastic family memories.
If you're looking for other great National Parks to visit with kids check out this list that we created.
Also, consider visiting some of our nation's other bucket list National Parks such as Yellowstone NP or Grand Teton NP.
The Grand Canyon is another excellent National Park to visit with kids while taking a family road trip out west.
PIN THIS TO PINTEREST