Looking for the best hiking dresses? Do you want to stay comfortable and stylish when you're out in nature? Then keep on reading.
If you don't know, hiking dresses can be such a great way to get comfortable and still enjoy being stylish while being an outdoorsy girl. A hiking dress is designed with functionality in mind. It has a remarkable fit that allows for maximum mobility while keeping you warm and comfortable. If you're searching for the best hiking clothes, these hiking dresses are a must-have!
Most of the hiking dress styles are made from lightweight, breathable materials like spandex and polyester. The material is designed to wick away sweat quickly so that you can hike with ease.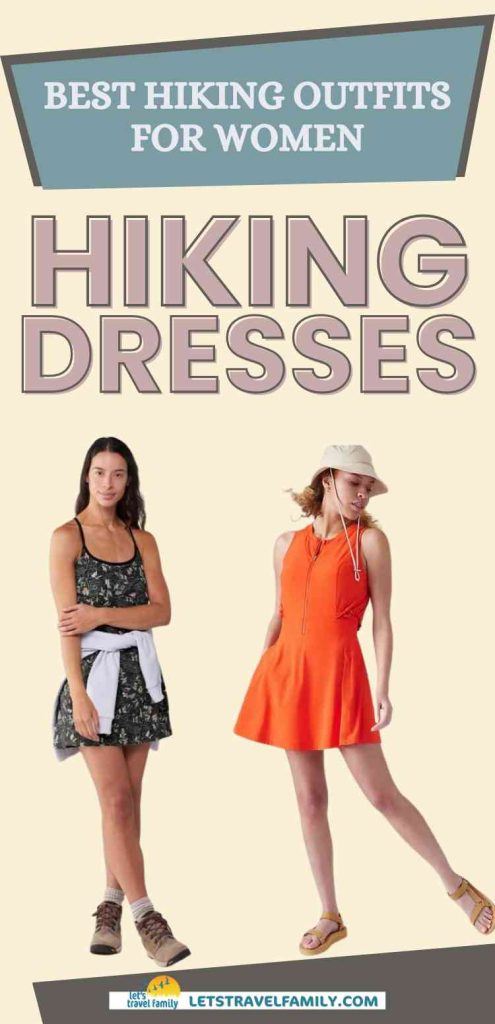 If you're like me and aren't a big fan of hiking pants, especially when going on summer hiking trips, these dresses are perfect for you!
THIS ARTICLE MAY CONTAIN COMPENSATED LINKS. PLEASE READ OUR DISCLAIMER FOR MORE INFO.
Things to Look for in the Best Hiking Dress
Well, there's really no perfect hiking dress. It will really depend on your size and preference as to which features you'd like.
That's why I'll be mentioning some of the features you may want to consider when finding the right hiking dress for you:
1. Mobility
Make sure the dress isn't restricting your movements in any way, as you'll be doing a lot of stretching and bending while hiking or doing other outdoor adventures.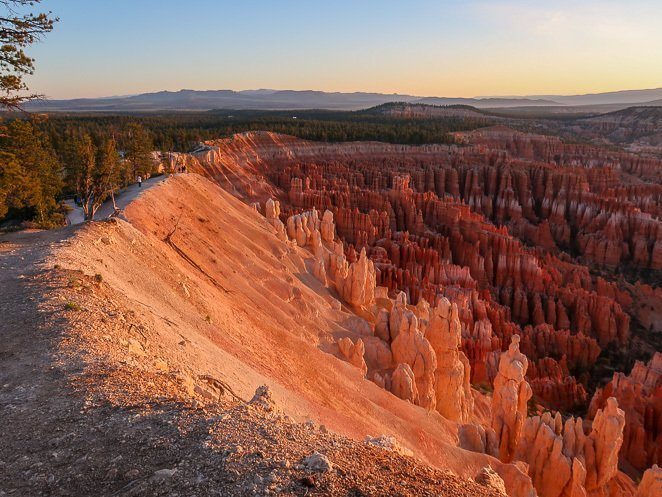 The hiking skirts of the dresses matter. They should be flowy enough to allow unrestricted movement.
2. Material
Here you can test how lightweight and breathable the material is. You want something that won't stick to your skin and make you uncomfortable.
Polyester and nylon are commonly used for hiking clothes. They are light, breathable, a bit stretchable, and quick-drying. They are great in the hot weather and will keep you cool.
I often would recommend these two materials and not go for the cotton material as it absorbs a lot of sweat and it's not as sturdy and long-lasting as the other two materials.
3. Design
Each of us have our own taste. Some may prefer the sleeveless ones and some may not. You may like knee length while I may like a bit of a shorter dress. I prefer more solid designs and I know my friends love floral designs.
The shape of the hiking dress, cut, and length matter. How it hugs your body and the way it compliments your body shape is also important. So, make sure to get the right design that would suit you the best.
4. Built-in Bra and Shorts
This is a huge plus for finding the best hiking dress. A built-in bra helps you feel more secure and comfortable and adds extra support and coverage. This is commonly the problem with most women, and a built-in sports bra solves that.
The same goes for built-in shorts. In my experience, I never liked the thought of wearing inner shorts, or when wearing hiking skirts or even dresses, so built-in shorts are a big plus to me!
Now, let's dive into some of the best hiking dress designs for women. There are many different styles to choose from so let's check out the most popular options.
Best Hiking Dresses For Women
Features:
It comes with a built-in bra and shorts
Has pockets
Lightweight and breathable fabric
Hiking shorts are made of spandex
VERDICT:
It's a cute and comfortable hiking dress that's perfect for hiking in the outdoors. What I love about this is that it has 3 different designs, floral and two plain designs (dark blue and black) to choose from. The top is a tank top design, so don't forget to wear a light jacket to cover up if needed!
It has a built-in shelf bra which is a good added support especially when hiking in hot weather. Its lightweight and breathable fabric helps keep you cool and wicks away sweat quickly. The shorts are made of spandex for extra mobility.
Overall, it's a great choice and you won't be disappointed!
Features:
Comes in a built-in shelf bra with jersey lining and removable cups
High neckline for extra sun coverage
Back-zip entry
Hiking skirt layer with side slits; self-fabric shorts with ball pockets
VERDICT:
This is a comfortable and stylish hiking outfit if you ask me. This hiking dress comes in black and white. I love how they make it a high neckline, which most hiking dresses are not.
This workout dress provides medium support but it's made from Vuori's BreatheInterlock™stretch-knit fabric which is moisture-wicking and breathable. The skirt layer has side slits that add extra mobility and the shorts have ball pockets so you can carry some hiking gear and other camping gadgets with you at ease.
The only thing you should keep in mind is that the skirt is a bit more fitted than usual, although it has a side slit, it could potentially be a bit restricting for some.
So, if you're looking for something that provides extra sun coverage and fits snugly while remaining breathable and lightweight, this is the one for you!
Features:
Made of soft recycled polyester/spandex dress
Secure zip pocket on the right side of the dress
Wide cross-back straps
Rolled back shoulder seams
VERDICT:
To start, this active dress doesn't come with a built-in bra or shorts, and the reason why I still added this to the list is because some people may prefer to wear their own sports bra and shorts.
On the other hand, this dress is made of sun protection fabric and it is lightweight and provides excellent coverage. The wide cross-back straps provide a secure fit while the rolled-back shoulder seams to avoid pack straps from rubbing your skin.
The top is a tank top style and what's awesome about this hiking dress is its flowy skirt that is great for hiking uphill.
Features:
Made of 79% Nylon, 21% Spandex
Pull On closure
With built-in shorts and bra
Has three pockets
VERDICT:
This JAFINSY Women's Workout Tennis Dress from Amazon is also one of the top choices if you're looking for a comfortable and stylish dress to wear while hiking.
Honestly, there's nothing to not like about this dress. It's made with a soft and breathable fabric that is quick-drying, lightweight, and moisture-wicking. It has a built-in bra and shorts, so you don't have to worry about that. It has a cool back design and the best part, three pockets!
Now how awesome is that!
Plus, it comes in six different colors, so you can find the perfect one that suits your style. It also has the best hiking skirts if you ask me since it's not restricting at all and it's super comfortable. Perfect for going on casual hikes or any outdoor activities!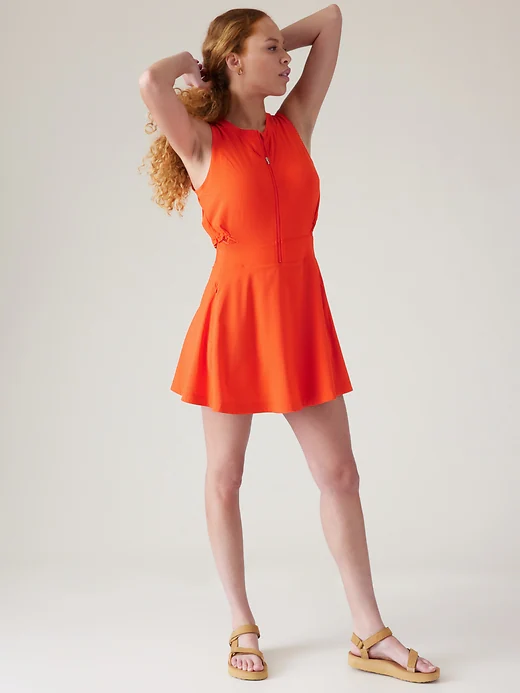 Features:
86% Recycled Polyester/14% Spandex
RATED UPF 50+ (Excellent Protection)
Zip-up the front
Built in shorts
VERDICT:
This Venture Out dress by Athleta is a great choice for an active dress for an outdoorsy girl. With the built in shorts and zipper in the front, this dress is both stylish and functional.
This dress has been reviewed by women of all sizes sharing that it's flattering on all body types, which is so great to find out. Being both lightweight and wrinkle-resistant, this is an excellent option.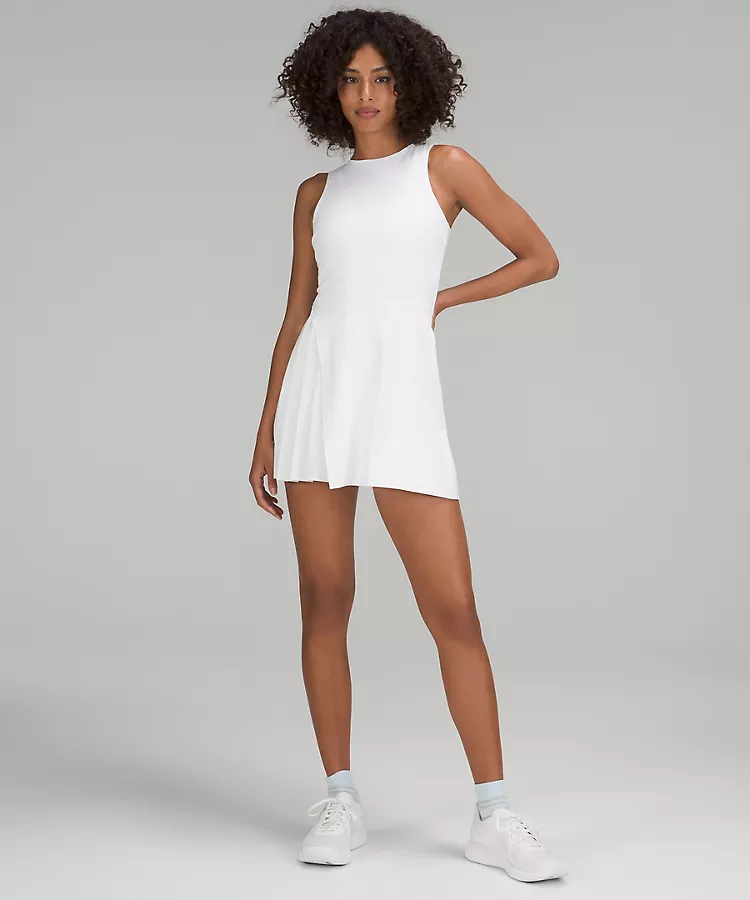 Features:
Comes with built-in shorts
Reflective details with back zippered pockets
Center-back zip closure
Lightweight
VERDICT:
When it comes to activewear, lululemon never fails to impress. This Nulux Running Dress is no exception. It has all the features that make it perfect for hiking, from its lightweight fabric to its built-in shorts.
I think the best feature of this versatile dress is its long built-in shorts. Because this is an activewear dress, the shorts are longer than usual, which helps provide even more coverage and mobility. If you want that extra support and coverage while you're hiking, this is definitely the dress for you.
Plus, it comes with reflective details to help keep you visible in the dark and a zippered pocket on the back, so you can keep your items secure while on the go.
There you go!
All these dresses are perfect for the outdoors and are sure to keep you looking stylish while staying comfortable during your hikes. Most of them are easy to pair off, just get your hiking boots and you're good to go!
These dresses are also great as gifts for outdoorsy women in your life as they are great also as everyday wear or as camp clothes when they are out in the woods!
As much as I love keeping my hiking outfits simple and comfortable, it never hurts to add a bit of style. So don't be afraid to go all out!
Happy hiking! 🙂