Have a friend or family member who loves to adventure, is a little outdoorsy, and loves to be active? Are you looking for special gifts for outdoorsy women in your life? Finding gifts that match their enthusiasm for the great outdoors can be tricky.
We want adventurous gifts for her, those that are unique and fun as well as useful! Gifts for outdoorsy mom or sister, as well as gift ideas for your girlfriend or wife.
As a woman who loves the outdoors, has lived in an RV full-time with my husband and kids for 3 years while traveling the USA, and now a mom who lives in Idaho and loves to go camping, I'm excited to share with you some of my top gift ideas for outdoor women in your life.
I've researched some of the best outdoor gifts for women who love hiking, visiting National Parks, going on camping trips, and anything else that involves going on outdoor adventures. You'll find the best gift ideas from lip balm to hammocks in this gift guide.
Whether you're shopping for outdoor gifts for your friend, sister, girlfriend, or mom you are sure to find the best gifts for outdoorsy women listed below.
Here are some awesome gifts for the outdoor girl who loves to get out and adventure.
THIS ARTICLE MAY CONTAIN COMPENSATED LINKS. PLEASE READ OUR DISCLAIMER FOR MORE INFO.
Best Gifts For Outdoorsy Women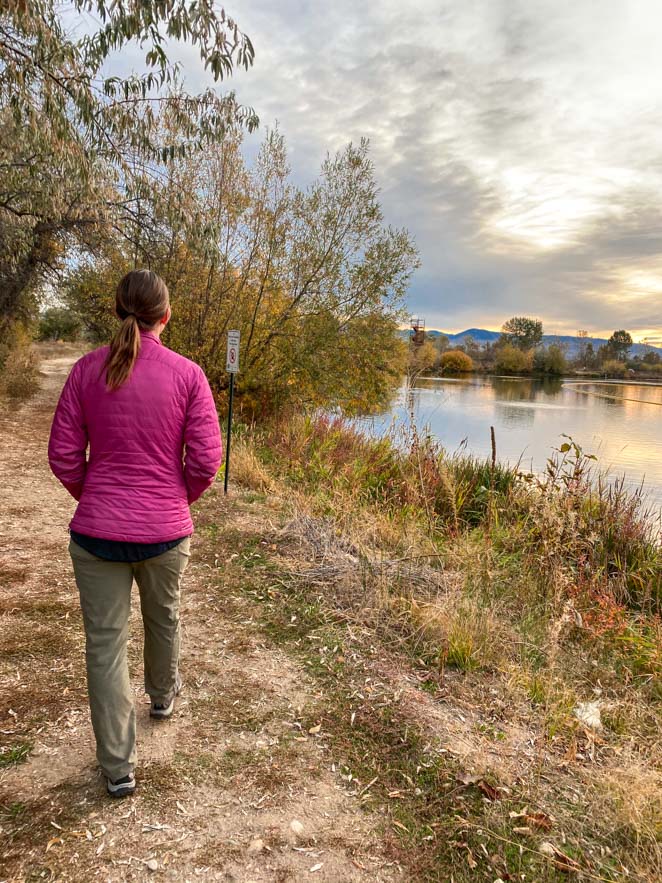 1. Mountain Range Necklace
A mountain range necklace can be a special gift idea for the outdoorsy girl in your life. Something small that she can wear on or off the hiking trail.
2. Rechargeable Hand Warmer
This unique rechargeable hand warmer is great outdoor mom gifts or for any woman who love to be outdoors during the winter months. The technology we have makes it easier to help her keep her hands warm during the colder months.
3. Emergency Survival Gear Kit
An emergency survival gear kit is another great gift for an adventurous woman in your life. The tools and outdoor gadgets will be really useful during camping trips and many situations.
4. Burt's Bees Cream And Lip Balm Set
Burt's Bees hand cream and lip balm gift set is a great addition to your list. These gifts for outdoorsy women will really be appreciated when they experience the dry mountain air on a long hike, or the hot sun when on the water.
5. Camping Hammock
A packable camping hammock is a great gift idea for the camping lover woman. A hammock can pack up really small and make one of the best gifts for an outdoorsy girlfriend in your life.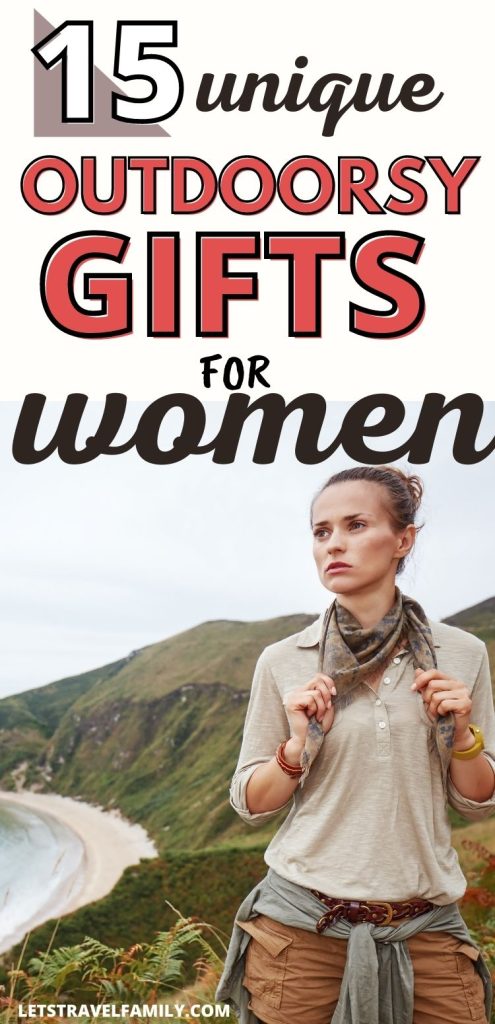 6. Travel Journal
A perfect gift for the intellectual woman if your life might be a great travel journal. It's thoughtful, useful, and doesn't take up too much space. It's one of the gift ideas for outdoorsy women who love to keep track of their travels and experiences.
Adventurous Gifts For Her
7. Travel Coffee Maker
Consider buying a travel coffee press such as the Staresso travel espresso and coffee maker. This is one of those gifts for the adventurous woman in your life, who can't go a day without a cup of coffee.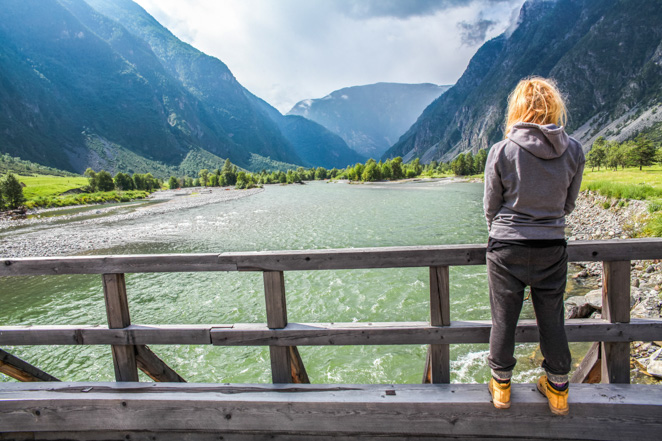 8. Smartwool Base Layers
Smartwool base layers are the best gifts for outdoorsy girl – gal – woman – or even the mom in your life. Merino wool layers will really help her to stay warm while skiing, hiking, camping, or doing just about anything outdoors this winter.
9. Inspirational Cute Outdoor T-Shirts
Inspirational cute outdoor T-shirts are some great outdoorsy gifts for her. She can wear them day-to-day or during her next set of outdoor adventure.
10. Outdoor Wine Glasses
A set of great gifts for outdoorsy mom or the mother-in-law in your life are outdoor wine glasses. These make for some unique camping gear, or even just fun glasses to safely use on the back patio as they won't break if you drop them.
11. Campfire Coffee Mug
The perfect gift for the outdoor enthusiast who loves coffee and camping is this campfire coffee mug. You could fill it up with some healthy organic coffee to make it a great Christmas gift under the tree this season.
12. Buff Headband
A Buff headband is another great gift idea for women who love to get outdoorsy and into nature. These are lightweight and work well to keep hair out of her face when she's going on an adventure.
13. Stand Up Paddle Board – SUP
Another top gift idea for adventure women is an inflatable stand up paddle board. Not only will she love to get out on the water to explore on this, but she'll also appreciate such a thoughtful gift.
14. Femal Urination Device
Need a unique gift for your favorite female friend? This is the perfect solution. The female urination device, allows women to urinate while standing up outdoors.
15. Hiking Socks
Darn Tough Hiking socks are one of my favorite gifts for outdoorsy friends. They keep your feet nice and cool during the summer hike and warm while skiing in the winter. These darn tough socks are made in America with a lifetime guarantee.
Make sure to pair it with her favorite hiking boots to make it extra special!
Fun Gifts For The Outdoor Girl
As you can see, there are many unique gifts to choose from for outdoorsy women in your life. You can even add some pampering gift ideas for when she gets off the trail, such as at home hair gloss or massage treatment. Or, maybe you're looking to give a gift of money using a monetary wedding registry for your outdoorsy niece or daughter who is hoping to go on their honeymoon to a fun, adventurous location.
If all of these ideas still leave you scratching your head, don't worry! We have several other lists of gift ideas that will make any outdoorsy woman happy this holiday season.
19 National Park Gift Ideas For Outdoorsy People
24 Unique Camping Gifts For Authentic Campers
35 RV Gift Ideas For RV Owners
Fun Hiking Gadgets For Hikers In Your Life
There is no shortage of options when it comes to finding the perfect present for someone who loves spending time outside. We even have a great list of foolproof ideas for the best camping gifts for Dad. Which new idea did you find most surprising?