Planning to do some cold weather hiking? Then find the best hiking gloves for you.
Gloves can keep you warm while still allowing for maximum dexterity—a skill that's essential when hiking. So for a comfortable hiking experience, the winter hiking gloves are a must-have.
Are you planning to take the challenge of the Angel's Landing hike in Zion National Park? Or are you looking for a gift item for an outdoorsy friend who just LOVES hiking? Then be sure to find the hiking gloves for them, may they be a pair of touchscreen gloves or the best fingerless hiking gloves.
What Are The Best Hiking Gloves?
With a good pair of gloves, you won't have to worry much about safety and discomfort. The best pair of hiking gloves are unique to each person. So what works best for people who love hiking in the summer will differ from the best for those who hike in winter. Yes, some people do wear hiking gloves in the summer too.
What the person feels most comfortable in also matters.
You may love fingerless hiking gloves because they allow maximum dexterity to the fingers and you may find more comfort in that, but someone else may pass on this since it doesn't give the protection needed for the whole hand.
So yes, even outdoorsy people have big gaps in preferences for things like this.
But don't worry. We will consider a lot of scenarios and preferences in our hiking gloves review below to help you find just what you need.
THIS ARTICLE MAY CONTAIN COMPENSATED LINKS. PLEASE READ OUR DISCLAIMER FOR MORE INFO.
Where To Stay In Puerto Rico
One of the best places to stay in Puerto Rico is the Caribe Hilton in San Juan. It's not only oceanfront, but it has its very own private beach with calm waters for snorkeling, an incredible outdoor pool area, and several restaurants on sight. I stayed here during my visit to San Juan, Puerto Rico and used it as a great central location. It's only a 10-minute Uber ride to Old San Juan or a 15-minute Uber ride to the international airport.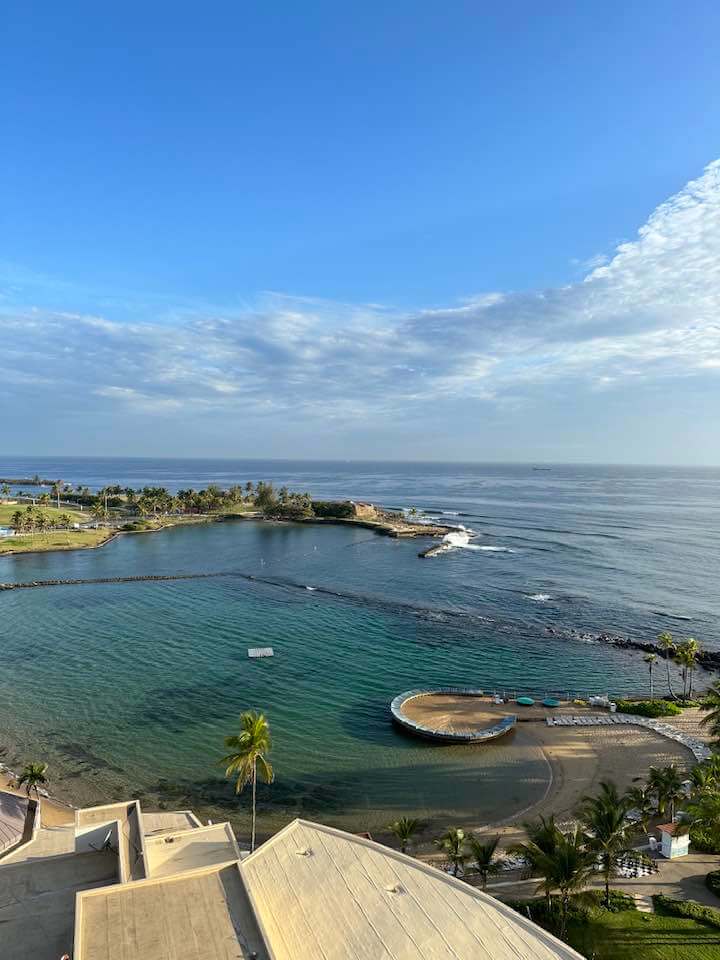 Click here to check rates for Caribe Hilton.
If you're looking for more fun in Puerto Rico beyond the adventurous experiences, then you may want to consider combing your trip to be part-adventure and part-relaxation and book a few nights in one of the top Puerto Rico resorts for families.
Comparison Guide – Best Hiking Gloves
Here are the best gloves for hiking that we've found, considering all kinds of preferences. For comparison, we've also listed their material, special features, where they are best for use, and lastly, the price.
Comparison Chart
Brand

Image

Material

Fabric

Categories

Price

OZERO Men's Gloves

Best Mens'

Leather, Thermo-plastic Polyurethane

Polyester, Cotton, Waterproof TPU

Winter Gloves, Touchscreen Gloves, Waterproof

**

Best Summer

–

Poly-spandex fabric

Fingerless Gloves, Sun Protection Gloves

***




Best Summer

–

Polyester and spandex

Fingerless Gloves, Sun Protection Gloves

***

Best Splurge

Polyester

Polyester

Winter Gloves, Touchscreen Gloves

****

Best

Light-weight

Polyester, Silicone, Spandex

Polyester Fleece

Winter Gloves, Touchscreen Gloves, Thermal Gloves

**
Top 10 Hiking Gloves
There are many hiking gloves available. And that makes it kind of hard to browse through and find the perfect pair for you.
To help, we've listed the best hiking gloves we've found. Lightweight gloves, waterproof hiking gloves, lightweight waterproof gloves. And they're all right here.
Related Post: Best Hiking Gadgets For Hikers
1. OZERO Men's Gloves
OZERO Men's Gloves is a best-seller packed with all the features you'll need for hiking gloves. There's the thermal insulation, touchscreen pads, non-slip palms, and many others. No reason to prolong buying a pair.
Features:
Pull-on closure
Non-slip
Touchscreen pads
Water-resistant and windproof
Sweat absorbent
Thermal
Elastic wrist and warm lining
2. OZERO Winter Hiking Gloves
The OZERO Winter Hiking Gloves is the ultimate package in the winter gloves category. With its Heatlok Thermallayer, which is a patented system of fibers that delivers warmth without affecting the usual bulkiness and loss of dexterity in other winter gloves, and amazing material construction, we consider this an excellent choice.
Features:
Heatlok Thermal Layer
Deerskin Suede Leather material
Waterproof and windproof
Double locking thermal (elastic wrist + knitted cuff)
3. Cevapro -30℉ Winter Gloves
Everything you need in a pair of winter gloves is in Cevapro -30℉ Winter Gloves. It has thermal insulation paired with thicken fleece lining to serve the best warmth one needs for outdoor activities on a winter day. And it's got sensitive touchscreen index fingertips that come as a bonus!
Features:
Pull On closure
Waterproof
Thermal insulated
Elastic wrist
Sensitive touchscreen index fingertips
4. KastKing Sol Armis Sun Gloves
For hikers who love the hot season, KastKing Sol Armis Sun Gloves are the hiking gloves that spring and summer needs. These fingerless gloves give you enough sun protection without compromising dexterity, making it perfect for hot to warm weather.
Features:
¾ Finger
SPF50 Protection
UPF50 Protection
Breathable fabric
Durable microfiber
Pull Tabs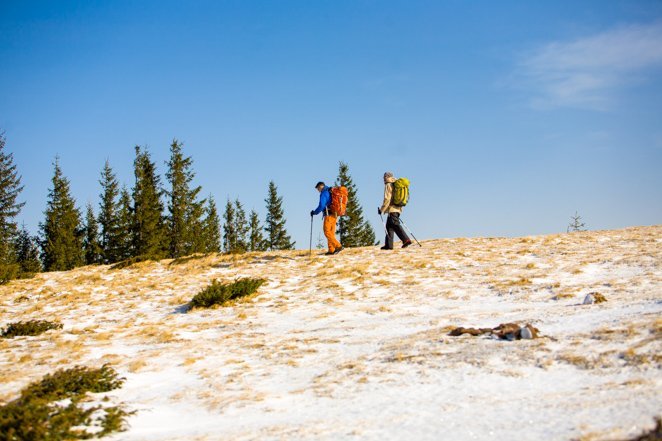 5. Aegend Lightweight Running Gloves
Do you need some lightweight gloves for hiking? We have the Aegend Lightweight Running Gloves for that.
Although these work primarily as running gloves, they also fit other outdoor activities like cycling and hiking. And, despite being lightweight, their polyester fleece lining delivers enough warmth to protect you on cold days.
Features:
Anti-slip
Moisture-Wicking
Touchscreen
Lightweight
Compression liner
6. Outdoor Research ActiveIce Spectrum Sun Gloves
For a comfortable summer hike, check out this Outdoor Research hiking gloves. ActiveIce Spectrum Sun Gloves has the ActiveIce fabric technology that features xylitol crystals to have the moisture-wicking feature. This feature, paired with the anti-slip palm prints, makes for one of the best hiking gloves for the summer season!
Features:
ActiveIce fabric technology (moisture-wicking)
Long gauntlets
Anti-slip
Fingerless
Sun-protective fabric
Touchscreen
7. Women's Winter Warm Gloves
A lot of hikers love waterproof hiking gloves. And that's normal since they protect you in all four seasons. These gloves also make sure that your hands are comfortable throughout the hike.
With that, we recommend these Womens Winter Warm Gloves which are waterproof and windproof. They've got all the protection you'll need for winter hiking plus the touchscreen fingertip pads.
Features:
Windproof
Elastic cuff closure
Sensitive Touchscreen fingertips
Water-resistant
Silica Gel for a tight grip
8. Lightweight Breathable Hiking Gloves
Lightweight breathable hiking gloves focus on the breathable aspect that some people prioritize in a pair of hiking gloves. Totally understandable though, since, when hiking, your hands will basically be stuck inside gloves for HOURS so you want that to be comfortable.
Aside from being really stretchable, this product has special palm pads AND touchscreen-compatible fingertips.
Features:
Touchscreen fingertips
Suede material with anti-slip silica gel (for palm)
Breathable material
Tear-resistant
9. The North Face Etip Glove
If you're willing to splurge, then go for this trusted brand. The North Face Etip Glove is made of 100% polyester, making it abrasion-resistant, wrinkle-resistant, and durable—definitely built to last.
Features:
Pull On closure
Etip thumb and index finger (for touchscreen purposes)
Extra palm silicone grip
Lock clip system
10. Fox River Men's Ragg Fingerless Gloves
Need a pair for your casual hike? Fox River Men's Ragg Fingerless Gloves are perfect for that.
They deliver just enough warmth for a casual hike (but not really for winter). It's also a fingerless pair so your dexterity won't be affected. The best part about it is that they're super affordable.
Features:
Wool construction for warmth
Durable wool and nylon material
Great form-fit
11. Icebreaker Quantum Gloves – Women's
Icebreaker Women's Quantum Gloves have quality features that you'll love in hiking gloves. They can be used for almost any sport. Also, they're well-loved for being lightweight and stretchy which enhances comfort.
Features:
Stretchable and good fit
Core-spun fabric for added durability
Silicon palms for good grip
Touchscreen thumb and index fingertips
Wool certified to the Responsible Wool Standard (RWS)
12. Outdoor Research Melody Sensor Gloves – Women's
Outdoor Research Melody Sensor Gloves – Women's are known for their touchscreen sensor technology which comes in handy now that we're in a digital age. They're also lightweight and deliver just the right amount of warmth for a casual hike.
Features:
Touchscreen sensor technology on thumb and index fingertips
Lightweight
Soft and comfortable
Can be used as a liner
Tips for Shopping for Gloves Online
Many online stores such as REI will let you return gloves that don't fit or work as intended, directly in their store. Now, if you make a purchase on Amazon, did you know that you can use an Amazon return store located in any US state to return your item? This is news to me as I've just started learning about ways to use Amazon better. So don't hesitate to make a purchase and then if they don't work, you can already return them.
Best Winter Hiking Gloves
When hiking in winter, it's unavoidable to use bulkier hiking gloves despite the lower dexterity they provide—especially on really cold days. Thankfully, we have the OZERO Winter Hiking Gloves for that.
What's special about this product is its Heatlok Thermallayer, which is a patented system of fibers that delivers warmth without affecting the usual bulkiness and loss of dexterity in other winter gloves. Amazing materials paired with softness and durability make this in our list of best cold weather hiking gloves.
Best Women's Hiking Gloves
Here is our pick for the best womens winter warm gloves which are waterproof and windproof. They've got all the protection you'll need for winter hiking.
Add that they have the touchscreen fingertip pads for easy use of your digital devices while you're on a hike. These amazing gloves are amazingly affordable as well.
Best Men's Hiking Gloves
A best-seller, OZERO Men's Gloves is packed with all the features you'd want for a pair of hiking gloves.
These gloves are thermal, thanks to the materials that include leather, Thermoplastic Polyurethane, and their insulated cotton fabric. The fabric also includes windproof polyester and waterproof TPU.
They also have touchscreen finger pads, so no need to take off your gloves when you have to use your gadgets. Its silica gel particles also make it a non-slip product which is extremely useful when out for hikes.
The only downside is that this product only comes in sizes for Men (although you can try if you can find a size that will fit you) Don't worry, though, since OZERO has lots of other hiking glove products which are available for both sexes.
Did you find your ideal pair among those we've listed? Tell us below.