With over 2,000 amazing arches and beautiful views at Arches National Park, taking a day or more to visit is well worth your time. I'm excited to share with you what I found to be the best things to do in Arches National Park.
From deciding on the best hikes in Arches National Park, to planning a two-day itinerary to Arches National Park, I'm sure you'll find some useful tips below.
Best Things To Do In Arches National Park
First, I just love how Arches NP is close to the city of Moab. There are so many fun things to do in Moab with kids, that it's worth adding it to your list of places to visit once you leave the Park.
Arches NP is easy to drive around in and has both difficult and easy hiking trails with some fun wildlife to spot.
Even if you're not trying to mark all the US National Parks off your bucket list, Arches is worth a quick visit.
I'm going to share with you some of the best things to do in Arches National Park so you can plan your trip and make the most out of it.
THIS ARTICLE MAY CONTAIN COMPENSATED LINKS. PLEASE READ OUR DISCLAIMER FOR MORE INFO.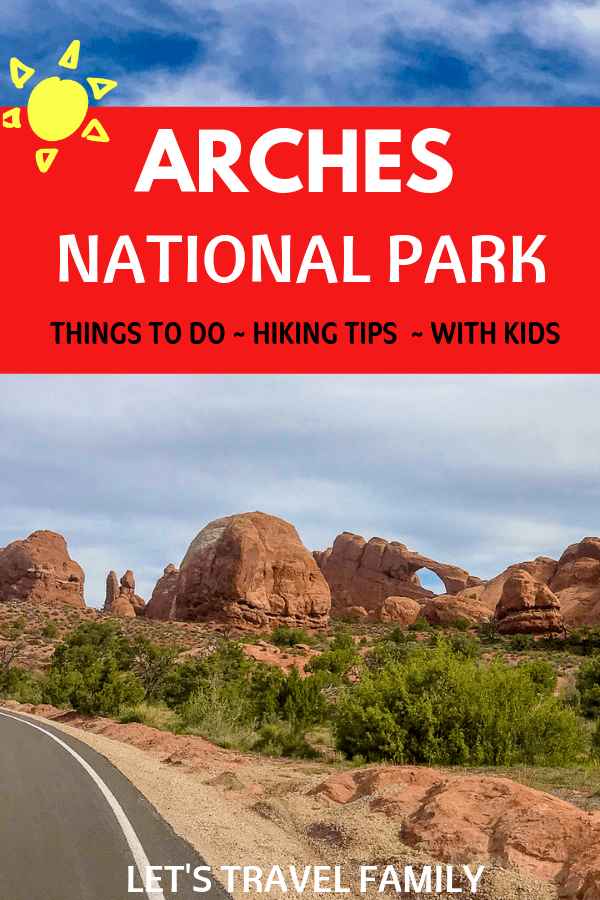 Arches Scenic Drive
Start your day out at Arches National Park by stopping by the modernized visitor center and watching the video available. Then grab a map and plan your day. Don't forget to fill your water bottles here.
We bring our 7 gallon fresh water jug to refill any time we've visited Arches, as they have a freshwater fill station for everyone. That way we have water with you in your vehicle as you drive around the park and you can use it to refill your drinking water bottles.
Since Arches is in the high desert, you'll find yourself dehydrated quickly if you're not careful.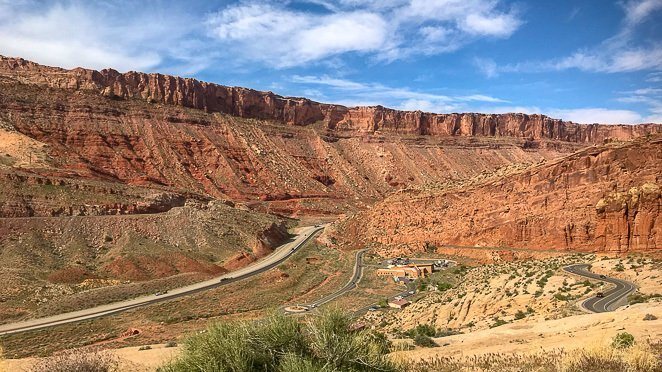 Once you leave the visitor center take the Arches scenic drive and follow your map to stop anywhere that interests you.
The drive could last 30 minutes or a few hours depending on how often you stop and if you plan to do any hiking.
Planning Your Trip To Arches NP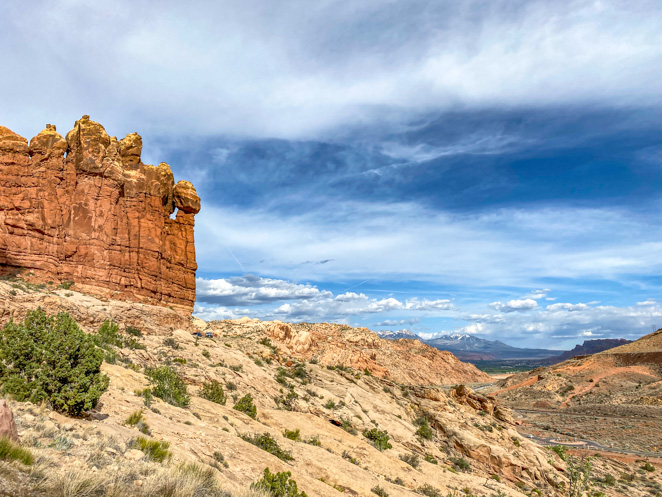 If you have more than just a few hours for the scenic drive around Arches, then you'll see how much the National Park has to offer. Below, I'm going to share some suggestions for a one-day Arches itinerary or a two or more day itinerary.
One Day In Arches National Park
Do you only have one day to spend visiting Arches National Park? Then here's what I'd recommend doing to make the most of it.
Start at the Visitor Center and talk to the ranger about what to look for at the park. Then plan to drive to the back of the park where you can find parking at the Devil's Garden parking lot.
Take the 0.75 mile hike out to Landscape Arch and then head back where you'll find vault toilets and a fresh water fill station at the parking lot. Tony took our oldest kiddo past Landscape Arch and hiked a bit longer, so the girls and I hiked back and had our lunch near the water fill station while we waited.
When you're done with your hike at Devil's Garden, drive south on the main road and stop by Sand Dune Arch for a quick hike and a chance to cool off in the shade of this hidden arch in a huge sandbox!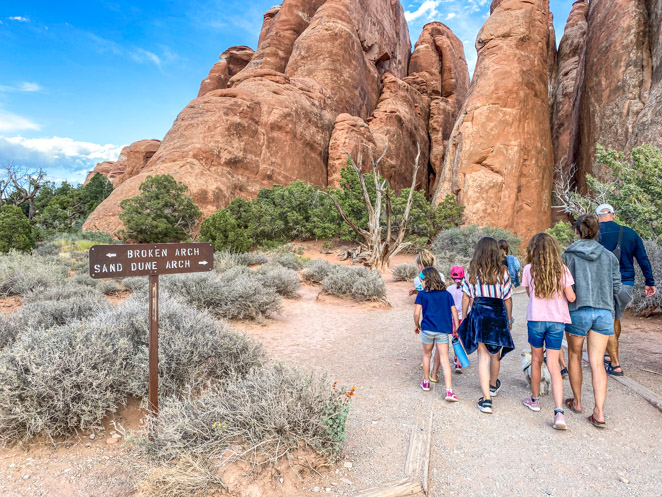 Next, continue your drive south and turn left and follow the signs for the Delicate Arch viewpoint and grab a few photos. If you have the energy and time to hike to the Delicate Arch, then stop at Wolfe Ranch and plan for a good 3 hours of hiking.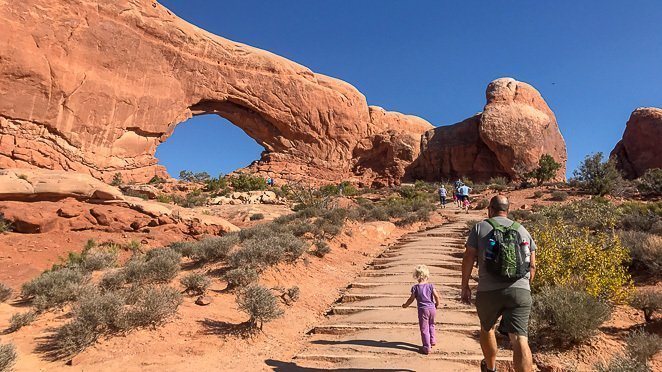 Continue to drive south until you come upon Balanced Rock. Grab a few photos and then turn left to head to The Windows.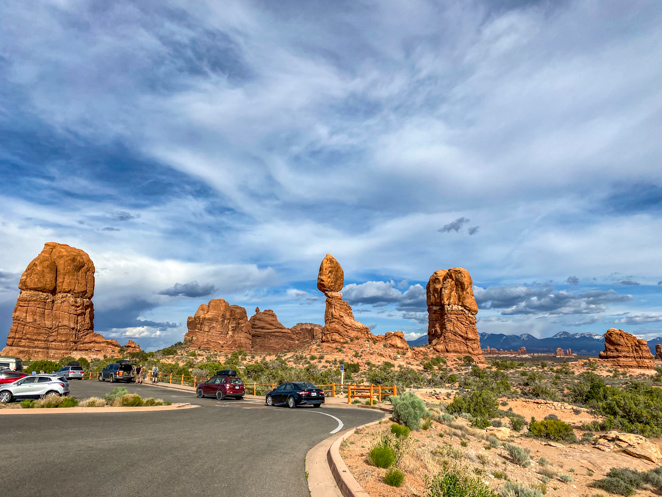 This is the area of the National Park that is often very busy because it's so easy to access many beautiful arches without long hikes. I recommend getting out and taking the 1-mile hike on a gravel path that will take you to 4 giant Arches in the park: Double Arch, Turret Arch, North Window, and South Window.
2 or More Days At Arches National Park
If you plan to have more than one day visiting Arches National Park, then I suggest talking to the rangers at the visitor center about grabbing a permit to go on the challenging Fiery Furnace hike.
That will take up most of a full day.
If you plan to stay in Moab and have extra time, I highly recommend visiting Canyonlands National Park too.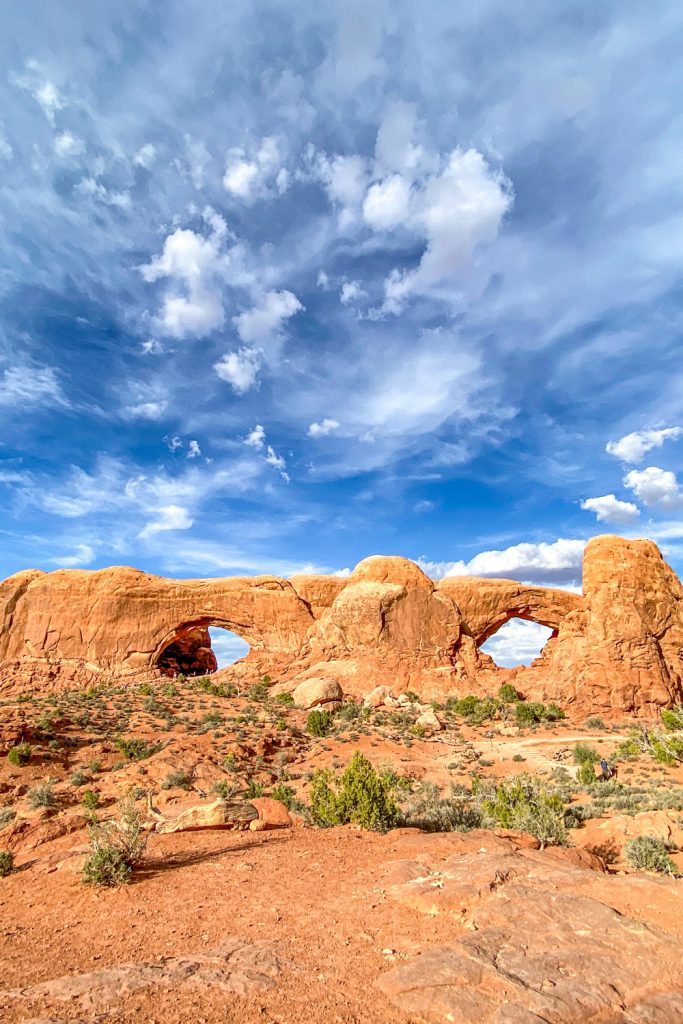 Be sure to spend time in the mornings hiking in the park when the temperature is cooler, and think about spending an evening in the park to do some stargazing.
If it's a hot afternoon and you're in the park looking for a way to cool off, then I'd suggest checking out Sand Dune Arch. It's a quick hike in the shade to some cool sand to walk barefoot in if you'd like.
Okay, that was a lot to take in I know! Next, let's dig into the most popular hikes at Arches National Park in bit more detail.
The Best Hikes In Arches National Park
Devil's Garden Arches National Park
Landscape Arch is only 0.75 miles down the full 7 mile hike of Devils Garden. If you have the time, I'd highly recommend taking the full hike as you'll see several arches and a variety of terrain, including lizards and maybe even some tracks like we did!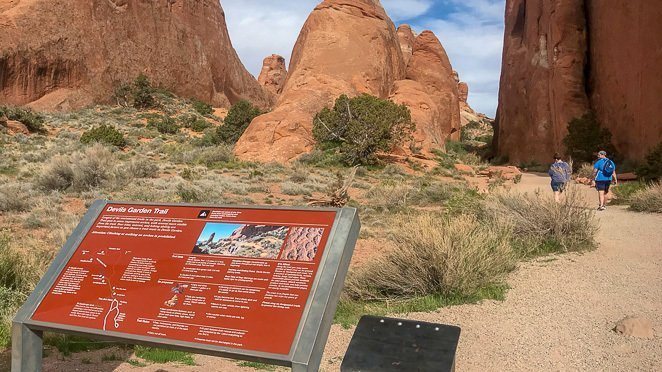 Be prepared to get sand in your Keens, or better yet, wear hiking boots so that you don't get sand in your sandals like our son did! The path is not paved and very sandy.
During your Devils Garden hike, you'll come across Pine Tree Arch and Tunnel Arch on your way to Landscape Arch. Now, if you want to go on a more primitive hike and make the full 7 miles like I suggested, then continue beyond Landscape Arch where you'll see Partition Arch and Navajo Arch just ahead.
Be prepared to hike along a high and narrow trail with 100-foot drop offs on your way to Black Arch Overlook. If you complete the full Devil's Garden hike, then you'll also see Double O Arch and a spire called Dark Angel.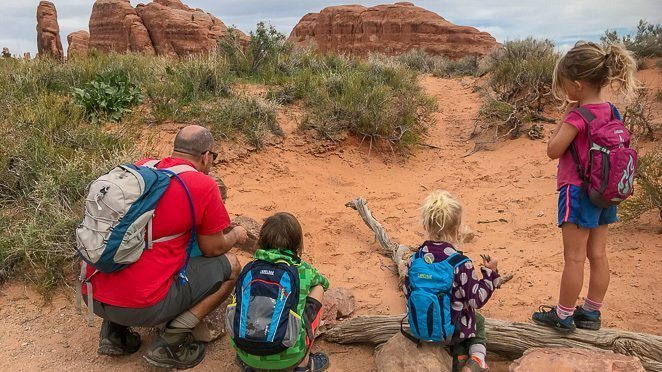 Tony and our 10 year old son Riley make the full 7 miles and loved it. They did say they were glad we didn't bring our 4 year old as it would have been too challenging.
Delicate Arche Hike
The Delicate Arch hike is one of the most popular hikes at Arches National Park. It's a 1.5 mile hike out to Delicate Arch, but don't be fooled to think this will be a fast and easy hike. Especially if it's hot and sunny, as it often is at Aches.
Friends of ours took their kids on the Delicate Arch trail during midday in April and came back to report it was actually pretty hard, hot, and they needed to take a few breaks along the way. You see, you'll hike in the open sun and it's almost all uphill (or rock) on your way to Delicate Arch. So be sure to give yourselves several hours for this hike and bring a lot of water and wear a hat.
The Windows – Arches NP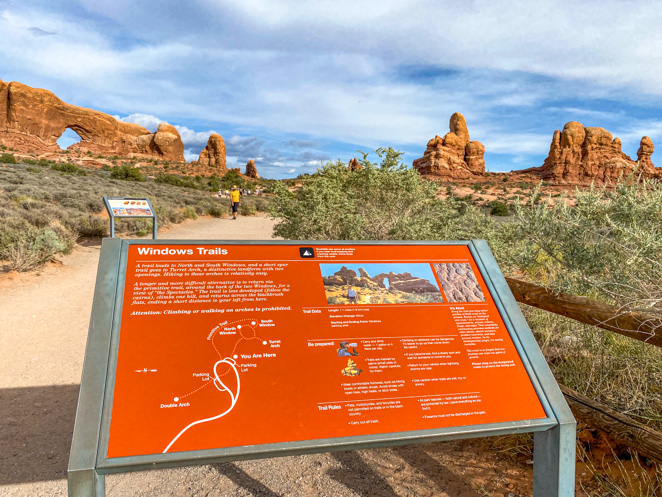 There are two trailheads at The Windows that link up to four huge arches. Depending on where you stand, you can often see several arches at a time. I recommend hiking the full loop so you can see all four arches and even see the backside of many.
These arches include Double Arch, Turret Arch, North Window and South Window. When you get behind the two windows look closely and you can see a nose-shaped rock that will make it look like a set of spectacles.
The Windows hike is such a great one for kids and for anyone that wants to see several large arches within 1 mile of hiking.
Fiery Furnace Hike
This famous hike is challenging enough that it requires a special permit from the Visitor's Center with a small fee attached to it. Be sure to arrive early in the day to grab a permit, but if you visit during the busy spring or fall season your permit may not be for a few days out.
This hike is difficult and not marked in any way, so it's very easy to get lost without a ranger as a guide. You'll hike through narrow fins and slots and have to squeeze through some very tight spaces.
There are gaps you'll have to jump across and times where you need to use your upper body to pull yourself up and through spaces. Children under 5 are not allowed on the hike.
With all this being said, we've talked to several families that took their children 8 and older and everyone did great. So you be the judge.
Sand Dune Arch Hike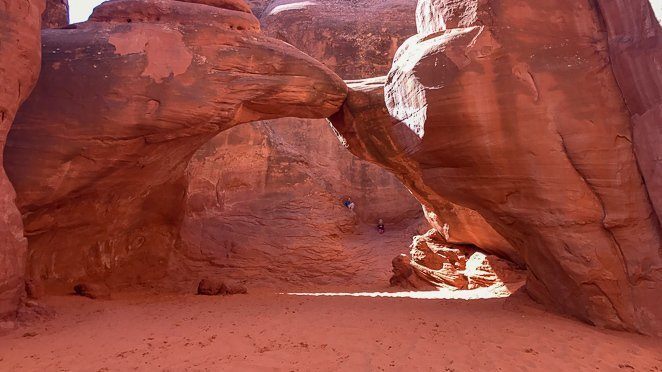 This very simple and quick hike is one that brings you into a cooled off shaded sand dune area where you'll come quickly across Sand Dune Arch. Our kids loved this short hike and we enjoyed having some downtime in the shade. Plan to sit and relax here or go a bit further to see Broken Arch.
Arches National Park With Kids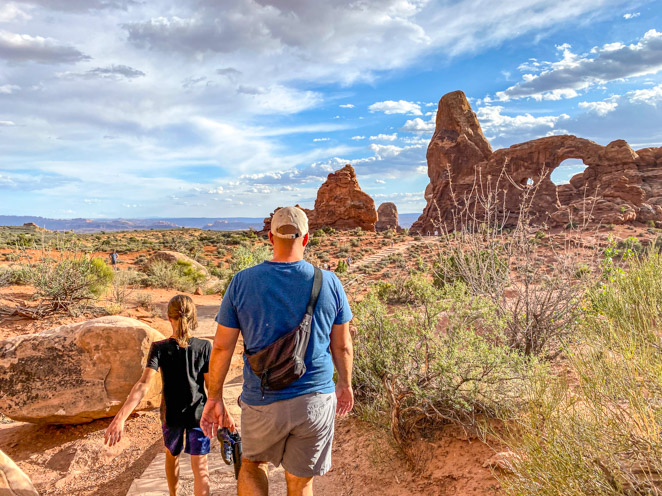 I love how taking kids to Arches National Park provides so many things to do. The visitor center is a great place to start with fun animal statues outside the door that the kids can climb on. I highly recommend starting here first to fill up your fresh water, use the REAL flush toilet bathrooms if vault toilets might be a scary thing for your kids, and grab a junior ranger booklet.
Depending on the ages of your kids and their hiking abilities, driving to The Windows is always a great place to start. It's about 1 mile total and you are able to come across 4 huge arches.
Be sure to bring all the essentials including these things to pack for Arches National Park. That way, your entire family will be prepared.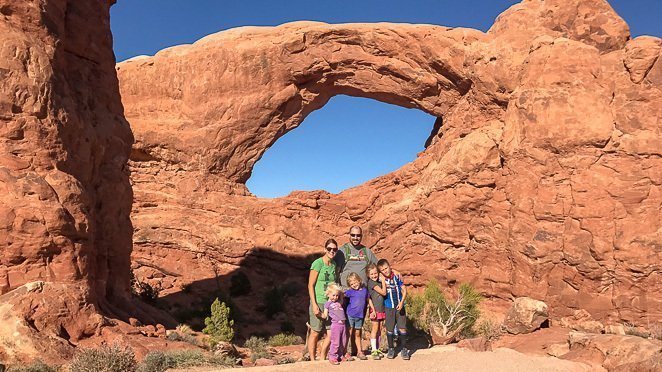 During the hot part of the day, I highly recommend taking the kids to Sand Dune Arch where you will find cool shade and a ton of soft sandy hills that the kids can play in!
The Devil's Garden hike out to Landscape Arch is also a great hike that is about 1.5 miles total, if you turn around at Landscape Arch. We took that hike with all 4 of our kids ages 10 and under and I loved that we came across so many living creatures on that particular cloudy day.
Where Is Arches National Park?
Arches National Park is located in Eastern Utah. Getting to Arches National Park is pretty easy if you came from Moab, Utah. Take US 191 about 5 miles North and you'll arrive at the entrance. Just inside the entrance are a large parking lot and the National Park visitor center.
Accommodations Near Arches National Park
Arches National Park Camping
There's one campground in Arches National Park. It's located all the way in the back of the park and is often full.
The campground is limited ot tents and RVs 28 feet or less. This campground provides primitive camping with no cell signal, in case you need it for work like we do.
Check their website for availability.
Camping Outside The Park
If you're looking for camping near Arches National Park then check out Campendium and search for Moab. There are so many campgrounds in and around Moab just a few miles away that I'm sure you'll find something that works best for you. Or, find some BLM land to dry camp on like we did in our class C RV.
Renting An RV
If you don't own an RV like we do, then renting one is a great option. Utah is a popular state to see RVs all over and renting one might be perfect for you. Click here to learn more about renting an RV.
Hotels Near Arches National Park
Moab has several great hotels that are only 10 minutes away from Arches National Park. From budget friendly to high rating hotels, you can find several options of places to stay near Arches National Park. Check below for availability.
When Is The Best Time To Visit Arches National Park?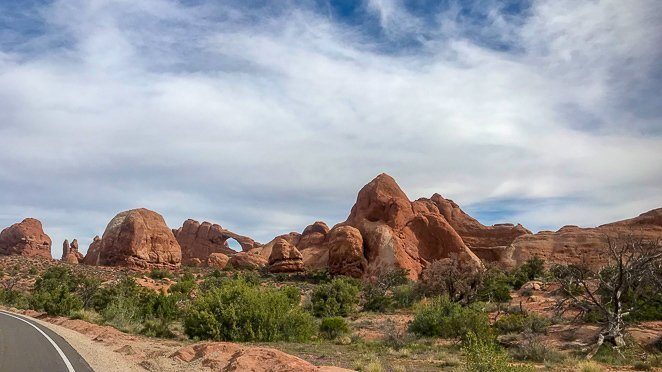 From December to February Arches often sees some snow and the trails can become slick. However, the National Park and the visitor center is open year-round so don't let a little white stuff stop you.
Spring and Fall tend to be the busiest time to visit, but for good reason. The temperature is just right and there are often wildflowers in the park during both seasons.
I wouldn't recommend visiting Arches in the summer months. The temperatures get into the 100s and hiking can become unbearable.
I'd suggest checking their website for updates on Arches National Park weather before you arrive.
Where Else Can You Visit Near Arches?
Moab is a great city with so many things to do near Arches, so if you have time swing by and explore a bit. You can also plan to visit parts of Canyonlands National Park or plan a full-on Southwest road trip and hit up the Grand Canyon or any of the other Utah National Parks.
Let's Travel Family is a participant in the Amazon Services LLC Associates Program, an affiliate advertising program designed to provide a means for sites to earn advertising fees by advertising and linking to amazon.com, amazon.co.uk, amazon.ca. Amazon and the Amazon logo are trademarks of Amazon.com, Inc. or its affiliates.