Do you feel overwhelmed when you try to think about purchasing the best family RV for your family? Whether you want to camp more often or become a full time traveling family, deciding on which type of RV to purchase can be a bit of a struggle.
As a full time RV family, I made a list of our family's top 11 reasons to travel in a Class C RV. Read on to find out if our reasons match with your needs and desires.
11 Reasons We Love Our Class C Family RV
1. We Can Drive It Anywhere A Car Can Go!
Most class C – RVs have gas engines and have only one axel. Our Class-C gives us the ability to drive on most roads without any issues. We can even fill up at regular pumps in regular gas stations! No diesel is required.
2. Class C Motorhomes Do Not Have A Wide Turning Axis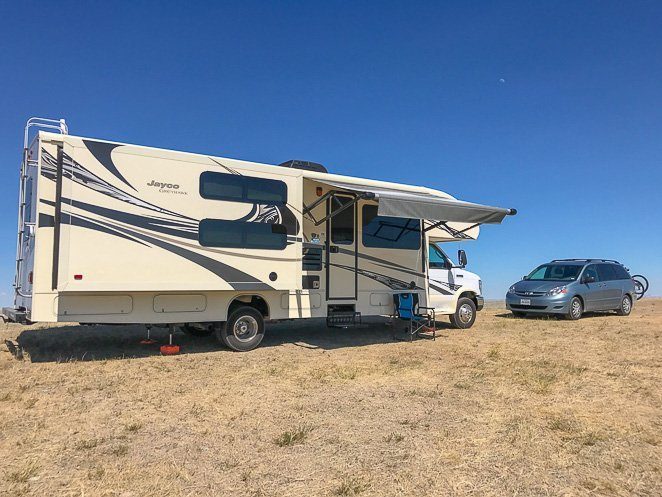 We just drive up and into our campsite each time. Having a 'normal' turning axis allows us to take turns easily, even U-turns at most intersections.
We love setting up camp anywhere and working as digital nomads outside with amazing views.
3. I Can Drive It Too!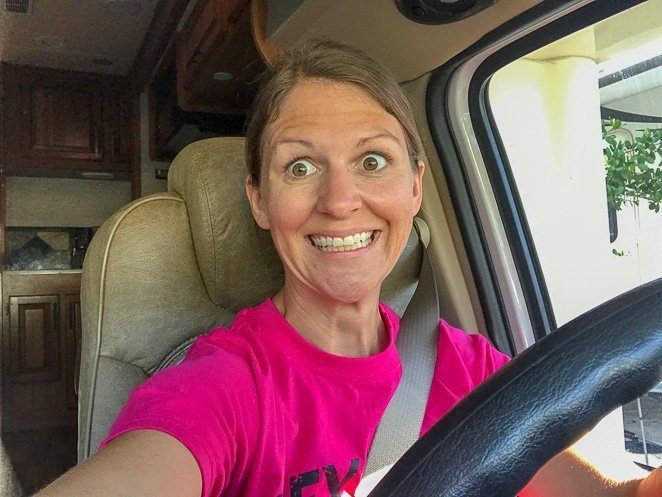 If it drives like a car, can fit in most places, and has a similar turning axis….then I absolutely can drive our family RV. I do on occasion too!
4. With The Push Of A Button The RV Is Level!
Our auto level jack system is AMAZING! Once we pull into our campsite, we just push a button and the electronic system just levels itself. So easy!
5. It's A Great Talking Point At Fulltime Family Rally's!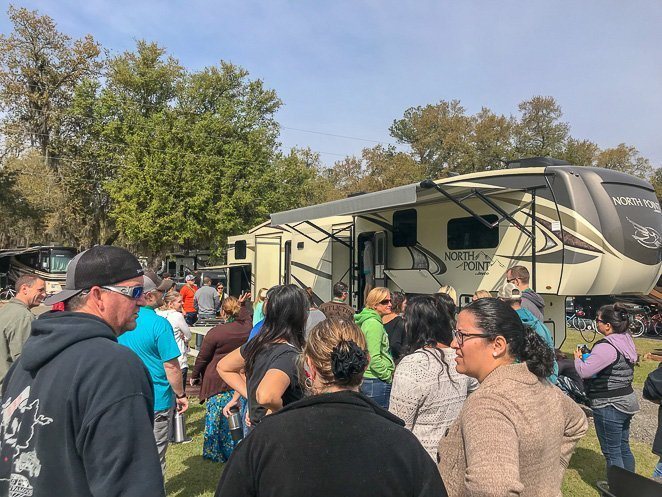 We had a friend stop by at our last Fulltime Families rally to ask us all sorts of questions about living in our Class C motorhome with 4 kids.
It was a great ice breaker and fun to chat about. I have noticed that many fulltime RV families we've met live in fifth-wheels or travel trailers, so it's a great talking point when meeting new people.
6. Each Family Member Has A Designated Sleeping Area
We love that all 6 of us have our own designated space to cool off, read, sleep, or just be left alone.
Our Class C RV has beds with curtains, or a door for the parents, that allows privacy. No need to turn the couch or table into a bed each day either.
7. We Can Camp At Most State And National Parks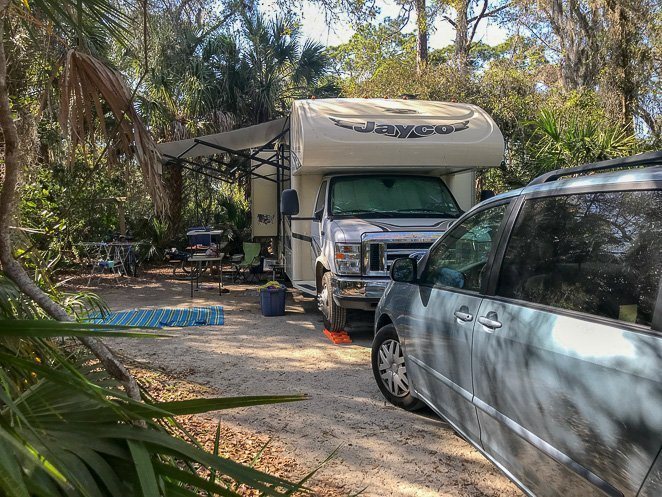 Many National and State Park campgrounds limit the length of your RV to 35 feet or less. Each campground is different, but it is often very difficult to find 'big rig' spaces for 42 foot fifth wheels at National Parks.
Our Jayco Greyhawk Class C RV is only 33 feet long so we fit in almost any campground we have tried!
8. We Can Boondock In Friends Driveways!
Being only 33 feet long and without an extra axel, we can easily fit in many friend's driveways. This makes for great opportunities to visit with family and friends all over the country and do some free camping while boondocking.
9. We Can Change Our Own Oil For A Fraction Of The Cost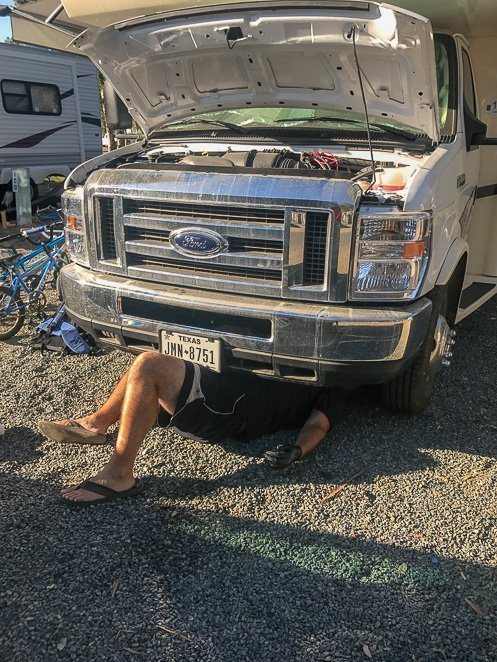 Our Class C RV is a gasoline drinking machine. Yet, when it comes to changing the oil, it's fairly simple to do ourselves. With the presence of our own hydraulic jack system, we just jack it up and change the oil from the V-10 engine.
10. We Have An Onboard Generator – Just Push A Button!
That 'boondocking thing' works out best with a generator. At least if we want lights to work and laptops to charge.
Having an onboard generator makes it so incredibly simple to just push a button and it starts up. It begins charging our battery and allowing us to run our AC, use the microwave, and most importantly, run our espresso maker.
11. We Have Excellent Tires From The Start!
One of the negative things I've heard over and over from other traveling families is the condition of the tires of travel trailers and fifth wheels right off the lot.
Well, having an RV on a truck chassis, we have fantastic heavy-duty tires that have not made us feel nervous at all.
Our Family RV – Is It Right For Everyone?
No, not at all!
We are a family that likes to travel to a new place every week or two. For example, we have traveled from Grand Teton National Park for one week, to Yellowstone National park the next week, then to Glacier National Park for 2 more weeks.
If you are a full time traveling family that wants to stay in one spot for a while, you may appreciate the space you have in a fifth wheel or a larger class A motorhome.
Click here to read our tips on buying an RV for the first time, as a fifth wheel or travel trailer might be a better fit for you.
Or, if you want to purchase a used motorhome and fix it up, then check out these motorhome renovation ideas.
I was told once that having a fifth wheel or travel trailer is perfect for families who like spending time inside and want space. While having our Class C RV is great for more frequent moving and flexibility of places to camp.
I would have to agree with that.
If you're interested in watching a walk-through tour of our family's RV then Click here to watch it on our blog!
Or, learn from our family's experience from our 1st full year of full time travel here and or our top 23 questions asked about living in an RV full time after 2 years on the road.
What other reasons or benefits do you see to purchasing a Class C family RV? I'd love to hear your thoughts below in the comments.
Pin This In Pinterest