Have you been dreaming of full time travel, but you struggle to come up with a great list of digital nomad jobs? Traveling is amazing, but finding remote work often holds many people back from leaping into digital nomad careers.
As a full-time traveling family of 6, and what we call a digital nomad family, we know the struggle. You see, we sold it all to buy an RV and travel the states with our kids back in 2017 and the ONLY thing holding us back was finding digital nomad jobs that we could both apply for.
Finding the best digital nomad jobs for our family is what's allowed us to continue living in an RV with our family and now plan our overseas travel. You see, we can work from anywhere and still travel year round.
It's amazing! Yet, we understand the struggle to find the right job for you. That's why we asked so many other remote workers to chime in and give us all some ideas of nomadic jobs and remote working opportunities below. But first, what are digital nomad jobs?
THIS ARTICLE MAY CONTAIN COMPENSATED LINKS. PLEASE READ OUR DISCLAIMER FOR MORE INFO. THIS POST WAS WRITTEN BY JILL GREISING-MURSCHEL, A FAMILY TRAVEL AND RV LIVING EXPERT.
What are Digital Nomad Jobs?
They are jobs where you can work remotely, often only needing your laptop and an internet connection. Many remote positions are flexible on what time of day you work, but some other location-independent jobs do require specific hours.
How much do Digital Nomads Earn?
Digital nomad jobs can earn you enough to support yourself and your family while traveling. It all really depends on your skill set. Some digital nomads work several side jobs in order to create a full income while others only need to work one job.
How do you become a Digital Nomad and travel the world?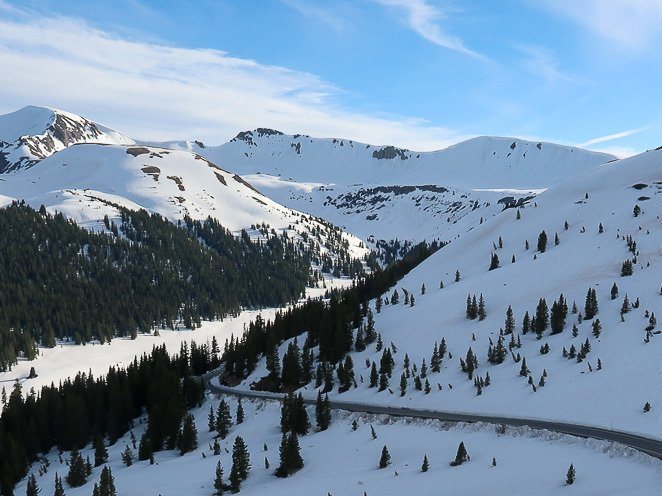 Start by searching for digital nomad jobs that you qualify for and begin applying. Then, once you've started working it's time to start downsizing your belongings and planning your travels.
It sounds easy and I know that's not always the case, so that's why we asked 12 other digital nomads to share with us their experience and ideas on the best jobs to work remotely.
Digital Nomad Jobs 2023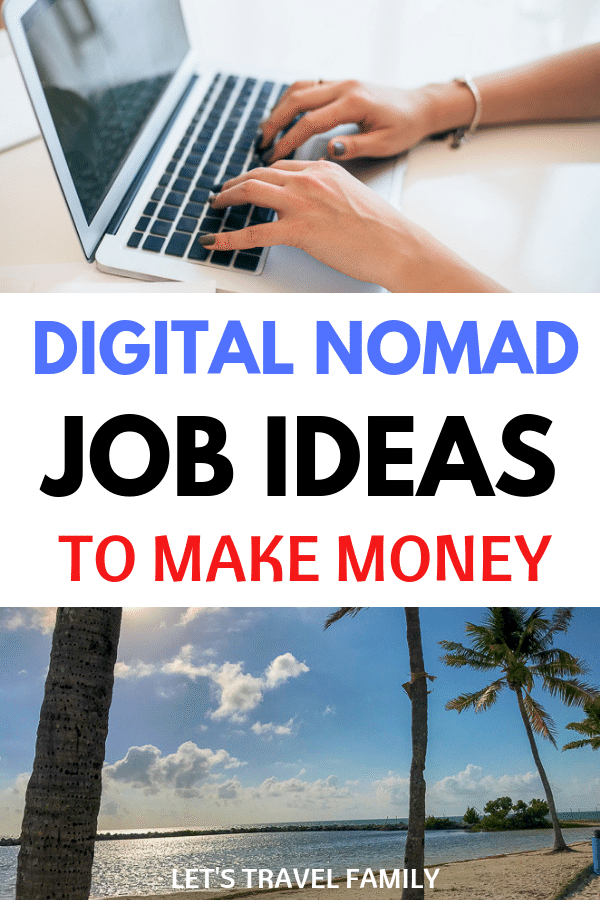 1. Pitch to your current employer
The first thing you should do when you decide you are going to take the leap and start working to living the nomad life, is reaching out to your current employer and ASK if you can work remotely full time.
You'd be surprised how many people don't consider this option and it could often be the easiest way to get started!
2. Content Creation For Yourself
Start A Blog As A Business
Now, blogging will not allow you to make enough income right away, but if you start it as a business from the beginning and not as a hobby you can earn money blogging and make it a remote job for yourself!
Then as you travel you could have a fully remote income over time.
We started this blog, Let's Travel Family, with the intention of creating remote passive income and after just 18 months we're earning enough money to give us the confidence to know that in another year or so we will have our blog be one of our full-time remote jobs if we want it to.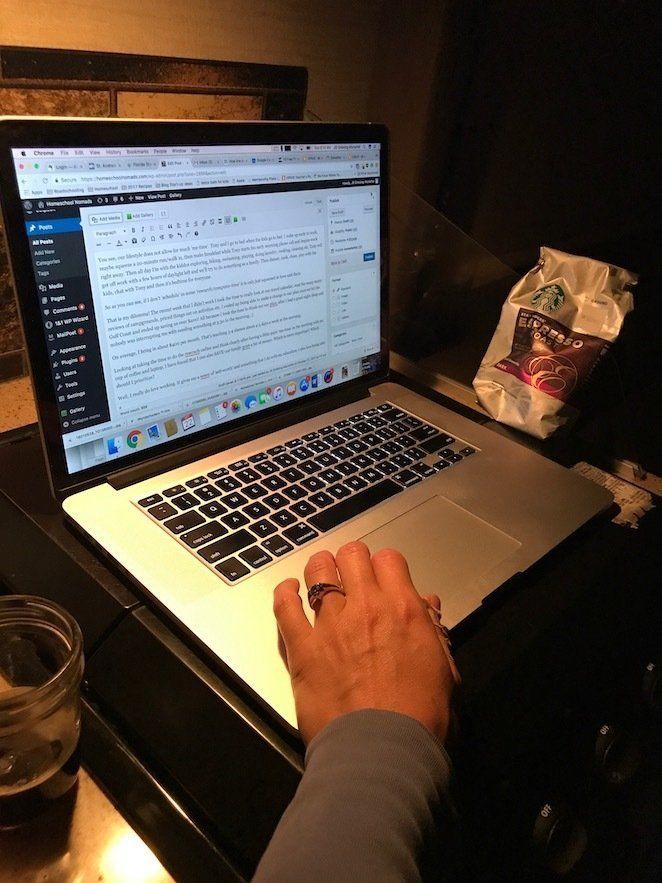 Click here to learn all about how to start a blog and if you do plan to start one and want to actually earn money doing so, then take a course on SEO. This course was a game-changer for us.
Create and Sell an E-book
Learn how Saranya Ramanathan earns money by selling an ebook on her blog at One Fine Wallet. One of my favorite passive income ideas to make money from home is by selling an ebook. If you can consider yourself an expert on a topic, you can certainly get paid for your knowledge on the subject.
Writing an ebook doesn't have to be hard work. If you can contribute less than 2 hours a day, you can create a rough draft on a word document and work on it gradually – adding and editing content as you go along. I took around 2 months to write and sell my first ebook as a stay-at-home mom of two little girls. And once your work is done you can promote your ebook on a blog or on social media.
Creating an ebook doesn't have to break your budget, I did mine for just over $20. I used Canva for creating my ebook contents, Adazing to do my ebook cover and I used SendOwl to handle secure payment transactions. Canva is a free tool, Adazing is free as well – but I paid $12 for a premium ebook cover and SendOwl costs $9/month.
Writing an e-book is the perfect side hustle for digital nomads with very little investment!
Become an Indie/Self-Published Author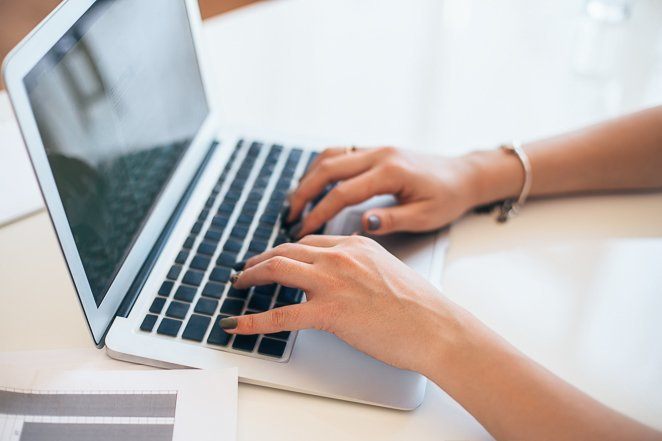 Learn how being a self-published Indie author has been Bert Luxing's main income while traveling for the past 4 years.
I remember 7 years ago spending my spare time writing my first book. It was more for me than anyone else, and I published it on Amazon.
Then one day I opened my email and there was a royalty report. It wasn't much, but it was enough for me to realize that I could scale it to a full-time income, so I wrote a few more books. Three years later I quit my day-job.
As with all businesses, apart from producing the product, marketing is the most important thing for success. I always did marketing, but it wasn't until 6 months ago that I discovered how important smart marketing was.
I could (and am) writing a whole series of books on how to be a successful indie author, but if I could give anyone a few pieces of advice for success, it would be these:
* Learn how to write great book descriptions (ad copy)* Learn how to leverage Amazon Marketing Services* Keep learning, because the landscape changes constantly. My favorite way to stay on top of marketing practices and other indie publishing-related advice is on Facebook Groups. Here are 2 I highly recommend:Mastering Amazon Ads and 20 Books to 50k. ​
3. Content Writing or Freelance Writing for Others
Freelance Writing
Learn how Chhavi Agarwal finds digital nomad writing jobs as a freelance writer. I am an attorney turned freelance writer. I had crazy office hours which left me no time to spend with family, travel and do things that I loved. So, I decided to give freelancing a try.
As a freelance writer, you will work on writing content for your clients. It could be a blog post, white paper, case study etc for any niche you are interested in (technology, marketing, travel, parenting etc).In the first month itself, I was able to make more than $500+ and it has constantly increased.
It allowed me work at flexible hours, take as much workload as I could and work only with clients that paid a certain minimum. I could do the work while I travel or in the car during road trips.
SEO Writing (Search Engine Optimization)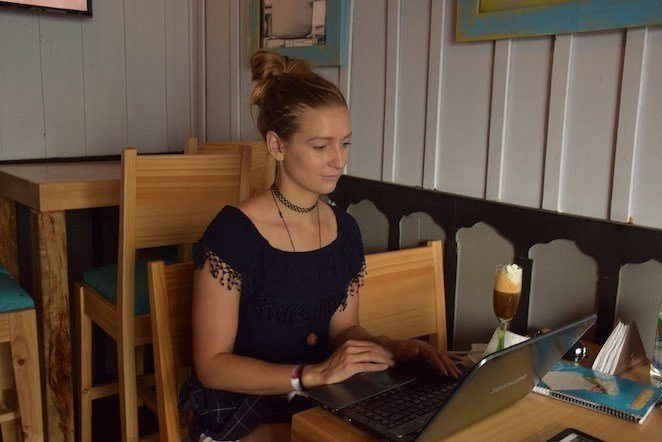 Bailey has found remote job opportunities by writing SEO articles for businesses as she travels. Learn how! Currently, I travel the world and work online by writing blogs for various travel companies. Companies who offer tours or other travel-related services often have a blog section to their website. This blog is used to as a way for their website to rank organically on Google search engines for related keywords. What I do is write this content!
For example, there is one company in particular that I write a blog article for every week. This company runs various tours in Queenstown, New Zealand. I might write an article titled "10 Things to do in Queenstown in Winter" where I keyword the blog for 'things to do in Queenstown in winter' and include a couple of the tours the company offer. The idea behind this is that this blog could rank on Google and bring potential customers to their website and sell their tours!
The best way to get these jobs is to reach out to companies directly. The first rule of thumb is that you must be an expert in whatever service they are offering. If this is true, then send off a friendly email outlining your expertise and experience with writing. As you get more jobs and have more references and work examples, getting jobs gets easier and easier!
For me, this has been a great job because the more I travel the more job opportunities I could have. Not to mention the freedom that comes with it and how much I develop my writing skills along the way.
4. Coaching Online or Remotely
Online Coaching for Families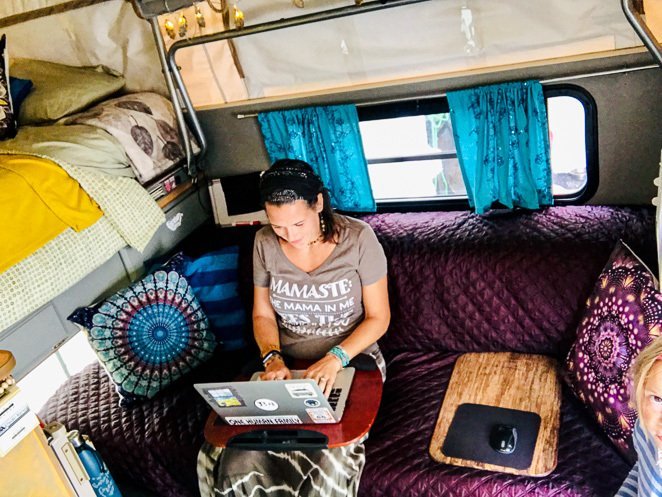 Learn how Ashley works as a life coach and is able to do it remotely while she and her family travel full-time. As an online life coach helping parents and families, I'm able to include video conferencing so we can see each other and connect while never even leaving our homes.
Coaching by conference call actually helps because we are able to get an audio and video replay of our sessions, they don't have to find a sitter, get dressed up, or use the gas to get to me. It allows me to support my family as we travel around the country in our RV.
I also love having the opportunity to go to where my clients are, if it works out, and meet them in person to grab a bite to eat.
If coaching is something that interests you, I've developed a whole Coaching Mastery Program with my father to walk coaches through not only how to coach, but how to build it as a sustainable business.
Coach Single Moms on How To Travel
Online coaching is an amazing job for digital nomads. Learn how Amoya Knudson earns a remote income coaching while traveling. I have been coaching online for over a year and I absolutely love it. I used to receive tons of questions from other single moms about travel and living abroad.
That's when I got the idea to teach women how they too could live this amazing lifestyle. It quickly turned into a full-blown business where I get to help single moms create their dream lives.
It requires very little start-up costs. All you need is a way to get paid and a way to communicate with your client. I use PayPal for all payments and I use Zoom to video chat with my clients online. It is that easy!
If you truly help your clients by guiding them and giving them valuable information, they will spread the word of how great you are for you. I love helping others and I consider this an absolute dream job that anyone can do!
5. Teach English Online
If you have a North American accent and have a 4-year degree in teaching or something related, then you might qualify to work for VIPKID.
I, Jill, started working for VIPKID a few months before we launched as a nomad family. I taught children in China how to speak English online. It was such a rewarding job and one that I often suggest to others when they want to know about ways to find online remote jobs. Learn more about teaching English online here and see if it's right for you.
6. Freelance Work Online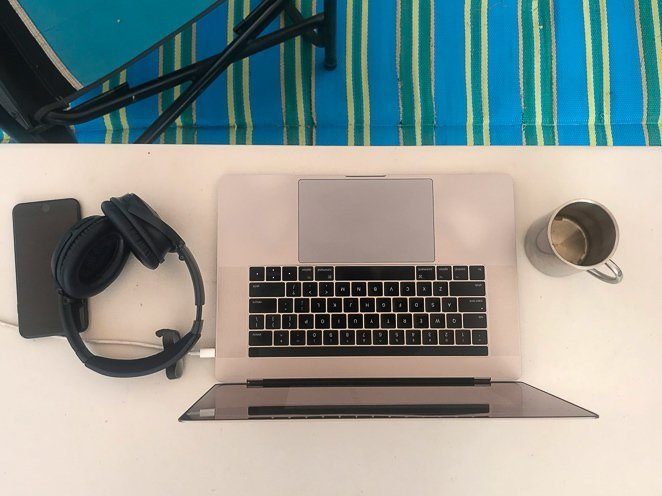 Freelance Video Editing
Learn how Radhika works as a video editor and on a freelancing basis. In order to edit videos as a way to earn money remotely, I needed to learn the basics of video editing using either on Final Cut Pro or Adobe Premiere Pro. I registered myself on websites like Fiverr and Upwork and showcased a sample of my work.
Video editing tests my creative ability. My clients give me a footage shot right out of the camera and I have to compile music, transitions and color grade it to deliver the final product. The best part about my job is that my clients approach me for my work, even though I do not have a degree in this field.
Further, I started very small but now since I do video editing professionally, the rates have gone up. I can quote the revised rates on job portals like Fiverr and Upwork.
In fact, when you get one client for this job, he/she rates you for your work which helps in pitching more clients and thus you can earn a decent amount of income as a digital nomad.
Freelance Architectural Drawing
Learn how Emma was able to work in architectural drawing as a digital nomad. When I graduated with a master's degree in architecture, it was expected that I would spend my career in the corporate world, pausing at some stage to have a family. I was adamant that I would never have to compromise one for the other and sought a route of working that would allow me to enjoy both aspects of life simultaneously.
There are many ways that a qualification in architecture, as with many other qualifications, can be taken into a self-employed role. Personally, I have focused on offering architectural drawing services to other architect's across the United Kingdom, where I am based.
Many other architect's working as individuals or in a small business set up can find themselves overwhelmed with work at times, yet unable to hire a new employee full-time.
This is where I come in. I offer my services on a supportive basis, allowing them to contact me whenever they need me. Some will be in touch on a weekly basis, others I hear from once or twice a year. With a good handful of clients in place I know I have a base level of work guaranteed each month.
The same sort of freelancing can be applied to so many other professions and I believe that it is always worth looking at the skill that you have and how you might utilise it in order to provide a billable service to others. All I need to run my business is a laptop, drawing software and a simple invoicing system. I have also got a simple digital portfolio of work which I send to prospective clients when I reach out to them, simply asking if I can be of assistance.
7. Support Others in Travel
If you're going to be traveling full-time as a digital nomad, why not try to help support or inspire others in their travels? You can do this by starting a blog like we did, providing inspiration in Instagram, or coaching others in their travels such as becoming a home-based travel agent.
Home Based Travel Agent
One of the remote working jobs that not many people think about is becoming a home based travel agent. Learn how Harmony has been able to do this and support her family while working from anywhere. When I started my little travel blog in 2016, I wanted a place to formally share all my travel experiences and ideas to help families travel easier. Last fall I took what seemed to be the next logical step and became a travel agent. Also known a as travel advisor, I help clients plan, book and execute their amazing adventures.
I am part of a Denver-based agency, but I work completely from my home outside of New York City. I spend a lot of time researching online, and a lot of time on the phone (mostly on hold, it's part of the job). But being an agent is a great digital nomad job idea because the hours you put in and the location you work from is totally up to you – and your wi-fi connection!
Having a first-hand knowledge of travel, knowing how to navigate various cities, and how to get from point A to point B is a great way to start out as a travel agent. Of course, there is SO MUCH training to complete – but it's all online!
Being a travel agent probably isn't the most lucrative digital nomad job, but it's really fun and honestly who doesn't want to spend their day planning awesome trips for people!
Yellowstone Guide or Personal Travel Agent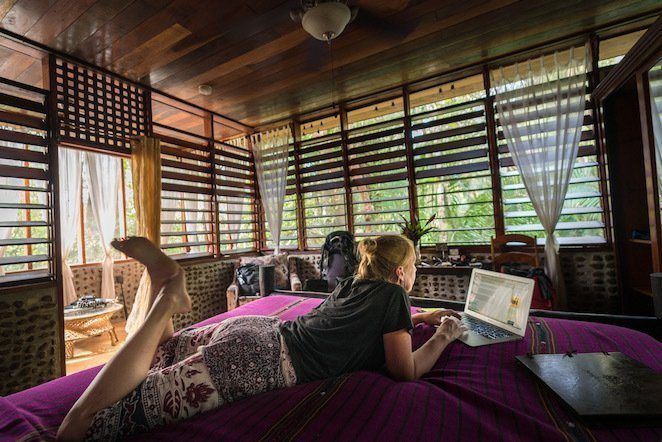 Mel creates Yellowstone guide books and itineraries to help people plan their vacations, and she does it all remotely. When I am at home in Montana, about half the year, Yellowstone National Park is my backyard. I have spent years guiding in the park, teaching outdoor education, writing about Yellowstone as a freelance writer, and exploring park trails with friends and family. It made sense to start a website to help other people plan their own trips to Yellowstone.
I publish Yellowstone guidebooks and itineraries that visitors can download and use. There is a first-timer's guide, a family-friendly hiking guide, and itineraries of various lengths. The writing and layout took awhile, but now everything is automated and I sell guides wherever and whenever I am in the world.
I also do "vacation coaching" where I plan custom itineraries. The client and I email back and forth for about five days and then I send them their itinerary as a PDF. I have done vacation coaching sessions from Germany, Guatemala, and Slovenia.
8. Become A Virtual Assistant
Virtual Assistant From Mexico
One of the best remote jobs anyone can begin is working as a virtual assistant. Learn how Emma was able to travel full time while earning money as a VA. Working as a virtual assistant is a great way to earn money while you travel. I was able to secure work as a virtual assistant for my former employer in Australia before we embarked on our world trip starting in Mexico. I'd stayed in touch on Linkedin and saw them mention a new project in my former department.
I reached out to the project head and let him know that I was available for remote work if they needed help. He got back to me right away to tell me he was interested. I worked out an hourly rate that was fair and covered my expenses and we went from there.
Each night I'd put my son to bed in Mexico and get started on my work. Working from 7 pm Mexican time gave me some crossover with office hours in Australia so I could easily collaborate with the team. I don't think the project would have worked if I was only online in the middle of the night Australia-time.
Time zones and your ability to be online when your team need you are something you need to think about if you are planning to travel abroad while working remotely.
The income I earned more than covered our living expenses for life in Mexico, including accommodation, food, travel and travel insurance.
That project lasted six months, and I was then referred more work. I definitely recommend keeping in touch with colleagues and employers on Linkedin and Facebook to get this type of work.
Corporate Communications Support Specialist
Learn how Lisa was able to work overnight or on weekends for clients remotely, by providing corporate communications support. In the evolving gig economy, I found it quite easy to provide corporate communications support to clients who didn't want to employ someone in-house. I mostly wrote media releases, case studies, updated client websites, helped develop communications strategies and helped publish new websites. I have extensive experience in this type of work, so it was easy to make the switch from employee to self-employed.
Clients often want tasks turned around overnight or on weekends, as their regular employees are unable to because of restrictions in workplace agreements. In return for being flexible, I charged a higher hourly rate and was completely 'location independent'.
I often split my time between working from my home office, or working while visiting family in other cities. My clients usually had no idea I was travelling — as long as I could be contacted and their projects were completed on time and on budget, they were happy!
I found most clients via word-of-mouth marketing. I have a large network to draw upon and didn't want to participate in the hustle of marketing to cold audiences. These days, I don't offer support services; however, I see many similar jobs advertised online, or in Facebook groups. Many virtual assistants offer the services I offered, so casting a wide net, using your network of friends and acquaintances and being open to what the position might be titled is key to finding ongoing work in this area.
9. Provide Stock Photography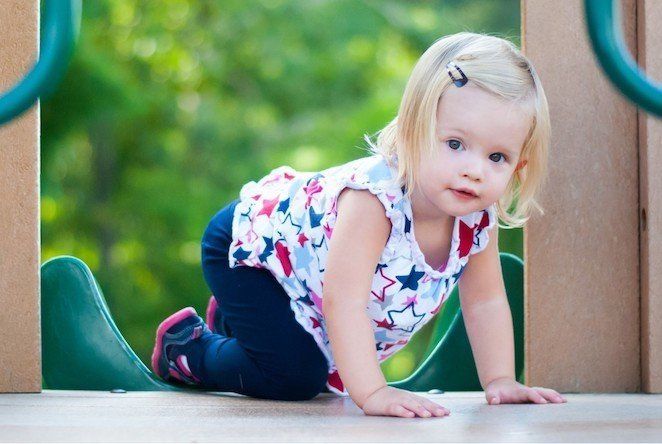 Providing stock photography is another great way to earn money remotely. Learn how Mary Beth has done it while on the road. Stock photography can bring in some decent passive income while you're on the road. Depending on how much time you dedicate to building up your portfolio, you can make enough to fund a weekly brunch, or enough to equal a full-time income. If you're photographing your travels anyway, why not take a little extra time to keyword and upload some shots to a few online portfolios?
Shutterstock and Adobe Stock (formerly Fotolia) are my top-earning sites, and my most popular photos are everyday shots I took while out and about – a picture of my niece at the playground is my all-time top-earner (featured above). I'll admit that I did get rejected on my first try, but kept at. I now sell stock photos on half a dozen online agencies.
It takes some time, in the beginning, to build up a portfolio (you really need at least several hundred shots before any real income will start trickling in), and it certainly won't happen overnight. But once the photos are uploaded, you never have to touch them again. They sell over and over without any more effort on your part. You just keep adding to your portfolio as you get new photos! Again, if you're taking the pictures anyway, stock photography could be something to look into for a little side income.
10. Sell Your Own Products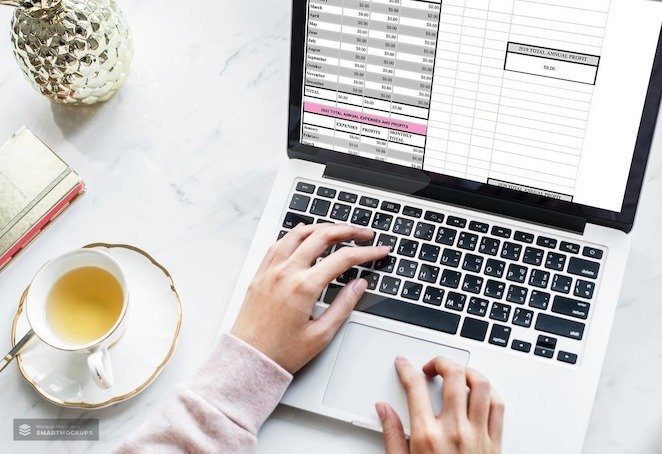 Learn how Holly created a printable online store that provides her income online no matter where she is in the world. When you are travelling full time, or even when you are looking for a profitable side hustle that does not require a lot of time from day to day to earn an income, starting your own digital product store can be a great way to build an income. This has been something I have been doing for many years now.
The best thing about building a printable store is you create each product once and can sell it over and over again, plus you can set it up to automatically download when someone purchases, meaning it is pretty much the ultimate form of passive income.
A printable store can be set up using a platform like Etsy or through your own online store, either linked to a website or as a stand-alone online store. Organization printables can be highly popular, as well as trackers, printable wall art and travel guides.
If you do not have a lot of design experience or program knowledge, you can create printable products easily in free programs such as Canva. To grow your printable business, marketing is highly important and building a community of fans. Utilise popular search terms, social media marketing and great customer service to grow your business and brand.
11. Graphic Designer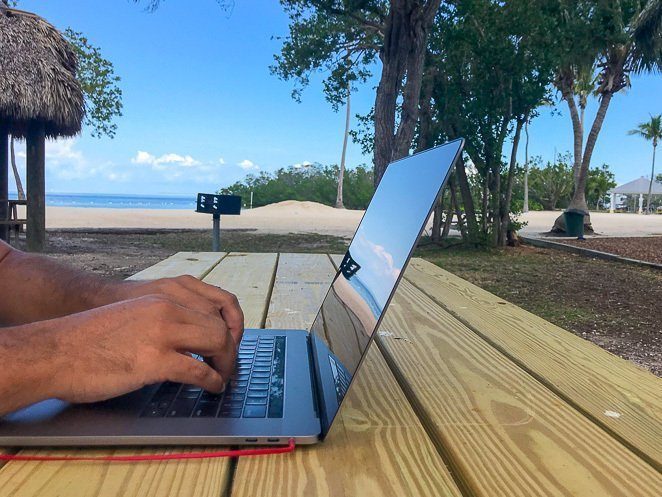 Learn how our friend Brandon worked hard to turn his side hustle into a full time digital nomad job, allowing his family to travel full-time like ours! Being a full-time graphic designer is an amazing way to make a living if you enjoy helping people communicate visually. Quite often it comes down to being a problem-solver and using graphics to create solutions. And there are plenty of opportunities to do that remotely, especially if you are a self-starter and/or entrepreneurial-minded.
For me it started as a self-taught "side hustle". I would work weekends and evenings designing logos, flyers, t-shirts, etc for businesses and churches I had networked with. I quickly realized this could be a perfect business for us because of the flexibility it offered. So my wife and I worked hard to turn our side hustle into our full-time income over the next few years.
Why do I think remote graphic design work is perfect? Because it can be done from anywhere in the world with just a computer (we're Mac fans of course), internet access, a passion for helping people, and of course some creative talent! Those last 2 parts are super significant.
You need to have a real passion to help people or even the most creative projects can turn dull. It's the desire to help others tell their story and reach their target audience that drives me to get up every day and create. At its core, I really believe graphic designers are problem-solvers using visuals to solve problems around the world!
12. Website Design or Web Developer
If you have any website design or developing background, it may not be too difficult to find remote work. Learn how Scott is able to provide a good income to support his family as they travel full-time.
I have been traveling full-time with my wife and kids for over two years now and completely support our family with income from our website design and development business. It's allowed me to work fully remote providing our customers services all online. If you have any website design or development background, working as a digital nomad won't be too difficult for you. They are services in high demand.
What is A Digital Nomad Lifestyle Really Like?
So, you found a job idea and now you're ready to start seeking out income. Or, if you still need more ideas check out our ultimate post listing many creative ways to make money while traveling.
What should you expect about living a digital nomad lifestyle? Well, you DO have to work you know.
As much as traveling and exploring the country in an RV, or the world by plane, is exciting…you have to find the time and dedication to get on your computer and work. You may also want to use some helpful digital nomad apps to help you with all your travel planning and getting around.
If you can, try to travel slowly so that you can have the evenings and weekends, or the time you are not working, available to explore your new destinations while still giving yourself time to work. Also, pay attention to how you'll access the internet.
In many cities and countries, there's wifi at coffee shops, but you may want to purchase a sim card and use cellular internet like we do in our RV.
What are you waiting for? Apply for jobs, and hustle to get a remote-paying job so you can live your dreams now!