One thing every RV owner has to think about is RV insurance. After all, you definitely want to protect your motorhome or trailer. This is especially true if you're hitting the road full time, in which case you'll want to make sure you invest in full time RV insurance.
Planning on RVing full time and unsure of what you need to be looking for in terms of insurance? You've come to the right place. In this article, we will discuss exactly what full timer's RV insurance is, what to look for in full time RV living insurance, and which company offers the best insurance for full time RV living.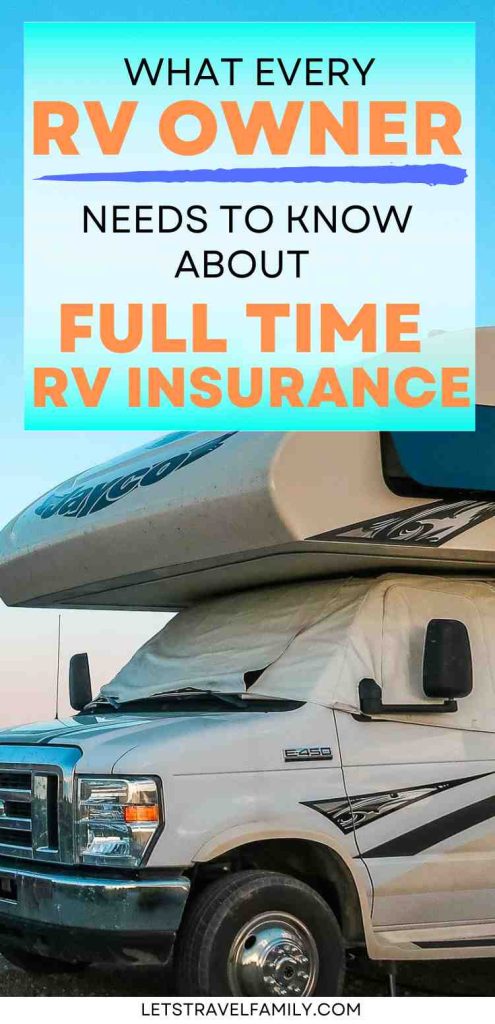 THIS ARTICLE MAY CONTAIN COMPENSATED LINKS. PLEASE READ OUR DISCLAIMER FOR MORE INFO.
Don't have time to read a bunch of RV travel posts and reviews? Here are some of our top picks for RV living:
Our Favorite RV Resources:
What is Full Time RV Insurance?
Earlier, we mentioned that those who plan to live in an RV need to have full time living RV insurance. You may be wondering,"What is full time RV insurance, and how does it differ from traditional RV insurance?"
In short, full timers RV insurance covers a whole lot more than the usual RV insurance plan for part timers.
Most part time RV insurance plans cover only the basics. These policies are essentially vehicle insurance (though some might have a few additional coverages). As an example, traditional RV insurance will help you replace your RV if you are in a moving vehicle accident, but it won't cover the things inside of your RV. Full time RV insurance will also protect you against liabilities on your campsite or within your rig while it is parked.
Obviously, the additional benefits offered by fulltime RV insurance are important to have if you'll be living in your motorhome or trailer.
What to Look For in an RV Insurance for Full Timers
Of course, in order to find a fulltime RV insurance plan that suits your needs, you will need to know what you're looking for. In this section, we will outline some of the coverages that may be included with such a plan.
Before shopping for full time camper insurance, consider whether each of the options below is important to you. Once you've determined what you need, go ahead and start looking at policies, making sure whichever one you pick includes the coverages and inclusions that are most important to you.
Vacation Liability Coverage
This protects you should someone get hurt in your RV or even on your campsite. It can also cover you should you accidentally damage property in a campground.
Personal Property and Belongings Coverage
If you're living in your RV, most of what you own is likely to be in your home-on-wheels. Protect those assets by ensuring you have personal property and belongings coverage, and make sure the coverage is enough to meet your needs.
Adjacent Structures Coverage
Sheds, decks, and other structures that are on your campsite are not considered part of the vehicle, nor are they considered personal belongings. Instead, you will need personal attachment coverage for these things.
Medical Payment Coverage
Most RV insurance policies have medical payment coverage. This is required by law in some cases and will cover medical bills that are a result of an accident involving your RV. Make sure your medical payment coverage is sufficient.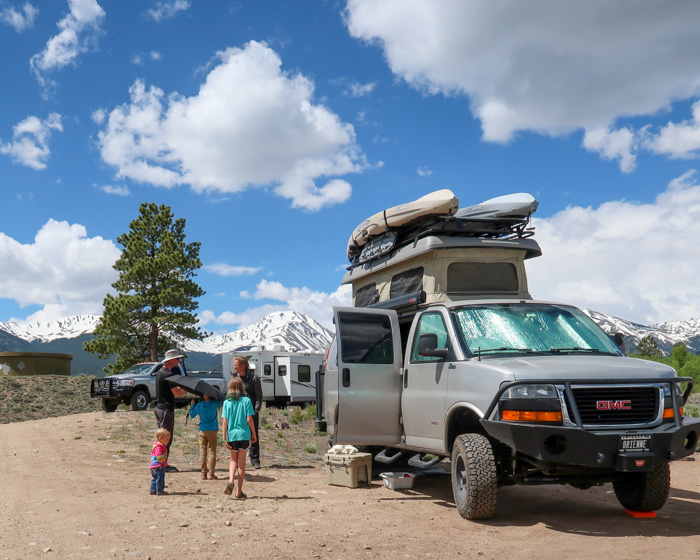 Comprehensive Coverage
You will want your rig to be protected from accidents on the road, of course, and all RV insurance policies will offer this protection. That said, you'll also want protection from other types of damaging accidents and occurrences. Comprehensive coverage will cover your rig in case of vandalism, theft, falling objects, fire, and/or natural disaster.
Uninsured Motorist Coverage
Traditional RV insurance policies do not cover you should you be hit by an uninsured motorist. Unfortunately, this is something that can and does happen, so you will want to make sure you are covered in case it happens to you.
Related Post: Learn How To Drive an RV or Motorhome
Emergency Expense Coverage
Sometimes unexpected things happen that require a full time RVer to leave their rig for a time. Emergency expense coverage helps cover the cost of temporary lodging while your RV is being made habitable again.
Roadside Assistance
We always recommend having some sort of RV roadside assistance while traveling in an RV. Some insurance policies will include such a program and it can be less expensive to acquire roadside assistance through the insurance company, so be sure to look for that option.
Best Full Time RV Insurance: Roamly
Now you know what you're looking for as you shop, but what if you don't want to shop around and just want to know which is the best RV insurance for full timers? Lucky for you, we've done the legwork already and have determined that Roamly is the best option for full timers.
Here's why Roamly beats the competition!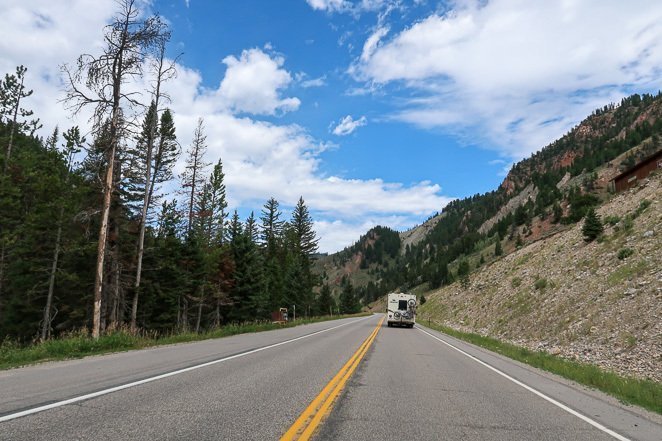 Offers a True and Complete Full Time RV Insurance Policy
Roamly's full time RV insurance policy is all-inclusive. It offers all of the coverages mentioned above and then some. On top of that, the included roadside assistance is RV-specific, so you won't need to worry about whether your RV-specific issues can be addressed by the service.
Discounts Keep Rates Competitive
Wondering about full time RV insurance cost? While it is typically more expensive than traditional RV coverage, Roamly uses an extensive amount of data to ensure they are offering the lowest rates possible and that these rates are competitive with other full timer policies out there. Additionally, with all the discounts Roamly offers, you won't have to worry about breaking the bank in order to ensure your RV is protected.
Discounts include:
A homeowner's discount.
Discount for those who have had continuous coverage for 6 months or more.
An 'early bird' discount for those who pay their bill early.
A military discount.
A discount for RV owners who rent their rig on Outdoorsy.
A GPS discount for those who have a GPS tracker in their RV.
Discounts for those who are members of certain camping clubs, including Harvest Hosts, Escapees, and Girl Camper.
Related: 9 Ways to Cut Costs while RVing Full Time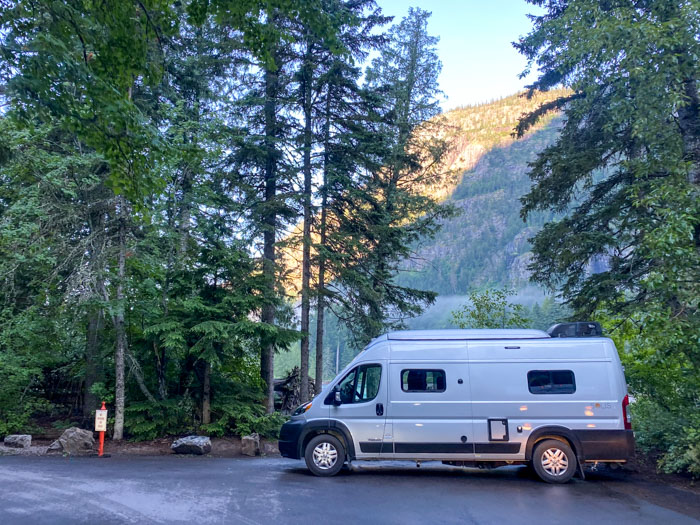 Covers Custom Built Rigs
Many people live in custom-built RVs. Unfortunately, it can be hard to find van life insurance and other kinds of coverage for such rigs. If you're looking at insuring a camper van or another custom built rig, Roamly is the insurance for you.
Roamly is the only insurance provider that covers these DIY rigs as RVs rather than vehicles. This means the interior of your camper van will be covered, and it could also result in a less expensive premium.
Will Insure Your Rig Should You Decide to Rent It Out
Ever thought about renting your RV to others? This can be a great way to make a few bucks while you aren't in the motorhome or trailer, but you will definitely want to be well-insured. Roamly is one of the only insurance companies that allows policyholders to rent out their RVs, meaning it might just be the best way to get insurance for renting out your RV!
Also Works as Part Time RV Insurance
Right now, you might need full time motorhome insurance or trailer insurance, but that doesn't mean you'll always be on the road full time. If you decide to settle down, you can easily switch to a part time RV insurance policy through Roamly, avoiding the need to change providers entirely.