Are you learning to ski as an adult? Skiing can sound like a stressful prospect for us adults who are new to the sport, but with the right approach, it's not only possible – it can be so much fun!
Some may say that it'll be more difficult to learn to ski as an adult rather than as a child, but the truth is, anyone can learn to ski with the right mindset. Just imagine the feeling of mastering the slopes and enjoying a peaceful time on the mountain!
Just this year, I learned how to ski as an adult at the age of 38. Not only did I learn, but I was able to take my teenage son on a bucket list trip to Jackson Hole in the winter to go skiing for his birthday. I ended up skiing intermediate runs and even one advanced run! If I could learn, so can you.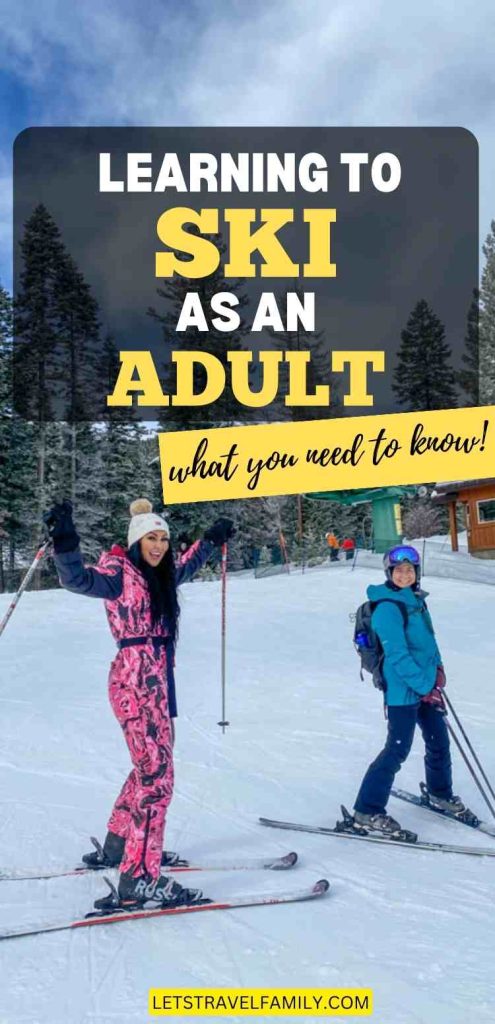 In this article, I'll cover some of the most important tips that can help you make the most of your time on the slopes as an adult skier. Also, how you can use these tips to learn to ski as an adult and have a blast doing it!
THIS ARTICLE MAY CONTAIN COMPENSATED LINKS. PLEASE READ OUR DISCLAIMER FOR MORE INFO.
Learning to Ski at 40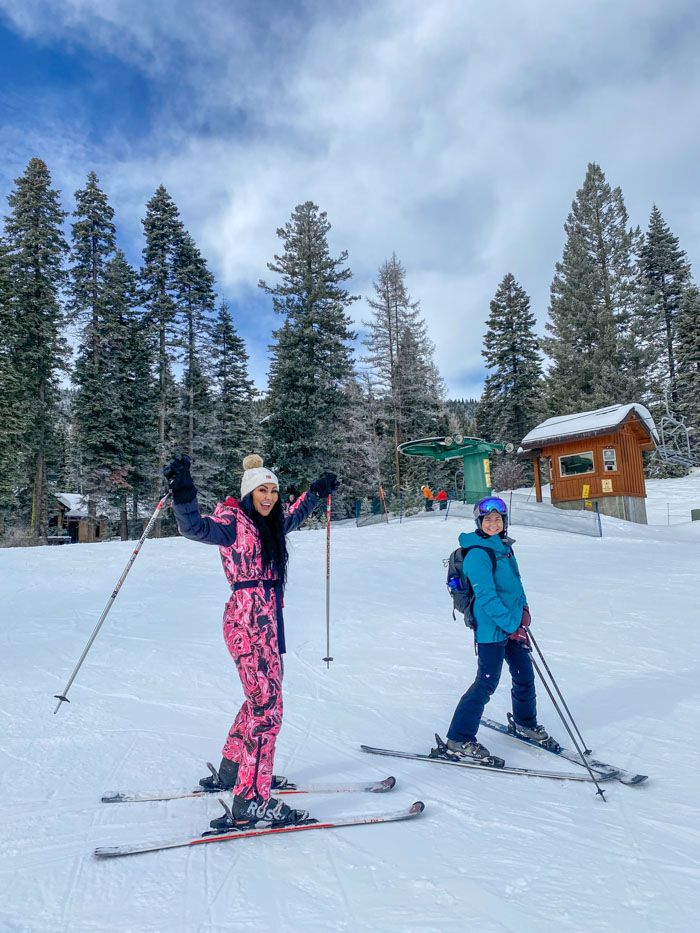 Can you learn to ski at 40?
The simple answer is yes – anyone, regardless of their age, can learn to ski! If you're planning on learning to ski at 40 or even older, then you may want to take a few extra precautions. Yet, don't hold back; many people learn to ski well beyond their youth.
As adults, we don't 'bounce back' as quickly from a fall as a kid or teenager does.
For most adults, hiring a ski instructor is the best way to get started out skiing. Not only can a professional help you develop the correct technique, but they'll also be able to share valuable tips and tricks that can be used to improve your skiing.
Don't depend on your spouse or friend to teach you the best skiing techniques if they've been skiing for years.
Why? Because they most likely have instincts when it comes to stopping, turning, shifting their weight from one ski to the other, and more. Those instincts are great for them but won't help you learn.
How do I know this? Well, my husband took me skiing one time last year (my first time ever) and thought he taught me what I needed to know on the 'bunny hill'. After a few runs, I told him I was ready for an intermediate run and agreed…..when he shouldn't have!
I only knew how to stop on a gradual slope, not how to do turns to slow down my speed or how to do the 'hockey stop' that would help me on a steeper slope!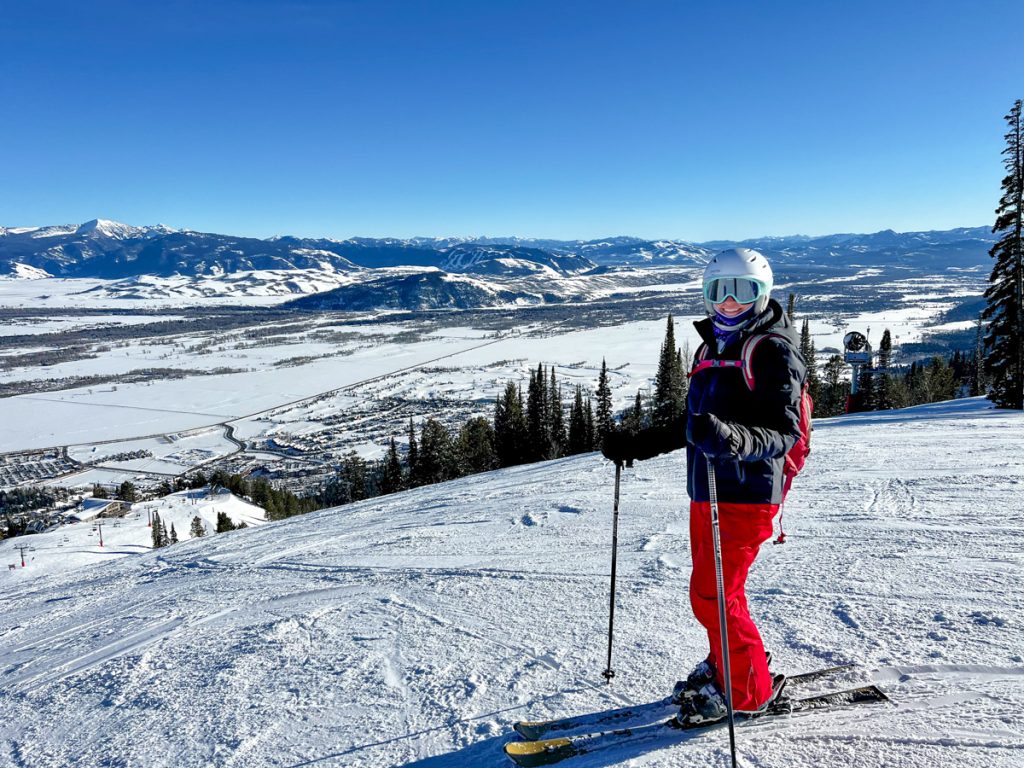 I was NOT ready and fell on purpose several times as I didn't know how to slow down my speed.
That's why this year I signed up for a package of 4 ski lessons to start out the season. I learned SO much about my weight distribution, how to do good turns while going down the mountain, and even how to a hockey stop.
I learned all of this at the age of 38 (not quite 40, but pretty close). My instructor told me that she didn't learn to ski until she was in her 40s, and now she's an instructor!
Ski Equipment for First Time Skiers
When it comes to skiing equipment and gear, it's important to remember that quality matters. Investing in the proper ski equipment not only makes skiing more enjoyable but will keep you safe and warm.
Here is the basic ski gear you'll need for your downhill skiing season:
Skis and Bindings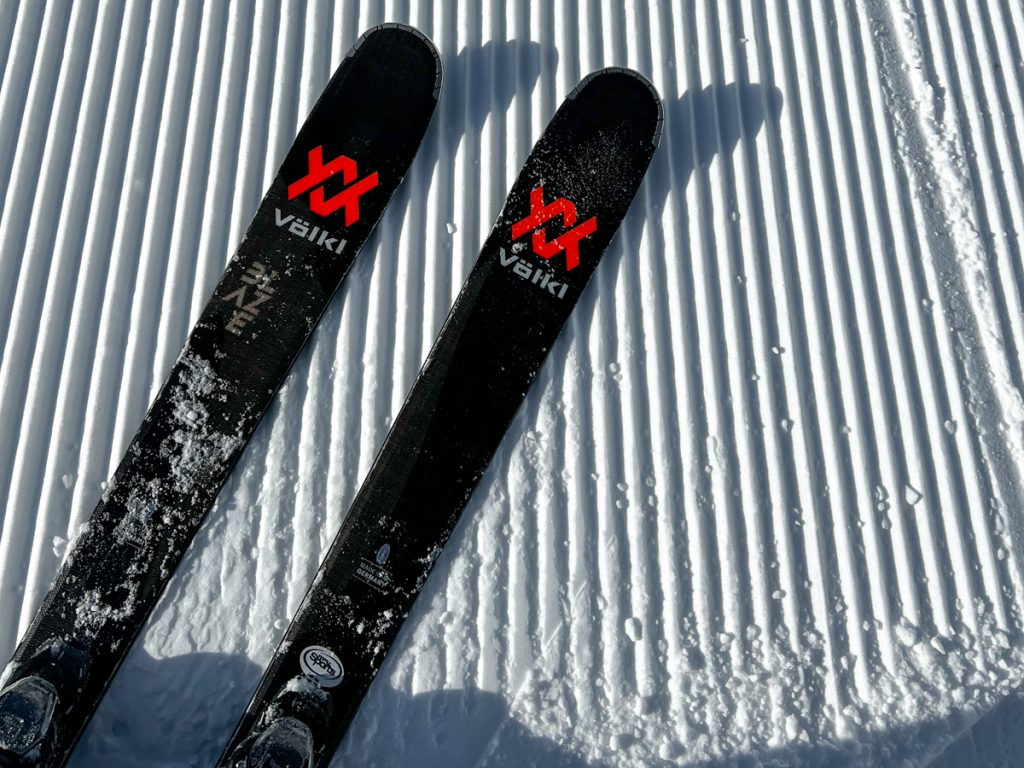 Choose the right skis that are appropriate for your skill level and terrain. Skis come in a variety of shapes and sizes, from beginner to advanced. The taller you are, the longer the ski should be.
If you want to go fast, go for thinner skies, while if you want to stay on top of the snow on a powder day, think about wider skies.
Check styles and prices of skis at Backcountry.com.
Ski Boots
Your ski boots are just as important as your ski gear – they should be comfortable, supportive, and fit well. Make sure you get fitted for the right size and type of boot by a professional.
Salmon is a brand that our family really likes so far when it comes to quality ski boots. Check prices at REI for ski boots.
Ski Poles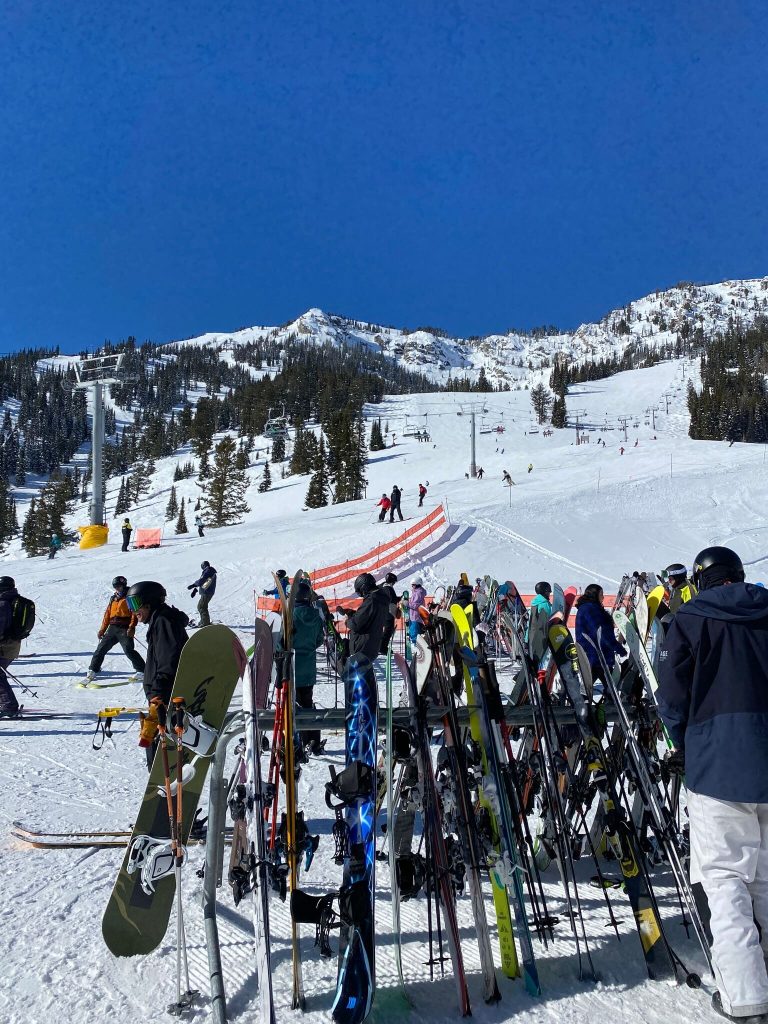 Having the right ski poles is essential for balancing and controlling your turns. Make sure to choose a pair that are lightweight and about the right height. To find out the best height of a ski pole, you can grab a ski pole and flip it upside down. Grab it right under the basket. If your elbow sits at a 90-degree angle, then it's the correct size!
Check prices at EVO for ski poles.
Ski Goggles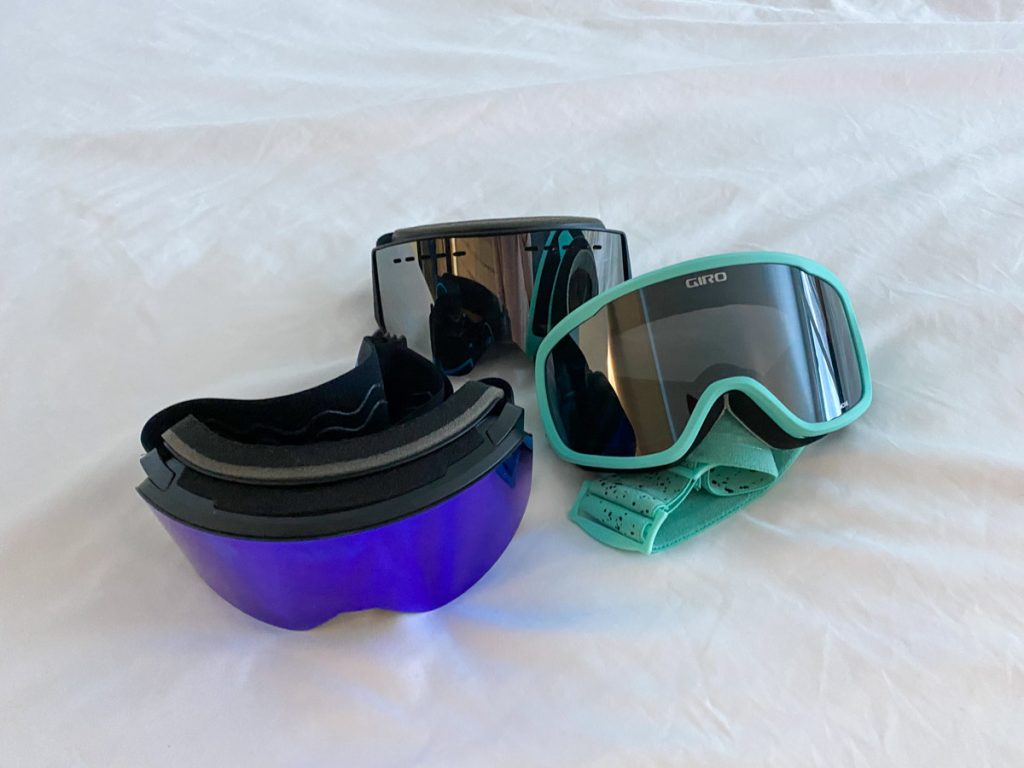 You'll want some eye protection when skiing. Ski goggles not only protect your eyes from the sun's glare, but they also block out wind and snow and have the benefit of helping your face stay warmer. Smith is the brand that I love and the ski shop employee that I visited highly recommended it. I appreciate that I can switch out my lenses and wear the tinted ones on a sunny day and the yellow lenses on a low-visibility day.
Ski Helmet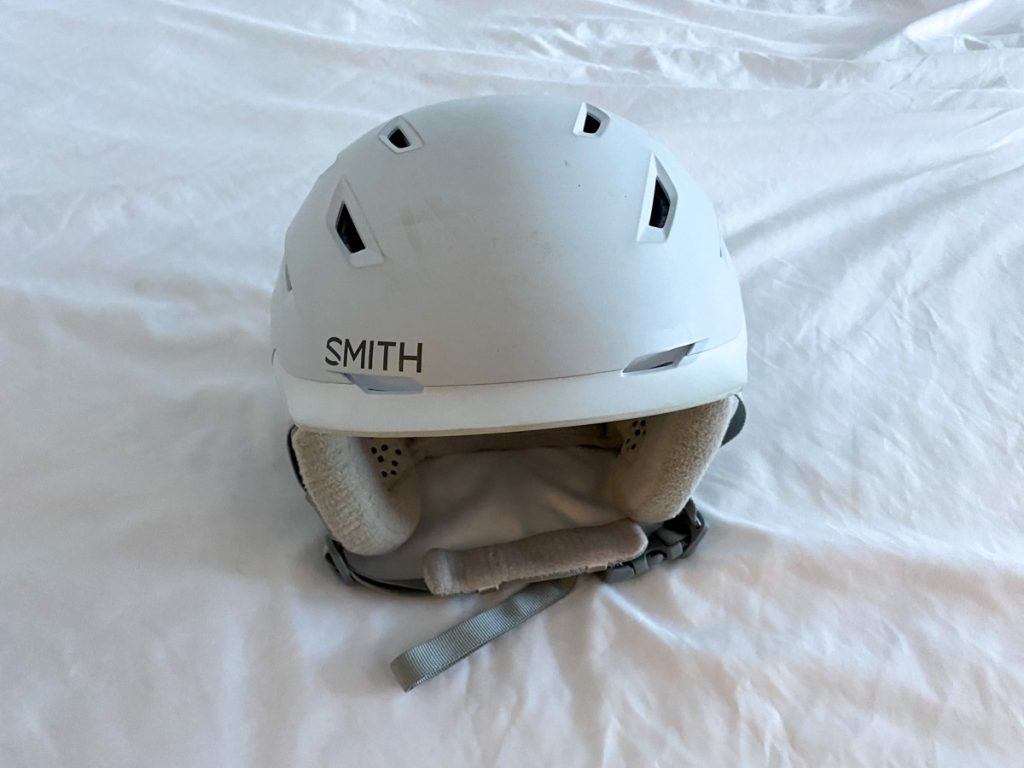 When you hit the slopes, you'll notice that almost EVERYONE wears a ski helmet, not just beginners or children. Honestly, it's rare to see someone without a helmet on. They save lives, AND they help you stay warmer!
Smith is a favorite ski helmet brand that is comfortable and warm.
Ski Jacket and Pants
You'll want to invest in a good pair of ski pants and a high-quality ski jacket with a snow skirt. Look for ski pants that provide insulation, breathability, and protection from the snow.
Base Layers
Under your jacket and ski pants, you'll want to wear a good quality base layer. If your skin doesn't get irritated by wool, then I highly recommend getting Merino Wool base layers.
Mittens or Gloves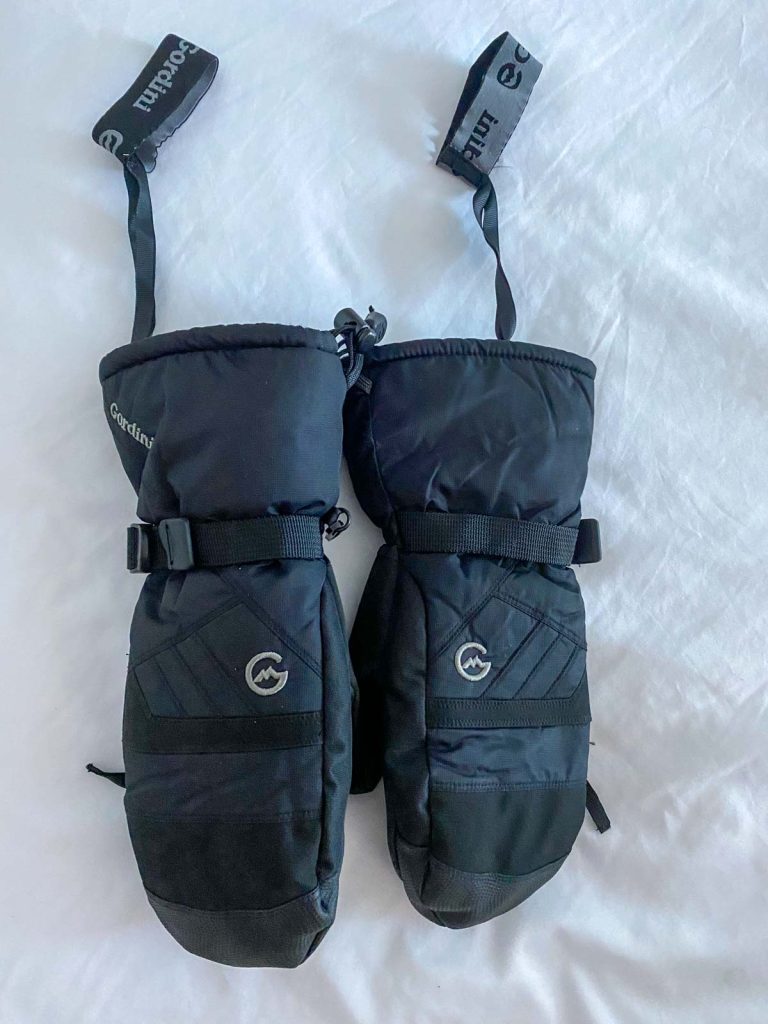 Do not skimp on getting high-quality gloves or mittens. Cold hands can make for a miserable time on the slopes.
I prefer mittens as I feel like keeping my fingers close together helps them stay warm. I started out this season with gloves, and my hands were always cold. But once I switched to Gordini mittens, I haven't had any more cold-hand days! Click here to find the best deals on ski mittens.
Ski Socks
Grab a pair of Smartwool ski socks that go up to your knees; that way, they won't fall down into your boots when skiing. Smartwool will help your feet stay warm and wick away any sweat and moisture throughout your day.
Face Masks or Gators
Keep your neck and face warm while skiing by grabbing a face mask or a gator. These work great in keeping the breeze and snow off the back of your neck and allow you to pull it up over your mouth on a cold day.
Now that you have the right equipment, you'll be ready to start your skiing adventure. Let's move forward to safety tips for skiing.
Related Post: Funny Ski Gifts
Safety Tips for Skiing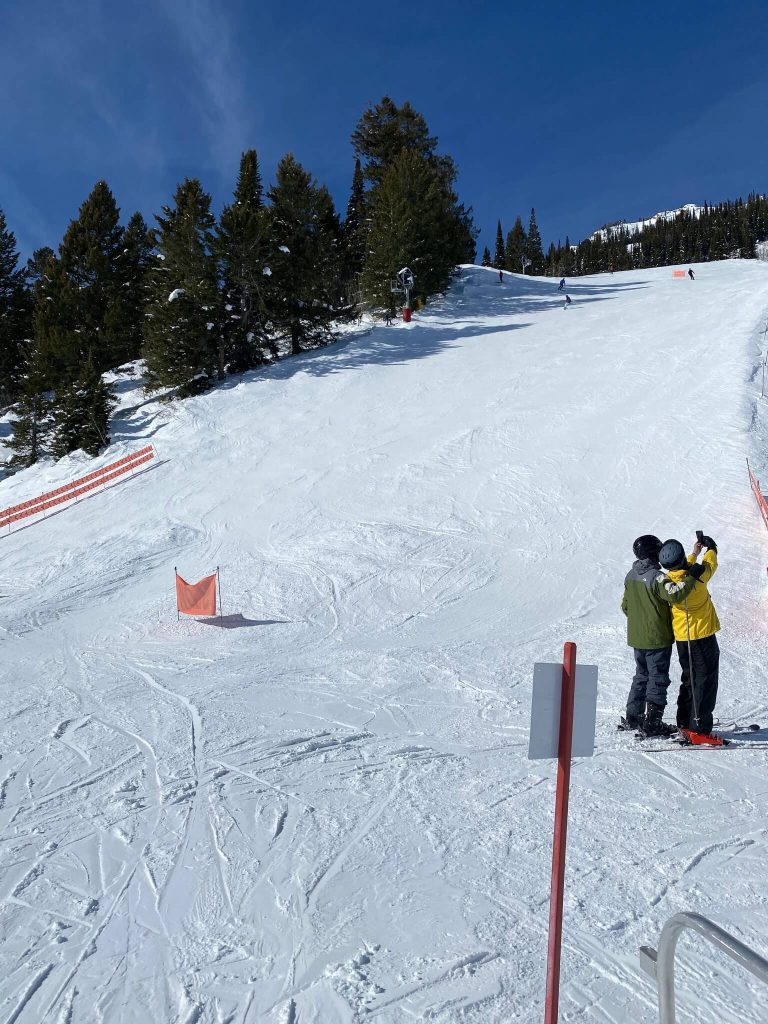 Before getting onto your first chairlift and skiing down the bunny hill, it's important to learn a few ski safety tips. Here are some skiing tips that can help keep you safe.
Wear a helmet
As I mentioned earlier, helmets are essential for skiing, and about 99% of people skiing wear them. They provide protection from head injuries and honestly help you stay warmer.
Check your equipment
Before you head out on the slopes, make sure that all of your equipment is in good working order.
Dress appropriately
Good quality winter wear will really help you stay warm and dry. Wear extra layers. You can always peel a layer off.
Watch Out for Others
Skiiers and snowboarders that are downhill from you have the right of way. Give space, and do not cut people off.
Be aware of the weather
Always check the forecast before heading out on the slopes and dress accordingly. Wear clear or yellow goggles so that you can see during days when it's snowing, and tinted goggles on sunny days.
Take breaks and stay hydrated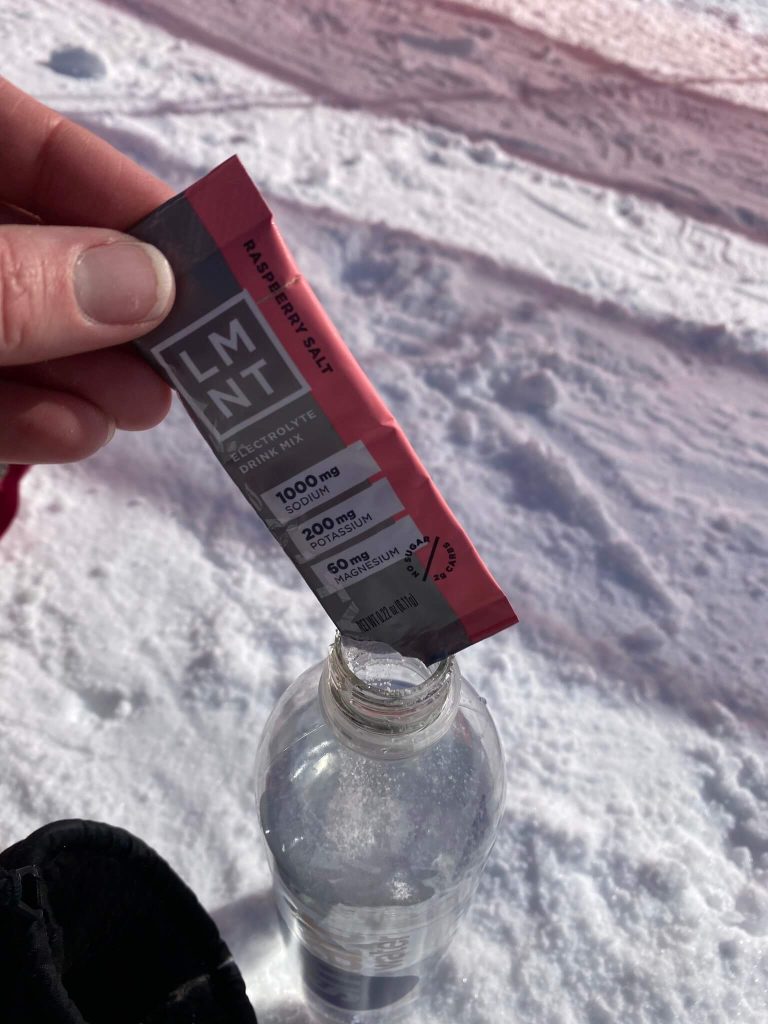 Take regular breaks and stay hydrated throughout the day. This will help prevent muscle fatigue and even prevent you from falling. When we ski for long days, one of us carries a backpack with bottled water and LMNT drink packets. We'll mix them up and drink the electrolytes to help our muscles from cramping up and help our bodies stay hydrated.
How Long Does it Take to Learn to Ski?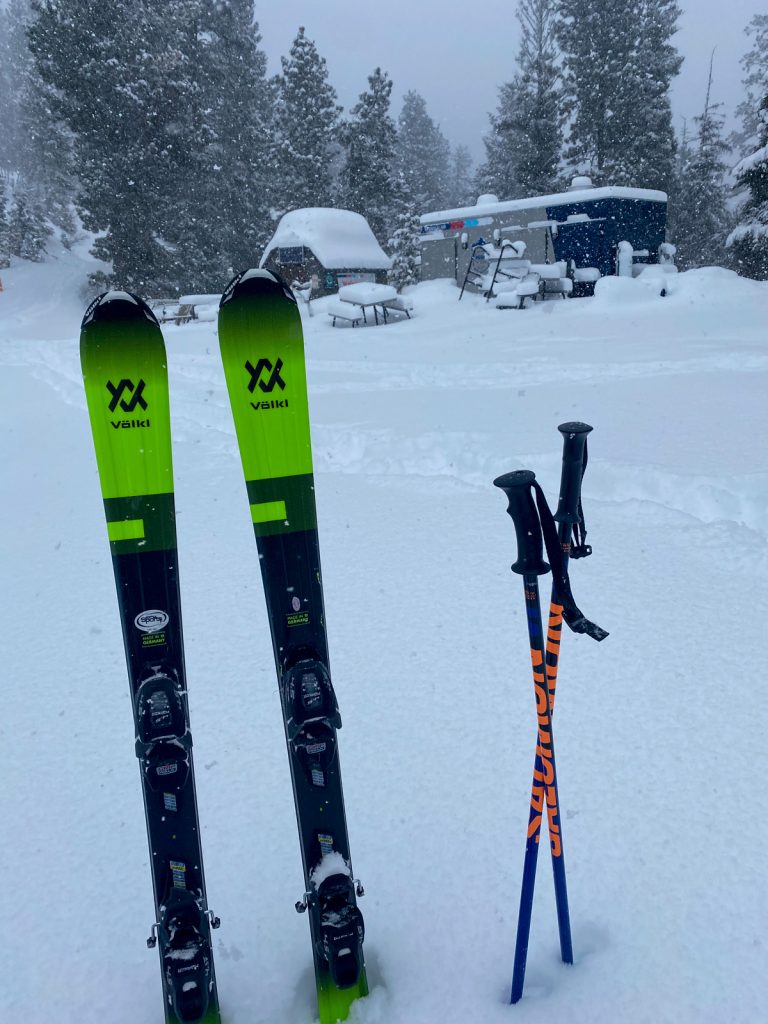 Learning to ski as an adult can take several lessons, depending on your skill level and how often you practice. If you've only started skiing, it may take up to 8 lessons before you feel comfortable and confident on the slopes. Or, you may catch on in just 3-4 lessons if you're an athletic person.
Keep in mind that with more practice, you'll gain confidence and work your way from beginner runs to intermediate runs before you know it. Those are the green and blue squares you see on signs at the ski resorts.
As I keep saying, learning to ski with an experienced instructor can help you learn the basics more quickly and make your skiing experience much more fun. Instructors can also provide helpful advice tailored to your skill level and help you become a better skier in the long run.
Is Skiing Hard?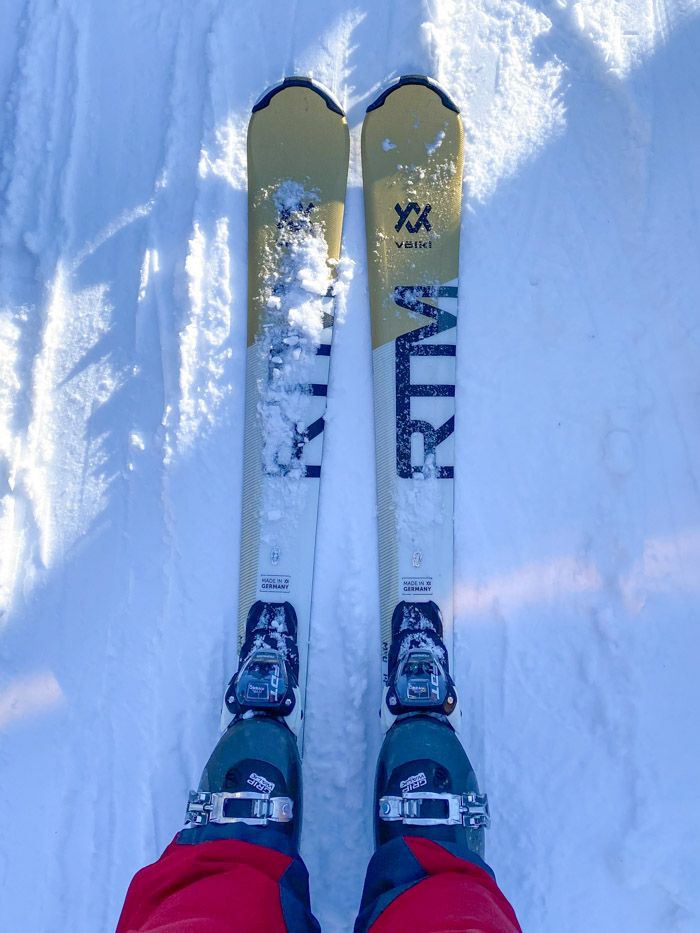 Is learning to ski as an adult hard? How hard is it to learn to ski?
If you're someone that is used to thinking about how hard is it to learn to ski…. the truth is, there's no secret formula to it. Everyone has different skill levels, and your mindset really has a lot to do with it.
Skiing requires more than just physical strength and balance. You need to feel confident and have good reflexes.
The next time you ask yourself: How hard is skiing? Keep in mind that skiing is a sport that requires effort, dedication, practice, and patience. With enough determination, anyone can learn to ski!
How to Teach Someone to Ski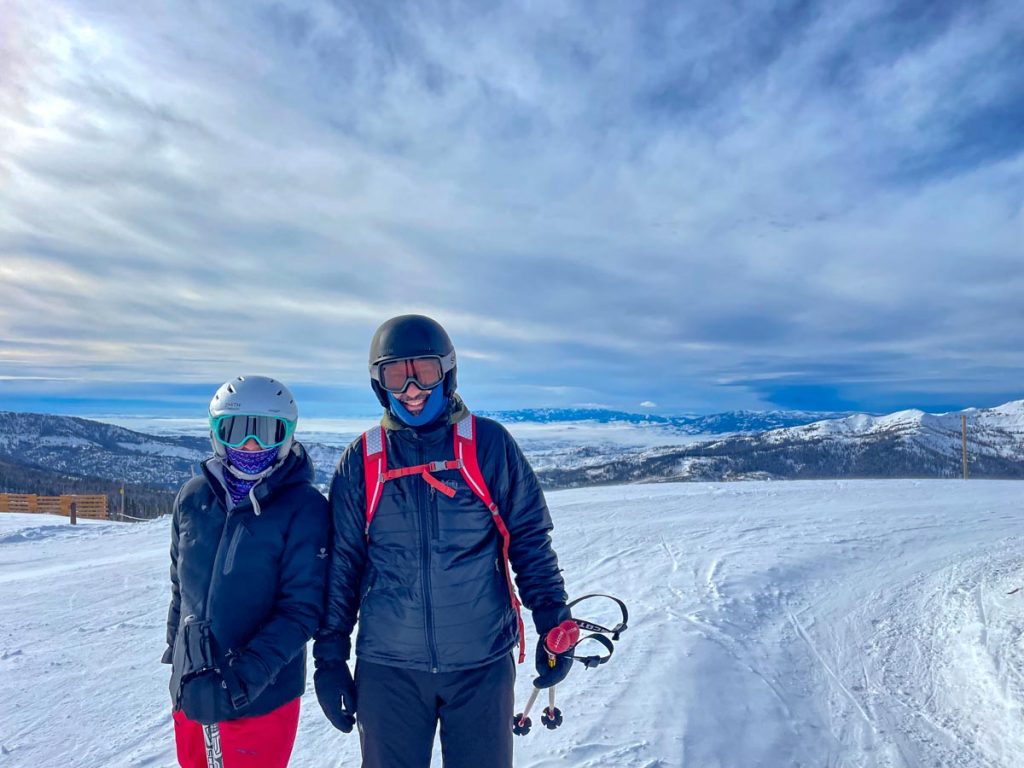 It's important to remember that teaching someone how to ski requires patience and an understanding of the skill level of the learner. That's why there are experts qualified to give lessons.
Now, if you'd still like to help your friend learn the basics, then here are a few quick tips.
When teaching someone to ski, the most important thing is to break the skills down into smaller steps and start with the basics of skiing first. These are some essential tips for teaching someone how to ski.
Starting to ski
Start by teaching your friend how to put on their skis and how to 'walk around' in them. Show them how they can lean forward in their boots and not fall over.
Have your friend practice standing on one ski and then the other ski, shifting weight from one to the other. Show your friend how to disconnect their boots from their bindings.
Once your friend has all the basics down and is confident enough to give it a go, you'll need to talk about stopping.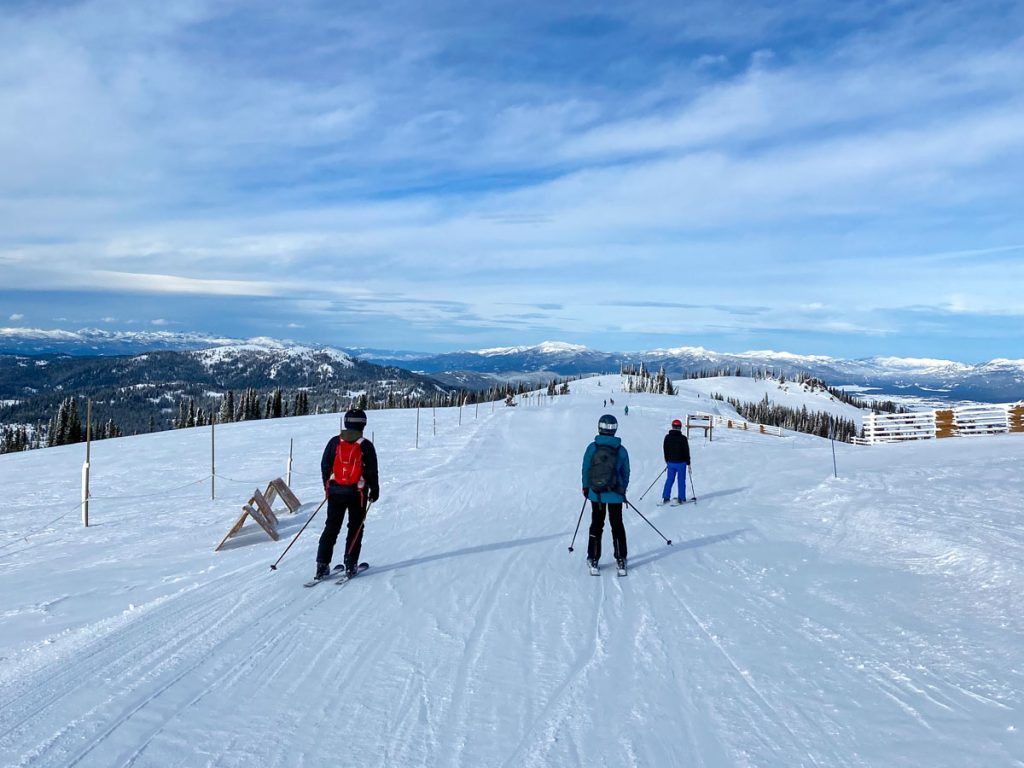 How to stop while skiing
One of the most important skills to learn when skiing is how to stop. Stopping while skiing may seem easy to the experienced skier, but for a newbie, it can be a bit tricky.
It requires having control over your skis and maintaining your balance while not panicking. Then making a 'pizza' or wedge on a gradual slope downwards or doing a 'hockey stop' on a steeper slope.
The second part to stopping that you'll want to make sure you teach your friend is how to do 'j-turns'. These allow skiers to turn back up the hill or mountain when they start going too fast. It's a great way to slow down and stop when feeling a bit out of control.
Lastly, you'll want to teach your friend how to do basic turns. Explain the benefits of doing turns all the way down the mountain. The goal is NOT to go straight down as fast as you can! It's to have control of your body, and turning back and forth as you descend the mountain is the best way to do this.
Beginner Ski Lessons
Beginner ski lessons are a great way to learn to ski and build your confidence on the mountain. Most ski resorts offer beginner lessons for adults, teens, and children. Beginner lessons can include group classes for multiple participants or private one-on-one sessions with an instructor.
Where To Go Skiing?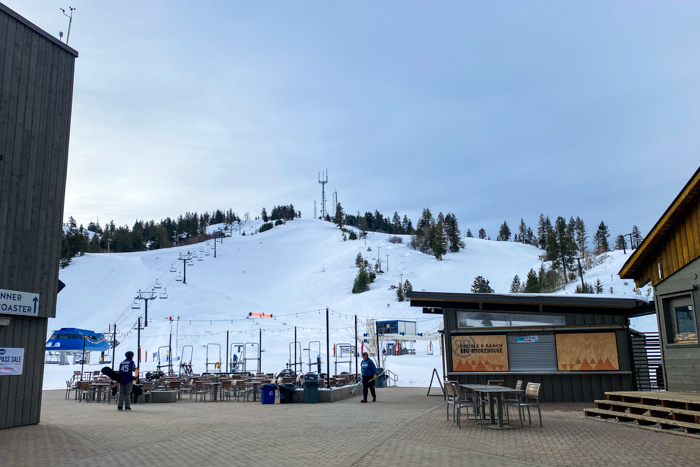 If you're skiing near Boise Idaho, then be sure to take a lesson at Bogus Basin. They offer both group and private lessons for adults. Then grab one of the Boise airbnbs or VRBOs and make the most out of your Idaho winter vacation.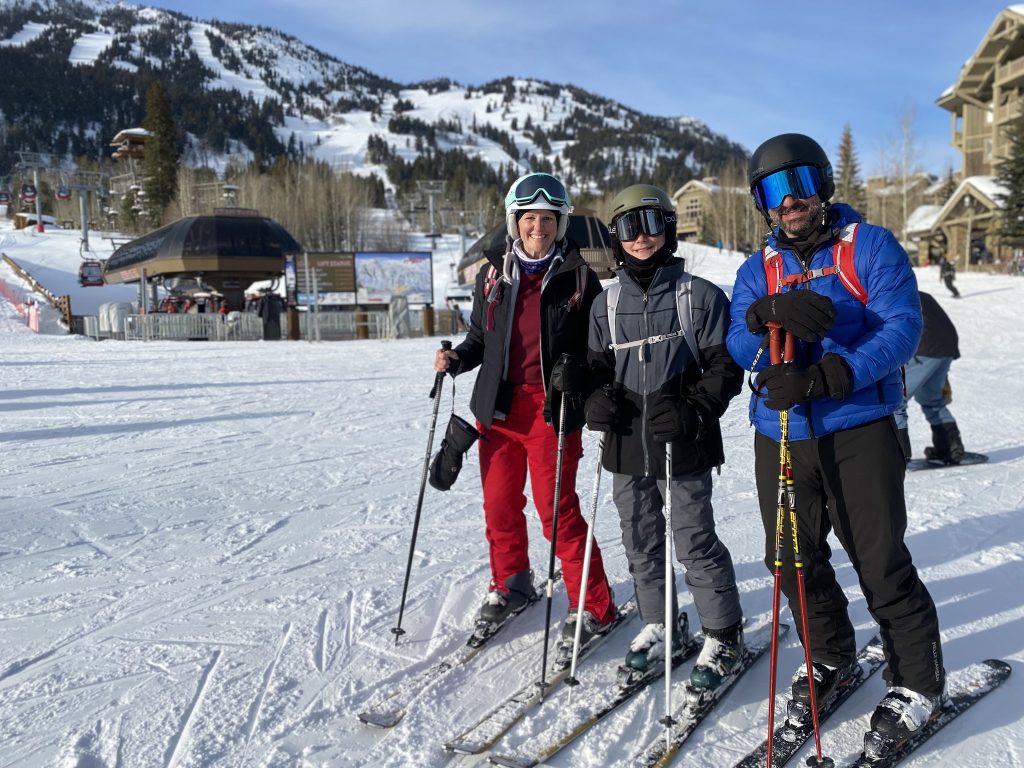 Another great place to learn how to ski is at Jackson Hole, Wyoming. They have an incredible ski school and instructions for private and group lessons for people of all ages. Not only are there so many things to do in Jackson Hole year round, but there are also some great ski-in-ski out places to stay in Jackson, too.
Learning how to ski can be so much fun! With the help of ski instructors, you can learn quickly and safely. So don't be afraid to give skiing a try.