Do you want to go skiing near Boise Idaho? Whether you are a Boise local, you're considering moving to Idaho, or you're trying to find fun things to do near Boise….then you'll be happy to learn that there are a few ski resorts near Boise Idaho that are worth checking out!
One of the top things to do in Idaho in winter is to hit the slopes and go skiing. With the closest ski resort to Boise Idaho being Bogus Basin, my husband Tony and I decided we wanted to check it out and experience it ourselves so that we could share all the details with you.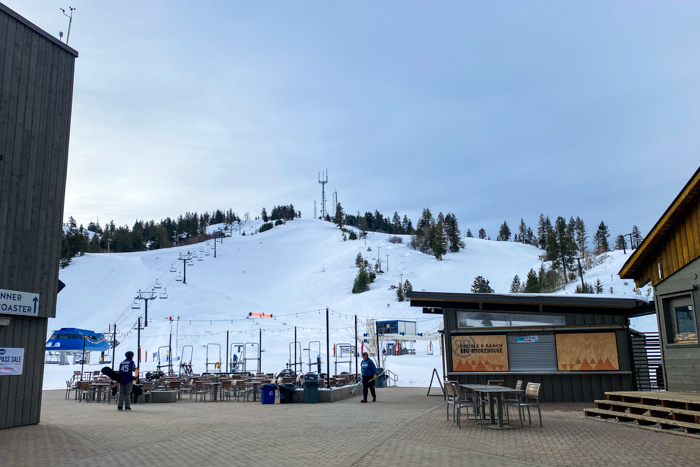 I'm sure that our insights and tips will help you be well-equipped for your skiing in Idaho experience ahead.
You see, Tony and I are on opposite ends of the ski-experience spectrum. I am very new to skiing, while Tony loves hitting up the black diamonds as soon as he gets on the slopes.
I actually took the time to share my best tips on learning to ski as an adult. If you are in the same position as me, be sure to read that blog post, too. You might even consider gifting your loved one ski passes and one of these funny ski gifts as a way to entice them to get out skiing with you! Or, just be sure that they have the best ski clothes and gear before heading up.
Read further to learn the ins and outs of skiing near Boise Idaho.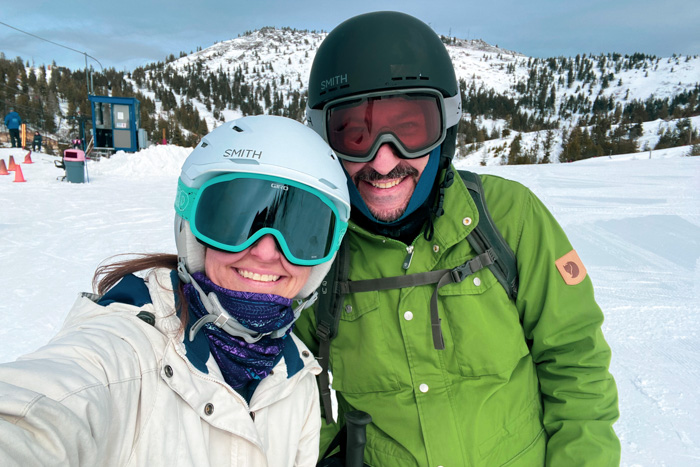 THIS ARTICLE MAY CONTAIN COMPENSATED LINKS. PLEASE READ OUR DISCLAIMER FOR MORE INFO.
Idaho In Winter – What To Expect in Boise?
Boise is located in the Treasure Valley, where the weather is usually much milder in the winter months than up in the mountains. So it's pretty convenient that you can stay overnight at a great hotel like the locally owned boutique Hotel 43 in downtown Boise, and then drive just 35 minutes up to the top of Bogus Basin Ski Area to experience some pretty great skiing and snowboarding around.
There really are some great places to stay in Boise such as VRBO rentals. Or you can check out the best hotels in Boise so that you have a warm room to
The city of Boise itself gets an average of 18 inches of snow total each year, and often it melts within a day and doesn't accumulate much on the roads. Yet, at Bogus Basin Mountain they receive so many feet of snow each winter.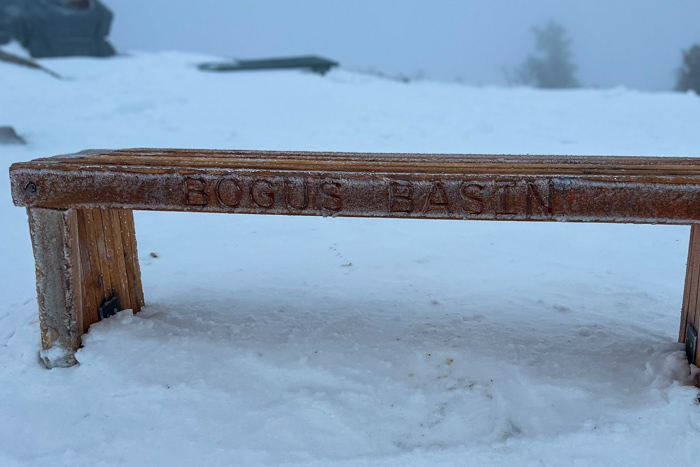 Idaho Ski Resorts Outside Of Boise
A pretty popular ski area near Boise Idaho is Tamarack Resort, located just a 2 ½ hour drive North of Boise. This resort offers 3,500 acres of ski and snowboard terrain, on-site lodging and dining, lessons, event space, and more. If you're willing to make the longer drive up into the mountains to experience skiing at Tamarack, then I'd suggest staying overnight nearby.
Consider taking a weekend away and driving about 3 hours to visit America's first destination ski resort, Sun Valley Resort.
Family Ski Trip Planning Guide
Want to simplify the planning that goes into a family ski trip without all of the hassle? Then this guide is for you! My good friend Jessica is a mother of 5 kiddos who used to be a ski instructor. She is my go-to person anytime I have questions about skiing with kids and as a family.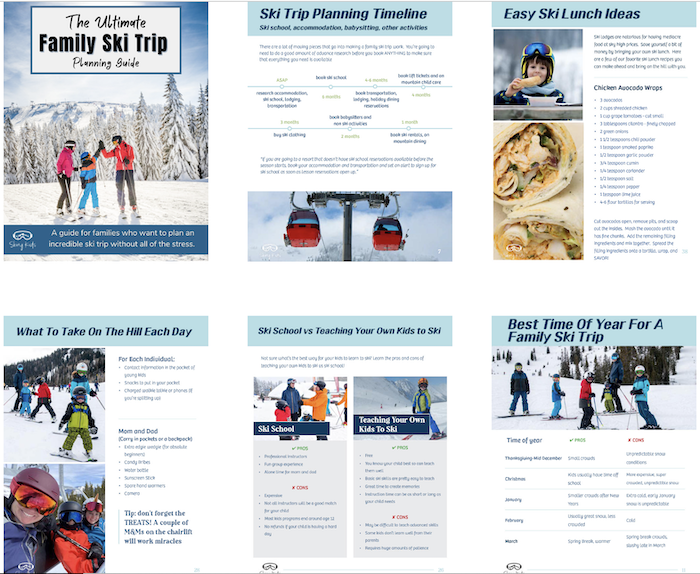 In this guide, you'll get advice on ski gear, how to feed your family while on a ski trip, a booking timeline, learn where kids ski for free, ski school suggestions, and SO much more. Click here to learn more!
Bogus Basin Ski Area – Boise Idaho Ski Resort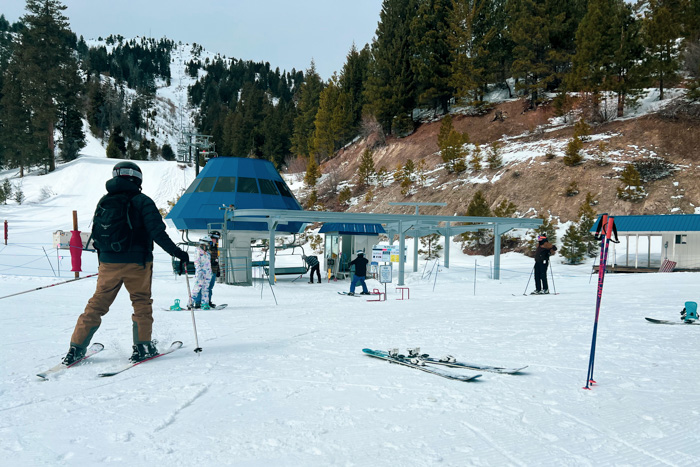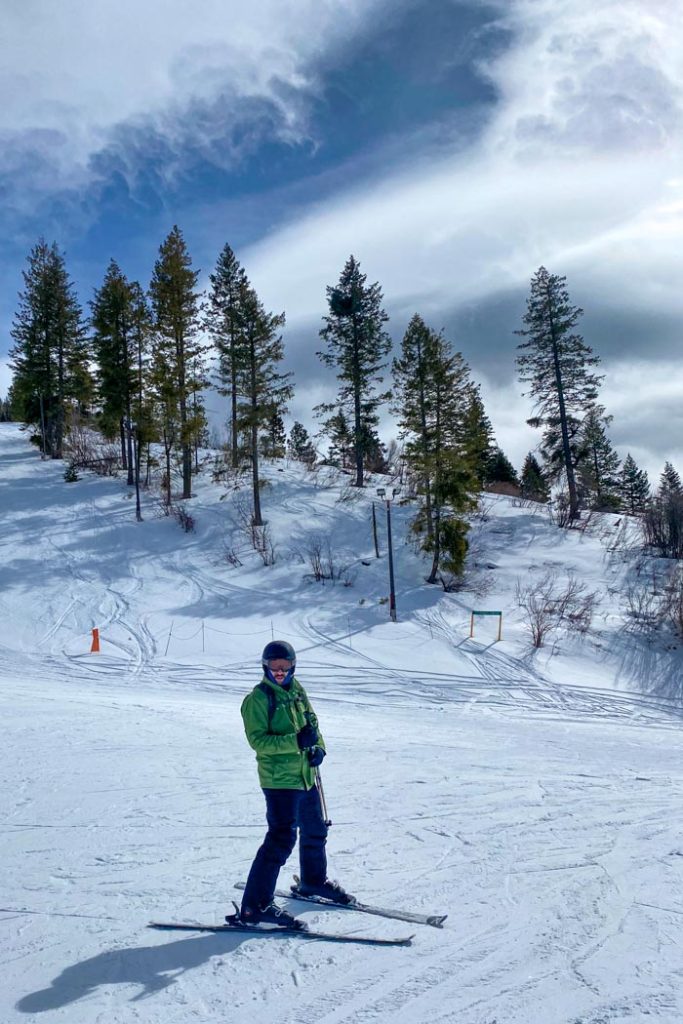 Bogus Basin Ski Area is the closest and most popular place to find Boise Idaho skiing. It's only a 35-minute drive from downtown Boise, making it a favorite of the locals.
Bogus Basin was established in 1942 with the first chair lift used by the locals. Now, it hosts 11 lifts covering 2600 acres of terrain. Located just 16 miles North of Boise, Bogus Basin operates on a special use permit authorized by the Boise National Forest where it's located.
The typical season runs from early December to mid-April, depending on the year.
No Boise winter experience is complete without a visit to Bogus Basin. Some might argue it's one of the best ski resorts in Idaho.
Here are some more details, photos, and tips on what you need to know to have a great Boise Idaho Winter experience at Idaho Bogus Basin Mountain.
Pin This For Later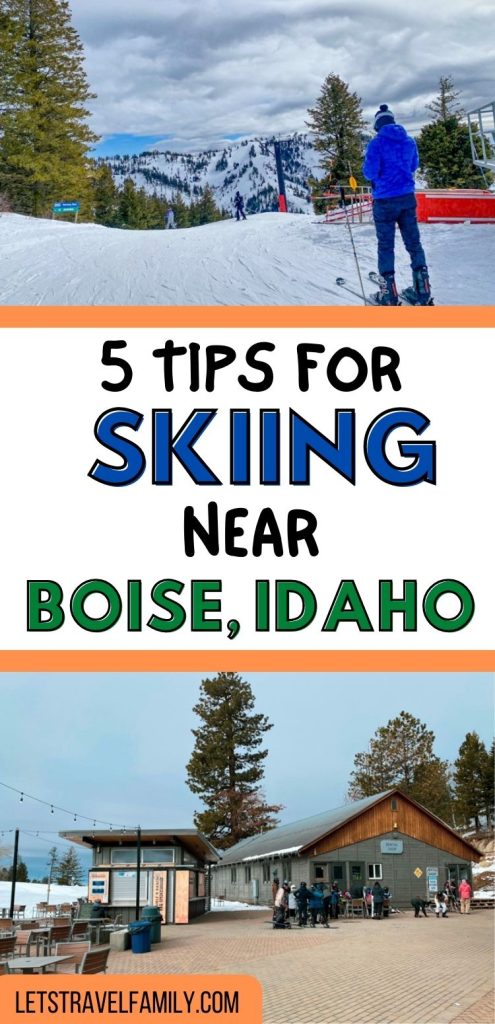 How To Get To Bogus Basin
Bogus Basin directions from Boise: From downtown Boise head North on 15th Street. Then turn left of Hayes and head West until it becomes Harrison Boulevard with a sharp right-hand corner. Head North on Harrison Boulevard and once it crosses Hill Road it will become Bogus Basin Road. Then drive 16 miles to the top of Bogus Basin where you'll arrive.
Bogus Basin Lodging
Bogus Basin Ski Resort has one option for lodging on-site. They offer the Pioneer Condominiums that you can rent and experience a ski-in and ski-out weekend, including a shared hot tub and sauna.
Other lodging nearby can include finding a great hotel downtown Boise, then driving the 35 minutes up to Bogus Basin for a day of skiing. Hotel 43 is one of my favorite picks as it's a locally owned boutique hotel.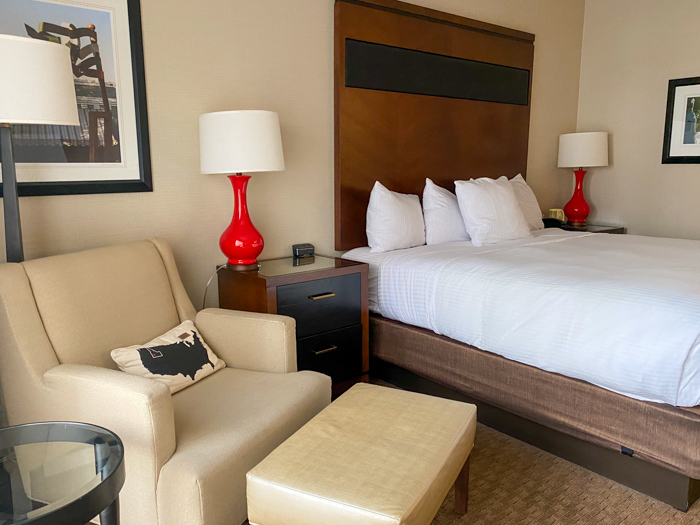 Or, if you're looking for luxury and style then check out The Grove Hotel in downtown Boise. Enjoy the Grove fitness center and spa during your stay and grab a bite to eat at Emilio's Fine Dining. The food is amazing and the view of the City of Trees from the indoor pool and hot tub is pretty great too.
Bogus Basin Ski Rental
The Bogus Basin Rental shop offers ski rentals and snowboard rentals. If you need to rent skis, be sure to book your rentals online after you've booked your lift ticket. The alpine rental shop is on the mountain next to the Ski Patrol building.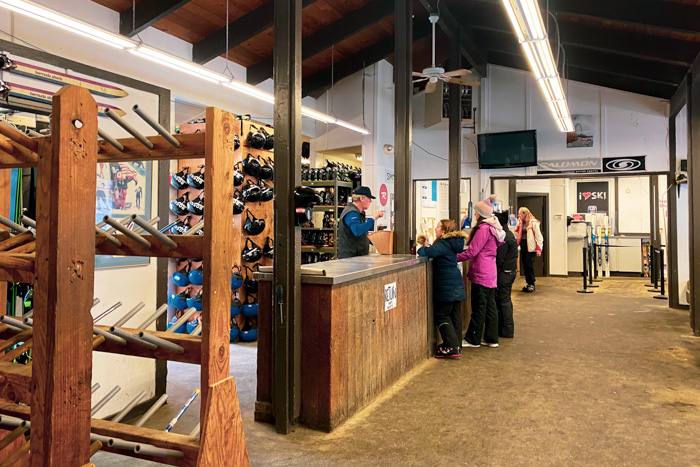 Bogus Basin Lodge – J.R. Simplot Lodge
The J.R. Simplot Lodge is at the heart of Bogus Basin. You will find the ticket sales aera here, the ski and snowboard school, the Bogus Basin Rental and Repair Shop, lockers, restrooms, and the ICCU Plaza with outdoor fireplaces and seating and multiple food and beverage options.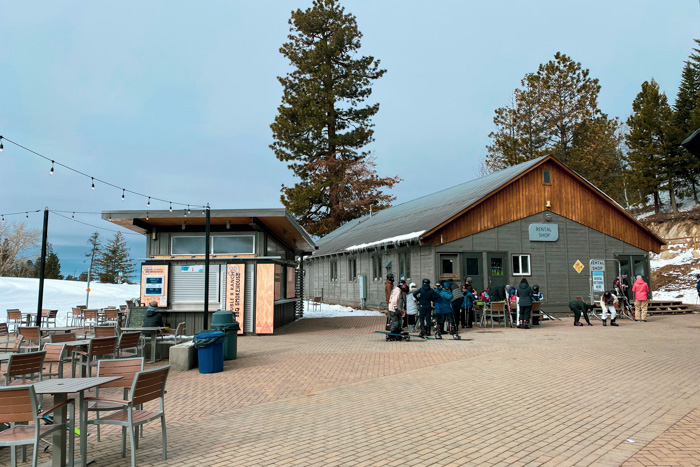 Grab an espresso at JoJo Beans Coffee, a bite to eat at Bogus Creek Grill, or grab a cold beer at J.R.'s T-bar.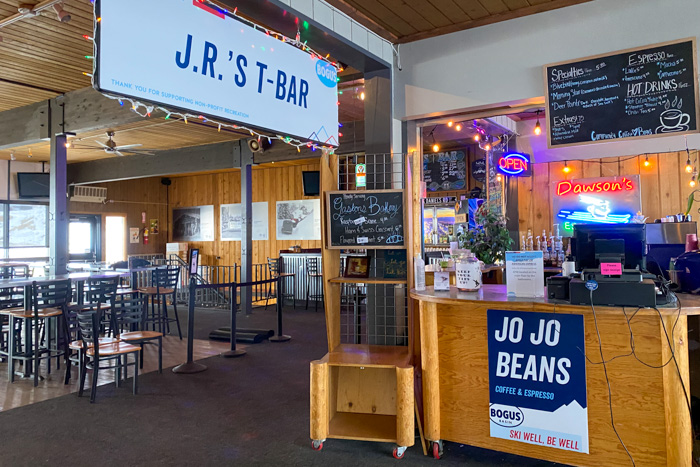 If you want to find the hidden gem that Tony found when off skiing on his own, see if you can discover The Beach Trailer for a snack or a nice drink. It's only accessed by chairlift and located near the base of Pine Creek.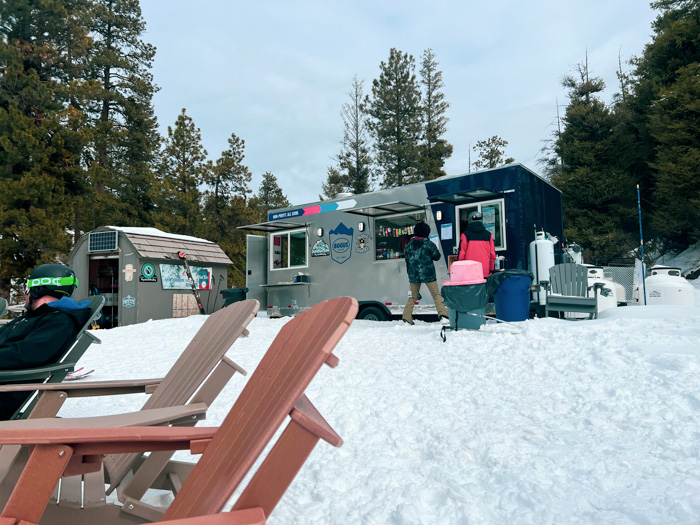 Beginner Tips For Bogus Basin Mountain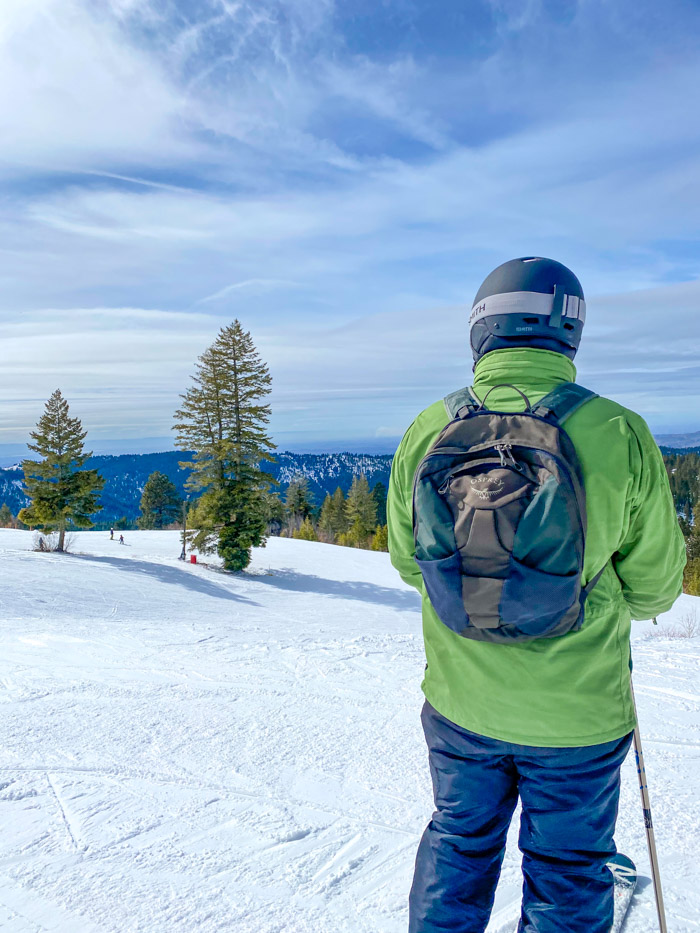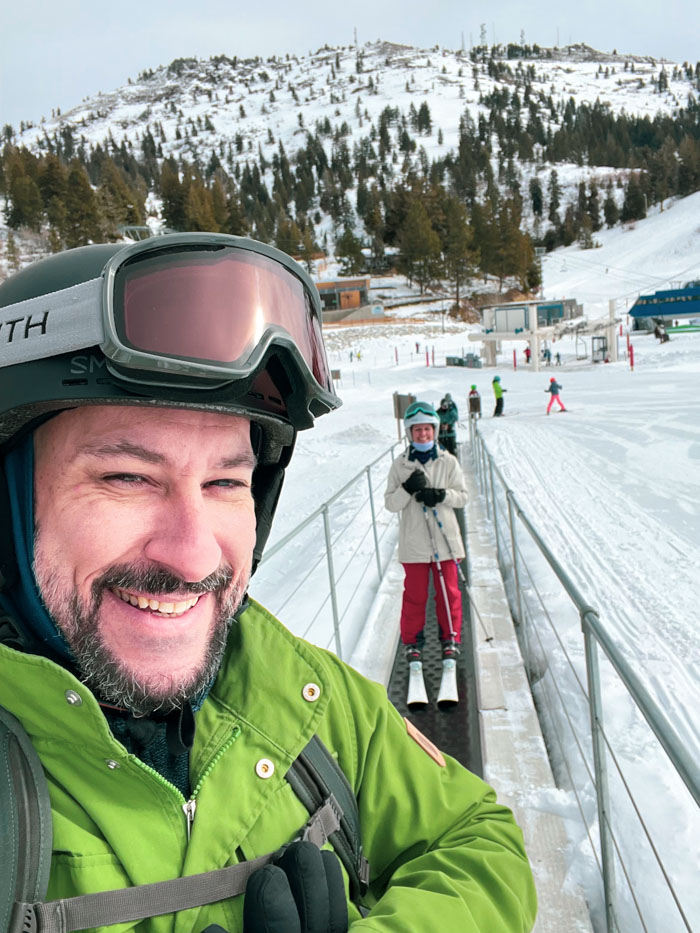 This Boise Ski resort is great for all levels. All types of skiers and snowboarders will love Bogus Basin. Beginners such as myself all the way up to the advanced and experienced skier such as my husband Tony.
As a new alpine skier, I found that winter in Idaho can be so much fun! Bogus Basin offers private and group lessons for all ages on the coach's hill. It's so fun to watch the really small kids skiing with the help of a coach, while you know the parents are off getting a little skiing in themselves.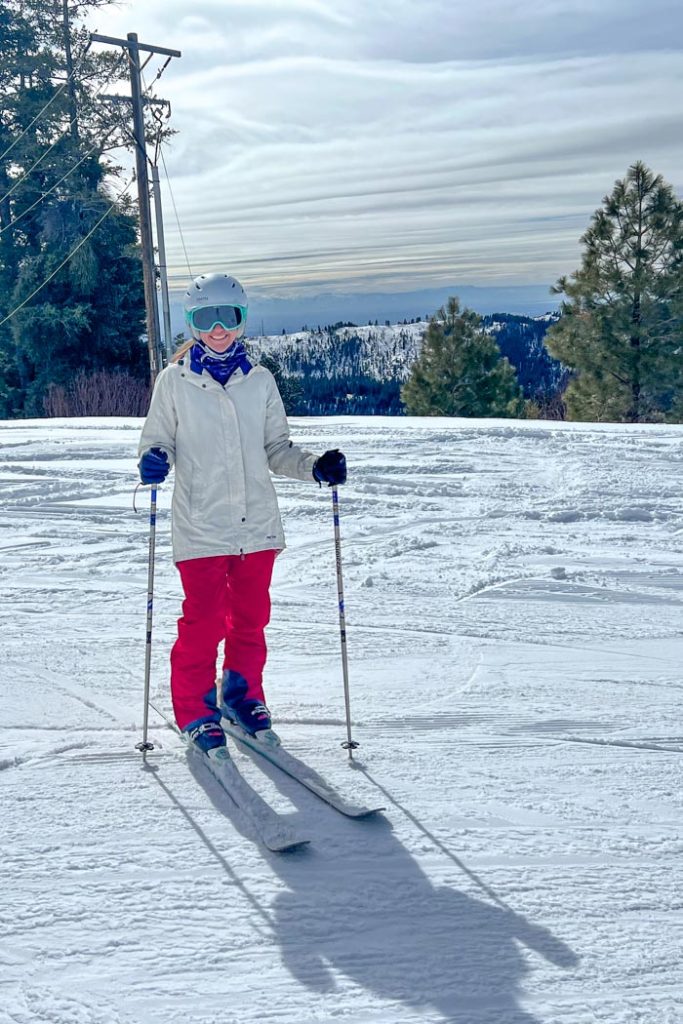 Here are a few beginner tips for your first time at Bogus Basin.
1. Book your lift ticket online ahead of time.
2. Book ski rentals, right after you buy your lift ticket, directly from the mountain. There are places in Boise that will rent you skis, but it's much easier to get your rentals right at the mountain.
3. Drive up the mountain between 8:30 and 9:30 am to find good parking on the weekends. You can wait until 10 am on the weekdays and still find decent parking.
4. Dress in layers and wear a helmet, it's worth it. Not only can it save your life it also helps block out the wind. Oh, and almost everyone on the mountain has a helmet on…which is very different from 20 years ago when Tony was skiing in Montana. I think I'm aging myself.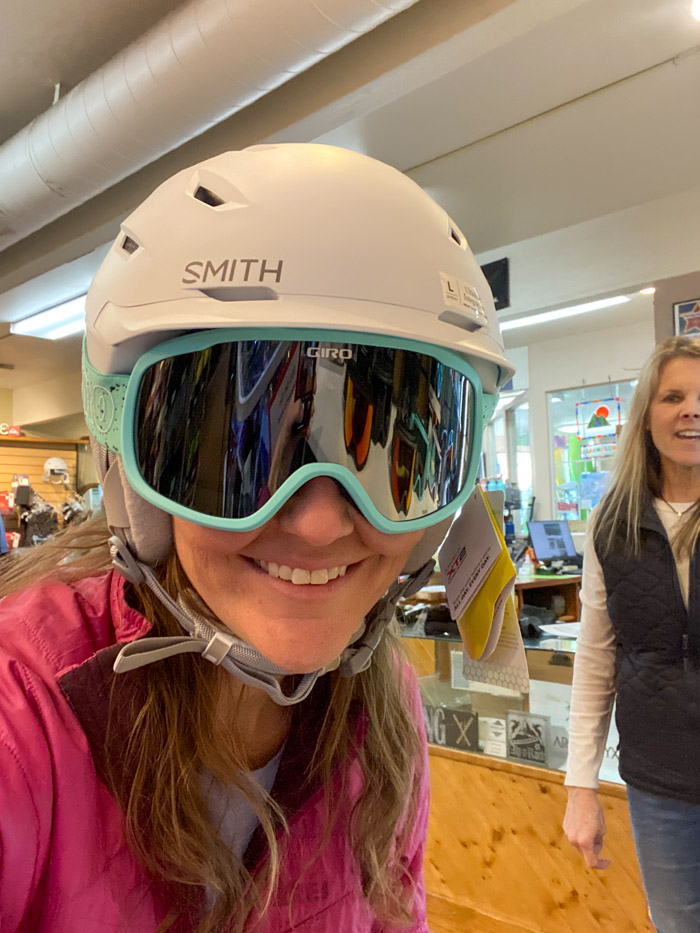 5. If you want to night ski, then consider a twilight or half-day pass that begins at 3 pm to save a little money. Just know parking may be a little more tricky when arriving that late in the day.
Other Things To Do In or Near Boise Idaho
If you're planning a winter trip to Boise, or looking for day trip from Boise ideas, then be sure to check out some of our other blog posts with helpful tips from our own experiences.
Discover 12 Of The Best Things To Do In McCall Idaho – located just 2 ½ hours North of Boise.
Enjoy Hot Springs Near Boise Idaho any time of the year.
Explore some of the Best Boise Coffee Shops when you're in town. Visit Meridian Idaho and discover some fun things to do close to Boise.